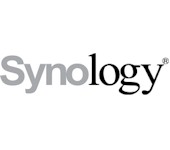 Synology apparently thinks wireless routers are a good market to be in.
Yesterday, Synology formally announced the AC1900 router it previewed at Computex 2015 and other shows this year.
Hardware-wise, the Synology Router RT1900ac is like many other AC1900 class routers, based on a Broadcom platform with 1 GHz dual-core BCM58622 ARM Cortex A9 processor with embedded Gigabit switch and two BCM4360 radios.
Synology has also tricked out the RT1900ac with 256 MB of DDR3 RAM, 4 GB (!) of eMMC flash, three external dual-band removable antennas, Gigabit WAN (1) and switched LAN (4) ports and single USB 3.0 port and SD card reader. The 4 GB of flash is 32X the 128 MB of flash in most all other AC1900 class routers.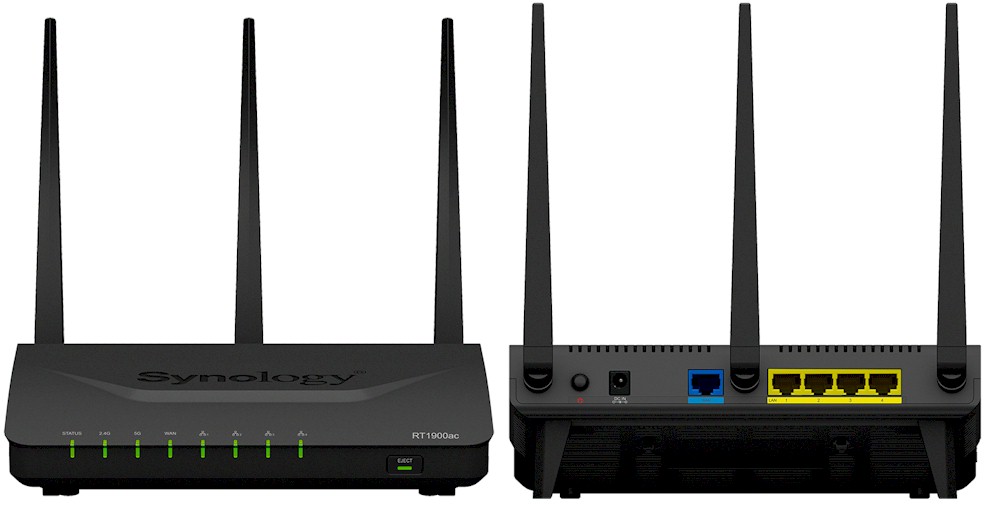 Synology RT1900ac
The RT1900ac's key differentiation is its OS. The Synology Router Manager (SRM) operating system looks very much like Synology's NAS OS and can be accessed via any web browser. If apps are your thing, there are also iOS and Android DS Router apps that provide a subset of admin features.
The router's base feature set includes portal-based QuickConnect remote access, "application layer" QoS with application and device bandwidth monitoring and control, internet access and web filtering parental controls.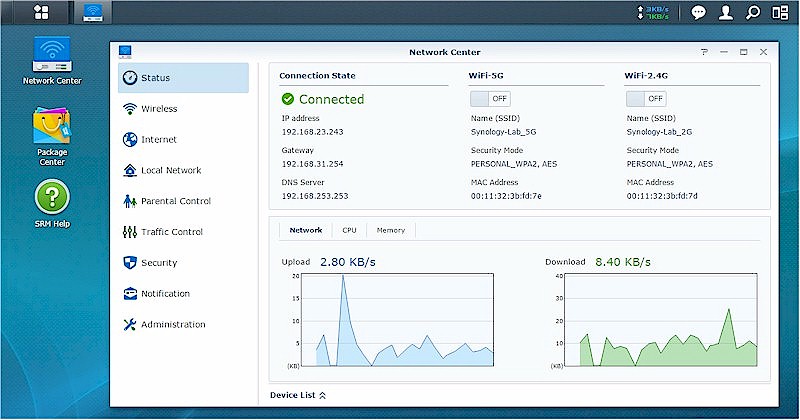 Synology Router Manager
However, Synology's hopes for wrestling market share from its formidable competition rely on the Router's Package Center. Modeled after its NAS Package Center, the Router version will be the first time a router's feature set can be expanded via installable apps.
Linksys has tried this for years with its "Smart WiFi" system, which hasn't been a game changer. Linksys' system includes only a meager set of not very useful features and relies on external iOS and Android apps instead of router-installable modules.
NETGEAR also briefly took a run at app-based routers with its doomed-from-the-start genie+ marketplace. They even offered a $1M contest prize to attract developers. But, as both companies discovered, app developers would much rather spend their limited time developing iOS and Android apps for much larger audiences.
Synology's Router Package Center currently lists DNS Server, Download Station, DLNA Media Server, RADIUS Server and PPTP / OpenVPN/ L2TP-IPsec VPN server packages. We should probably expect Synology's Photo, Audio and maybe Video "Stations" to be added to this list at some point. It will be interesting to see how many packages the 4 GB of flash can hold. Maybe that's why Synology also included the SD slot?
That's the good news. The bad is that the RT1900ac won't be available in the U.S. and Canada until Q1 2016 and pricing hasn't been announced. The only places you can buy it shortly are Taiwan, Hong Kong, Singapore, Australia and New Zealand. Europe gets their turn in "mid-November".