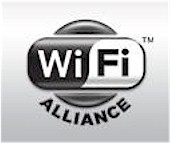 The Wi-Fi Alliance has announced the start of its mobile hotspot certification program.
The Alliance said it is now testing mobile devices and infrastructure equipment for its Wi-Fi CERTIFIED Passpoint program. Passpoint is an interoperability test program that verifies that Wi-Fi infrastructure equipment and mobile devices from different manufacturers will work well together.
Passpoint is seen as an enabling technology to help cellular networks more easily offload mobile traffic to available Wi-Fi networks. Mobile devices are presenting an increasing load on cellular data networks, which even 4G technologies cannot sufficiently handle. Virtually all cellular providers are looking to Wi-Fi networks that they either own or partner with to address their network overloading issues.
Passpoint will eliminate the manual intervention that is currently required when connecting to a mobile hotspot. Users will still need to subscribe to the hotspot owner's service or an affiliate hotspot network. But they won't have to enter credentials, launch a browser, etc. to connect. And since Passpoint connections use WPA2-Enterprise, communications will now be secured instead of open as they now typically are.
The Passpoint certification program is based on technology defined in the Alliance's Hotspot 2.0 Specification. Passpoint certification testing ensures that devices uniformly perform network discovery, selection and provisioning of services. Passpoint devices are also tested for proper implementation of WPA2-Enterprise security.
Passpoint certification can be obtained for access points, smartphones, tablets, notebooks and other mobile equipment. The first products to be Passpoint certified and which form the test suite for the certification program are:
BelAir 20E
Broadcom Dualband 11n WiFi and Dual Band 802.11n Access Point
Cisco CT2500 Series WLAN Controller and LAP1260 Series Access Point
Intel Centrino Advanced-N 6230
Marvell Plug – 88W8787 802.11 a/b/g/n Reference Design
MediaTek Hotspot 2.0 Client V1
Qualcomm Atheros Dual-Band XSPAN 3-Stream 802.11n Access Point and Dual-Band XSPAN 2-stream 802.11n WLAN Adapter
Ruckus Wireless ZoneFlex 7363 and ZoneDirector 1100
Check the Alliance's Passpoint page for more information.