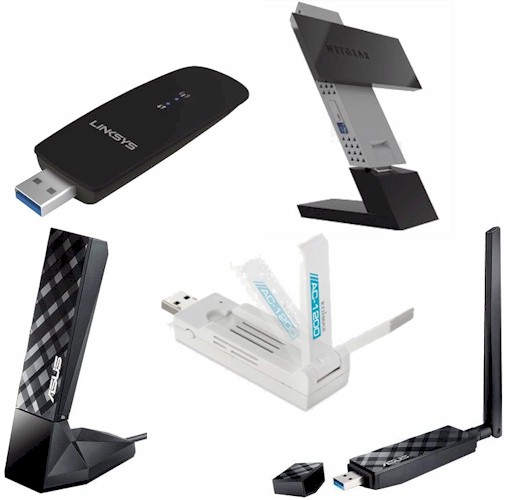 Introduction
We recently started to test wireless adapters due to our more automated test process. So we are able to rip through a bunch of 'em pretty quickly. Since 802.11ac is all the rage and you don't really get a big performance benefit from an AC router without AC clients to go with it (see Will A New Router Really Improve Performance?), I decided to focus on testing AC1200 class adapters.
AC1200 adapters have a single 2×2 radio, which means that these little guys will provide maximum link rates of 867 Mbps in 5 GHz and 300 Mbps in 2.4 GHz when used with an AC1200 class or higher router. If you use them with N600 or higher class routers, their maximum link rates will be 300 Mbps in both bands.
Contrary to popular belief (and mine, too, before I ran the tests), USB 2.0 doesn't limit the throughput of this class of adapter. So this roundup contains adapters with both USB 2.0 and 3.0 connectors. Specifically, we tested the products shown below.

Product
[click to visit product website]
Price
[click to check current price]
Firmware
Chipset
FCC ID
USB
ASUS USB-AC53
$50
6.30.145.30 Win 7 32 bit
Broadcom BCM4352
MSQUSBAC53
2.0
ASUS USB-AC56
$70
1023.6.225.2013 Win 7 32 bit
Realtek RTL8812AU
MSQ-USBAC56
3.0
Edimax EW-7822UAC
$38
1023.6.225.2013 Win 7 32 bit
Realtek RTL8812AU
NDD9578221212
3.0
Linksys WUSB6300
$62
1023.8.524.2013 Win 7 32 bit
Realtek RTL8812AU
Q87-WUSB6300
3.0
NETGEAR A6200
$34
1.0.0.26 Win 7 32 bit
Broadcom BCM43526
PY312200200
2.0
Table 1: The Products Tested
Inside
You can see pretty quickly that there are only two transceiver device types used among the five adapters. The USB 2.0 adapters use Broadcom's BCM43526 and the adapters with USB 3.0 host interfaces use the Realtek RTL8812AU.
To save you the time of looking them up in the FCC ID database, I'm including the internal pix. The single images below don't tell the entire story that you can get from looking at the entire FCC ID internal picture file. So I'll provide a bit of commentary.
The ASUS USB-AC53 board is Broadcom based. Most components are covered by an RF shield that is removed in the photo. It's hard to see, but the two dual-band antennas at the photo right are formed-metal and stand perpendicular to the board. Additional amplification and switching is handled by two Skyworks SKY85803 Dual-Band 802.11a/b/g/n/ac WLAN Front-End Modules.

ASUS USB-AC53 board
The ASUS USB-AC56 has the distinction of being the only adapter in this roundup with an upgradeable, movable, external dipole antenna attached via an RP-SMA connector. The design uses separate 5 and 2.4 GHz amplifiers, with a pair of Skyworks SE5003L for the former and two unidentifiable components for the latter.

ASUS USB-AC56 board
The Edimax EW-7822UAC also has one "external" antenna. But it's not connectorized and on a hinged panel that you can only raise and lower to about a 120° angle. It also takes a unique approach with its companion components for the Realtek RTL8812AU, as shown in the component detail in the photo below. Two Skyworks SE5022T boost the 5 GHz signal, but it doesn't look there is additional 2.4 GHz amplification. Instead, there are two Skyworks SKY85601 SDPT Switch w/ LNA modules on the 2.4 GHz side.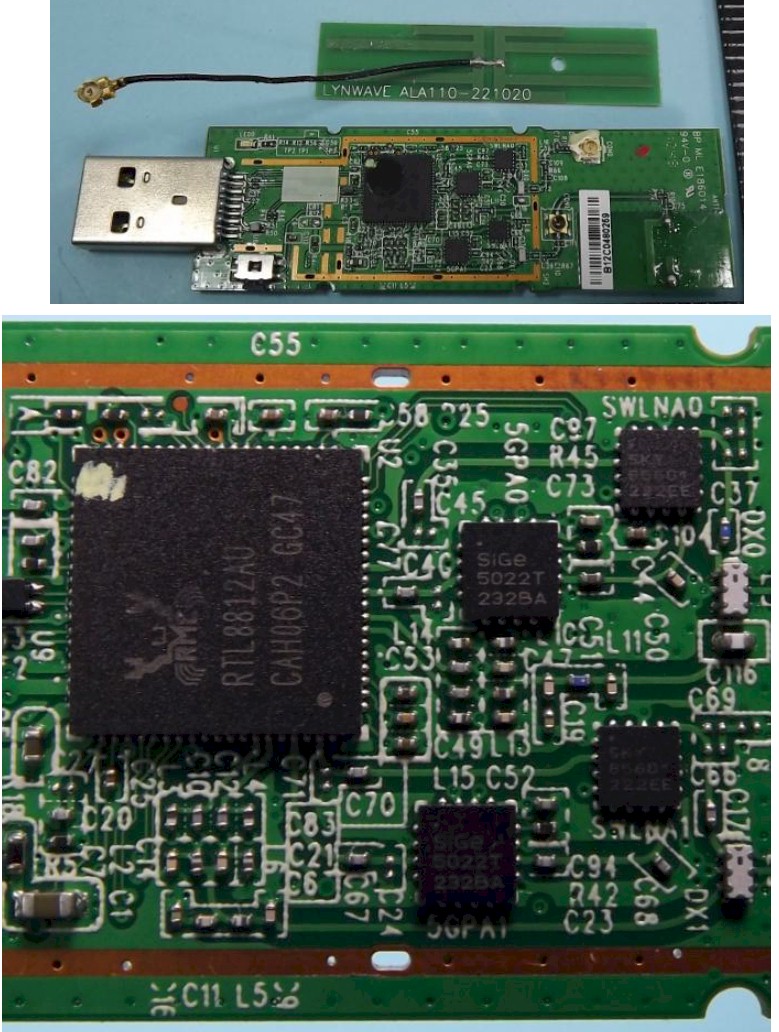 Edimax EW-7822UAC board
Linksys' temporary confidentiality request for the WUSB6300's internal photos hasn't expired yet. So we have only the Wikidevi info to go on. They report that the adapter appears to be the same as the Belkin F9L1109 v1, which has a component complement that exactly matches the Edimax EW-7822UAC's, i.e. Realtek RTL8812AU, Skyworks SE5022T (x2) and Skyworks SKY85601 (x2).
This brings us to the NETGEAR A6200 whose innards are pictured below. This guy also has a movable antenna, but it swivels 90° as shown in the opening photo collage. The components used, however are the same as in the ASUS USB-AC53, i.e. the Broadcom BCM43526 transceiver and two Skyworks SKY85803.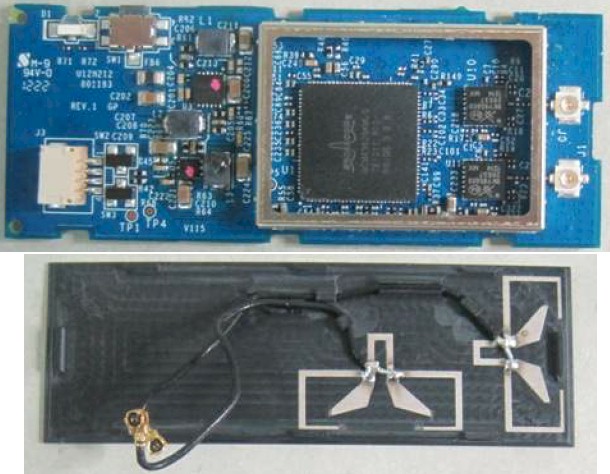 NETGEAR A6200 board
Features
Adapters are pretty simple beasties, with not many knobs to twiddle. But there are some differences that could sway you toward a particular product, specifically the ability to move the adapter and/or antenna so that you can try to get a better signal and a cable / desktop stand for even more positioning flexibilty. All the adapters in this round-up have buttons to initiate a pushbutton Wi-Fi Protected Setup (WPS) session.
The Wireless Adapter / Bridge Finder calls out both these features and lets you filter for them. The NETGEAR A6200 and ASUS USB-AC53 are the only two products that come with cabled stands. ASUS even throws in another short cable and "NetClip" that lets you hang the adapter off your laptop screen.
The NETGEAR A6200 wins the prize for bendy-est adapter because its USB connector is hinged. This would let you plug it into a laptop, but then raise the adapter body to vertical. You then could swivel the antenna panel to change from vertical to horizontal polarization if you like.
The ASUS USB-AC56 wins the award for unwieldiest adapter due to its honkin' big screw-on antenna. The marketing material describes the antenna s "high-gain", but the gain isn't specified.
The Edimax EW-7822UAC also gets an A for effort with its flip-up antenna. I also like that it doesn't force you to install a client utility to get the driver file installed, like the ASUS and NETGEAR adapters do. It's also the only product in this round-up that has Mac OS and Linux drivers. The Linksys adapter has separate installers for Windows XP, Vista, 7 and 8. But they only install the driver; no utility.
Performance
You can read full details of the test process at How We Test Wireless Adapters & Bridges. If you're familiar with our router test procedure, the adapter procedure is very similar. The short form is that instead of having a reference adapter, we use a reference router, an ASUS RT-AC66U, to be exact.
I'm going a bit out of turn in showing the Ranker results first. But it shows I chose the top, middle and bottom-ranked adapters to run throughput vs. attenuation plots on.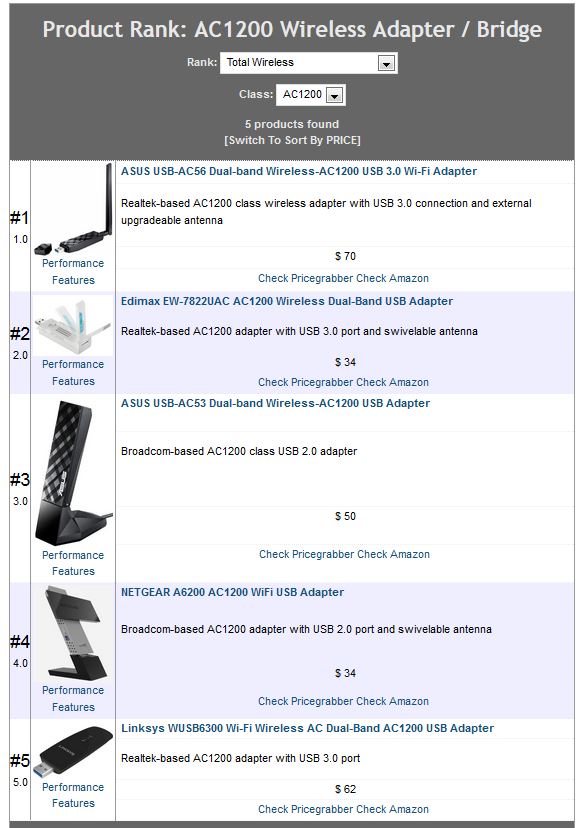 AC1200 USB Adapter Ranker result
The 2.4 GHz downlink plot shows the last-place ranked Linksys WUSB6300 having the best performance profile. The top-ranked ASUS USB-AC56 runs between it and the middle-ranked ASUS USB-AC53 except for a few points in the 20 – 30 dB attenuation range. The AC53 has the poorest range of the three since it runs out of steam at 51 dB.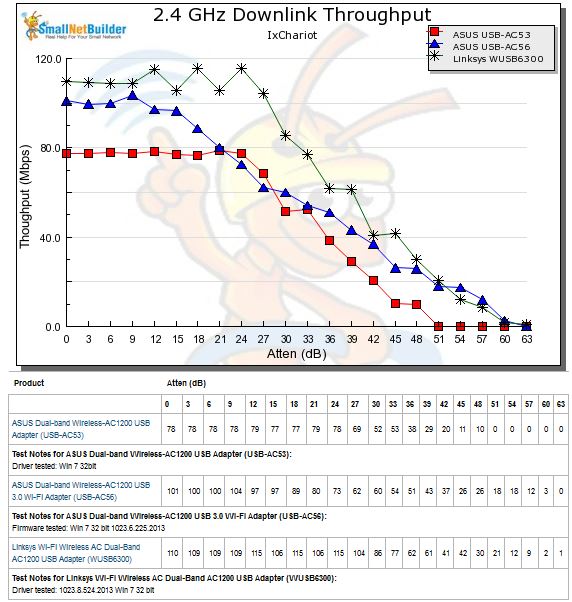 2.4 GHz downlink – Throughput vs. Attenuation
It's a bit tricky to tell by eye, since the plots auto-scale. But the 2.4 GHz uplink plot shows all adapters with lower uplink throughput and the formerly top-performing Linksys dropping to the bottom in the lower attenuation range. At 42 dB, however, it pretty much matches the ASUS AC56 as they head to their disconnect points.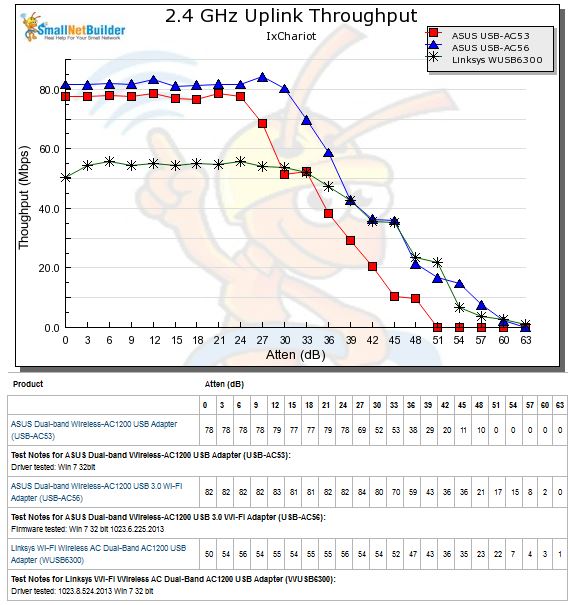 2.4 GHz uplink – Throughput vs. Attenuation
Performance – more
The 5 GHz downlink plot shows very similar throughput at attenuation levels up to 18 dB, where the plot lines diverge. The AC56 takes a premature dive toward the bottom. But it recovers to end up with the best range performance, i.e. still producing 34 Mbps throughput at 45 dB attenuation.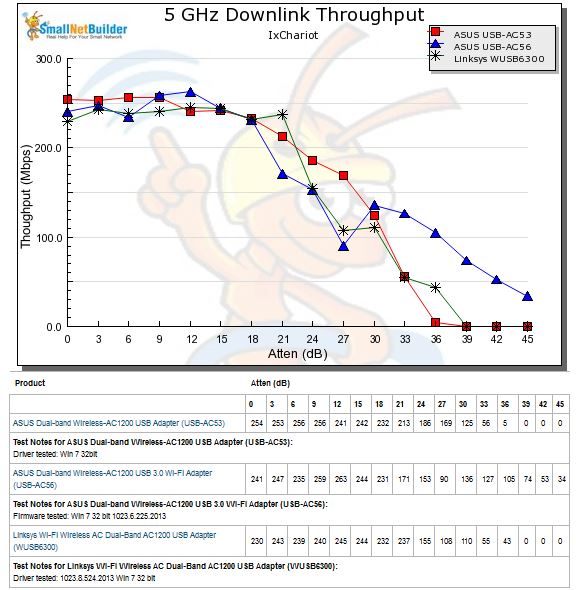 5 GHz downlink – Throughput vs. Attenuation
The 5 GHz uplink plot shows the AC56 with some wonkiness again in the mid- 20 dB range and a dip in the early going, too. But it once again bounces back to a much higher throughput. At 39 dB, however, it is pretty much out of gas. I don't know that I would trust that blip up at 42 dB to provide consistently superior range.
Again, note the significantly reduced scale with uplink throughput values around half of downlink.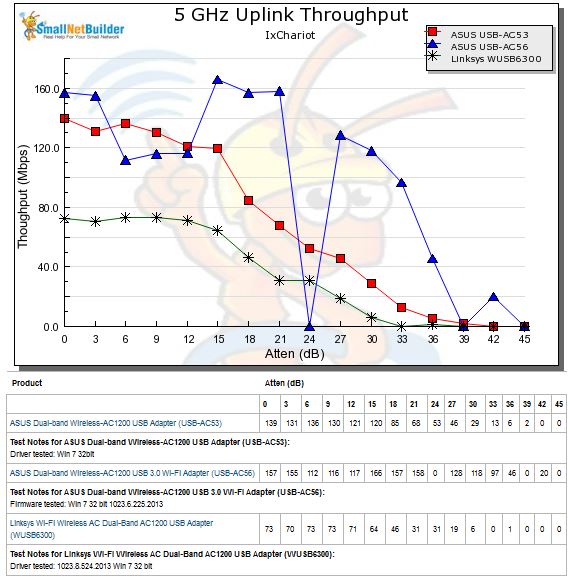 5 GHz uplink – Throughput vs. Attenuation
Since the top-ranked ASUS USB-AC56 is more than twice as expensive as the second-ranked Edimax EW-7822UAC, let's quickly compare their profile plots.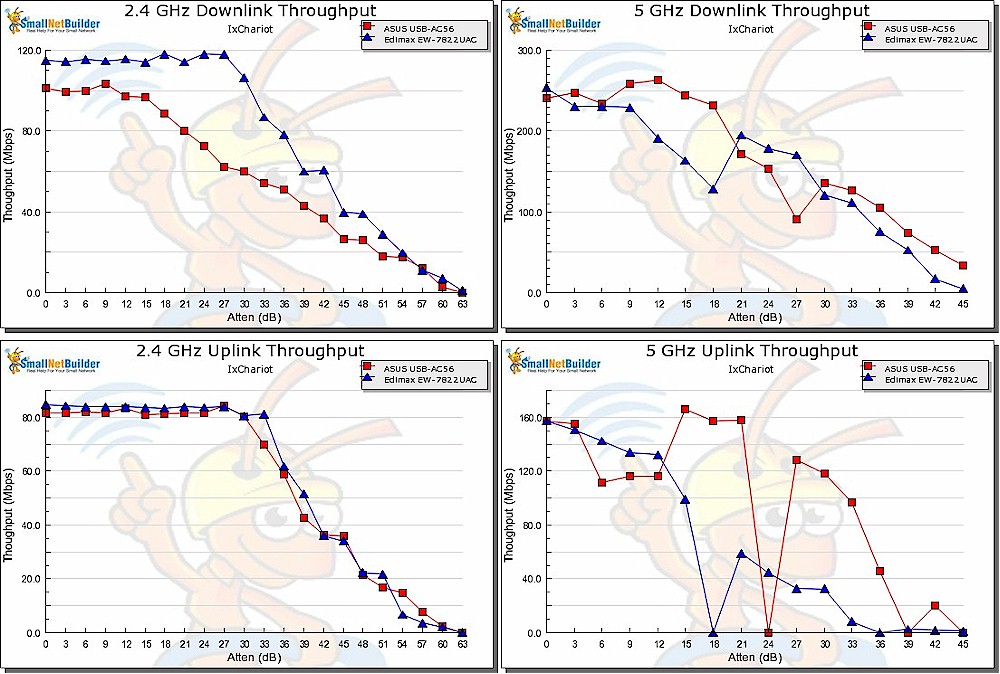 ASUS USB-AC56 vs. Edimax EW-7822UAC Profiles
The two are pretty well matched for 2.4 GHz performance, with the Edimax, in fact, outperforming the ASUS on downlink. In the 5 GHz band, however, both adapters have their oddities. On downlink, both take downward throughput dips, then recover, with the ASUS turning in better overall average throughput and range. But on uplink, it's a hard call; both have some pretty severe mid-range issues.
Closing Thoughts
For the most part, the ASUS USB-AC56 turned in the best overall performance to earn its first-place ranking. But the adapter might not be the one for you. First, at $70, it's the most expensive of the bunch. But the large external antenna would be more of a problem for anyone planning to use this on any device that moves around. This product really seems more suited for use with desktop computers, media players or anything else needing wireless network connection that isn't going to be moved much.
Although I'm as surprised as you may be to see the least expensive product in this roundup perform almost as well as the best, the Edimax EW-7822UAC seems like it could be the best buy of the bunch. And if you are looking for an AC adapter for your Linux or MacOS machine, it's the only one that ticks that box.