At a glance
Product
Amped Wireless High Power Wireless-N 600mW Gigabit Router (R10000G) [Website]
Summary
Realtek-based 2.4 GHz 11bgn Gigabit router with high transmit power and very high wired and wireless throughput.
Pros
• Very high wired and wireless throughput

• Upgradeable antennas

• User friendly admin layout
• Four guest networks
Cons
• Does not provide extended range

• Very weak default WPA/WPS key
• Admin interface can be flaky and requires long reboots to save
Typical Price: $100 Buy From Amazon
Introduction
Updated 3/29/2012: Added link to wireless retest
The Amped Wireless R10000G High Power Wireless-N 600mW Gigabit Router is the current top of Amped's line of 2.4 GHz 802.11bgn routers. It features a 620 MHz Realtek processor, dual 600mW amplifiers and four-port Gigabit switch. Amped's marketing materials claim up to 10,000 sq. ft. of coverage, which the company backs with a guarantee of 35% off your next router if it fails to meet that promise.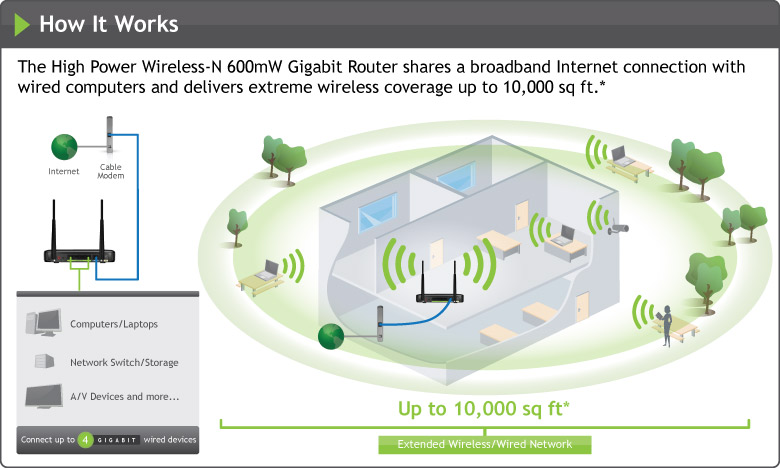 Figure 1: The 10,000 sq ft coverage claim
The rear of the router has the antenna connectors, a reset switch, WPS button, a power connector, 4 Gigabit LAN ports, and a Gigabit WAN port. The front panel has indicator lights to indicate a connection to ports in the rear.
One nice feature is that it illuminates a number on the front panel to correspond with the port on the rear. Unfortunately, there is no indication as to whether the device has connected at Gigabit speed, which would have been nice.
The router has rubber feet to sit horizontally, but also includes a stand to sit upright as shown in Figure 2. However, I found that the stand did not fit very tightly around the router and the router would often rock backwards on the stand with cables connected. The upright stand also seemed to be an uncomfortable setup when the 5 dBi antennas were connected, but it's there as an option should you not wish to have the router horizontal.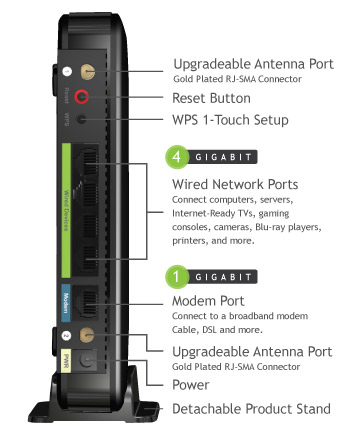 Figure 2: Amped Wireless R10000G connectors and ports
To speed the review along, Tim ran the tests on an R10000G, but sent me a feature-equivalent R10000 to write the feature review. So don't be alarmed when you see "R10000" in some of the screenshots and photos.
Inside
The heart of the R10000G is a Realtek RTL8198 SoC, which includes a 32 bit RISC CPU and five port Gigabit switch that supports the four LAN and one WAN ports. A Realtek RTL8192CE 802.11b/g/n 2T2R WLAN SoC and two SiGe SE2576L 2.4 GHz High Power Wireless LAN Power Amplifiers make up the radio. 64 MB of RAM and 4 MB of flash complete the router.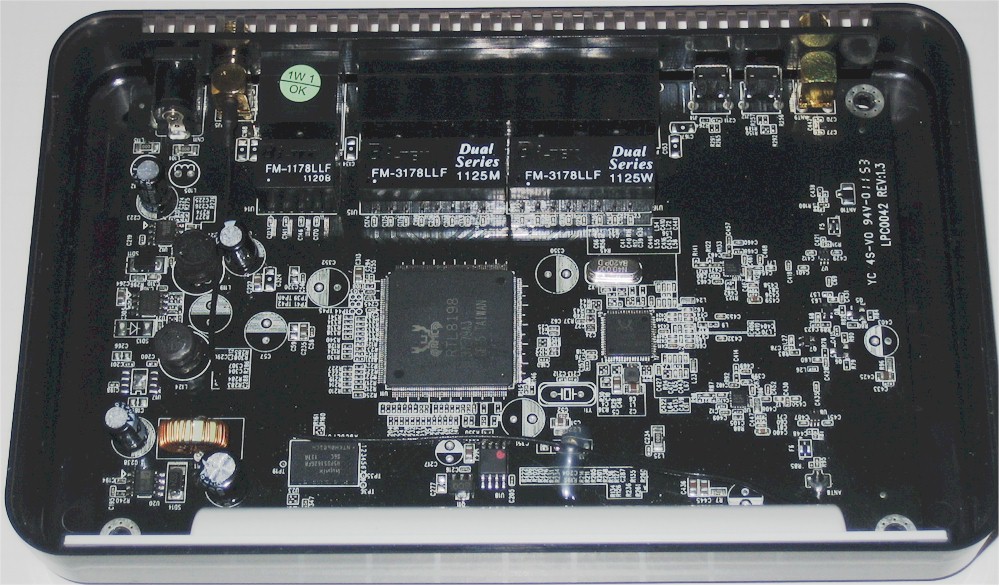 Figure 3: Amped Wireless R10000G internals
For reference, the R10000 uses a Realtek RTL8196C, which is the 10/100 version of the 8198. It also has 32 MB of RAM vs. the R10000G's 64 MB.
Feature Summary
The R10000G has a nice set of features in an admin interface that is nicely laid out and user-friendly. Here is a list of features R10000G that I complied from its datasheet and admin UI.
Routing
• Static and Dynamic IP, PPPoE , PPTP and L2TP WAN connections
• MAC address cloning
• MTU Adjustment
• DHCP Server, range setting, lease time setting, and default domain
• DHCP Client list
• DHCP reservation
• VLAN support
• Virtual Server entry for single or multiple ports with TCP, UDP or all protocols forwarded. Enable/disable for each entry.
• Port filtering – can set individual or range of incoming ports. Allows you to enable or disable TCP and UDP ports on network devices.
• DMZ Host
• UPnP enable/disable
• DDNS support for Dyndns (www.dyndns.org) and TZO (www.tzo.com)
Security
• Firewall enable/disable at each component level
• VPN Passthrough enable/disable for PPTP, L2TP and IPSec
• IPv6 pass through on VPN connection enable/disable
• DoS (denial of service) enable/disable
• Enable UDP Flood filtering (with settable threshold)
• Enable TCP-SYN Flood attack filtering (with settable threshold)
• Ignore Ping Packet from WAN port
• Remote Management on WAN enable/disable
• MAC address filtering
• URL filtering
• Internet access control – Rule based access control for host (domain name or IP address)
• Enable/disable bandwidth control with user settable egress/ingress (upload/download) speeds.
Bandwidth rules list based on IP address (or IP range), port range and protocol
Wireless features
• WEP, WPA / WPA2 Personal and Enterprise (RADIUS) support
• 4 guest wireless networks
• Wi-Fi Protected Setup (WPS) support, pushbutton and PIN
• Auto and manual channel set
• Transmission rate set
• SSID broadcast enable/disable
• Enable/disable wireless
• Beacon interval, RTS threshold, Fragmentation Threshold adjustments
• Wireless MAC address filtering (allow or deny based on MAC address)
• WMM disable
• Short GI disable
• Wireless access schedules
• Wireless modes: b-only, g-only, n-only, mixed b/g, mixed g/n, mixed b/g/n (default)
• Channel width 20MHz/40MHz
• Transmit power adjust, 15%, 35%, 50%, 70% and 100%
• Wireless network statistics, packets sent/received, active associated clients
Setup
You set up the R10000G by loading http://setup.ampedwireless.com in your web browser. This may please more advanced users, but could intimidate more novice users who might prefer loading up a software CD and following a wizard. But with CD drives going the way of the dodo, Amped's approach is becoming more mainstream.
The label on the rear of the R10000G provides everything you need to know about default settings for the router, should the setup sheet be misplaced.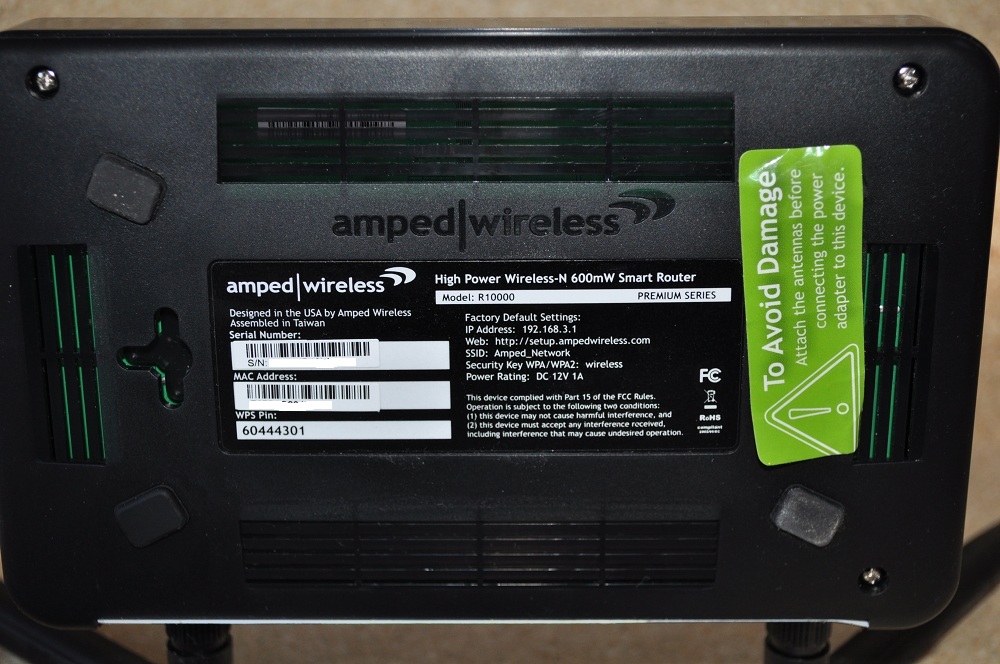 Figure 4: Amped Wireless R10000G helpful user label
Once connected to the admin interface, a wizard walks you through setting up basic functions such as internet connection, syncing of the system clock (with manual entries or a sync to your computer), wireless SSID, and wireless security.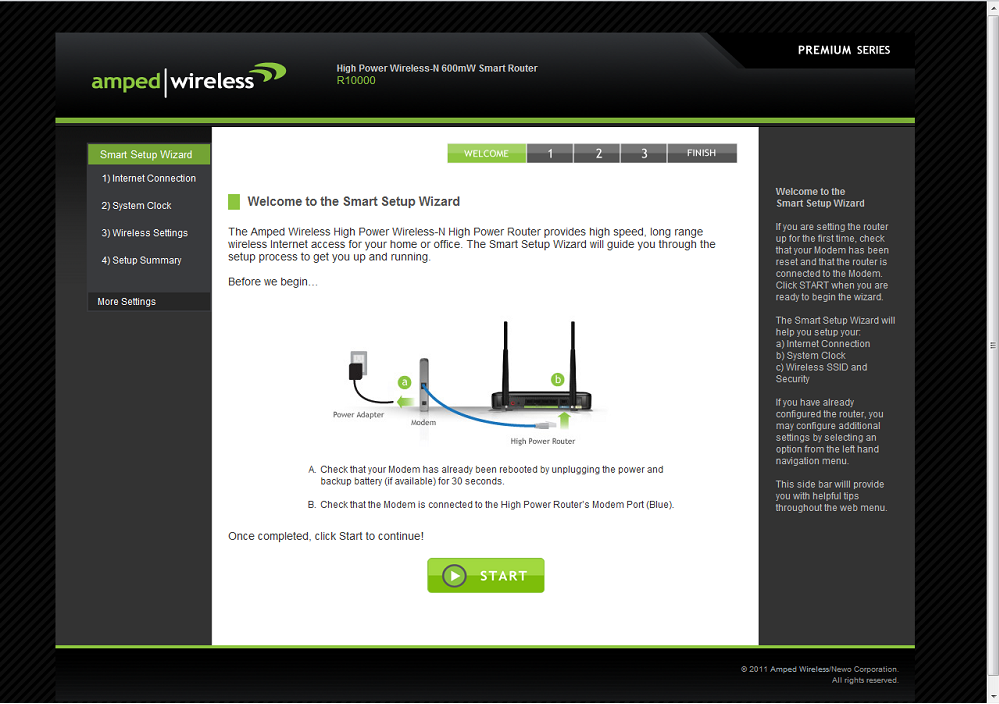 Figure 5: Amped Wireless R10000G Setup screen
The wireless security settings show that the wireless network is secured with a WPA/WPA2 security password. Secured is a strong word since "wireless" is the default password and the user is not required to change it. A randomly generated strong password, unique to each router, with the option of being user-changeable would have been a better solution.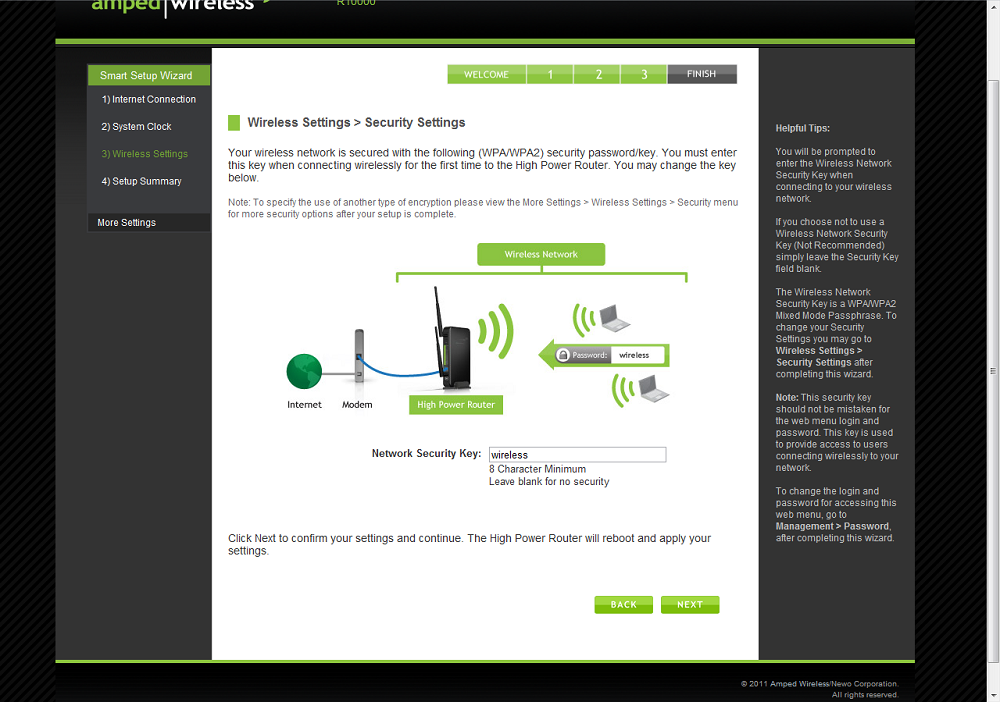 Figure 6: Amped Wireless R10000G Wireless security screen
Once inside the admin interface, the Setup wizard is still available if needed, but More Settings contains the heart of the router functionality. Settings here include Wireless Settings, Network Settings, Smart Features, Firewall Settings, Quality of Service, and Management.
In general, I thought the UI was nicely laid out and easy to navigate. But some functions such as Wireless and Security functions under Smart Features, seemed more appropriate under their parent items vs. a separate menu.
Help text on the side of each page explains configuration options. However, pages with a longer list of functions direct you to the User manual on the CD. A nice option there may have been a link to the Amped Wireless site with further explanation or even another page on the router in case the CD is misplaced or you don't have a computer with a CD drive.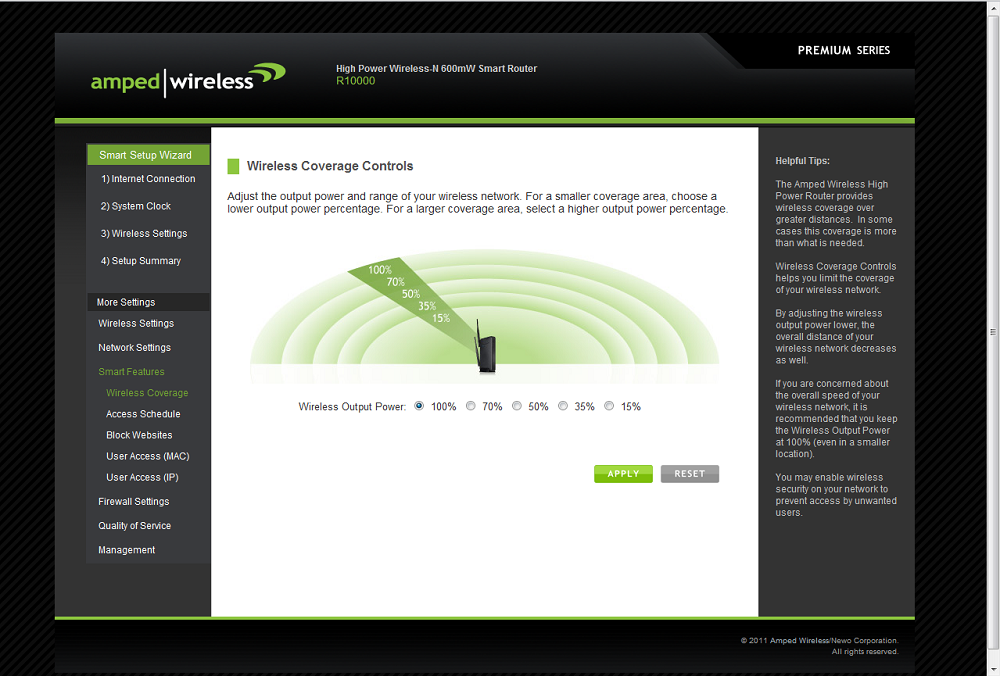 Figure 7: Amped Wireless R10000G Smart Features screen
Feature Tour
The features of the router are laid out simply and in a user-friendly manner. Many of the features are common to all routers and specified in the Feature Summary above, so I won't go through each and every one of them, but I would like to give an overview and highlight some of the features.
Wireless Settings
An unfortunate feature of this non-WiFi Certified router is that it defaults to 40 MHz channel width, which is sure to eat up all available channels in your neighborhood. Channel number is also set to Auto out of the box. In my testing it took Channel 3 in auto mode when a strong wireless network was found on channel 6 and channel 1.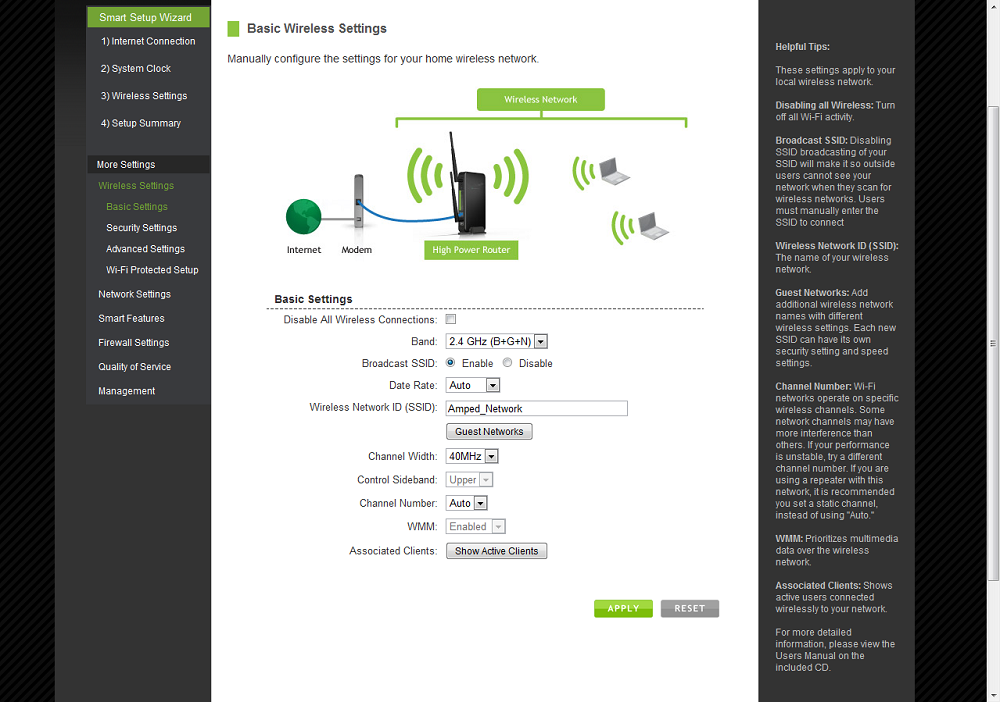 Figure 8: Amped Wireless R10000G Wireless Basic Settings screen
Wi-Fi Protected Setup (WPS) initially did not work. When we attempted to connect to the router with a Win 7 client, the WPS dialogs were not presented by Windows' built-in wireless client. Pressing the WPS button on the router also failed to initiate a WPS session. We reported the problem to Amped, who confirmed it and issued new v2.5.2.02 firmware, which we used for all performance testing.
After the firmware update WPS works as expected. You have three options for connecting with WPS; pushing the WPS button on the back of the router; entering the PIN number specified on the back of the router and in the admin UI; or entering the PIN from your device into a form on the router.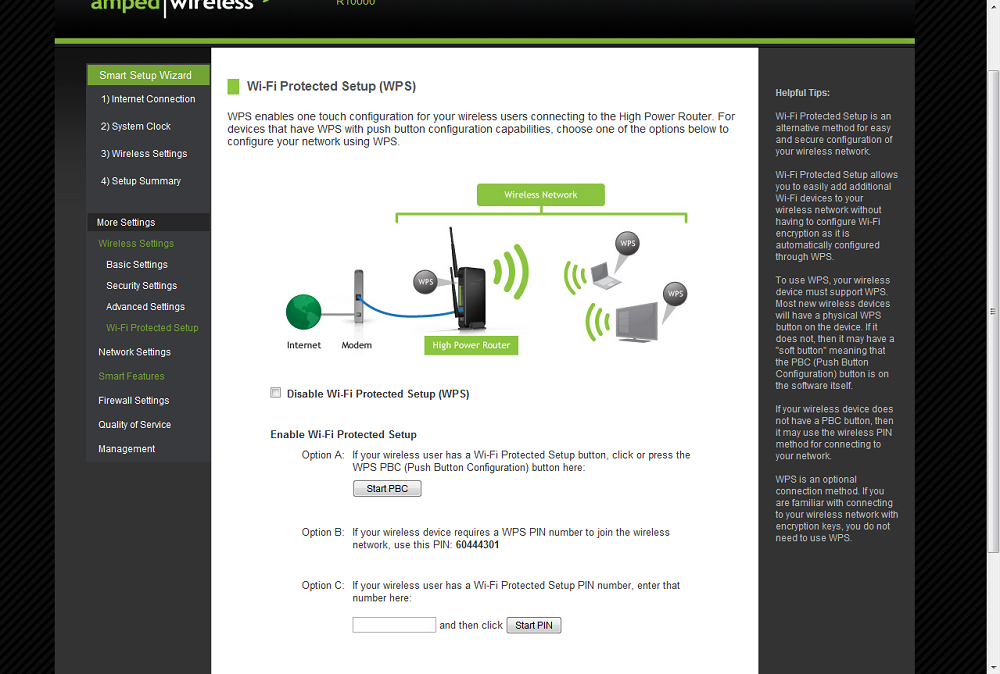 Figure 9: Amped Wireless R10000G WPS screen
In addition to the main SSID, four guest networks are available on the R10000G. Each has the option for band, data rate, SSID broadcast, WMM enable/disable, Internet and local access or internet only and client list.
Network Settings
Network settings for the R1000G on the LAN side include the ability to set IP address, DHCP options, lease time (in this case defaulted to 480 minutes or 8 hours). On the WAN side, MTU adjustments are possible, as are cloning MAC address and manually setting DNS entries. Advanced settings include the enabling/disabling uPNP, disabling WAN ping access, enabling Remote Management, and allowing or disallowing IPSec, PPTP, L2TP and IPv6 on VPN connections.
One thing I did find rather odd were the DHCP reservations ("Static DHCP"). After setting the "static" address, the router not only required a>1 minute reboot, but after that was complete, I was prompted to unplug the power adapter and reboot again (Figure 10).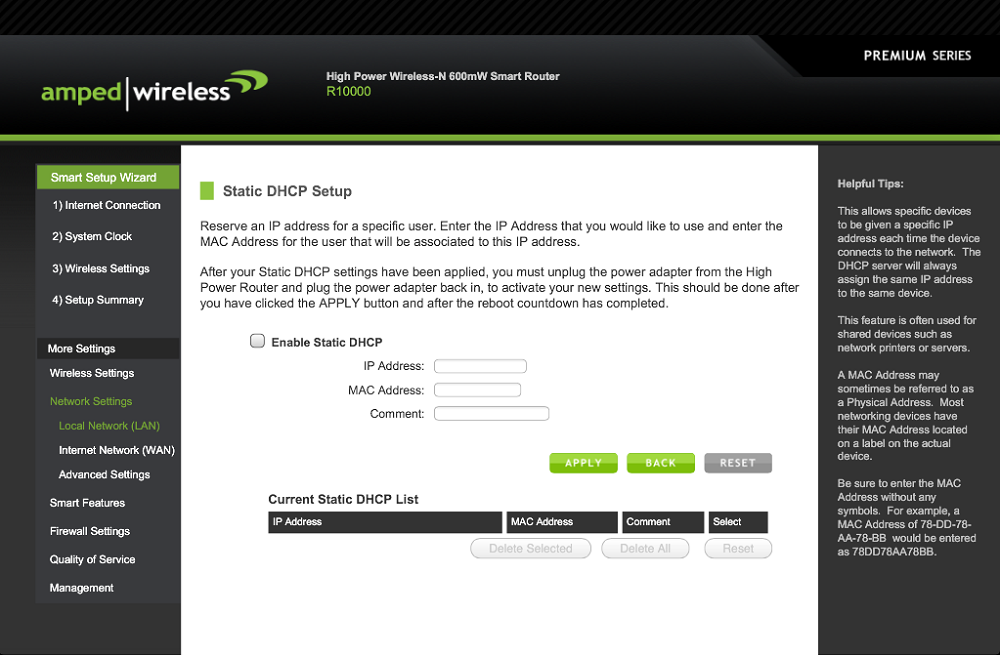 Figure 10: Amped Wireless R10000G DHCP reservations screen
Smart Features
Smart Features are broken up in to five subsets. Wireless coverage (Figure 7 above), which allows for setting the output power from 15-100%. Access Schedule, which allows you to set up to 10 different schedules to have wireless enabled or disabled for all clients. Block websites, which allows blocking of specific websites and websites containing a specific text in the URL for all clients. The final two options are MAC filtering and IP filtering, which block access to the network and the internet based on MAC address and IP address. Note that the MAC and IP filters are deny only, the reverse of what you see in most routers where access is granted to specific MAC or IP addresses.
Feature Tour – more
Firewall Settings
Firewall Settings consist of port filtering that allows you to enable or disable TCP or UDP ports. Port Forwarding and DMZ are also options under Firewall Settings, which allow the usual forwarding of a port, or port ranges, to a specific IP address or allowing unrestricted access to a specific IP address.
VLANs are configurable for each of the wired ports, each wireless SSID, and the WAN port.
Figure 11: Amped Wireless R10000G VLAN screen
Lastly, the R10000G has extensive configurable options for Denial of Service, allowing the user to customize what they want to block and set thresholds as to what they consider an attack.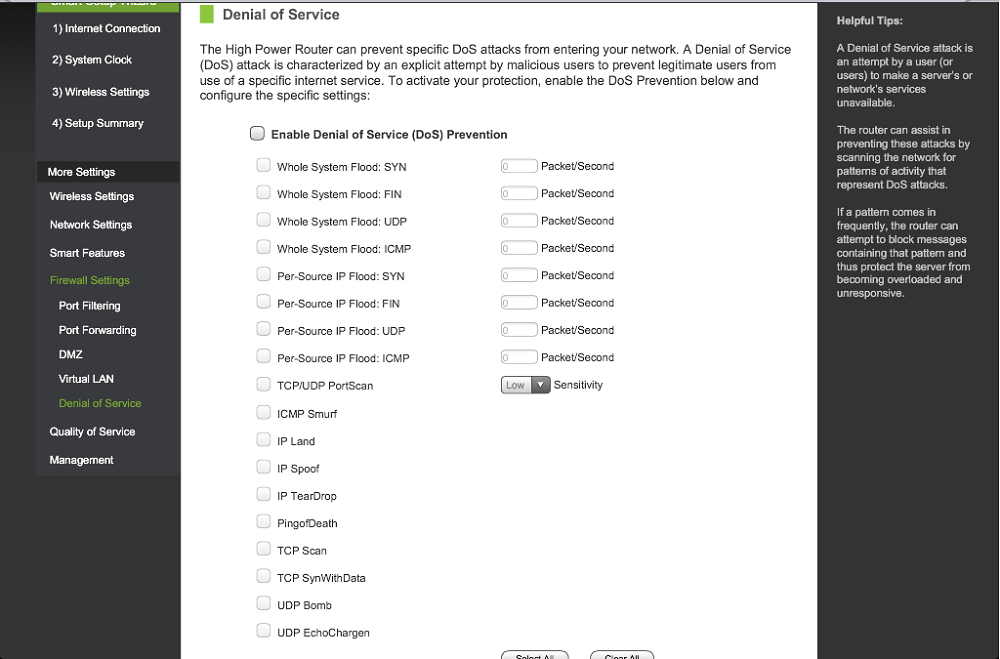 Figure 12: Amped Wireless R10000G Denial of Service settings screen
Quality of Service
Quality of Service is less customizable than other routers I've seen, supporting QoS at the device level vs. the service level. For instance, if you wanted to limit bandwidth on your network for peer-to-peer file sharing applications, there appeared to be no way to do it within these settings. You could however, guarantee bandwidth to things such as VoIP devices by specifying their IP or MAC address.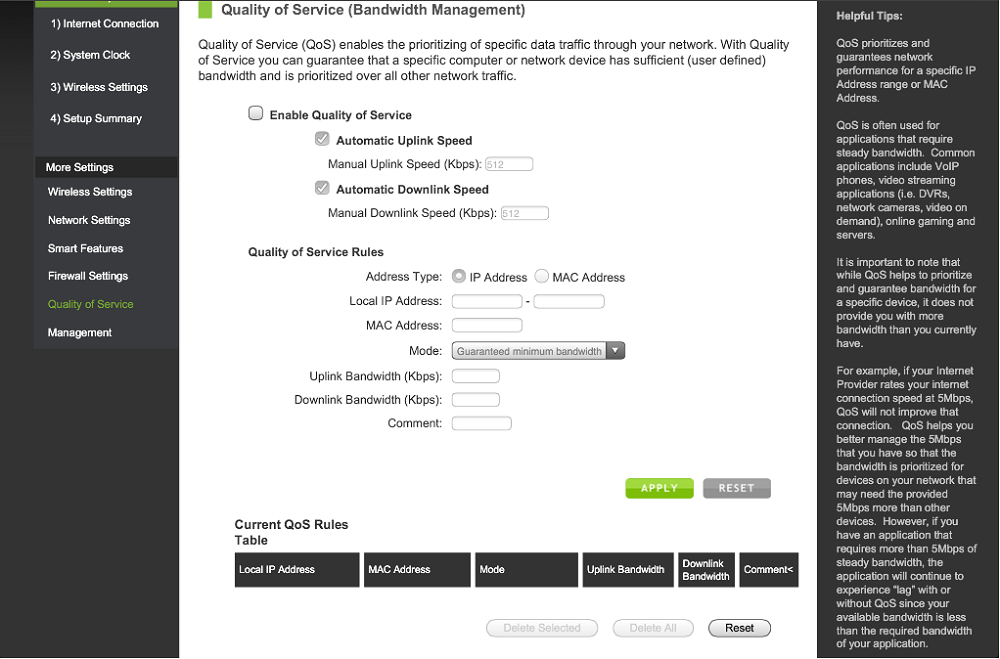 Figure 13: Amped Wireless R10000G Quality of Service settings screen
Management
Management options are sadly lacking any sort of bandwidth monitor, which would have been nice. There is a Network Statistics page, but the statistics are limited to packets sent and received and also do not show packet transmission errors, which can be helpful diagnosing wireless issues. System status shows Uptime, Firmware version, WAN and LAN IP as well as Wireless Settings and clock. System logs are also found on under Management and are disabled by default. They are also deleted each time the router is rebooted or powered off.
One last feature of the router is the Amped Wireless Wi-Fi Analytics tool, which is available on the Android market. The Wi-Fi Analytics apps gives any user (not just Amped Wireless users) tools to analyze their wireless network such as a Site Survey, Channel Interference, momentary channel graphs, historical channel graphs, and a signal strength meter. Figure 14 below shows the different screens combined together in one photo.

Figure 14: Combined screens of the Wi-Fi Analytics Tool Android app
Routing Performance
Note: Testing by Tim Higgins
The routing and wireless performance of this router is sure to cause a stir in the SNB Forums. All tests were run with the latest v2.5.2.02 upgraded firmware. The ASUS RT-N56U Black Diamond has topped the SmallNetBuilder Routing Throughput Charts for some time.
But Table 1 shows the R10000G beating the Black Diamond in LAN to WAN throughput. Checking the Charts shows the R10000G coming in second for Total Simultaneous Throughput and in fourth place for WAN to LAN throughput. For WAN to LAN throughput the ASUS is still safe, with the R10000G coming in 4th highest at 765.3 Mbps. Maximum connections for the R10000G were a comparatively low 4,096, however.
| Test Description | Amped R10000G | ASUS RT-N56U |
| --- | --- | --- |
| WAN – LAN | 765 Mbps | 802 Mbps |
| LAN – WAN | 904 Mbps | 862 Mbps |
| Total Simultaneous | 1243 Mbps | 1269 Mbps |
| Maximum Simultaneous Connections | 4,096 | 34,925 |
| Firmware Version | v2.5.2.02 | 1.0.1.2 |
Table 1: Routing throughput summary
The IxChariot summary plot in Figure 15 is difficult to interpret, given the relatively high variation shown. But, given the R10000G's very high throughput, at least some of the variation can be attributed to IxChariot.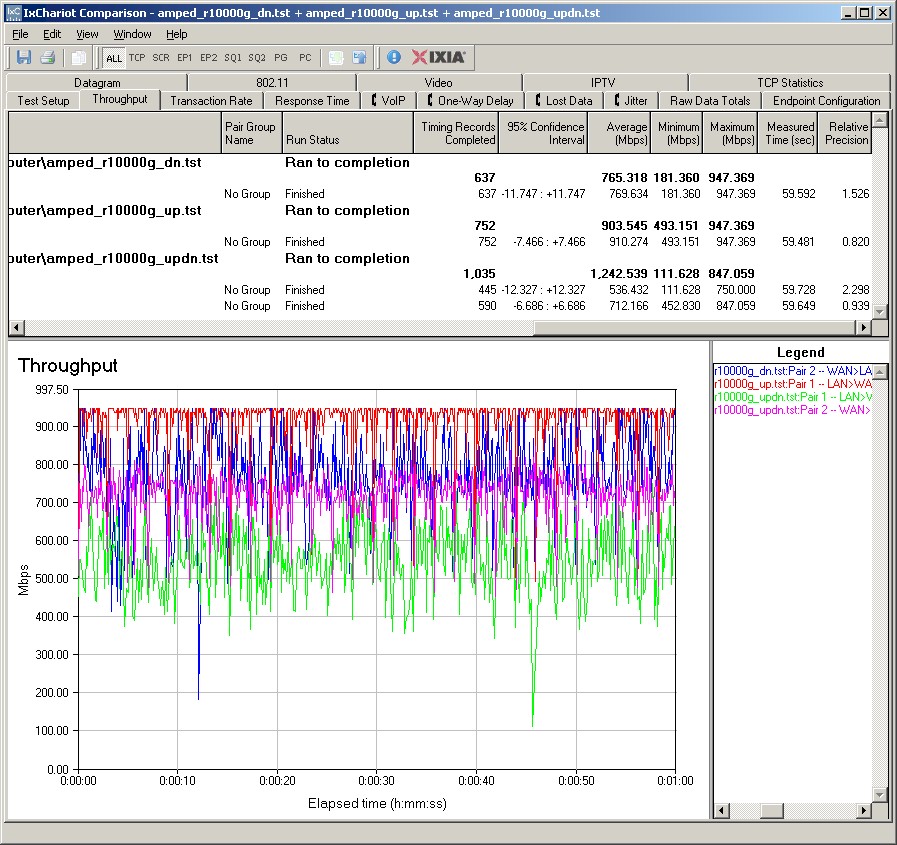 Figure 15: Amped R10000G Routing throughput plots
Wireless Performance
Note: Testing and analysis by Tim Higgins
The R10000G is not Wi-Fi Certified and improperly defaulted to 40 MHz bandwidth mode on power up. With upgraded firmware (v2.5.2.02) and as previously noted, it completed a WPS PIN session, resulting in a WPA2-AES connection with our standard Win 7 based test client. However, as also previously noted, the default password, "wireless", is very weak and you would be smart to change it to something stronger. All tests were run with this secured connection using the four-location wireless test process.
The throughput ranking in Figure 16 has been filtered to show 2.4 GHz-only routers and shows the R10000G with an almost 2X advantage over the next-highest ranked product, the Ubiquiti PowerAP N. But even if I remove the filter to show all tested routers, the second-place product—the ASUS RT-N66U "Dark Knight"—manages only 55 Mbps of throughput averaged over all tested positions.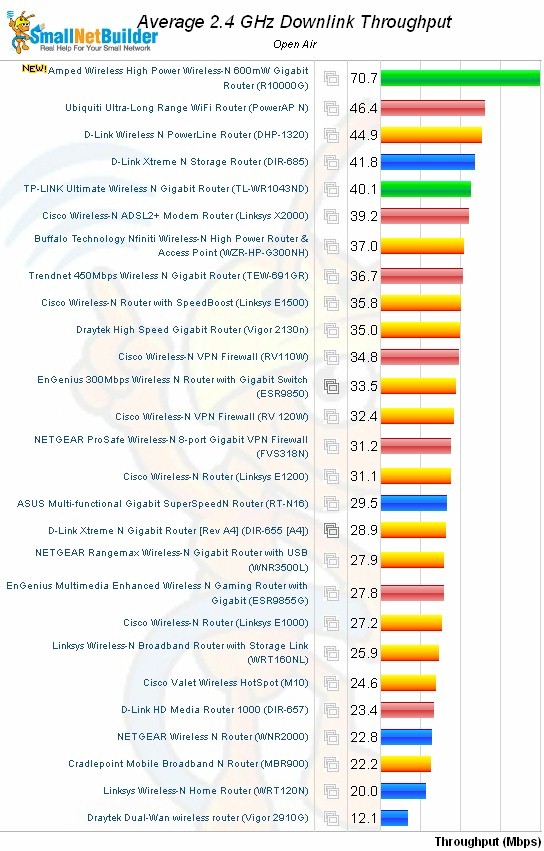 Figure 16: Average 2.4 GHz Downlink Throughput ranking – 2.4 GHz only routers
Looking at the details of each tested position reveals the R10000G's key weakness, however. I pulled two other "long range/high power" routers into the performance table in Figure 17, Buffalo's WZR-HP-G300NH and Ubiquiti's PowerAP N. I also threw in a recently-tested single-band router, TP-Link's TL-WR1043ND, which isn't a "high power" model.
You can see that all three other products competed the tests in all four test locations. But, despite its 10,000 square foot coverage claims, the R10000G failed to run the tests in the worst-case test Location F.
Figure 17: Wireless Performance Comparison
To the R10000G's credit, it remained connected, albeit at extremely low 1 to 5 Mbps 802.11b link rates, in Location F. But the connection was not consistent enough or of sufficient bandwidth to even start the IxChariot tests. I also ran pings to check the connection and they all failed.
That weakness aside, the R10000G's wireless throughput is among the highest tested, beating all other routers—both single and dual band—handily in three out of four 2.4 GHz benchmarks. At 73.3 Mbps, the R10000G is bested in Location A downlink, 20 MHz bandwidth mode throughput only by the ASUS "Dark Knight" (80.1 Mbps) and D-Link DIR-685 (78.9 Mbps).
The IxChariot plot in Figure 18 shows high throughput variation in Location A, which I was not able to eliminate with multiple test runs. These large variations also show up in other benchmark plots and could indicate receiver overload, since they are shown on the strongest-signal Location A tests.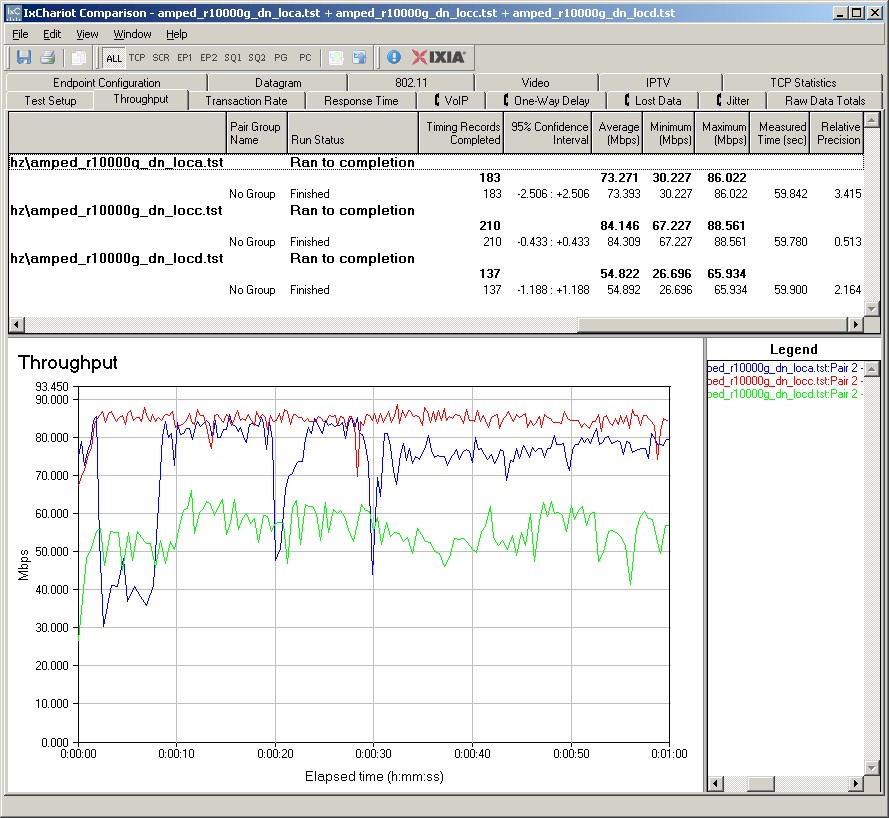 Figure 18: R10000G 20MHz downlink IxChariot summary
Here are links to the other plots so that you can see for yourself:
Closing Thoughts
The performance of the Amped Wireless R10000G is impressive, both for routing and wireless, setting new highs by a long shot on several benchmarks. But we just can't support Amped's claims of extended wireless coverage. Although we didn't explicitly test Amped's 10,000 sq. ft. wireless coverage claim, the R10000G's inability to ping or run the IxChariot tests in Location F raises a pretty big question mark. Amped's Range In crease Guarantee doesn't really provide any value, either, offering only a discount on a future purchase.
A better deal is that you can get free shipping and a 30 day return period by ordering direct from Amped. So if you'd like to see for yourself whether the R10000G, or any of Amped's other wireless products, can improve your wireless LAN's performance, you don't really have anything to lose.
Buy High Power Wireless-N 600mW Gigabit Router from Amazon