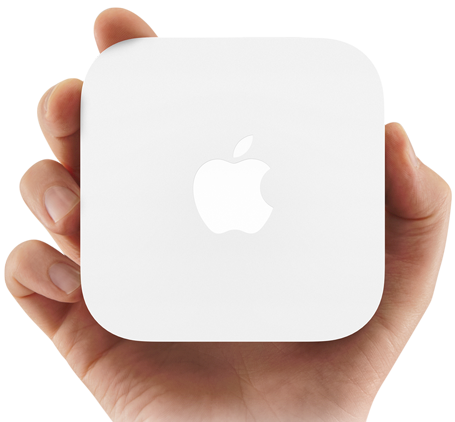 At a glance
Product
Apple AirPort Express [2012] (MC414LL/A) [Website]
Summary
Third generation of Apple's cheapest wireless router in new form factor with two radios and WAN and LAN ports for both wired and wireless routing.
Pros
• Supports both wired and wireless routing

• Audio AirPlay support
• USB printer sharing
Cons
• No web admin

• Still no 40 MHz mode in 2.4 GHz

• Limited routing features
• No USB drive sharing
Typical Price: $93 Buy From Amazon
Introduction
Update 7/9/2012: Various corrections
Judging from the interest in the Inside Story article, it looks like there is a lot of interest in what is essentially a commodity product, i.e. a dual-band simultaneous dual-stream ("N600") wireless router with 10/100 Ethernet ports.
But Apple's corporate halo apparently extends to mundane wireless products. So let's see what Apple has come up with for 99 bucks.
Apple is positioning the new Express as a wireless music and printer sharer and router for "apartment, smaller home, or dorm". The chart below shows key differences between it and its more expensive siblings.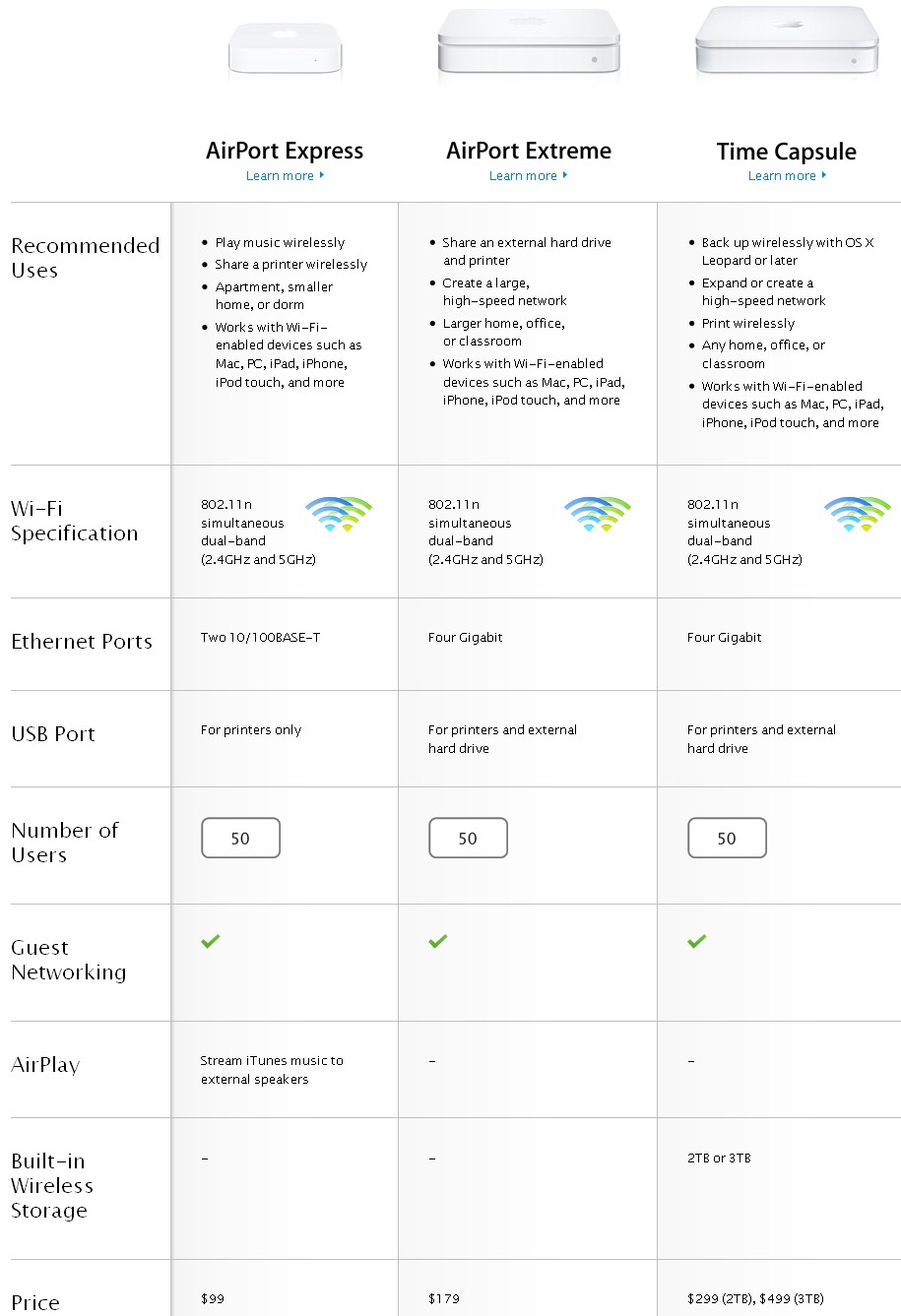 Apple Wireless router family
Apple has abandoned the wall-wart form factor of the previous Expresses and instead switched to the Apple TV "hockey puck" format. So that you can tell them apart, Apple made the Express white vs. the TV's black. Like the Apple TV and previous Expresses, the power supply is built in.
The front has only a lone LED to indicate power and status, while the rear has the port complement shown below. The single WAN and LAN ports are 10/100, not Gigabit and the USB 2.0 port is there to share only printers, not storage.

AirPort Express rear panel
Like the original Expresses, the newbie acts as an audio AirPlay device, which will show up when you fire up iTunes or Apple's Remote app. Just plug in a set of powered speakers into the jack shown above, select the Express as an AirPlay output and you'll be good to go.
If you're going to use the Express as your main router, you'll probably want to plug a switch into the LAN port to get yourself sufficiently connected.
Inside
The Inside Story article has everything you'd want to know about what makes the new Express tick. I've included just one internal shot below, there are more over in the other article.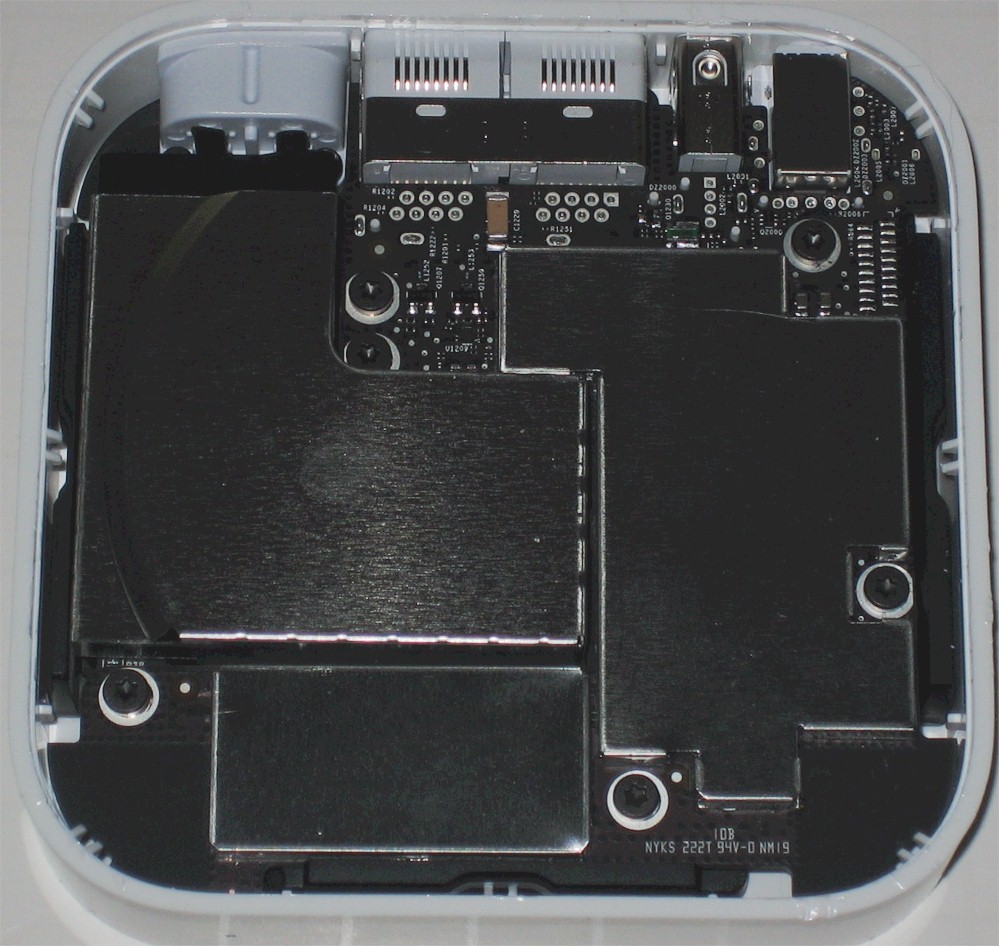 Airport Express inside
If one photo is enough and you don't feel like clicking, Table 1 details the QCA-based design.
| | Apple AirPort Express (MC414LL/A) |
| --- | --- |
| CPU | Atheros AR9344 2×2 802.11abgn SoC |
| Switch | In AR9344 |
| RAM | 64 MB |
| Flash | None visible |
| 2.4 GHz Radio | In AR9344 |
| 5 GHz radio | Atheros AR9582 |
Table 1: Apple AirPort Express (MC414LL/A) component summary
Features
You'll need version 5.6.1 of Apple's Airport Utility, which requires Win 7 SP1 or higher to install. The Summary screen shown below is a bit spiffier than I've seen previously, but that's probably due to its running on Win 7.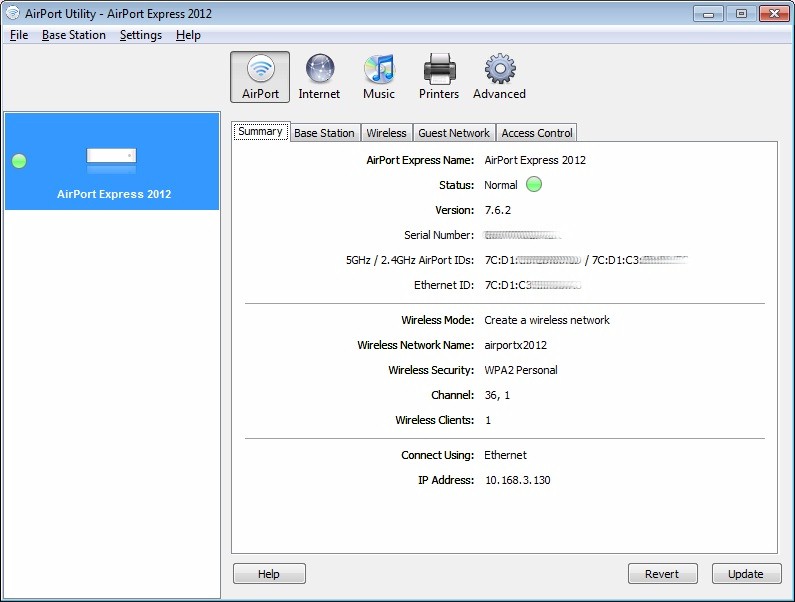 AirPort Utility Summary screen
Alternatively, you can manage the Express (or Extreme or Time Capsule) using the AirPort Utility app for iPhone or iPad. The screenshot below shows that administration worked fine with the iPad connected to my LAN's wireless router, to which the Express' WAN port was connected (double-NAT). I didn't check every control, but I think the app provides access to everything the desktop Utility supports.
AirPort Utility Summary screen
Since the Music screen is unique to the Express, I grabbed a copy of it. The screenshot below shows that the controls are pretty simple. The Enable AirPlay over WAN feature really works, since that's where the iTunes server I used for a quick test sat. Administration from the WAN worked just fine, too.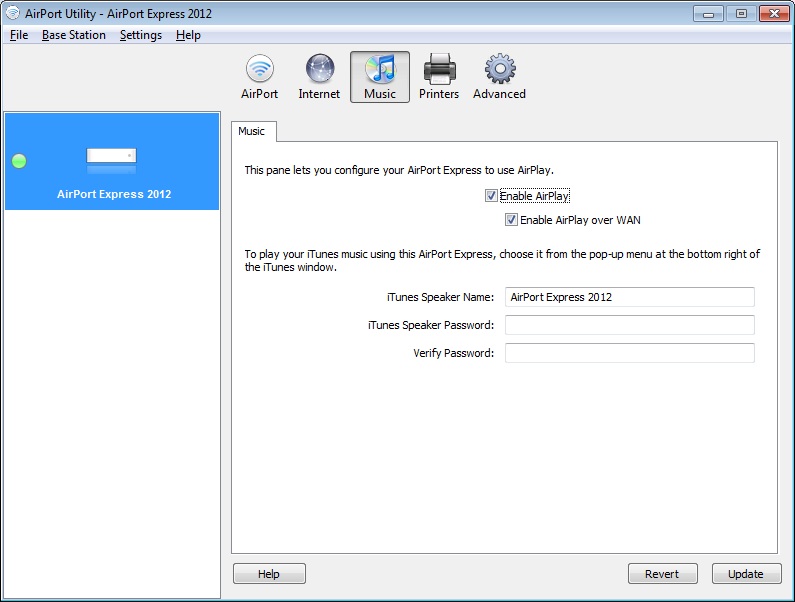 AirPort Utility Music screen
The AirPort feature set remains largely unchanged. But some AirPort Extreme features are not supported. I've indicated these via strikethrough in the summary below.
Routing
Static and Dynamic IP, PPPoE WAN connections (no MTU adjust)
IPv6 modes: Link-local only, Host, Tunnel, Router modes
NAT, One-to-one NAT, Bridge modes
USB printer and drive sharing (HFS, FAT32 formats only)
DHCP server with IP reservation
Syslog support
MobileMe "Back To My Mac" remote access
Log, wireless client and DHCP client viewing via AirPort Utility
Firewall
Single port and port range forwarding w/ separate public / private ports
DMZ host
Wireless
WDS bridging and repeating
WEP and Personal / Enterprise WPA / WPA2 wireless security – one setting for both radios
Wireless Modes: Automatic, A/N and B/G, A and B/G
Scheduled wireless MAC address control
Wireless guest access: 2.4 GHz only, no WEP
Tranmit power control (100, 50, 25, 10%) – one setting for both radios
Missing
Web-based administration
RIP v1, v2, v2 multicast and static routing
UPnP
Wi-Fi Protected Setup (WPS)
Traffic statistics
Firewall feature scheduling
Triggered port forwarding
WAN ping blocking
Inbound / outbound service control w/ scheduling
URL / domain web filtering
Wireless client-to-client isolation
Transmit data rate
As I've said before, Apple's AirPorts are not for you if you want/need a full complement of router firewall features. There are still no web filtering or inbound / outbound service controls, although you get static port forwarding for single ports or ranges with separate public and private port numbers. You also have the ability to put a single IP into DMZ.
Apple has kept the ability to share a USB printer, but opted to not include file sharing from or Time Machine backup to an attached USB drive.
Given that 40 MHz mode coexistence is supposed to be standard for Wi-Fi Certified 802.11n devices, you'd think that Apple would back off locking out this mode. But I guess lack of supporting 40 MHz mode in 2.4 GHz hasn't held back AirPort Extremes from being as popular as they are. I should note, however, that the new Express is not Wi-Fi Certified, which is unusual for Apple.
While you get two radios, note that they both share the same security settings. However, the guest network (2.4 GHz band only) does have its own security setting. You'll also need to change the 5 GHz radio SSID from its default equal to the 2.4 GHz radio's if you want to control which band your clients use.
Note too, that channel selection defaults to Auto, but you can set it manually. But both radios have to be Auto or manually set. Other settings that apply to both radios include Country, Multicast rate, Transmit power, WPA group key timeout and SSID block ("Create a closed network"). I've put some other handy wireless setting information into Table 2 below.
Setting
5 GHz
2.4 GHz
Channel
Auto, 36, 40, 44, 48, 149, 153, 157, 161
Auto, 1 – 11
Bandwidth control
20 MHz (default)
40 MHz ("Use wide channels")
20 MHz (default)
Security

None
WPA/WPA2 Personal
WPA2 Personal
WPA/WPA2 Enterprise
WPA2 Enterprise
Table 2: Wireless settings summary
Routing Performance
All testing was done with the latest 7.6.2 firmware loaded and the 5.6.1 Windows AirPort Utility.of numbers into Table 1 below. The results are about as good as you're gonna get for a router with 100 Mbps Ethernet ports.
The 146.5 Mbps Simultaneous throughput measurement indicates that the Express could have provided a bit more routing throughput if it had Gigabit ports. Apple didn't hold back on maximum simultaneous connections, however, since the Express maxed out at our 34,925 session test limit.
| Test Description | AirPort Express [2012] |
| --- | --- |
| WAN – LAN Throughput (Mbps) | 93.2 |
| LAN – WAN Throughput (Mbps) | 92.1 |
| Total Simultaneous Throughput (Mbps) | 146.5 |
| Max. Simultaneous Connections | 34,925 |
| Firmware Version | 7.6.2 |
Table 1: Routing throughput
The IxChariot aggregate plots for WAN to LAN, LAN to WAN and simultaneous routing throughput tests are shown below. The unidirectional tests are rock steady. In the simultaneous up/down test, downstream gets about 10 Mbps more then upstream.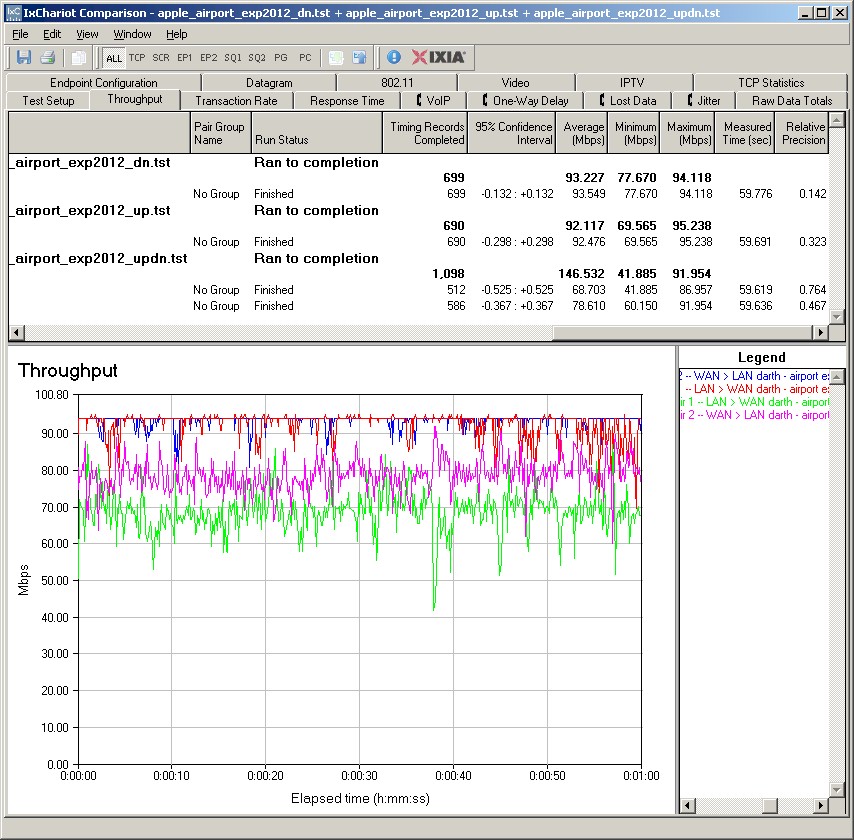 Routing throughput plot summary
Wireless Performance – Overview
The 2012 Express is not Wi-Fi Certified. Both radios come up in 20 MHz mode and set to the same SSID. Wi-Fi Protected Setup (WPS) is not supported, I missed the WPS settings I am told are found under Base Station->Add Wireless Clients, so I manually connected the test client via WPA2/AES before testing. As is our standard, Channel 1 was used for 2.4 GHz band tests and Channel 36 for 5 GHz. Our standard wireless test process was run with the router running 7.6.2 firmware loaded and the Windows 5.6.1 AirPort Utility.
The wireless numbers in Benchmark Summary below show consistently higher bandwidth in the simultaneous up/down tests vs. unidirectional benchmarks.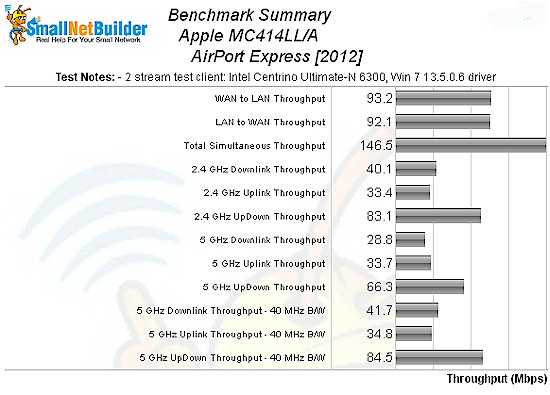 Apple AirPort Express [2012] benchmark summary
The Router Charts don't currently have a quick way to filter results to show just two stream or just three-stream routers. Instead, to generate the ranking shown below, I went to the Router Finder, set the Wireless section Type filter to N2, Band filter to Both, checked the Simultaneous box and hit the filter button. On the resulting view, I scrolled up to the Performance section and clicked twice on the 2.4 GHz Dn link in the left-most column to descending-sort the results. I then ticked the check boxes on all four pages and clicked the Compare Performance link under the 2.4 GHz Dn link and Bob's your uncle.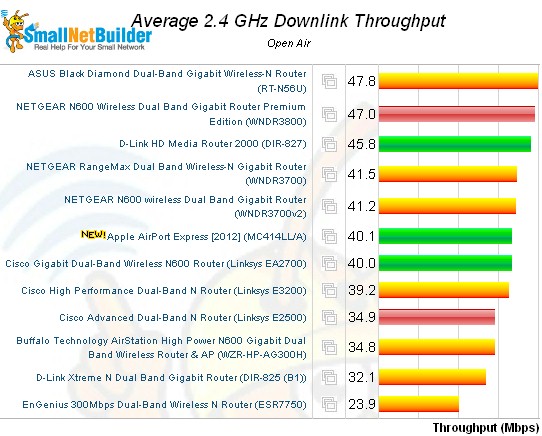 2.4 GHz downlink throughput ranking – two stream simultaneous dual band routers
Since the world has moved on to focus on three-stream and draft 11ac routers, most of the routers in the chart above were tested using older processes with a different test client. But it's clear the the new Express isn't the worst router in the bunch by a long shot.
To get a clearer idea of competitive performance, I chose to compare the new Express against two other current dual-stream simultaneous dual-band routers, Cisco's Linksys EA2700 and D-Link's DIR-827. And, yes, I also threw in the 5th gen Airport Extreme, even though it's a three-stream router and tested with different clients.
Wireless Performance – 2.4 GHz
Let's start with the Performance Table for 2.4 GHz.
With the highest downlink speed of the bunch (73 Mbps) the Express holds its own even against the Cisco and D-Link routers in the stronger signal test locations A and C. Location D downlink is significantly lower than the other two routers. But with our weakest test signal in location F, the Express just about manages to hold onto its connection and turn in a barely usable 1 Mbps average over the one minute test period.
Generally lower uplink performance seems to indicate a weakness in the Express' receive side, perhaps due to its use of on-board printed circuit antennas, with not the greatest orientation for best performance (horizontal vs. vertical polarization).
The IxChariot plot below shows 2.4 GHz band downlink tests. Throughput variation is generally low, but note the dip in the location C plot and dropout in location D.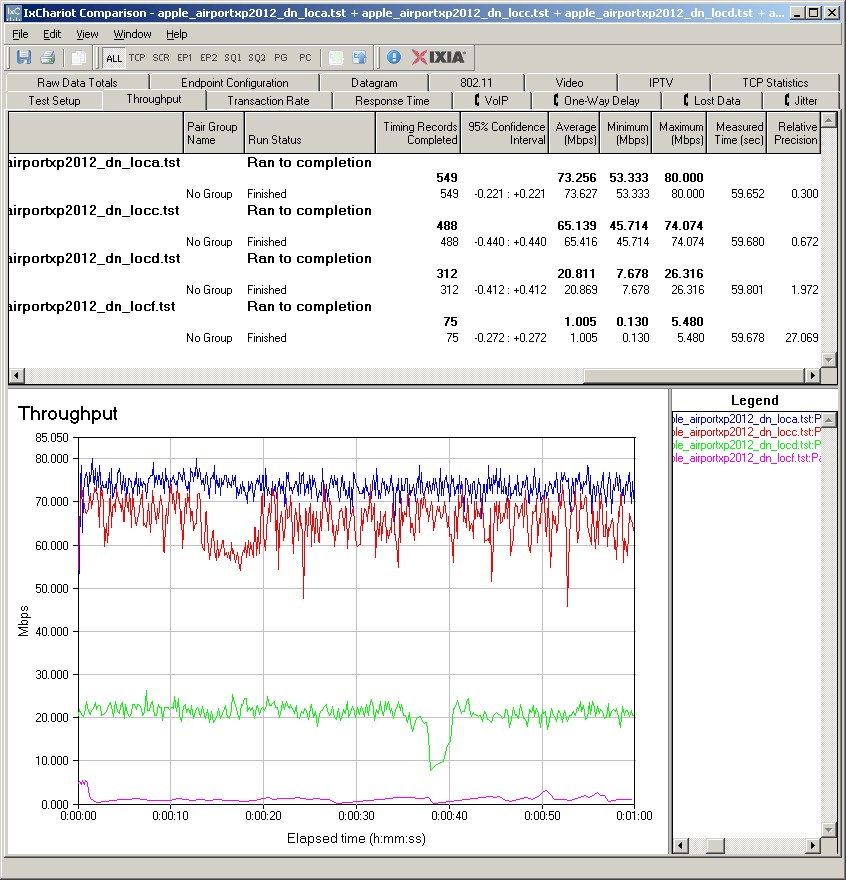 IxChariot summary – 2.4 GHz, 20 MHz mode, downlink
You won't see similar problems in the uplink plot linked below. But note the location F uplink trace shows very low throughput for most of the test run.
Wireless Performance – 5 GHz
Moving on to the Performance Table for 5 GHz, the Express seems to do better running uplink than down in both 20 and 40 MHz bandwidth modes. For everything except 40 MHz mode uplink, however, the Express and Linksys EA2700 seem evenly matched.
The IxChariot 20 MHz mode downlink summary plot below again shows generally low throughput variation. But also shows a performance step-down on the location C run.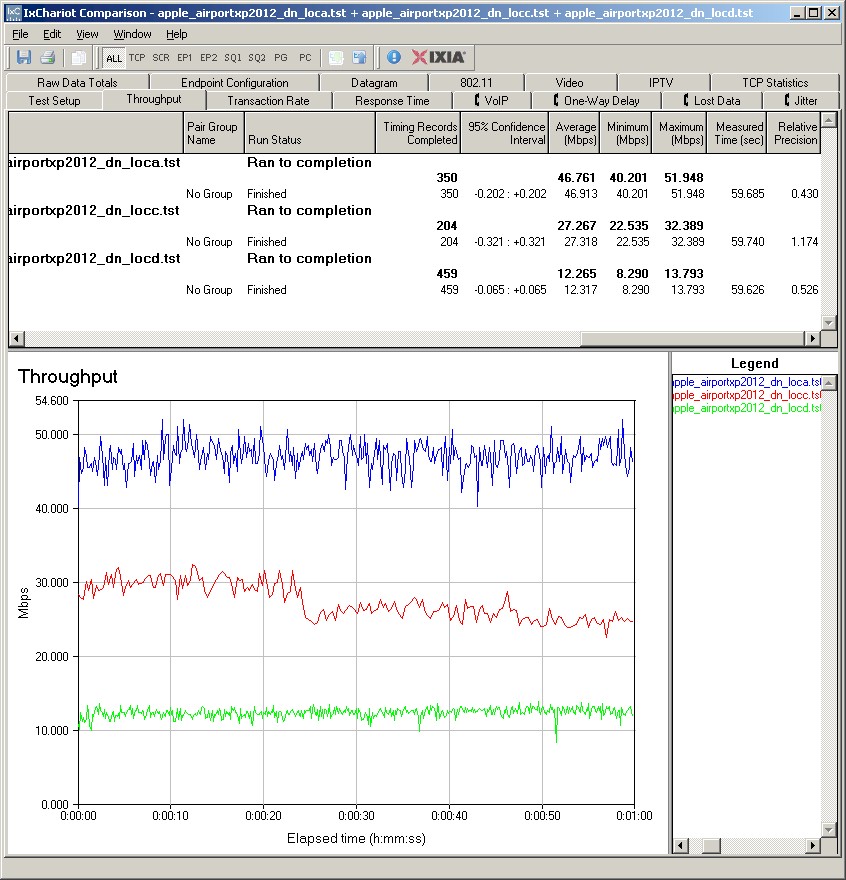 IxChariot summary – 2.4 GHz, 20 MHz mode, downlink
You'll see similar steps in some of the location D runs on the other 5 GHz plots linked below.
Closing Thoughts
In all, the refreshed AirPort Express is a good, but not great simultaneous dual-band router. "N600" routers are pretty much commodities now and there are many more fully-featured products for less money—even less if you buy refurbished. For example, Cisco's Linksys EA2700 has similar wireless performance, Gigabit ports and supports Cisco's new Connect Cloud architecture.
On the other hand, if you're looking for USB shared storage, you can grab an older refurbed Linksys E3200 for only $65 with free shipping and 30 day return or a NETGEAR WNDR3700 with similar feature set for a few bucks less than the Express.
But for those who insist that Apple makes the best routers or prefer Apple AirPlay for music streaming, the Express will be a popular option that's easier on the wallet than the AirPort Extreme. I'm sure Apple will sell a ton of 'em.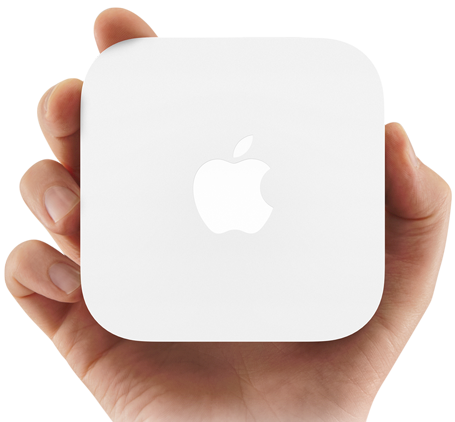 Buy AirPort Express [2012] from Amazon