At a glance
Product
Apple AirPort Extreme (802.11ac) (ME918LL/A) [Website]
Summary
Second gen Broadcom-based draft 802.11ac router with Apple's standard features & limitations
Pros
• Gigabit ports
Cons
• No web admin

• USB 2.0 vs. USB 3.0

• 3 LAN ports vs. 4
• File Sharing not reliable with Windows
Typical Price: $200 Buy From Amazon
Overview
For those of you waiting for your review of Apple's latest incarnation of its AirPort Extreme wireless router, your wait is over. The testing is done, the charts compiled and the product boxed up and put on the shelf to await a future giveaway.
If you were expecting Apple to blow away the competition with its first AC1750 class draft 802.11ac router, you may be disappointed. At least by my testing, it didn't.
Inside
Since Apple doesn't name its products so that you can easily tell them apart, we're left to our own devices. iFixit refers to the product as the A1512, which is its model number. Others may use its ME918LL/A part number. Me, I'm going to be more descriptive and call it the AirPort Extreme AC, or AExAC for the rest of this review.
As usual, Apple has done a magnificent job with the AExAC's physical design. The tower design puts the six-antenna array up top, for both height and to give each antenna an unobstructed path. As you peruse iFixit's excellent teardown, you can't help but admit that the design borders on a work of art. The board detail photo is below, with its callouts, for your convenience.
Apple AirPort Extreme AC – iFixit detail photo
(Image credit: iFixit)
I've compiled the key components into the table below. Since the AExAC uses a second-generation Broadcom SoC, I've included the only other AC1750 router with a second-gen Broadcom CPU that I've tested so far—D-Link's DIR-868L—for comparison.
AExAC
DIR-868L
CPU
Broadcom BCM53019 (equivalent of BCM4708)
Broadcom BCM4708X
Switch
In CPU
In BCM4708X
RAM
512 MB
128 MB
Flash
128 MB
128 MB
2.4 GHz Radio
– Broadcom BCM4360KMLG
– SiGe (Skyworks) SE2623L 2.4 GHz power amp (x3)
– BCM4331
– Unidentified external power amplifier (x3)
5 GHz radio
– Broadcom BCM4360KMLG
– Skyworks SE5003L 5 GHz power amp (x3)
– Broadcom BCM4360
– Unidentified power amplifier (x3)
Table 1: Router component summary and comparison
There is no specific information on the BCM53019 CPU to be found. But the numbering would indicate that it is a member of Broadcom's StrataGX communication processor line. The BCM53017 and BCM53018 are described as dual Cortex-A9 CPU up to 1.1 GHz, 512 KB L2 cache (including ECC), 16-bit DDR2 interface, USB3, integrated switch, GPHYs and packet accelerator. So it's a safe assumption that the 019 has at least that much.
The specs for the BCM4708 are similar, but a bit less beefy, i.e. dual Cortex-A9 CPU @ 1 GHz, 256 KB L2 cache, Gigabit switch and PHYs and USB 3.0.
The AExAC is the first AC1750 router I've seen to use two BCM4360s. This 3×3 802.11ac transceiver has been the standard 5 GHz radio in all Broadcom-based AC1750 and AC1600 class routers to date. But since it also handles 3×3 802.11n, it's perfectly suited to use as the 2.4 GHz radio. Taking this approach will let Apple keep its options open to moving the AExAC up to an AC1900 class router like ASUS' upcoming RT-AC68U.
Features
I used Apple's AirPort Uility for Windows (version 5.6.1) with a Win 7 SP1 system to configure the AExAC. I've stated in previous reviews that I'm neither a fan of Apple's approach nor the utility itself, so I won't belabor the point.
If your routing needs are simple, the AExAC will probably do you just fine. But it could leave some buyers in the lurch due to what it doesn't support. I didn't notice any new features and here's the summary of Apple's standard router feature set copied from the Gen 5 review.
Routing
Static and Dynamic IP, PPPoE WAN connections (no MTU adjust)
IPv6 modes: Link-local only, Host, Tunnel, Router modes
NAT, One-to-one NAT, Bridge modes
USB printer and drive sharing (HFS, FAT32 formats only)
DHCP server with IP reservation
Syslog support
Log, wireless client and DHCP client viewing via AirPort Utility
Firewall
Single port and port range forwarding w/ separate public / private ports
DMZ host
Wireless
WDS bridging and repeating
WEP and Personal / Enterprise WPA / WPA2 wireless security
Wireless Modes: Automatic, A/N and B/G, A and B/G
Scheduled wireless MAC address control
Wireless guest access: 2.4 GHz only
Tranmit power control (100, 50, 25, 10%) – one setting for both radios
I didn't copy over the missing feature list from the Gen 5 review, but it remains the same. The key omissions are the lack of support for 40 MHz bandwidth in the 2.4 GHz band, guest network in 2.4 GHz only, no UPnP support and no WiFi Protected Setup (WPS) support. For advanced features, you won't find anything in the way of parental controls, web filtering or bandwidth management / QoS. The router comes defaulted to the same SSID for both bands, but you can set a different one for 5 GHz.
Routing Performance
All testing was done with the latest 7.7.1 firmware loaded and the 5.6.1 AirPort Utility. Throughput results are in Table 2 along with those for the previous two AirPort Extremes for comparison.
| Test Description | AC | 5th Gen | 4th Gen |
| --- | --- | --- | --- |
| WAN – LAN Throughput (Mbps) | 325.5 | 430.4 | 419.5 |
| LAN – WAN Throughput (Mbps) | 685.4 | 434.6 | 330.7 |
| Total Simultaneous Throughput (Mbps) | 578.8 | 496.5 | 414.7 |
| Max. Simultaneous Connections | 32,360 | 29,413 | 128 |
| Firmware Version | 7.7.1 | 7.5.2 | 7.5 |
Table 2: Routing throughput
The results show a moderate improvement vs. previous generation AEx's. But when you compare against other Broadcom-powered AC1750 class routers, the results are surprisingly low at only 325 Mbps down and 685 Mbps up.
The best AC1750 class routers like the D-Link DIR-868L and ASUS RT-AC66U support routing throughput in the 800+ Mbps range. At least Apple didn't skimp on simultaneous connection handling, since the AExAC hit the test limit at 32,360 sessions.
I've started to generate two IxChariot plots for routing, since the one that combines unidirectional WAN > LAN, LAN > WAN and simultaneous up/down gets too muddled. The first plot below is a combination of the two unidirectional tests. I don't know what is causing the high downlink variation, since there was no wireless traffic running during the test. I also am at a loss to explain the 20 second period at the start of the run where the uplink throughput sits down around 250 Mbps.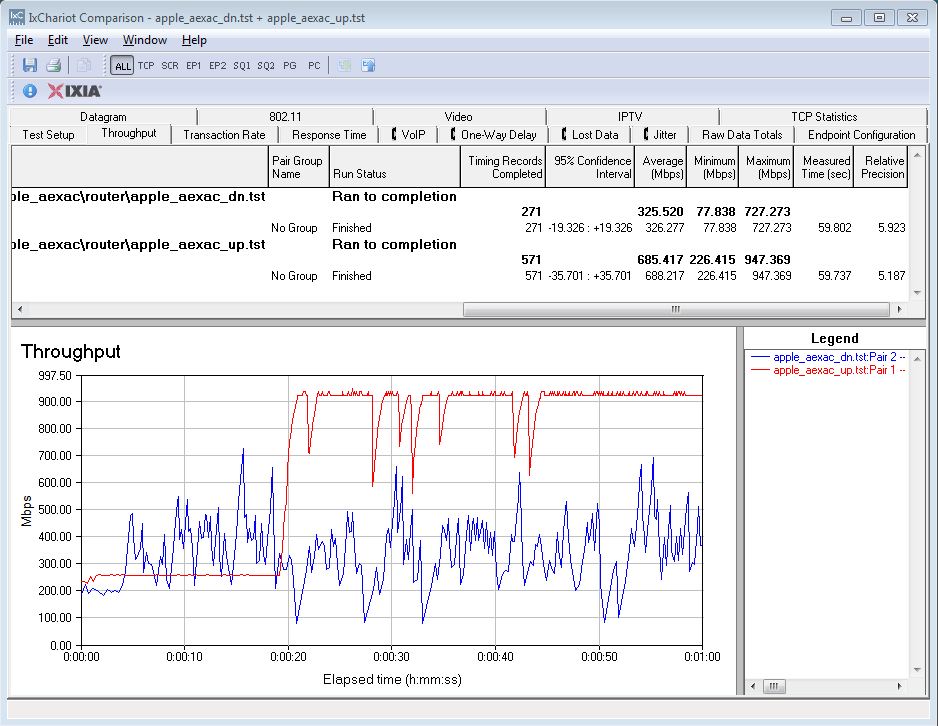 AEXAC unidirectional routing throughput
You can see the delayed throughput boost characteristic in the simultaneous up/downlink test below. But this time, uplink doesn't stay at the high level, with the result that total throughput suffers and is held to only 579 Mbps vs. the > 1000 Mbps that you would expect from adding the unidirectional results together.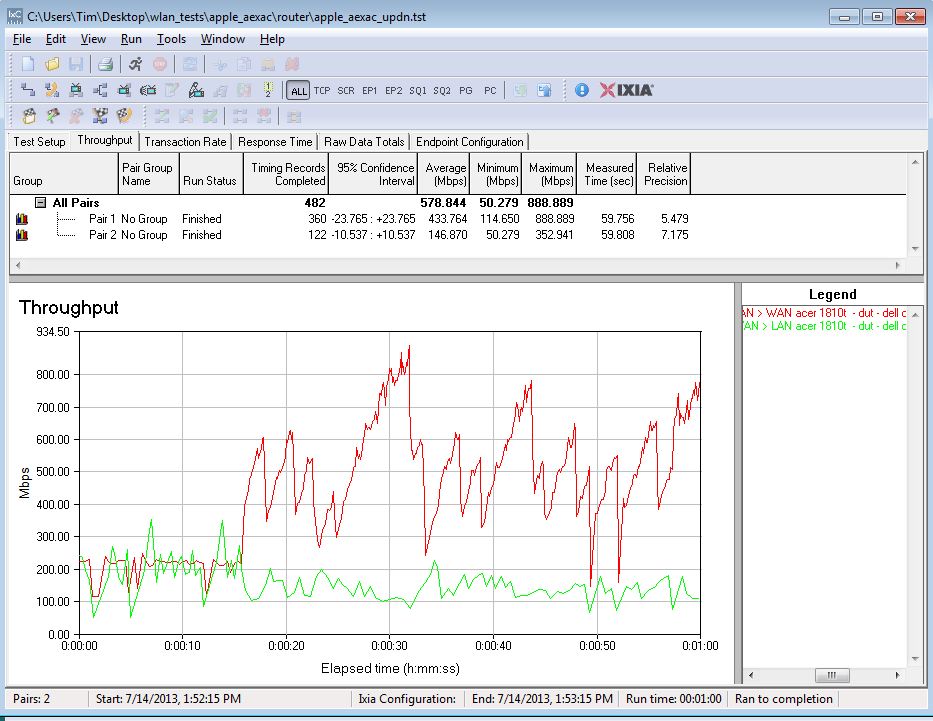 AEXAC bidirectional routing throughput
Storage Performance
I don't know what the deal is with storage sharing and Windows. I haven't had luck in previous tries and didn't do any better this time, either. While I was able to connect to a FAT32 formatted drive plugged into the router and even drag-and-drop a small file or two, I once again was not able to run our standard file copy tests.
Whenever I tried, the robocopy routine would manage to copy only six files over and then report that the share was no longer available:
2013/07/14 15:25:27 ERROR 64 (0x00000040) Copying File d:\firefly4\vts_01_1.vob
The specified network name is no longer available.Waiting 30 seconds… Retrying…
I also tried copying the standard 4.35 GB ripped DVD folder via drag-and-drop. The result here was even more annoying. The file copy box would pop up, but get stuck trying to calculate the transfer time as shown below.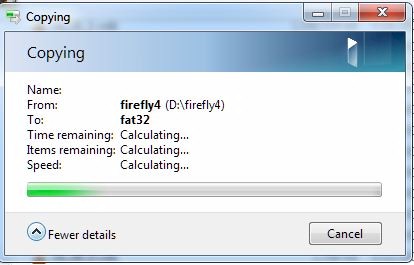 AEXAC trying to copy a large folder
If I waited long enough, the result would look something like that below.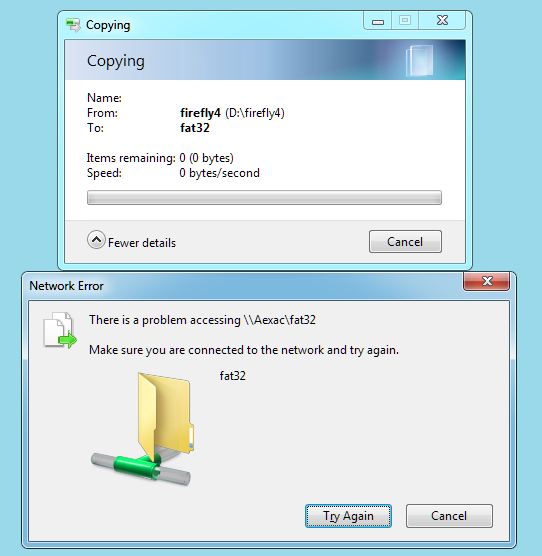 AEXAC failing to copy a large folder
I think the problem may be due to file size. I experimented and was able to copy a 75 MB file as shown below. But when I tried to copy a single 1 GB file, I got the result shown above.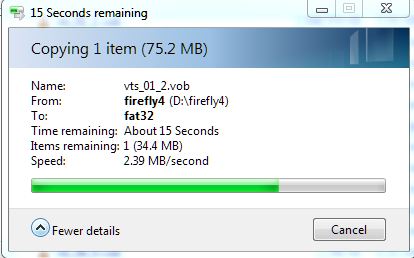 AEXAC failing to copy a large folder
Note the very poky 2.4 MB/s transfer rate on the single file write. So even if you manage to get storage sharing working, the throughput is pretty disappointing, as other reviewers have noted. So if you are planning to use the file sharing feature with Windows clients, my advice is…don't.
Wireless Performance
The AExAC is not Wi-Fi Certified. It defaults to Auto channel on both 2.4 and 5 GHz radios and the same SSID for both upon power-up. As noted earlier, you can change the SSID for the 5 GHz radio only. You supposedly have the option to select the channel for both bands, but I was able to get it to stick only for the 2.4 GHz radio. The 5 GHz radio insisted on using Auto channel selection and chose Channel 149.
Setting
2.4 GHz
5 GHz
Channel
Auto [default], 1 – 11
Auto [default], 36, 40, 44, 48, 149, 153, 157, 161
Wireless Mode
Auto [default]
802.11a/n – 802.11b/g
802.11a – 802.11b/g
Security
None
WPA/WPA2 Personal
WPA2 Personal
WPA/WPA2 Enterprise
WPA2 Enterprise
Table 3: Wireless settings summary
Neither WiFi Protected Setup (WPS) nor 40 MHz bandwidth in 2.4 GHz is supported. So I couldn't test WPS or run 40 MHz Coexistence and Fat channel intolerant tests.
All tests were run using our new wireless test process and 7.1.1 firmware loaded.The AExAC was reset to factory defaults and Channel 6 was set for 2.4 GHz and Channel 149 was auto-selected for 5 GHz. 20 MHz B/W mode was mandatory and used for 2.4 GHz and 80 MHz B/W mode was set for 5 GHz. The router was positioned 8″ from the chamber antennas in all test positions. The 0° position had the front panel of the router facing the chamber antennas.
The retest Benchmark Summary below from the new Consolidated benchmark process shows the average of throughput measurements made in all test locations. The 2.4 GHz values in the summary correspond to 2.4 GHz values (20 MHz B/W) and the 5 GHz values correspond to the 80 MHz B/W – 3 stream values measured with the previous test methodology.
Benchmark Summary
Comparing average 2.4 GHz benchmark values with other AC1750 routers in the Charts, the AExAC's 72 Mbps downlink average positioned it toward the bottom of the group. The 82 Mbps uplink average, however, earned it a #2 slot in that chart. Simultaneous up/downlink throughput totaled only 156 Mbps, vs. 171 Mbps for the top-of-chart NETGEAR R6300.
5 GHz average downlink throughput of 116 Mbps put the AExAC at the very bottom of the AC1750 chart. Best for this benchmark was the ASUS RT-AC66U that averaged 215 Mbps for all tests run. Average uplink was also 116 Mbps, which moved the product up to third from bottom. Simultaneous up/downlink throughput totaled 414 Mbps. But since the D-Link DIR-868L turned in 609 Mbps for the same test, the AExAC ended up next-to-the-bottom for that chart.
Wireless Performance – Comparative
For a comparative look, I chose the top three-ranked AC1750 routers to compare with the AExAC, the WD My Net AC1300, D-Link DIR-868L and top-ranked ASUS RT-AC66U.
The 2.4 GHz downlink profile shows the initial throughput dip we have seen with other products. But that aside, you see that the profile sits below the other three products for the entire run.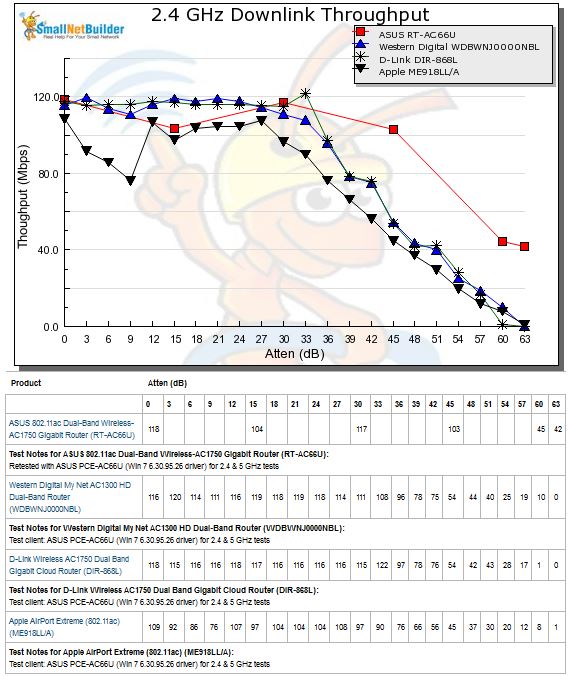 2.4 GHz Downlink Throughput vs. Attenuation
The AExAC does better for 2.4 GHz uplink as is indicated by its #2 slot in that chart. All four routers start out about the same, with the D-Link starting its downward slope first, followed by the WD. The Apple manages to hold out until 30 dB of attenuation before its throughput starts to drop and then tracks downward with the same slope. However, the ASUS RT-AC66U's throughput still holds up surprisingly well even out to 60 dB attenuation.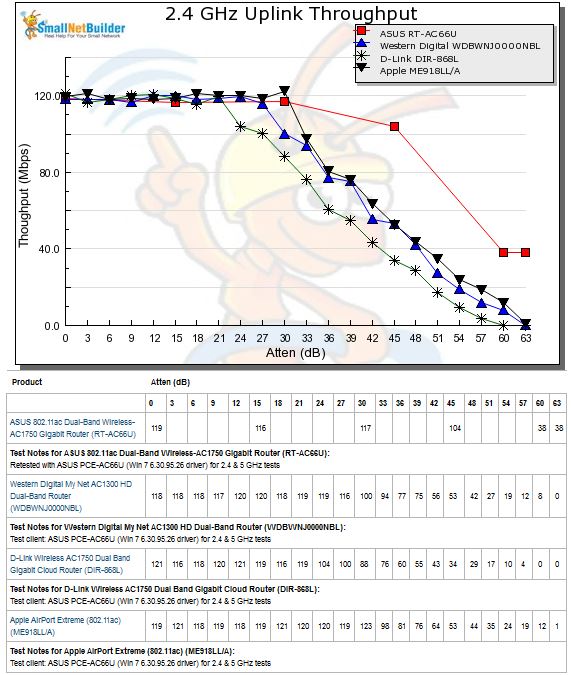 2.4 GHz Uplink Throughput vs. Attenuation
Wireless Performance – more
The main reason you're going to pay $200 for Apple's or anyone else's router these days is presumably to gain access to the high throughput that draft 802.11ac can provide in the 5 GHz band. But the AExAC just doesn't deliver compared to its competition.
For the 5 GHz downlink profile, it manages only 293 Mbps at its highest (with 6 dB of attenuation) compared to the D-Link's 372 Mbps. This sets it up to stay below the other routers and end its run with only 19 Mbps at the 39 dB attenuation point used for 5 GHz range ranking.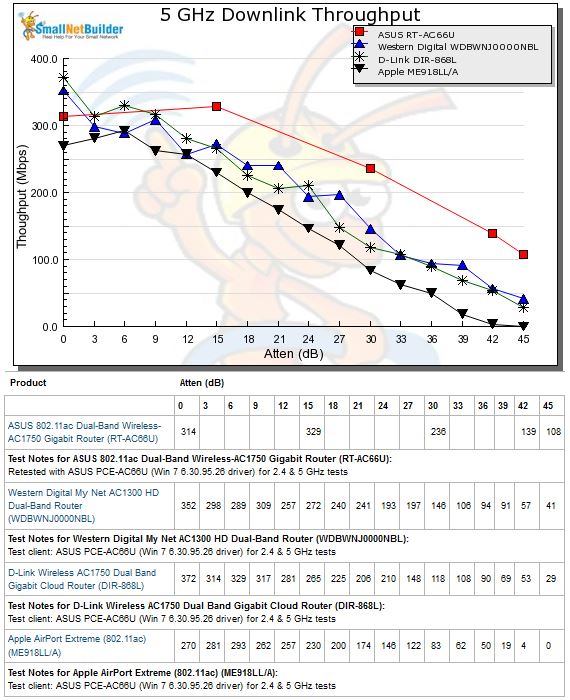 5 GHz Downlink Throughput vs. Attenuation
Best case 5 GHz uplink is a bit better at 286 Mbps, best case. But throughput at high attenuation again is lower than the other three products with only 25 Mbps at the 39 dB attenuation point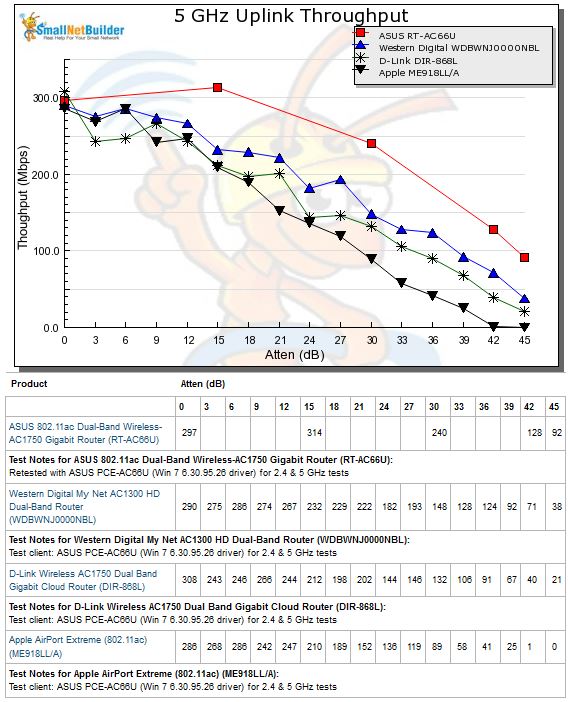 5 GHz Uplink Throughput vs. Attenuation
The one thing I can say about the AExAC's wireless performance is that it is truly omnidirectional. Look at the comparison of the four runs for 2.4 GHz downlink with the router rotated in 90° increments. This is one of, if not the, most consistent performances I've seen.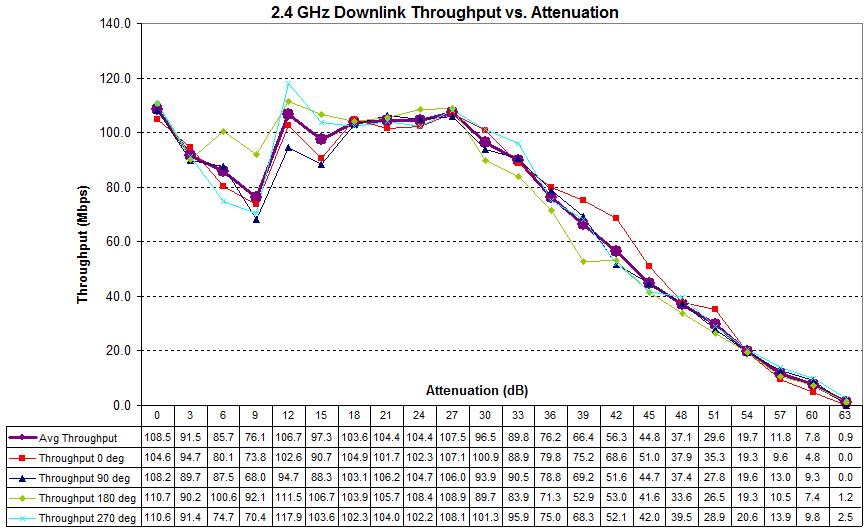 Four test runs – 2.4 GHz downlink – AExAC
The 5 GHz test runs have a bit more spread, but are again much more consistent than I usually see. Uplink plots were very similar to downlink.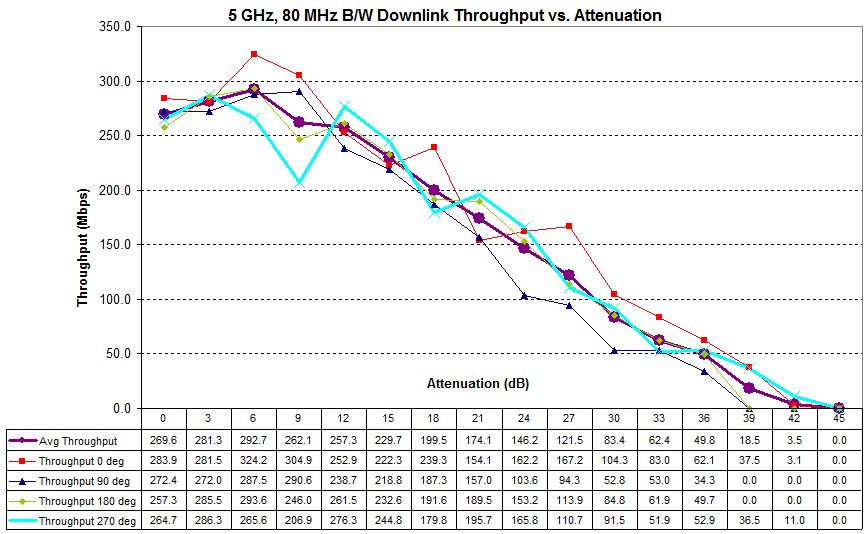 Four test runs – 5 GHz downlink – AExAC
Variation among the four router positionings tested usually vary so much that I end up choose one of the runs to enter into the charts. But because the AExAC's runs tracked to well, I entered the average of the four runs into the charts in each case.
Closing Thoughts
To sum up, I'll let the Router Ranker detail tell the tale. The AExAC ended up with a #6 rank and total rank score of 5.0 This puts it below all of the current-generation AC1750 class routers, except for the very disappointing TRENDnet TEW-812DRU. It also ranks above Buffalo's first-generation WZR-D1800H, but that is the only AC1750 router that hasn't been retested with the new wireless test process.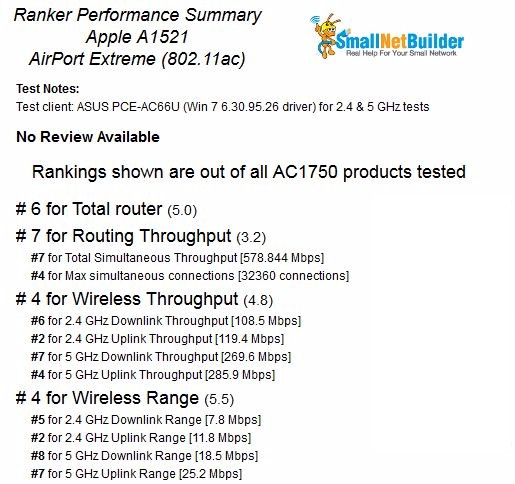 Apple AirPort Extreme 802.11ac Router Ranking detail
The details shows that the AExAC might have ranked higher, were it not for its surprisingly low routing performance. Not that almost 600 Mbps of simultaneous routing throughput isn't plenty for most anyone. But compared to other AC1750 products, it earned the rank it got.
It also did comparatively well for 2.4 GHz uplink throughput and range. But for the other six benchmarks that go into the wireless rankings, it just didn't hold up.
Fans of Apple's earlier routers have probably already bought or plan to buy the AExAC. And in the end, it's not really a bad router. But if you are looking for more routing features, Windows file sharing that works and better draft 802.11ac performance, there are better options.
Buy AirPort Extreme (802.11ac) from Amazon