At a glance
Product
Linksys Advanced Dual-Band N Router (E2500) [Website]
Summary
Broadcom-based simultaneous dual-band N router with 10/100 ports.
Pros
• Simultaneous dual band
Cons
• No WDS
• Guest SSID on 2.4 GHz band only
• Relatively low 5 GHz band throughput
Typical Price: $59 Buy From Amazon
Overview
This review rounds out our complete coverage of Cisco's revamped Linksys E series of wireless routers. The E2500 is one step below the E3200, with 10/100 ports vs. Gigabit and no USB port for drive sharing.
You could easily confuse the E2500 and E3200 since both enclosures are virtually the same. The main difference is the E2500's silver-gray logo band vs. the E3200's dark blue. Figure 1 summarizes the E2500's ports, indicators and switches, which are all on the rear and bottom of the device.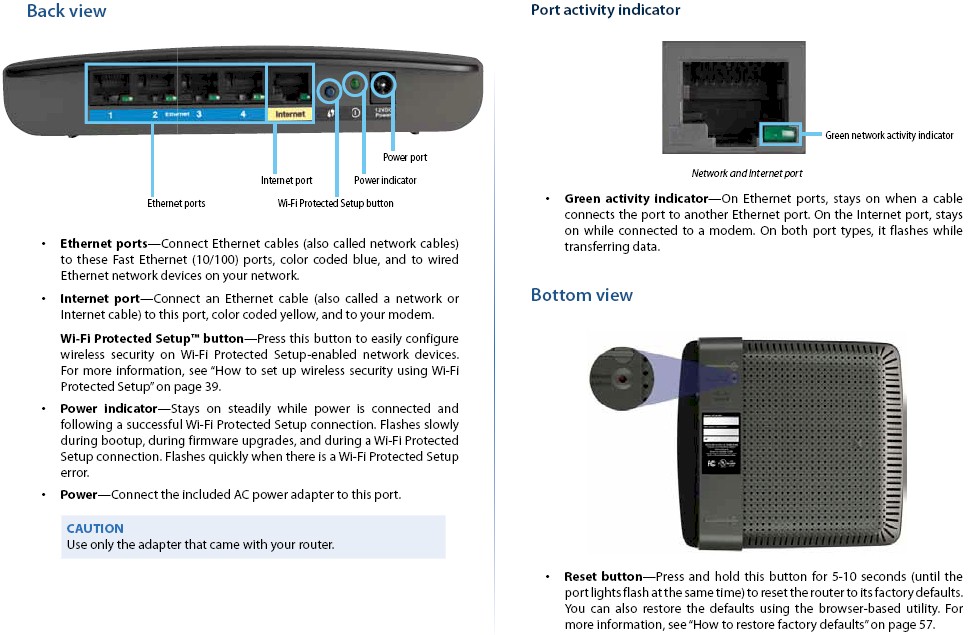 Figure 1: Cisco E2500 ports and indicators
Inside
The E2500's FCC photos were really crappy, so I opened up my review sample after testing was done. I was expecting to see a design similar to the E3200's, so was surprised to see something completely different.
The E2500's designers sharpened the pencil to squeeze more componenet cost out and turned to a different Broadcom SoC as its heart.
The Broadcom BCM5358U Intensi-fi dual-stream 2.4GHz 802.11n router SoC comes in flavors with and without VoIP support. The "U" version used in the E2500 is the "without" flavor.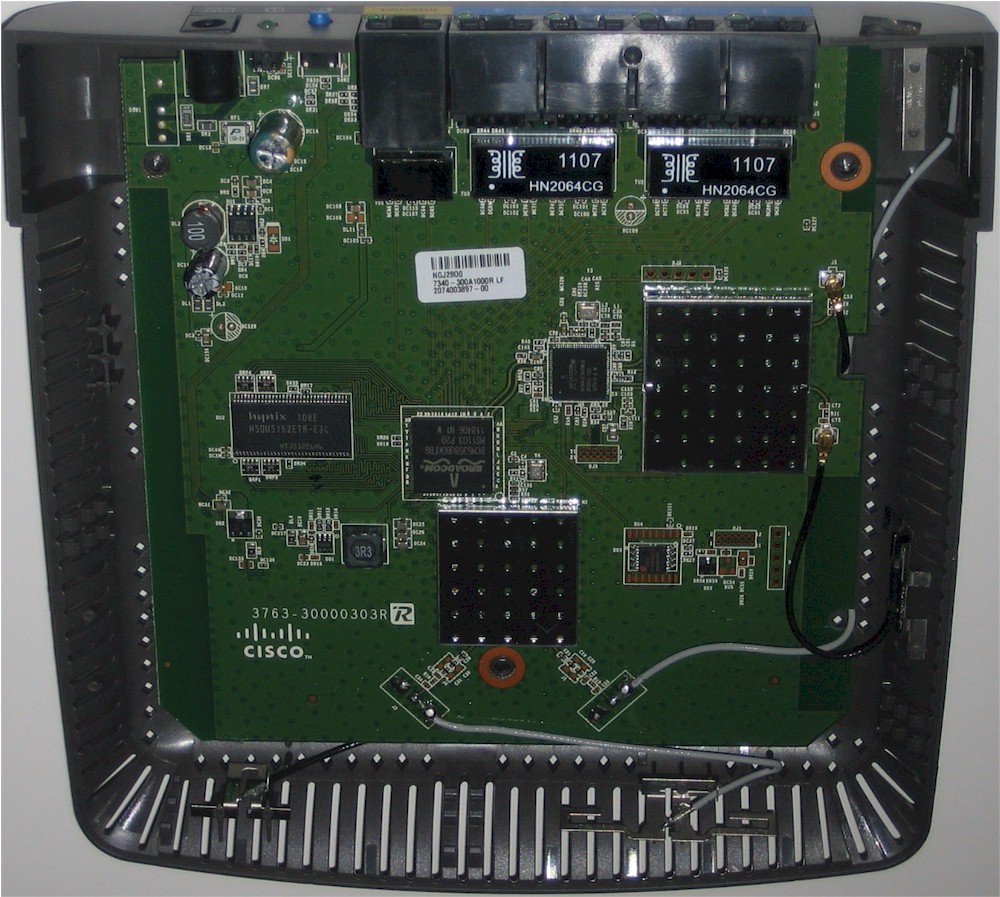 Figure 2: Cisco E2500 inside view
RAM size is the same as the E3200 at 64 MB, but flash has been cut in half to 8 MB. There are also no power amplifiers in those RF cans in Figure 2, just transmit / receive switches. The 5 GHz radio is the same for both, a Broadcom BCM43236.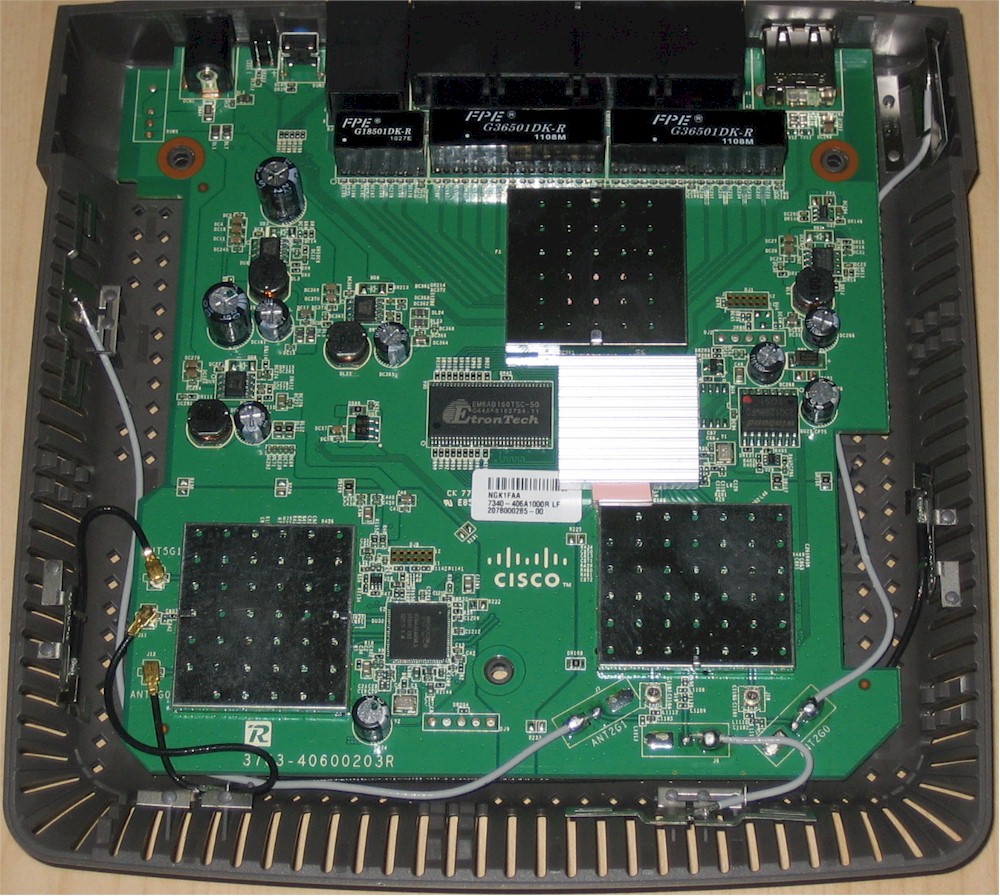 Figure 3: E3200 inside view
Figure 3 shows the E3200's internal view for your reference and Table 1 summarizes the key components of both products. One last difference is that the E2500 uses only two antennas per radio vs. the E3200's three.
E2500
E3200
CPU
Broadcom BCM5358U
Broadcom BCM47186
Switch
In BCM5358U
Broadcom BCM53125
RAM
64 MB
64 MB
Flash
8 MB
16 MB
2.4 GHz Radio
– In BCM5358U
– No power amps
– BB/MAC In BCM47186
– Microsemi LX 5535 2.4 GHz power amps (x2)
5 GHz radio
– Broadcom BCM43236
– No power amps
– Broadcom BCM43236
– Microsemi LX 5530 5 GHz power amps (x2)
Table 1: E2500 and E3200 component summary
Features
The E2500 supports the standard Linksys router feature set:
DHCP, Static, PPPoE, PPTP, L2TP, Telstra Cable WAN types
DHCP server with MAC address reservation
Built-in Dynamic DNS clients for TZO and DynDNS
Static and dynamic routing
SPI firewall disable, multicast, WAN ping and IDENT filtering and Proxy, Java, ActiveX and Cooking blocking
IPsec, PPTP and L2TP VPN passthrough (enabled by default)
Single port forwarding and Port Range forwarding and triggered ports
HTTPS admin access, remote management (HTTP / HTTPS) enable with IP range restriction and port setting
Incoming, outgoing, Security and DHCP onscreen log access with support for Linksys Logviewer recording
Access Restrictions with 10 deny or allow-based policies, each with its own list of clients and day/time schedule
Uplink (LAN to WAN) only QoS with High, Medium, Normal or Low Priority that can be applied to specific applications (divided into Application, Online Game and Voice Device groups), physical switch ports or specific MAC addresses.
WMM (Wireless MultiMedia) (enabled by default)
Wireless Guest Access – Internet-only access with its own SSID, but no security except a common password for all guests and the ability to limit the number of guests from 1 to 10. 2.4 GHz band only
I loaded up the latest firmware (1.0.01 build 3 May 6, 2011) before testing and found that it doesn't include any IPv6 controls.
One other feature that the E2500 and E3200 share is that neither will let you access the Internet unless you run the Cisco Connect software or check a box in a captive portal that says you understand that the router isn't secure (Figure 4).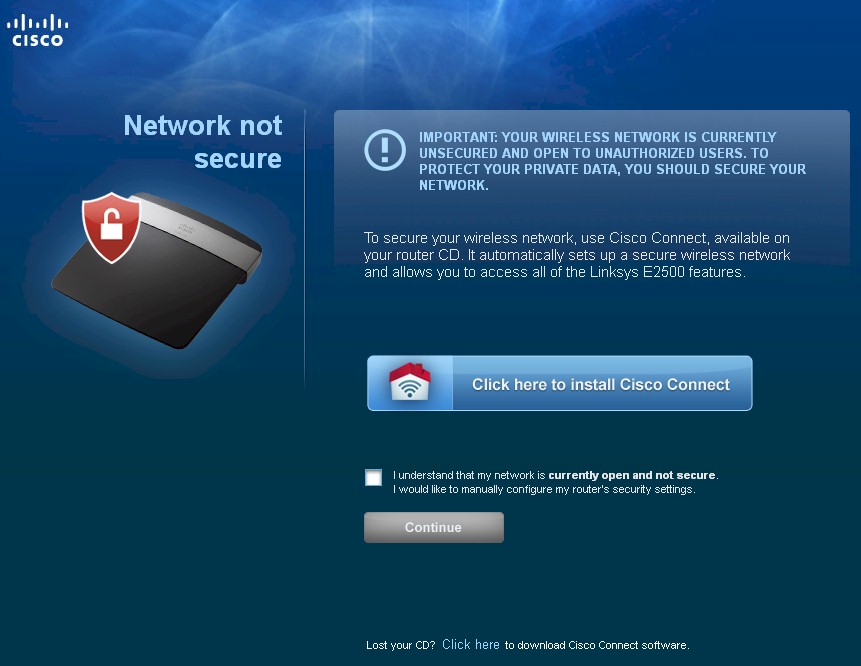 Figure 4: E2500 security checkoff
I've included a few more admin screens in the gallery below.
You must access the router directly or by running Cisco Connect software before you can get online.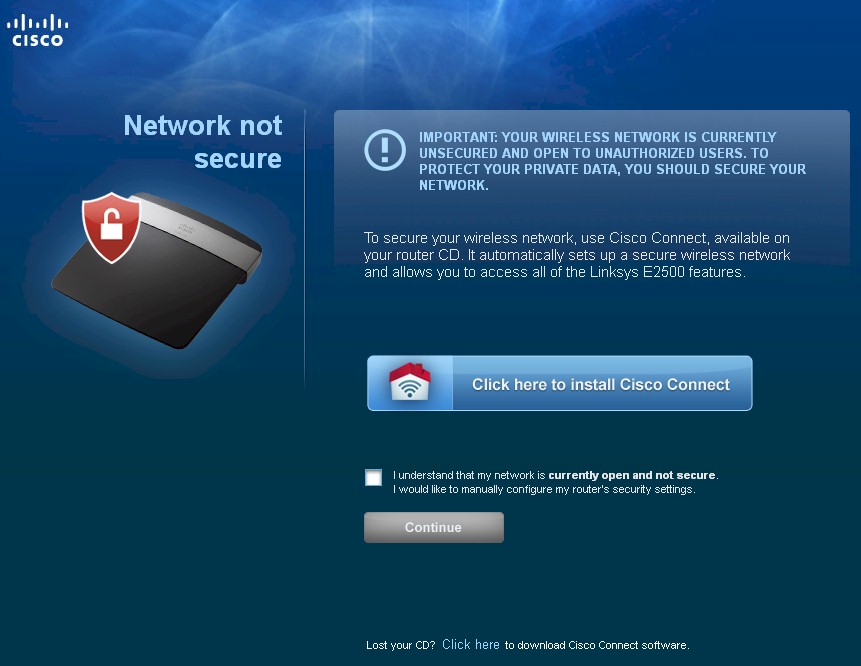 The obligatory 'proceed at your own risk' check off.
Yet another nag before you can access the controls
Basic wireless settings. Network mode settings include 'disable'. 5 GHz channels supported are 36,40,44,48,149,153,157,161
The Wireless_Advanced.asp menu is not shown but can be accessed by entering the URL.
Routing Performance
Routing throughput running the latest 1.0.01 build 3 firmware and our router test process measured 91 Mbps WAN to LAN, 91 Mbps LAN to WAN and 154 Mbps total with up and down tests running simultaneously. The IxChariot composite plot below shows up and download speeds pretty evenly matched in the simultaneous routing test.
Maximum simultaneous connections topped out at numbers indicating a maximum of 8,192 connections.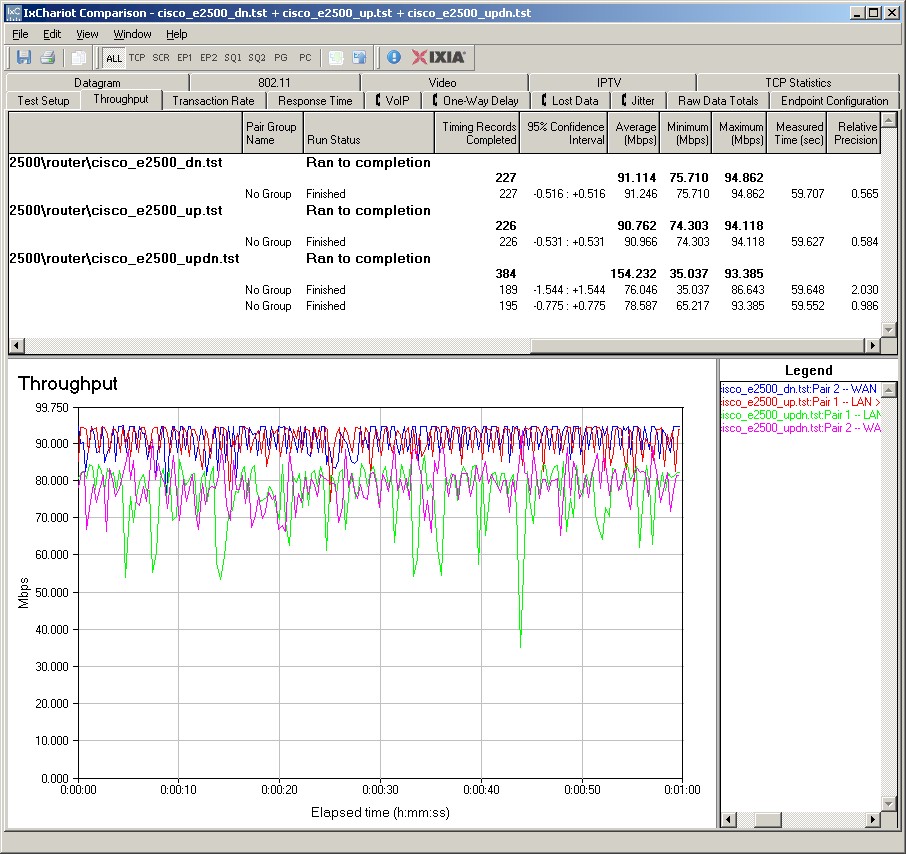 Figure 5: E2500 wired routing performance summary
Wireless Performance
The E2500 is Wi-Fi Certified and properly defaulted to 20 MHz bandwidth mode on the 2.4 GHz radio on power-up. The 5 GHz radio defaulted to Auto 20/40 mode.
I successfully ran a Wi-Fi Protected Setup (WPS) session with my Win 7 client by entering the WPS code found on the E2500's bottom label. The WPS session completed quickly and resulted in a WPA2/AES secured connection to the 5 GHz radio with the same WPA2 pre-shared key on both bands. All tests were run with this secured connection using our latest wireless test process.
NOTE: The E2500 defaults to both radios having the same SSID (ciscoNNNNN) where NNNNN represents the last five digits of the E2500's serial number. So if you have a dual-band client and want to control the band you're on, you'll need to change one (or both) of the SSIDs.
I ran 2.4 and 5 GHz Wireless Performance tables for the E2500. the E3200 and ever-popular ASUS Black Diamond RT-N56U. In both bands, the ASUS "Black Diamond" is the clear winner, sweeping all comparisons.
Highest 2.4 GHz throughput for the E2500 of 72 Mbps was measured using our wireless test process in Location A running downlink with the client set to Auto 20/40 mode. Running simultaneous up and downlink tests yielded 92 Mbps in the same location and condition.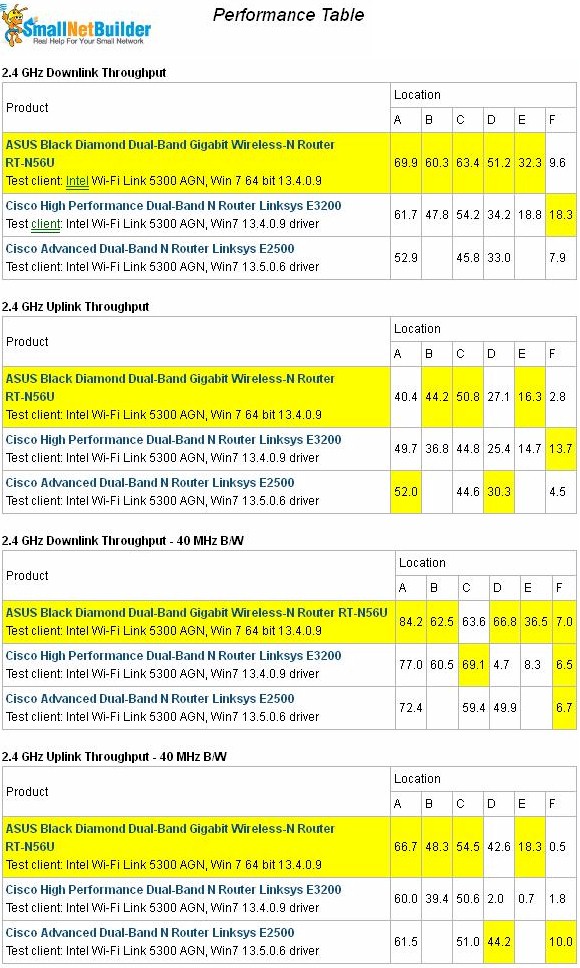 Figure 6: Linksys E2500 Wireless Performance summary – 2.4 GHz
Comparing just the E2500 and E3200, the E2500 does a bit better in the medium-low signal test location D in most 2.4 GHz tests. In the 5 GHz band, however, the E2500 falls behind the E3200 in all Location D tests.
The IxChariot plot in Figure 7 shows some rate shifting behavior during the Location A test that was present in multiple runs. I also saw this from time to time in other test runs.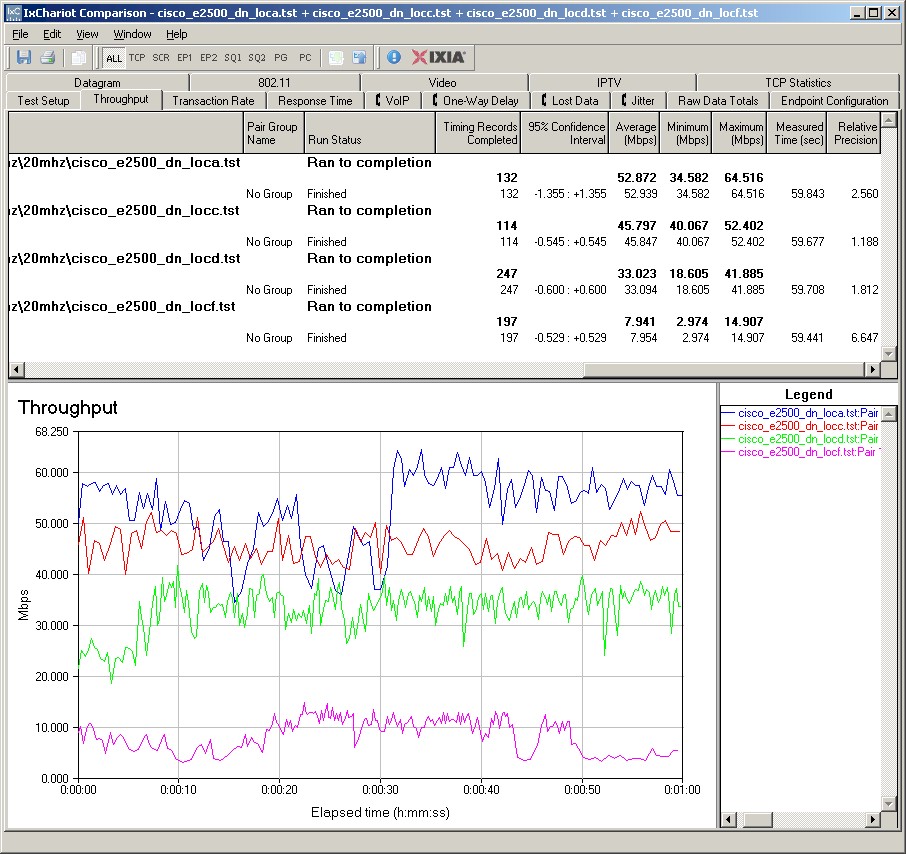 Figure 7: E2500 IxChariot plot – 2.4 GHz, 20 MHz, downlink
Here are links to the other 2.4 GHz plots for your reference:
Figure 8 compares the three routers in the 5 GHz band. Highest E2500 throughput of 48 Mbps was measured using our wireless test process in Location A running uplink with the client set to 40 MHz mode. The simultaneous up and downlink test yielded 70 Mbps in the same location and condition.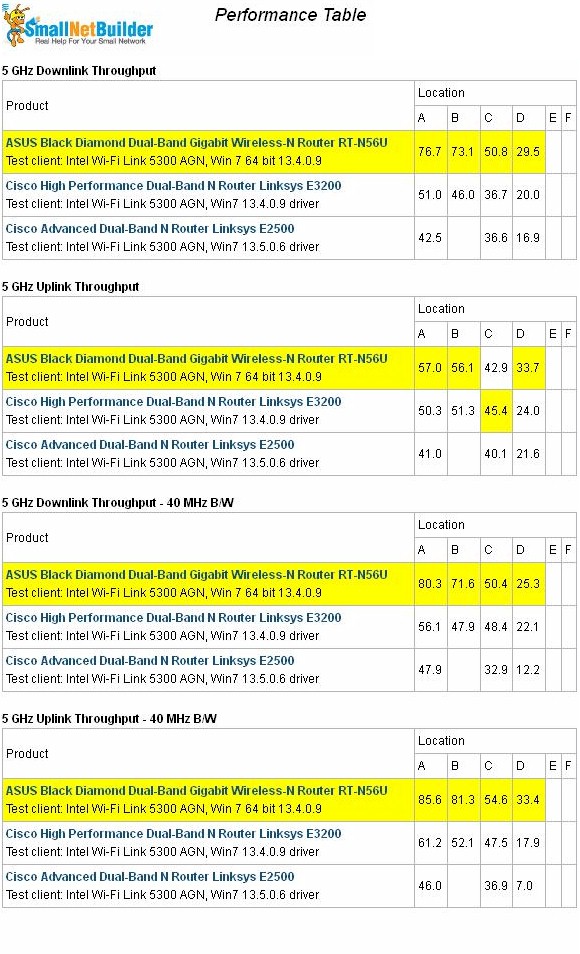 Figure 8: E2500 Wireless Performance summary – 5 GHz
5 GHz throughput stability in Figure 9 is pretty good. But you can see the rate shift effect again in the Location D plot.
Figure 9: E2500 IxChariot plot – 5 GHz, 20 MHz, downlink
Here are links to the other plots if you'd like to check them out.
Closing Thoughts
Cisco once again makes it easy for you to step up to the next level in its E family by offering a refurbished E3200 for $80—$10 less than they'll sell you a brandie-new E2500. But if you're ok with 10/100 ports and somewhat weaker 5 GHz performance, a refurbished E2500 at $40 is a pretty good deal for a simultaneous dual-band router with guest network capability (even if it is only on the 2.4 GHz band).
You can further explore and compare the E2500's performance using the Router Chart and Router Finder.
Buy Advanced Dual-Band N Router from Amazon