At a glance
Product
D-Link PowerLine AV Wireless N Extender (DHP-W306AV) [Website]
Summary
Combination 802.11b/g/n access point and HomePlug AV 200 Mbps powerline adapter
Pros
• Link rates up to 300 Mbps via 2 stream N radio
• Wireless network extension via powerline or Ethernet
• User limit (32 max.)
Cons
• Runs pretty warm
• No QoS
• No Guest SSID
Typical Price: $118 Buy From Amazon
Overview
Updated 8/7/2011: Corrected manual link. Added emulator link
Back when I reviewed D-Link's DHP-1320 PowerLine Router, I promised to do its companion network extender AP. It took me longer than I planned to get back to it, but today it's all about the DHP-W306AV PowerLine AV Wireless N Extender.
The W306AV's might lead you to believe that it is only good as an auxiliary AP to extend WLAN coverage. But, it actually is a pretty full-featured AP in a compact wall-pluggable package that can also stand on its own.
The AP isn't much larger than its powerline-only DHP-306AV sibling. But housing both powerline and 802.11b/g/n AP circuitry makes it a bit deeper. Still, if you plug it into the bottom socket of a duplex wall outlet, you'll still be able to use the top socket just fine.
The front panel callout diagram (Figure 1) shows the wireless and powerline network indicators that reveal its ability to connect to your network via 200 Mbps HomePlug AV powerline or 10/100 Ethernet.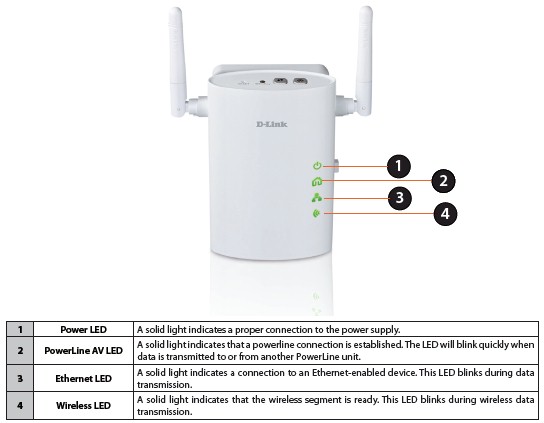 Figure 1: DHP-W306AV front panel
I put top and side views in the gallery, which show the buttons for starting a Wi-Fi Protected Setup (WPS) pushbutton session or powerline encryption cycle, 10/100 Ethernet port and other controls. There's even a power switch.
Inside
I know better than to open up tightly-packed products like this one, so relied on the FCC filing pictures, which were actually pretty good. Figure 2 shows the view you get when first opening the product, which reveals the radio board at the top level (furthest away from the wall socket.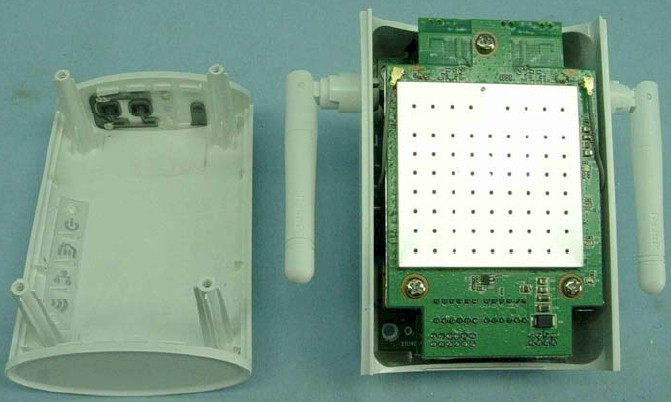 Figure 2: DHP-W306AV inside view
I have other shots of the various stages of disassembly in the gallery. Figure 3 shows the lowest level that contains a lot of the larger powerline interface circuitry and power supply for everything.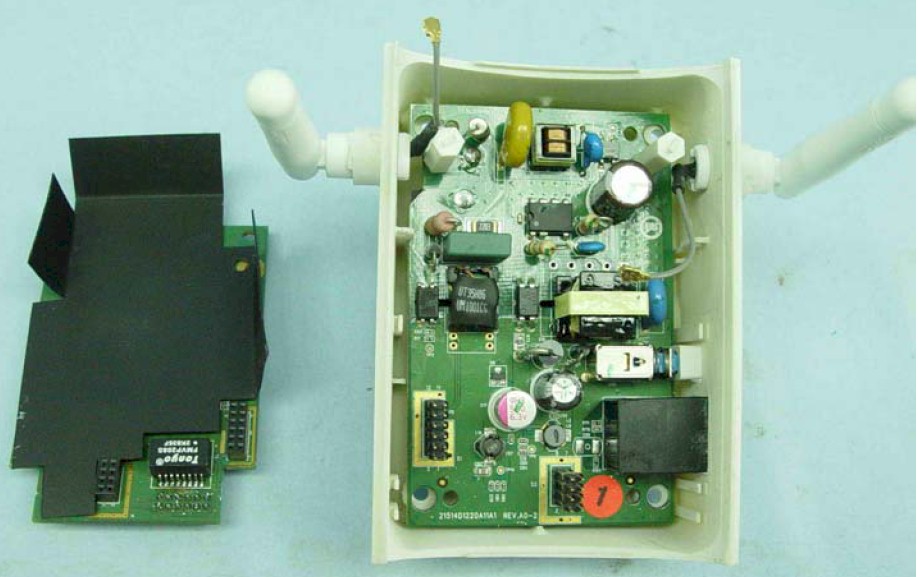 Figure 3: DHP-W306AV inside view – powerline
Figure 4 is a closeup of the radio / RF board, which reveals a Ralink RT3052F 2×2 802.11b/g/n AP / Router SoC handling the access point functions. I was able to make out 32 MB of RAM, but couldn't find out how much flash is used.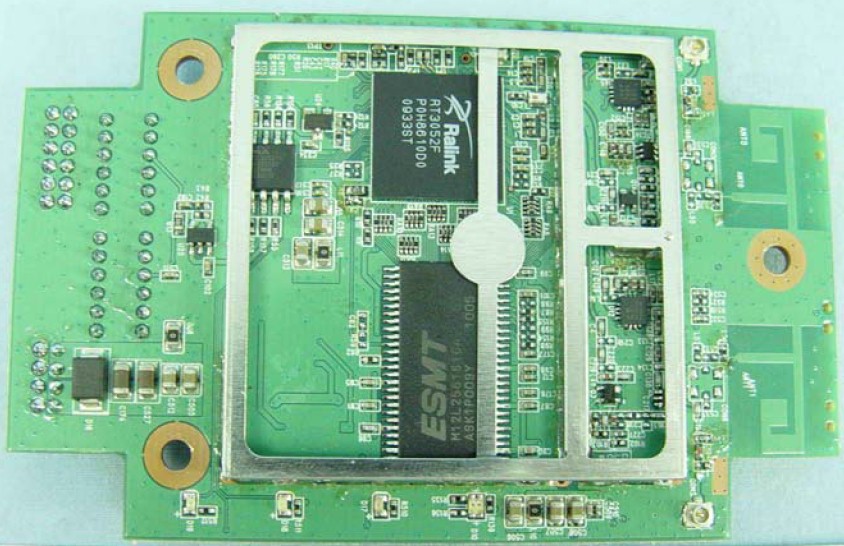 Figure 4: DHP-W306AV radio board
The gallery photo of the powerline board reveals the same Qualcomm/Atheros INT6400 / INT1400 third generation HomePlug AV chipset as used in the DHP-1320. (The chipset shown is actually marked Intellon, which was purchased by Atheros before being in turn swallowed by Qualcomm.) This board also has 16 MB of RAM on its backside.
I should note that this is the first 11n powerline-connectable AP that has a two-stream N radio that will support link rates up to 300 Mbps (in Auto 20/40 mode). Other products like the Innoband kit I tested last year and the Zyxel router I tested a few years ago use single-stream N and b/g radios, respectively. I thought that NETGEAR's XAVN2001 Powerline AV 200 Wireless-N Extender was only single stream because there was no mention of link rate in any of NETGEAR's promotional material or product descriptions. But a check of its Wi-Fi Certification certificate revealed that it too is dual-stream.
Features
Updated 8/7/2011
The DHP-W306AV doesn't have an online emulator You can explore the DHP-W306AV's online emulator and can also download the manual to check out its features more closely. Here is a summary of its feature set. There are screenshots of most of the admin pages in the gallery.
Static and dynamic IP LAN setting
WEP, WPA / WPA2 Personal and Enterprise (RADIUS) wireless security
Wi-Fi Protected Setup (WPS) support, pushbutton and PIN
Auto and manual channel set
SSID broadcast disable
Scheduled wireless enable / disable
Wireless modes: b-only, g-only, n-only, mixed b/g, mixed g/n, mixed b/g/n (default)
MAC address filter
100 / 50 / 25 / 12.5% transmit power adjust
Beacon period, RTS threshold, DTIM interval adjusts
Wireless client isolation (from each other)
IGMP snooping
WMM disable
Short GI disable
User Limit (1 – 32)
Powerline features
Public / private network name setting
Pushbutton network join / disconnect
Four level QoS (by MAC address)
Missing features
HTTPs admin access
QoS
Wireless guest access
I'll also note that there is an annoying 15 second save required for each page when you make admin setting changes.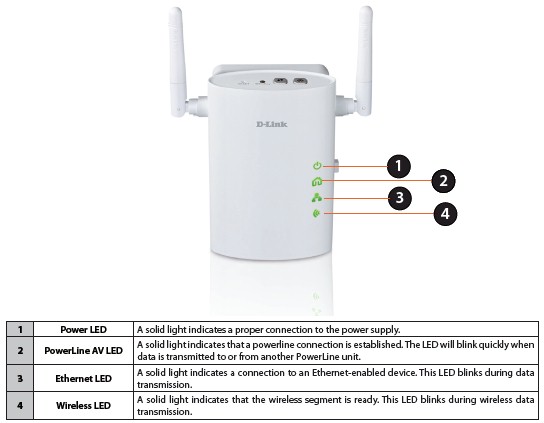 Front panel indicators
Top side controls
Right side features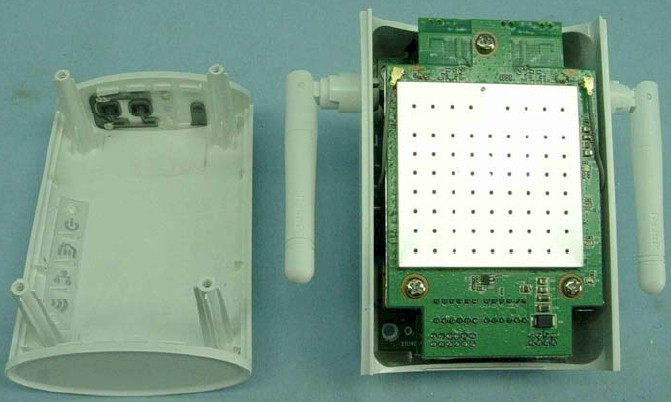 Inside view with cover removed. Radio (RF) board is on top
Removing the RF board reveals the heatsink for the powerline board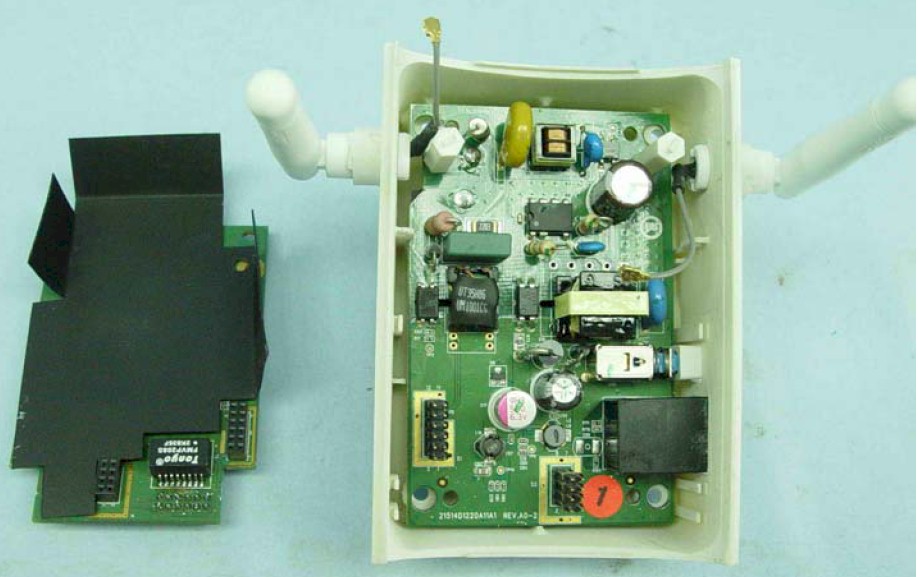 Powerline board removed shows the power supply and powerline interface circuitry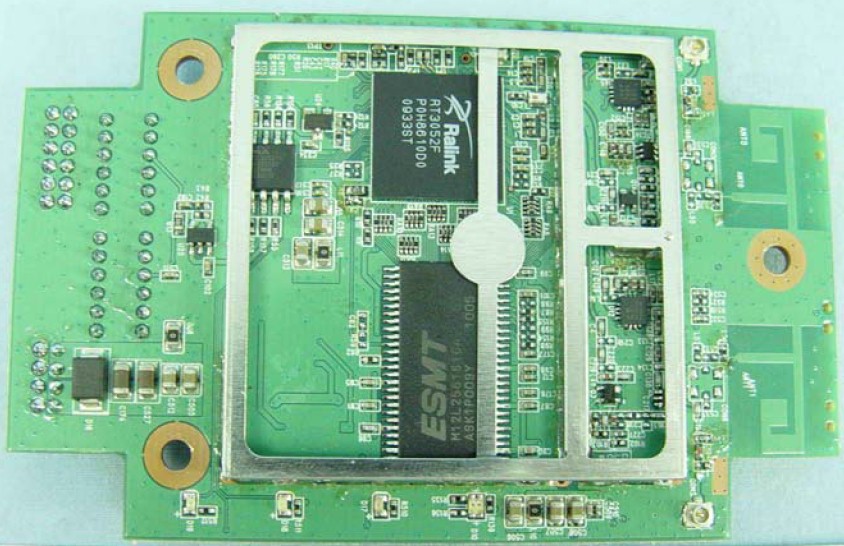 Closeup of the RF board shows the Ralink RT3052F 802.11b/g/n 2×2 AP/Router SoC
Closeup of the powerline board showing Qualcomm/Atheros INT6400 / INT1400 third generation HomePlug AV chipset
Bottom side of powerline board showing 16 MB RAM chip
Wireless settings. I changed the SSID from its 'dlink' default
LAN settings are very simple. The adapter is set to DHCP by default with Static IP as the other option
Powerline settings are pretty standard
Wireless MAC address filters
Advanced wireless settings. WLAN partition keeps clients from communicating with each other
WPS settings
User limits are something you don't usually see
Schedules for enabling / disabling wireless
Wireless Performance
The DHP-W306AV is Wi-Fi Certified and properly defaulted to 20 MHz bandwidth mode on power-up. I successfully ran a Wi-Fi Protected Setup (WPS) session with my Win 7 client by entering the WPS code found on the router's bottom label. The WPS session completed quickly and resulted in a WPA2/AES secured connection with the same WPA2 pre-shared key. All tests were run with this secured connection using our new four-location wireless test process.
I don't test a lot of access points, so didn't have many comparables. But I gathered the results for the Innoband 210P-I1 AP and D-Link DAP-2553 into a performance table (Figure 5). I'm showing only 2.4 GHz results, of course, for the dual-band DAP-2553.
Although the W306AV doesn't beat the DAP-2553 under stongest signal Location A tests, it does pretty well in some locations. Best case throughput was 72 Mbps running downlink in Location A in 20/40 Mhz mode. I measured 90 Mbps running simultaneous up and downlink tests under the same conditions.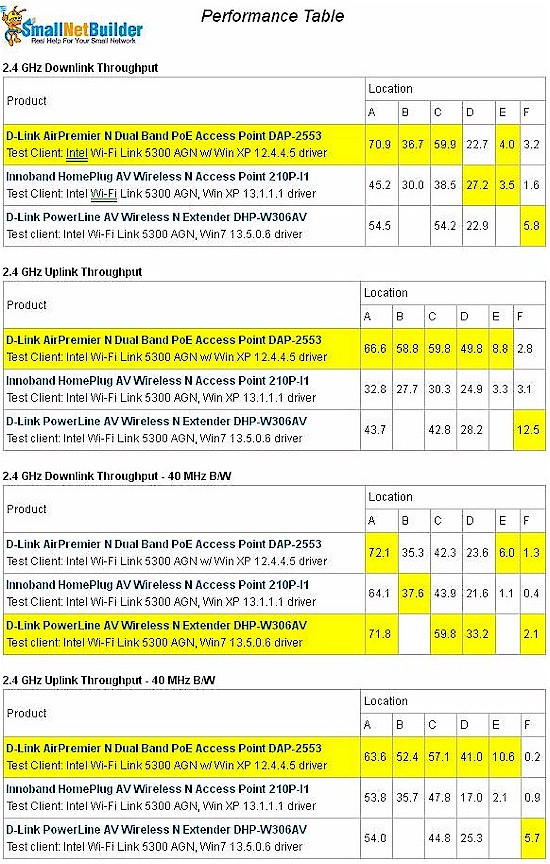 Figure 5: WHP-W306AV Wireless Performance summary – 2.4 GHz
Unfortunately, throughput stability wasn't what I would have hoped for, especially under strong signal conditions. And you can see signs of throughput shift in the IxChariot plot in Figure 6 during the Location F test that I also saw in other test runs.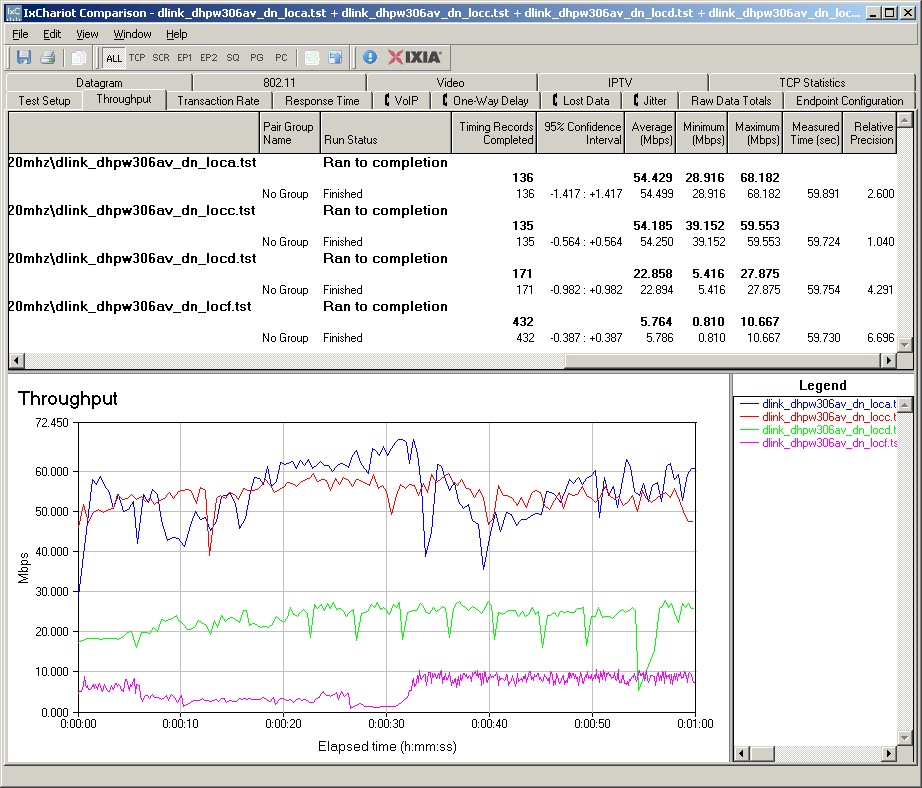 Figure 6: D-Link DHP-W306AV IxChariot plot – 2.4 GHz, 20 MHz, downlink
Here are links to the other plots for your perusal.
Powerline Performance
Although you can use the W306AV as an AP without employing its powerline connectivity, you wouldn't be taking advantage of its flexibility. You can connect the AP to any network via powerline simply by adding any HomePlug AV adapter and connecting it into your LAN's switch.
Of course, D-Link would prefer you pair the DHP-W306AV with its DHP-1320 powerline router, so that's how I tested it.
I plugged the DHP-1320 into the hallway outlet outside my downstairs office because my office outlets are all behind a powerline-throughput-killing AFCI breaker. I then plugged the DHP-W306AV into an above-counter outlet in my upstairs kitchen, directly across from my old test Location E. The AP was set to Auto 20/40 mode and Channel 1 and secured with WPA2/AES.
The IxChariot plot in Figure 7 shows three traces. The bottom trace shows one of the downstream test results from my wireless testing with the AP sitting in my downstairs office, the test client in Location F and AP set to Auto 20/40 mode. Under those conditions, I was able to get only 2 Mbps of throughput.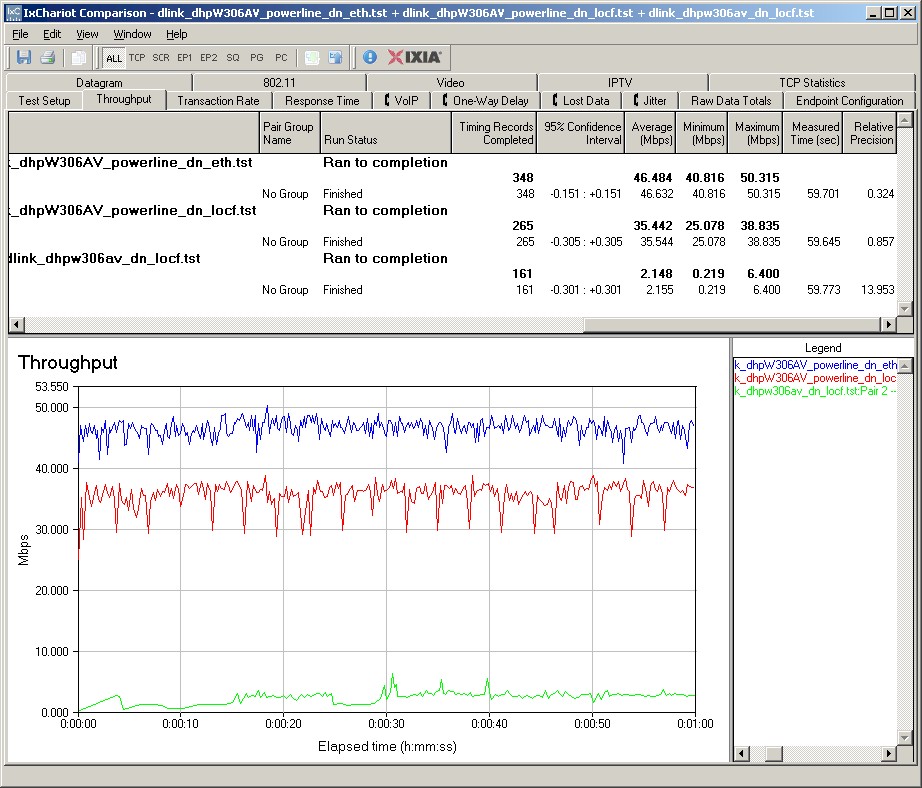 Figure 7: DHP-1320 to DHP-W306AV throughput
The top trace shows powerline throughput measured from a computer plugged into one of the DHP-1320's switch ports, through a powerline connection to the a second computer plugged into the Ethernet port of the upstairs DHP-W306AV. The 46 Mbps measured represents the bandwidth of the powerline connection between the two DHPs.
The middle trace essentially measures the wireless throughput improvement from the wireless test client associated to the powerline-connected upstairs AP. The connection path is from a computer plugged into one of the DHP-1320's switch ports, through a powerline connection to the upstairs DHP-W306AV, then a wireless connection from the AP to a wireless client sitting in Location F (about 10 feet away).
The 35 Mbps throughput is an almost 18X improvement over the non-extended 2 Mbps throughput. This is about twice what I could obtain using an 802.11n wireless repeater (NETGEAR's WN2000RPT).
Closing Thoughts
Most people are stuck in the mindset of doing everything wirelessly. We can thank the Wi-Fi Alliance for part of this, which has done an excellent job of marketing consumer wireless technology. But we can also thank the powerline networking industry, which squandered most of the past ten years (!) with a destructive battle between competing standards and overly long delay in the development of technology fast enough to provide a viable alternative to Wi-Fi.
But that's all behind us now and powerline has matured into a technology capable of providing 40 Mbps and more of stable throughput throughout an average home. And once the bugs get worked out of Qualcomm's 500 Mbps HomePlug AV compatible technology, that 40 Mbps could easily move up to 60 Mbps and possibly double today's 40 Mbps capability.
At least for now though, D-Link's DHP-1320 and DHP-W306AV duo could be the answer for those of you who have been fighting the wireless extender wars and losing. If D-Link were smart, they'd put these two into a bundle with a nice discount and promote the hell out of them.
But it looks like they're still stuck promoting the promise of single-router whole house wireless coverage that doesn't work anywhere near as well (I'm looking at you, DIR-657) because that's what they've trained us all to demand.
Buy PowerLine AV Wireless N Extender from Amazon