At a glance
Product
D-Link HD Media Router 2000 (DIR-827) [Website]
Summary
Ubicom based simultaneous dual band router with IPv6 support and USB port and SD card slot for sharing.
Pros
• Good routing feature set
• IPv6 support
• USB 3.0 port for drive and printer sharing
Cons
• Only two status lights / indicators
• Borderline unusable throughput with low signal levels
Typical Price: $14 Buy From Amazon
Overview
Well, CES is once again almost upon us. So that means the D-Link is getting close to shipping some of the products it announced at this past January's CES. Three "HD Media" routers were announced and we've already seen the single-band DIR-657. The DIR-827 HD Media Router 2000 we're looking at today is number two out of the birth canal. I'm not holding my breath on the simultaneous dual-band three-stream member of the family, the DIR-857, however. My guess is that it will be reintroduced in January…
On the outside, the DIR-827 looks a lot like the DIR-657. The main difference besides the name is a shiny finish and a bump in the top cover to add a rear-facing air scoop. You'll see a few other thermal management design features in a bit when we look inside. So D-Link is either taking a conservative approach to heat removal or was forced into it due to the components used.
The indicators, controls and ports shown below are virtually identical to those on the DIR-657. The main difference is that the USB port is 3.0 vs. 2.0 on the 657. All Ethernet ports on both products are Gigabit.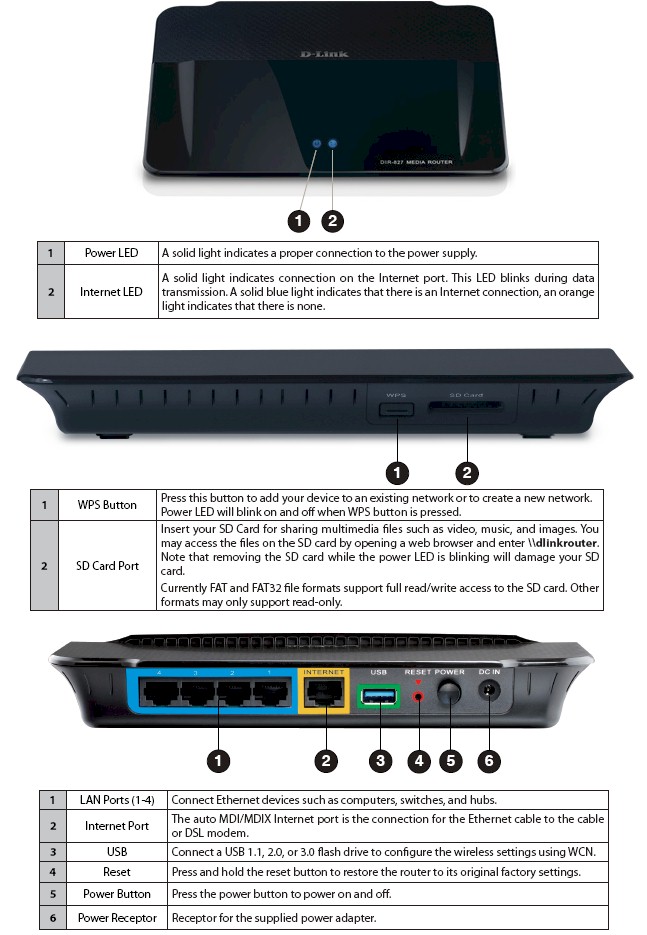 DIR-827 panels
Inside
The FCC ID docs were not helpful at all, since the registration is only for the radio module. So after I completed testing, I opened 'er up for a look. The shot below shows a generous use of heatsinking and the simultaneous dual-band radio module that connects via PCIe bus. There are only two antennas, so that would make them both dual-band. Note that the board has room for two more antennas, which were probably designed out to reduce manufacturing cost.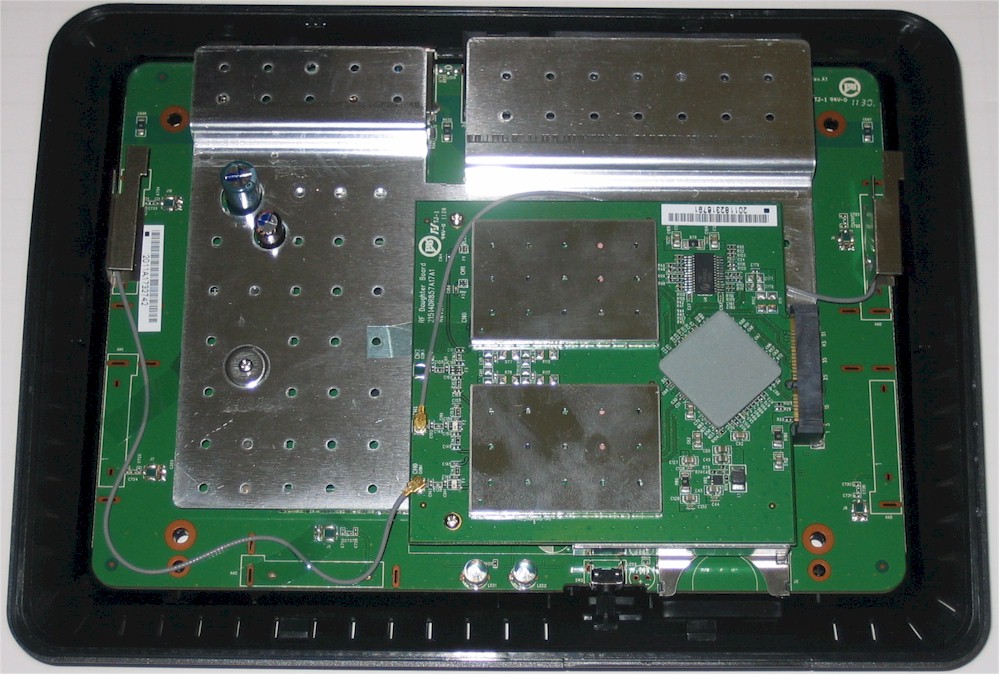 DIR-827 inside
Since I don't have X-ray vision, I had to do more disassembly to see what makes the 827 tick. So after removing the radio module and top heatsink, I finally got to the good stuff. The photo below shows a Ubicom IP8000 CPU, which is more powerful than the 657's Ubicom IP7160U.
DIR-827 board detail
To spare you more of my flowery prose, the table below compares the key components for the two siblings.

| | DIR-827 | DIR-657 |
| --- | --- | --- |
| CPU | Ubicom IP8000AU | Ubicom IP7160U |
| Switch | Atheros AR8327N | Atheros AR8316 |
| RAM | 256 MB | 128 MB |
| Flash | 16 MB | 32 MB |
| 2.4 GHz Radio | Atheros AR9382 | Atheros AR9227 |
| 5 GHz Radio | Atheros AR9382 | N/A |
Table 1:Component comparison
I had to pop off the RF can tops and pry off the ceramic heatsink to identify the components shown in the photo below. Atheros AR9382 dual-band 2T2R SoCs are used for both the 2.4 and 5 GHz radios. The big device is a Pericom PI7C9X20303SL 3-port, 3-lane PCIe Packet Switch that connects the two radios to the Ubicom's PCIe bus. Note the unloaded components for a third antenna.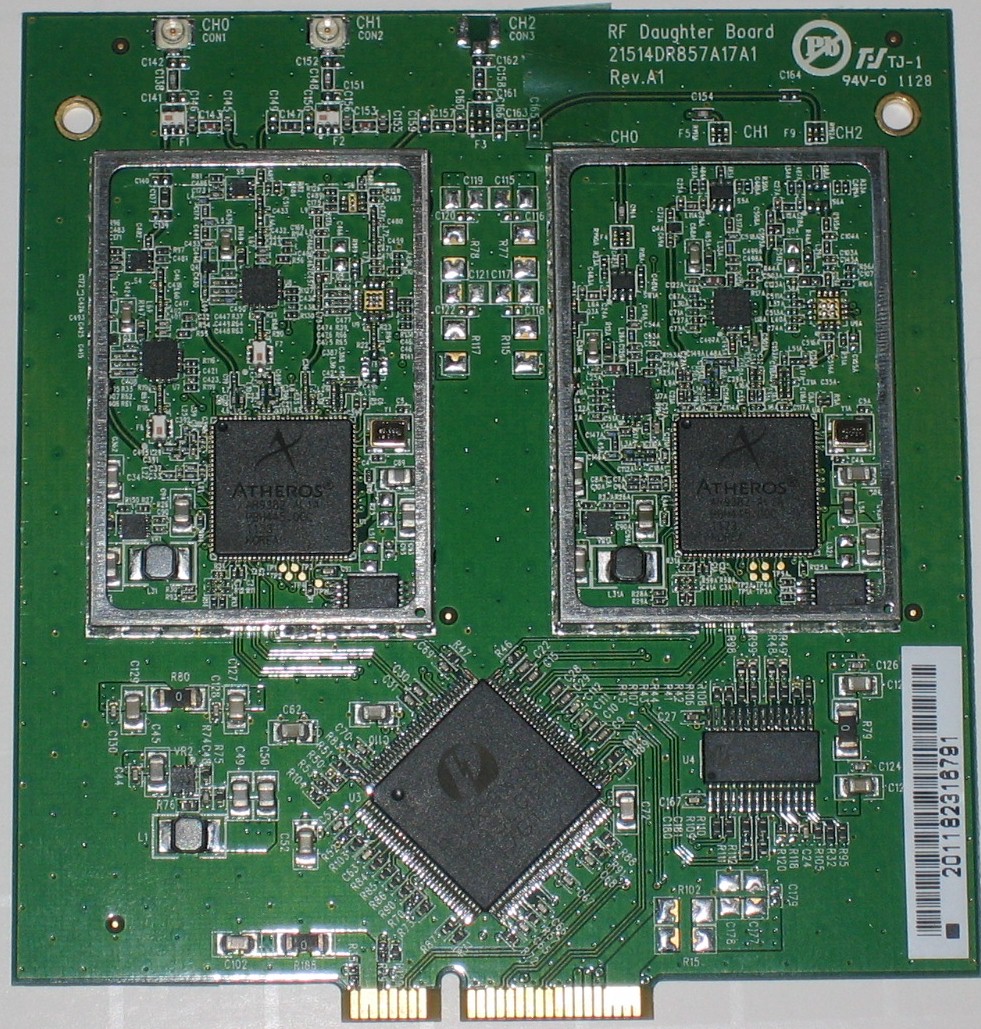 DIR-827 radio module
Removing the board reveals one more layer of heatsink coupled to the bottom of the board via the thermal pad shown.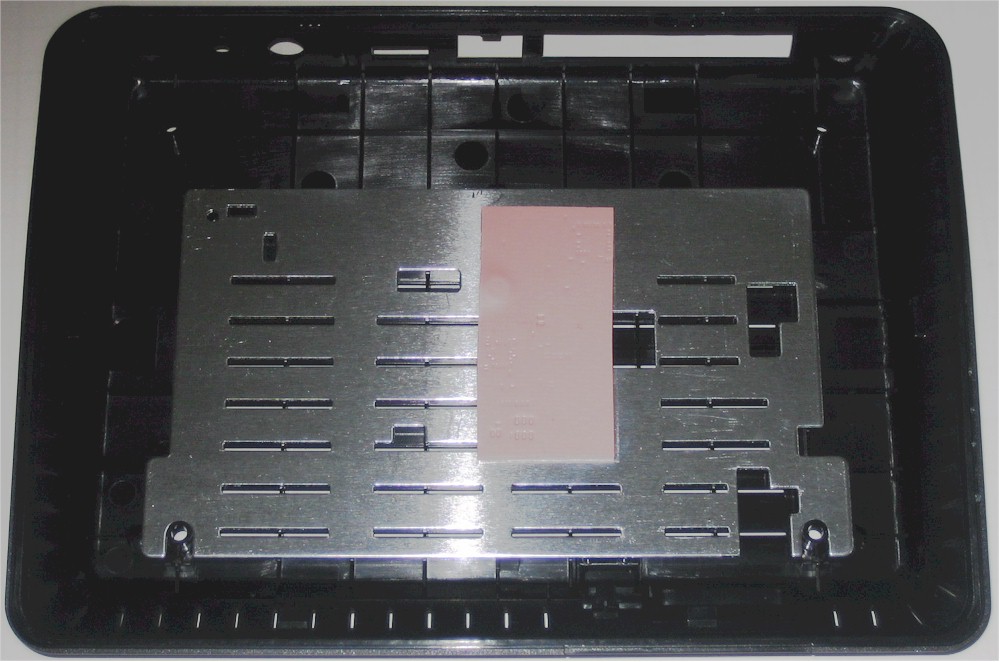 DIR-827 bottom heatsink
Features
The 827's feature set is a duplicate of the 657's, with the addition of a second set of wireless controls for the 5 GHz radio. A shot of the Status screen is shown below.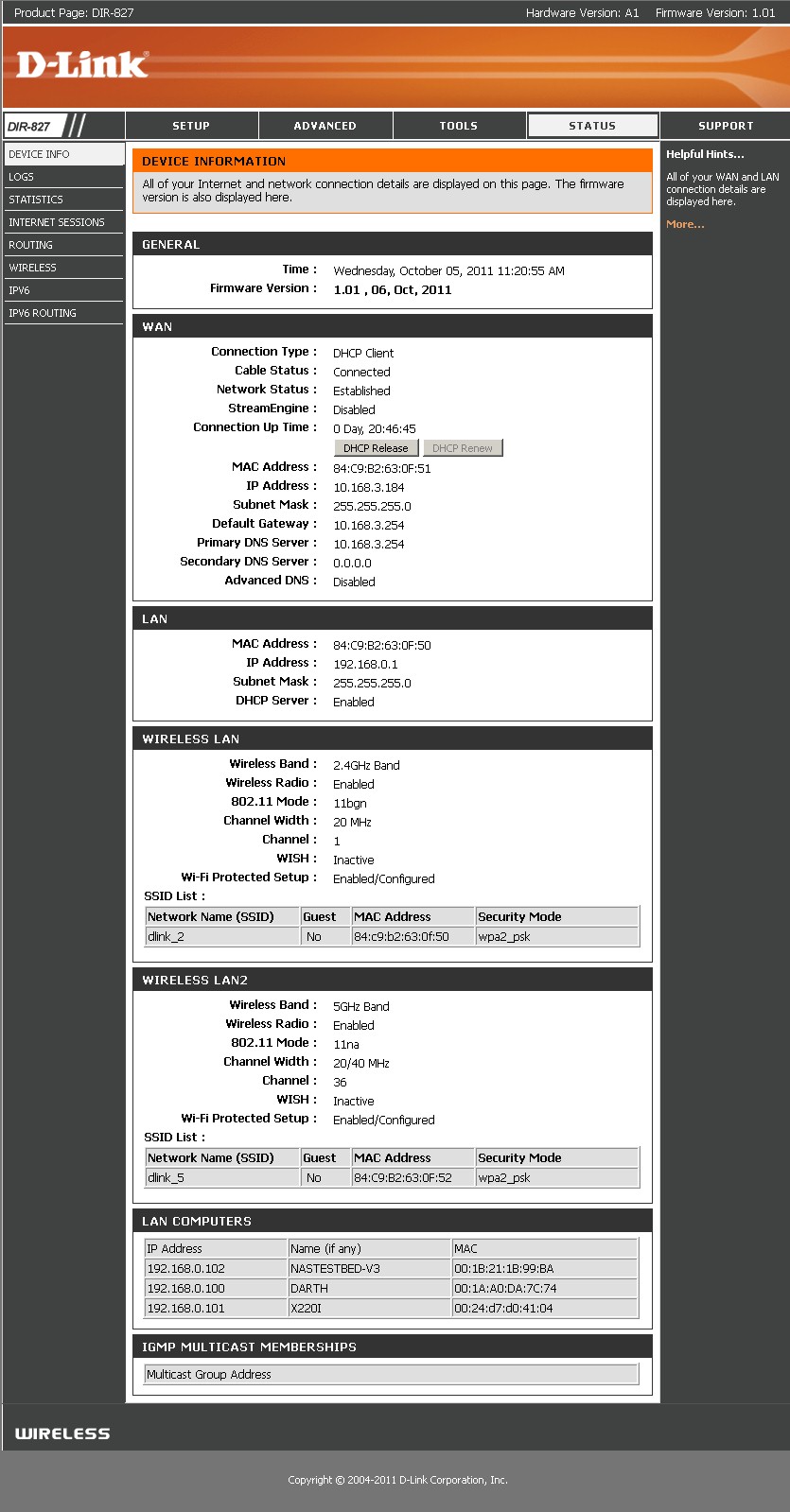 DIR-827 Status screen
D-Link hasn't posted an emulator for the 827, but you can use the 657's if you want a closer look at the admin GUI.
Here is a feature summary, copied from the 657 review.
Routing
DHCP, Static, PPPoE, PPTP, L2TP, DS-Lite WAN types
DHCP server with MAC address reservation, lease time setting and NetBIOS controls
Built-in dynamic DNS client for dlinkddns.com and dyndns.com free and custom services
Static routes
DMZ host
SPI firewall disable, UDP / TCP endpoint filtering, anti-spoof checking
WAN ping allow / deny
Multicast stream enable
IPv6 support (auto-detect, static, link-local, autoconfiguration (SLAAC/DHCPv6), PPPoE, IPv6 over IPv4 tunnel, 6to4, 6rd)
IPv6 static routes
IPv6 port forwarding
PPTP, IPsec, RTSP, SIP ALG disables
Schedulable single port, port range and triggered port forwarding. (Can set source and destination ports on single ports [virtual servers])
Allow / deny (global) MAC address filtering for network access
Outbound schedulable port filtering by IP or MAC address with selectable web access logging
40 domain-based allow / deny (global) Web access filters
8 inbound IP range allow / deny (global) filters
Remote admin access enable, IP access filtering, port setting and graphic authentication enable
UPnP support
WAN port speed set
HTTPs admin access enable
Syslog support
Email alerts and log send
Ubicom automatic uplink QoS with manual / automatic uplink speed detection and manual rule option
Wireless features
WEP, WPA / WPA2 Personal and Enterprise (RADIUS) support
Wi-Fi Protected Setup (WPS) support, pushbutton and PIN
Auto and manual channel set
Transmission rate set
SSID broadcast disable
Wireless modes: b-only, g-only, n-only, mixed b/g, mixed g/n, mixed b/g/n (default)
High / medium / low transmit power adjust
Beacon period, RTS threshold, DTIM interval, Fragmentation Threshold adjusts
Wireless client isolation (from each other)
WMM disable
Ubicom WISH automatic wireless traffic QoS
Short GI disable
Sharing features
UPnP / DLNA Media server enable
SharePort Plus drive and printer sharing
Sharing to/from embedded SD card reader
Missing features
WDS bridging repeating
Physical wireless disable button
AP / Router mode switch
The 60 second saves got old real quick during testing. But at least you can make changes on multiple pages before saving.
Since this is a Ubicom router, all of its features are there. Ubicom's automatic QoS is focused primarily on managing uplink traffic. But it can control downlink speed indirectly by delaying TCP/IP ACKs. Traffic shaping is enabled by default, as is automatic measurement of uplink speed. You still get only 10 sets of rules if you want to tweak Ubicom's selections.
File Sharing
Like the 657, the 827 includes D-Link's Shareport Plus drive and printer sharing feature. There are no storage controls in the router's admin GUI except for a media server enable/disable (enable is default). You need to download the Windows or MacOS Shareport Plus utilities to share printers or if you want auto-discovery of shared drives.
You can reach the drives by opening a Windows Run box and entering \\dlinkrouter. You can also enter \\dlinkrouter in Internet Explorer, but not Firefox or Chrome. Download the Shareport Plus manual for more info.
The only formats supported for read/write are FAT and FAT32, so you're limited to 32 GB volumes. I ran our standard Windows filecopy NAS test to an attached WD MyBook 3.0 USB 3.0 drive and got 11.5 MB/s write and a surprising 25 MB/s read! This is a big improvment over the 4.5 MB/s read/write I measured with the DIR-657. Running the same tests to a 8 GB SD card yielded 3.7 MB/s write and 11.4 MB/s read.
I ran a quick check of media sharing features by loading an SD card with a few music, video and still image files and trying to access it from a Win 7 Home Premium machine. The Win 7 machine detected the DIR-657 as a media source and enmumerated and played the few music and video files on the card. File indexing was pretty fast, but I had less than a dozen files on the test SD card.
As noted above, the only Media server control you get is an enable – there is no way to force or schedule an content index or safely dismount either an USB drive or the internal SD card.
Routing Performance
Routing throughput running the latest 1.01 firmware, our router test process and with QoS/traffic shaping disabled, measured 680 Mbps WAN to LAN, 721 Mbps LAN to WAN and 1,056 Mbps total with up and down tests running simultaneously. If you can really use this much routing throughput, you probably shouldn't be looking for a $160 router! The IxChariot composite plot below is hard to parse given the throughput variation. But looking at the legend for the simultaneous updn test we see upload throughput lower than download
Maximum simultaneous connections maxed out at our test limig of 34,925. In all, the 827 should provide fast, stable wired routing.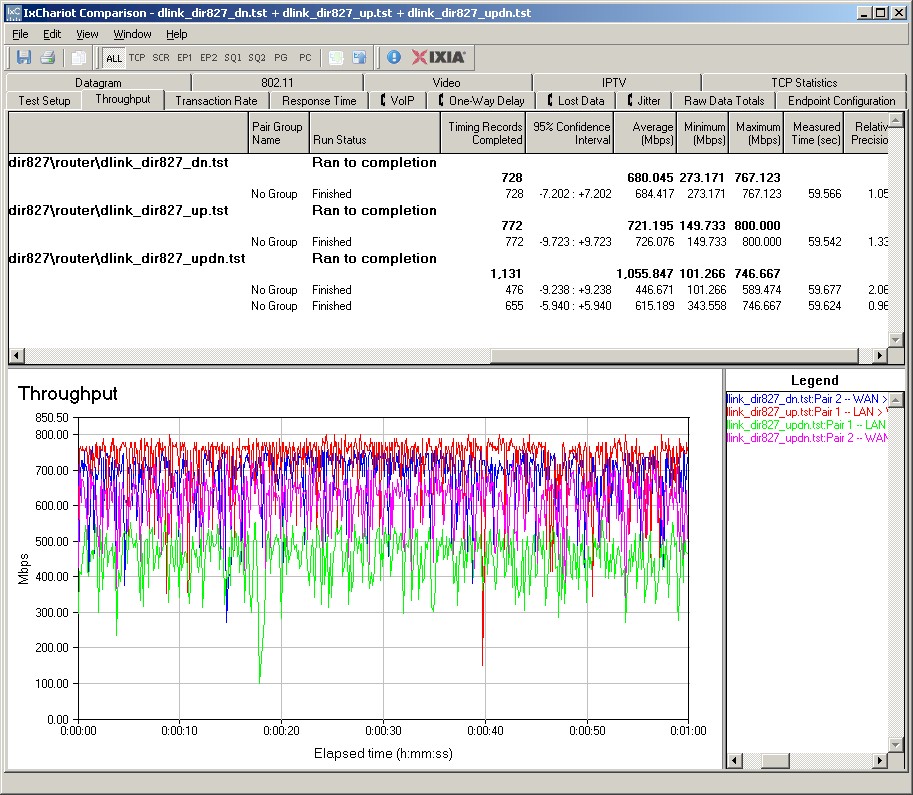 D-Link DIR-827 routing throughput summary
Wireless Performance Overview
The DIR-827 is Wi-Fi Certified, but both bands defaulted to Auto 20/40 Channel Width upon power-up. So if you're going to use the 2.4 GHz band in an area with lots of networks, be sure to set the Channel Width to 20 MHz to avoid spectrum-hogging.
I successfully ran a Wi-Fi Protected Setup (WPS) session with a Win 7 client by entering the WPS code found on the router's bottom label. The WPS session completed quickly and resulted in a WPA2/AES secured connection with the same WPA2 pre-shared key set for both radios. All tests were run with this secured connection using our current wireless test process.
One important note is that when I entered a network name (SSID) as prompted by the Windows WPS wizard, both radios were set to the same SSID! This isn't much help if you have dual-band clients, so you'll have to go back and manually set each radio to a unique SSID so that you can select the band you connect to. The router comes with dlink set for the 2.4 GHz SSID and dlink_media for 5 GHz.
I ran a 2.4 GHz Wireless Performance table for the 827 and their most likely competitors, the NETGEAR WNDR3800 and Cisco Linksys E3200. I also included the DIR-657, even though it is single-band, so that you can see how much better the 827 is.
2.4 GHz
The 827 handily beats the 657 in all test locations except the lowest-signal location F. Even though both D-Links use Qualcomm Atheros radios, the 827 is simply a better performer.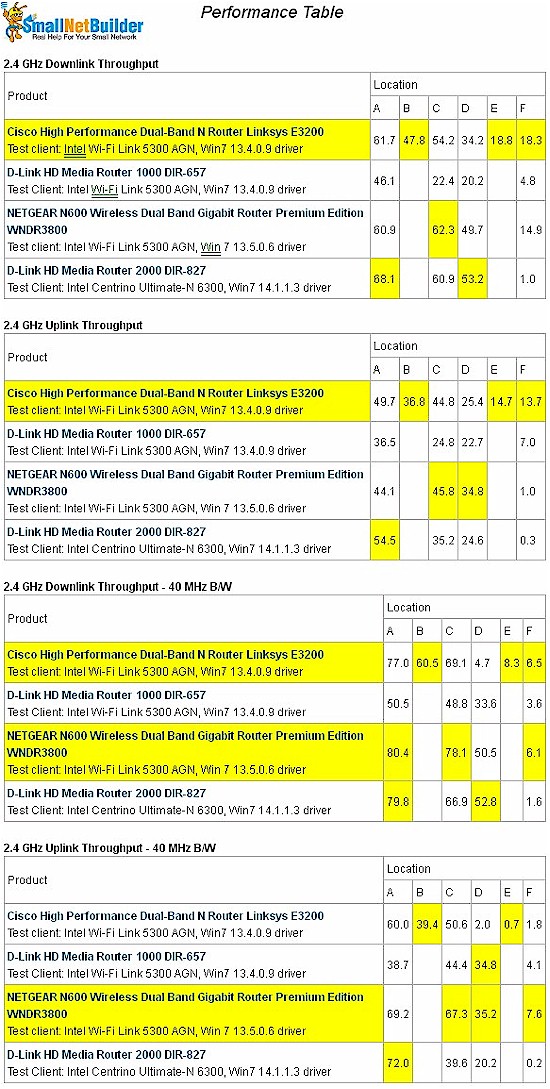 Wireless Performance comparison – 2.4 GHz
The throughput vs. location plots below make it easier to see the differences among the routers.
Throughput vs. location – 2.4 GHz
Throughput stability was generally good with only occaisional deep dropouts observed. As noted above, however, throughput in the lowest signal test location F was very low and I had to start some IxChariot tests multiple times before they would run. Even though it is better than the DIR-657 with strong to medium signals, the 827 is not a router you'd choose if you are trying to stretch your wireless coverage.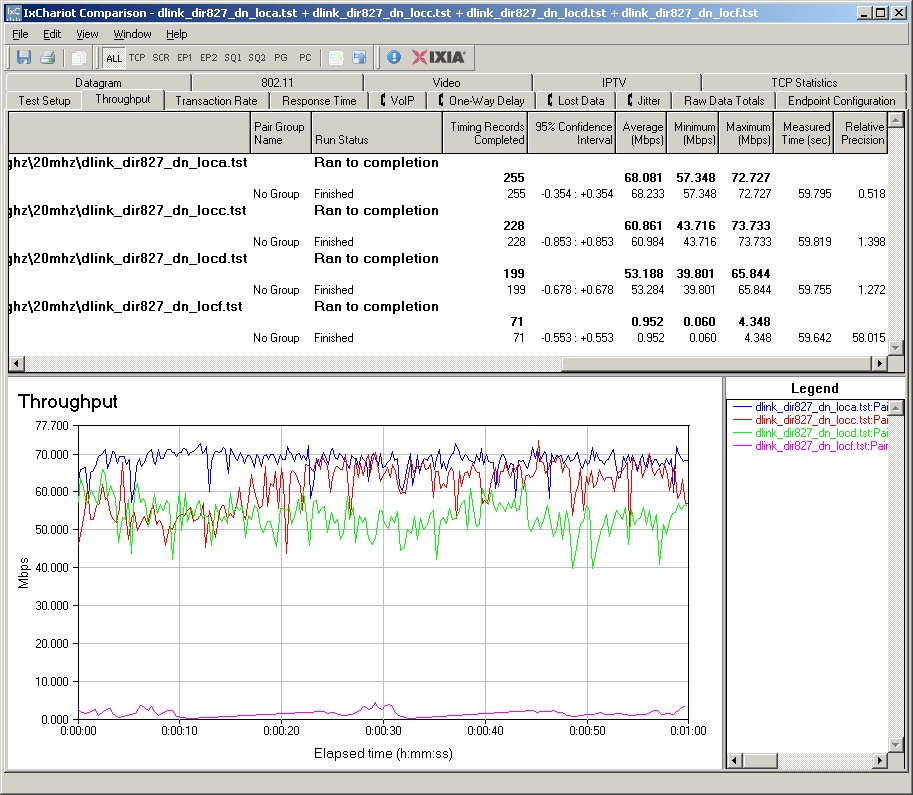 D-Link DIR-827 IxChariot plot – 2.4 GHz, 20 MHz, downlink
The highest throughput with a single test stream of 80 Mbps was obtained in Location A, downlink in Auto 20/40 mode. Running simultaneous up and downlink tests squeezed out higher throughput, 82 Mbps in 20 MHz mode and 118 Mbps in Auto 20/40.
Here are links to the other plots if you'd like to check them out.
Wireless Performance – 5 GHz
For 5 GHz, it's tougher to call a clear winner.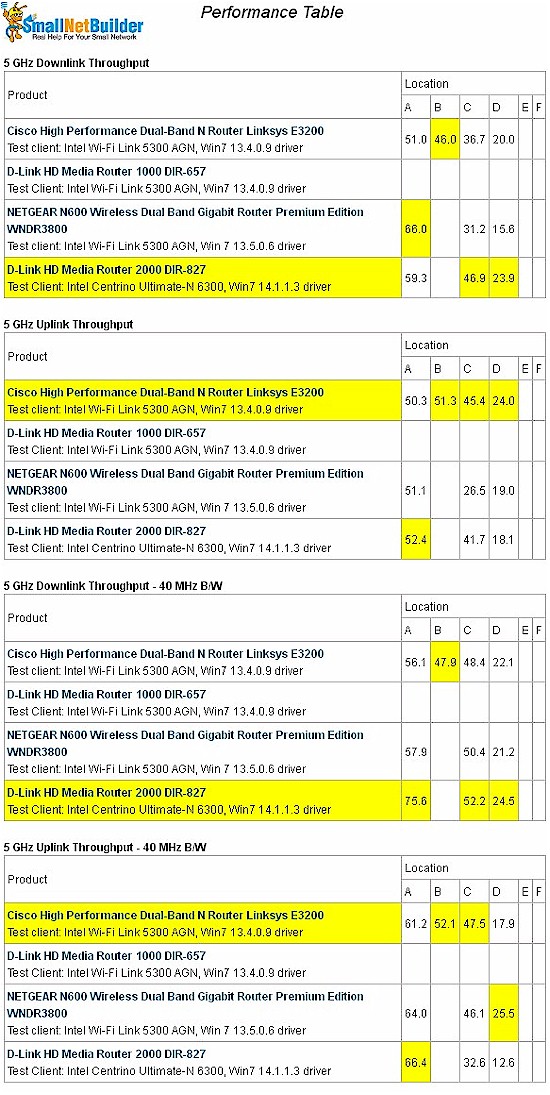 Wireless Performance comparison – 5 GHz
Again, the throughput vs. location plots below make it easier, or in this case just as difficult, to see the differences among the routers.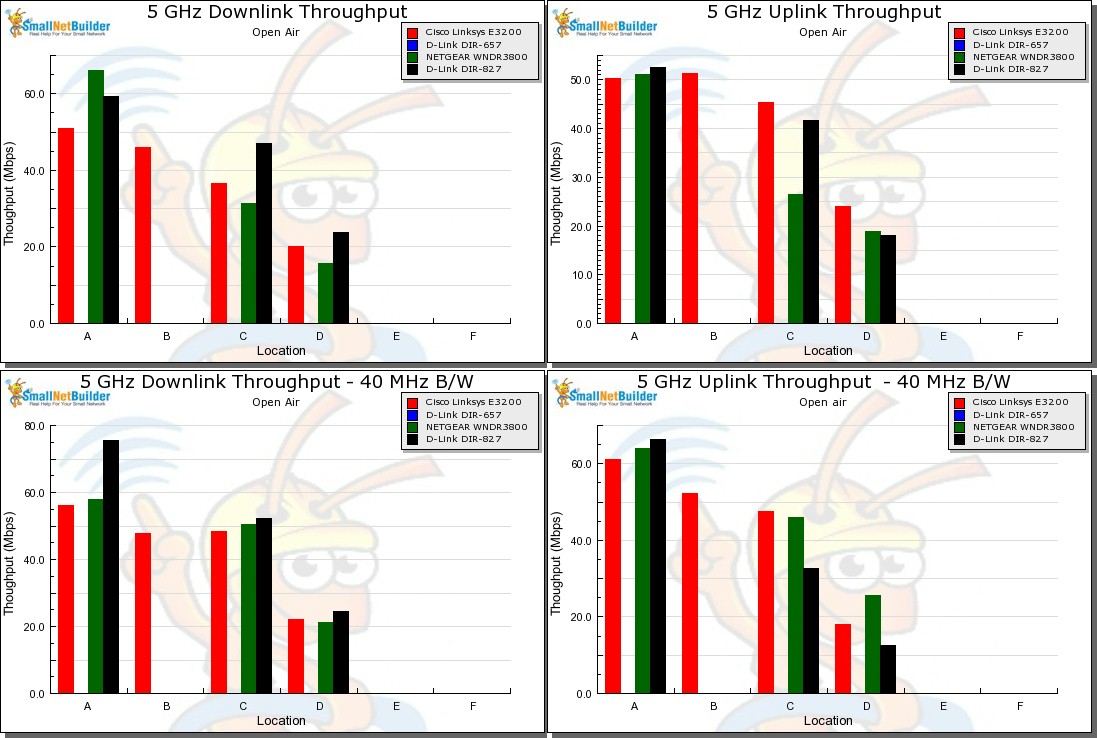 Throughput vs. location – 5 GHz
Throughput stability was again generally good.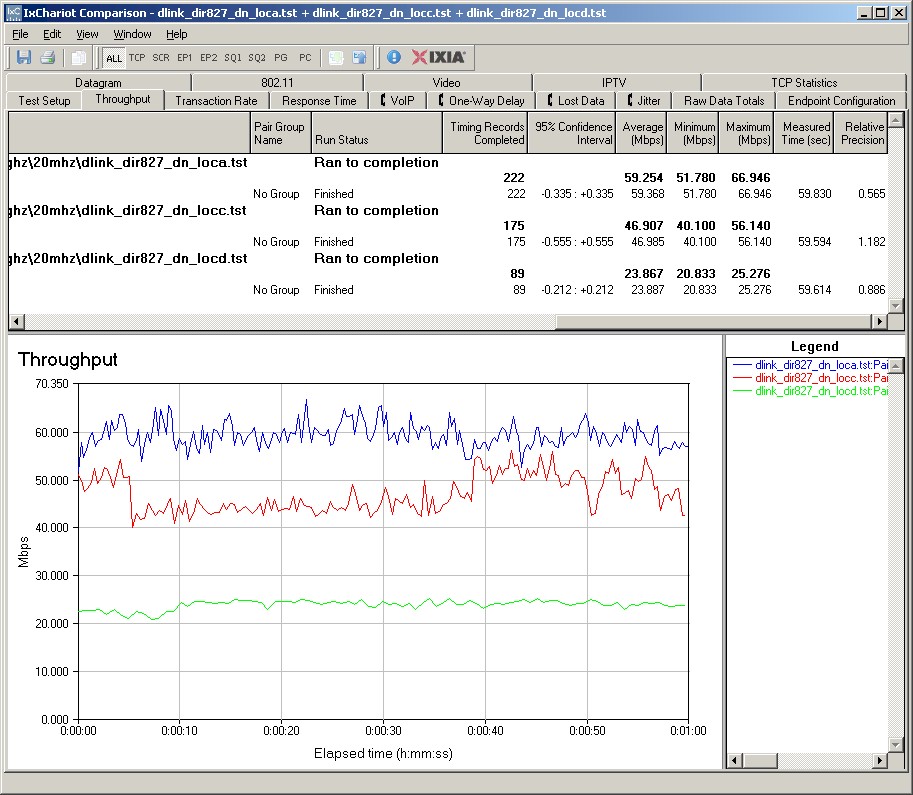 D-Link DIR-827 IxChariot plot – 5 GHz, 20 MHz, downlink
The highest throughput with a single test stream of 76 Mbps was obtained in Location A, downlink in Auto 20/40 mode. Running simultaneous up and downlink tests squeezed out higher throughput, 75 Mbps in 20 MHz mode and 103 Mbps in Auto 20/40.

Here are links to the other plots if you'd like to check them out.
Closing Thoughts
Folks looking for Ubicom-based router with screaming wired routing speed and pretty good wireless performance would do well to zero in on the DIR-827. But you might wait until D-Link does something about the 827's price. Like any good capitalist, D-Link is trying to profit while it can from gotta-have-it-now buyers.

At around the lowest $150 price I've seen, it's almost twice as expensive as the single-band DIR-657. And both the NETGEAR WNDR3800 and Cisco Linksys E3200 are $20-$30 less expensive for new product and refurb'd E3200s from the Cisco store going for $80!
Buy HD Media Router 2000 from Amazon