At a glance
Product
EnGenius XtraRange Dual-Band Wireless-N Router (ESR750H) [Website]
Summary
Ralink-based "N750" router with Gigabit ports, USB 2.0 storage and printer sharing and PPTP/L2TP VPN server, but unimpressive wireless performance.
Pros
• High wired routing speed
• PPTP and L2TP VPN servers
• Priority and bandwidth up/down QoS
• Supports AirPlay audio to attached USB speakers
Cons
• Poor wireless performance, especially 5 GHz
• Very poor wireless security defaults
• Poor documentation
• Not Wi-Fi Certified
Typical Price: $93 Buy From Amazon
Introduction
I recently had the opportunity to take a look at the new EnGenius ESR750H XtraRange Dual-band Wireless-N Router. The router promises "extended range and expanded coverage" via its 100 mW maximum transmit power. But as we've seen before, higher transmit power doesn't always produce greater range.
Out of the box, the router is rather small and unassuming, about as big as a mid-sized Android tablet in a thick protective case. In the box are a quick install guide, 12V/1.25A wall-wart power adapter, Ethernet cable, user CD, tech support card and two 5 dBi omnidirectional antennas.
Figure 1 below shows the callouts of the ESR750H and gives you an idea of its smaller size. The ESR750H includes a USB 2.0 port that supports several interesting features such as shAir and NetUSB Mode, which we'll get into later. The four LAN ports are Gigabit, as is the single WAN port.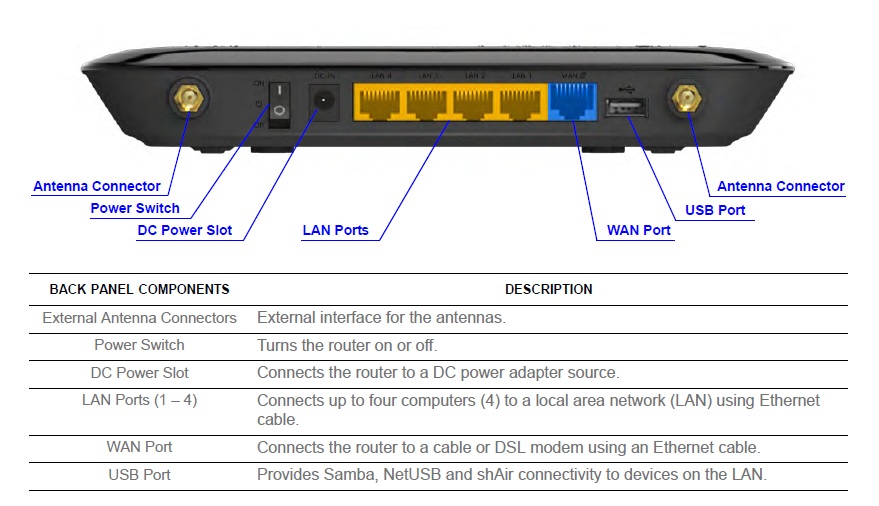 Figure 1: Callouts for the Engenius ESR750H
In keeping with the router's "XtraRange" claim, the external antennas are 5dBi for longer range and coverage vs. the usual 2 dBi. There are also internal antennas, which I'll explain shortly.
Inside
I took the ESR750H apart, however the major chipsets were all covered by ceramic heatsinks. So to give you a better idea of the hardware, I went to the FCC site and pulled the internal pictures. The key components are summarized in Table 1 and show a design based on the Ralink RT3883F SoC. We've seen this device before in the TRENDnet TEW-692GR and Belkin N750 DB, which I've pulled into the component table for comparison.
EnGenius ESR750H
TRENDnet TEW-692GR
Belkin N750 DB
CPU
Ralink RT3883F
2.4/5GHz 3T3R AP/Router Soc
Ralink RT3883F
Ralink RT3883F
Switch
Qualcomm Atheros AR8327
Qualcomm Atheros AR8327
Realtek RTL8367R
RAM
256 MB
Samsung K4B1G1646G-BCH9 (x2)
64 MB
64 MB
Flash
16 MB
Macronix 25L12835
8 MB
8 MB (?)
2.4 GHz Radio
Ralink RT5392L (2T2R)
– In RT3883F
– Microchip SST12LP15A
2.4 GHz power amp (x3)
Ralink RT3092
5 GHz radio
In RT3883F
– SiGe 2537L 5 GHz Power Amps (x3)

– Ralink RT3593
– Microchip SST11LP12
5 GHz power amp (x3)

In RT3883F
Table 1: Component summary
The RT3883F handles both 5GHz radio functions and serves and the CPU. The 5 GHz radio connects to three internal fixed-position antennas that you can see in Figure 3 below. The 2.4 GHz radio is handled by the Ralink RT5392L and connects to the external antennas. So if you want to swap in higher-gain antennas, they will affect only the 2.4 GHz band.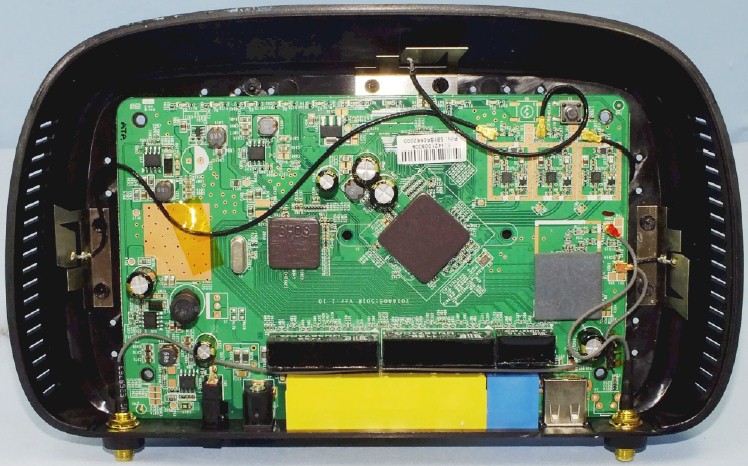 Figure 3: Internal picture of the ESR750H
Figure 4 shows a closeup of the board so you can see component detail. The flash chip is on the other side of the board and memory is under the bar code label.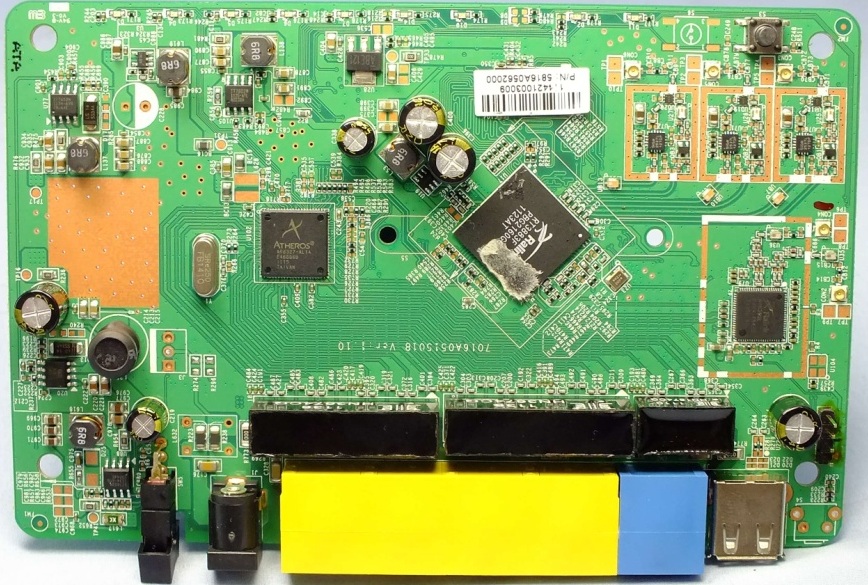 Figure 4: ESR750H board
Setup
My test unit came configured with both radios enabled and wireless security disabled right out of the box. I ran through the wizard for wireless setup and came upon an interesting find regarding the wireless password that you see in Figure 5.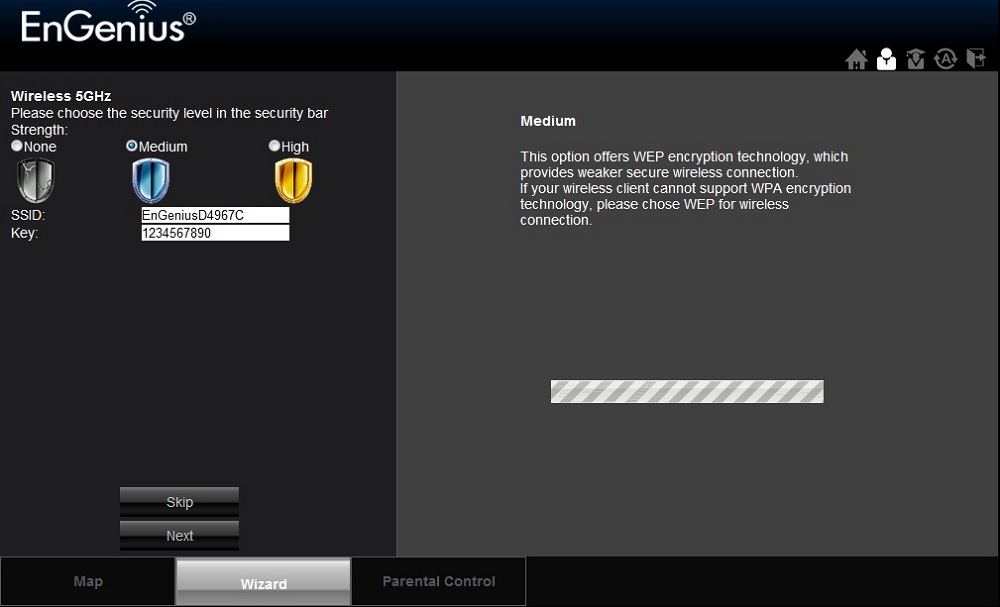 Figure 5: Default wireless password on the ESR750H
The wizard provides several options for wireless security:
None, which my unit came configured as.
Medium, which defaults the password to 1234567890 and uses WEP64.
High, which uses WPA2 Pre-Shared key, but also defaulted to a 1234567890 password.
Neither Medium nor High required, or even suggested that I change the password! Since the password does not appear to be randomly generated and isn't suggested to be changed, it's easy to make the jump that there will be consumers who take the Engenius 1234567890 suggestion, thinking they are highly secure, when indeed they are not.
Each radio is set to a different SSID by default that appear to be "EnGeniusD" plus the last five digits of each radio's MAC address. But the default SSIDs don't indicate which band/radio they belong to, so you'll probably want to change them to something more informative
Wi-Fi Protected Setup (WPS) also comes enabled by default, but with no encryption set. Once you set up encryption, the WPS status changes to configured. But when I tried to associate with the 750H with a Windows 7 client, it just popped up the encryption key entry box and didn't provide the option to connect via WPS.
EnGenius doesn't Wi-Fi certify many of its products and the ESR750H is among that group. If it were Certified, I doubt that this security hole and WPS problem would have made it through the process.
Features / In Use
The ESR750H has a pretty comprehensive set of features, some of which I couldn't find any documentation on. The admin interface is laid out nicely and was self-explanatory in most instances.
Here is a summary of features I compiled from the ESR750H's datasheet and admin interface:
Static IP, Dynamic IP, PPPoE, PPTP, L2TP WAN connections
MAC address cloning
MTU adjustment
DHCP server, range setting, lease time setting, default domain and DNS servers
DHCP client table
DHCP reservations
Dynamic DNS client for 3322, DHS ,DynDNS, ZoneEdit and CyberGate
System monitoring, including bandwidth charts and configurable logging
Block ICMP
NAT+SPI firewall
DoS Attack Blocking
Rule Based (IP Address Ranges, Port Ranges & Schedule)
DMZ (Demilitarized Zone) Host Support
L2TP & PPTP VPN servers
VPN pass-through (PPTP, L2TP, IPSEC)
Static Routing-RIPv2
Dynamic Routing
Port Forwarding (single port and port range, separate public and private ports)
Port Triggering
MAC Address Filtering
ALG (Application Layer Gateway) Support
Up and downlink QOS; two level priority or bandwidth allocation by service and IP address/range
USB NetUSB Mode or Samba server mode
And the wireless features:
Four SSIDs, each with separate wireless security
Wi-Fi Protected setup (PIN and pushbutton methods)
WDS bridging and repeating
WEP, WPA / WPA2 Personal and Enterprise Radius support
Transmit power control (10, 25, 50, 75, 90, 100% [default])
Transmit data rate
Wireless Modes: B only, G only, N only, B+G and B+G+N (default)
Wireless MAC address filtering
Connection control per SSID: WAN, Wireless-Wireless, Wireless-LAN
The features are pretty extensive, with the major omission being IPv6 support. There is only an IPv6 firewall passthrough enabled by default. And while you can change the remote administration port from its default of 8080 and lock down access to one IP, secure HTTPs access is not supported.
Table 2 summarizes key wireless settings. Note that both Personal and Enterprise (RADIUS) forms of WPA/WPA2 security are supported and there is one more 5 GHz channel (165) than many other routers support. Also of note is the Country Selection control exposed on the 5 GHz radio Advanced page. It generally isn't a good idea to let users bypass local regulations for frequencies and transmit power levels.
Setting
5 GHz
2.4 GHz
Channel
Auto
36, 40, 44, 48
149, 153, 157, 161, 165
Auto
1 – 11
Mode
802.11a/n (default), 11a, 11n
802.11bgn (default), 11b,
11g, 11b/g, 11n
Bandwidth control
Auto 20/40 [default]
20 MHz
Auto 20/40 [default]
20 MHz
Security
None
WEP – Open System, Shared Key, Auto
WPA PSK (Personal)- TKIP, AES, Mixed
WPA RADIUS (Enterprise) – TKIP, AES, Mixed
Table 2: Wireless settings summary
This is really a nice set of features and they are laid out rather nicely in the admin interface. For the most part, a lot of the admin interface is about what you would expect with other routers. I've included a few key screenshots in the gallery below, but I'll take a closer look below at some of the features that I particularly found interesting.
Logging into the router always takes you to this screen. Nothing is clickable except the Map, Wizard and Parental control boxes at the bottom. Clicking on the icon with the graduation cap takes you to the detailed admin.
Status screen of the ESR750H
The ESR750H log entry screen
Wireless Basic settings
Wireless Advanced settings
Wi-Fi Protected Setup (WPS) settings.
Connected wireless clients
Wireless connection policies let you control where wireless clients can connect. These settings would allow setting up guest WLANs that connect only to the internet.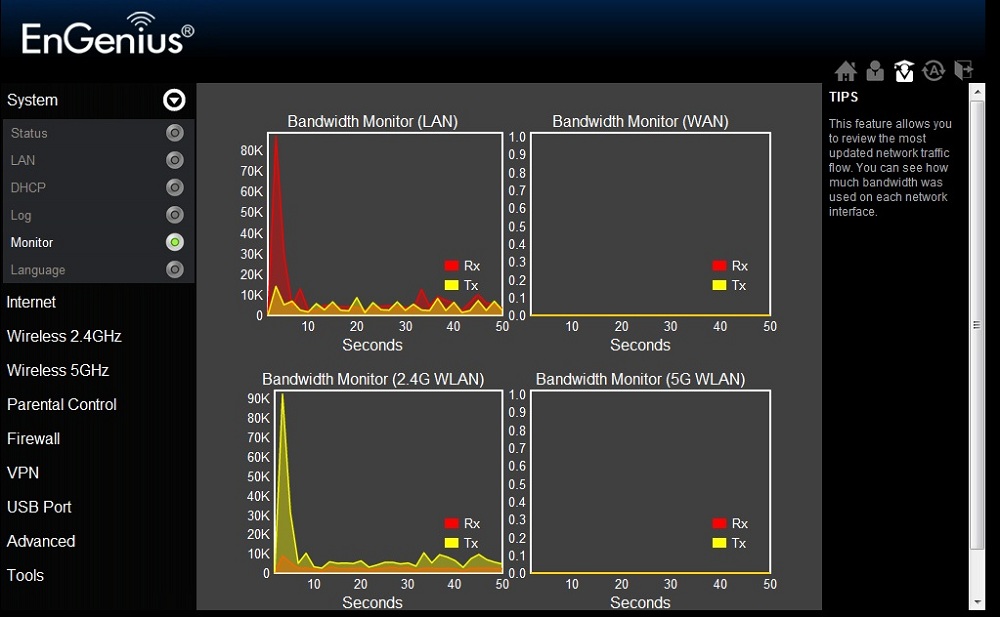 Bandwidth use graphs look impressive, but aren't as useful as you might want.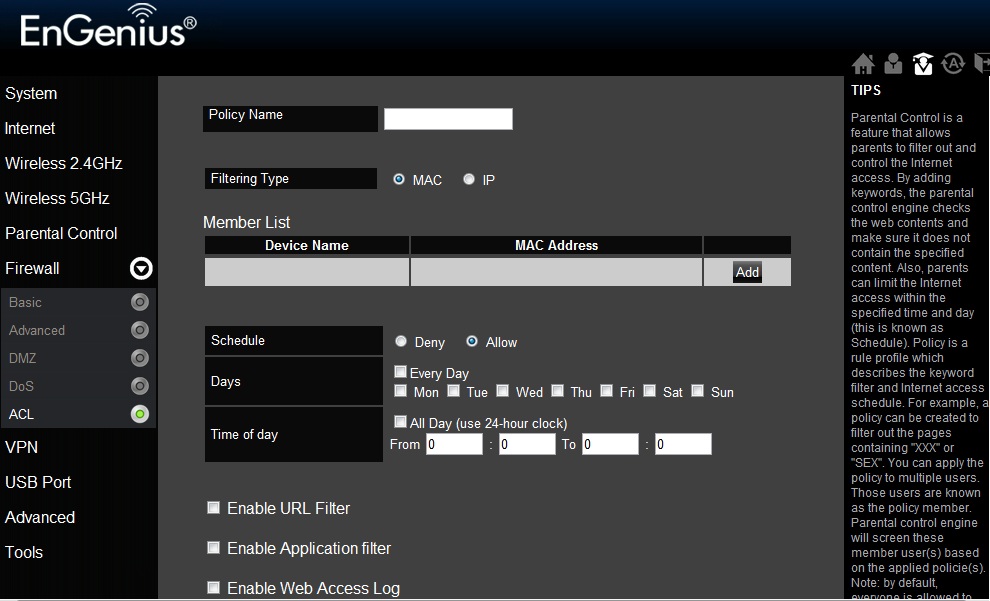 Overall internet access can be controlled by MAC address and day / date. Other controls set up URL keyword filters and application (port-based) filters.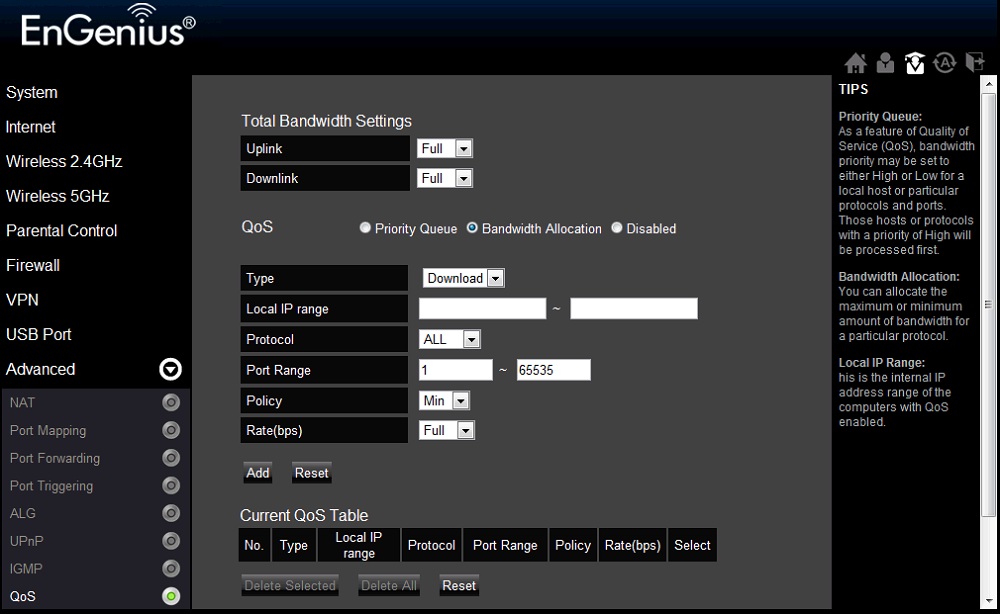 You can set up and downlink bandwidth limits by port and local IP address.
First is the Monitor function. More routers are starting to have realtime bandwidth monitors in their admin interfaces and that's a good thing. With the ESR750H you get LAN bandwidth monitoring, WAN monitoring, and then Wireless, which is split out between the 2.4GHz and 5GHz networks.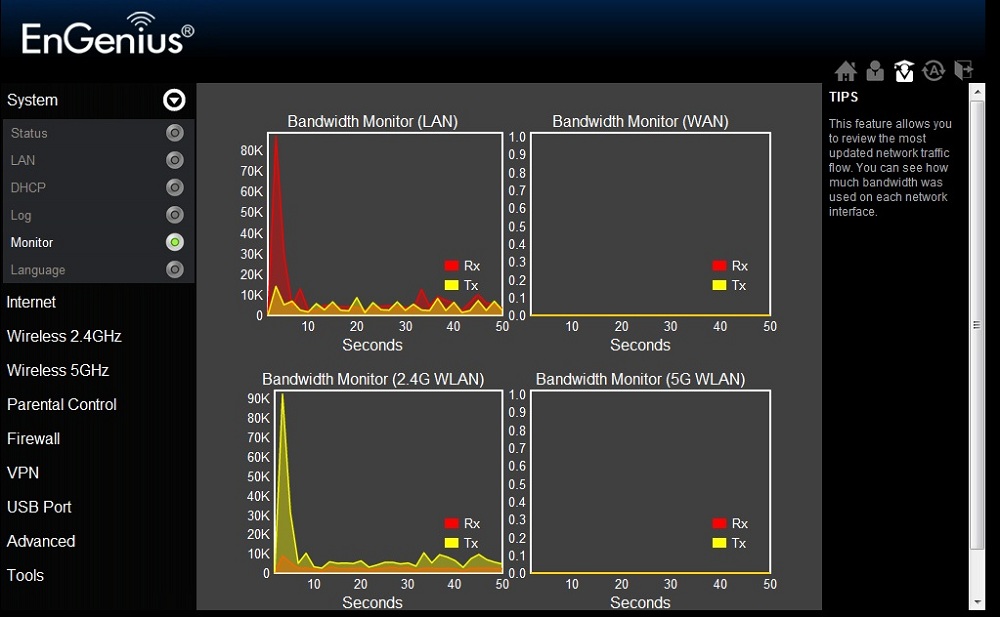 Figure 6: Bandwidth Monitors screens, highlighting no change in LAN monitor
Just for fun, I fired up LAN Speed Test and ran a couple of quick tests from my workstation, through the ESR750H's switch, to a NETGEAR RNDU2120 ReadyNAS connected to another of the ESR750H's LAN ports. Even writing at about 500 Mbps and reading just under that, I was surprised to see the LAN Bandwidth monitor not change at all. After some additional testing, I had to conclude that the LAN bandwidth monitor doesn't monitor wired LAN-LAN traffic.
I then set up the ESR750H as my main router and ran a test using a wired connection to Speedtest.net. I was surprised to see the bandwidth on the WAN monitor not change here either. After some additional experiments, the conclusion is that the WAN bandwidth monitor does work, but it is far from real time and doesn't appear to accurately reflect the traffic.
Finally I ran the same two tests using wireless, this time the WAN and the LAN monitor then showed more accurate results. As you can see in Figure 7 below, the 2.4 GHz WLAN numbers and LAN numbers reflect the LAN test I was running. The monitor is a nice touch, but either it needs some work or I wasn't understanding it correctly. The manual for the Engenius ESR750H didn't have much to say about it.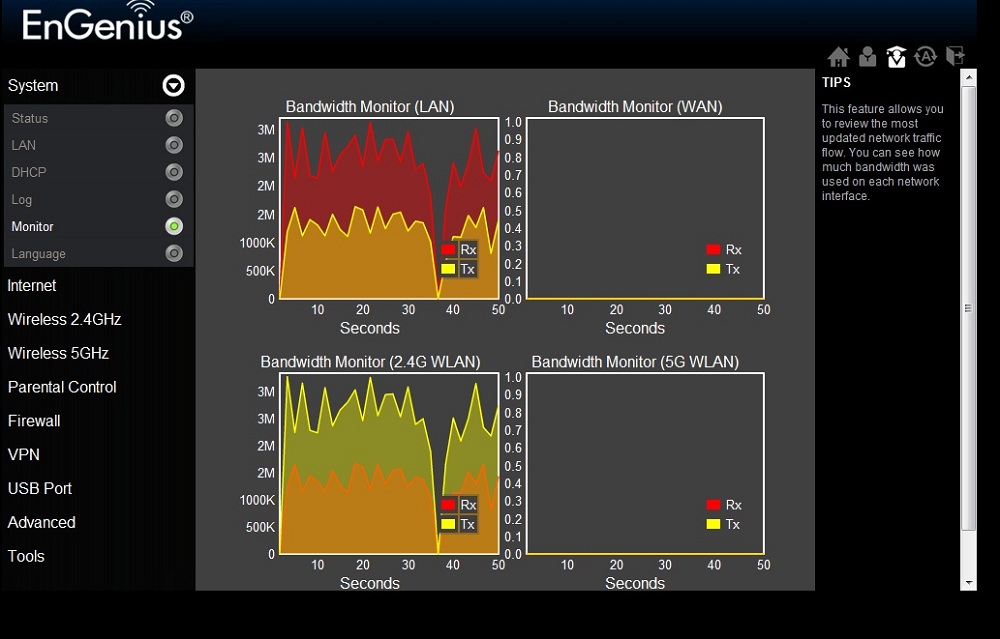 Figure 7: Bandwidth Monitors screens, highlighting change in 2.4GHz WLAN monitor
Note, by the way, that the Monitor scales can't be changed. So this makes the feature of little use for those who want to track their monthly bandwidth use against their ISP's cap.
USB
Another feature worth noting on the ESR750H is versatility of the USB Services. The USB port can support drives, printers, scanners, and even speakers. The two modes for the USB port are NetUSB Mode and Server Mode. Server Mode is the typical Samba server, which allows a connected drive to be seen as a share.
NetUSB Mode requires the Engenius USB Device Service (UDS) Control Center software, which then makes the ESR750H's USB port a virtual USB port on your Windows or MacOS computer. According to Engenius' specs, only one computer can connect to a USB device at a time when in NetUSB Mode. This is similar to D-Link's SharePort and how you connect to everything except storage.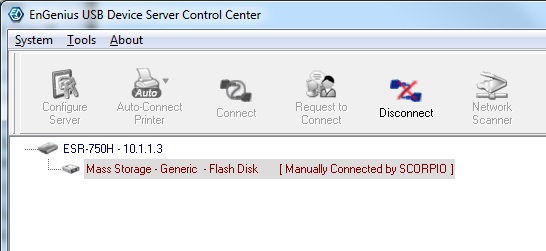 Figure 8: Engenius USB Device Service (UDS) Control Center software
Curious to see whether there was a performance difference between the modes, I ran a couple of quick throughput tests with a FAT32 formatted drive attached in each mode using LAN Speed Test. In NetUSB Mode I could only get about 2 MB/s while writing, and 6.5 MB/s while reading. In Server Mode this performance jumped up to 11 MB/s writing and 13.6 MB/s reading.
If speakers are connected to the USB port of the ESR750H, they are then compatible with AirPlay on iOS devices with what Engenius calls shAir. Music can be streamed to the USB speakers from iTunes or directly from iOS devices.
Unlike some other of its competitors, the 750H's storage options are limited. There is no DLNA or other media servers and no download manager/service. You also can't make the single shared folder public and you can't add users or more folders.
QoS
Like other EnGenius routers, the 750H has flexible QoS. You must choose between two-level Priority and Bandwidth Allocation modes. It's not clear whether Priority mode applies to upload, download or traffic in both directions. This mode also allows for an unlimited priority queue, which excludes one IP address from QoS policy.
But the more useful Bandwidth Allocation mode lets you set rules for up and download, with controls for IP address range, protocol (All, TCP, UDP, SMTP, HTTP, POP3, FTP), port range, policy (min/max) and rate (Full and stepped from 32 Mbps – 64 Kbps, with each step 50% of the one above it). Figure 9 below shows some of the configuration options when set in Bandwidth Allocation mode.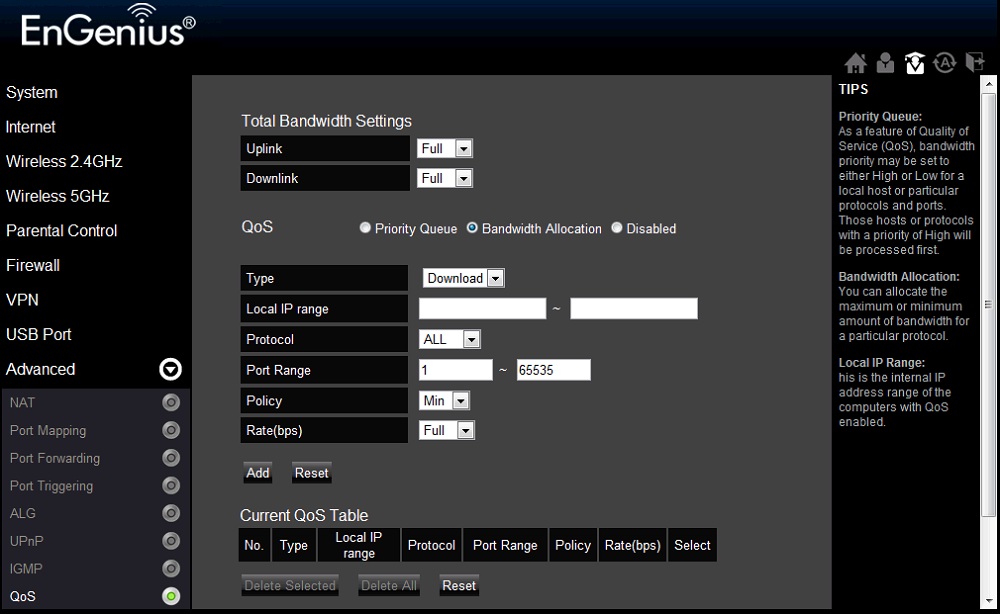 Figure 9: ESR750H QoS Bandwidth Allocation mode
I ran a quick check of QoS in bandwidth allocation mode and found that the max limit worked fine.
VPN
The Engenius ESR750H also includes VPN servers that support PPTP and L2TP tunnels. Configuration options included choice of PPTP or L2TP, user and password, choice of CHAP, PAP or MSCHAP_V2 authentication and Local and Remote Address settings.
I ran a quick test of PPTP connectivity with the built-in 64-bit Windows 7 VPN client and was able to connect quickly. L2TP was more challenging and I was never able to get it to connect in my testing timeframe.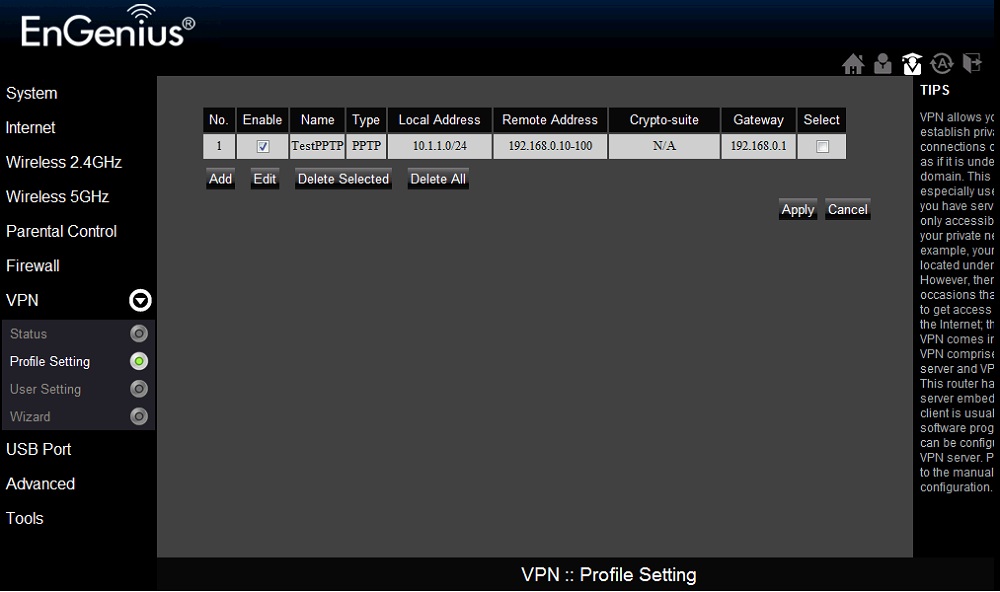 Figure 10: ESR750H VPN Profile Setting screen
Parental Controls
Parental controls on the ESR750H support many options. Filtering can be done on a schedule by either MAC or IP address range. Additionally, specific keywords or URLs could be filtered from that policy, as well as TCP or UDP port range. All filters had deny or allow options.
I found with my testing that errors in setting up a policy didn't give you a chance to correct the errors, but instead displayed a warning and booted you back to the main policy screen. Figure 11 below shows the Add Policy screen for Parental Controls.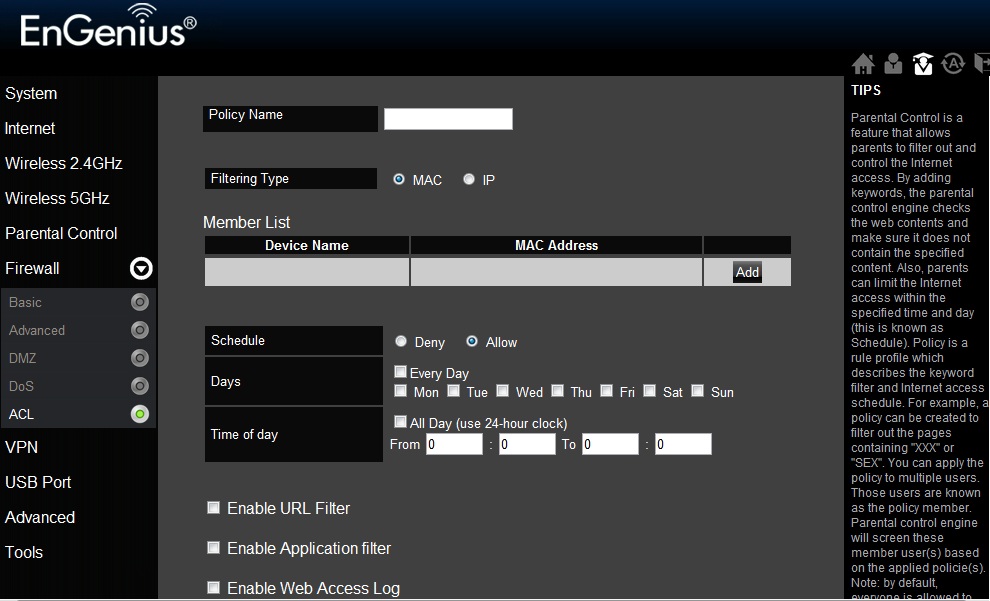 Figure 11: ESR750H Parental Control Add Policy screen
The other problem with these controls is that blocked sites just result in a hung browser. You are not redirected to a page that explains why your desired page isn't loading. This reduces the usefulness of an otherwise useful feature set.
Web Access Logging
Web Access Logging is marginally useful because every HTTP transfer was captured vs. just the primary web request. So the screen looked more like a Fiddler HTTP capture than something one could quickly scan through. It also looked like the Web Monitor did not capture the PC originating the request if the ESR750H was not configured as the DHCP server for the LAN. Figure 12 shows an example of capturing every HTTP transfer.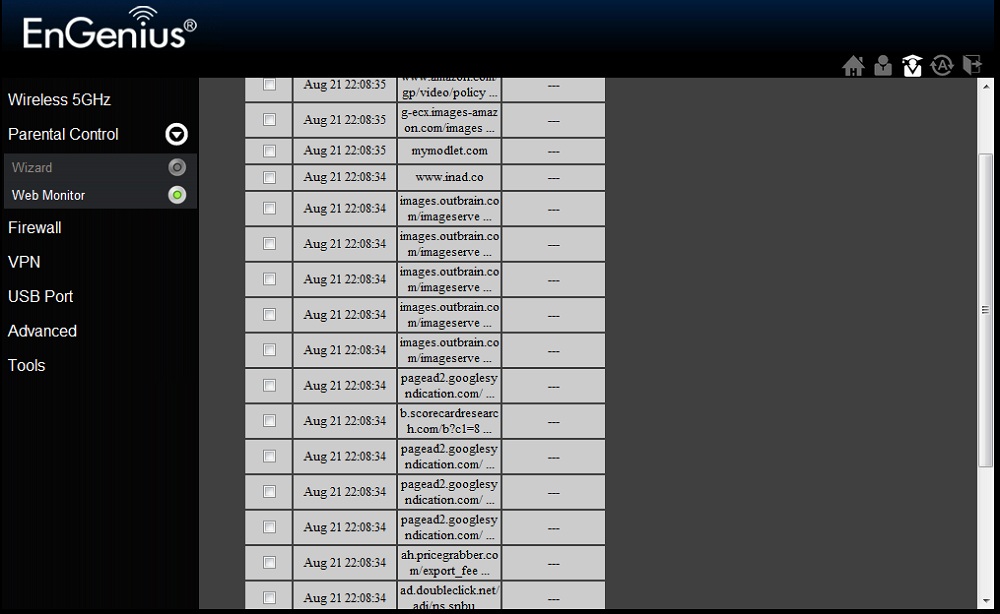 Figure 12: Noise in the ESR750H Web Access Log
Routing Performance
Testing and analysis by Tim Higgins
Routing performance for the 750H using our standard test method is summarized in Table 3. Note that these results are with Network Turbine hardware acceleration enabled (default). Disabling this acceleration knocked the simultaneous up/down routing test down to around 260 Mbps.
The Maximum Simultaneous Connections test didn't max out, even at our new Win 7 imposed lower limit. The best I was able to get after three runs was 29,666.

| Test Description | ESR750H |
| --- | --- |
| WAN – LAN | 836 Mbps |
| LAN – WAN | 839 Mbps |
| Total Simultaneous | 819 Mbps |
| Maximum Simultaneous Connections | 29,666 |
| Firmware Version | 1.3.4 |
Table 3: Routing throughput
The IxChariot plot for the routing tests shows very stable throughput.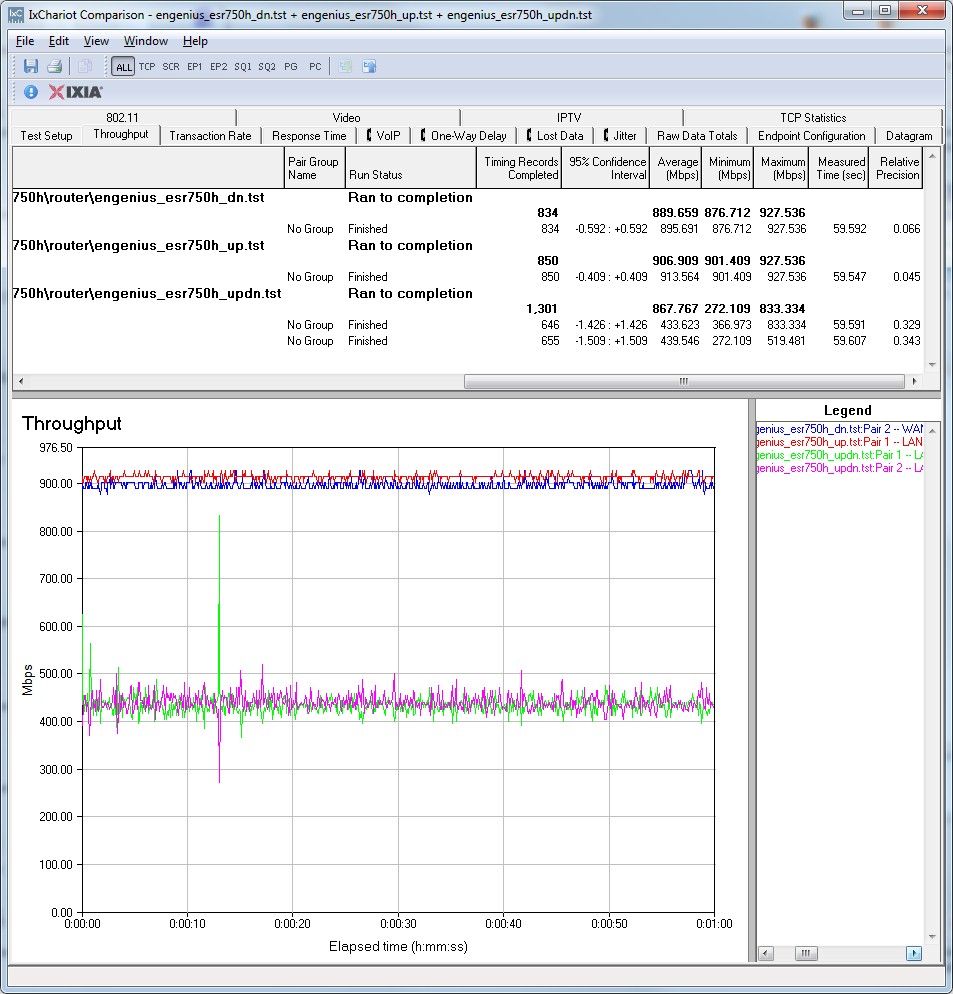 ESR750H Routing throughput IxChariot plot summary
Storage Performance
Testing and analysis by Tim Higgins
I ran quick Windows filecopy tests using the standard NAS testbed to the 750H with a WD MyBook 3.0 drive formatted in FAT32 and NTFS attached. The results are summarized in Table 4, along with the Cisco-Linksys E4200V2/EA4500, which is the current router storage performance champ.

I also included two other "N750 routers", the NETGEAR WNDR4000 and Cisco Linksys EA3500.
EnGenius
ESR750H
NETGEAR
WNDR4000
Cisco-Linksys
EA3500
Cisco-Linksys
E4200V2
FAT32 Write
12
6.1
8.0
9.8
FAT32 Read
10.5
6.9
19.7
21.6
NTFS Write
3.6
4.6
17
20.1
NTFS Read
7.9
4.3
20.3
22.2
Table 4: Router filecopy performance comparison – MB/s
The 750H did pretty well for FAT32. But if you like your drives formatted NTFS, you're going to be waiting longer for file copies.
Wireless Performance – Overview
All wireless testing and analysis by Tim Higgins
The ESR750H is not Wi-Fi Certified. It defaults to Auto 20/40 mode on both bands on power-up. As Scott noted, both radios are unsecured by default and following the setup wizard will not result in a robustly secure connection. As noted earlier, I could not get my Win 7 client to recognize that WPS was available, so had to manually set security to WPA2/AES for all testing.
I ran 40 MHz Coexistence and Fat channel intolerant tests to see if the 750H properly refrained from switching into 40 MHz bandwidth mode. It didn't, even after I waited three minutes to see if it would switch to 20 MHz.
The router properly stayed in 20 MHz bandwidth mode when the client had its Fat Channel Intolerant bit set, however. And it stayed there until I changed the channel, even after I changed the bit back to disable.
I used our Intel Centrino Ultimate-N 6300 in a Lenovo X220i notebook running Win 7 Home Premium SP1 (64 bit) standard test client for all testing except testing the 5 GHz radio in two stream mode. For that, I used our other standard test client, an Intel Centrino Advanced-N 6200 in a Acer Aspire 1810T notebook running Win 7 Home Premium SP1 (64 bit). 1.3.4 firmware was loaded in both routers for all testing.
As is our standard practice, all tests were run using WPA2/AES encrypted connections with Channel 1 used for 2.4 GHz tests and Channel 36 for 5 GHz.
Each entry in the Benchmark Summary below shows the average of throughput measurements made in all test locations.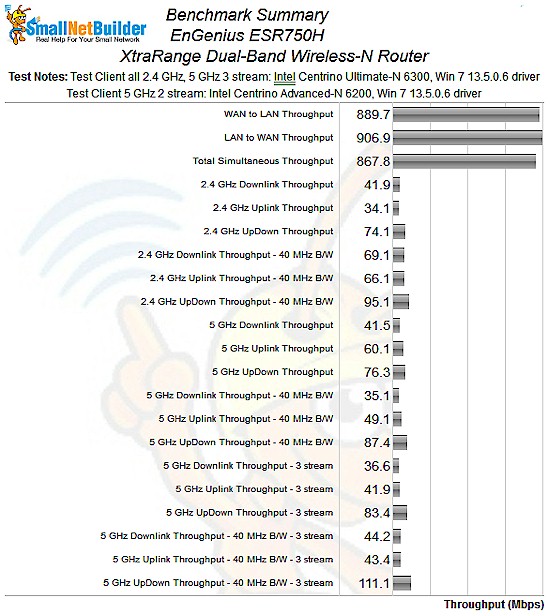 EnGenius ESR750H Benchmark Summary
Table 5 summarizes the highest wireless throughput measured out of all locations in the 20 MHz mode test runs. In most cases, highest throughput was measured in Location A. Note that the Dn/Up result is for simultaneous up and downlink tests in Location A. There are no 2.4 GHz 3 stream results because the router doesn't support that mode.
These results show throughput that skews toward the middle of the pack for 802.11n routers for two streams and toward the bottom for three-stream. They also don't show higher throughput in the simultaneous up/down tests, which other N routers usually show. There also isn't much gain in throughput between two and three stream N and, in fact, the numbers trend lower. You'll see the reason for this shortly.
| Test Group | Max Dn (Mbps) | Max Up (Mbps) | Dn/Up (Mbps) |
| --- | --- | --- | --- |
| 2.4 GHz, 2 stream, 20 MHz | 73 | 73 | 74 |
| 2.4 GHz, 3 stream, 20 MHz | N/A | N/A | N/A |
| 5 GHz, 2 stream, 20 MHz | 60 | 87 | 76 |
| 5 GHz, 3 stream, 20 MHz | 60 | 74 | 83 |
Table 5: Highest Throughput, 20 MHz mode
Table 6 summarizes highest 40 MHz mode throughput. Here, 2.4 GHz performance is toward the top of the chart for all dual-band routers. But when we switch to 5 GHz, the router falls into the cellar.
| Test Group | Max Dn (Mbps) | Max Up (Mbps) | Dn/Up (Mbps) |
| --- | --- | --- | --- |
| 2.4 GHz, 2 stream, 40 MHz | 92 | 89 | 95 |
| 2.4 GHz, 3 stream, 40 MHz | N/A | N/A | N/A |
| 5 GHz, 2 stream, 40 MHz | 69 | 97 | 87 |
| 5 GHz, 3 stream, 40 MHz | 86 | 104 | 111 |
Table 6: Highest Throughput, 40 MHz mode
Simply put, this is not a great router for 5 GHz use. This will become even more evident when we next look at comparative performance for each set of tests.
Wireless Performance – 2.4 GHz 2 Stream
For performance comparison, I chose three other "N750" routers: NETGEAR WNDR4000; Belkin N750DB and Cisco Linksys EA3500.
The comparison tables are large, so I'm going to provide links that will open them in a new window/tab to make things easier. Let's start with the Performance Table for Two-stream 2.4 GHz.
Even though 2.4 GHz is the 750H's better band, it doesn't win any of the overall comparisons. The best it can manage is one Location A tie (20 MHz, uplink).
To reinforce its bad showing, note that there are no Location F test results in 40 MHz mode. In that weakest signal test location, the client was able to stay associated with the 750H, but not with a good enough signal to support even a ping return, let alone running the IxChariot test.
The IxChariot plot summary below for 20 MHz mode downlink shows fairly large variation in Locations A, C and D and a long period of barely-usable throughput for Location F.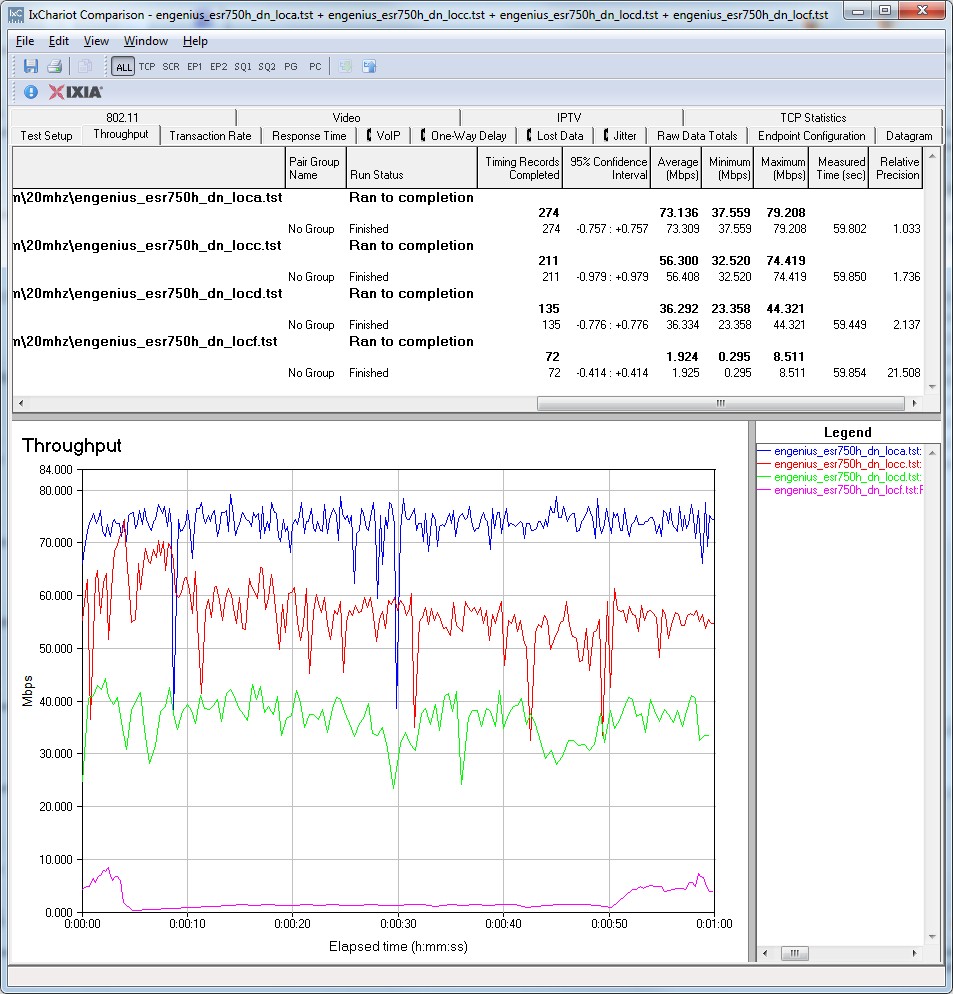 EnGenius ESR750H IxChariot plot summary – 2.4 GHz, 20 MHz mode, downlink, 2 stream
Note the large difference in uplink and downlink performance in the simultaneous tests linked below:
Wireless Performance – 5 GHz 2 Stream
Next, we'll look at the Performance Table for two-stream 5 GHz.
Very few routers can reach the SNB test location F using the 5 GHz band. The signal loss from the test house is just too great. But it's seldom that products can't reach test location D and even with reasonably high throughput.
Such is not the case, however, with the 750H. It was only able to reach to Location C. And when switched to its default Auto 20/40 mode, both up and downlink throughput in Location C was barely usable!
This poor range could be partly due to the switch in test client, which I had to use to test two-stream performance. I fired up inSSIDer on both test notebooks and parked them in the test Location A spot side-by-side and found that the two-stream client's RSSI reading was about 10 dB lower than the three stream's. Nevertheless, this two-stream client hasn't previously failed to connect in location D in 5 GHz with other products.
The IxChariot plot summary below for 20 MHz mode downlink shows throughput varying all over the place.
EnGenius ESR750H IxChariot plot summary – 5 GHz, 20 MHz mode, downlink, 2 stream
The other plots linked below show similar effects during the other test runs.
Wireless Performance – 5 GHz 3 Stream
Finally, we'll look at the Performance Table for three-stream 5 GHz.
This group of results used the same test client used for all other tests except the 5 GHz, 2 stream. This combination of client and router did reach test Location D this time, but with sub-par results. Downlink in 40 Mhz mode—what most people would want to use when attempting HD streaming—eked out only 15 Mbps of throughput in Location D. And running uplink in 40 MHz bandwidth mode yielded an tenuous connection, which quit part way into the test and could not be re-established so that I could get a complete test run.
The IxChariot plot summary below for 20 MHz mode downlink once again shows high throughput variation.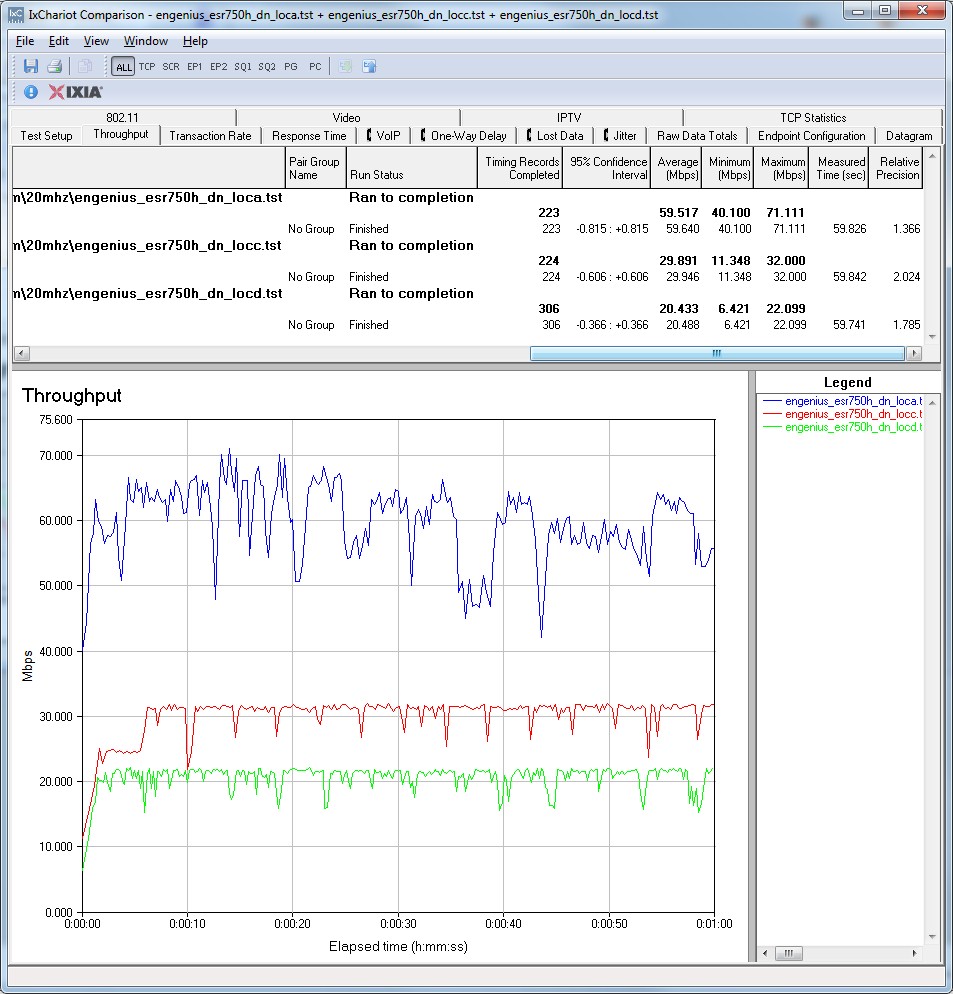 EnGenius ESR750H IxChariot plot summary – 5 GHz, 20 MHz mode, downlink, 3 stream
Variation settles down for the other 20 MHz mode tests, but picks up again during the 40 MHz mode runs:
Closing Thoughts
I can't give you a good reason to buy the ESR750H. While it has a large feature set, including PPTP and L2TP VPN, up and downlink QoS and parental controls, the actual operation of these features isn't impressive and in some cases inoperable. To make matters worse, documentation is downright awful. The user manual has little more than screenshots with short "what" descriptions and no "how" and "why". And forget trying to find helpful info in the EnGenius Knowledge base, there isn't much there.
As for the 750H's claim of "Super Long Range", forget it. Long range has always been a key part of EnGenius' pitch. But the router shows no signs of notably high wireless throughput even under strong signal conditions in either band. And 5 GHz performance falls off so quickly with even moderate distance that the 5 GHz band will be useless for most users.
People buy wireless routers expecting good wired and wireless performance. The ESR750H is a speedy example of the former, but fails badly at the latter.
Buy XtraRange Dual-Band Wireless-N Router from Amazon