At a glance
Product
Linksys Max-Stream AC1900 MU-MIMO Gigabit Router (EA7500) [Website]
Summary
First QCA based AC1900 MU-MIMO enabled router with Gigabit Ethernet ports and USB 2.0/ 3.0 storage and printer sharing
Pros
• High 2.4 GHz throughput
• Superior storage performance
Cons
• No OpenVPN
• Expensive for an AC1900 router
• Costs about the same as AC2600 MU routers
Typical Price: $129 Buy From Amazon
Introduction
Updated 3/29/2016: MU-MIMO testing done
Linksys shook up the evolving market for MU-MIMO enabled routers at CES 2016 with the introduction of the EA7500 Max-Stream AC1900 MU-MIMO Gigabit Router. Unlike most new routers these days, the EA7500 doesn't pitch higher performance. Instead, its main claim to fame is its unique (at least so far) 3×3 radio configuration using one less antenna than all other MU-MIMO routers on the market.
The MU-MIMO rule of thumb for the number of MU-MIMO clients that produce peak total throughput has been # of RF chains – 1. This should mean that the EA7500's peak throughput will be with two MU clients vs. the three you get with AC2600 class 4×4 MU-MIMO routers.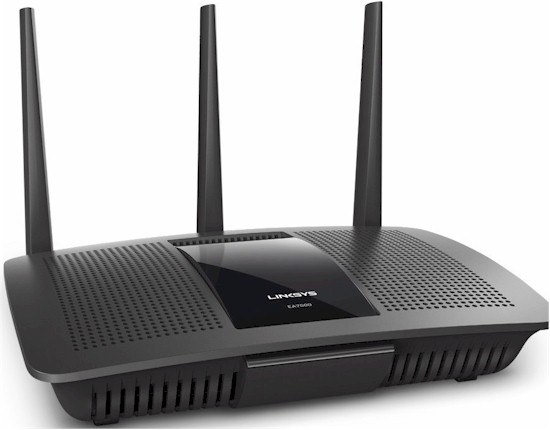 Linksys EA7500
I wish I could confirm whether this is true, but I've run into a temporary hitch in MU-MIMO testing. Since MU-MIMO is still evolving, it seems the virtual MU-MIMO STAs produced by the IxVeriWave test system still need some tweaking to properly reflect the current performance of real-world MU-MIMO devices, which are themselves being tuned to improve performance.
So I've been asked to hold off further MU-MIMO testing for a few weeks until the VeriWave folks get me an updated Wi-Fi blade that more accurately reflects current real MU-MIMO devices. Once I receive the new blade, I'll retest all MU-MIMO products tested to date, post an article with the results and add MU-MIMO benchmarks to the Router Charts.
The EA7500's callouts are shown below. Note it has both USB 2.0 and 3.0 ports, but no physical Wi-Fi On / Off button. Each of the Ethernet ports has link and activity LEDs. The bottom cover has T-shaped mounting screw slots that will let you wall-mount the router so that cables exit up, left or right, but not down. The case is well ventilated on all sides and the product didn't seem to run particularly hot.
Linksys EA7500 callouts
Inside
The FCC inside photos had nice clear close-ups of all components, so I didn't have to open the product. The FCC photo below shows the board with heatsink and RF can tops in place. The lack of a big honkin' heatsink covering all the RF cans confirms my impression that the EA7500 doesn't run particularly toasty.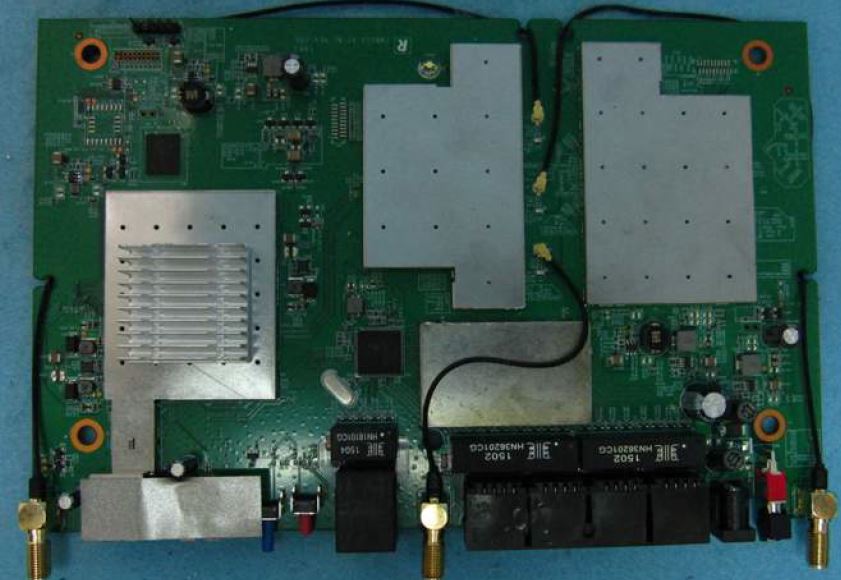 Linksys EA7500 board
The view with RF can tops removed is too fuzzy for component ID, but you can see the main sections. The left can holds the Qualcomm IPQ8064 processor and 256 MB of RAM. The middle can is the 5 GHz radio and amplifiers and the right-most can is the 2.4 GHz radio. The QCA8337 switch isn't enclosed in a can and is closest to the Ethernet ports.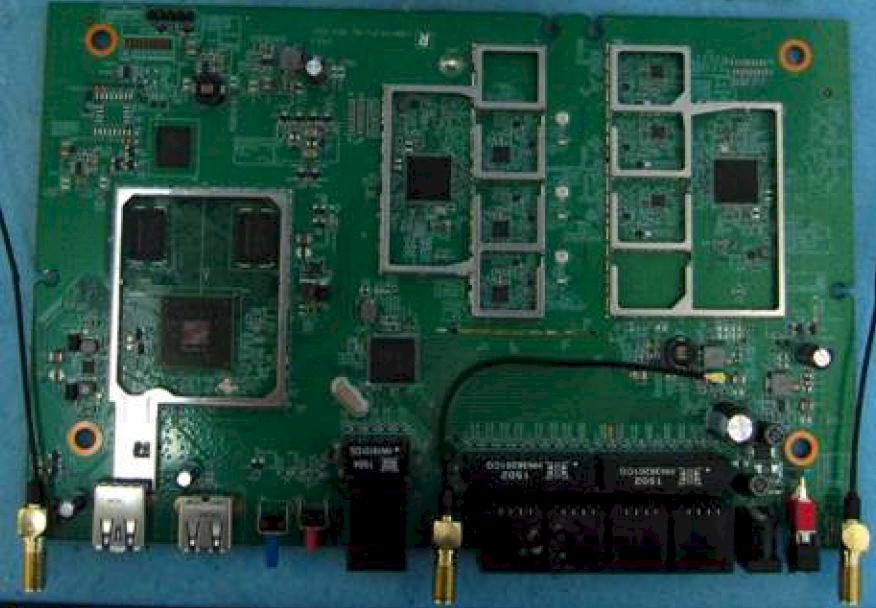 Linksys EA7500 board – naked
Table 1 compares the key components of the EA7500 and two other Linksys AC1900 class routers. Linksys is not only the only major consumer router manufacturer to have AC1900 class routers based on Marvell chipsets, but now also QCA. This is our first sighting of both the QCA9982 and QCA9983 3×3 radios. The former is a/b/g/n/ac and supports 256 QAM and MU-MIMO.
The QCA9983 is 2.4 GHz only and supports 256 QAM, but I'm told also supports MU-MIMO! Neither device supports 160 MHz (80 + 80) bandwidth. I suppose QCA just used the MAC section from the 9982 to get other non MU-MIMO benefits (signaling, waveform generation). But if anyone actually tries to enable MU-MIMO in 2.4 GHz, that would be just frickin' nuts.
Linksys EA7500
Linksys EA6900
Linksys WRT1900ACS
CPU
Qualcomm dual-core IPQ8064 Internet Processor @ 1.4 GHz
Broadcom BCM4708A
Marvell Armada 38X dual-core @ 1.6 GHz (88F6820-A0 C160) (ARMv7)
Switch
Qualcomm Atheros QCA8337
In BCM4708A
Marvell 88E6172
RAM
256 MB
256 MB
512 MB
Flash
128 MB
128 MB
128 MB
2.4 GHz Radio
– QCA9983 3×3 MU-MIMO 802.11bgn radio
– Skyworks SE2623L 2.4 GHz power amp (x3)
– Broadcom BCM4360
– Skyworks SE2623L 2.4 GHz Power Amp (x3)
– Marvell 88W8864
– Skyworks SE2623L 2.4 GHz power amplifier (x4)
– Unidentified switch and LNA (x4)
5 GHz radio
– QCA9982 3×3 MU-MIMO 802.11ac radio
– Skyworks SKY85405 5 GHz power amp (x3)
– Broadcom BCM4360
– Skyworks SE5003L1 5 GHz Power Amp (x3)
– Marvell 88W8864
– RFMD RFPA5522 5 GHz power amplifier (x4)
– Skyworks SKY85601 5 GHz LNA + switch (x4)
Table 1: Component summary and comparison
Features
The EA7500 supports Linksys' standard "Smart Wi-Fi" feature set and user interface, as shown below. It does not include OpenVPN support; I suppose Linksys had its hands full getting MU-MIMO settled in.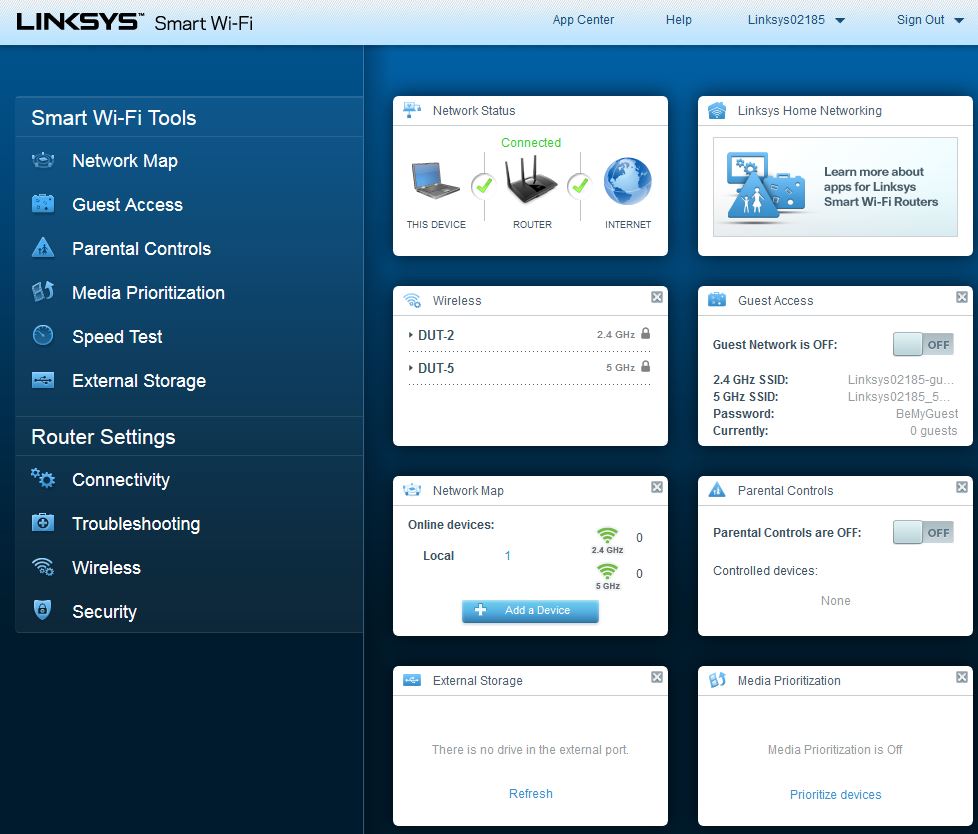 EA7500 Home screen
Storage Performance
The Router Charts contain benchmarks for FAT32 and NTFS volume formats with USB 2.0 and 3.0 connections (as applicable). But since we know USB 2.0 is slower and FAT32 has volume and file size limitations, we focus on comparing NTFS format with USB 3.0 connection performance.
The charts below show only AC1900 class routers tested with the latest process. The EA7500 turns in very respectable performance, coming in just behind the Marvell-powered WRT1900ACS, which continues to top the NTFS / USB 3.0 charts for both write and read. If the AC1900 filter is removed, the EA7500 drops down only one place.
Storage Performance – NTFS & USB 3.0
Routing Performance
Routing throughput was measured using our standard router test process with the router using 1.1.2.170654 firmware. Table 2 summarizes the results and includes the WRT1900ACS and Linksys EA6900 for comparison.
| Test Description | Linksys EA7500 | Linksys WRT1900ACS | Linksys EA6900 |
| --- | --- | --- | --- |
| WAN – LAN (Mbps) | 746 | 924 | 924 |
| LAN – WAN (Mbps) | 812 | 844 | 844 |
| Total Simultaneous (Mbps) | 1451 | 1135 | 1135 |
| Maximum Simultaneous Connections | 13,953 | 36,261 | 15,833 |
| Firmware Version | V1.1.2.170654 | V1.1.42.155232 | V1.1.42.155232 |
Table 2: Routing throughput
The IxChariot unidirectional composite plot shows higher average LAN – WAN throughput. The cyclical between the baseline and maximum values is typical of this test.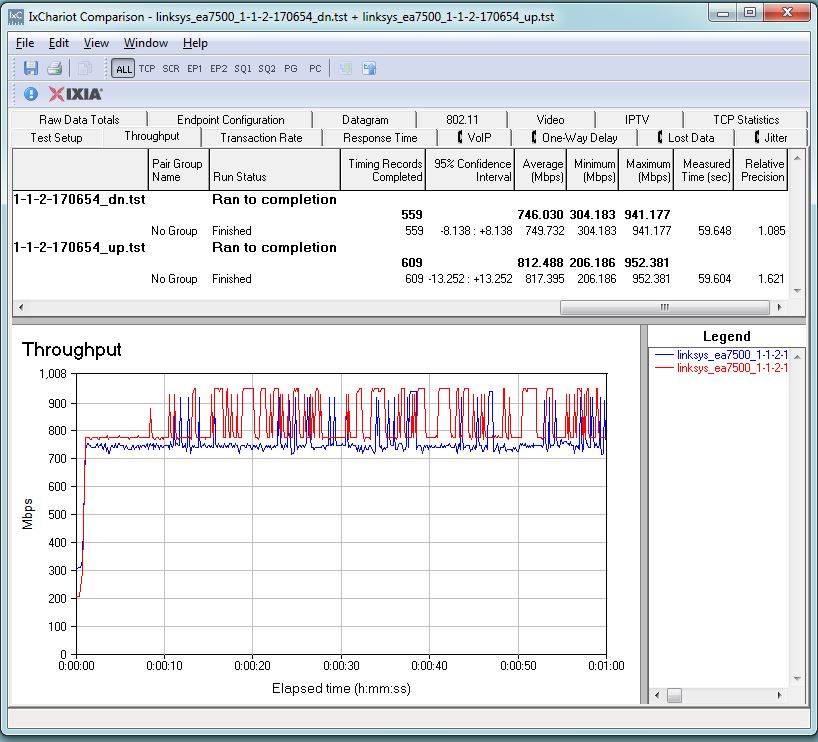 Linksys EA7500 routing throughput unidirectional summary
The simultaneous up/downlink benchmark plot shows an interesting slow climb in WAN – LAN throughput with no serious reduction in LAN-WAN. Whatever the CPU was figuring out seemed to settle down toward the end of the one minute test run. The lack of "battling" between up and download traffic indicates the CPU wasn't slammed beyond its ability to handle the heavy loads.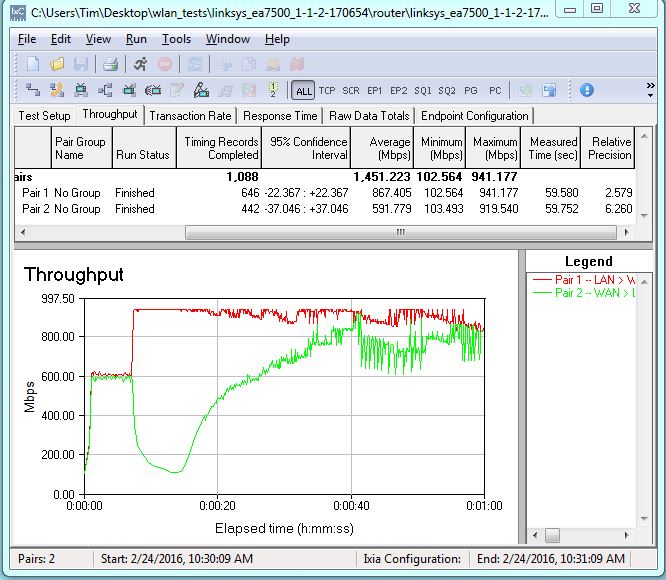 Linksys EA7500 routing throughput bidirectional summary
Wireless Performance
The EA7500 is Wi-Fi Certified for 802.11a,b,g,n and ac. Keep in mind there is no Wi-Fi Certification for MU-MIMO yet. Default wireless settings are shown in the next screenshot.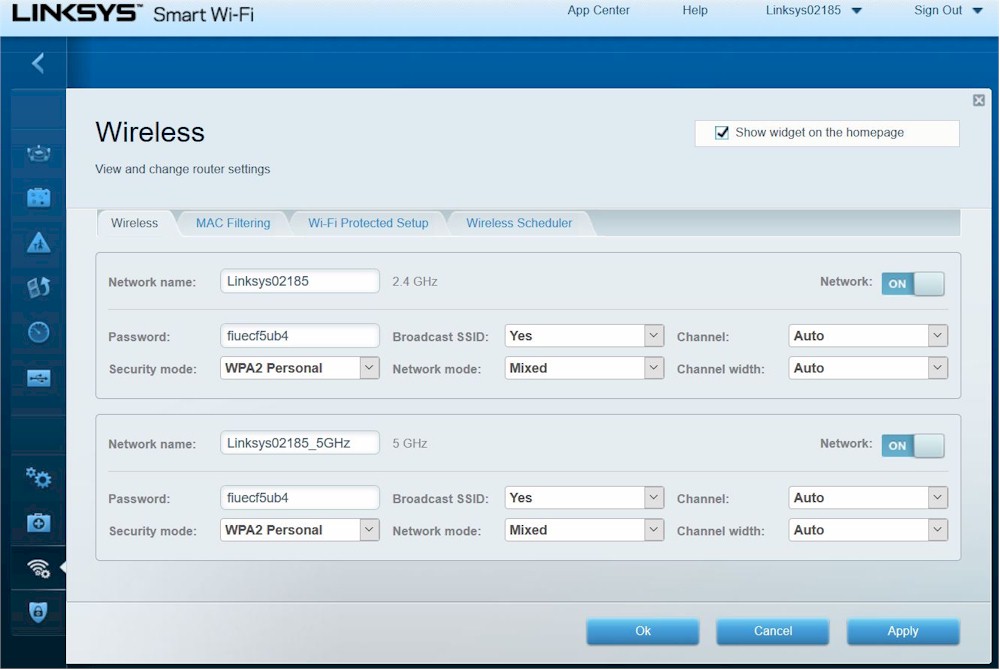 EA7500 Wireless defaults
WPS was enabled on both bands and a WPS pushbutton session completed quickly on both resulting in WPA2/AES connections.
For throughput testing, the router was first reset to factory defaults. Then Channel 6 and 20 MHz bandwidth mode was set for 2.4 GHz and Channel 153 and 80 MHz mode set for 5 GHz. The test client was connected using WPA2/AES encryption.
The router's antennas were centered on the test chamber turntable with all antennas vertical as shown in the photo below. The 0° position for the router had the front facing the chamber antennas.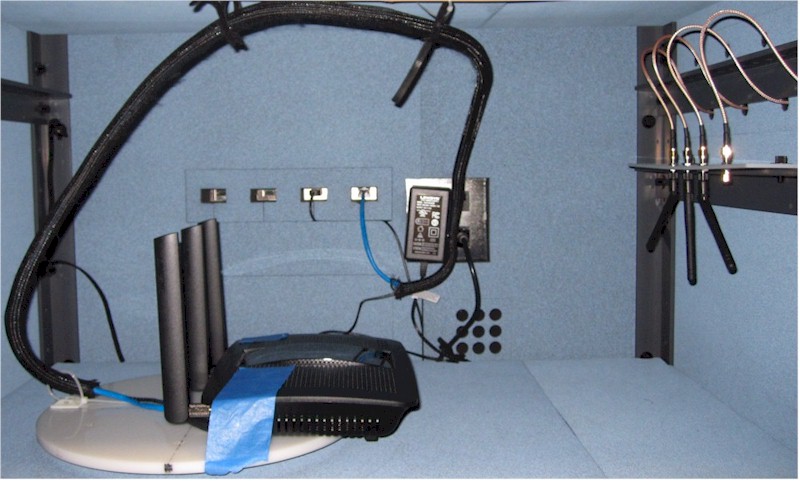 Linksys EA7500 in test chamber
The charts below, filtered to show AC1900 class routers show the EA7500's average 2.4 GHz performance stacks up quite well, both down and uplink.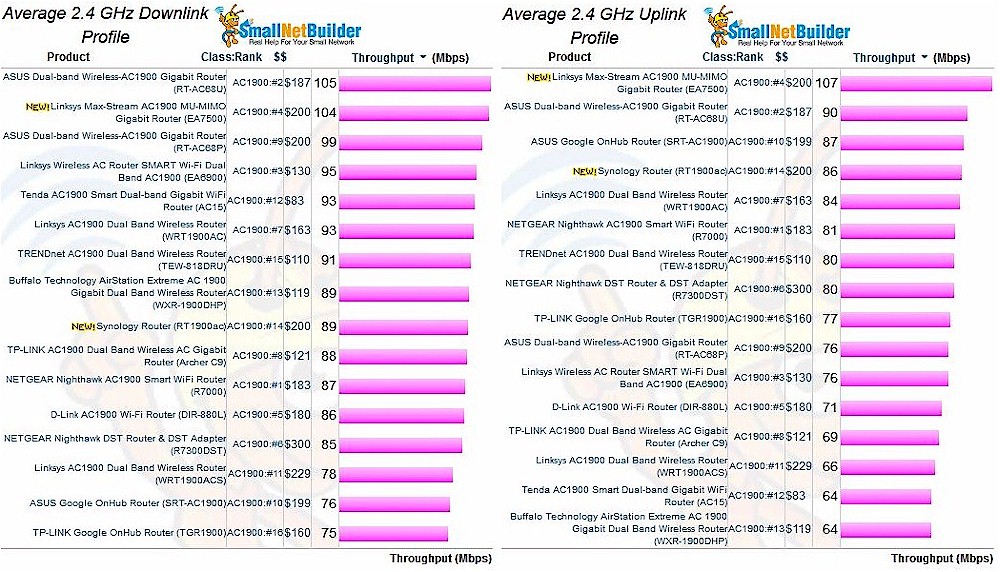 Linksys EA7500 2.4 GHz Average throughput comparison
The EA7500 also does quite well running 5 GHz downlink, but falls into the midsection of the 5 GHz uplink chart.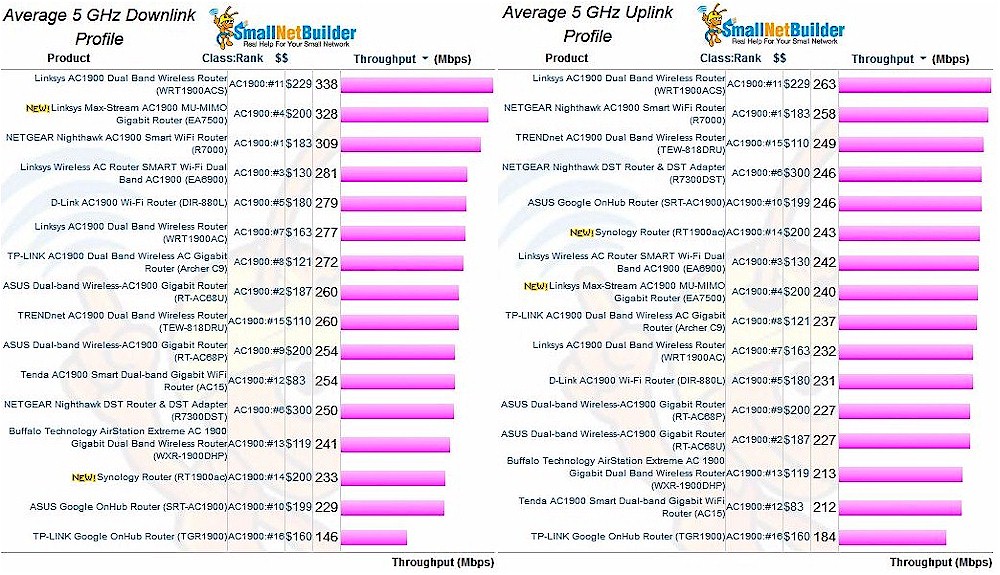 Linksys EA7500 5 GHz Average throughput comparison
For the throughput vs. attenuation profile plots, I compared the top-ranked NETGEAR R7000 for a higher-ranked choice and Linksys WRT1900ACS for lower-ranked.
The 2.4 GHz downlink profile shows suprisingly high throughput for the EA7500 at the start of the test run. This result was so high that I thought I had forgotten to set 20 MHz mode. But I always check the link rate reported by the standard bridge-mode NETGEAR R7000 test STA and the 288.8 Mbps reported is just what you'd expect for 20 MHz bandwidth 2.4 GHz connection using 256 QAM and short guard interval.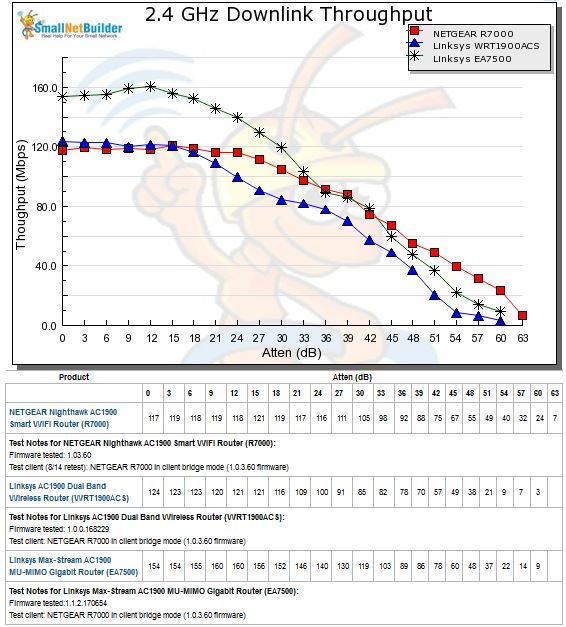 2.4 GHz Downlink Throughput vs. Attenuation
The 2.4 GHz uplink plot again shows almost freakishly high throughput for the EA7500 with strong signal levels (low attenuation values). However, it again joins the other two routers from around 33 dB attenuation onward.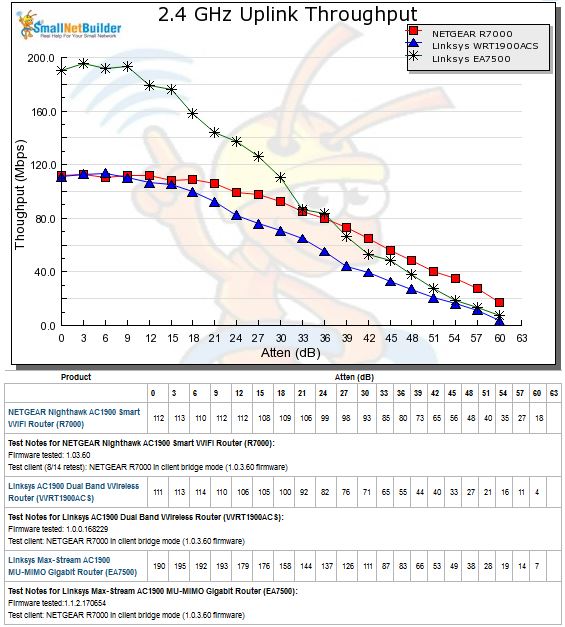 2.4 GHz Uplink Throughput vs. Attenuation
The 5 GHz downlink profile shows much less difference in performance. The EA7500 and WRT1900ACS both do better than the NETGEAR until around 18 dB attenuation, then exchange places for the lead.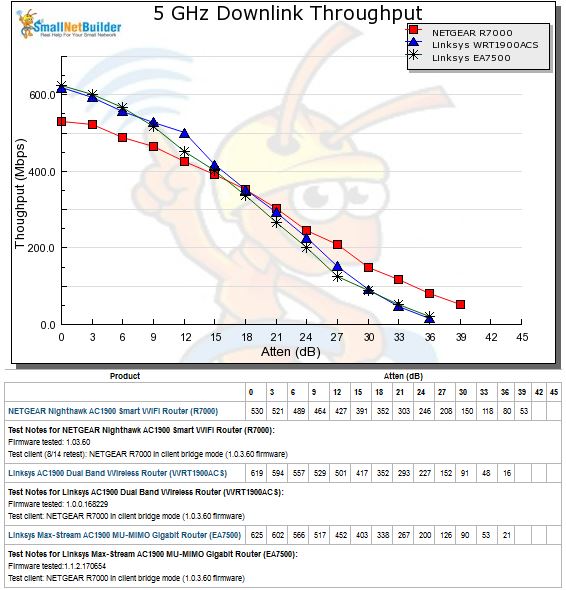 5 GHz Downlink Throughput vs. Attenuation
For 5 GHz uplink, the EA7500 shows the lowest performance of the four benchmarks, perking up only a bit to match the WRT1900ACS from 27 dB on.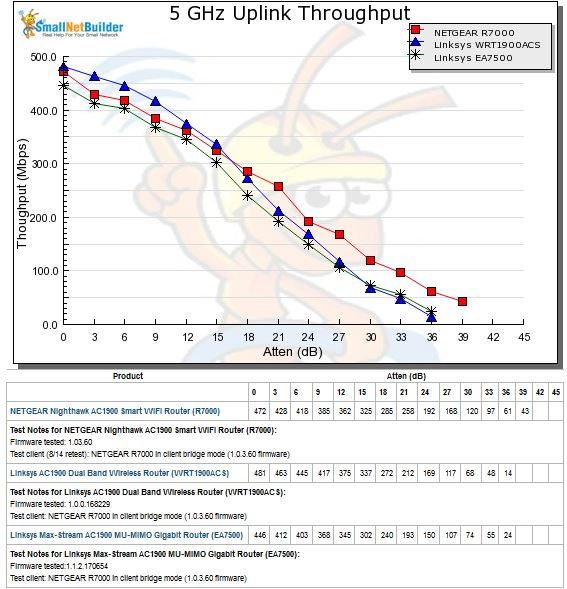 5 GHz Uplink Throughput vs. Attenuation
Closing Thoughts
The EA7500 ranks #4 of 16 tested AC1900 routers; not a bad showing. The Ranker Performance Summary below shows its key strengths are 2.4 GHz average and maximum throughput. #6 range ranking in both bands isn't too bad, but not enough to push the EA7500's total ranking higher.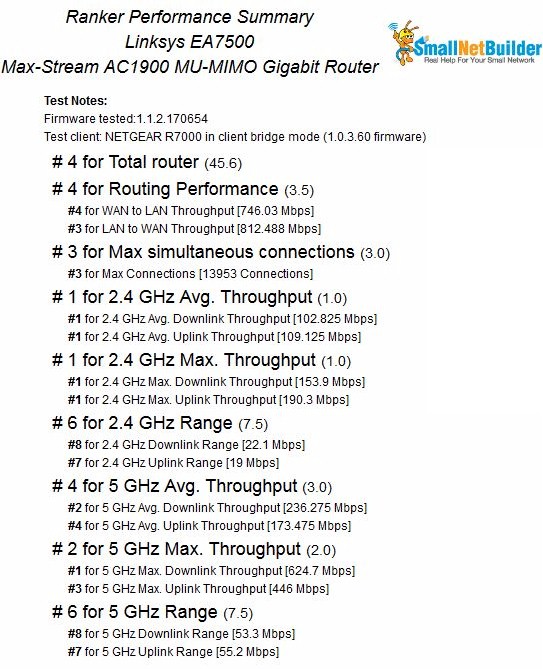 EA7500 Ranker Performance Summary comparison
So why would you buy this thing? Certainly not for price. I'm sure Linksys thought it was going to steal market share from 4×4 MU-MIMO competitors by originally pricing the EA7500 $60 lower than its EA8500 4×4 AC2600 class router ($219.99 vs. $279.99 MSRP). Linksys continues to maintain a significant price difference with the reduced prices ($199.97 vs. $249.99) it currently offers in its store.
But there are lots of cheaper AC1900 routers and even a few better performing ones, including Linksys' own EA6900 (#3 ranked), the top-ranked NETGEAR R7000 and #2 ranked ASUS RT-AC68U. And prices have already come down for 4×4 AC2600 class MU-MIMO routers to match the EA7500's current $200 price tag, including Linksys' EA8500 that you can get for around $190, if you're willing to buy from smaller Amazon Marketplace vendors.
Aside from hoping to eke out higher 2.4 GHz throughput with medium to strong signals and strong USB 3.0 connected storage performance, I see no compelling reason to recommend EA7500. It's not a bad router. It just doesn't have anything in particular to recommend it.
Buy Max-Stream AC1900 MU-MIMO Gigabit Router from Amazon