At a glance
Product
Linksys AC1900 Dual Band Wireless Router (WRT1900AC) [Website]
Summary
Marvell-based AC1900 class router with Gigabit Ethernet ports and USB 3.0 / eSATA storage sharing
Pros
• Establishes a new high in router storage sharing performance
• Supports non WDS bridging and repeating
Cons
• Smaller feature set than other top-end routers
Typical Price: $80 Buy From Amazon
Introduction
Updated 5/11/2014: Component info added
Updated 4/15/2014: Rerun storage tests with eSATA results
Linksys' WRT1900AC has finally arrived after much pre-launch hoo-hah. Parent company Belkin has a lot riding on this product, since it is the first fruit of the design team forged from, hopefully, the cream of the crop of former Cisco/Linksys and Belkin engineers and represents the rebirth of the Linksys brand.
My coverage will be in two parts. This first installment should cover most of the "speeds and feeds" so that you can get an idea of whether it blows competing routers out of the water. (Spoiler alert: it doesn't.)
The second part will go back and look at its performance with an assortment of wireless adapter types to take a look at device compatibility. Since this is the first router in a long time based on Marvell silicon and since most of the AC stuff out there is Broadcom based, compatibility / interoperability deserves a special look. The second look will also include some stress testing and longish-term reliability testing.
Much has been made of the back-to-the-future design of the 1900AC, so I won't belabor this. Basically, it will seem very familiar to anyone who ever had a WRT54G or its variations. The router is impressively large, but not the hulking beast some overexcited fanboys would have you believe. In fact, its footprint is pretty much the same as NETGEAR's R7000 NightHawk.
Like the original, the WRT1900AC is designed to stack with other members of its family that will roll out over the coming year. You'll note the top of the router has bumps vs. recesses; this is meant to keep other components from being stacked on it and blocking airflow and, most notably, its internal fan (more on that in a bit).
The front panel is nicely styled and the indicators are bright, but not overly so. In a nod to tech-averse significant others, the indicators can all be shut off except for power. You'll note that the wireless activity lights are multi-segmented, but they don't function as signal level / quality indicators.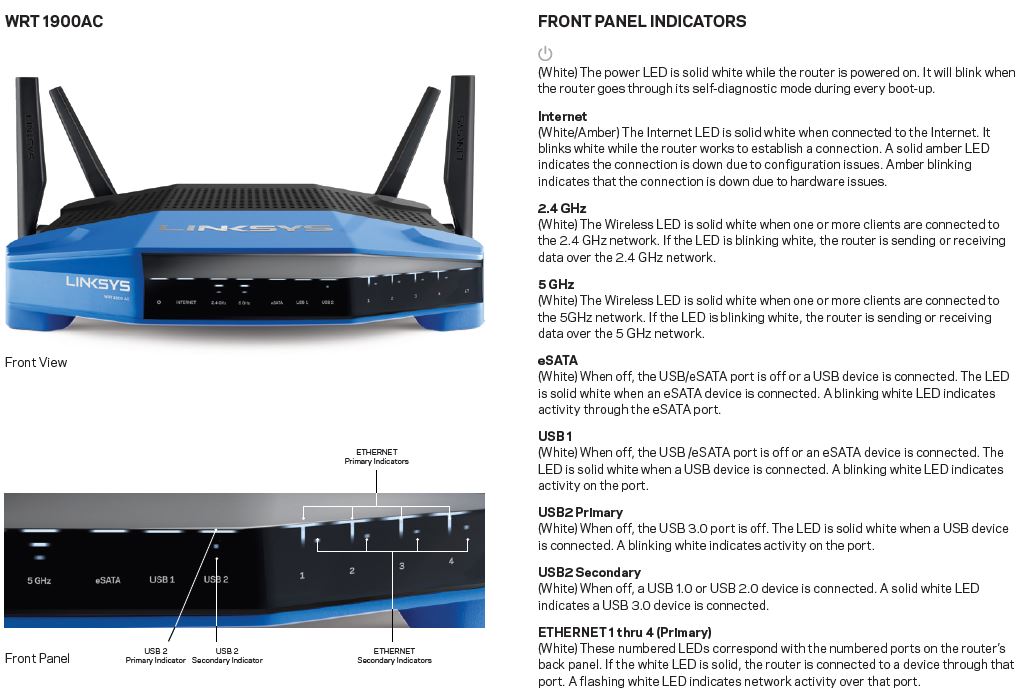 Linksys WRT1900AC front panel callouts
One of the 1900AC's unique features is its eSATAp port, which is a combination eSATA / USB port. This gives the router three ways to connect external storage, USB 2.0, USB 3.0 and eSATA, but only two at once. I'll report on file copy performance later.
All switches (power, WPS and recessed reset) are on the rear panel. I would rather have wireless on/off switch than power and have the WPS switch on the front where it's easier to reach.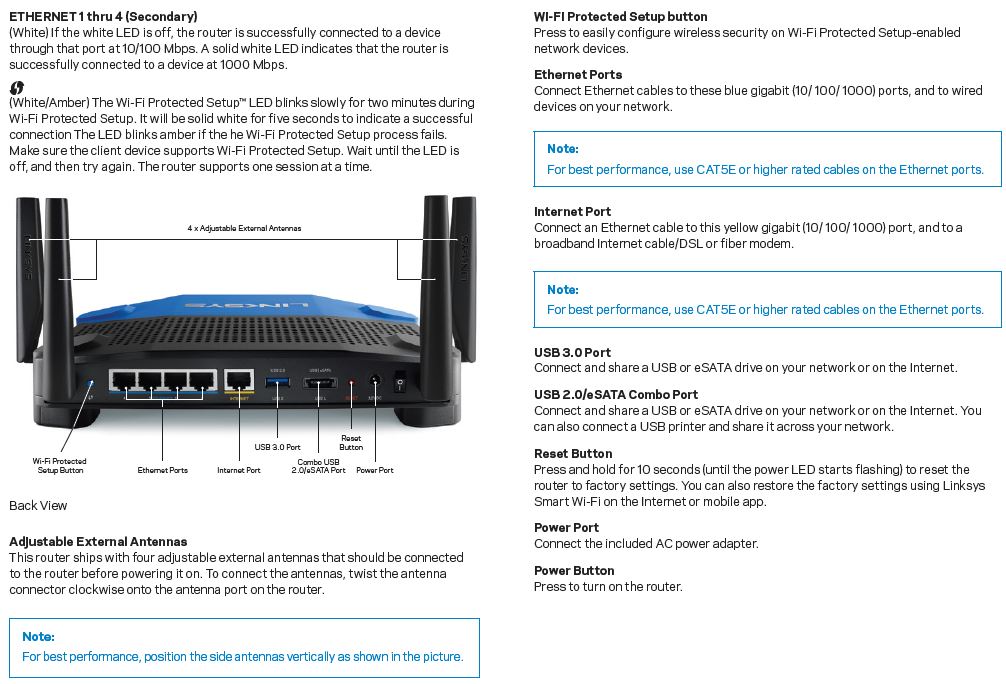 Linksys WRT1900AC rear panel callouts
Unlike ASUS' AC offerings, the WRT1900AC has slots on its bottom so that it can be wall or ceiling mounted.
I thought it odd that Linksys includes a CD with the router, since an increasing number of people don't own a device that will read one. Even more curious is that all the CD contains is the obligatory legal notice and a PDF User Manual, which is not yet available for download from the product support page. Until Linksys posts the manual, you can download it here.
For setup, all you need to do is plug in your modem cable, power it up and try to hit the internet with a browser. You'll get redirected to a setup wizard that will get you up and running in no time. The wizard doesn't break new ground, it's the same as on the EA series routers.
Inside
Updated 5/11/2014: FCC docs available
Linksys has temporarily suppressed the inside photos in its FCC filings until the end of this month. I didn't dive in and take apart either of the two routers Linksys sent, since I want to run more tests and don't want to risk affecting performance.
No matter, since it is common knowledge that the WRT is a Marvell-based router. WikiDevi has some pretty good info on the WRT's components, which I've entered into the comparison table below. The main unknown is which amplifiers are used for the radios. Now that the FCC short-term confidentiality period has expired, we have better information on the components. This forum post by sfx2000 has lots of pictures, including the two below, plus a comprehensive component analysis.
The first photo is the assembly with outer covers removed. You can see the extensive heatsinking and cooling fan. The heatsink covering the radio module (bottom left) has been removed.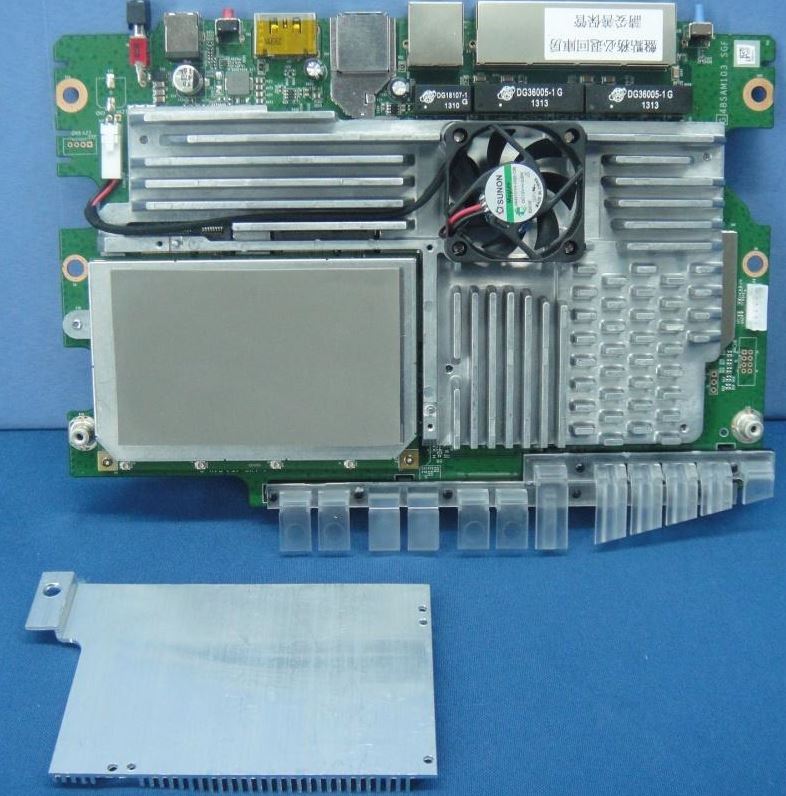 Linksys WRT1900AC board
The second is the board (rotated 180°) with radio module, heatsinks and RF shields removed.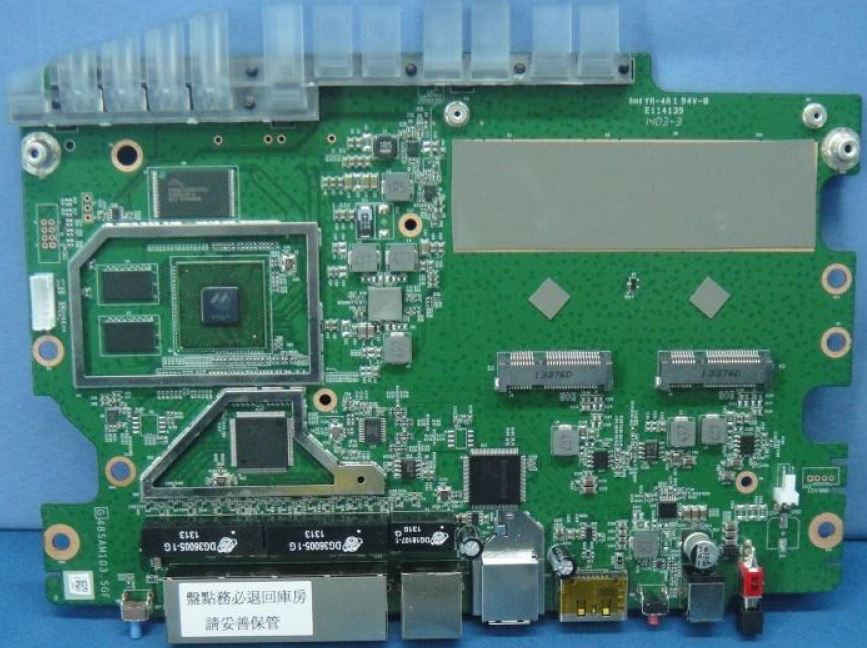 Linksys WRT1900AC board
Table 1 has been updated with missing and corrected component information. Note the switch is not integrated in the CPU and the 5 GHz radio uses a Skyworks SKY85402 vs. the SE5003L1 used in most other AC radios I've seen.
Linksys WRT1900AC
Linksys EA6900
NETGEAR R7000 (Nighthawk)
ASUS RT-AC68U
CPU
Marvell MV78230 Armada XP @ 1.2 GHz (ARMv7)
Broadcom BCM4708A
Broadcom BCM4709A
Broadcom BCM4708A
Switch
Marvell 88E6172
in BCM4708A
in BCM4709A
in BCM4708A
RAM
256 MB
256 MB
256 MB
256 MB
Flash
128 MB
128 MB
128 MB
128 MB
2.4 GHz Radio
Marvell 88W8864
– Skyworks SE2623L 2.4 GHz Power Amp (x4)
– Broadcom BCM4360
– Skyworks SE2623L 2.4 GHz Power Amp (x3)
– Broadcom BCM4360
– Skyworks SE2623L 2.4 GHz Power Amp (x3)
– Broadcom BCM4360
– Unidentified 2.4 GHz Power Amp marked 397 649e 230(x3)
5 GHz radio
Marvell 88W8864
– Skyworks SKY85402 5 GHz Power Amp (x4)
– Broadcom BCM4360
– Skyworks SE5003L1 5 GHz Power Amp (x3)
– Broadcom BCM4360
– Skyworks SE5003L1 5 GHz Power Amp (x3)
– Broadcom BCM4360
– SiGE 5023L 5 GHz Power Amp (x3)
Table 1: Component summary
User forums are already abuzz about the WRT's fan, with some poster's bemoaning its inclusion as a reliability risk while others applaud it as a reliability enhancement. What I can report is that the fan is smart and doesn't come on unless needed. The router got quite warm in the Octoscope test chamber, but when I opened the chamber to rotate the router, I never heard the fan run.
It wasn't until I ran a multi-hour stress test using four up/down IxChariot pairs and had one router sitting on a desk beside me that I noticed the fan occasionally turn on for a short while, then off again. When running, the fan was hardly noticeable in my quiet home office and again, that was with me sitting right next to it about 18" away from my ear.
What was noticeable was a strong smell when the router was running warm in the test chamber. Even though the chamber has forced cooling, the air exchange rate isn't high. I was able to detect a very faint version of the same smell (I had to put my nose right over the router) during the stress test mentioned above.
When I reported this to Linksys, here is what they said:
… that is normal. It is the flux from the solder. The smell is more apparent because of the increased venting holes. This router has
been stuffed in a closed oven and baked at 40 degree C with full WLAN and WI-FI loads. It will take the beating…

There are three temperature sensors in this router. One is internal to the CPU, another is near the Wi-Fi module, and the third is near the DDR (memory). If the temperature rises to within XX°C of the junction temperature limit of any one of those components, the fan will turn on at a low speed. If the temp rises to within YY°C of the limit, then the fan speed will increase to maximum. This latter case is only likely to occur in extreme cases; we can trigger it by concurrently passing traffic on all interfaces (Wi-Fi, Ethernet, USB, eSATA) while the router is inside of a 40°C heat chamber. In most cases, the average user would not stress the router enough for the fan to turn on at all. Even if it does turn on, it would start at the low speed, which is very quiet. In many cases you would not hear it unless you place your ear next to the router.
I'll come back and add pictures once the FCC ID docs are released or someone else takes one apart.
Features
The WRT1900AC's feature set is essentially unchanged from its "Smart Wi-Fi" siblings. Part 1 of the EA6500 review provides a good summary of what the WRT1900AC provides for features. Note that the SimpleTap setup feature isn't supported on the WRT; it disappeared with the EA6900.
Signing up for a Smart Wi-Fi account is completely optional. You have access to all router admin features via a "local access" link in the login screen. You only need to register for a Smart Wi-Fi account if you want to access the router remotely using the Smart Wi-Fi iOS or Android apps or use some (all?) of the paltry set of third-party apps.

The main dashboard shown below is the same as found on other Smart Wi-Fi routers, with the exception of the Network Map feature.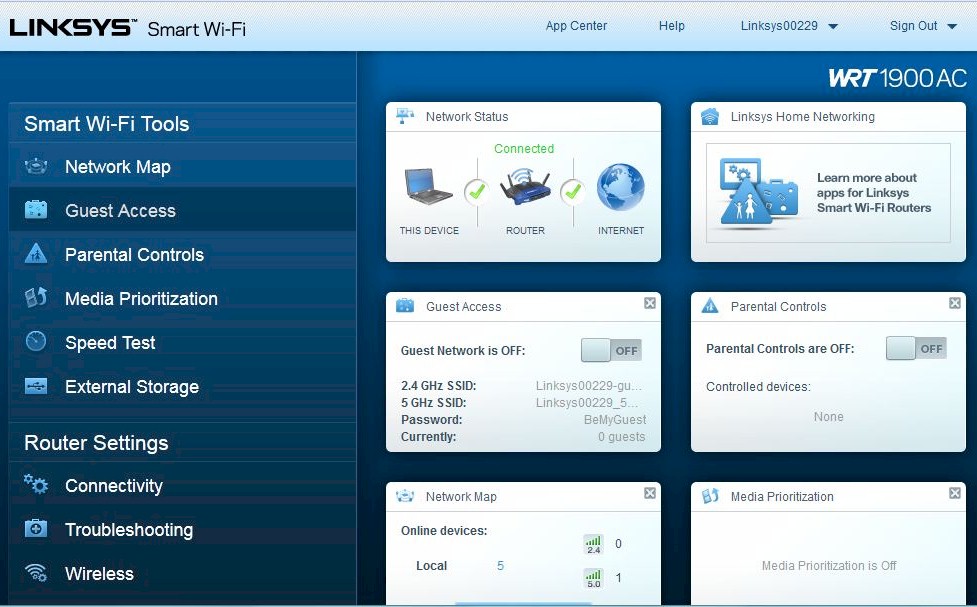 WRT1900AC Dashboard
Network Map takes some of the features previously available only via the Smart Wi-Fi apps and integrates them right into the router web admin. Clicking on the map's device icons brings up the Device Info / Parental Controls / Reserve DHCP Address menu shown in the screenshot. The screenshot also shows the map View Device Type and View Connection Type filters to simplify the view for large networks.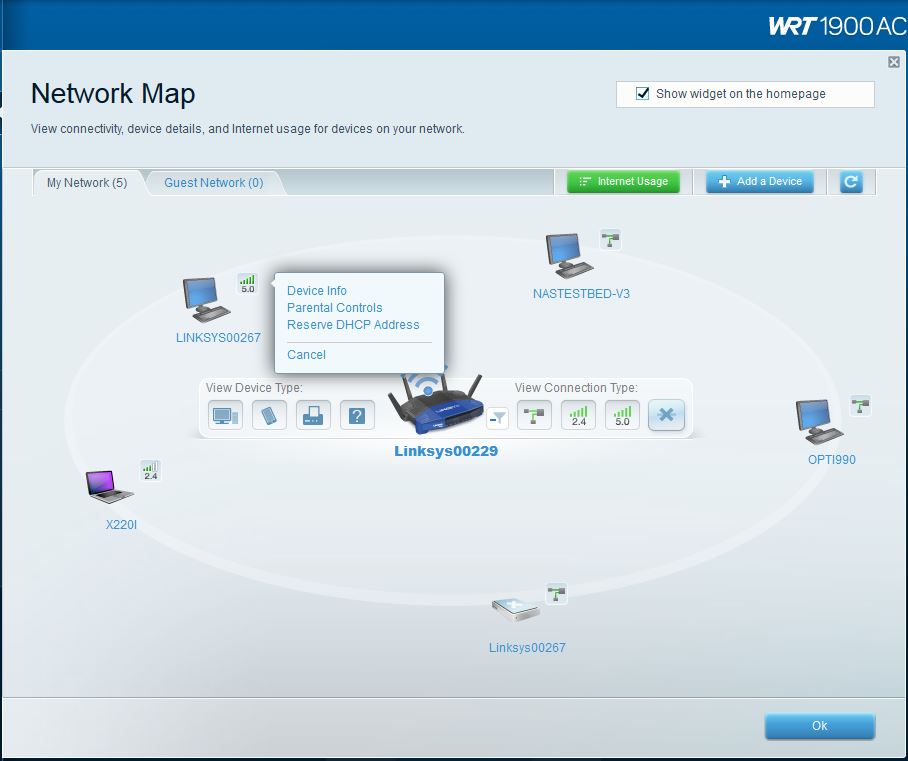 Network Map
The Network Map isn't perfect. Note the LINKSYS00267 and Linksys00267 entries, which both represent a second WRT1900AC connected in wireless bridge mode. Clicking on the upper left icon's Device Info link popped up the window below. I'm not sure of the exact Linux-based OS running in the WRT, but I'm sure it isn't Windows 7!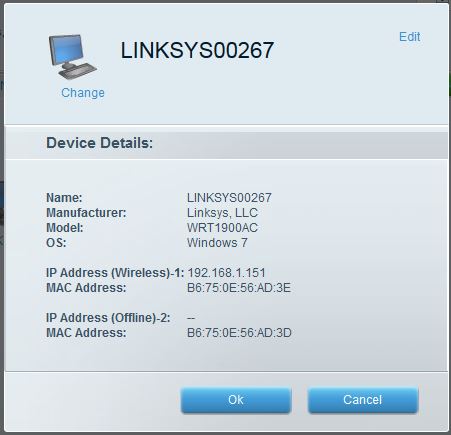 Odd Network Map Device Info
Clicking on the lower right icon (which is supposed to represent a "Generic Device") isn't much more helpful. All you get is the device Name, IP address and MAC address. So the Network Map needs some work to properly enumerate and display networks that include wireless bridges.
Here's a rundown of the WRT1900AC's feature set:
Routing / Firewall
Static and Dynamic IP, PPPoE and PPTP, L2TP and Bridge WAN connections (IPv4)
IPv6 WAN : Automatic, 6rd tunnel
MTU Adjust on all connection types
WAN MAC address clone
WAN IP release / renew both IPv4 and IPv6
DHCP Server, lease time setting, default domain and primary/secondary DNS
DHCP Client list
DHCP reservation
NAT enable / disable
RIP enable / disable
Static routes
Separate SPI firewall enable / disable for IPv4 and IPv6
Single port forwarding with separate source and destination ports
Port range forwarding and triggered port range forwarding.
IPv6 port range forwarding
DMZ Host with source IP restriction
UPnP enable/disable
DDNS support for Dyndns (www.dyndns.org), TZO (www.tzodns.com), NO-IP.com
VPN Passthrough enable/disable for IPSec, PPTP, L2TP
Application Layer Gateway enable/disable for SIP
Internet filters for multicast, NAT redirection, Ident, anonymous requests (pings)
Administration
Network Map
Internet Usage
IPv4 ping, Traceroute tools
Router reboot
Configuration backup / restore
Previous firmware restore
HTTPS management (default disabled)
Wireless Management disable (default enabled)
QoS
Drag and drop prioritization for devices, services and games. High and normal priority levels.
Access / Parental Control
Per-device Schedulable internet access control
Web domain blocking (not schedulable)
USB features
SMB storage sharing
Network USB Print server
Media server
FTP server
Share access control by user
Navigation through the Smart Wi-Fi screens is snappy, which is a good thing. Because I found myself poking around a lot trying to find stuff, especially status information. This isn't unique to the WRT, but a "feature" of the Smart Wi-Fi OS.
Perhaps one day the Network Map will be a one-stop place for information like link rate (and signal strength for wireless clients), local bandwidth consumed and even general router status like CPU, Memory and network link utilization. And while you're at it, Linksys, please add more information to the router icon like WAN IP, number of active clients, etc. It seems like that icon contains the least amount of useful information and doesn't even have a pop-up with shortcuts to often-used pages.
Features – more
A pretty serious omission from this feature set is outbound service blocking, a basic feature supported by most routers. If you want to block user access to specific services, such as Netflix, Pandora, etc. or allow use of only certain ports or port ranges to limit access to proxies and Torrent servers, you'll have to wait for OpenWRT firmware. Shouldn't be this way, guys.
The built-in set of parental controls are blunt instruments, providing all-on or all-off Internet access or blocking only a handful of domains. You're supposed to depend on the Smart Wi-Fi apps if you want more sophisticated tools. But you might be better off just using OpenDNS' free or paid services.
I haven't tried either Linksys app yet to see if they work with the WRT1900AC. Craig reviewed the Linksys apps and some of the third party apps back when all of this was known as Cisco Connect Cloud. It doesn't look like a lot has changed since then.
Linksys probably hasn't had much success attracting new developers to its Smart Wi-Fi platform, just as NETGEAR is finding it tough going to get even an initial set of apps for its genie+ smart router ecosystem. Both vendors are finding that routers are just too small a market for developers to bother with.
That's not to say there haven't been some changes in the Smart Wi-Fi app lineup. The current list below has gained one app, Qnext, and lost two, Gemini IP Camera Viewer and Twonky Video, from the original list.
App
Description
Platform

HipPlay

HipPlay offers a single, easy access point for all of your content stored in a variety of locations. Play & share content from a USB drive connected to your Linksys Smart Wifi router , stored on DropBox, uploaded to Facebook and more. Securely and privately share music, pictures, videos, even word and excel docs from anywhere on your Smartphone or tablet. You can also instantly upload pictures and videos to any of your storage locations.

iOS

Qnext

Qnext provides a secure and private way for you to access and share music, pictures and videos with any of your facebook friends. Your shared content remains in its original location and when you share you give the group or individual permission to access the specific files (and only those files) from within facebook. You can create and edit the shared content list and recipients, and with one click you can remove content and sharing privileges, all remotely.

Facebook

Netproofer

Netproofer lets you restrict access to designated websites for devices on your home network. This can be done as either a complete "blackout" of the site or allow access only on specific days at specific times.

iOS
Android

Device Monitr

By providing real time network status, Device Monitr allows you to see what devices are on your network at any point in time. From anywhere you can monitor if the gaming console is on or if someone's iPhone has left the network. Additionally, Device Monitr also lets you block devices from network access as you see fit.

iOS
Android
Block the Bad Stuff
Block the Bad Stuff lets you select from three levels of content filtering to block malicious sites and mature or non-family-friendly content. Now you can set access to only content and websites you deem appropriate.
iOS
Table 2: Smart Wi-Fi Apps
The gallery below copied from the EA6900 review shows most of the Smart Wi-Fi feature set's admin screens. Again, the WRT1900AC's Smart Wi-Fi feature set is similar enough that you'll get a good enough feel for the router admin from it.
This screen lets you log in without creating a Smart WiFi Account.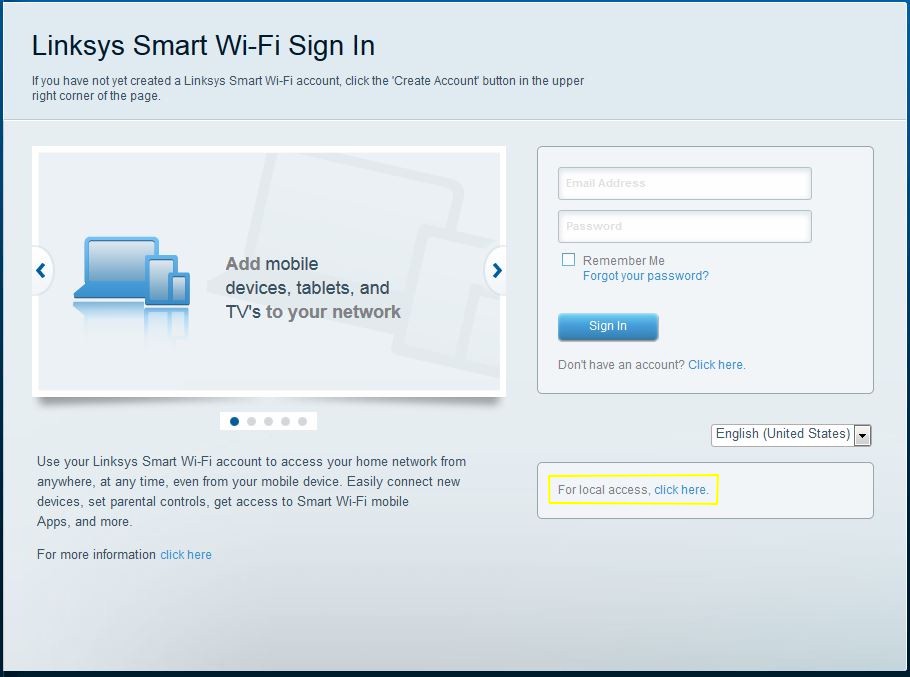 This screen is for creating a Smart WiFi Account and logging into it.
IPv6 internet connection types are pretty limited.IPv4 types supported are static, DHCP, PPPoE, PPTP, L2TP and Bridge
Some basic settings are collected into this screen.
Basic diagnostic tools.
You get Incoming, Outgoing, Security and DHCP logs that can be viewed as shown or in a separte browser window. But with no way to filter or collate the information and no reverse DNS lookups, you would be hard-pressed to get any useful information from the logs.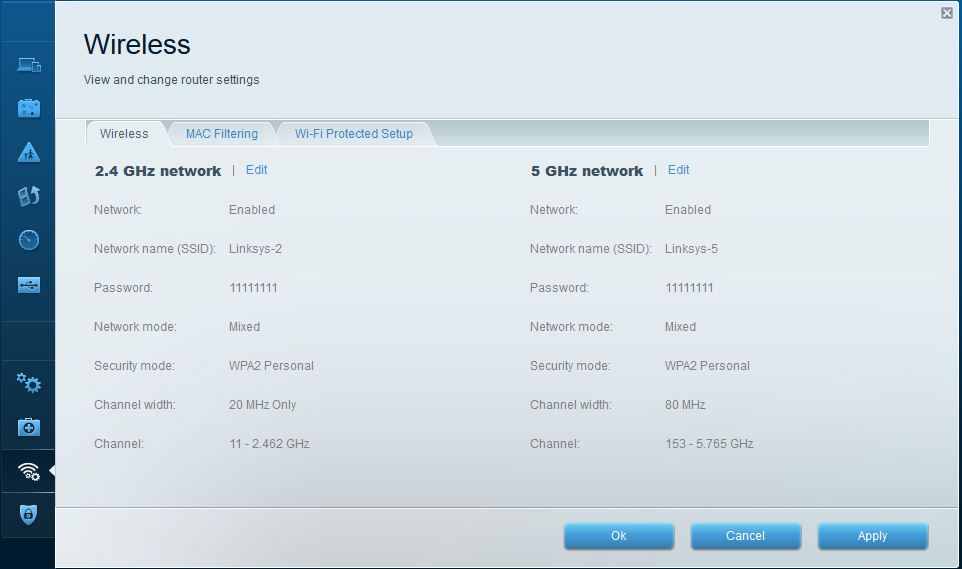 These are all the wireless settings you get. No transmit power adjust. No bridging or repeating. The MAC Filtering list can be set for ALLOW or DENY, but there is no pick list provided. Enabling MAC Filtering disables WPS.
WPS controls are very simple. You can't specify the band or reset the registrar.
Firewall controls include both IPv4 and IPv6 settings. Note the simple IPv6 port forwarding.
Note the ability to limit the source IP addresses that can access the DMZ host.
DynDNS.org settings shown. TZO.com is also supported.
Single port forwards let you set both external (source) and internal (destination) ports. There is no scheduling.
Port range forwarding does not let you set both external (source) and internal (destination) ports.
Triggered port forwarding can monitor and forward port ranges.
This built-in app shows connected devices. Clicking on a device shows Manufacturer, Model, OS, IP address and MAC address.
Wireless guest access is for 2.4 GHz only.
The built-in parental controls are basic. If you want something more advanced you need to use a third-party like OpenDNS or one of the Smart Wi-Fi Apps.
You drag and drop devices, applications and games to the high priority box to, uh, prioritize their traffic.
The OOKLA speed test is easy to use.
Basic status screen. Select drive: appears when more than one drive is attached..
Set folder access permissions with this screen. I was not able to set permissions for folders on a drive.
FTP controls are very simple. There is no SFTP option.
Select media folders to be scanned and select the scan interval. There is no iTunes server.
Wireless features are again a bit on the thin side compared to some other high-end routers. There is no physical wireless on/off switch, no transmit power adjust, no timed wireless radio scheduling and you can't set maximum link rates. But you can manually shut off each radio in the GUI and MAC filters can be set to allow or deny the devices in the list. Sadly, you'll need to check the Troubleshooting > Status page to get the MAC addresses of devices you want to control since there is no pick list presented.
Thankfully, Linksys included support for both Wireless Bridge and Wireless Repeating, which work with any router (no WDS required). But they tucked them away in the Connectivity > Internet Settings screen shown below. Since changing to either mode will interrupt a wireless connection, you'd best be connected via Ethernet to set either of these up.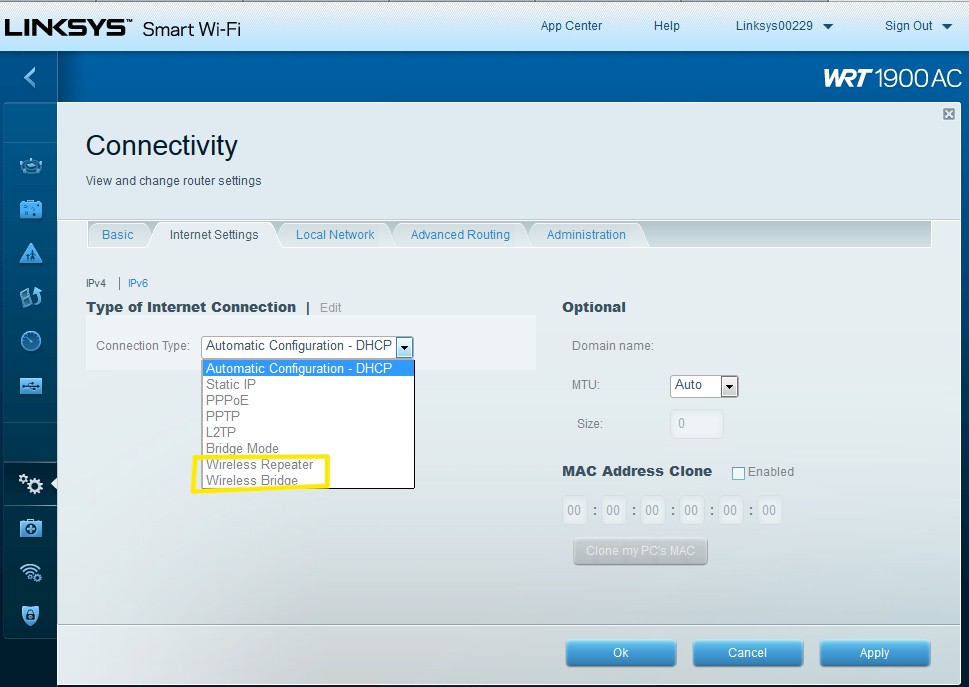 Wireless Bridge and Repeater Setttings
The implementation of both modes is pretty basic, with the Repeater screen shown below. There is no site survey to locate networks; you need to enter the SSID and security key of the network you want to connect to. In Repeater mode, I found that the router reverted to the factory SSID and security key for the repeated network. But you can change this using the Wireless Settings page. Once connected, there is no indication of link rate or signal strength between the repeater and base router. No wireless statistics are available either.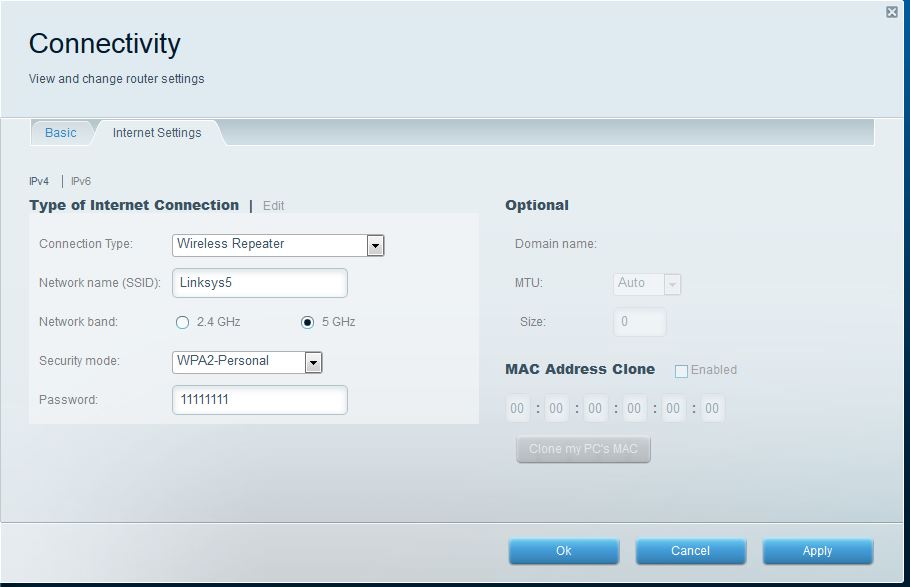 Wireless Bridge and Repeater Setttings
Table 3 has a summary of the wireless settings for your reference.

Note Channel 165 isn't supported in the 5 GHz radio. There is also no 80 MHz only mode, nor Wireless-AC only mode to force AC operation on the 5 GHz radio. Similarly, there is no 256-QAM enable to raise the 2.4 GHz link rate to 600 Mbps with the few clients capable of linking at that rate. The default Auto settings on both radios will do the trick.
Setting
2.4 GHz
5 GHz
Channel
Auto [default]
1 – 11
Auto [default]
36, 40, 44, 48
149, 153, 157, 161
Channel Width
Auto [default]
20 MHz only
Auto [default]
20 MHz only
40 MHz
Network Mode
Mixed [default]
Wireless B/G/N only
Wireless B/G only

Wireless-N only
Wireless-G only

Wireless-B only
Mixed [default]
Wireless-A/N only

Wireless-N only
Wireless-A only
Security
None
WEP
WPA2 Personal
WPA2 Enterprise
WPA2/WPA Mixed Personal
WPA2/WPA Mixed Enterprise
Table 3: Wireless settings summary
Storage Performance
Now comes the fun part: performance tests. I thought I was prepared to test all three connection flavors—USB 2.0, USB 3.0 and even eSATA—using my standard Startech USB 3.0 eSATA to SATA Hard Drive Docking Station [SATDOCKU3SEF] with a WD Velociraptor WD3000HLFS 300 GB drive.
However, after multiple attempts with the drive formatted both FAT32 and NTFS, the WRT's USB connection screen kept reporting that the drive had an invalid format. Since I had reported this problem in the EA6900 review, you would think the problem would not carry forward to the WRT1900AC. But apparently it has.
I fell back to successfully using a 500 GB WD My Passport (WDBKXH5000ABK-01) to run tests [NAS test details] with the drive formatted in FAT32 and NTFS and connected to both USB 2.0 and 3.0 ports. Testing the eSATA port will just have to wait.
Updated 4/15/14: After further experimentation and consulting with Linksys, I discovered a badly formatted drive in the Startech dock was causing my previous failed attempts. It looked ok to Windows' Storage Manager, but it reported an odd mix of filesystem types to the WRT1900AC. I swapped in another WD Velociraptor that did not have the problem and was able to run all tests, including eSATA. The tables have been updated with the new test results.
Table 4 summarizes USB 2.0 performance and includes the WRT1900AC's AC1900 competitors. The WRT1900AC clearly wins in this comparison, with essentially 30 MB/s performance both read and write and both formats.
| | Linksys WRT1900AC | Linksys EA6900 | NETGEAR R7000 | ASUS RT-AC68U |
| --- | --- | --- | --- | --- |
| Processor | Marvell MV78230 | Broadcom BCM4708A | Broadcom BCM4709A | Broadcom BCM4708A |
| FAT32 Write (MBytes/s) | 28.7 | 14.5 | 24.8 | 11.8 |
| FAT32 Read (MBytes/s) | 31.0 | 21.0 | 27.8 | 24.0 |
| NTFS Write (MBytes/s) | 30.1 | 17.2 | 27.9 | 23.7 |
| NTFS Read (MBytes/s) | 30.8 | 21.2 | 27.9 | 24.2 |
Table 4: File copy throughput – USB 2.0 (MBytes/sec)
Switching to USB 3.0 results, the WRT smokes the competition with a 20+ MB/s advantage in all tested modes over the now next-best NETGEAR R7000 Nighthawk. With 60+ MB/s performance, the WRT could comfortably be used instead of a dedicated inexpensive NAS.
| | Linksys WRT1900AC | Linksys EA6900 | NETGEAR R7000 | ASUS RT-AC68U |
| --- | --- | --- | --- | --- |
| Processor | Marvell MV78230 | Broadcom BCM4708A | Broadcom BCM4709A | Broadcom BCM4708A |
| FAT32 Write (MBytes/s) | 61.1 | 15.6 | 33.4 | 11.7* |
| FAT32 Read (MBytes/s) | 76.5 | 22.1 | 57.4 | 21.6* |
| NTFS Write (MBytes/s) | 66.7 | 17.4 | 36.8 | 23.6* |
| NTFS Read (MBytes/s) | 75.1 | 22.4 | 57.7 | 24.3* |
Table 5: File copy throughput – USB 3.0 (MBytes/sec)
* = "Reducing USB 3.0 interference" setting enabled
Finally, the eSATA results, which are comparable to USB 3.0, for the most part. For those thinking using an SSD would improve these results, forget it. The drive and dock used are capable of testing well over 100 MB/s.
| | Linksys WRT1900AC |
| --- | --- |
| Processor | Marvell MV78230 |
| FAT32 Write (MBytes/s) | 56.0 |
| FAT32 Read (MBytes/s) | 78.0 |
| NTFS Write (MBytes/s) | 65.3 |
| NTFS Read (MBytes/s) | 75.8 |
Table 5a: File copy throughput – eSATA (MBytes/sec)
Routing Performance
Routing throughput was measured using our standard router test process with the router using 1.1.7.160177 firmware. Table 6 summarizes the results and once again includes the Linksys EA6900, NETGEAR R7000 and ASUS RT-AC68U for comparison.
All these routers have plenty of routing throughput, but the WRT1900AC comes in with the lowest total simultaneous throughput. Not that 975 Mbps is that shabby, by any means! The 30,557 simultaneuous connections represent the ever-shifting limit of our test. (BTW, I'd be happy to change the test method for this test, if I could find a reliable one that didn't require test gear costing $100K+!)
| Test Description | Linksys WRT1900AC | Linksys EA6900 | NETGEAR R7000 | ASUS RT-AC68U |
| --- | --- | --- | --- | --- |
| WAN – LAN | 631 Mbps | 923.6 Mbps | 931.4 Mbps | 754.5 Mbps |
| LAN – WAN | 926 Mbps | 844.2 Mbps | 941.7 Mbps | 824.6 Mbps |
| Total Simultaneous | 975 Mbps | 1135.1 Mbps | 1378.3 Mbps | 1226.8 Mbps |
| Maximum Simultaneous Connections | 30,557 | 15,833 | 38,793 | 33, 263 |
| Firmware Version | V1.1.7.160177 | V1.1.42.155232 | V1.0.1.22_1.0.15 | 3.0.0.4.374_205 |
Table 6: Routing throughput
The IxChariot unidirectional composite plot for the WRT1900AC shows LAN to WAN throughput has a sizable lead over WAN to LAN.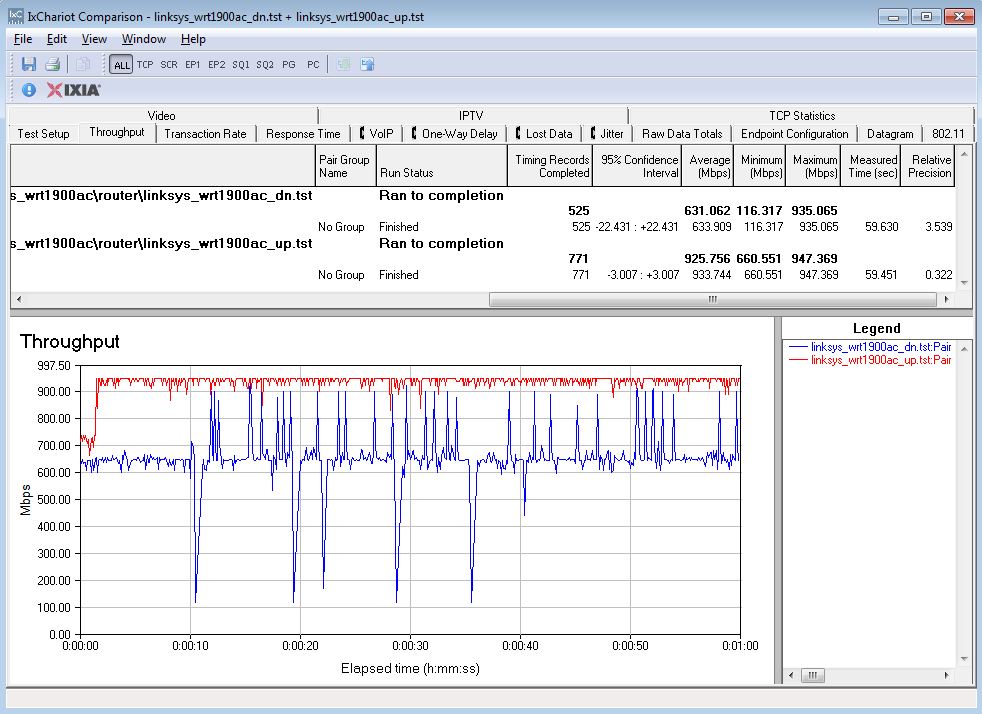 Linksys WRT1900AC routing throughput unidirectional summary
The WRT1900AC simultaneous up/downlink benchmark plot shows a definite preference for LAN to WAN among the widely varying throughput in both directions.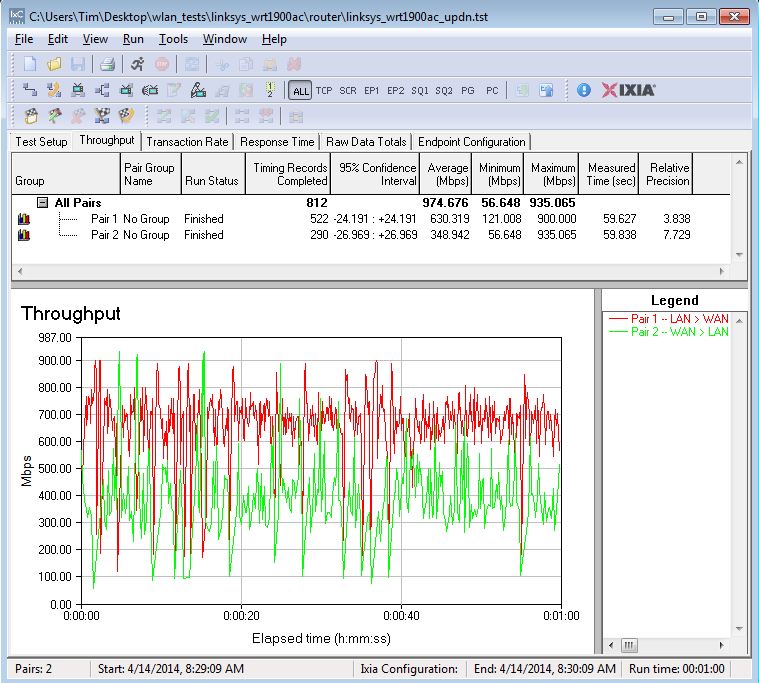 Linksys WRT1900AC routing throughput bidirectional summary
Wireless Performance
As is our practice, wireless performance was tested using our standard wireless test process, which uses an AC1750 class test client. This is the same as all other AC1900 class routers tested to date, so results are directly comparable.
The WRT1900AC is Wi-Fi Certified for 802.11a,b,g,n and ac. It defaulted to Auto channel mode on both 2.4 and 5 GHz radios upon power-up. Both radios defaulted to Auto Channel width on power up. The router comes with unique 2.4 and 5 GHz SSIDs set, so you don't have to change anything to connect dual-band clients to the desired band.
WPS appeared to be enabled on the 5 GHz band only because only it popped up a WPS pushbutton prompt when a Win 7 client attempted to associate. The WPS pushbutton test passed, completing quickly with a WPA2/AES connection. There does not appear to be a control to set the band that uses WPS or to cause it to be used on both bands.
I then ran 40 MHz Coexistence and Fat channel intolerant tests. Setting the Fat Channel intolerant bit caused the router to immediately fall back to 20 MHz rates for a test pass. But it did not resume using 40 MHz bandwidth when bit was cleared on the test client. However, moving the router to Channel 8 with another network on Channel 11 for the 40 MHz coexistence test did not cause the WRT1900AC to immediately stop using a 40 MHz channel width, so the test failed.
For throughput testing, the router was first reset to factory defaults and Channel 6 was set for 2.4 GHz and Channel 153 for 5 GHz. 20 MHz bandwidth mode was set for 2.4 GHz and 80 MHz mode was set for 5 GHz. The test client was connected using WPA2/AES encryption.
The router's antennas were positioned 8" from the chamber antennas in the 0° and 180° test positions. Because of the WRT1900AC's width and the tight quarters in the test chamber, the closest antenna in the 90° and 270° positions was more like 6 to 7 inches from the chamber antennas. The 0° position for the router had the front facing the chamber antennas.
The WRT1900AC's Benchmark Summary below shows the average of throughput measurements made in all test locations. I won't spend any time analyzing this, since the Router Ranker does a better job and we'll look at that in the Closing Thoughts.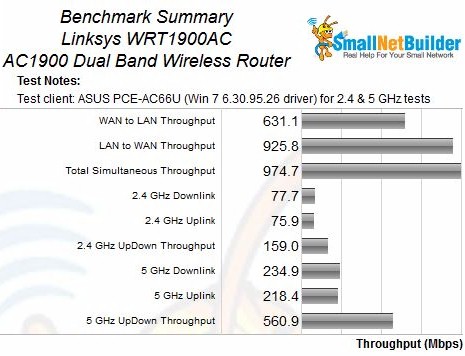 Linksys WRT1900AC Benchmark Summary
Moving right to the profile plots, I pulled three other AC1900 routers into the comparison: NETGEAR R7000; ASUS RT-AC68U; and Linksys EA6900. I didn't bother comparing the one other AC1900 router tested, TRENDnet's TEW-818DRU, because it performed so poorly.
The 2.4 GHz downlink profile shows the WRT1900AC starting out with higher throughput than the other three routers and no dip at the mid-teen attenuation values. But even if you discount the deviation from the curve at 39 dB, the WRT still declines in throughput slightly faster than the other products. Since it is the lowest of the group at the 60 dB point we use for range ranking, it gets the lowest ranking for that benchmark.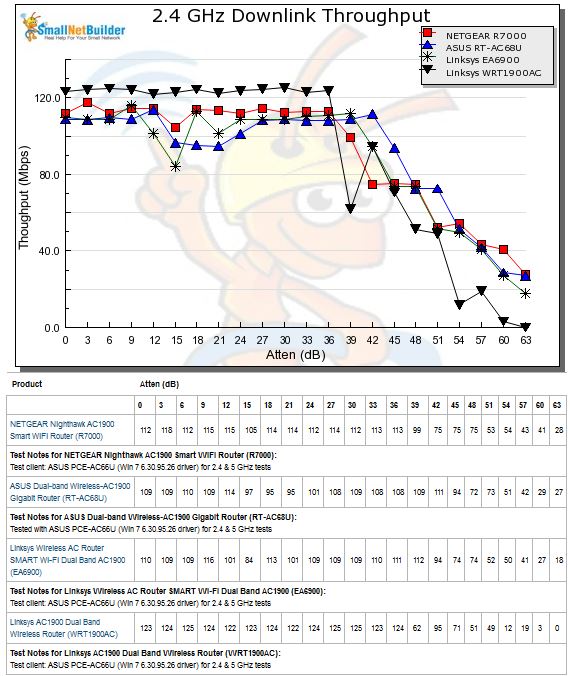 2.4 GHz Downlink Throughput vs. Attenuation
The 2.4 GHz uplink plot shows a tight clustering of all products out to 27 dB, then the WRT once again falling off the fastest and again earning the lowest range ranking of the group.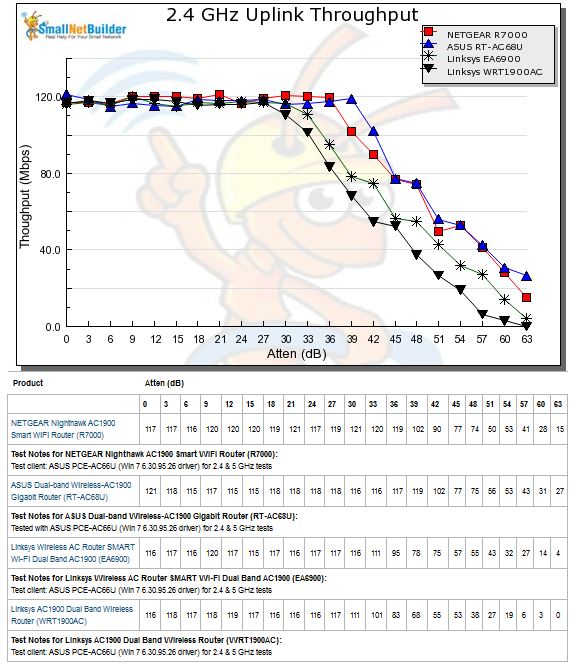 2.4 GHz Uplink Throughput vs. Attenuation
Wireless Performance – more
The 5 GHz downlink profile shows a similar trend among the routers plotted, with the WRT doing generally better than the EA6900 as throughput declines. It's tough to call a clear winner by just looking at the plot. But using the average of all values measured for this benchmark, we find the ASUS with 315 Mbps, NETGEAR with 308 Mbps and WRT with 292 Mbps, which is an 8% spread. Pretty close.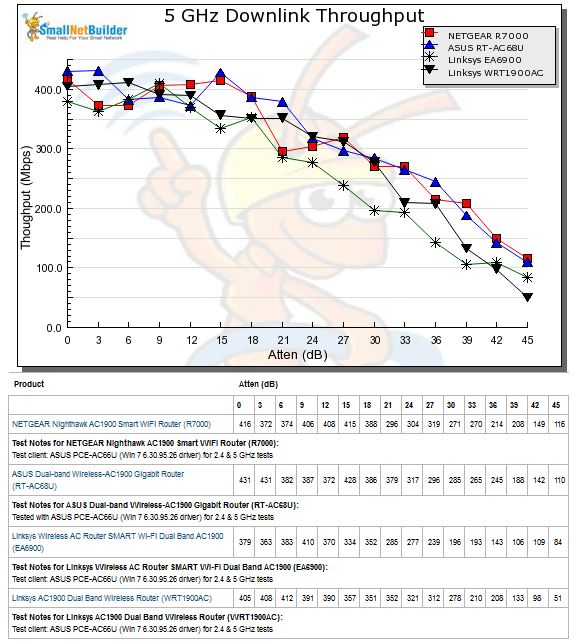 5 GHz Downlink Throughput vs. Attenuation
For 5 GHz uplink, the plots are again closely intermingled. Averages here result in the same ranking, i.e. ASUS with 300 Mbps, NETGEAR with 281 Mbps and WRT with 255 Mbps. The spread here of 18% is more significant.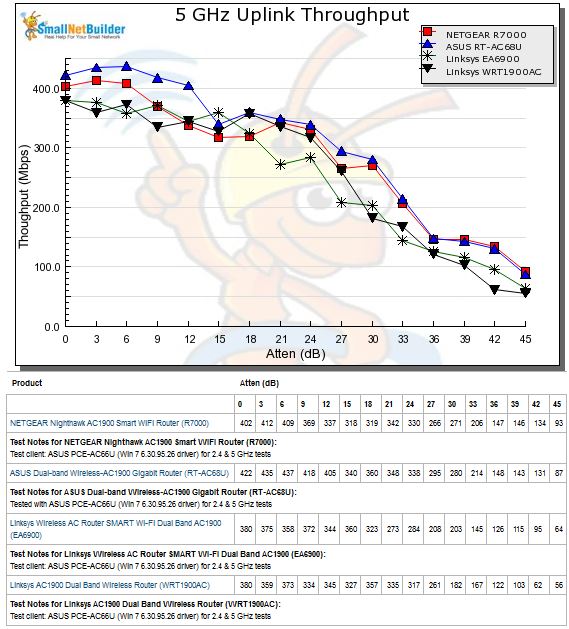 5 GHz Uplink Throughput vs. Attenuation
Closing Thoughts
The WRT1900AC ranks #3 out of five tested AC1900 routers with a tie for first between the NETGEAR R7000 and ASUS RT-AC68U. The ranker performance summary below shows the WRT1900AC's main weaknesses are in the 2.4 GHz band, with some #4 ranks in 5 GHz. Total simultaneous (wired routing) throughput also earns a #4 rank, but it is certainly high enough to not influence a buying decision.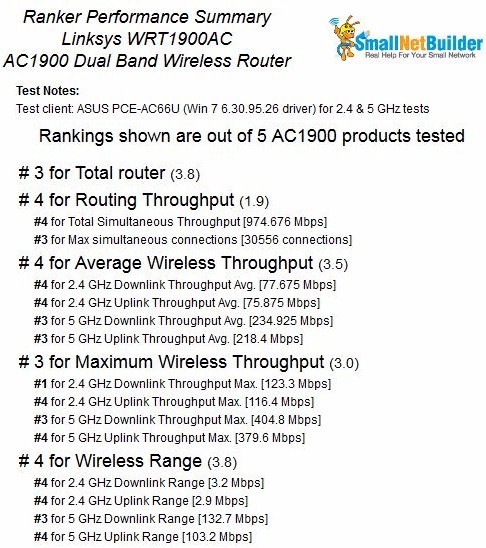 WRT1900AC Ranker Performance Summary
A more interesting comparison is between the WRT and the router it essentially replaces, the EA6900. By looking at the sub-ranks, we see the EA6900 gets its higher ranking from higher routing throughput, 2.4 GHz average throughput and higher range ranking except for 5 GHz downlink. Going by these results, the WRT1900AC does not outperform the EA6900 enough to justify an $80 price premium.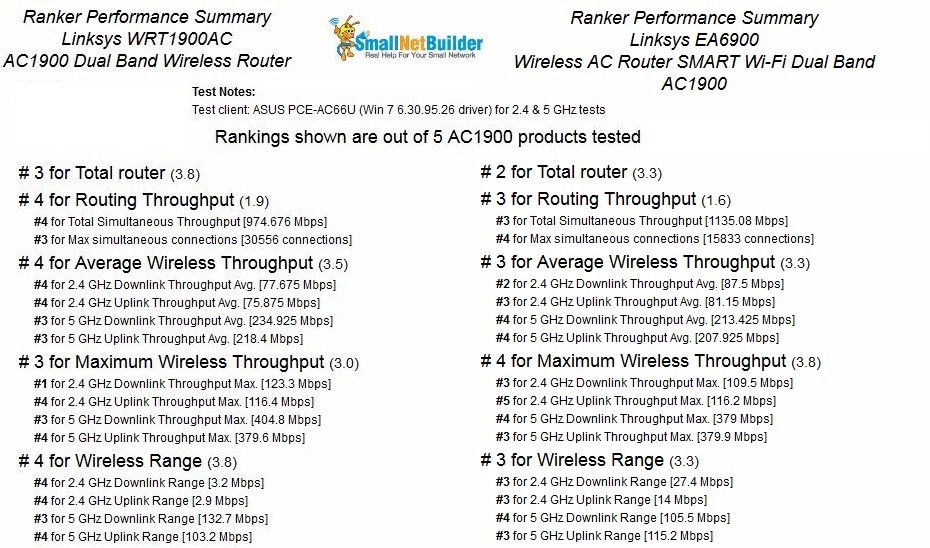 WRT1900AC Ranker Performance Summary
One place the WRT1900 clearly sets a new standard is in storage performance, and that's without eSATA results. As I said earlier, the WRT's filecopy performance is high enough to have it replace a standalone single-drive inexpensive NAS.
So what's the bottom line? Even with its lower ranking, the WRT1900AC doesn't have any major performance faults vis-a-vis the current Broadcom-based ASUS and NETGEAR market leaders. But it doesn't distance itself from the pack either, except in storage performance. I'm going to have to beat on it (and its competition) a bit more before passing final judgement. (Update: Beating on done. See the result.)
For those contemplating trying the WRT1900AC, I think you should go ahead. There is growing dissatisfaction with ASUS' continued firmware instability, despite Merlin's valiant efforts to fix bugs as fast as ASUS creates them. And NETGEAR appears to have its disgruntled customers, too, as all router companies do.
My tests can only tell so much. And what they tell me is that the WRT1900AC is in the race. Whether it comes in win, place or show will depend on Belkin's commitment to the product (especially OpenWRT and the router hacking community), bugfix speed and how it performs in the real world. It seems like a solid platform to build on. Now we need to see where it goes.
Buy AC1900 Dual Band Wireless Router from Amazon