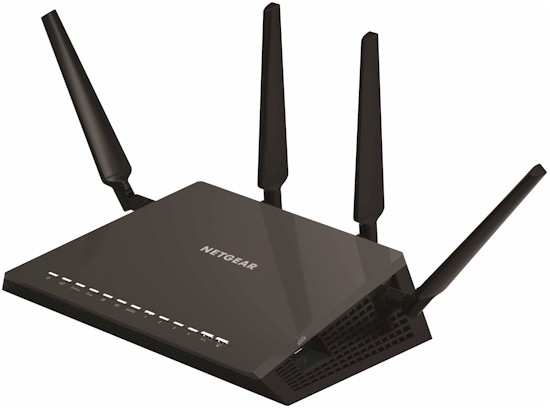 At a glance
Product
NETGEAR Nighthawk X4 Smart WiFi Router (R7500) [Website]
Summary
QCA / Quantenna based AC2350 class router with Gigabit Ethernet ports and USB 3.0 and eSATA ports.
Pros
• Has Client Bridge and AP modes
• USB 3.0 (x2) and eSATA (1) ports
• WOWZA! read speeds
• StreamBoost bandwidth shaping
Cons
• Disappointing range on both bands
• No site survey in client bridge mode
Typical Price: $215 Buy From Amazon
Introduction
Update 9/25/2014: Transmit power control is provided
I'm a bit late to the party in reviewing NETGEAR's first 4×4 router, which was prematurely outed back in June by an overzealous NETGEAR partner in Taipei. Some of my foot-dragging is a (futile) attempt to slow down over-excited buyers and protect them from these not-quite-baked Quantenna-based products. But the larger reason was that my initial tests showed such unimpressive 5 GHz performance that I had to go back to NETGEAR and see if they had an explanation (they did). At any rate, my testing is done, so let's get on with it.
The R7500 is a 4×4 802.11ac router based on a mix of Quantenna for the 5 GHz portion and Qualcomm Atheros (QCA) for the main CPU and 2.4 GHz. NETGEAR has more honestly classed the R7500 as AC2350 vs. ASUS' inflated AC2400 for its RT-AC87U/R. Marketing philosophies aside, both products offer the same maximum link rates, i.e. 1733 Mbps on the 5 GHz size, 600 Mbps in 2.4 GHz.
Even though the R7500 is also a "wave 2" AC router like the ASUS, it also does not yet support Multi-User MIMO (MU-MIMO). NETGEAR said it will enable MU-MIMO at some point via firmware upgrade, but has no firm timeline. NETGEAR also has no plans to offer a 4×4 AC client. So if you want to see what a 1733 Mbps link rate really can buy you in usable throughput, you'll need to part with another $280 for a second R7500 or RT-AC87U/R.
The photo below comparing the AC87 and R7500 seems to make the AC87 look smaller due to its smaller body size. Both routers are essentially the same width, so their footprints aren't that much different.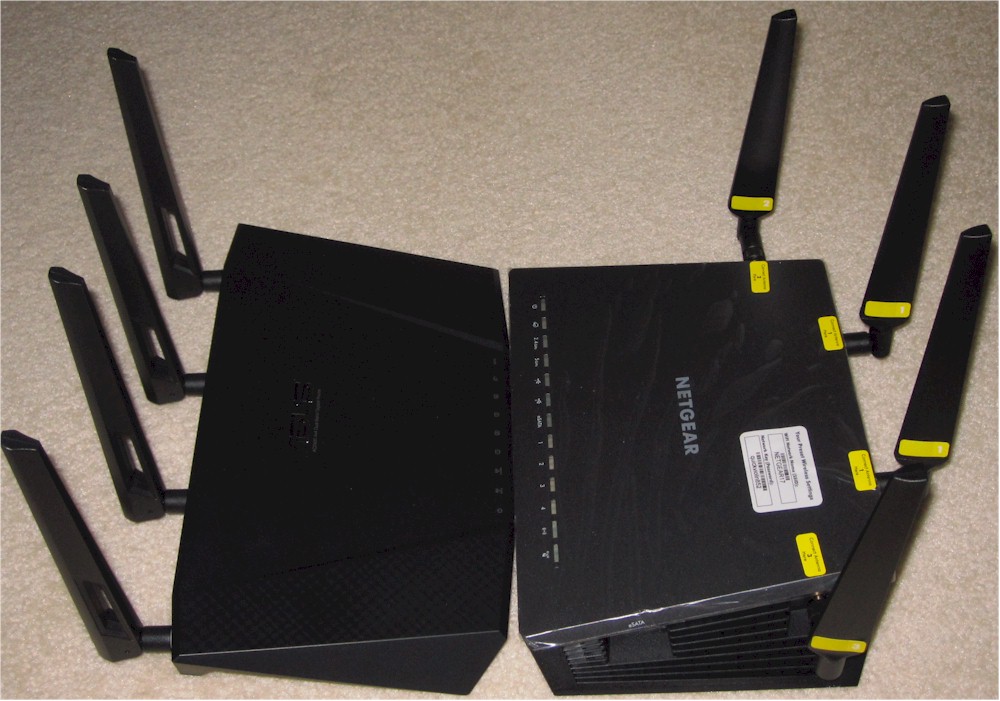 ASUS RT-AC87& NETGEAR R7500 head to head
The side-by-side comparison show below shows that when antennas are included in the footprint, the R7500 is only a tad deeper.

ASUS RT-AC87 and NETGEAR R7500 side by side
Comparing NETGEAR's R8000 to the R7500 shows similar results whether compared head-to-head…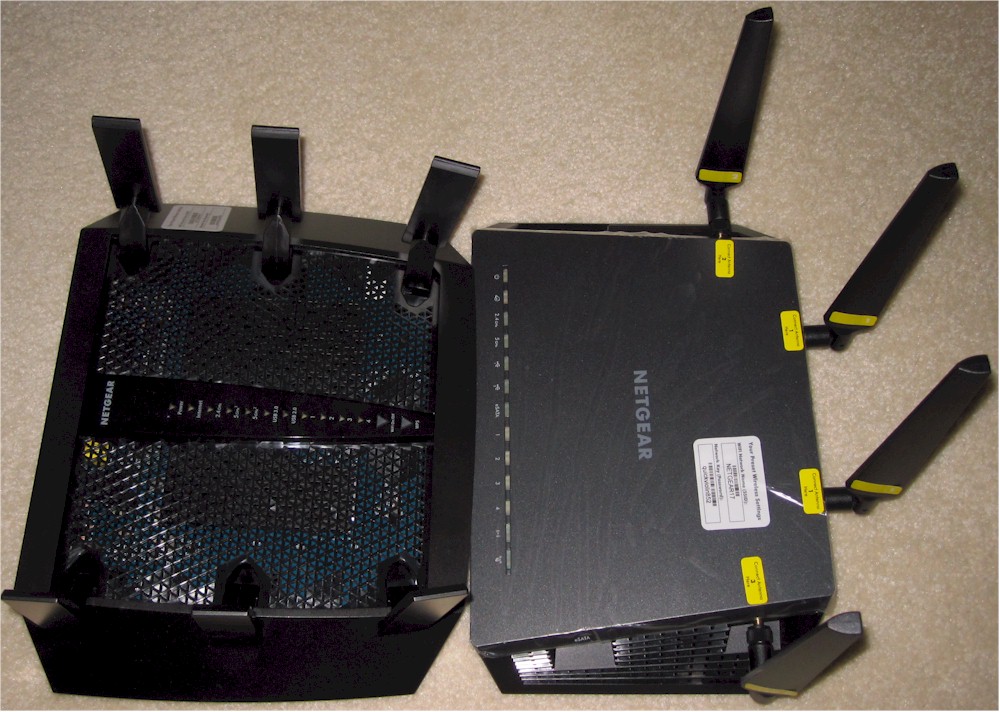 NETGEAR R8000 & R7500 head to head
…or side by side.

NETGEAR R8000 & R7500 side by side
The R7500's general styling has more in common with the original R7000 Nighthawk than the X6 R8000. Most indicators are white, with some using amber to indicate states other than normal or Gigabit Ethernet links. The LEDs are fairly bright, but can be extinquished via a back panel hardware switch.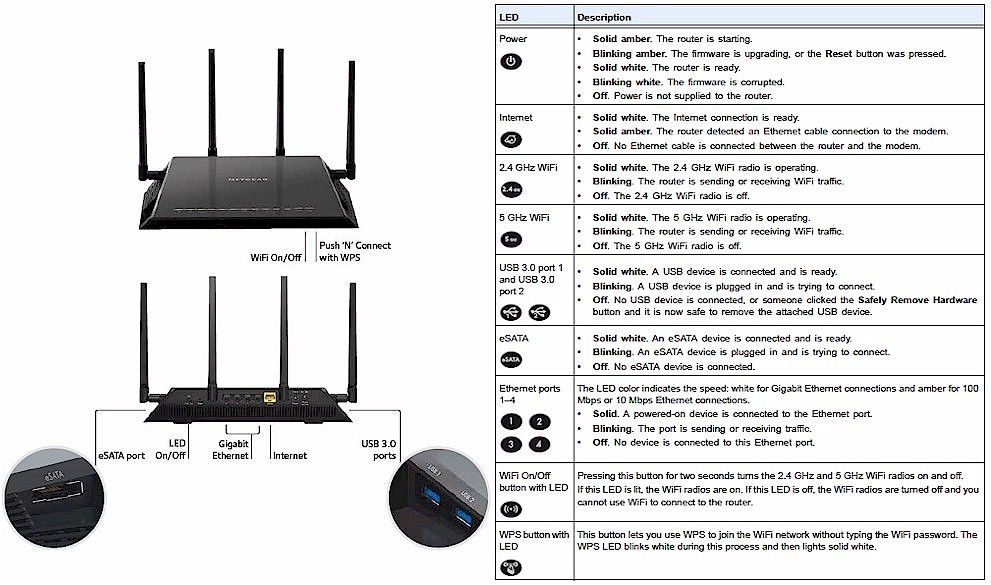 R7500 callouts
The top cover is solid, but all other surfaces are composed of open plastic grid for convection cooling since there is no fan. All Ethernet ports are Gigabit. There are two USB 3.0 ports on the left side and one eSATA port on the right. There are bi-directional mounting screw slots on the bottom panel so that you have the freedom to aim cables upward or downward when wall mounting.
Inside
SNB Forums member mediatrek shared details of the R7500's innards from photos posted in this KoolShare post. The hardware photos require a KoolShare login, which mediatrek managed to get.
Like the ASUS RT-AC87, the R7500 uses a multi-processor architecture. Rather than using a Broadcom BCM4709, NETGEAR opted to use a 1.4 GHz dual-core Qualcomm IPQ8064 Internet Processor and QCA9880 3-stream 802.11ac radio solution for the 2.4 GHz radio.
We've seen the QCA9880 in many AC1900 class designs including D-Link's DGL-5500 and TP-LINK's Archer C7. The R7500's 5 GHz side is the same Quantenna QSR1000, which consists of QT3840BC baseband and QT2518B RF devices. The photo below shows the RF shields in place and a thermal pad on the left shield that must couple to a heatsink. None of the photos mediatrek posted show 2.4 or 5 GHz power amplifiers. But I would be very surprised if the design did not have them.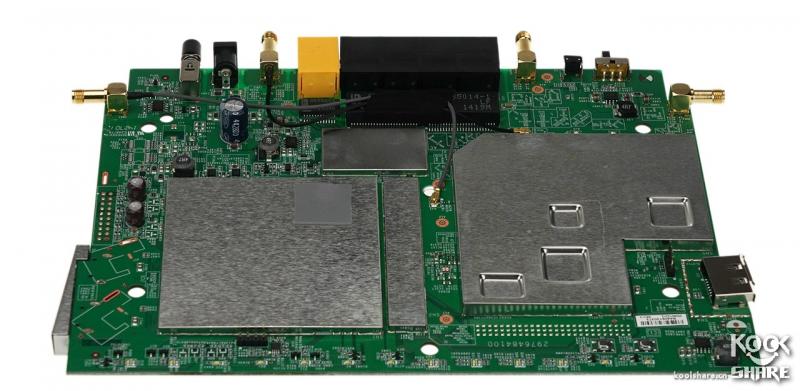 R7500 board top (courtesy KoolShare via Mediatrek)
The R7500's combination of side and rear panel antenna locations and plastic "paddle" antenna cases caused the need for three antenna flavors. Each antenna is labeled and needs to be installed on its like-numbered connector on the router. NETGEAR said all four antennas are electrically identical dual-band. The different styles are just to ensure the router looks nice when all antennas are installed.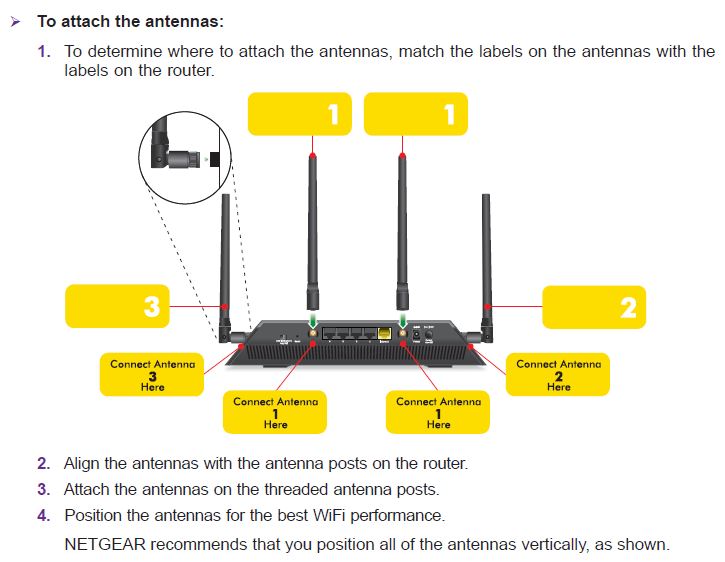 R7500 antennas
Table 1 has a summary of the R7500 and ASUS RT-AC87 key components.
| | NETGEAR R7500 | ASUS RT-AC87 |
| --- | --- | --- |
| CPU | Qualcomm dual-core IPQ8064 Internet Processor @ 1.4 GHz | Broadcom BCM4709A |
| Switch | Qualcomm Atheros QCA8337 | in BCM4709A |
| RAM | 256 MB | 256 MB |
| Flash | 128 MB | 128 MB |
| 2.4 GHz Radio | – QCA9880 3-stream 802.11ac radio solution | – Broadcom BCM4360 (3×3 ac) |
| 5 GHz radio | – Quantenna QSR1000 (4×4 ac) | – Quantenna QSR1000 (4×4 ac) |
Table 1: Component summary
One interesting design detail is that the R7500 uses the IPQ8064's PCIe buses to connect both radios. The ASUS RT-AC87U/R connects its Broadcom 2.4 GHz radio via PCIe and the Quantenna 5 GHz subsystem via slower RGMII. Another interesting factoid is that the QCA9880 2.4 GHz radio does not support AC-standard beamforming. So "explicit" beamforming is in play only on the 5 GHz side.
In Use
The R7500 runs NETGEAR's genie router OS that has been around a few years. As has been pointed out in the Forums, the admin GUI is somewhat slow and boot time is long.
We listed genie's feature set in the R8000 review and the WNDR3800 review covers most of what genie can do, although some features and interfaces have changed.
For example, the OpenDNS-based Parental Controls can no longer be configured in the browser-based admin interface. You need to download one of the apps shown below, open an OpenDNS account if you don't have one and do all configuration from the genie app.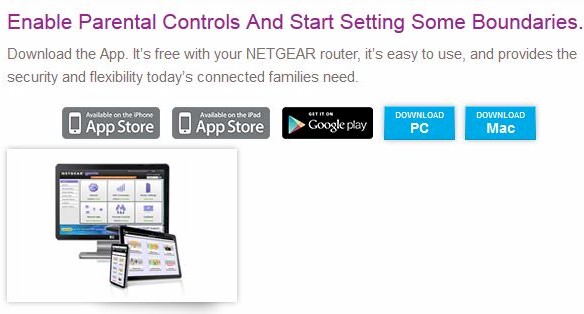 Parental Controls
OpenVPN VPN was added awhile back to provide secure remote access to the router's network, as was IPv6 support.
With Qualcomm's Internet Processor comes its StreamBoost bandwidth shaping, or as NETGEAR calls it, "Dynamic QoS". We covered StreamBoost in its own article (Does Qualcomm's StreamBoost Really Work?) and found it lived up to its claims. The main difference in the R7500's implementation appears to be that StreamBoost's updates come from NETGEAR's servers vs. Qualcomm's.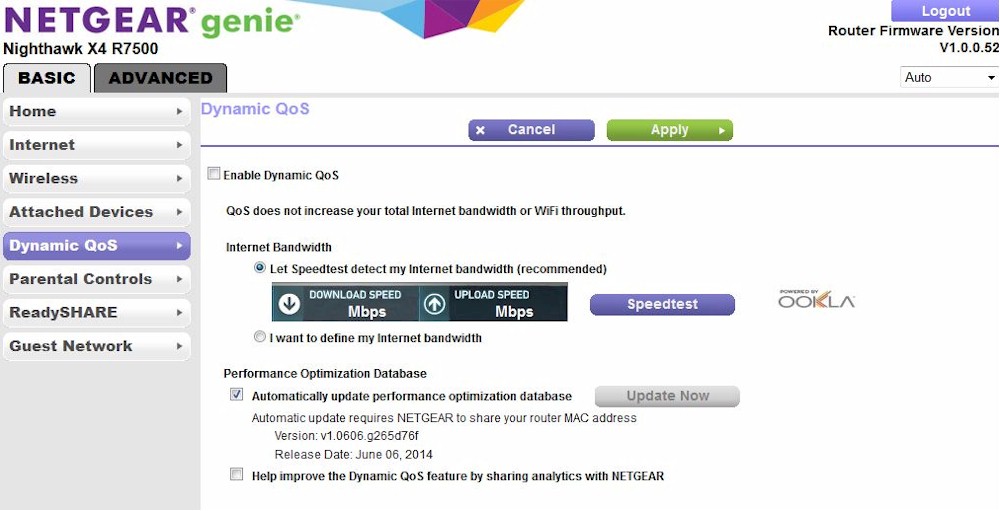 Dynamic QoS screen
NETGEAR treats StreamBoost as pretty much a black box. You can change the names of devices from the defaults using the Edit button in the Attached Devices screen shown below. But you can't change priority or bandwidth distribution and you can't drill down to see bandwidth use by service / application as D-LINK's DGL-5500 allows.

Attached Devices screen
Update 9/25/2014
An alert reader told us transmit power control is provided in the Advanced > Wireless Settings page for the 2.4 GHz radio. To enable transmit power control for the 5 GHz radio, you must uncheck the Enable BEAMFORMING box.
Storage Performance
NETGEAR told me to expect high storage performance from the R7500 and that's what I found. For testing, I unchecked the Enable Media Server, Enable TiVo support and Enable iTunes Server checkboxes on the Media Server settings page so that they wouldn't index test files and interfere with testing.
Our standard Startech USB 3.0 eSATA to SATA Hard Drive Docking Station [SATDOCKU3SEF] with a WD Velociraptor WD3000HLFS 300 GB drive was used to test file copy performance. The drive was formatted with FAT32 and NTFS volumes and connected via both USB 3.0 and eSATA. The R7500 has no USB 2.0 ports.
Table 2 summarizes USB 3.0 performance and includes the ASUS RT-AC87U/R and a few other recent top-of-line routers. It looks like NETGEAR has primarily focused on pushing read performance because that's where its strongest results are found. At only 29 MBytes/sec, FAT32 write is pretty disappointing, especially when compared to the RT-AC87 and Linksys WRT1900AC's results. Highest performance of 84 MB/s was measured for NTFS reads.
| | NETGEAR R7500 | ASUS RT-AC87U | NETGEAR R8000 | Linksys WRT1900AC |
| --- | --- | --- | --- | --- |
| Processor | QCA IPQ8064 | Broadcom BCM4709A | Broadcom BCM4709A | Marvell MV78230 |
| FAT32 Write (MBytes/s) | 28.9 | 50.2** | 31.9 | 61.1 |
| FAT32 Read (MBytes/s) | 79.6 | 69.5** | 73.9 | 76.5 |
| NTFS Write (MBytes/s) | 40.9 | 49.1** | 39.3 | 66.7 |
| NTFS Read (MBytes/s) | 83.7 | 68.1** | 73.5 | 75.1 |
Table 2: File copy throughput – USB 3.0 (MBytes/sec)
** = "Reducing USB 3.0 interference" setting disabled
The R7500 is the only router with an eSATA connection, so Table 3 includes only its results. FAT32 write is again the R7500's Achilles' Heel at a mere 30 MB/s. But 95 MB/s FAT32 and 100 MB/s NTFS reads set a new router storage performance high!
| | NETGEAR R7500 |
| --- | --- |
| Processor | QCA IPQ8064 |
| FAT32 Write (MBytes/s) | 29.9 |
| FAT32 Read (MBytes/s) | 95.1 |
| NTFS Write (MBytes/s) | 38.9 |
| NTFS Read (MBytes/s) | 100.3 |
Table 3: File copy throughput – eSATA (MBytes/sec)
Routing Performance
Routing throughput was measured using our standard router test process with the router loaded with v1.0.0.52 firmware. Table 4 summarizes the results and includes the ASUS RT-AC87U/R for comparison.
The Maximum Simultaneous Connection value happens to be the highest in this group. But all four values were limited by the test technique we use, which isn't reliable above 30,000 sessions.

| Test Description | NETGEAR R7500 | ASUS RT-AC87 |
| --- | --- | --- |
| WAN – LAN | 749.7 Mbps | 787.1 Mbps |
| LAN – WAN | 814.2 Mbps | 807.7 Mbps |
| Total Simultaneous | 1501.7 Mbps | 1392 Mbps |
| Maximum Simultaneous Connections | 42,122 | 36,805 |
| Firmware Version | v1.0.0.52 | 3.0.0.4.376_2044 |
Table 4: Routing throughput
The IxChariot unidirectional composite plot below shows periodic spikes up to peak speeds near 950 Mbps for both down and uplink.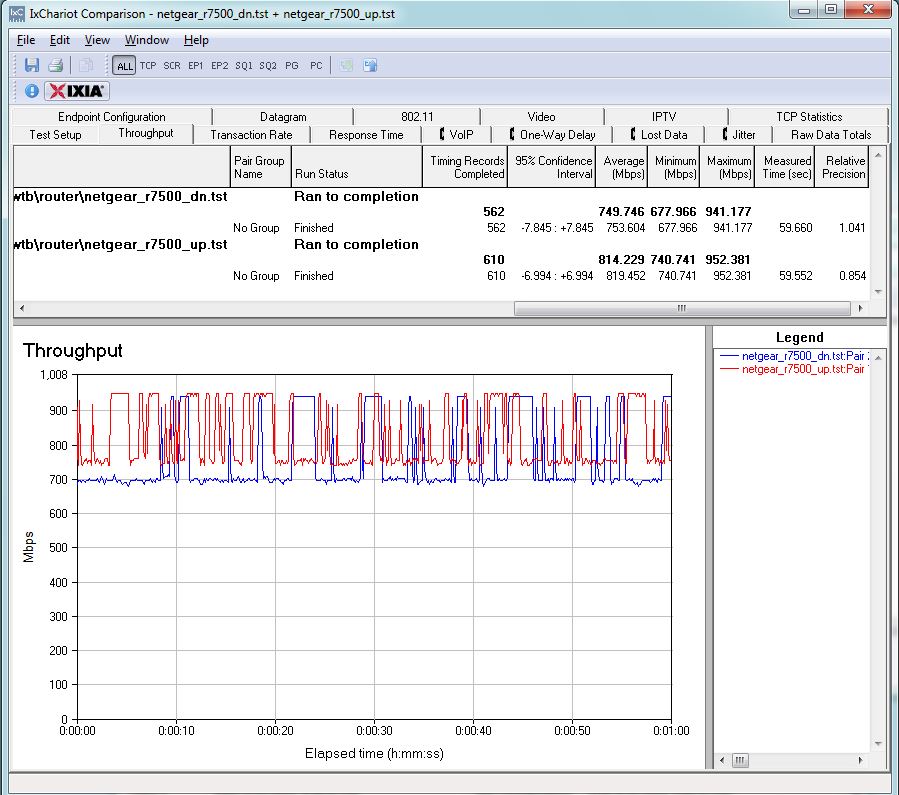 Routing throughput unidirectional summary
The simultaneous up/downlink benchmark plot shows lower throughput in the first 10 seconds or so, most likely due to IxChariot's Nagle's algorithm implementation. Once that settles down, throughput use is fairly even for awhile, then diverges with uplink traffic favored over downlink. In all, the R7500 appears to have pretty beefy routing.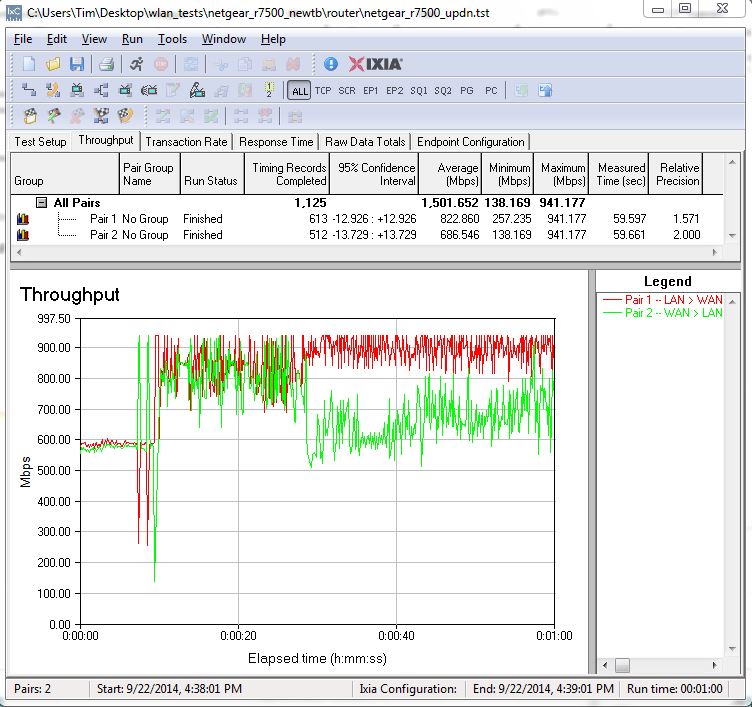 Routing throughput bidirectional summary
Wireless Performance
The RT-AC87 was tested using the new V8 Wireless test process, which has reduced 5 GHz band range from the V7 process. While many products made it all the way out to 45 dB attenuation without disconnecting in the V7 process, most products don't make it past 39 dB in the V8 process. So use the Test version filters in the Charts and especially in the Rankers when doing product research. All wireless testing was done using v1.0.0.52 firmware.
In keeping with NETGEAR's standard practice, the R7500 is not Wi-Fi Certified at this time. NETGEAR doesn't allow Wi-Fi Certification to be an obstacle to selling product, but gets it done eventually.
The R7500 defaults to Up to 600 Mbps mode and Auto channel selection in 2.4 GHz and Up to 1733 Mbps mode and Channel 153 in 5 GHz upon power-up, enabling maximum link rates for the few devices that can take advantage of them. NETGEAR doesn't provide separate channel bandwidth and 802.11 mode settings, instead combining both into the settings above. So the R7500 defaults to auto 20/40 MHz bandwidth mode in 2.4 GHz and auto 20/40/80 MHz mode in 5 GHz. Unique SSID's for each band are also assigned so that you can connect your client to the desired band.
For 2.4 GHz, Up to 54 Mbps can be set to allow only 802.11b/g link rates and Up to 289 Mbps is what you'd use to force 20 MHz bandwidth. For 5 GHz, the other mode settings of Up to 347 Mbps and Up to 800 Mbps are referenced, but unexplained in the User Manual. NETGEAR told me, however, that they represent 20 MHz and 40 MHz bandwidth mode respectively with 11n/ac 802.11 modes supported.
I ran a simple WPS pushbutton test that successfully connected my Windows 8.1 client with an WPA2/AES link. I didn't check 20/40MHz coexistence, but will note that NETGEAR provides an Enable 20/40 MHz Coexistence control in the Advanced Setup > Wireless Settings that is checked by default. I'm not a fan of the ability to force 40 MHz mode and stomp on neighboring networks, but apparently it's allowed.
For throughput testing, the router was first reset to factory defaults, then set to channel 6 and mode set to Up to 289 Mbps for 2.4 GHz. The 5 GHz radio was set to channel 153 and Up to 1733 Mbps mode set to enable 802.11ac link rates. The NETGEAR R7000 in bridge mode now used as our standard test client was connected using WPA2/AES encryption. This means that the profile data in the charts is for three stream operation.
Our standard practice with the new testbed is to center the router under test's antennas on the turntable, both front-to-back and side-to-side in the chamber. The chamber antennas are also centered on the turntable (front-to-back of chamber). This method is intended to keep maximum distance between the router under test and chamber antennas. The photo below shows the R7500 in the test chamber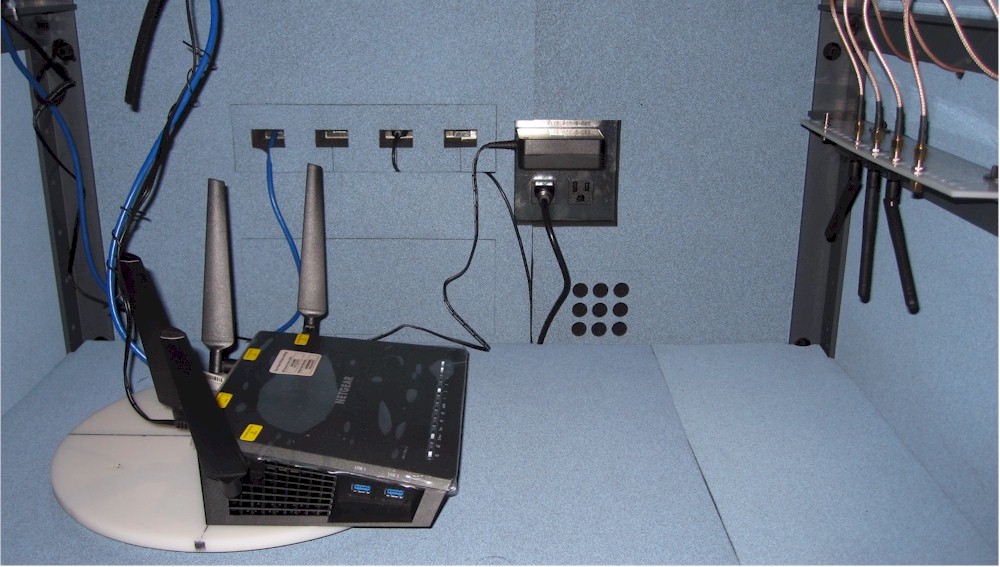 R7500 in test chamber
Note the angled position of the router's antennas. My initial results produced link rates much lower than I usually see with very unstable throughput. When I fed these results back to NETGEAR they ran experiments and suggested that the antennas be angled. This was to compensate for the low path loss (high signal level) of the chamber test. Note that the suggested antenna position is straight up for the mid to high path loss (mid to low signal level) conditions experienced in normal use.
The Benchmark Summary below shows the average of all wireless throughput measurements made over the tested attenuation range. Since the 2.4 GHz radio is the same found in AC1900 routers, it's fair to compare its results against products in that class. Comparison with AC1900 (and AC1750) routers in 5 GHz is fair too, since the AC1900 client limits maximum link rates to 1300 Mbps.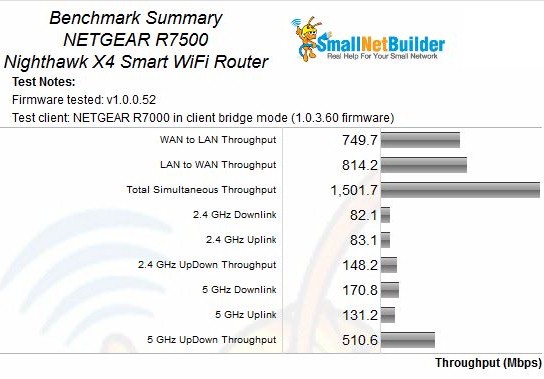 NETGEAR R7500 Benchmark Summary
That said, I pulled all the retested AC1900 routers, plus the ASUS RT-AC87U/R and NETGEAR R8000 into one chart of 2.4 GHz average throughput below. The R7500 sits at the bottom of the downlink chart, but next to top for uplink.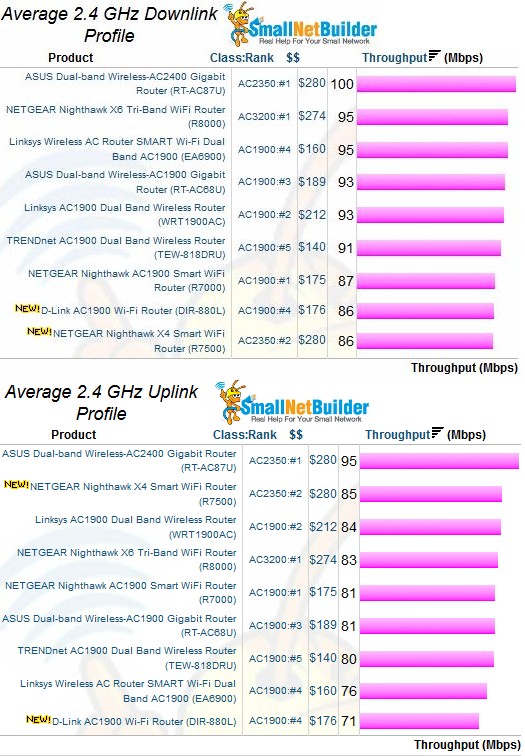 2.4 GHz average throughput comparison
The 5 GHz average throughput comparison finds the R7500 closer to the bottom than top for downlink and again at the very bottom for uplink. Not impressive performance at all.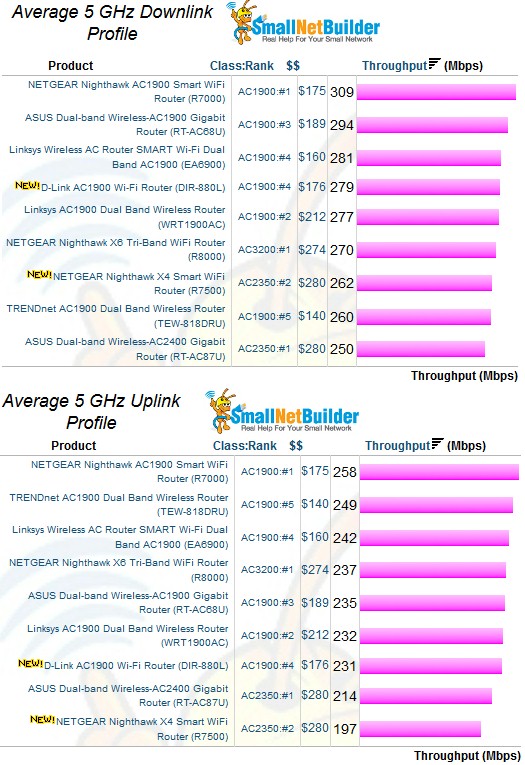 5 GHz average throughput comparison
Wireless Performance – Profile Comparison
For the throughput vs. attenuation curve comparison, I kept things simple, including only the ASUS RT-AC87U/R and the current top-ranking AC1900 class router, NETGEAR's R7000.
The 2.4 GHz downlink profile shows the R7500 starts out with about the same throughput as the ASUS, with both above the NETGEAR R7000. But the R7500 starts to fall off after 12 dB attenuation, which is very early. This indicates the likelyhood of reduced range.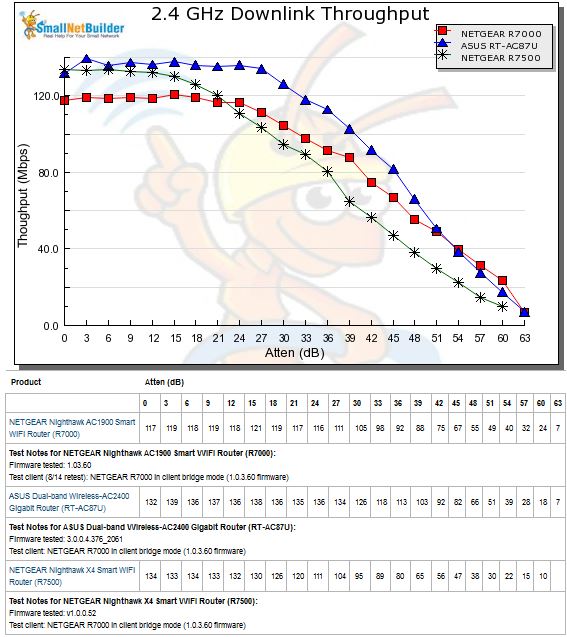 2.4 GHz Downlink Throughput vs. Attenuation
The 2.4 GHz uplink plot again shows higher starting throughput for the R7500 and ASUS vs. the R7000. This time, however, throughput for both the ASUS and R7500 starts heading downhill at about the same attenuation value. The R7500's steeper slope again indicates inferior 2.4 GHz range.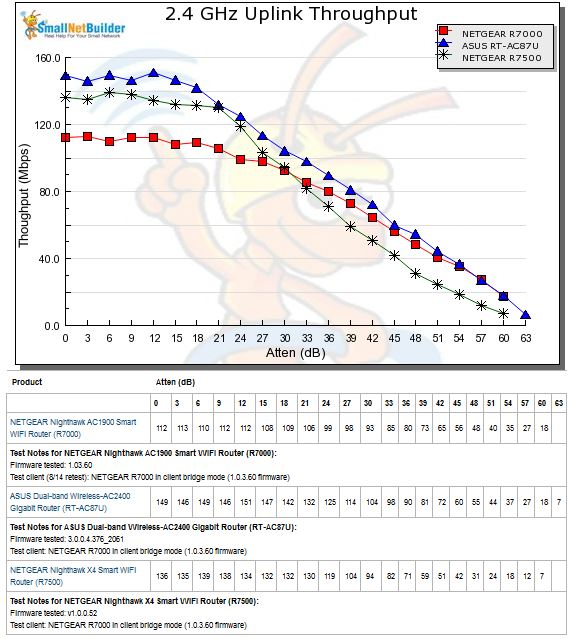 2.4 GHz Uplink Throughput vs. Attenuation
The 5 GHz downlink profile shows a similar trend for the R7500, i.e. starting out competitively, but with a steeper decline than the other compared products. In fact, the R7500 has the earliest disconnect of any AC1900 or higher class router we've tested to date.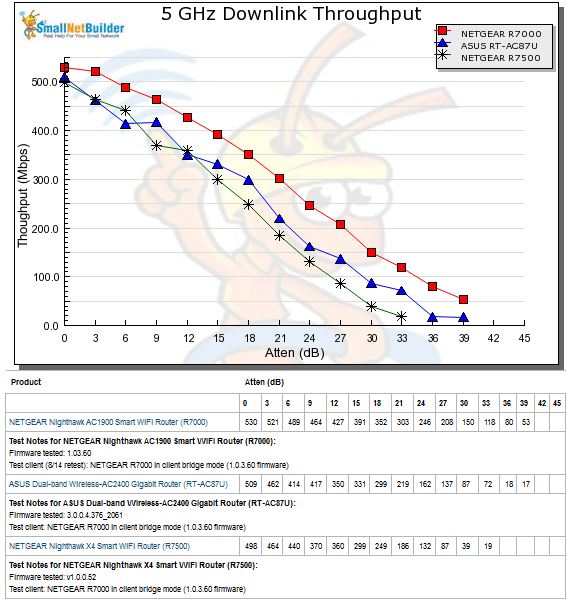 5 GHz Downlink Throughput vs. Attenuation
The 5 GHz uplink story is pretty much the same, although it starts out lower than the R7000, but higher than the ASUS.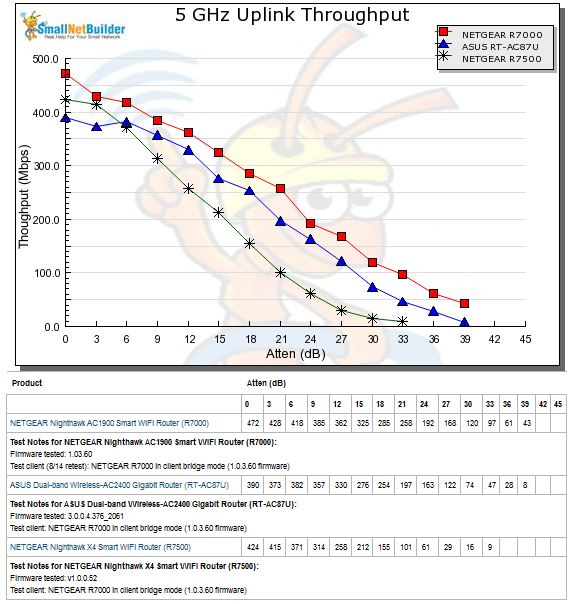 5 GHz Uplink Throughput vs. Attenuation
Four Stream Performance
Given the RT-AC87U's disappointing performance, I didn't expect much from the R7500 for this test of maximum possible performance from a 1733 Mbps link 4×4 link rate.
I set two R7500's up in open air, six feet apart, one as a normal router and the other in wireless bridge mode. I didn't shut off my in-house 5 GHz network for the test. But it was idle and only beaconing (no traffic). Channel was set to 153, bandwidth mode was in its default 80 MHz mode and everything else was set to defaults.
To keep things simple this time I connected only one computer via Gigabit Ethernet at each end of the bridge. Baseline tests using Ethernet between the two computers and TP-LINK NICs show the Ethernet link capable of a bit over 900 Mbps in both directions with each direction run separately. So the hardwired part of the link shouldn't be a limiting factor.
I ran two sets of tests, one with the antennas on both R7500's straight up and the other with them all set to 45 degrees. The composite downlink plot below shows little performance difference between the two antenna positions.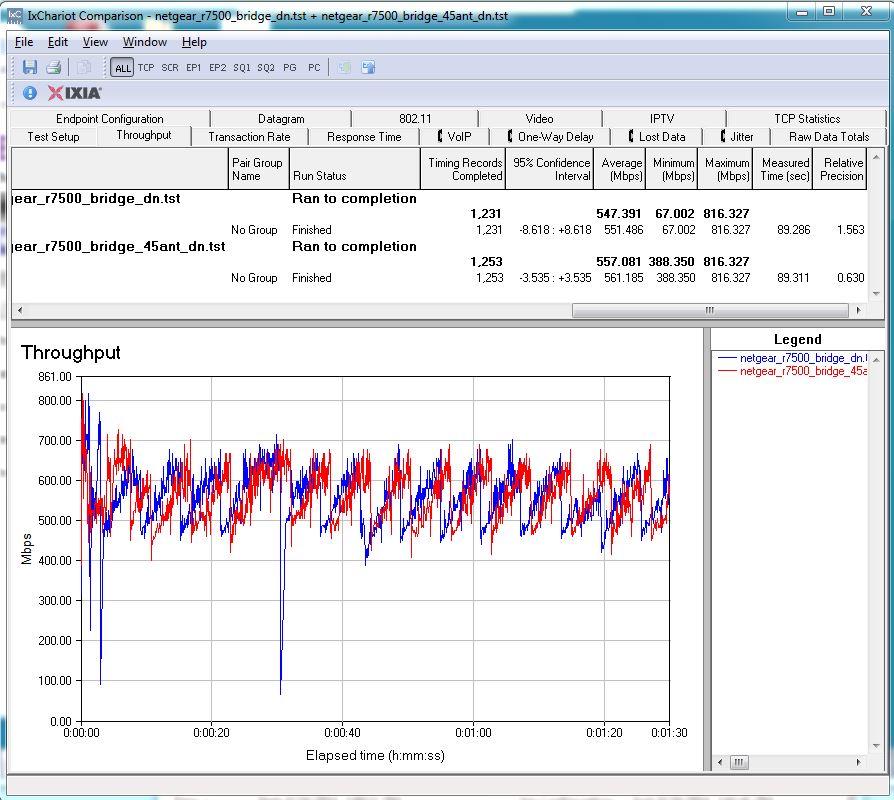 NETGEAR R7500 four stream downlink throughput
Uplink also showed little difference.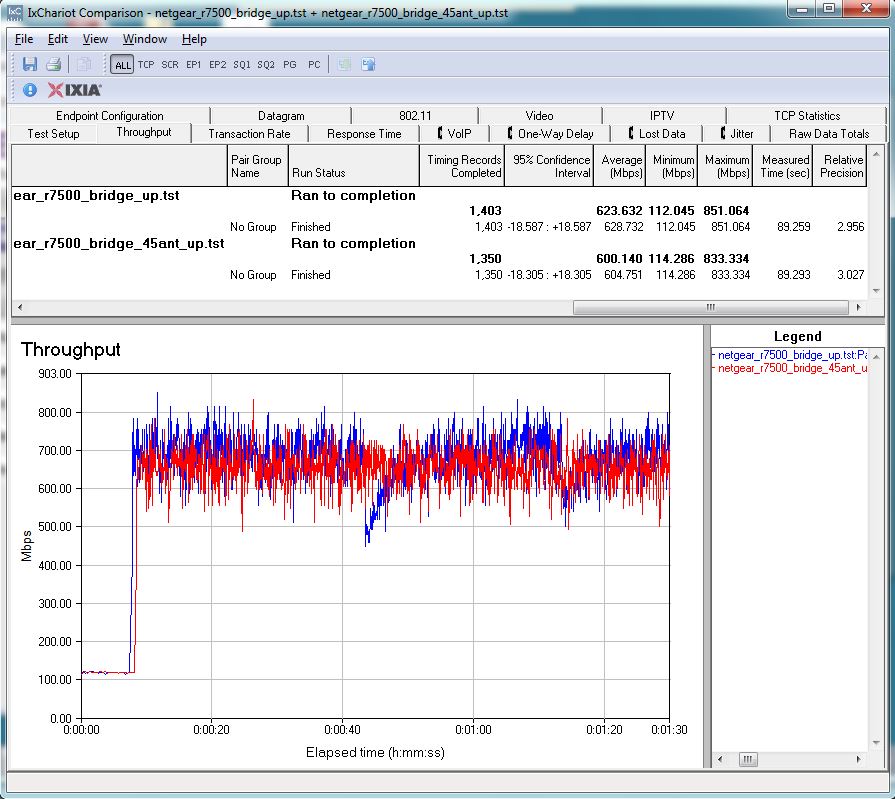 NETGEAR R7500 four stream uplink throughput
I also ran simultaneous uplink/downlink tests for each antenna position. The overlaid plots are a bit busy, but I think you can catch the gist. Total throughput in each case was about the same. Note this test was run for three minutes.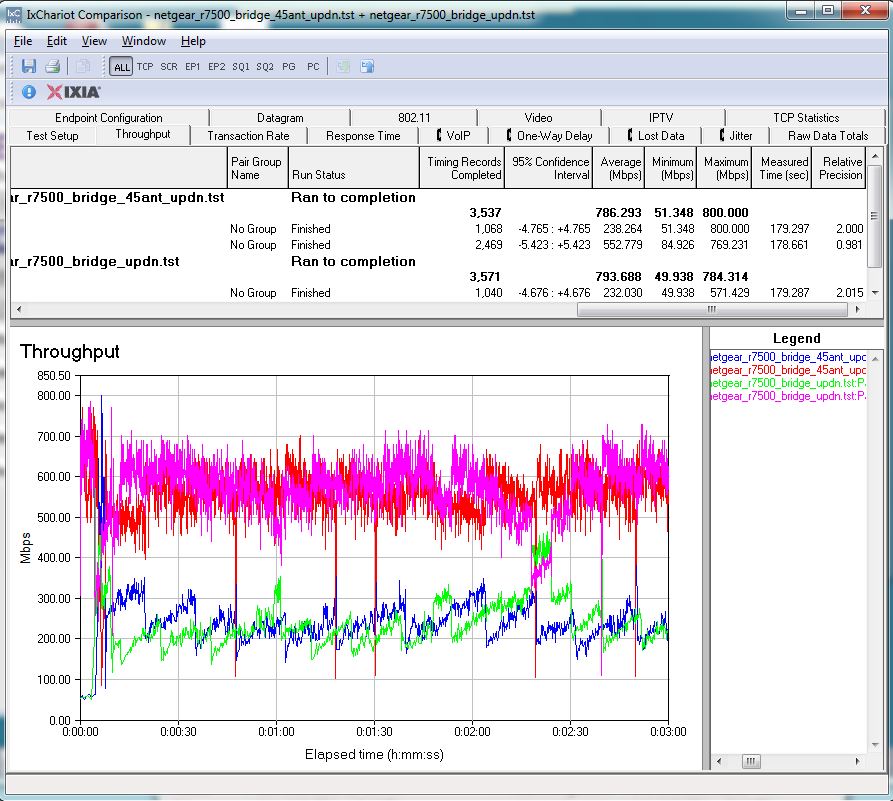 NETGEAR R7500 four stream simultaneous up/down throughput
Because I changed test conditions, I went back and retested the ASUS RT-AC87U pair. I didn't upgrade firmware, leaving the 3.0.0.4.376_2061 firmware used in the previous test loaded. The comparison downlink plot shows both products with cyclical throughput variation. But the ASUS appears to have less and delivers 766 Mbps average throughput vs. the R7500's 547 Mbps.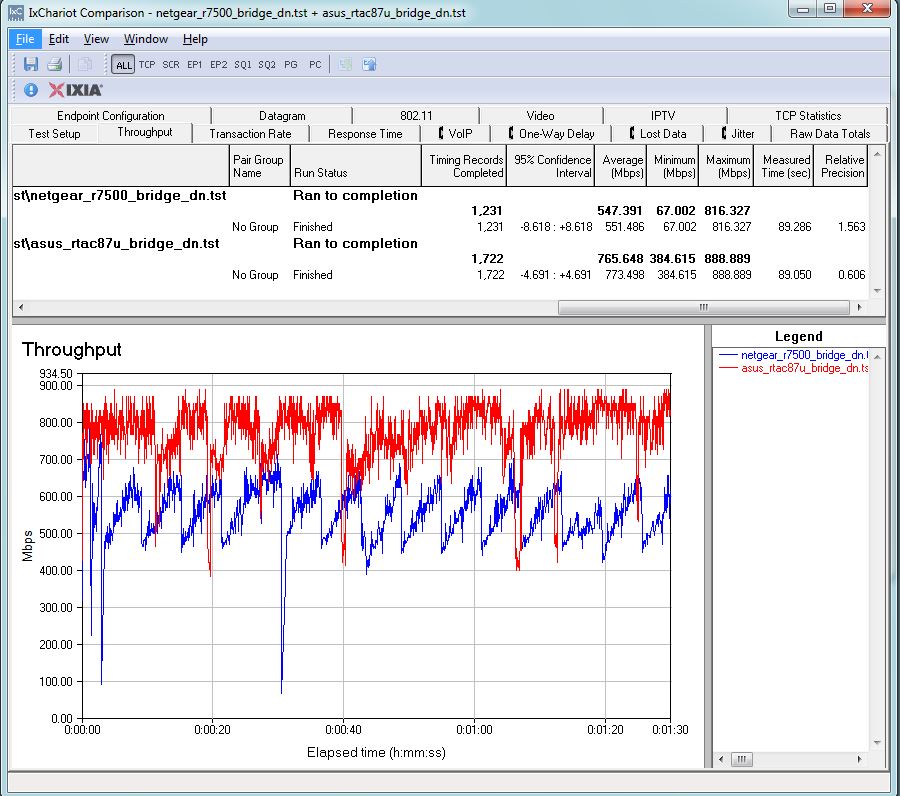 NETGEAR R7500 & ASUS RT-AC87U four stream downlink throughput
The tables turn in the uplink comparison, with the NETGEAR averaging 624 Mbps vs. the ASUS' 444 Mbps.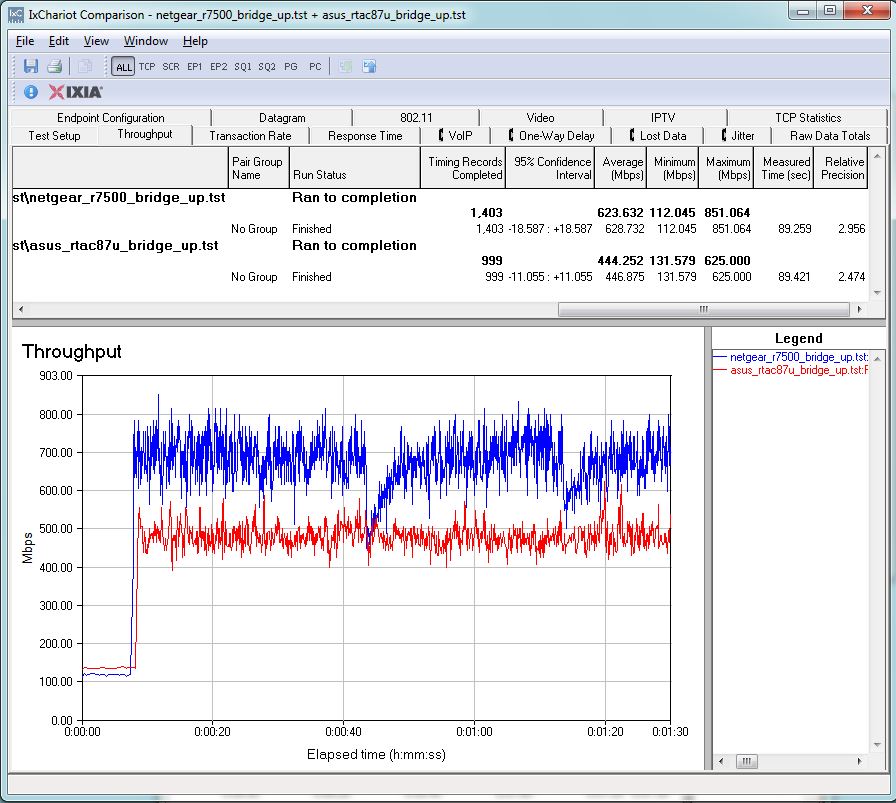 NETGEAR R7500 & ASUS RT-AC87U four stream uplink throughput
Composite up/downlink comparison plots were too busy, so I separated them out. Here's the ASUS, producing 871 Mbps of total throughput.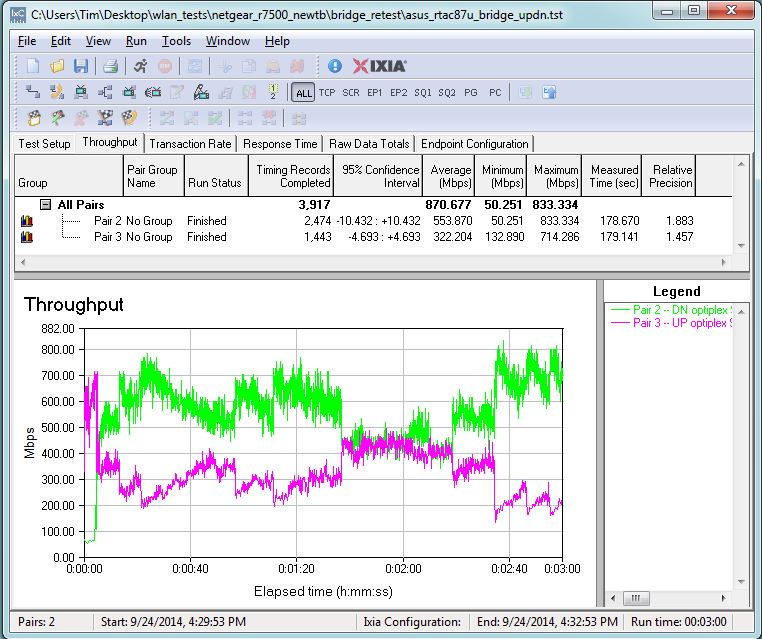 ASUS RT-AC87U four stream up/downlink throughput
And here's the straight-up antenna only plot for the R7500, coming in at 794 Mbps.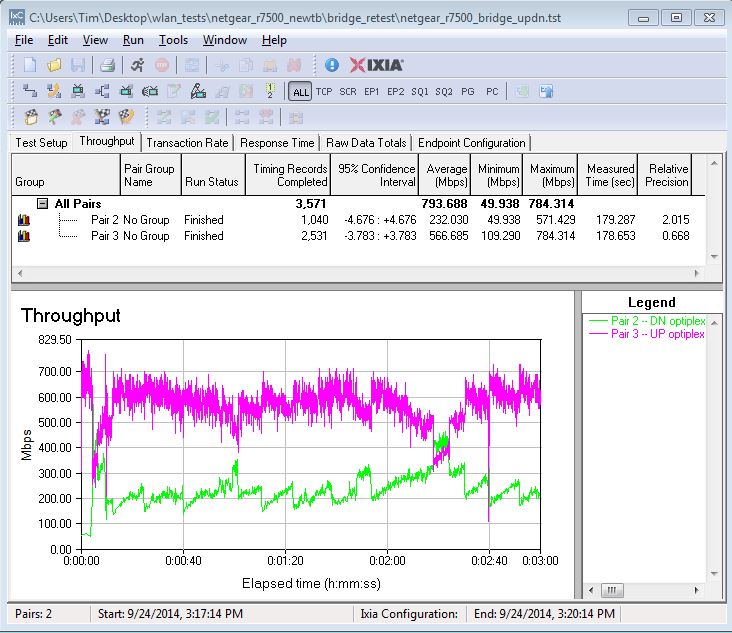 NETGEAR R7500 four stream up/downlink throughput – straight antennas
I monitored link rates during these tests and saw mostly 1300 and 1170 Mbps during downlink. I managed to spy a few 1560 Mbps link rates on uplink, confirming that a 4×4 link really was in play. For the ASUS, I was surprised to commonly see 1560 Mbps on both up and downlink and even—gasp—the fabled 1733 Mbps a few times! But if you're expecting to see a solid 1733 Mbps link rate from a pair of these puppies in normal use, I'd say you are dreaming. Even with signal levels in the -30 dBM range, both products, the NETGEAR particularly, had a hard time maintaining four-stream link rates.
Closing Thoughts
I guess I'm going to have to do some comparative testing with AC adapters like the tests recently run with N (Does An AC Router Improve N Device Performance?) to convince people they are throwing money away on 4×4 routers at this point. This time I have evidence, via the above-linked article, that in only one case did the ASUS RT-AC87U produce the most improvement. Your most cost effective bet for moving up to AC right now is an AC1750 or AC1900 class router, which cost at least $100 less.
If you're buying a 4×4 because you believe MU-MIMO will solve your busy WLAN problems, don't hold your breath. NETGEAR was very vague on its MU-MIMO plans with no timeframe mentioned. Last word from ASUS was that it would be shipping its EA-AC87 bridge / AP and enabling MU-MIMO about now. But after very open communication with ASUS during the AC87's launch, lines have again gone dark.
If you simply must step up to an AC2350 class router, the wireless performance-based choice is easy, with ASUS' RT-AC87U/R the better of the two. But if making the most of the bandwidth you get from an overtaxed 10 Mbps or so DSL connection is a priority, the R7500's Qualcomm Streamboost based "Dynamic QoS" is likely the better bet than ASUS' Trend Micro-based "Adaptive QoS". Streamboost has a few years field experience on it at this point, while Trend Micro's DPI engine is still new.
But if it were my money, I'd still buy neither one.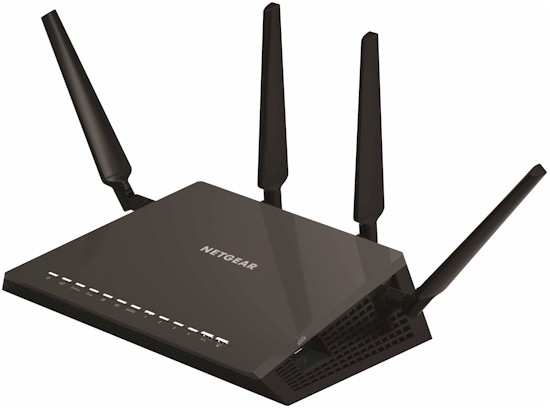 Buy Nighthawk X4 Smart WiFi Router from Amazon