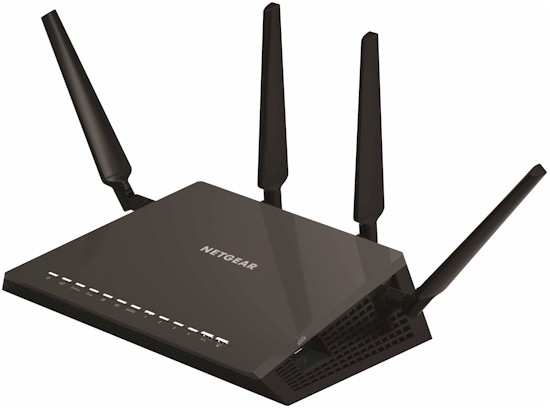 At a glance
Product
NETGEAR Nighthawk X4 Smart WiFi Router V2 (R7500v2) [Website]
Summary
Redesigned all QCA 4×4 router with Gigabit Ethernet ports, USB 3.0 and eSATA storage and printer sharing and working MU-MIMO.
Pros
• USB 3.0 (x2) and eSATA (1) ports
• MU-MIMO support
• OpenVPN support
• Open source support
Cons
• Not AC2600, 2.4 GHz radio is 3×3
Typical Price: $215 Buy From Amazon
Introduction
Updated 3/29/16 MU-MIMO performance retested
Updated 3/21/16 – RAM size corrected
It's been just over a year since we reviewed NETGEAR's Nighthawk X4 AC2350 Smart WiFi Router. Like all other first generation 4X4 AC2350 / AC2400 class routers, the NETGEAR R7500 used Quantenna's QSR1000 5 GHz 4X4 "MU-MIMO ready" radio, which remains "ready". Firmware enabling MU-MIMO has yet to be publicly released for any Quantenna-based product.
In the meantime, consumer router makers have moved on to produce a second round of 4×4 routers, using chipsets from Qualcomm Atheros (QCA) and more recently, Broadcom, now Avago. QCA-based products created the AC2600 class, using the same 4×4 QCA device for both 2.4 and 5 GHz. This bumps the 2.4 GHz maximum link rate to 800 Mbps, which added to the 1733 Mbps 5 GHz maximum equals 2533 Mbps total, which has been rounded to a nice, even 2600 Mbps.
Although it supports MU-MIMO, the R7500v2 remains an AC2350 class router because it continues to support 600 Mbps on the 2.4 GHz band. As such, it is a bit of an oddball, being the only AC2350 class router with working MU-MIMO.
NETGEAR doesn't make it easy to get your hands on a MU-MIMO version of the R7500. It doesn't have a separate SKU and v1's have not all "sold through" as this review is written. So if you buy online, you'll just have to see what you get. If you buy in a store, however, you'll need to look carefully at the shield-shaped badge on the box front. A helpful SNBForums member posted the image below, which has been enhanced to make it obvious what to look for, i.e. "Now with MU-MIMO".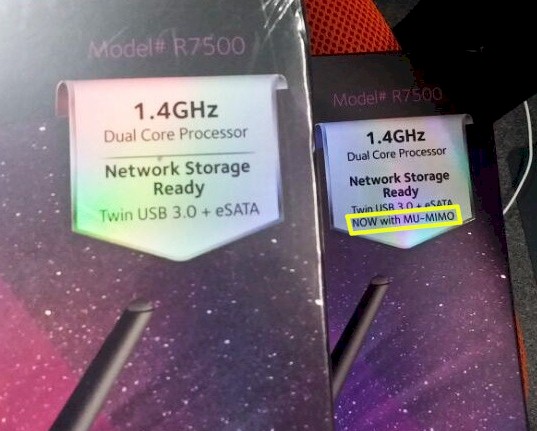 Telling the R7500 V1 and V2 apart
Inside
The R7500v2 catches up with the other routers – all of them AC2600 class – that have implemented MU-MIMO by using the second generation Qualcomm QCA9980 4-stream 802.11ac MU-MIMO radio on the 5 GHz band. But NETGEAR chose to stay with the same QCA9880 3-stream 802.11ac radio used in the original R7500 on the 2.4 GHz side.
While this gives the R7500v2 the marketing disadvantage of being a lower class number, it makes no practical difference vis-a-vis AC2600 class routers. The only difference between the two classes is the AC2600's 4×4 2.4 GHz radio. Since most devices connecting to routers are 1×1 or 2×2, they can't take advantage of one extra stream, let alone two, anyway.
Here's what the top of the v2 board looks like. 5 GHz radio is at top left; 2.4 GHz bottom left. Note the fourth amplifier is not loaded on the 2.4 GHz radio.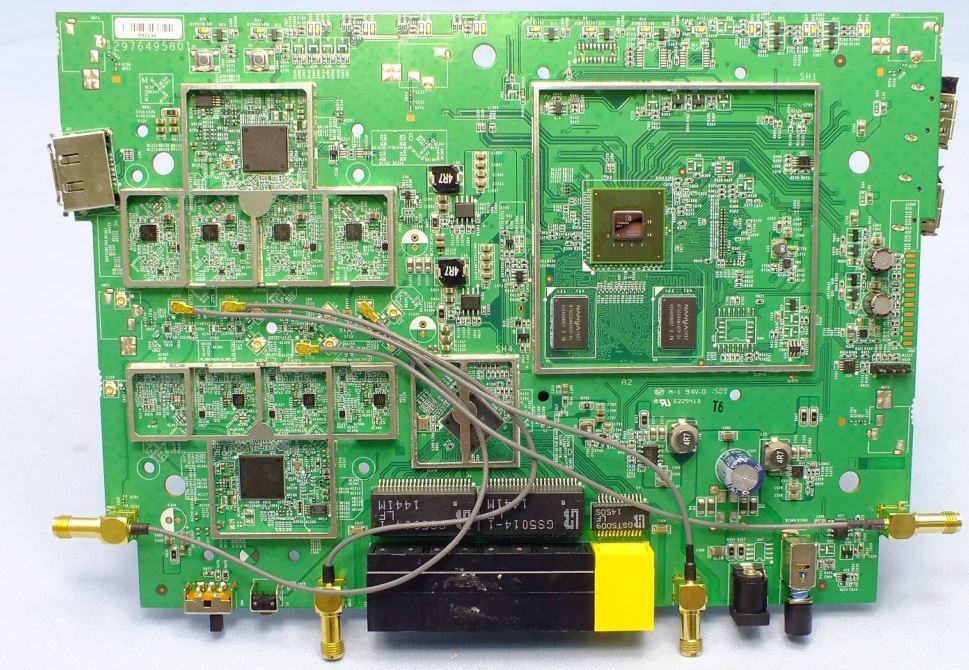 NETGEAR R7500v2 board top
Here's the v1 board with Quantenna 5 GHz radio for comparison. Both photos have RF can tops removed. Thermal pads on the can tops connect to a large heatsink plate attached to the top cover on both versions.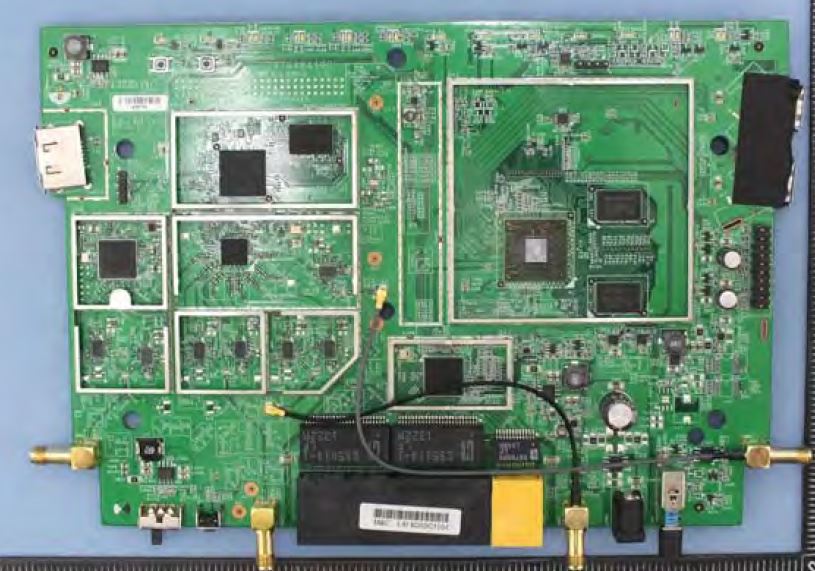 NETGEAR R7500v1 board top
Here's the v2 bottom side with 128 MB of flash.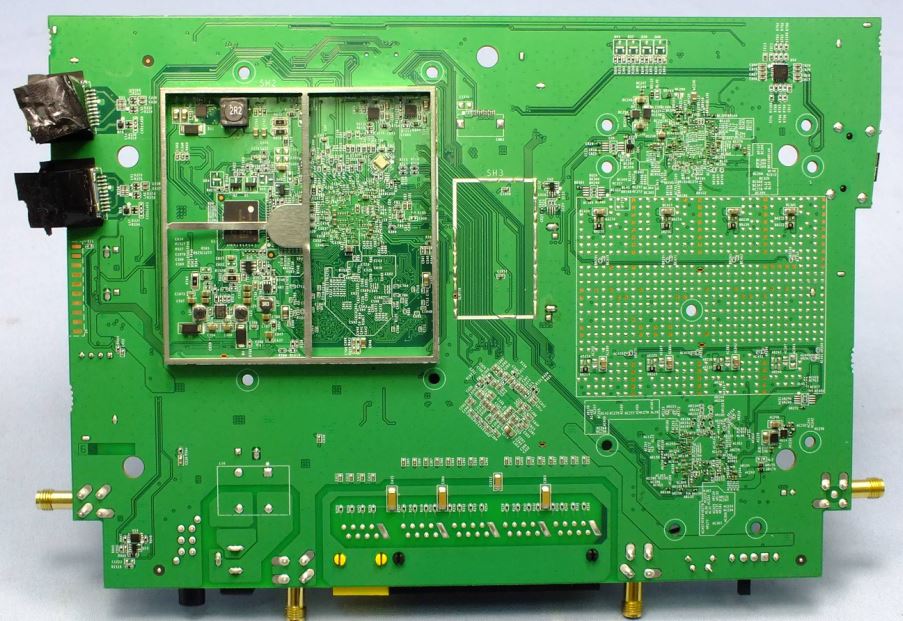 NETGEAR R7500v2 board bottom
And the v1 bottom.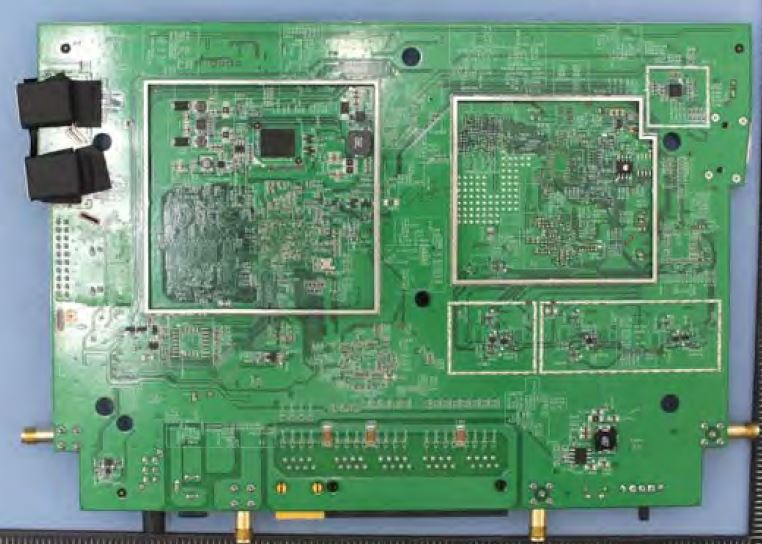 NETGEAR R7500v1 board bottom
Table 1 below summarizes the key components of the NETGEAR R7500v2 plus R7500v1, ASUS RT-AC87U and TP-LINK Archer C2600 I'll be using as comparison products later.
Updated 3/21/16
NOTE: NETGEAR increased RAM capacity to 512 MB after FCC sample submission.
NETGEAR R7500v2
NETGEAR R7500v1
ASUS RT-AC87U
TP-LINK Archer C 2600
CPU
Qualcomm dual-core IPQ8064 Internet Processor @ 1.4 GHz
Qualcomm dual-core IPQ8064 Internet Processor @ 1.4 GHz
Broadcom BCM4709A
Qualcomm dual-core IPQ8064 Internet Processor @ 1.4 GHz
Switch
Qualcomm Atheros QCA8337
Qualcomm Atheros QCA8337
in BCM4709A
Qualcomm Atheros QCA8337
RAM
512 MB 256 MB
256 MB
256 MB
256 MB
Flash
128 MB
128 MB
128 MB
32 MB
2.4 GHZ Radio
– QCA9880 3-stream 802.11ac radio solution
– QCA9880 3-stream 802.11ac radio solution
– Broadcom BCM4360 (3×3 ac)
– QCA9980 4-stream 802.11ac MU-MIMO radio
-Skyworks SE2623L 2.4 GHz power amp (x4)
5 GHz Radio
– QCA9980 4-stream 802.11ac MU-MIMO radio
– Quantenna QSR1000 (4×4 ac)
– Quantenna QSR1000 (4×4 ac)
– QCA9980 4-stream 802.11ac MU-MIMO radio
-Skyworks 85405 5 GHz power amp (x4)
Table 1: Key components summary and comparison
Features
The features of the NETGEAR R7500v2 are the same as the original R7500, so if you are interested, please refer to that review. There have been a few tweaks on the UI, so I've included a screenshot of the landing page from the R7500v2.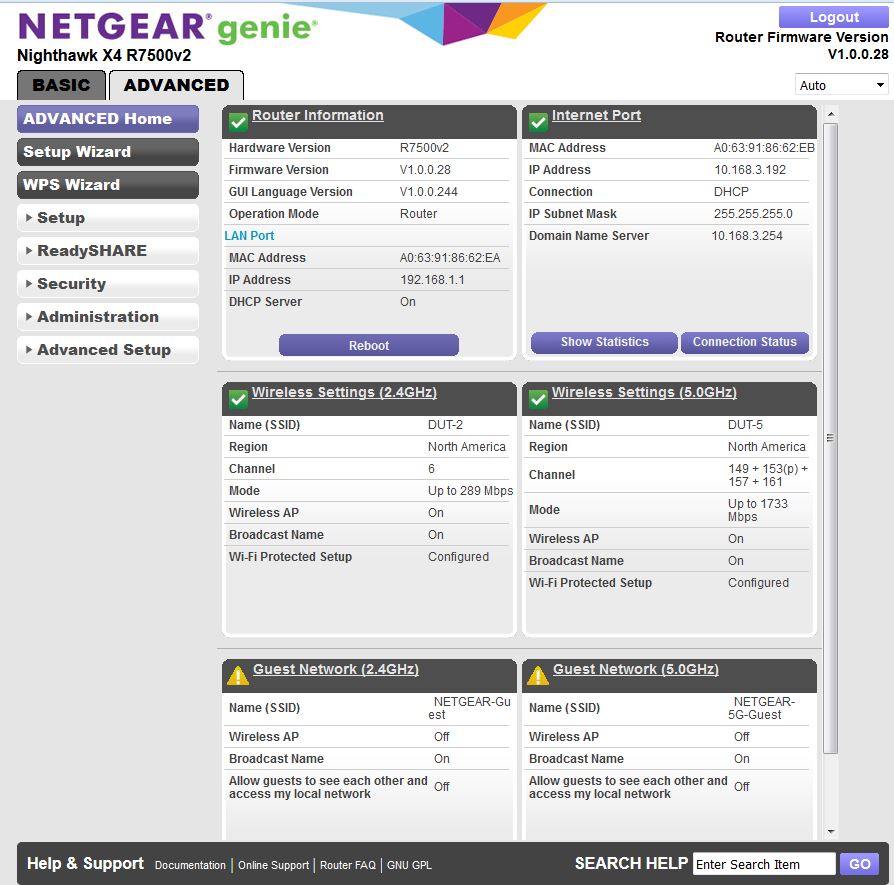 NETGEAR R7500v2 Advanced landing page
Storage Performance
The summary graphic below from the Router Charts shows all 4×4 routers—both AC2350 / 2400 and AC2600—tested with our standard procedure with USB 3.0 connections and NTFS drive format.
In our most recent review of the TP-LINK Archer C2600, the Linksys EA8500 and topped the charts for both NTFS write and NTFS read. However, for NTFS write, the NETGEAR R7500v2 edged past the Linksys for top-of-the-charts bragging rights. For NTFS read, the Linksys EA8500 remained on top with the R7500v2 trailing even its Version 1 sibling.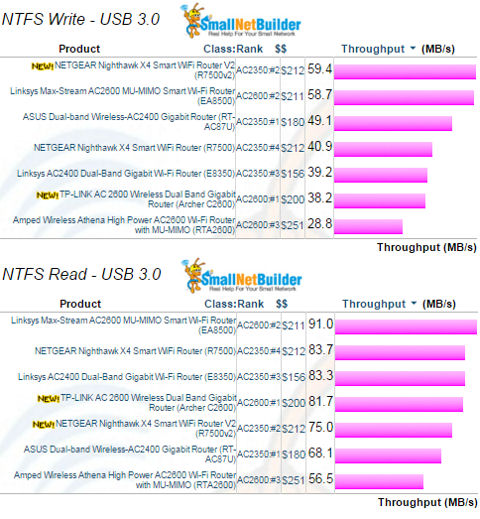 Storage Performance Comparison – USB 3.0 / NTFS
Routing Performance
Routing throughput was measured using our standard router test process with the NETGEAR R7500v2 router loaded with v1.0.0.28 firmware. Table 2 summarizes the results and compares them to the same other three routers in the key component summary above. The R7500v1 had the highest simultaneous throughput and all routers supported over 30,000 connections. We consider anything over 30,000 connections as equal for ranking purposes. In terms of real-world performance, you probably wouldn't notice any difference in routing performance for these four routers.
| Test Description | NETGEAR R7500v2 | NETGEAR R7500 | ASUS RT-AC87U | TP-LINK C2600 |
| --- | --- | --- | --- | --- |
| WAN-LAN (Mbps) | 762 | 750 | 787 | 757 |
| LAN-WAN (Mbps) | 799 | 814 | 808 | 800 |
| Total Simultaneous (Mbps) | 1454 | 1502 | 1392 | 1416 |
| Maximum Simultaneous Connections | 39189 | 42122 | 36805 | 31,784 |
| Firmware Version | v1.0.0.28 | v1.0.0.52 | 3.0.0.4.376_2061 | 1.1.2 Build 20150924 Rel. 66045 |
Table 2: Comparative routing performance
For the unidirectional tests the IxChariot chart below shows steady throughput but with the LAN-WAN (Uplink) having slightly better through put than the WAN-LAN (downlink). As we have noted in previous reviews, higher uplink throughput is usually observed in this test and is a quirk of the test process, not a reflection of router performance.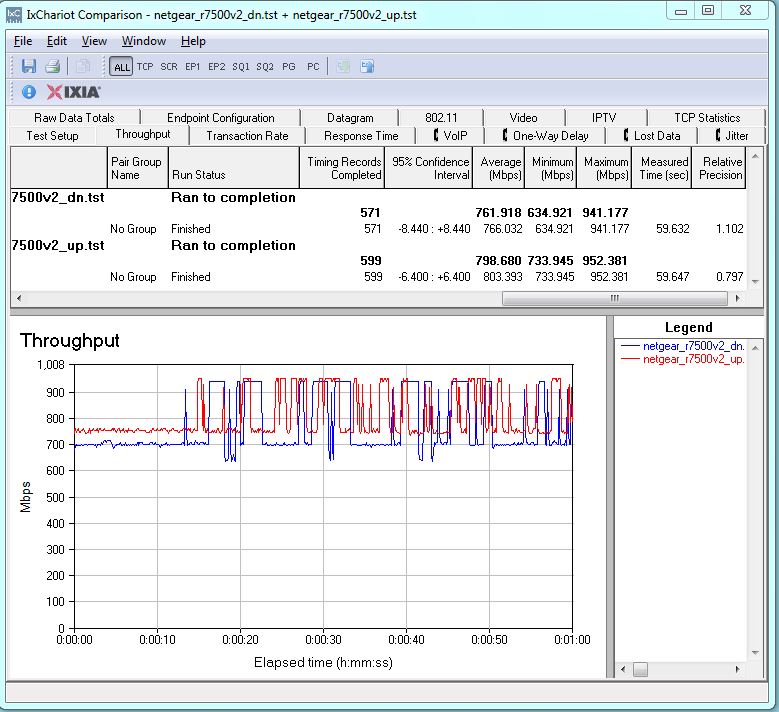 NETGEAR R7500v2 routing throughput unidirectional summary
As with the previous uplink and downlink tests, in the bidirectional tests, both uplink and downlink test pairs showed very steady throughput. Again, the Uplink pair (red) had significantly higher throughput as well as less variation as shown in the difference in the 95% confidence interval column.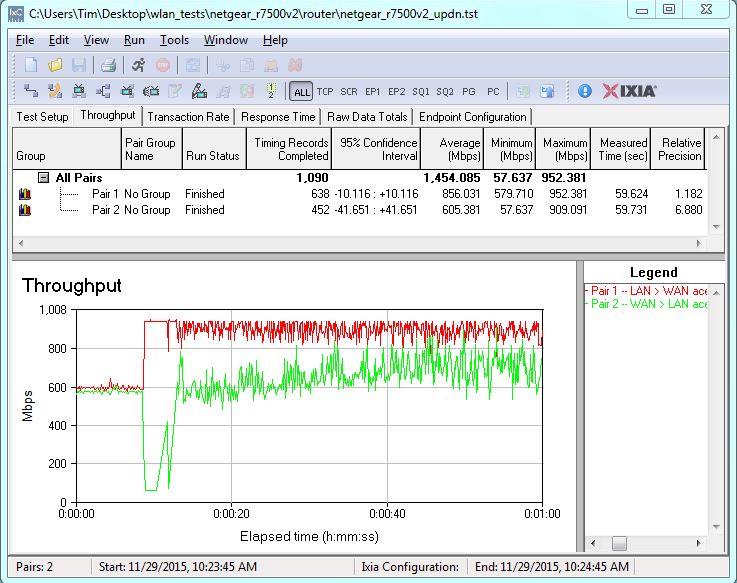 NETGEAR R7500v2 routing throughput bidirectional summary
Wireless Performance
The NETGEAR R7500v2 was tested using our Version 8 Wireless test process with v1.0.0.28 firmware loaded. Our standard practice is to center the router under the test antennas on the turntable, both front-to-back and side-to-side in the chamber. This method is intended to keep maximum distance between the router under test and chamber antennas as the router rotates during test. The photo below shows the R7500v2 in position in the test chamber.
NETGEAR R7500v2 in test chamber
The Benchmark Summary below shows the average of throughput measurements made over the tested attenuation range. We'll drill down on the wireless performance in the Throughput vs. Attenuation charts next.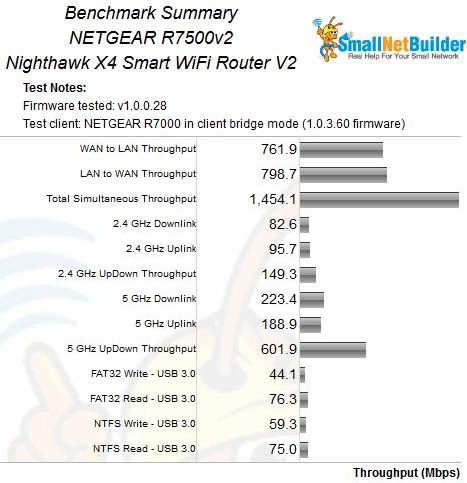 NETGEAR R7500v2 Benchmark Summary
Our throughput vs. attenuation plots compare the NETGEAR R7500v2 with the R7500v1, ASUS RT-AC87U and TP-LINK Archer C2600. As noted earlier, it's fair to compare AC2350 and AC2400 class routers because we use an AC1900 class test device.
For 2.4 GHz downlink, the ASUS RT-AC87U, with the exception at 0 dB of attenuation, outperformed the other routers throughout virtually the entire range. Note that the ASUS is the top-ranked AC2350 class router and the TP-LINK is the top-ranked AC2600 router. Note also, the ASUS does not support MU-MIMO.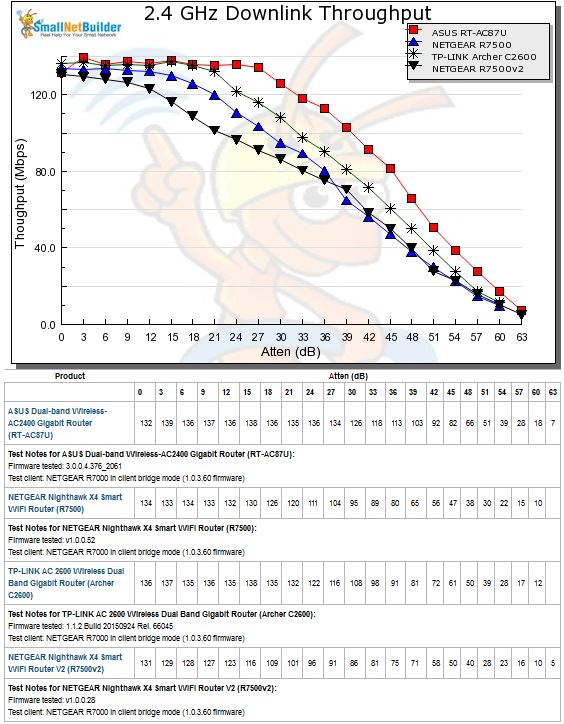 2.4 GHz Downlink Throughput vs. Attenuation
For 2.4 GHz Uplink, the TP-LINK C2600 started out with a clear advantage at lower levels of attenuation but joined the rest of the routers at about 24 dB of attenuation. The original NETGEAR R7500 had slightly lower throughput than the other three routers starting at about 24 dB and continuing to the end of its range.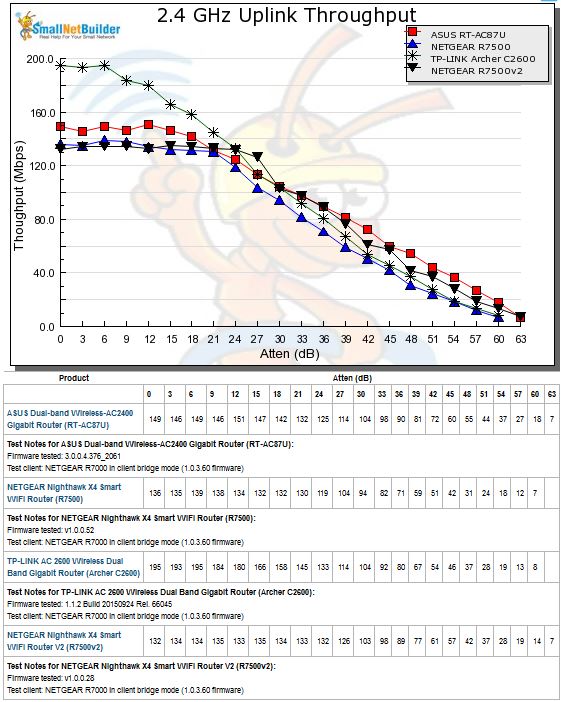 2.4 GHz Uplink Throughput vs. Attenuation
For 5 GHz downlink, the TP-LINK C2600 and the NETGEAR R7500v2 both started with a throughput advantage a lower levels of attenuation (stronger signals) up to about 12 dB. The routers tracked each other fairly well throughout the mid range with the original R7500 dropping below the others at 21 dB of attenuation. The original R7500 was also the first to lose connection at 36 dB.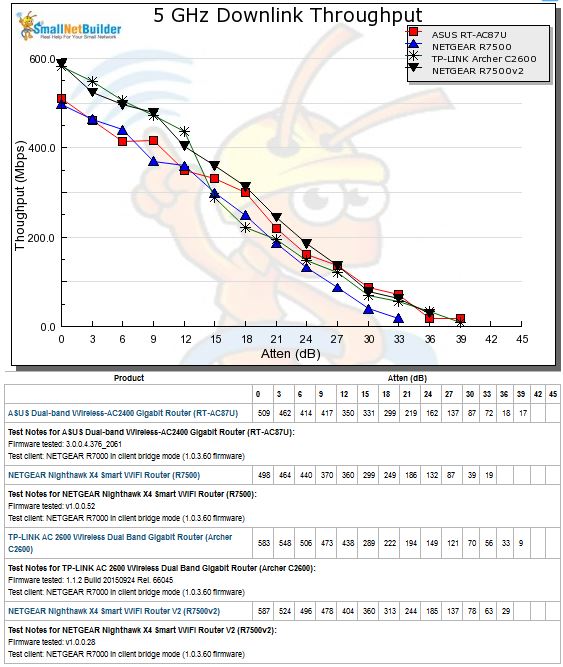 5 GHz Downlink Throughput vs. Attenuation
For 5 GHz uplink, the original R7500 had the lowest throughput starting at 6 dB of attenuation and remained the lowest through the test range. As with the downlink tests, the original R7500 was again the first to lose connection and it tracked significantly lower than the other three routers.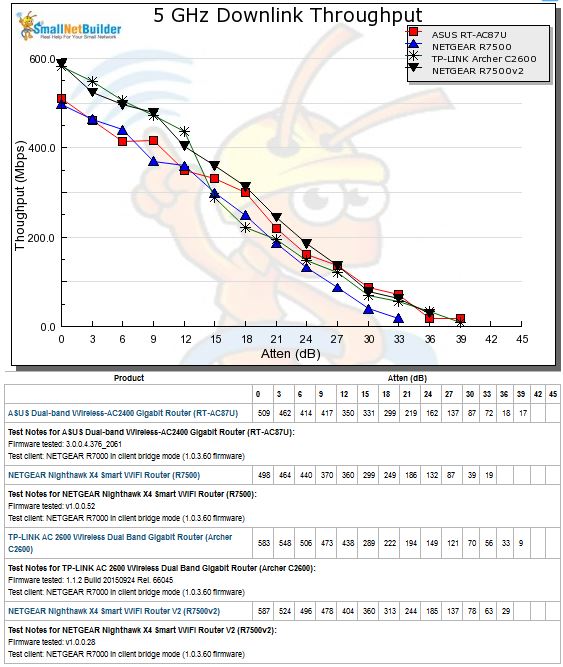 5 GHz Uplink Throughput vs. Attenuation
Four Stream Performance

NETGEAR supplied two R7500v2s so 4×4 throughput could be tested. The pair were set up in open air, approximately eight feet apart, one as a normal router and the other in wireless bridge mode. The in-house 5 GHz network was idle and only beaconing (no traffic). Channel was set to 153, bandwidth mode was in its default 80 MHz mode and everything else was set to defaults, including MU-MIMO enabled. Given the 4×4-to-4×4 nature of the link, MU-MIMO doesn't come into play.
Only one computer was connected via Gigabit Ethernet at each end of the bridge. Baseline tests using Ethernet between the two computers both equipped with TP-LINK TG-3468 NICs show the Ethernet link capable of a bit over 940 Mbps in both directions with each direction run separately. So the hardwired part of the link shouldn't be a limiting factor. We have yet to observe any 4×4 router hitting its maximum specified link rate in these bridge tests. The highest link rate reported by the router in bridge mode was 1559 Mbps (vs. the specified maximum of 1733 Mbps).
The Simultaneous up and downlink tests yielded 950 Mbps total throughput with a little less than 2-to-1 difference between down and uplink throughput as the ixChairot plot shows. The TP-LINK Archer C2600 produced 798 Mbps for its 4×4 test, with its downlink throughput about 2X uplink.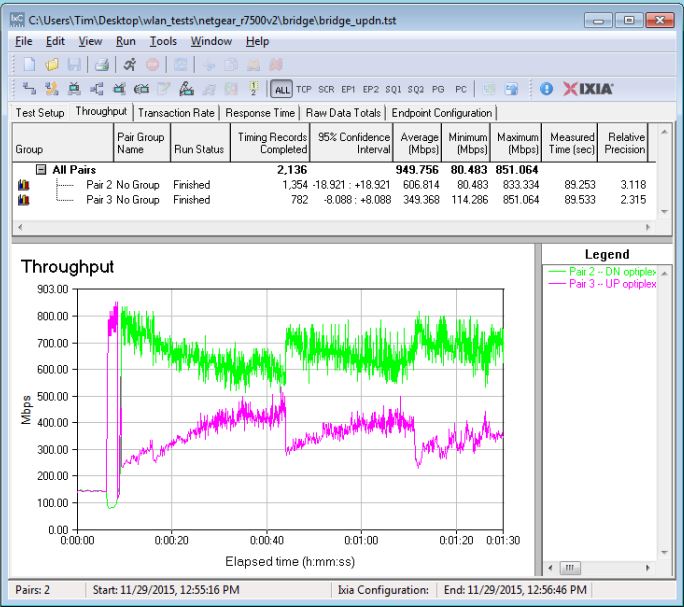 NETGEAR R7500v2 four stream throughput – simultaneous up/downlink
Separate up and downlink tests for the R7500v2 yielded 780 Mbps uplink and 843 Mbps downlink vs. 652 Mbps uplink and 730 Mbps downlink for the TP-LINK. The composite plot shows very consistent througput in each direction.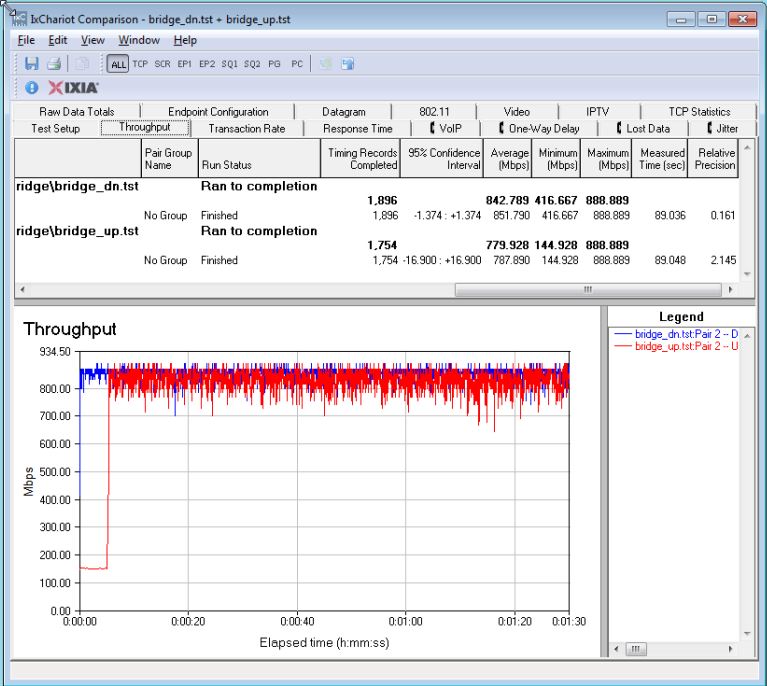 NETGEAR R7500v2 four stream throughput – up and downlink
A second pair of clients was plugged into the router and bridge to see if a second connection pair would yield higher throughput and to ensure that the single Gigabit Ethernet connection was not limiting results. The plot shows a total 1130 Mbps throughput, about 19% more than the single-pair simultaneous uplink / downlink test above. It also shows throughput not evenly distributed.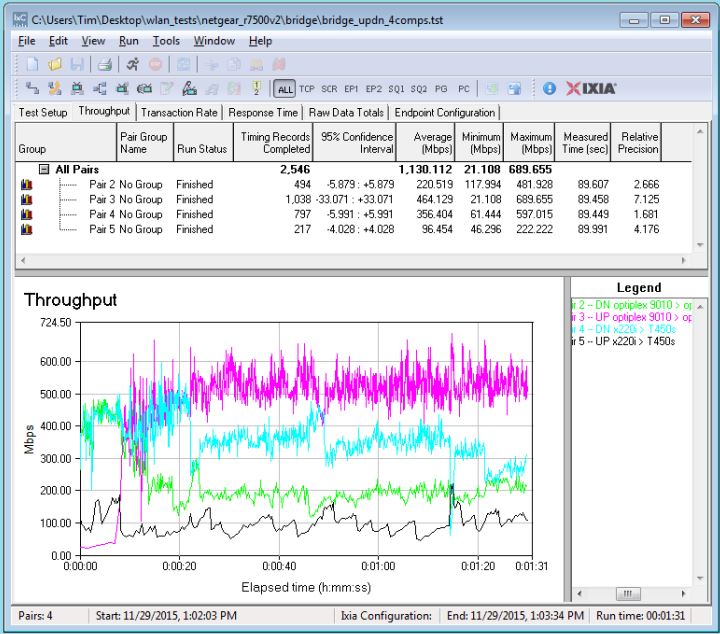 NETGEAR R7500v2 four stream throughput – simultaneous up/downlink, four computers
MU-MIMO Performance
The same test procedure, most recently described in the TP-LINK Archer C2600 review, has been used to test all MU-MIMO enabled routers. The same three Xiaomi Mi Note Pro smartphones used in that review were used to test the R7500v2.
Triangle
The first test used the triangle configuration, with about 6 feet between the router and each phone. This arrangement is intended to maximize the router's ability to get optimum beamforming for each client by maximizing client-to-client separation at short range. Simply put, the better the beamforming, the better throughput to each client can be optimized.
Due to test space limitations, positions were one client in front, one in back and one on the right side (facing router front). All were about 6 feet from the router.
The chart below shows throughput difference between MU-MIMO disabled and enabled for each client and for all three total. Throughput significantly improved for each client, with a total overall throughput gain just over 100% (slightly over twice as fast). While the percent change on the TP-LINK C2600 was just shy of 200%, the R7500v2 had a total throughput of 533 Mbps with MU-MIMO enabled compared to the TP-LINK's 391 Mbps.
MU-MIMO Throughput change – Triangle
All Front
The "All Front" test is meant to be a MU-MIMO torture test because it minimizes client-to-client distance. When clients are close together, it should be more difficult to optimize beamforming for each client.
The test positions all three devices on a rack in front of the router about 6 feet away. This doesn't look like much of a torture test, with higher individual and total throughput gain than the "ideal" triangle arrangement. Total throughput gain was only 65% compared to testing with MU-MIMO off. The corresponding test for the TP-LINK yielded a 330% change, but that's primarily due to the higher throughput achieved by the R7500v2 – both with MU-MIMO on and off. The R7500v2 also had significantly better performance with MU-MIMO off than the TP-LINK, so percentage gains were lower.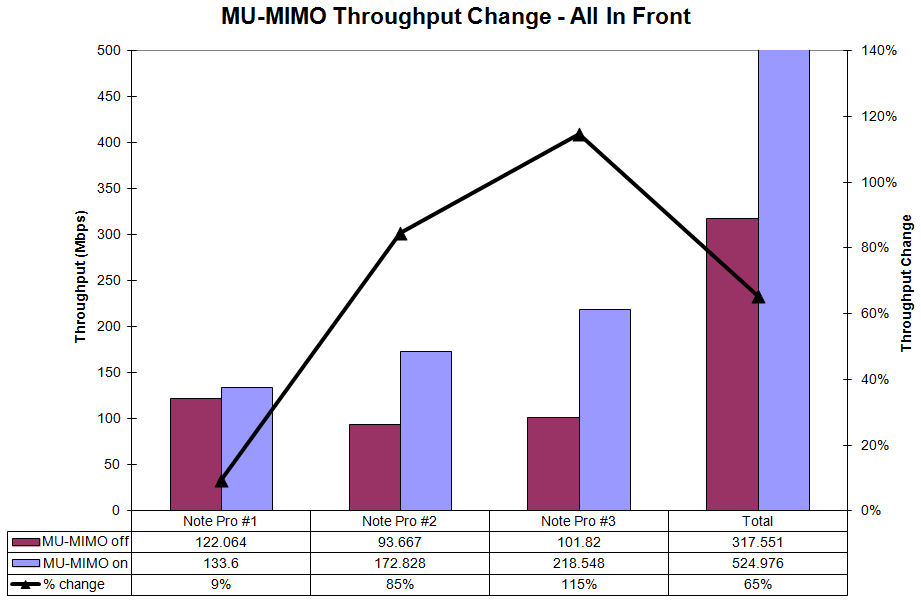 MU-MIMO Throughput change – All Front
Three Room
The last test looks at how MU-MIMO might work in a more real-world home situation with devices in different rooms. This test kept one phone on the rack in the same room as the router, the second phone moved to a nearby bedroom about 25 feet and a few sheetrock walls away and the third located on a table at the far end of an adjacent hallway.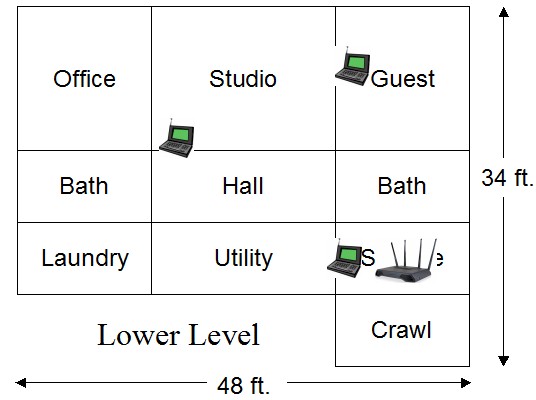 MU-MIMO 3 Room test floorplan
In this test, MU-MIMO provided only 20% throughput gain. In the "Guest" location, better throughput was achieved with MU-MIMO off than with it enabled. By comparison, the TP-LINK showed throughput improvement in each room with a total throughput change of 200% for this test. Note the individual room throughputs with MU-MIMO disabled on the TP-LINK C2600 were significantly lower than the corresponding MU-MIMO off tests on the R7500v2.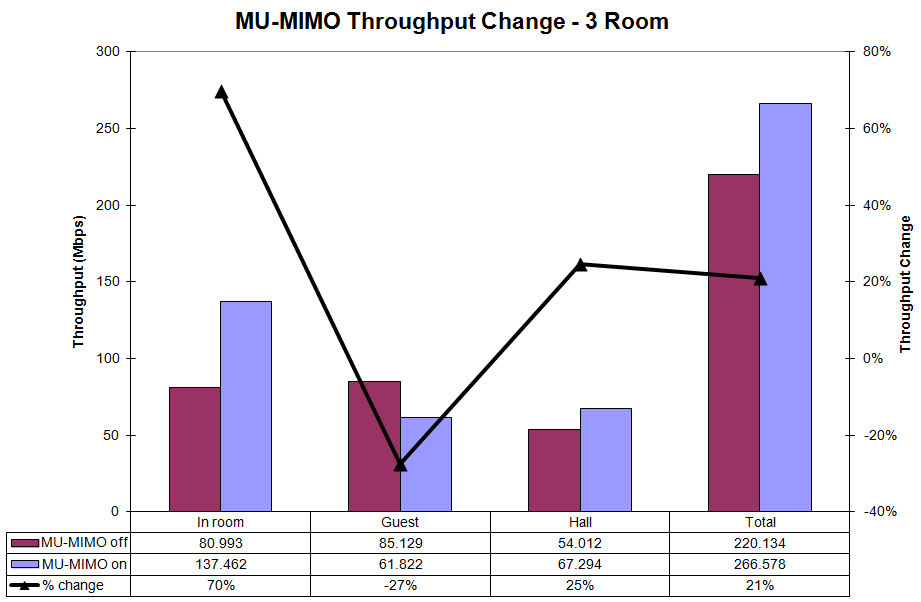 MU-MIMO Throughput change – Three Room
More Connections Per Client
Qualcomm says MU-MIMO throughput improvement is even better with multiple connections per client, as might happen when your web browser launches a lot of simultaneous connections in its effort to quickly render a page. The three test scenarios were rerun with three connections per client.
The results show more modest overall throughput gains. But all clients and connections showed higher throughput with MU-MIMO enabled. Some gains were as low at 8%. The "ideal" triangle configuration yielded only a modest 73% total throughput gain.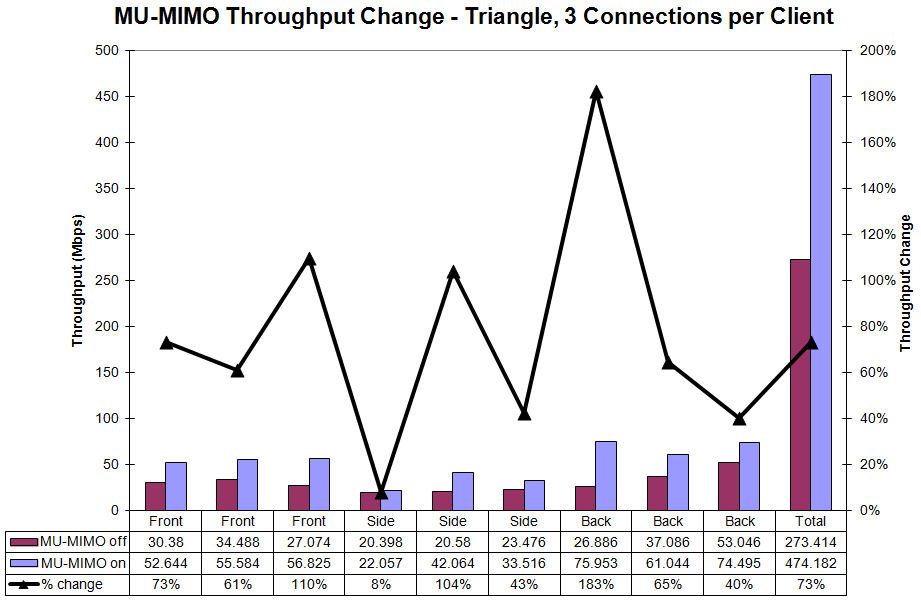 MU-MIMO Throughput change – Triangle – 3 connections / client
The "torture test" All Front configuration a total throughput improvement of 99%, but each client had better performance with MU-MIMO enabled that with it disabled. The range on the % change, however, ranged from a low of 10% to a high of 272%.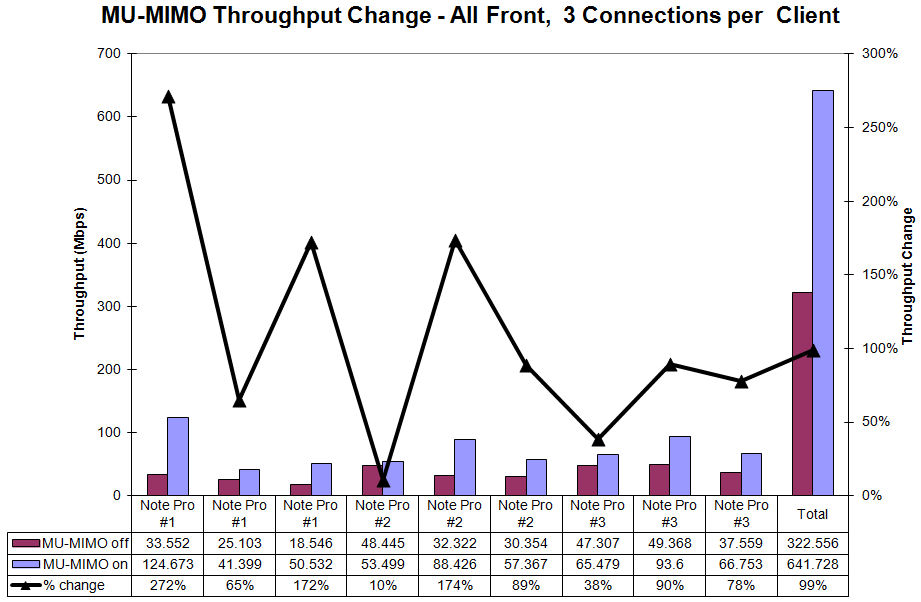 MU-MIMO Throughput change – All Front – 3 connections / client
The three room test with three clients turned in some fairly unexpected results. The only location that showed gains with MU-MIMO enabled was the "In Room" location where the signal strength was the strongest. In each of the other two locations, all three of the clients actually had poorer throughput with MU-MIMO enabled than with it disabled.
In total, the MU-MIMO results eked out a negligible 7% throughput change only because there were significant gains from the three in-room clients. This is particularly disturbing, since the three room test with weaker signal strengths is probably closer to what you'd see in real world use. Since we know that the technology works from at least other manufacturer's implementation, we're left to question what's happening in NETGEAR's implementation.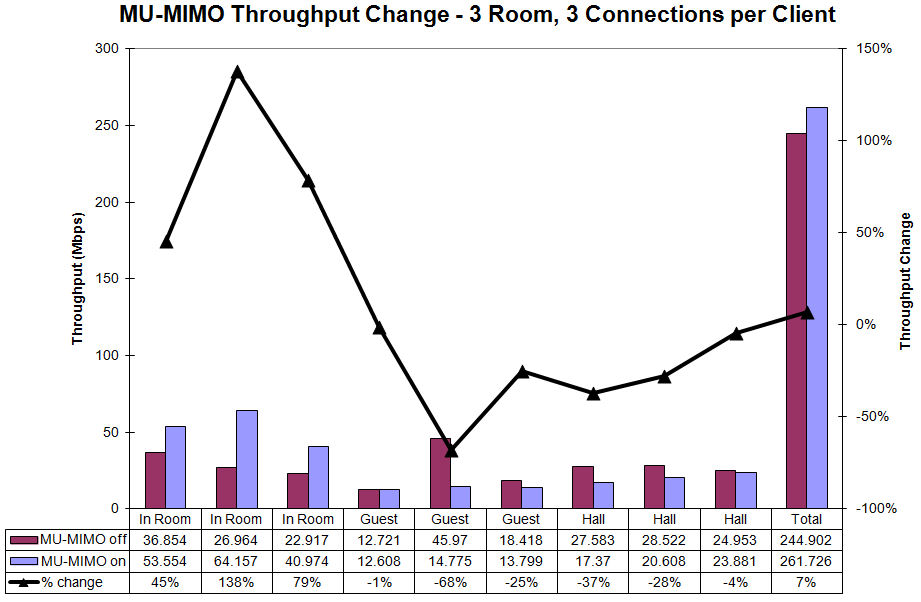 NETGEAR R7500v2 MU-MIMO Throughput change – 3 room – 3 connections / client
For comparison, here's the same 3 room – 3 connections / client chart for the TP-LINK Archer C2600. Notice how that for each client in each location performance improves with MU-MIMO enabled, and the total throughput change is 147%.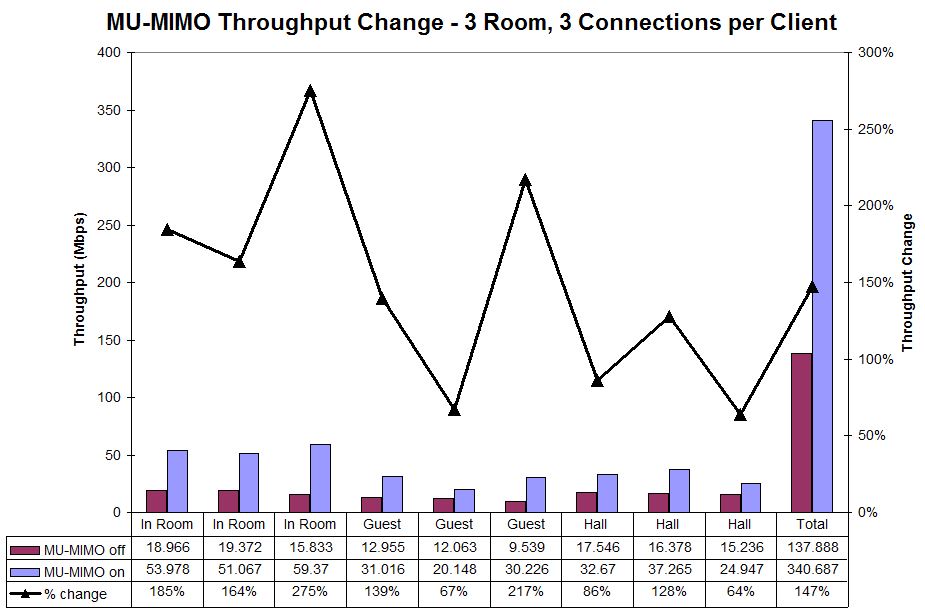 TP-LINK Archer C2600 MU-MIMO Throughput change – 3 room – 3 connections / client
NETGEAR isn't alone in terms of problems on the three room tests. The composite image below shows the 3 room chart for the Linksys EA8500 (left) and the Amped Wireless RTA2600. Note that for the Linksys EA8500, the 3 room test was only performed with a single client as it was the first MU-MIMO product reviewed. Our MU-MIMO tests have continued to evolve since then. The Amped Wireless RTA2600 chart (right) show results for 3 room – 3 connections / client tests that corresponds to the two charts shown above.
The results for the Linksys EA8500 were very similar to what we saw for the NETGEAR R7500v2. In both cases, the only location showing throughput gain with MU-MIMO enabled was the "In Room" location. The Linksys posted a total throughput change of 11%, compared to the NETGEAR's 7%. The Amped Wireless RTA2600 fared even worse. For the In Room location, two of the three clients had better performance with MU-MIMO disabled, and all three clients were better off with MU-MIMO disabled for the hall location. In terms of total throughput change, the Amped Wireless RTA2600 would have been better off without MU-MIMO, as it posted a -10% throughput change.
Linksys EA8500 (l) and Amped RTA2600 MU-MIMO Throughput change – 3 room
An Alternate View
We also tested the R7500v2 using a VeriWave test system as part of our Is MU-MIMO Ready For Prime Time article. The VeriWave system allowed us to see how MU-MIMO scales, testing total throughput for up to 16 1×1 MU-MIMO ideal clients and comparing it to the same number of SU clients. The R7500v2 was tested along with the Amped Wireless RTA2600, Linksys EA8500 and TP-LINK Archer C2600. The results were very revealing, with the R7500v2 being one of the better routers at handling lots of MU-MIMO clients.
Closing Thoughts
As noted in the introduction, the NETGEAR Nighthawk X4 R7500v2 is a bit of an oddball, being the only AC2350 class router with working MU-MIMO. It's likely to remain that way since there is no sign of any Quantenna-based 4×4 router getting its MU-MIMO wings. And it's unlikely any other manufacturer will introduce a QCA based router that isn't AC2600 class.
The most logical explanation is NETGEAR has chosen Broadcom as its mainstream 4×4 technology provider, and didn't want the job of explaining the difference between three MU-MIMO classes, i.e. AC2350, AC2600 and AC3100. Since NETGEAR has already introduced its Broadcom-based 4×4 "tri-band" R8500 Nighthawk X8 [reviewed], it's likely they'll follow up with a CES 2016 introduction of an AC3100 sibling in a few weeks. In fact, the R7800 Nighthawk X4S posted in the FCC ID database may be that product.
Here's how the NETGEAR R7500v2 stacks up against other AC2350 routers. Note that MU-MIMO is not a component of our Router Ranker ratings. The chart below shows that the NETGEAR R7500v2 is ranked #2 behind the ASUS RT-AC87U.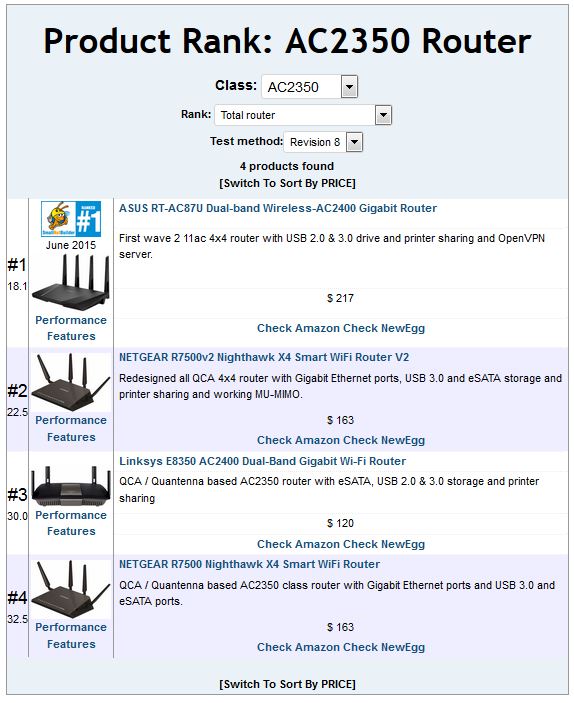 AC2350 Total Router Rank
Here's the performance summary comparing both NETGEAR R7500 versions with the top-ranked ASUS RT-AC87U. The NETGEAR R7500v2 did outperform the top-ranked ASUS RT-AC87U for both 5 GHz average throughput as well as 5 GHz maximum throughput. It also tied the other two routers for maximum simultaneous connections since each supported more than 30,000.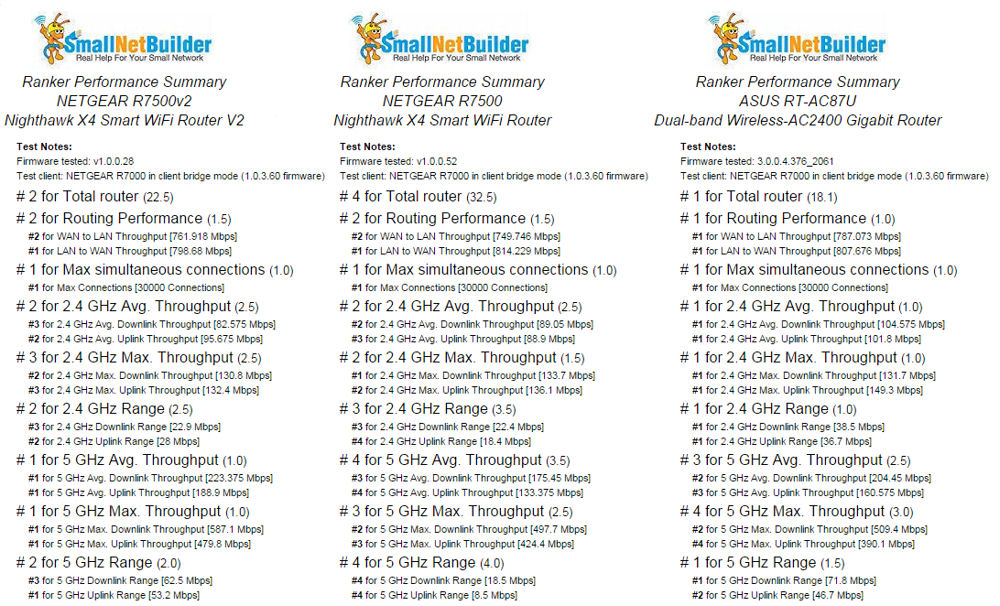 Performance Summary Comparison
However, we can't really recommend buying any 4×4 router with a Quantenna 5 GHz radio. As noted at the start of this review, manfacturers have moved on to newer 4×4 products and so should you.
So assuming you've convinced yourself that a 4×4 router is the way to go, the real question is AC2600 vs. AC3100 (QCA or Broadcom). If you need working MU-MIMO today, your only choice is AC2600 because QCA-based routers have shipped with MU-MIMO from day one. For AC3100, you're buying a MU-MIMO "capable" router, with working MU-MIMO coming somewhere between the end of this year and early next, according to disclaimers posted for AC3100 and AC5300 products.
If you don't care about MU-MIMO and just want the best chance for improving Wi-Fi coverage, it's unlikely either flavor of 4×4 router is going to help in 5 GHz. Our recent comparison of many of the latest and greatest AC routers found decent throughput gains in a medium-low signal location in 2.4 GHz, but throughput loss in 5 GHz in many cases, compared to a top-performing AC1900 class router.
The bottom line is the R7500v2 is a decent 4×4 router and may even be one of the better ones at handling a lot of MU-MIMO devices (if you have them). But there is little to recommend it over the AC1900 R7000 and the downside of the potential hassle of having to buy and return it multiple times to get a v2 if you buy online.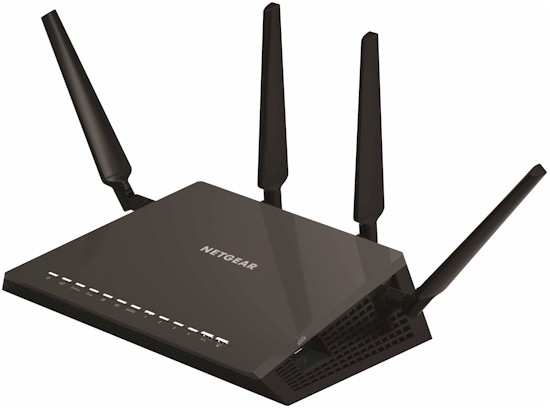 Buy Nighthawk X4 Smart WiFi Router V2 from Amazon