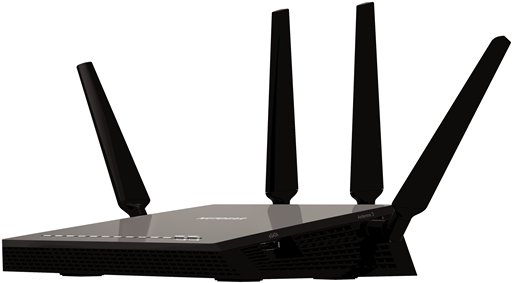 At a glance
Product
NETGEAR Nighthawk X4S Smart WiFi Gaming Router (R7800) [Website]
Summary
QCA based 4×4 MU-MIMO router with Gigabit Ethernet ports, USB 3.0 and eSATA storage and printer sharing and 160 MHz mode support
Pros
• USB 3.0 (x2) and eSATA (1) ports
• Surprisingly high 2.4 GHz throughput with strong signals
• Working MU-MIMO
Cons
• Nothing significant
Typical Price: $299 Buy From Amazon
Introduction
Updated 3/29/16: MU-MIMO performance tested
NETGEAR took its first step into the functional MU-MIMO router market with the R7500v2. The v2 swapped out the still-waiting-for-its-MU-MIMO-firmware Quantenna 5 GHz radio for a QCA9980 4×4 radio SoC with working MU-MIMO. But since it left the QCA9880 3×3 radio handling the 2.4 GHz side, the R7500v2 remained an AC2350 / 2400 class router.
With the R7800 Nighthawk X4S Smart WiFi Gaming Router, NETGEAR has produced its first all 4×4 AC2600 class router that, since it is Qualcomm-based, also has working MU-MIMO right from the start. Its top-of-line Broadcom-based R8500 Nighthawk X8 still has only a single beta release that supports MU-MIMO.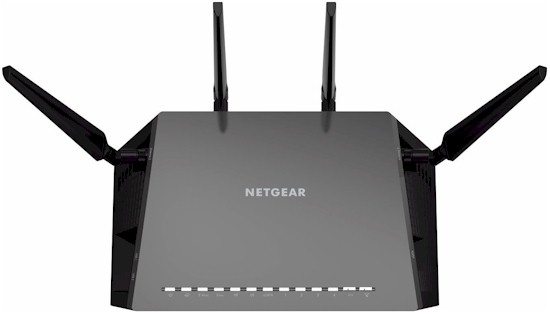 NETGEAR R7800
The R7800 also has another first for NETGEAR and the Wi-Fi industry; its 5 GHz radio supports 160 MHz bandwidth mode. Like MU-MIMO, 160 MHz mode support will primarily appeal to folks trying to future-proof their next Wi-Fi router buy. Although this mode has the potential to double link rates for 1×1 and 2×2 Wi-Fi devices, those devices must also support 160 MHz bandwidth mode. As of this writing, there are no 160 MHz enabled devices.
As noted in the Linksys EA7500 review, I am temporarily pausing MU-MIMO performance testing. Once VeriWave provides promised upgrades, I'll retest all MU-MIMO products tested to date, post an article with the results and add MU-MIMO benchmarks to the Router Charts.
The R7800's callouts are shown below. Note it has two USB 3.0 ports and a single eSATA port. The physical Wi-Fi On / Off button conveniently sits right on the top panel. Each of the Ethernet ports also has a front panel link / activity LED. The bottom cover has mounting screw slots that will let you wall-mount the router so that cables exit up or down. The case is well ventilated on all sides except the top.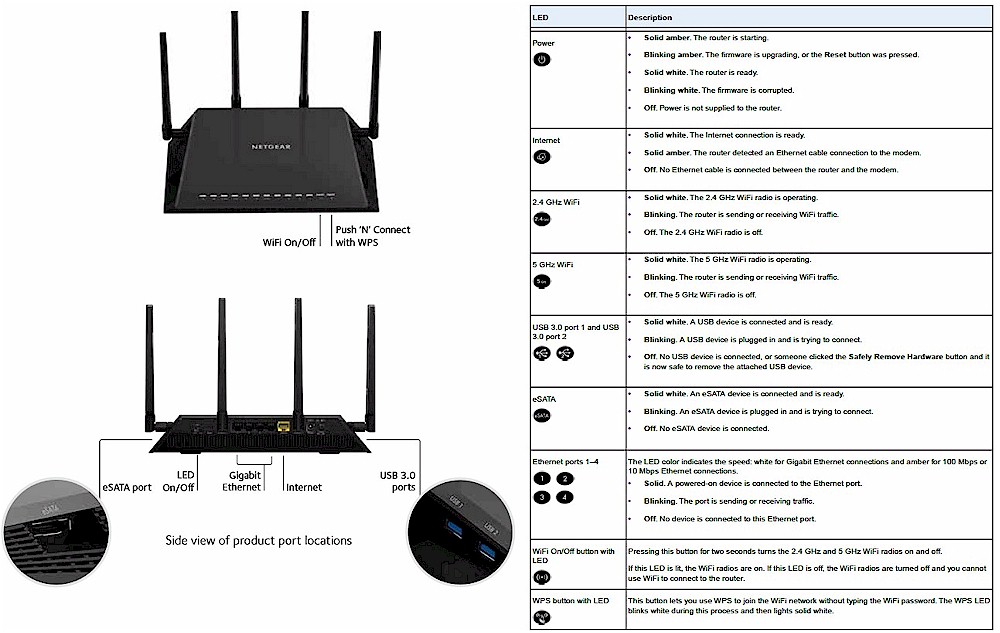 NETGEAR R7800 callouts
Inside
The R7800's FCC inside photos are still under short term confidentiality, so I opened up one of the samples after testing was done for some photos. The photo shows a tidy design, with processor section on the left, 2.4 GHz radio top right and 5 GHz radio bottom right. The QCA8337 switch right below the Ethernet ports gets its own little can, which I didn't bother opening.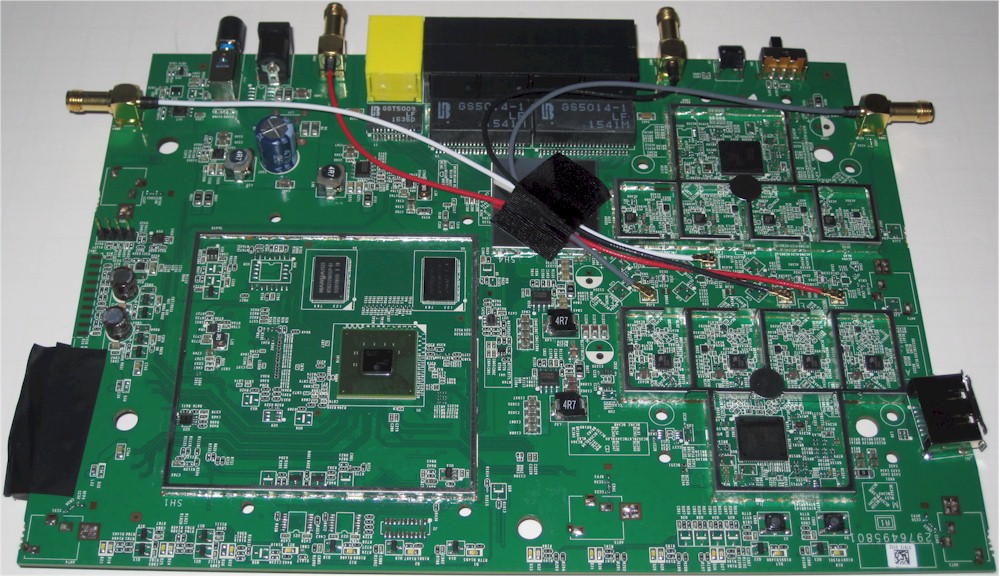 NETGEAR R7800 board top
The only thing of interest on the bottom is the 128 MB of flash.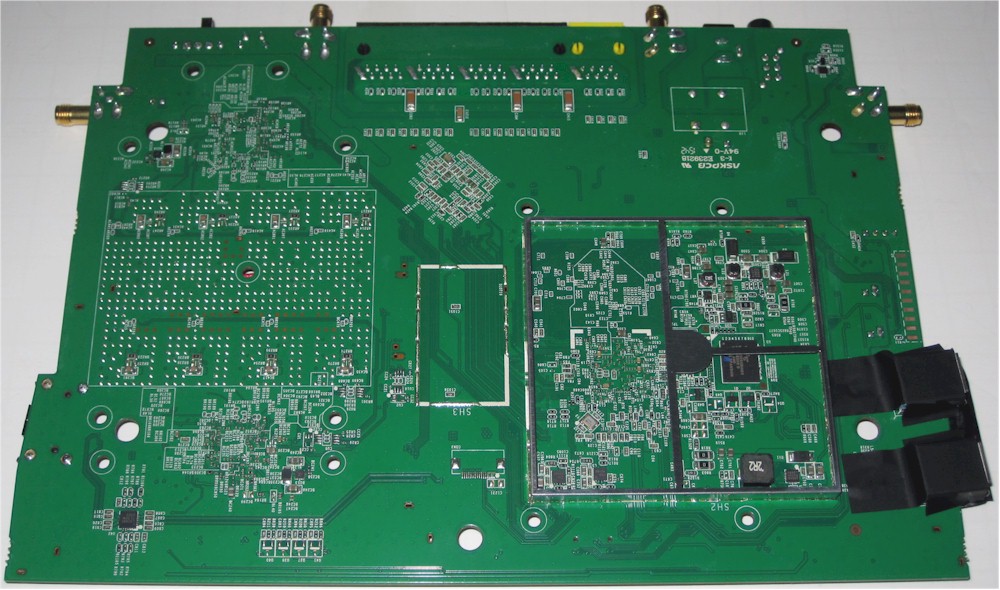 NETGEAR R7800 board bottom
The R7800 dispenses with the typical finned heatsink, instead using a heatsink plate that sits under most of the top cover. You can see the greasy skid marks from the thermal pads that couple the heatsink to the radio (left) and processor (right) section RF can tops.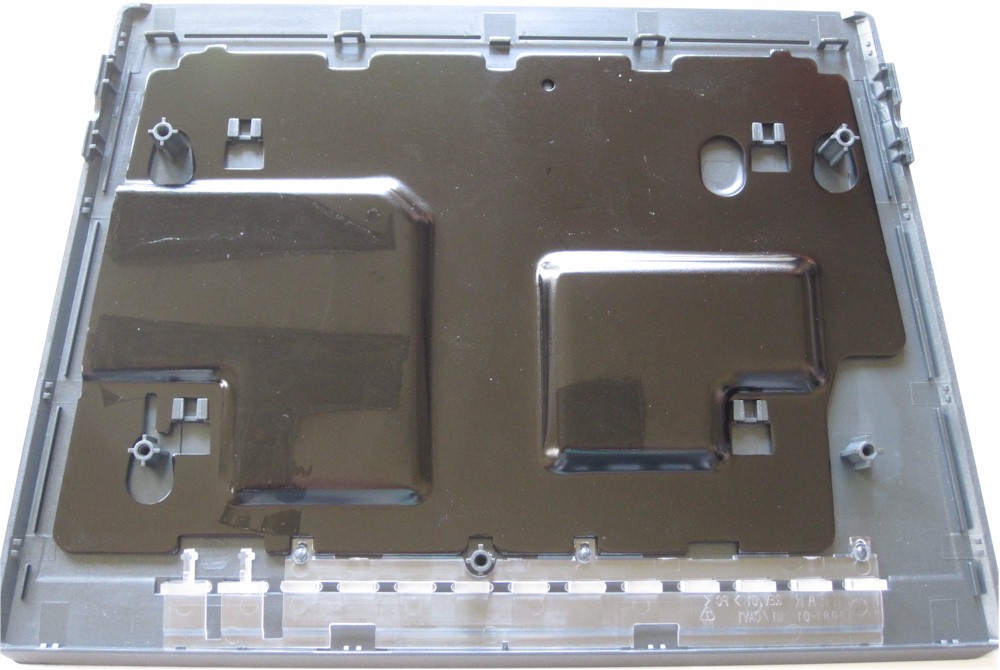 NETGEAR R7800 top cover w/ heatsink plate
The component summary table throws in three other MU-MIMO enabled routers for comparison. The R7800's key differences are its faster IPQ8065 processor and QCA9984 4×4 MU-MIMO radio used for both bands. This is the first radio we've seen to support 160 MHz bandwidth operation. More on that later.
NETGEAR R7800
NETGEAR R7500v2
TP-LINK Archer C2600
TRENDnet TEW-827DRU
CPU
Qualcomm dual-core IPQ8065 Internet Processor @ 1.7 GHz
Qualcomm dual-core IPQ8064 Internet Processor @ 1.4 GHz
Qualcomm dual-core IPQ8064 Internet Processor @ 1.4 GHz
Qualcomm dual-core IPQ8064 Internet Processor @ 1.4 GHz
Switch
Qualcomm Atheros QCA8337
Qualcomm Atheros QCA8337
Qualcomm Atheros QCA8337
Qualcomm Atheros QCA8337
RAM
512 MB
256 MB
512 MB
512 MB
Flash
128 MB
128 MB
32 MB
?128 MB
2.4 GHz Radio
– QCA9984 4×4 MU-MIMO 802.11ac radio
– Skyworks SE2623L 2.4 GHz power amp (x4)
– QCA9880 3-stream 802.11ac radio solution
– QCA9980 4-stream 802.11ac MU-MIMO radio
– Skyworks SE2623L 2.4 GHz power amp (x4)
– QCA9980 4-stream 802.11ac MU-MIMO radio
– Skyworks SE2623L 2.4 GHz power amp (x4)
5 GHz radio
– QCA9984 4×4 MU-MIMO 802.11ac radio
– RFMD RFPA5542 5 GHz PA module (x4)
– QCA9980 4-stream 802.11ac MU-MIMO radio
– QCA9980 4-stream 802.11ac MU-MIMO radio
– Skyworks SKY85405 5 GHz power amp (x4)
– QCA9980 4-stream 802.11ac MU-MIMO radio
– Skyworks SKY85405 5 GHz power amp (x4)
Table 1: Component summary and comparison
Features
The R7800 supports NETGEAR's standard genie feature set and user interface, as shown below. As far as I could tell, all the usual features were there, including OpenVPN support.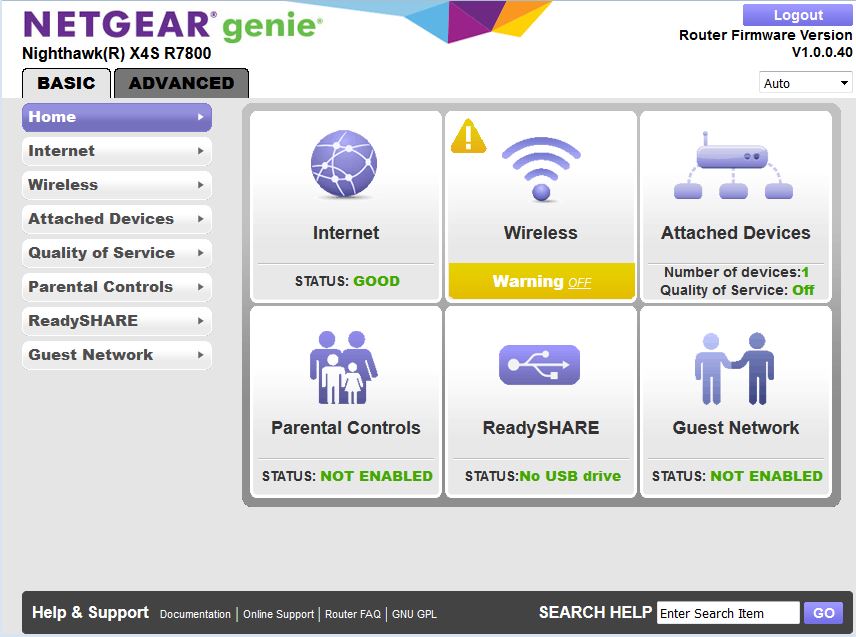 R7800 Home screen
Both AP and Wireless Bridge modes are supported. The latter doesn't rely on WDS; the R7800 will form a wireless bridge with any router.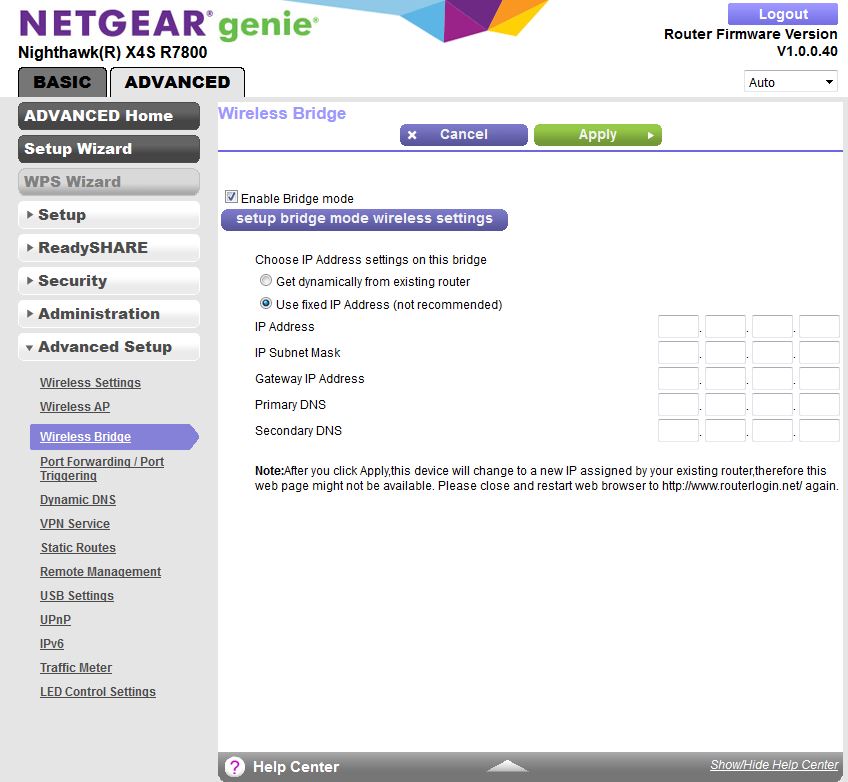 R7800 Home screen
Storage Performance
The Router Charts contain benchmarks for FAT32 and NTFS volume formats with USB 2.0 and 3.0 connections (as applicable). But since we know USB 2.0 is slower and FAT32 has volume and file size limitations, we focus on comparing NTFS format with USB 3.0 connection performance.
The charts below show only AC2600 class routers tested with the latest process. The R7800 is pretty quick, coming in just behind Linksys' EA8500 for both write and read. The two products perform similarly enough that you'd be hard-pressed to see a difference in normal use.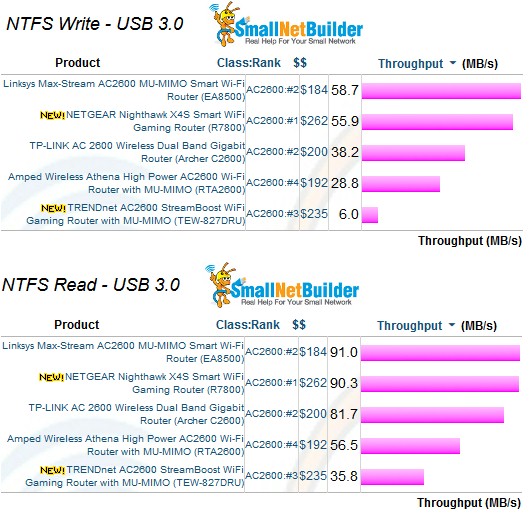 Storage Performance – NTFS & USB 3.0
Routing Performance
Routing throughput was measured using our standard router test process with the router using 1.0.0.40 firmware. Table 2 summarizes the results and includes the TP-LINK Archer C2600 and TRENDnet TEW-827DRU for comparison. All three routers perform about the same.
| Test Description | NETGEAR R7800 | TP-LINK Archer C600 | TRENDnet TEW-827DRU |
| --- | --- | --- | --- |
| WAN – LAN (Mbps) | 765 | 757 | 716 |
| LAN – WAN (Mbps) | 782 | 800 | 792 |
| Total Simultaneous (Mbps) | 1366 | 1416 | 1431 |
| Maximum Simultaneous Connections | 45,544 | 31,784 | 27,421 |
| Firmware Version | 1.0.0.40 | 1.1.2 Build 20150924 Rel. 66045 | 1.00b011 (1.00 17 Nov 2015) |
Table 2: Routing throughput
The IxChariot unidirectional composite plot shows higher average LAN – WAN throughput. The cyclical between the baseline and maximum values is typical of this test.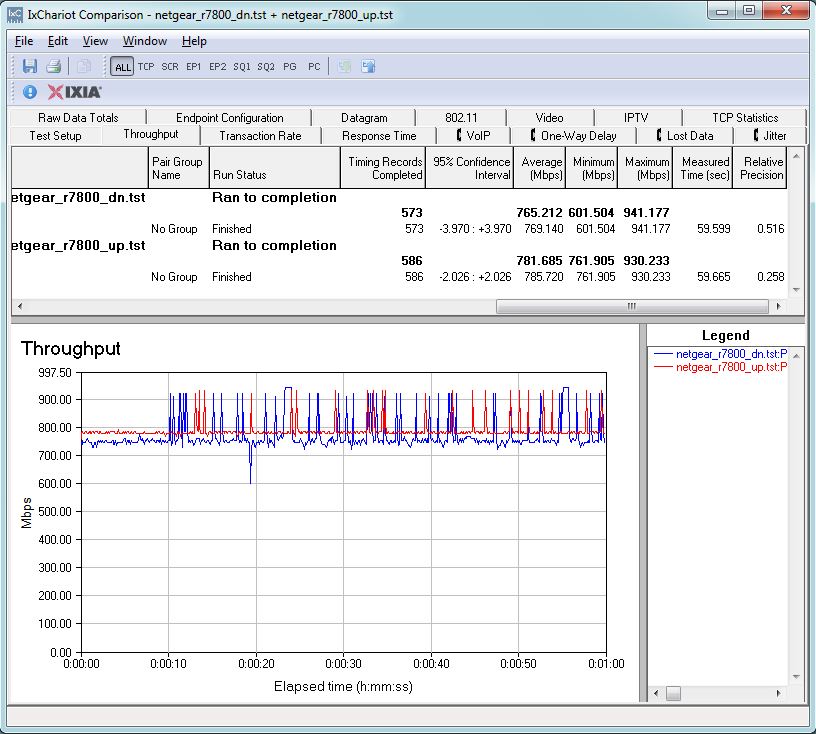 NETGEAR R7800 routing throughput unidirectional summary
The simultaneous up/downlink benchmark plot shows relatively stable throughput after things settle down 10 seconds into the test run. The lack of "battling" between up and download traffic indicates the CPU was handling the load pretty well.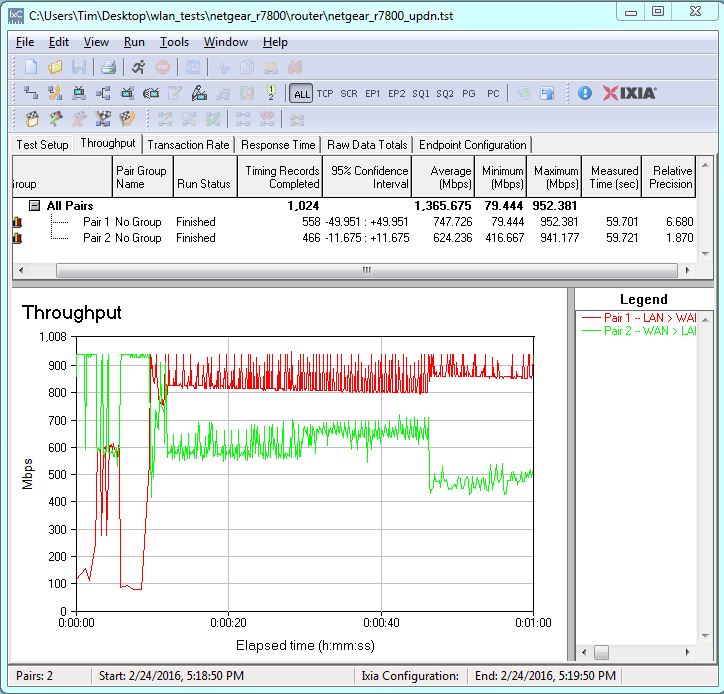 NETGEAR R7800 routing throughput bidirectional summary
Wireless Performance
The R7800 is not yet Wi-Fi Certified. NETGEAR generally eventually gets products Wi-Fi Certified; it just doesn't hold them back without it. Default basic wireless settings are shown in the next screenshot.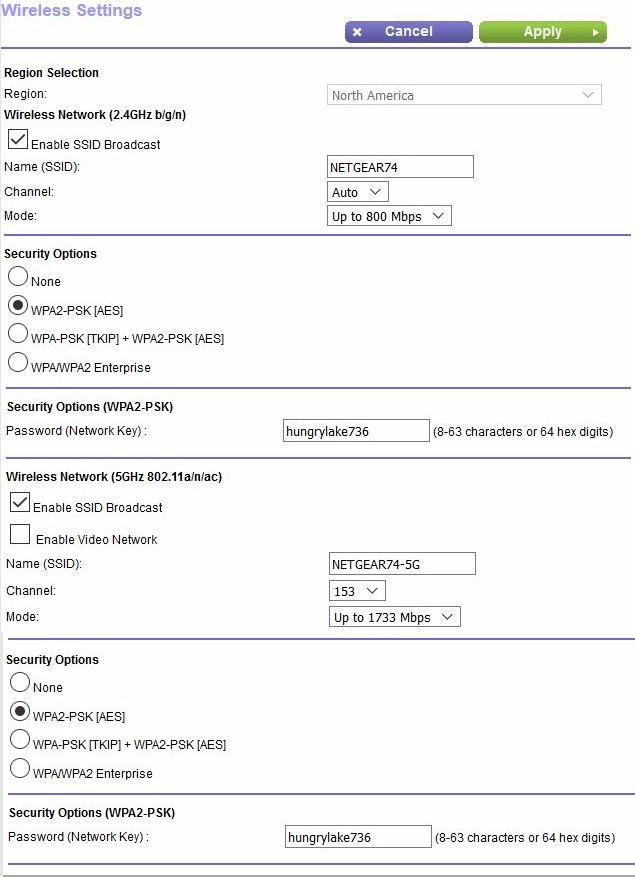 R7800 Wireless defaults
Default advanced wireless settings are in the next screenshot. WPS is enabled by default on both bands. MU-MIMO and "implicit" beamforming are, too. Enable HT 160 is the control to enable 160 MHz bandwidth mode. NETGEAR says they chose to disable it by default, to not risk compatibility problems at this time. As I've said before, you're not missing anything with this default; there are no 160 MHz devices available yet.
R7800 Advanced Wireless defaults
For throughput testing, the router was first reset to factory defaults. Channel 6 and 20 MHz bandwidth mode (Up to 347 Mbps) were set for 2.4 GHz and Channel 153 and 80 MHz mode (Up to 1733 Mbps) set for 5 GHz. The test client was connected using WPA2/AES encryption.
The router's antennas were centered on the test chamber turntable with all antennas vertical as shown in the photo below. The 0° position for the router had the front facing the chamber antennas.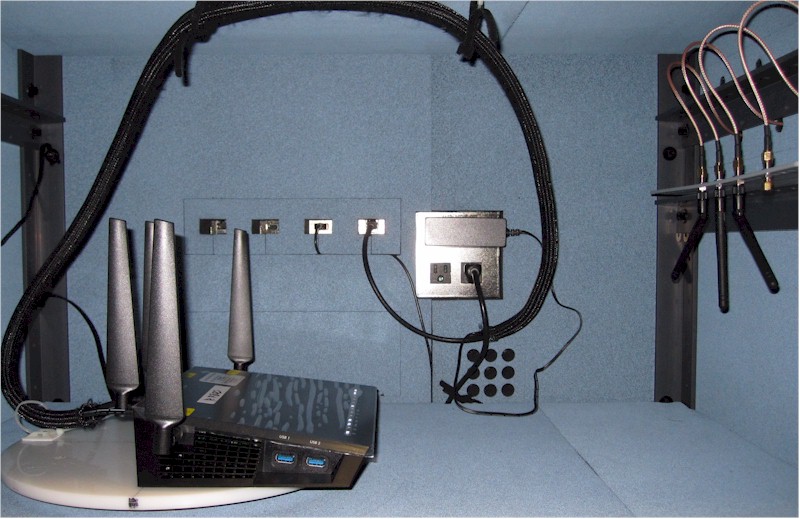 NETGEAR R7800 in test chamber
The charts below, filtered to show only AC2600 class routers, show the R7800's average 2.4 GHz performance is quite good, particularly on uplink.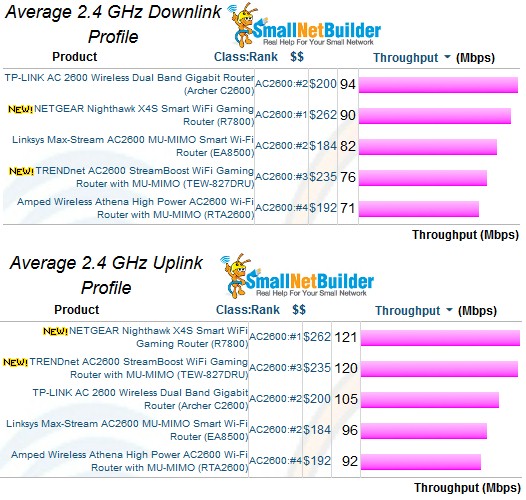 NETGEAR R7800 2.4 GHz Average throughput comparison
The same charts for 5 GHz show the R7800's weak spot seems to be uplink.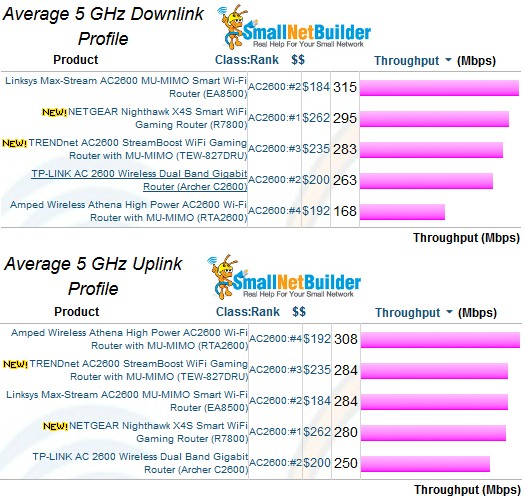 NETGEAR R7800 5 GHz Average throughput comparison
For the throughput vs. attenuation profile plots, I chose the TP-LINK Archer C2600 for the as-good-or-better ranked product and the TRENDnet TEW-827DRU as the lower-ranked comparator.
The 2.4 GHz downlink profile shows the TRENDnet left in the dust by the NETGEAR and TP-LINK for almost the entire test run. The plots don't converge until the 54 dB attenuation test.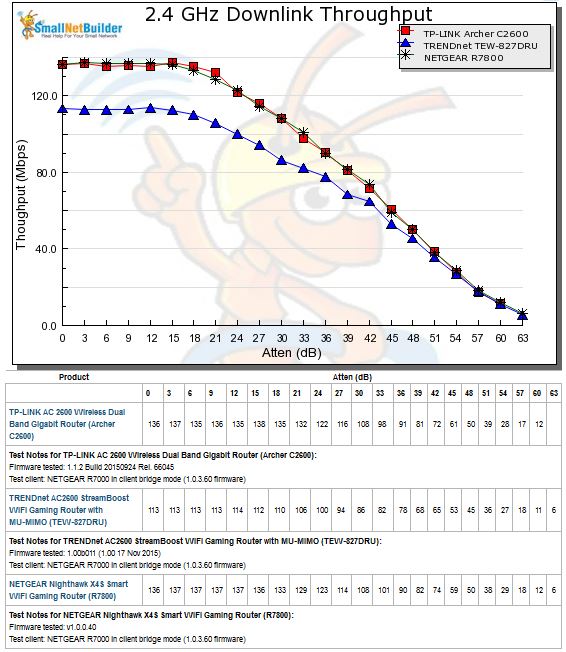 2.4 GHz Downlink Throughput vs. Attenuation
The TP-LINK and TRENDnet swap places for the 2.4 GHz uplink test, with the TRENDnet and R7800 tracking closely throughout the entire test run.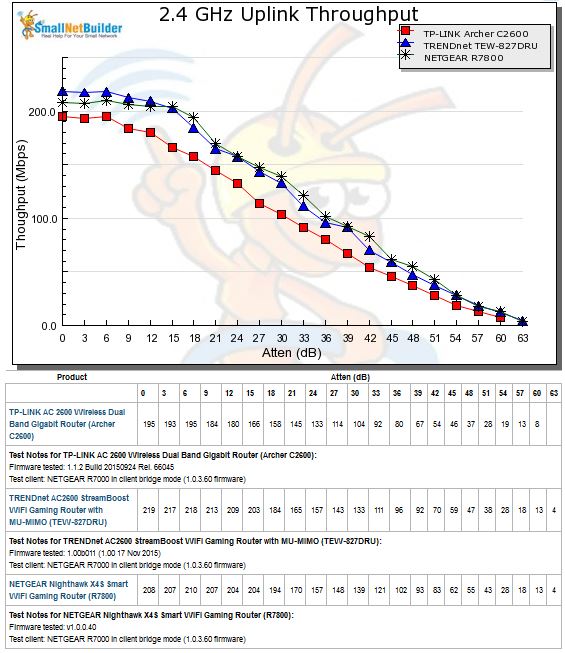 2.4 GHz Uplink Throughput vs. Attenuation
Products always seem to track more closely in 5 GHz tests and the group is no exception. The 5 GHz downlink profile shows the R7800 tracking above the TP-LINK for most of the test run, but just barely. The TP-LINK's big drop between the 12 and 15 dB tests didn't help its ranking.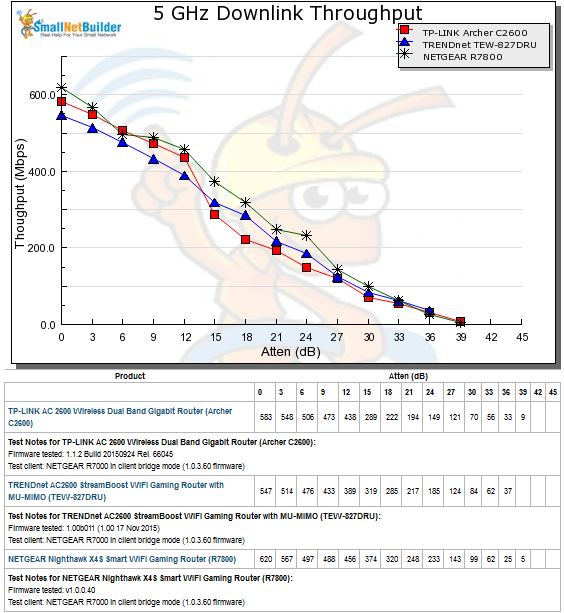 5 GHz Downlink Throughput vs. Attenuation
For 5 GHz uplink, all four products track very closely from 18 dB on. The R7800's maximum (0 dB attenuation) throughput edges past the TRENDnet's by only 13 Mbps.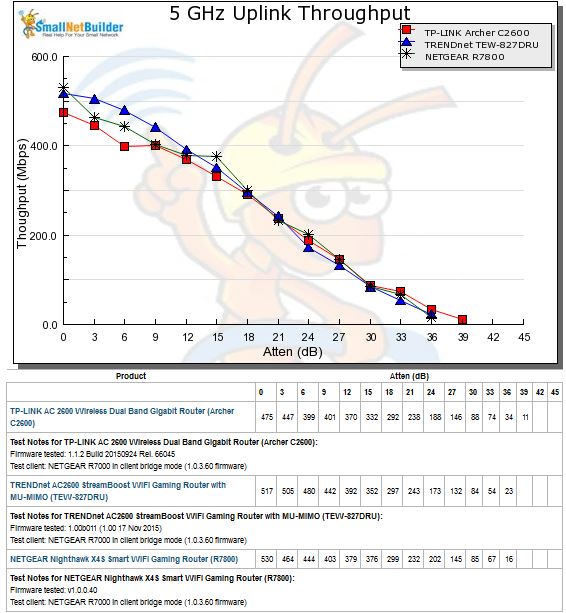 5 GHz Uplink Throughput vs. Attenuation
As we've found many times, the difference in ranking for AC routers tends to be more due to 2.4 GHz performance than 5 GHz. This group once again reinforces that point.
Four Stream Performance
NETGEAR supplied two R7800s so maximum 4×4 thoughput could be tested. Two R7800s were set up in open air, six feet apart, one as a normal router and the other in wireless bridge mode (found in Advanced Setup > Wireless Bridge). The in-house 5 GHz network was idle and only beaconing (no traffic). Channel was set to 153, bandwidth mode was in its default 80 MHz mode and everything else was set to defaults, including MU-MIMO enabled. Given the 4×4-to-4×4 nature of the link, MU-MIMO doesn't come into play.
I connected only one computer via Gigabit Ethernet at each end of the bridge. Baseline tests using Ethernet between the two computers show the Ethernet link capable of a bit over 940 Mbps in both directions with each direction run separately. So the hardwired part of the link shouldn't be a limiting factor. The bridge R7800 reported a best case link rate of 1560 Mbps during this test.
The simultaneous up and downlink test yielded 981 Mbps total throughput, with about a 2-to-1 difference between down and uplink throughput as the IxChariot plot shows. Although there is variation in the downlink throughput, there is no "battling" for dominance. Airtime is clearly managed so uplink gets more throughput than downlink (you would think the opposite would be the case).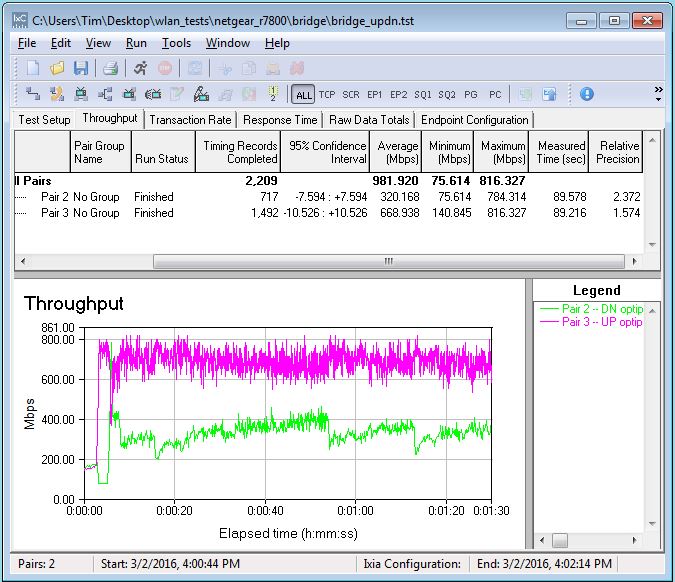 NETGEAR R7800 four stream throughput – simultaneous up/downlink
Separate down and uplink tests yielded 839 and 690 Mbps, respectively. Downlink shows much lower variation than uplink. Oddly, in separate tests, downlink has higher throughput than uplink.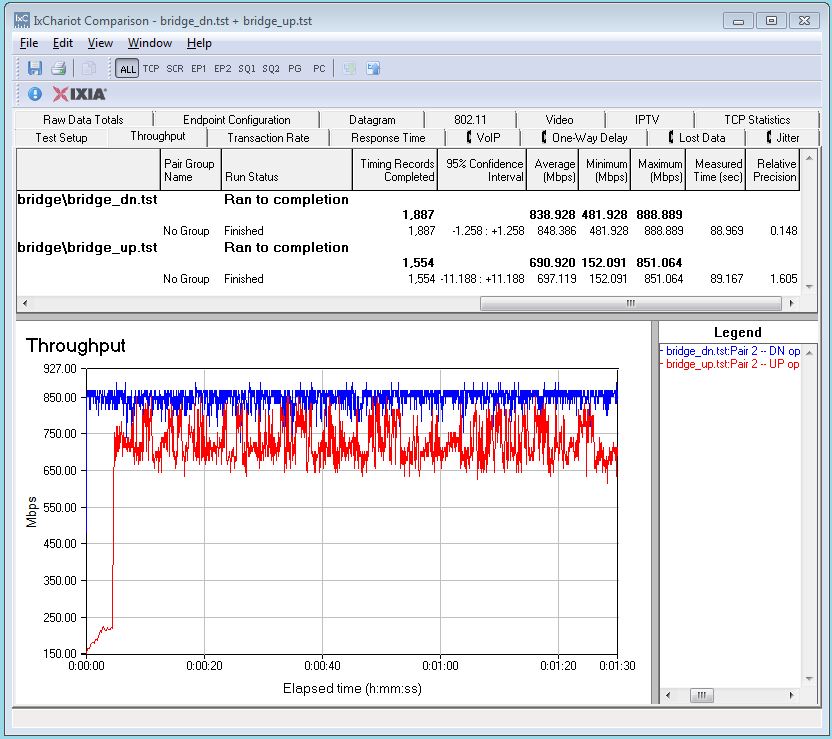 NETGEAR R7800 four stream throughput – up and downlink
To see if the single connection was limiting throughput, I raised the number to eight. This increased total throughput to 934 Mbps for downlink…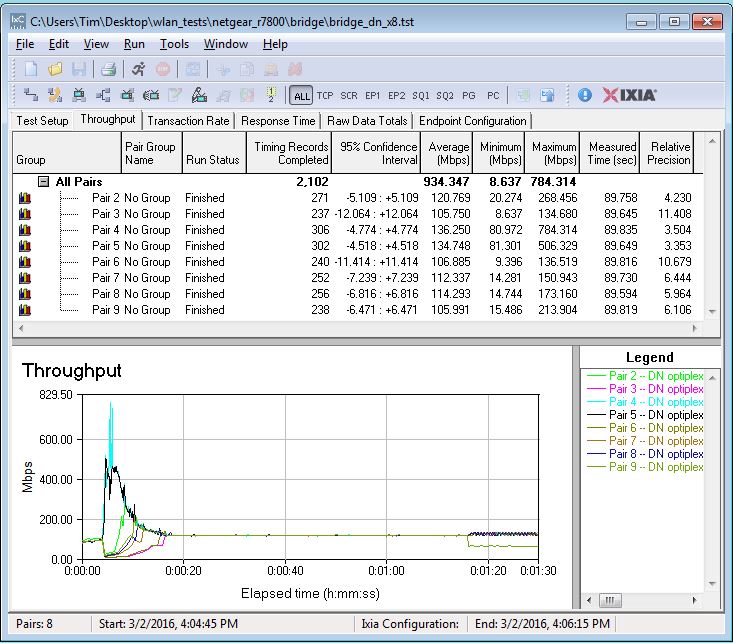 NETGEAR R7800 four stream throughput – downlink 8 connections
…and 937 Mbps uplink. These numbers tell me the single Gigabit link was saturated, capping throughput. For both directions, throughput distribution among the connections is remarkably uniform.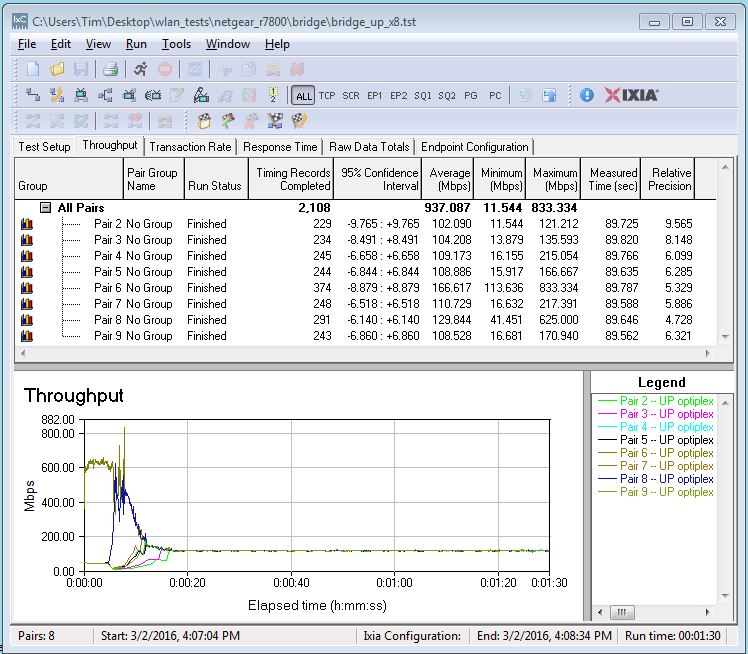 NETGEAR R7800 four stream throughput – uplink 8 connections
160 MHz Bandwidth
The R7800 is the first product on the market to support 160 MHz bandwidth mode. Since there is not actually 160 MHz of contiguous bandwidth in the 5 GHz band available in consumer routers today, this is implemented as 80 MHz + 80 MHz.
160 MHz mode enables devices to basically double their maximum link rate. So a 2×2 STA 802.11ac STA that supports 160 MHz mode can have a maximum link rate of 1733 Mbps vs. the 867 Mbps it would normally have. Of course, like many of 802.11ac's high-bandwidth tricks, higher 160 MHz mode bandwidth requires a strong signal to work effectively.
To test 160 MHz mode operation, I asked NETGEAR to supply a device supporting 160 MHz mode. These are apparently hard to come by because NETGEAR shipped a second R7800 router and special firmware to make it operate as a 2×2 device.
The setup was the same used for the 4×4 maximum link rate test. The only difference was that the bridge mode router had the special firmware loaded. I ran two sets of tests: one with the Enable HT 160 box in Advanced Wireless Settings checked on both router and bridge; the other with both unchecked. As noted earlier, the R7800's default is Enable HT 160 unchecked.
The IxChariot composite plot below shows 5 GHz downlink tests run with and without 160 MHz mode. I confirmed the link rates with traffic running for each set of tests. Highest link rate observed with 160 MHz mode disabled was 780 Mbps and 1560 Mbps with 160 MHz mode enabled. Throughput gain from 160 MHz mode was only 29%.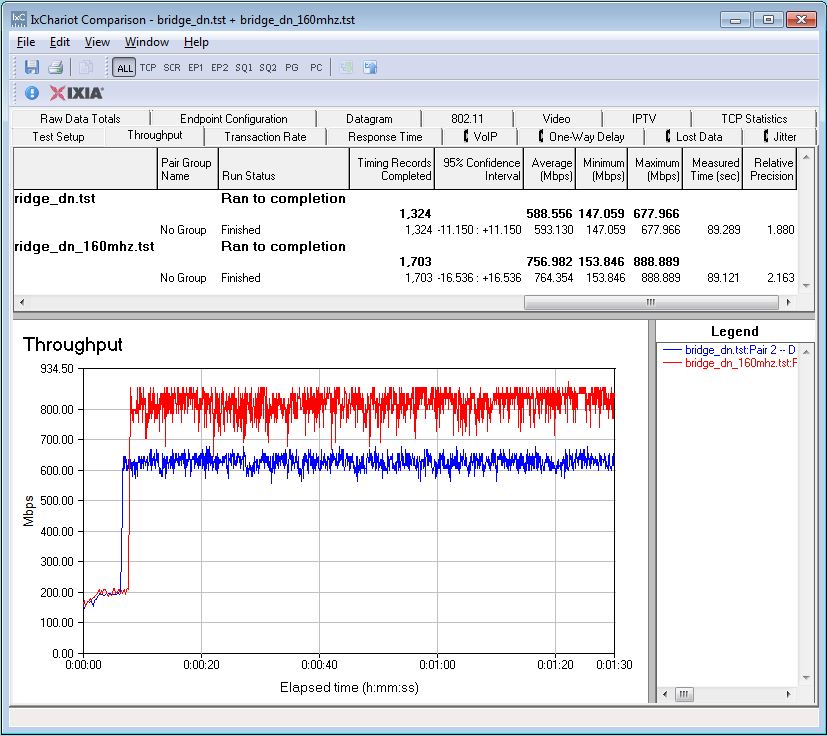 NETGEAR R7800 160 MHz test – downlink comparison
Running the tests in the uplink direction eked out a bit more throughput gain with 160 MHz mode, about 33%.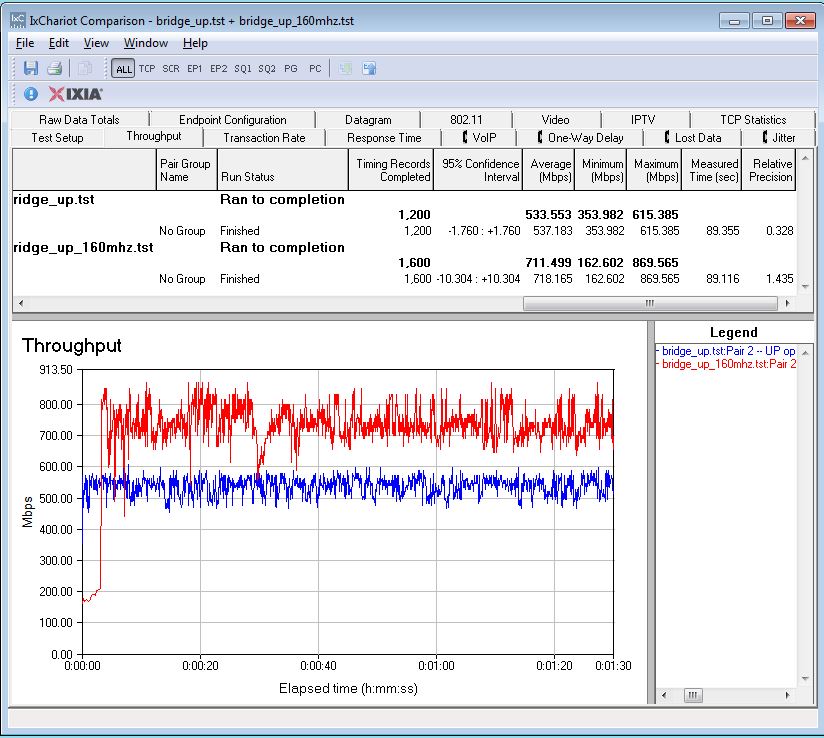 NETGEAR R7800 160 MHz test – uplink comparison
I also ran simultaneous up and downlink tests with 160 MHz mode disabled…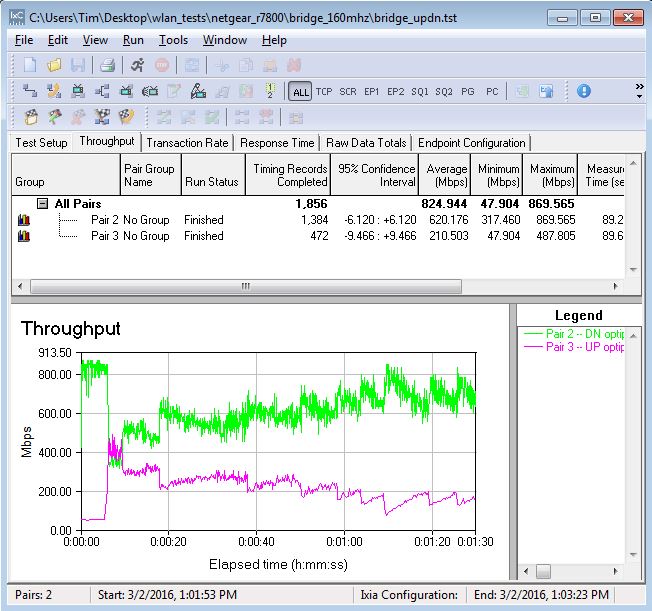 NETGEAR R7800 160 MHz test – simultaneous up and downlink – normal
…and enabled. This test produced only 17% higher throughput.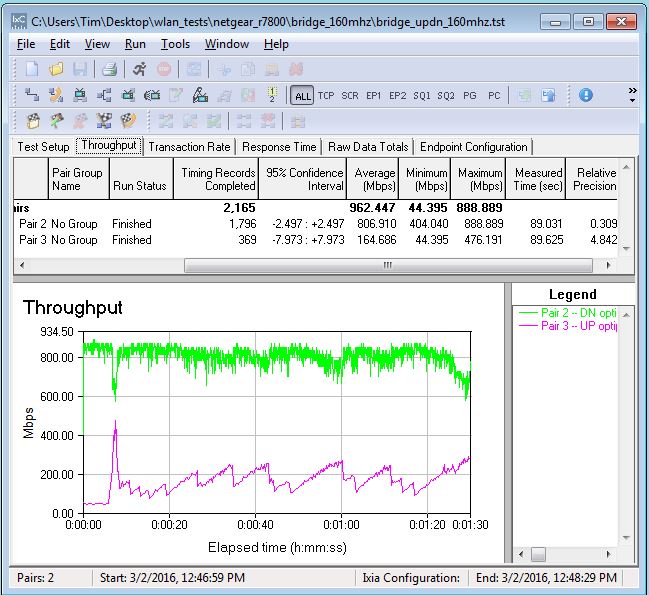 NETGEAR R7800 160 MHz test – simultaneous up and downlink – 160 MHz
As with MU-MIMO, I'm sure there is plenty of tuning to be done to get the most out of 160 MHz mode. Once again, there is plenty of time to do this since I know of no devices in the wild with working 160 MHz mode and neither NETGEAR nor QCA volunteered a list of any.
Closing Thoughts
The R7800 pushes aside TP-LINK's Archer C2600 to take the #1 rank of 5 tested AC2600 class routers. The TP-LINK now is tied in second place with Linksys' EA8500.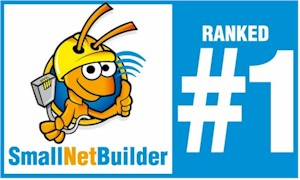 The Ranker Performance Summary below shows the R7800's weakest spot is 5 GHz uplink range, where is ranks #3. All other sub-rankings are either first or second place.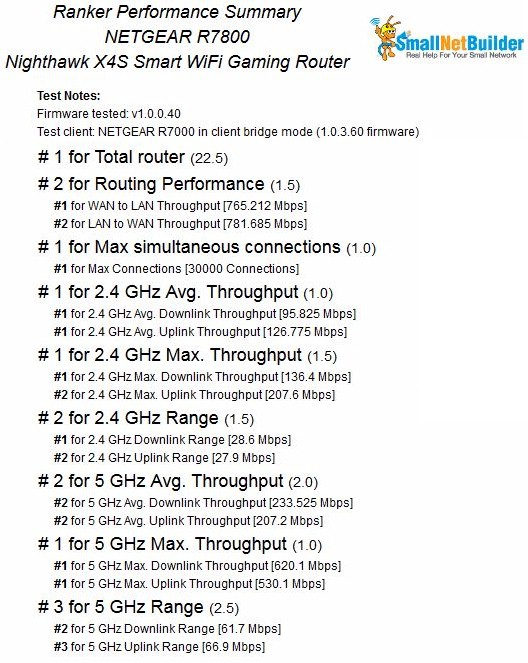 Ranker Performance Summary comparison
Judging by CES 2016 introductions, MU-MIMO is moving into the mainstream as a feature in higher-end routers. 160 MHz may not be far behind, but will take a bit longer. Too bad that device makers haven't gotten with the MU-MIMO program yet. If MU-MIMO is a standard feature on the latest smartphones and tablets, their makers sure aren't going out of their way to let us know.
If you're considering a MU-MIMO router today, your best choice would be an AC2600 class product based on Qualcomm / QCA devices. Broadcom's MU-MIMO is still in beta until this summer at the earliest. I have to hold off declaring which AC2600 class router provides the best total MU-MIMO throughput gain until I get my test hardware sorted out. But for use with non MU devices, NETGEAR's R7800 is our new top performance-ranked choice.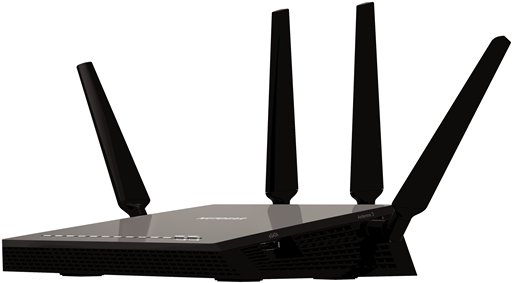 Buy Nighthawk X4S Smart WiFi Gaming Router from Amazon