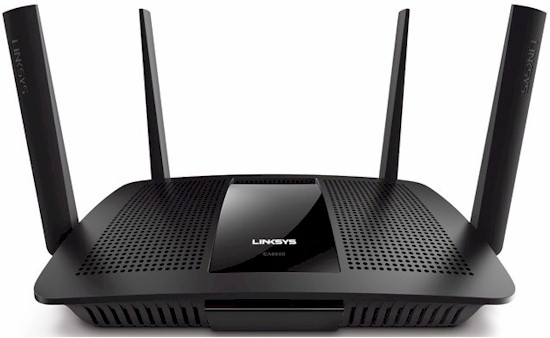 At a glance
Product
Linksys Max-Stream AC2600 MU-MIMO Smart Wi-Fi Router (EA8500) [Website]
Summary
QCA based AC2600 MU-MIMO enabled router with Gigabit Ethernet ports and USB 2.0/eSATA/USB 3.0 storage and printer sharing
Pros
• Supports bridged router, wireless bridge & wireless repeating
• MU-MIMO support provides moderate total throughput improvement
Cons
• No outbound port/service filtering
• You'll need to buy new devices to benefit from MU-MIMO
Typical Price: $235 Buy From Amazon
Introduction
Linksys' Max-Stream AC2600 MU-MIMO Smart Wi-Fi Router is the first of the second-generation Qualcomm Atheros (QCA)-based 4×4 routers to hit the market. This new generation gets a bump from 600 to 800 Mbps maximum link rate on the 2.4 GHz side due to QAM-256 support on the additional radio. But the real potential of AC2600 class routers is that their MU-MIMO feature is actually working.
In contrast, all first-generation 4×4 AC2350 (aka AC2400) class routers used Quantenna's QSR1000 4×4 radio on the 5 GHz band. Although I saw a MU-MIMO demo at the company offices about a year ago, not one manufacturer of the first round of 4×4 routers has announced even its intention of removing the "ready" from their MU-MIMO "feature".
The EA8500 is physically similar to the company's E8350 first-generation 4×4 router as shown in the comparison shot below. The EA8500's antennas are taller than the E8350's peek-a-boo antennas. But since Linksys didn't spec them or make a note of their having higher gain, I'm guessing the two antenna gains are the same.
The cases of both products are largely perforated top and bottom and have vent slots on the front and sides, providing ample airflow. Both routers also have screw mounting slots on the bottom that will orient the back panel connectors up, left or right, but not down.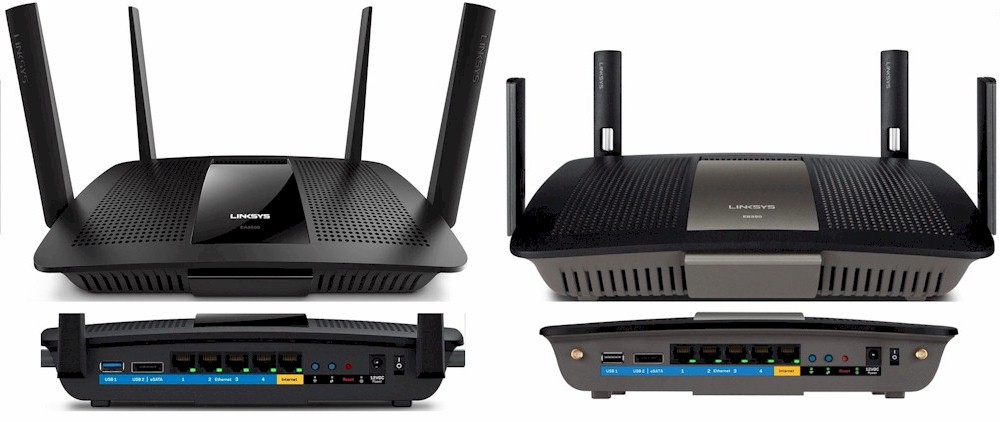 EA8500 vs. E8350
The EA8500's back panel is virtually identical to the E8350's, except for a missing power indicator. That's because the lighted Linksys front panel logo has returned, which also flashes, pulses or shines steadily to indicate internet connection status, booting and firmware updates.
EA8500 callouts
All Ethernet ports are Gigabit and each has separate link and activity LEDs. Like the E8350, WRT1900AC and WRT1200AC, you get one USB 3.0 port and a shared USB 2.0 and eSATA (eSATAp) port.
MU-MIMO: Why should I care?
Three words: total throughput improvement. MU-MIMO vs. XStream: The Coming Battle For Wi-Fi Airtime described the basic approaches of the two major competitors in this latest Wi-Fi battlefield. To recap, Broadcom's XStream is a proprietary technology that adds a second 5 GHz radio and mechanisms to automatically assign devices to radios based on link rate and signal level; the two main factors that determine how much airtime a device needs to move a packet of data through the air.
MU-MIMO is part of the 802.11ac standard, using an advanced form of beamforming to enable simultaneous AP-to-client transmission for downlink traffic only (AP to STA). The diagram below from a QCA presentation illustrates MU-MIMO's effect, which is to move from one client transmission to multiple transmissions in each on-air timeslot. The freed-up airtime can be used for "legacy" (802.11a/b/g/n) and single user (SU) MIMO (SU-MIMO) clients, providing benefit to even mixed-device WLANs.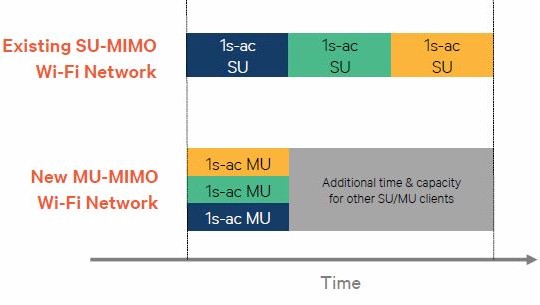 Single User vs. Multi User MIMO Throughput
Image credit: Qualcomm Atheros
Notice the example shows three MU-MIMO streams from a four-stream (4×4) access point (AP), which is due to MU-MIMO's # of streams-1 client rule. This is a by-product of practical limitations in the technology used in MU-MIMO devices.
Inside
Linksys returned to requesting short-term confidentiality for key FCC ID docs. So after I finished testing, I opened up one of the two EA8500's Linksys sent, for the photo below.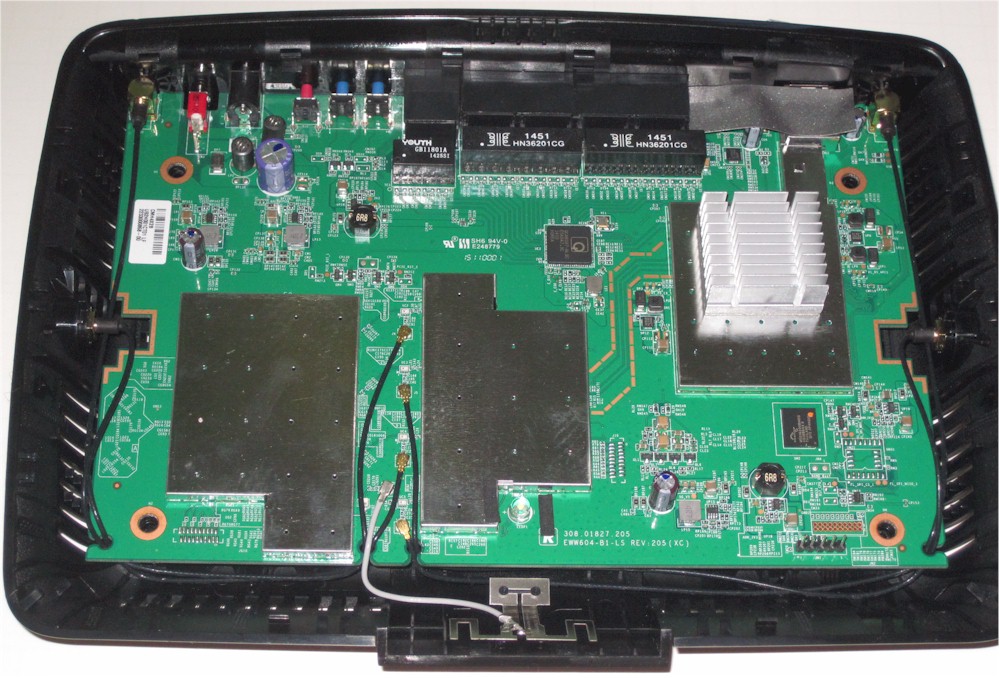 Linksys EA8500 inside
At least the upper right portion of the design is similar to the E8350's shown below, with a similar heatsink-topped shield covering the Qualcomm IPQ8064 dual-core Internet Processor clocked at 1.4 GHz and 512 MB of Samsung DDR3 RAM. The same QCA8337 Gigabit switch is seen below the Ethernet jacks at photo center.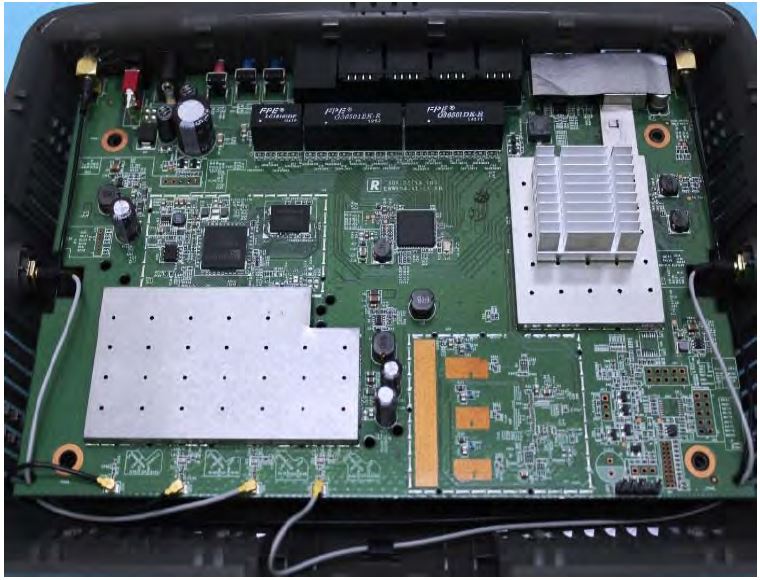 E8350 inside
It took more effort than usual to get the RF can tops off, but I finally did, revealing the QCA9980 11ac MU-MIMO radios and associated transmit power amplifiers. If my eyeballing of the connections is correct, that internal antenna is connected to the fourth 2.4 GHz radio, which also appears to connect to the right rear external antenna. I don't know what its function is.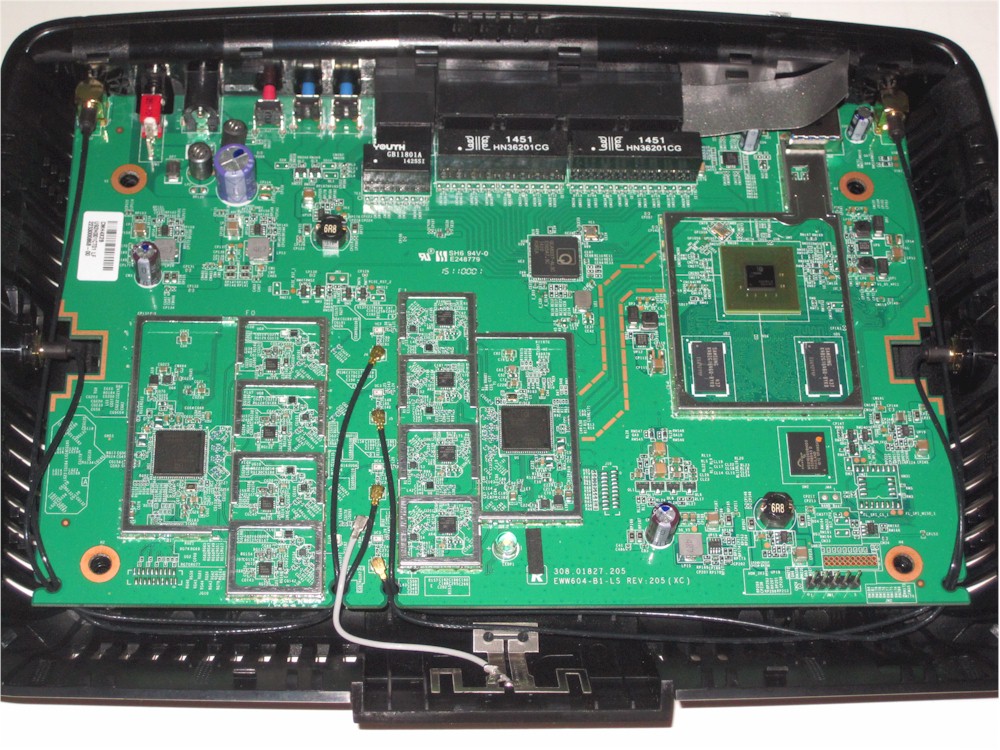 Linksys EA8500 inside – components revealed
Table 1 has a comparison of the EA8500 and E8350's components.
Linksys EA8500
Linksys E8350
CPU
Qualcomm dual-core IPQ8064 Internet Processor @ 1.4 GHz
Qualcomm dual-core IPQ8064 Internet Processor @ 1.4 GHz
Switch
Qualcomm Atheros QCA8337
Qualcomm Atheros QCA8337
RAM
512 MB
512 MB (Qualcomm/QCA)
128 MB (Quantenna)
Flash
128 MB
128 MB
2.4 GHz Radio
– QCA9980 4-stream 802.11ac MU-MIMO radio
– Skyworks SE2623L 2.4 GHz power amp (x4)
– QCA9880 3-stream 802.11ac radio solution
– Unidentified 2.4 GHz power amp (x3)
5 GHz radio
– QCA9980 4-stream 802.11ac MU-MIMO radio
– Skyworks SKY85405 5 GHz power amp (x4)
– Quantenna QSR1000 (QT3840BC Baseband & QT2518B RF)
– Unidentified 5 GHz power amp (x4)
Table 1: Component summary
The E8350's QCA9880 2.4 GHz radio doesn't support standard 802.11ac beamforming. But since the same QCA9980 radio is used for both 2.4 and 5 GHz, you get beamforming on both bands. MU-MIMO works on 5 GHz only.
MU-MIMO Performance
We'll come back and run standard routing throughput, storage performance and wireless performance tests on the EA8500 in Part 2. I wanted to get MU-MIMO testing done since that's the main reason you'd want to buy this or any other second generation 4×4 router. We won't be doing much for feature review since the EA8500 has Linksys' standard Smart Wi-Fi feature set. No sign of the promised OpenVPN support yet.
Since MU-MIMO testing involves multiple clients, our test process uses open-air testing. Linksys' reviewer's guide suggested the "triangle" arrangement below, with at least 6 feet between the EA8500 and each test laptop. The reason for this arrangement is to maximize the router's ability to get optimum beamforming for each client by maximizing client-to-client distance at short range. Simply put, the better the beamforming, the better throughput to each client can be optimized.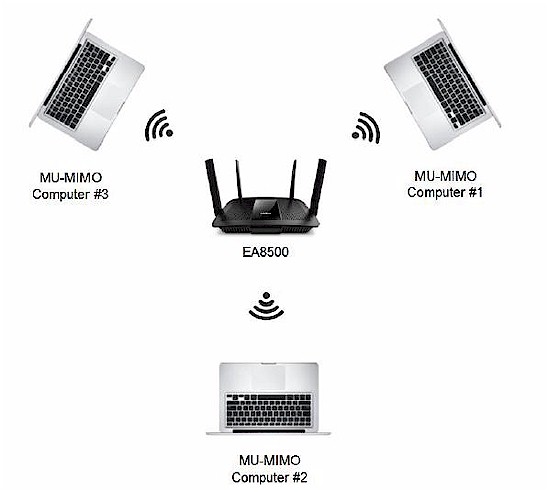 Suggested MU-MIMO test configuration
Because laptops and tablets with MU-MIMO enabled radios won't be out until July, Linksys and QCA had to gin up MU-MIMO enabled laptops and include them in the reviewer's kit. The box from Linksys contained three Dell Inspiron 13 7000 Series 2-in-1 laptops (7348, Early 2015) with QCA-sourced 1×1 AC MU-MIMO enabled wireless card installed. The laptop configuration ordered had a 2.2 GHz Intel Core i5-5200 CPU with 8 GB RAM running Windows 8.1 Pro 64 bit.
These laptops usually come with a 2×2 Intel Dual Band Wireless-AC 7265 + Bluetooth 4.0 card. Device properties for the substitute QCA adapter identified it as Qualcomm Atheros QCA9377 Wireless Network Adapter using a 11.0.0.526 driver. The adapter properties didn't include any references to MU-MIMO, beamforming, band selection or bandwidth selection. This card is not and will not be commercially available.
The photo below shows it installed in the Dell laptop. Note two antenna wires are connected, which QCA says support antenna diversity. Note that each client showed a full 433.3 Mbps link rate with 5 full signal bars in Windows Wireless Connection properties, no matter where clients were located. So I can only conclude the Windows driver couldn't access the correct information from the adapter.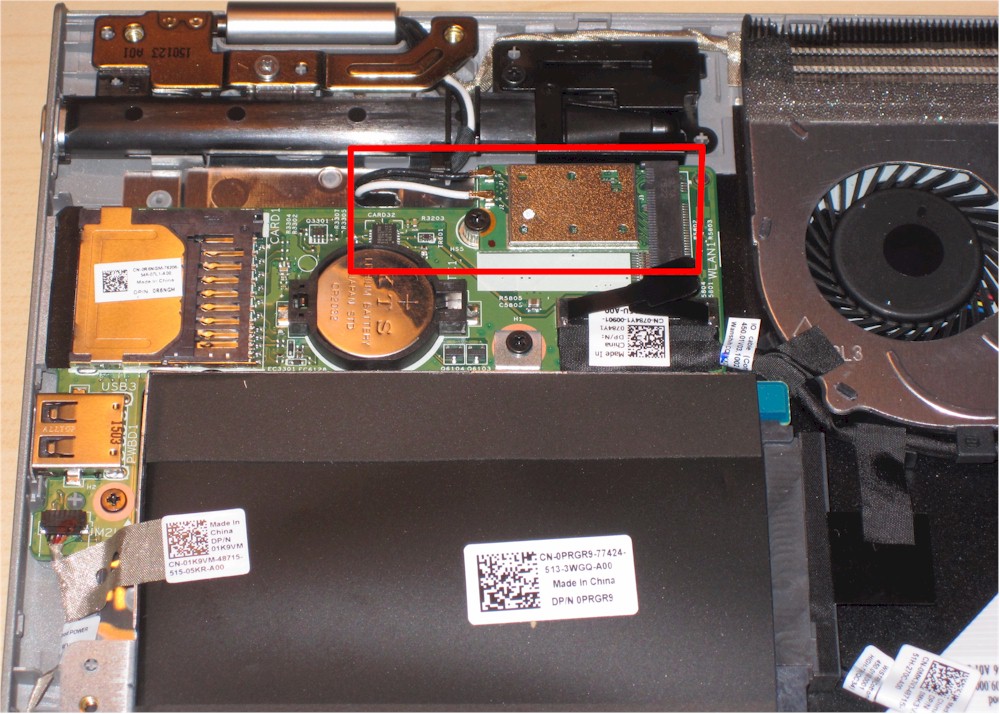 Dell laptop with QCA MU-MIMO WLAN card
As explained earlier, MU-MIMO's claim to fame is improved bandwidth utilization by effectively splitting a single 4×4 radio into three 1×1's. So the test is pretty simple:
Disable MU-MIMO, connect three 1×1 clients, run a test to all three clients simultaneously, record each client throughput and calculate total throughput
Repeate the test with MU-MIMO enabled
Calculate the throughput differences
All tests used the IxChariot throughput.scr script with the test file size set to 5,000,000 Bytes, TCP/IP protocol, one connection per client, 90 second test length. Each test was run once. The in-house 5 GHz network was not shut off during the test, but it was idle and only beaconing (no traffic). Channel was set to 153, bandwidth mode was in its default 80 MHz Auto mode and everything else was set to defaults.
I was able to easily enable/disable MU-MIMO and you'll be able to also, using the hidden advanced wireless screen accessed via the URL shown in the screenshot below. The Qualcomm screen also has beamforming controls for both bands.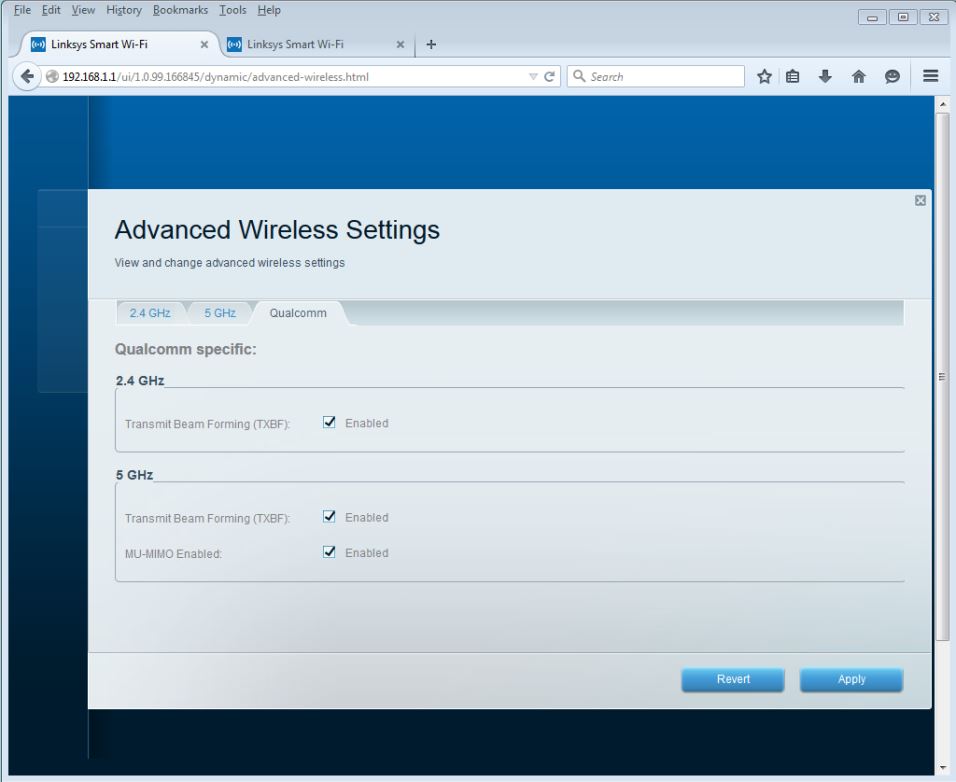 Advanced wireless screen – Qualcomm tab
The 2.4 and 5 GHz advanced wireless screens have the same controls and default settings. The only difference is the 5 GHz radio Sideband Selection control is set to Lower.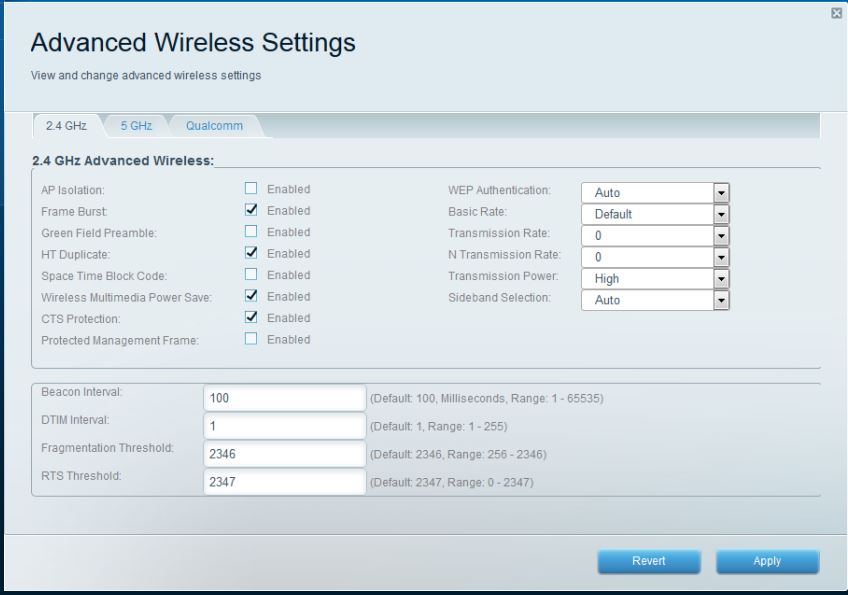 Advanced wireless screen – 2.4 GHz tab
In the sections to follow, all plots show downlink throughput only, since that is the only direction that MU-MIMO works in. To check, I also ran each test configuration in uplink with MU-MIMO enabled and disabled and saw total throughput change from -3 to +5%—which I chalk up to measurement variation.
Triangle
The first test shows Linksys' suggested triangle configuration. Due to limitations of my test space, I had to position one client in front, one in back and one on the right side (facing router front). All were about 6 feet from the router. The accomplished the same goal of optimizing beamforming as the suggested triangle configuration.
The plot shows throughput difference between MU-MIMO disabled and enabled for each client and for all three as a total. Throughput change for each client varied greatly from -6% worst case to 167% best. In all this test configuration showed a total throughput gain of 31%.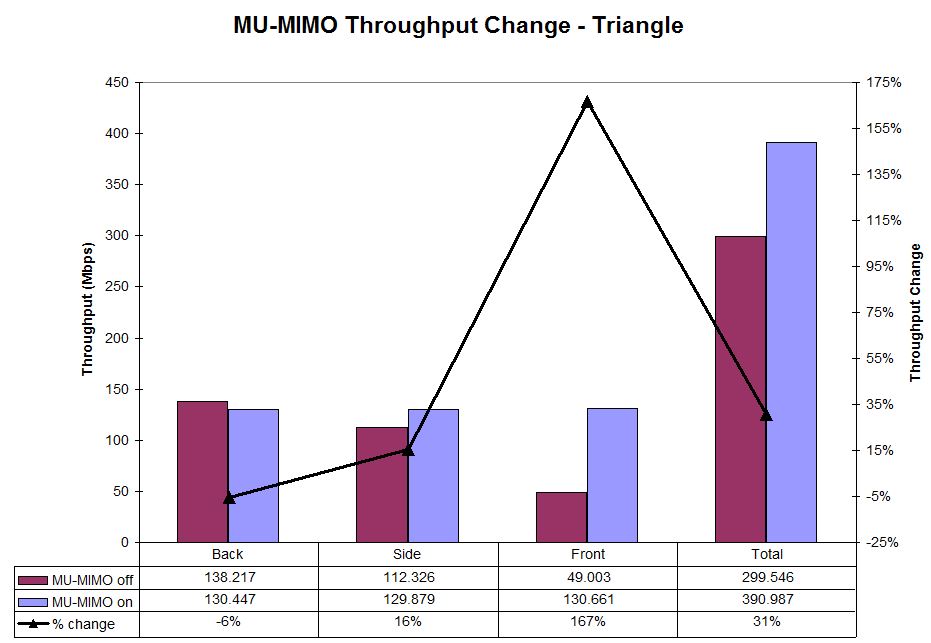 MU-MIMO Throughput change – Triangle
The IxChariot plot below shows the test run throughput plot with MU-MIMO disabled.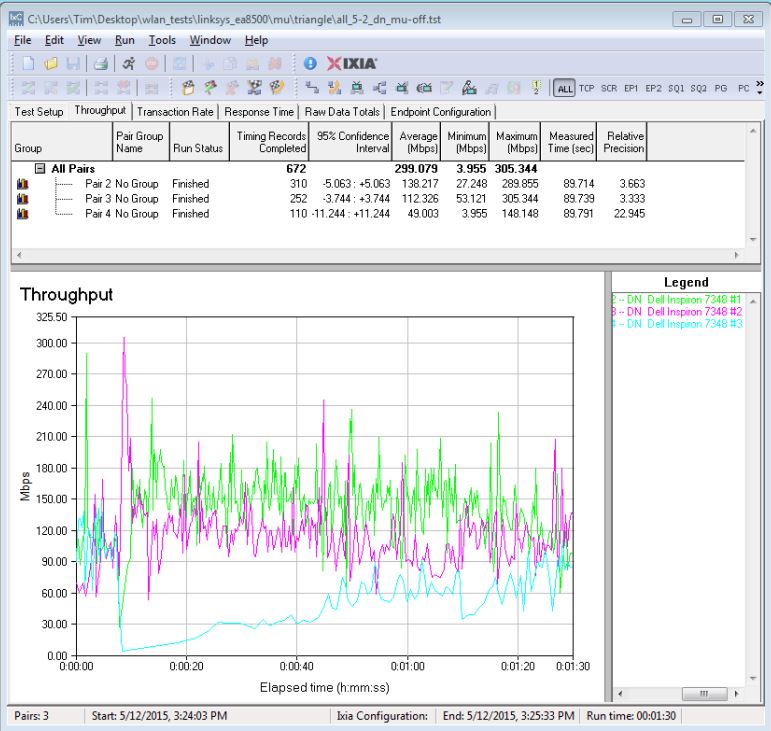 MU-MIMO Throughput – Triangle configuration – MU-MIMO disabled
And with MU-MIMO enabled. It's obvious that throughput is more equally distributed among the three clients and has reduced variation. Remember, this is an ideal test configuration.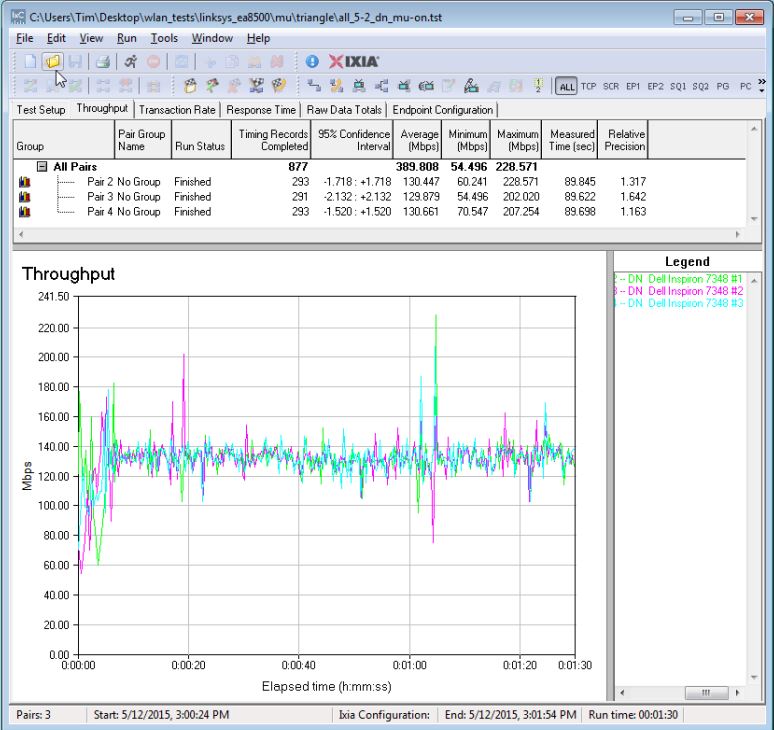 MU-MIMO Throughput – Triangle configuration – MU-MIMO enabled
All Front
The "All Front" test is meant to be a MU-MIMO torture test. It positions all three laptops on a rack in front of the router about 6 feet away as shown in the photo below. (The router looks closer than it is. And yes, the SNB test labs are quite posh…) Because the clients are so physically close, it's hard to optimize the formed beams for each one.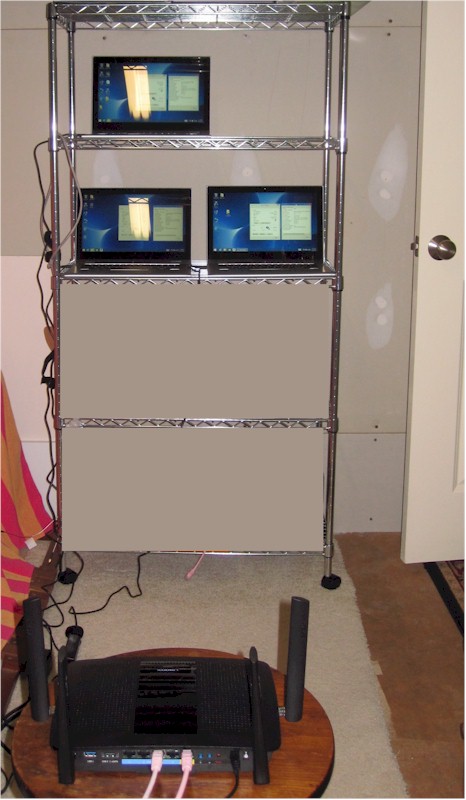 MU-MIMO All Front test setup
Nevertheless, the plot below shows essentially the same total throughput gain (32% vs. 31%) as the "optimal" triangle setup.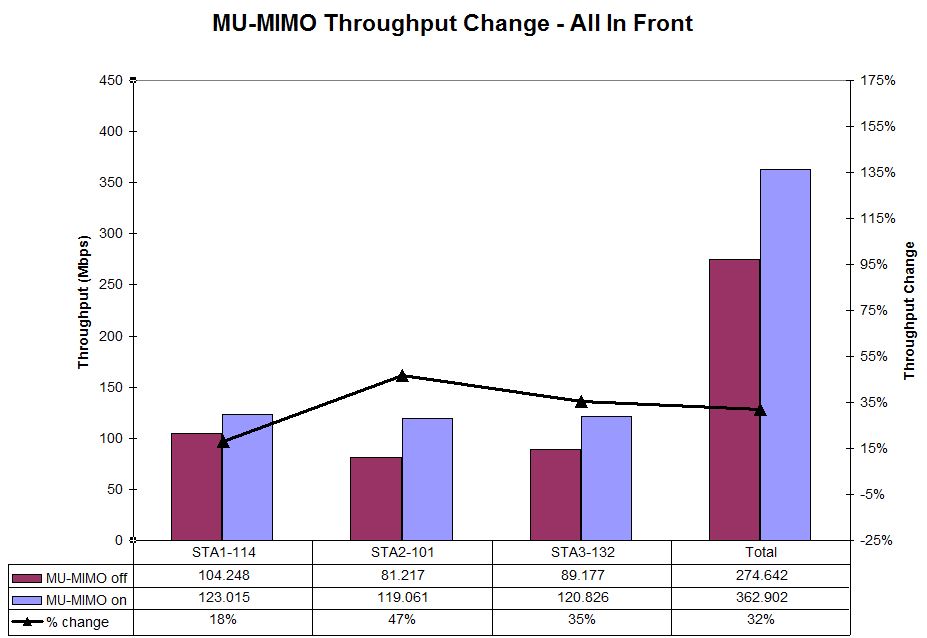 MU-MIMO Throughput change – All Front
Three Room A
I next wanted to see how MU-MIMO would work in a more real-world home situation with clients in different rooms. This test kept one laptop on the rack in the same room as the EA8500, the second laptop moved to a nearby bedroom about 25 feet and a few sheetrock walls away and the third was located in my office down the hall. This location (3 room A) was intentionally tough, about 50 feet away and a diagonal path through at least four sheetrock walls.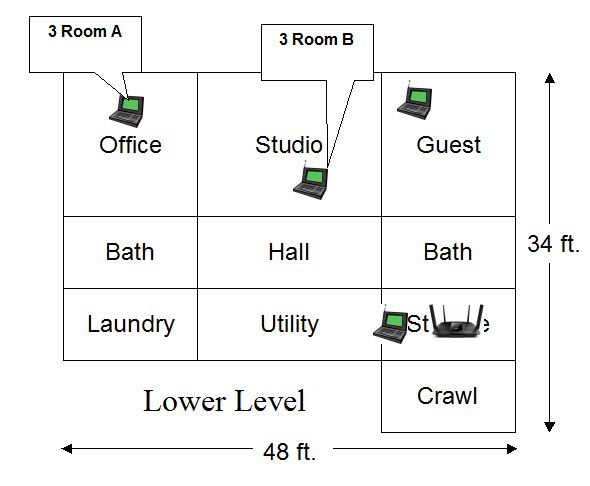 MU-MIMO 3 Room test floorplan
In the end, it almost proved too much for the office-located notebook, which slowed to a crawl with both MU-MIMO on and off. The take-away from this part of the test is that MU-MIMO won't help improve effective range, i.e. better throughput at a given location, if signal levels are low. But the test still yielded a 21% total throughput improvement for the other two clients.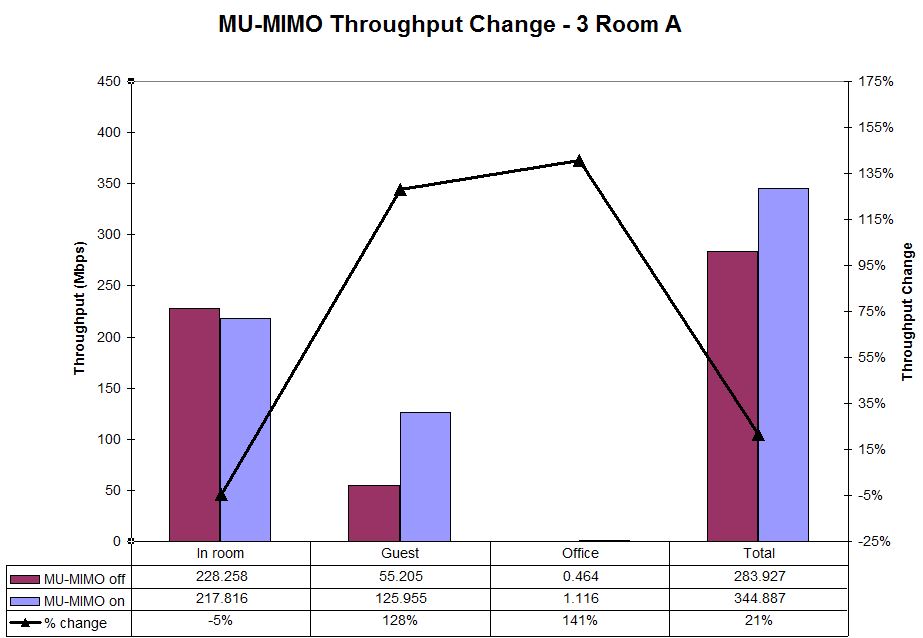 MU-MIMO Throughput change – 3 room A
Three Room B
I tried a second multi-room test, this time moving the test notebook to a room adjacent to the bedroom the second laptop was relocated to (3 Room B on the floorplan above). The laptop sat about 35 feet and three walls away from the router. The results were interesting, with only the In Room laptop (with the strongest signal) showing significant throughput improvement (9%), but not as much as in previous tests. Total throughput improvement in this test was only 3%. Since this is within the variation I saw in uplink tests, which aren't affected by MU-MIMO, I call the result for this test as no improvement.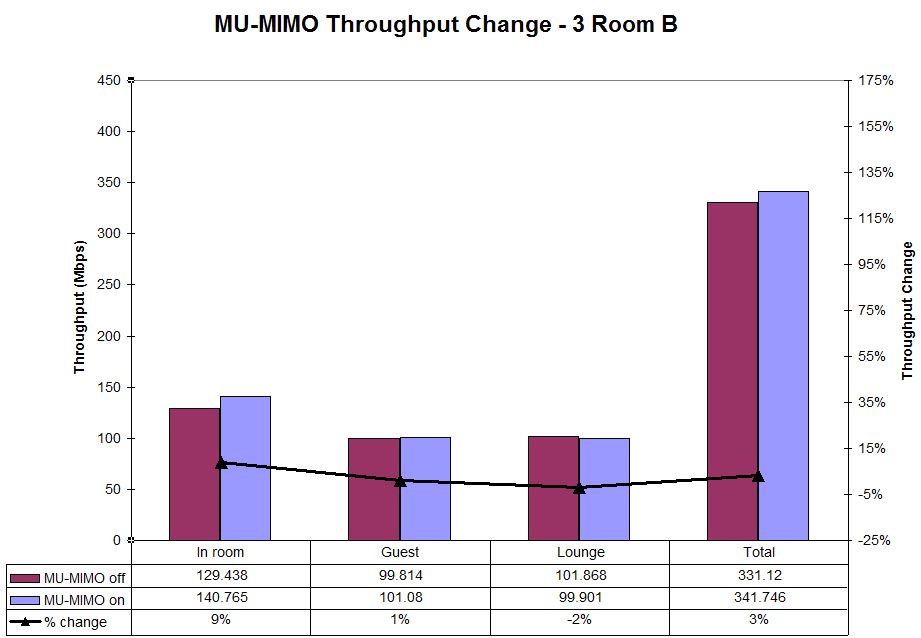 MU-MIMO Throughput change – 3 Room B
Three Room B – Run 2
I wanted to make sure I handn't made a setup mistake, so I reran the test, first putting the router through a MU-MIMO enable/disable cycle. This time, the In Room laptop throughput increased 72%, but the other two laptops' throughput decreased significantly more than before. The net result this time was an 11% throughput gain, significant, but not that impressive.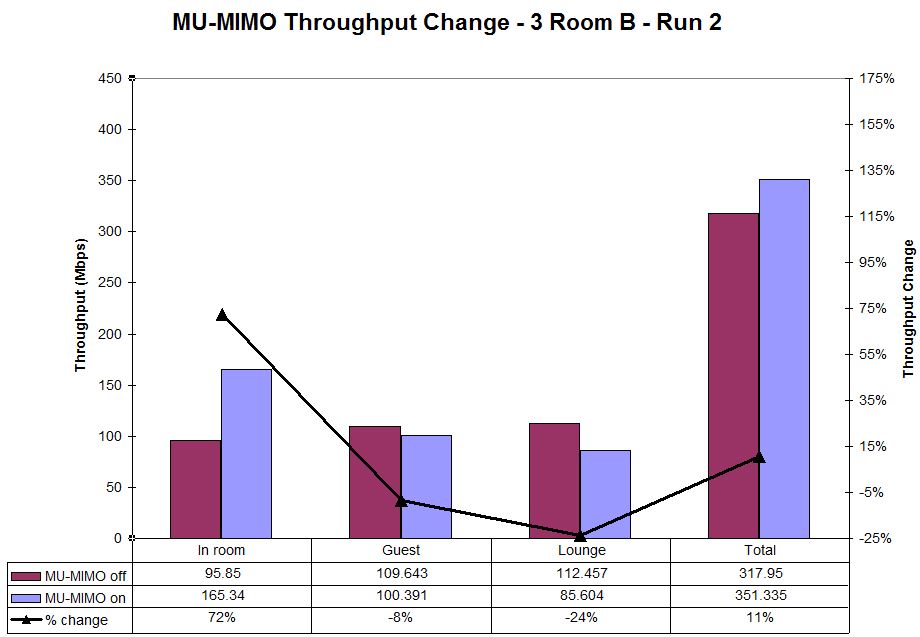 MU-MIMO Throughput change – 3 Room B – Run 2
The IxChariot plot below shows the test run throughput plot with MU-MIMO disabled.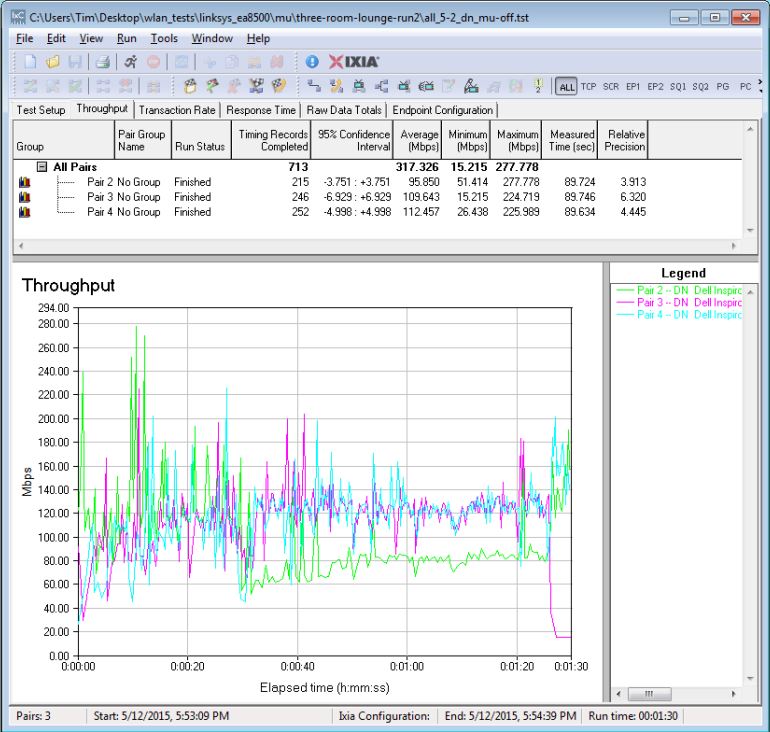 MU-MIMO Throughput – 3 Room B – Run 2 configuration – MU-MIMO disabled
And with MU-MIMO enabled. With lower and unequal signal levels, the MU-MIMO algorithms have a tougher time reducing thoughput variation and equally distributing it.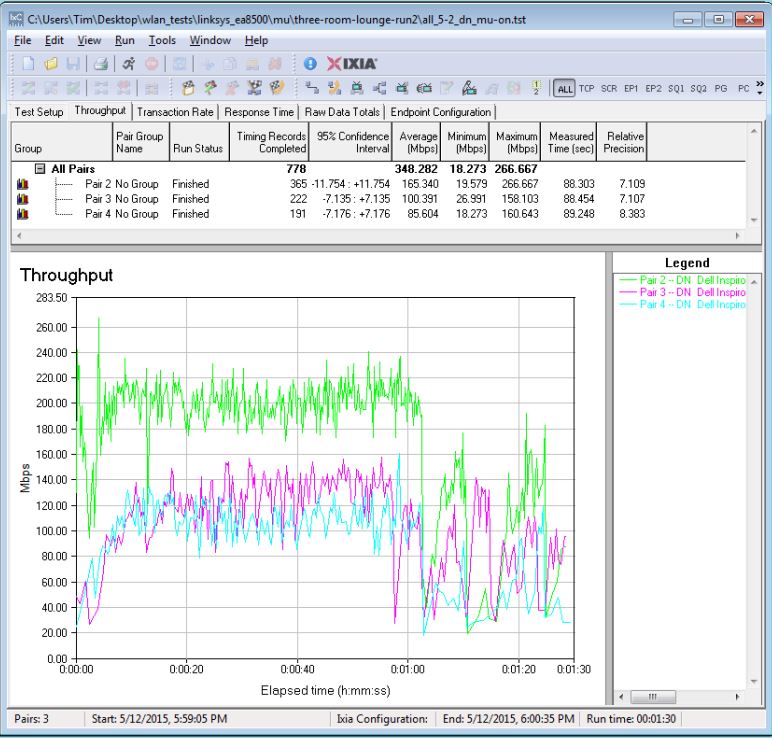 MU-MIMO Throughput – 3 Room B – Run 2 configuration – MU-MIMO enabled
All Front w/ 2×2 STA
My last test threw a different curve ball, this time adding a 2×2 non MU-MIMO adapter into the mix. I moved all laptops back to the rack in the room with the EA8500, then disabled the QCA adapter in one of them. I then installed a NETGEAR A6200 2×2 USB client, connected everything and ran the tests. With two 1×1 clients still running MU-MIMO, we should expect to see improved throughput for the 2×2 client. Since MU-MIMO can move packets for both 1×1 clients in the same frame, more airtime is freed for the 2×2 client.
The results yielded a meh 9% total throughput gain, although the 2×2 adapter's individual throughput more than doubled!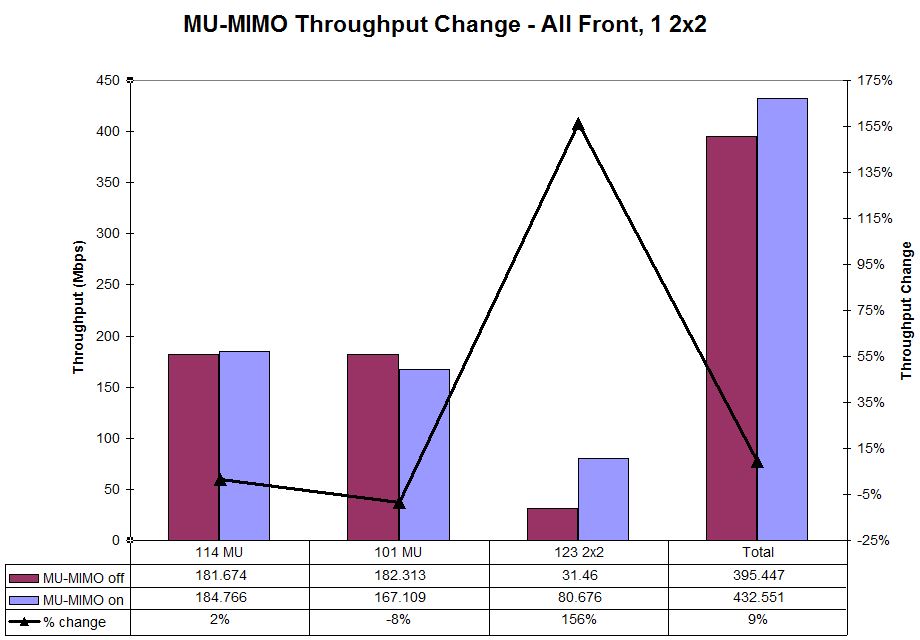 MU-MIMO Throughput change – All In Front w/ 2×2 STA
I ran the test again the next day and got an 18% total throughput gain with the 2×2 adapter again getting the best individual improvement of 70%.
MU-MIMO Throughput change – All In Front w/ 2×2 STA – Run 2
The IxChariot plot below shows the test run throughput plot with MU-MIMO disabled. It's clear the 2×2 client gets the smallest throughput allocation, as you would expect with two 1×1 clients taking up more airtime.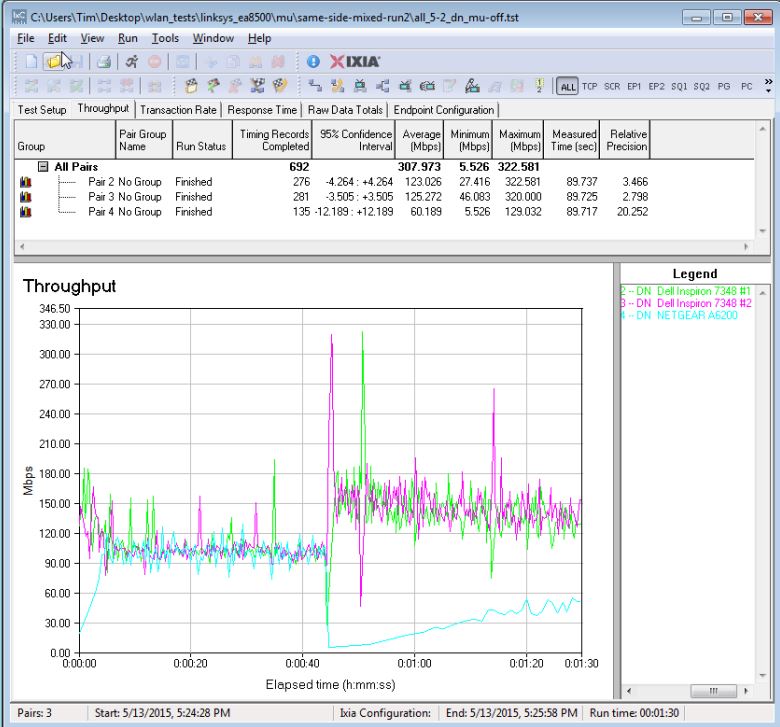 MU-MIMO Throughput – All In Front w/ 2×2 STA – Run 2 configuration – MU-MIMO disabled
With MU-MIMO enabled, the 2×2 client's throughput increases dramatically, equalling both 1×1 clients' during the first part of the test run.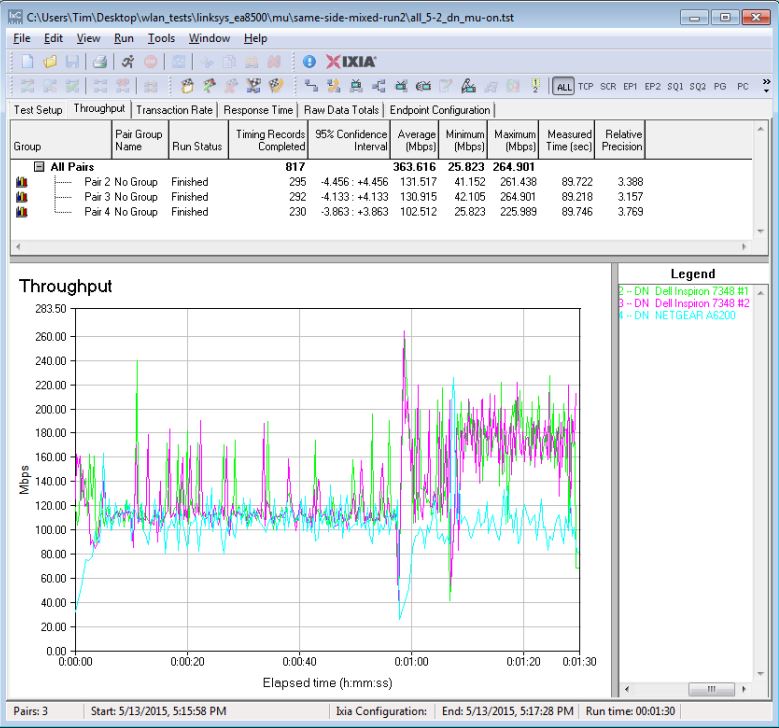 MU-MIMO Throughput – All In Front w/ 2×2 STA – Run 2 configuration – MU-MIMO enabled
Four Stream Performance
I set two EA8500's up in open air, six feet apart, one as a normal router and the other in wireless bridge mode (found in the Basic Setup > Internet Connection Type selector. The in-house 5 GHz network was not shut off for the test, but was idle and only beaconing (no traffic). Channel was set to 153, bandwidth mode was in its default 80 MHz mode and everything else was set to defaults, including MU-MIMO enabled. However, given the 4×4 to 4×4 nature of the link, MU-MIMO doesn't come into play.
I connected only one computer via Gigabit Ethernet at each end of the bridge. Baseline tests using Ethernet between the two computers and TP-LINK NICs show the Ethernet link capable of a bit over 900 Mbps in both directions with each direction run separately. So the hardwired part of the link shouldn't be a limiting factor.
I couldn't monitor link rates for these tests, since the router's admin GUI doesn't show wireless signal levels or link rates.
The simultaneous up and downlink test yielded 830 Mbps total throughput, with an almost 2-to-1 difference between down and uplink throughput.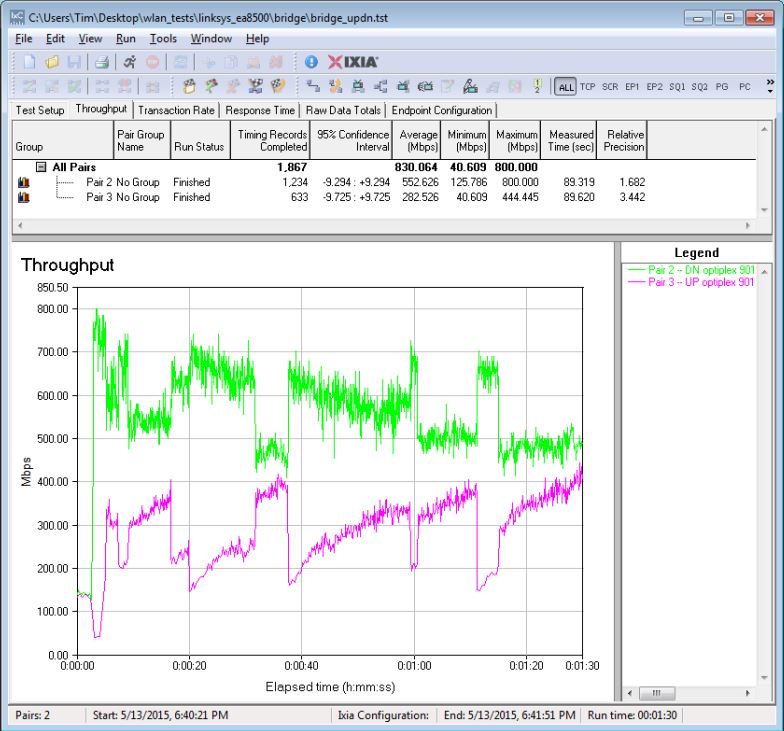 Linksys EA8500 four stream throughput – simultaneous up/downlink
I also ran separate up and downlink tests that yielded 727 Mbps downlink and 667 Mbps uplink, as shown in the composite IxChariot plot below.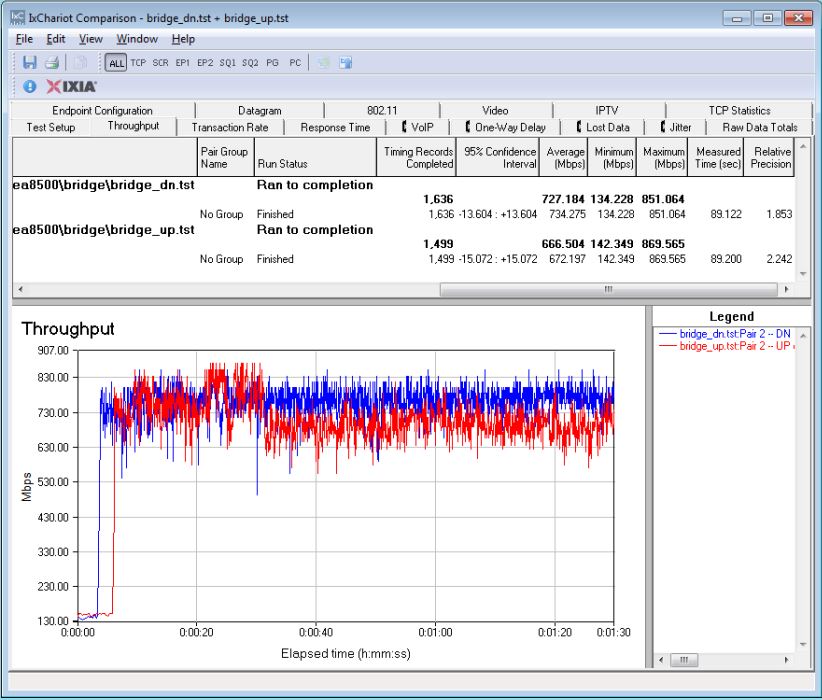 Linksys EA8500 four stream throughput – up and downlink
I also added a second pair of clients plugged into the router and bridge to see if a second stream would yield higher throughput and to ensure that the single Gigabit Ethernet connection was not limiting results. The plot shows a total 924 Mbps throughput, with one of the downlink connections getting the lion's share.
Linksys E8350 four stream throughput – simultaneous up/downlink, angled antennas, four computers
To put these results in perspective, I created the table below, adding single pair 4-stream results for the first generation 4×4 routers tested.
| | Linksys EA8500 | Linksys E8350 | ASUS RT-AC87U | NETGEAR R7500 |
| --- | --- | --- | --- | --- |
| Downlink | 727 | 708 | 766 | 547 |
| Uplink | 667 | 660 | 444 | 624 |
Table 2: 4 stream throughput comparison(Mbps)
The results show QCA hasn't made any breakthroughs in full 4×4 wireless throughput, but it hasn't made any big mistakes, either.
Closing Thoughts
So the long wait is over and MU-MIMO is finally here. And it even appears capable of providing a moderate gain in total throughput, around 30% in our best-case scenario testing. This isn't even close to the 2 to 3x improvement Qualcomm claims in its MU-MIMO whitepaper, but at least it's something.
As much as Linksys and Qualcomm would like, you don't need to rush to buy your EA8500 today. Clients that support MU-MIMO are in short supply right now. Linksys was able to only point to Acer E series notebooks, due out in July. Qualcomm was a bit more helpful, referencing the same Acer notebooks and a few other devices:
Xiaomi MI Pro and MI 4 smartphones (China only). Also updating all Qualcomm Snapdragon-based SKUs to MU
ZTE Nubia Z9 Max (international SKU)
While Qualcomm says more MU devices are coming shortly, the pickin's are pretty slim right now. Even when MU-enabled devices are more plentiful, did you notice you'll have to buy a new device to get MU-MIMO? Perhaps you'll be able to buy a MU-MIMO USB adapter at some point, but I know of nothing in the works. And a USB dongle isn't going to help your smartphone or tablet—the products that can benefit most from MU-MIMO—get upgraded.
Finally, if you're an E8350 owner wondering when your router will get its MU-MIMO wings, Linksys said "of course" they'll enable MU-MIMO "as soon as the driver is ready". However they added "No word from Quantenna yet on when that will be."
Read Part 2 for storage, routing and wireless performance results.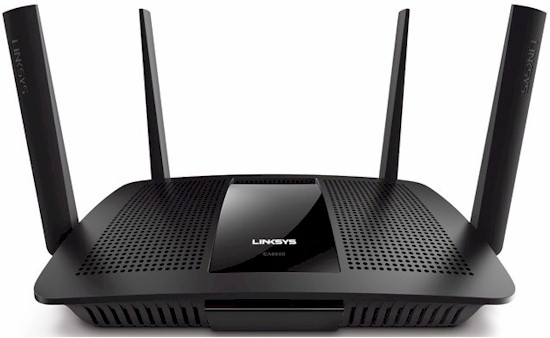 Buy Max-Stream AC2600 MU-MIMO Smart Wi-Fi Router from Amazon