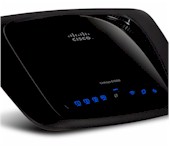 The Cisco Linksys E1000 Wireless-N Router has been added to the Router and Wireless Charts.
The E1000 is a single-band Broadcom-based 802.11n router with 10/100 Ethernet ports, using the same hardware design as the Cisco Valet M10 and Linksys WRT160N V3. It is Cisco's entry-level router in its new Linksys E product line.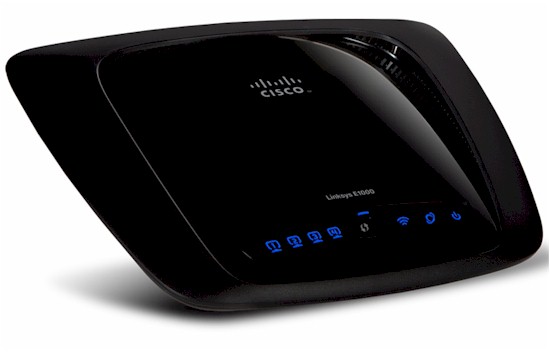 The E1000's feature set is cut from the same cloth as Cisco's other consumer routers. See the E3000 review for a rundown. Note that Parental Control and Guest Wireless features are available, but only when using the Cisco Connect software, which is included on CD. But if you then use the web admin GUI, it can interfere with the Connect settings. I'd like to see Cisco add these features to the Web GUI.

The board photo below shows the E1000's construction, which includes a Broadcom BCM4716 Intensi-fi XLR 802.11n 2.4 GHz Router System-on-Chip, Broadcom BCM5325 10/100 switch, 32 MB of RAM and 4 MB of flash.
Linksys E1000 board
Routing throughput running the latest v1.0.01 build 7 firmware measured 90 Mbps WAN to LAN, 90 Mbps LAN to WAN and 88 Mbps with both directions running simultaneously. The IxChariot plot below shows steady routing speed, with just a few dropouts.
E1000 routing throughput
The E1000 is Wi-Fi Certified and properly defaults to Auto 20/40 bandwidth mode. It also properly limits link rates to 54 Mbps when using WEP and WPA / TKIP wireless security. A Wi-Fi Protected Setup (WPS) test using PIN mode successfully set up a WPA2 / AES connection.
The Maximum Simultaneous Connections test topped out at 8183, which indicates an 8K design limit—the value we entered in the Router Chart database.
Average wireless throughput ranked the E1000 in the middle of the pack for single-band N routers running 20 MHz mode downlink at 27.2 Mbps and a bit higher running uplink at 32.2 Mbps. Best case unidirectional throughput was 63.7 Mbps running uplink in 40 MHz bandwidth mode, measured at test Location A. However, I was able to measure 78.6 Mbps total throughput when running simultaneous single up and downlink streams using 40 MHz bandwidth mode.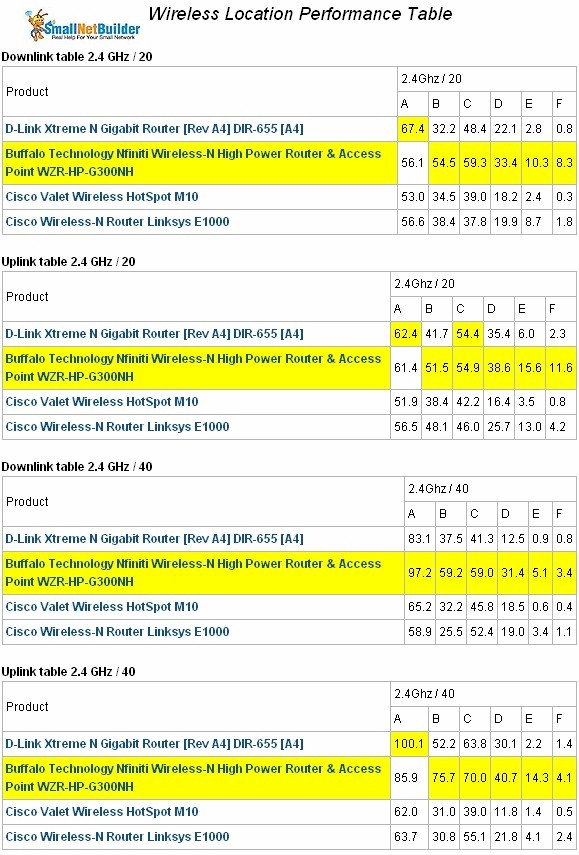 E1000 wireless performance comparison
The Wireless Performance Table above shows the E1000 compared to its Cisco Valet M10 twin, D-Link's DIR-655 [A4] mainstay N router and one of the top single-band N performers, Buffalo's WZR-HP-G300NH. The overall winner in this group is the Buffalo, primarily because its high throughput holds up as signal level weakens.
Here are links to the IxChariot wireless test plots if you'd like to explore further:
Because the E1000's feature set is the same as other Cisco / Linksys N routers, we won't be doing a full review. You can further explore the E1000's performance and compare to other products using the Router and Wireless Charts. [Product webpage]