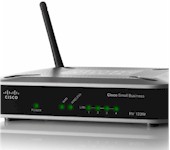 The Cisco RV 120W Wireless-N VPN Firewall has been added to the Router and Wireless Charts.
The RV 120W is an IPsec VPN router with 10/100 switch with VLAN and uplink QoS features aimed at small business users. Cisco also bundles in 2.4 GHz N Wi-Fi for good measure.
We'll be doing a full review soon, [done] complete with IPsec performance tests. So, for now, I'll quickly run through feature and performance highlights.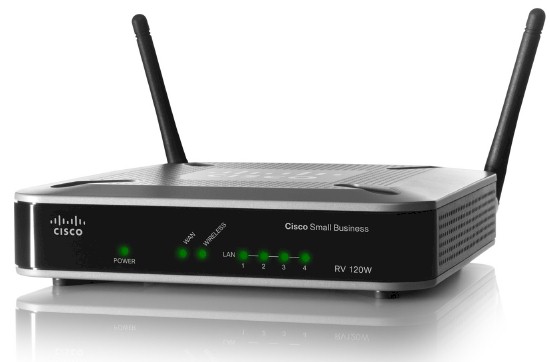 The hardware platform includes a Cavium CN5010 CPU and Broadcom BCM5325 10/100 switch under the heatsinks in the photo, plus 64 MB of RAM and 16 MB of flash. The single band 2.4 GHz radio comes from a Broadcom BCM4322 Intensi-fi Single-Chip 802.11n radio on a mini-PCI module.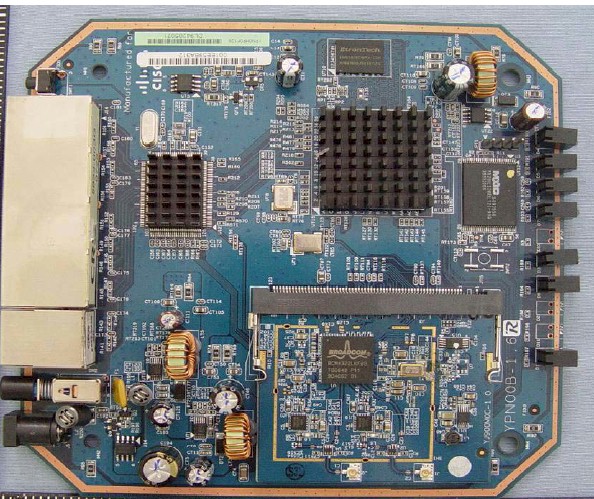 Routing throughput running the latest 1.0.1.3 firmware measured 87 Mbps in each direction, but 136 Mbps totally with up and down tests running simultaneously. So unidirectional routing throughput looks like it is held back by the 10/100 ports. The IxChariot plot below shows regular variation, but no big or sustained dropouts.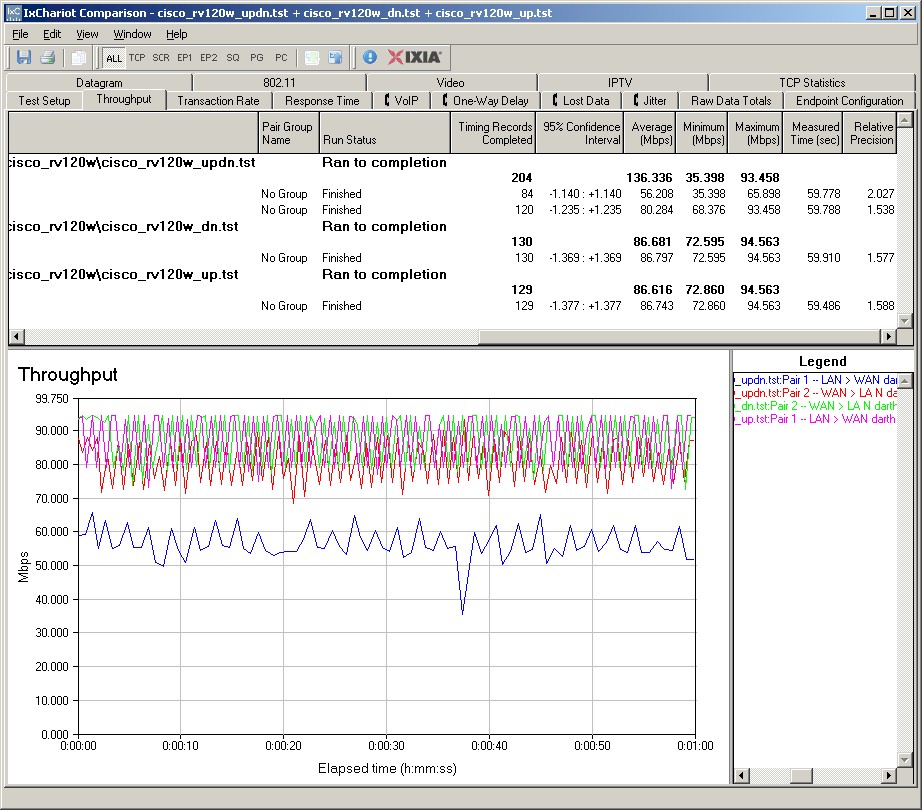 The Maximum Simultaneous Connections test topped out at slightly over 12,000, which is more than adequate for even busy small business networks.
On the wireless side, the RV 120W is Wi-Fi Certified and properly defaults to 20 MHz bandwidth mode out of the box. It also properly limits link rates to 54 Mbps when using WEP and WPA / TKIP wireless security. Wi-Fi Protected Setup (WPS) is supported. But I could not run a successful WPS session with my Intel 5300 client because the RV 120W has no physical WPS pushbutton and I couldn't get the PIN method to work due to both router and Win 7 issues.
Testing showed higher downlink than uplink throughput in both 20 MHz and 40 MHz bandwidth modes. The downlink chart below shows the RV 120W in the upper third of the chart with 32.4 Mbps. But the average uplink throughput (not shown) of 21.7 Mbps ranks the product in the lowest third of the chart. The same pattern applies to 40 MHz bandwidth mode.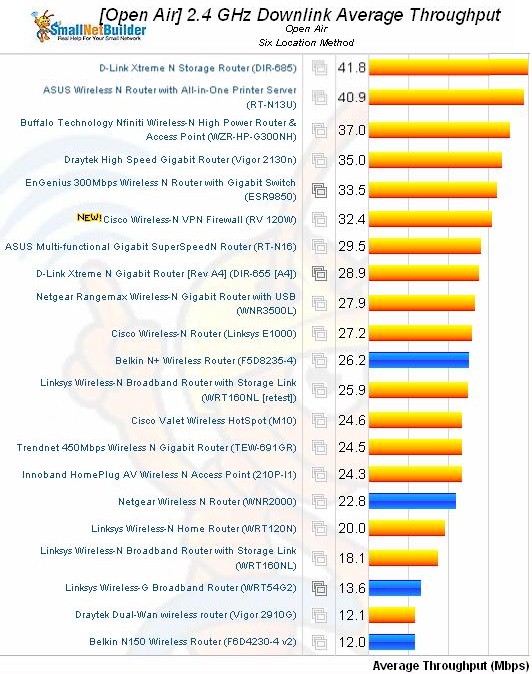 Here are links to the IxChariot wireless test plots if you'd like to explore further:
You can further explore the RV 120W's performance and compare to other products using the Router and Wireless Charts. And read the full review.