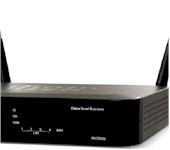 The Cisco RV 220W Wireless-N VPN Firewall has been added to the Router and Wireless Charts.
The RV 220W is a PPTP / IPsec / SSL VPN router with Gigabit ports and integrated switchable 2.4 / 5 GHz 802.11n access point positioned for the small business market.
Cisco has packed a lot into the 220W, which appears to be its new top-of-line SMB wireless router. It has an all-metal case (except for plastic front panel), upgradeable antennas (RP-SMA connectors) and bottom mounting slots for mounting flexibility.
The four-port 10/100/1000 port switch has a good set of basic managed switch features including Jumbo Frames (disabled by default), port and tag-based VLANs with inter-VLAN routing, port enable / duplex / speed settings and priority, rate-based and 802.1p QoS for LAN to WAN traffic.
Routing features include DHCP reservation, NAT / routing mode, static routes, dynamic DNS clients for TZO and DynDNS, one-to-one NAT, schedulable rule-based firewall, URL-based content filtering, traffic meter and remote management. Connection to the web-based administration is via HTTPs by default but can be switched to HTTP.
On the wireless side, the switchable dual-band radio supports four SSID, each with its own security settings. You can lower the maximum number of associated clients per SSID from the default of 20 and enable AP Isolation, which will keep clients from seeing each other. I didn't find any controls, however, to keep wireless traffic from connecting to wired LAN clients, for setting up "guest" Internet-only access, for example.
The 220W's main attraction is its flexible VPN features. It can handle IPsec / PPTP / L2TP passthrough, act as a PPTP server, handle 25 site-to-site or client-to-gateway IPsec tunnels and 5 SSL connections. You can check the full feature set in the PDF user guide.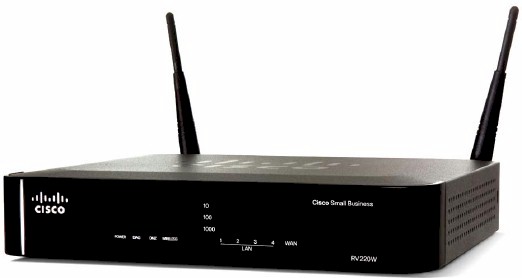 Like its lower-cost RV 120W sibling [reviewed], the RV 220W runs on a Cavium Octeon Plus CN5010 CPU, but clocked at 400 MHz vs. 300 MHz on the 120W. The CPU is under the darker heatsink in the photo below.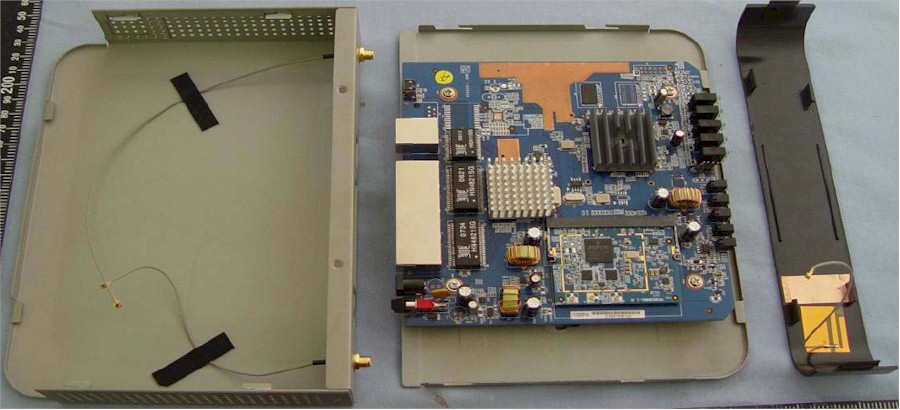 Other key 220W components include a Broadcom BCM53115 Gigabit switch, 128 MB of RAM and 32 MB of flash. The component detail photo below has CPU and switch heatsinks removed and the radio mini-PCI board removed.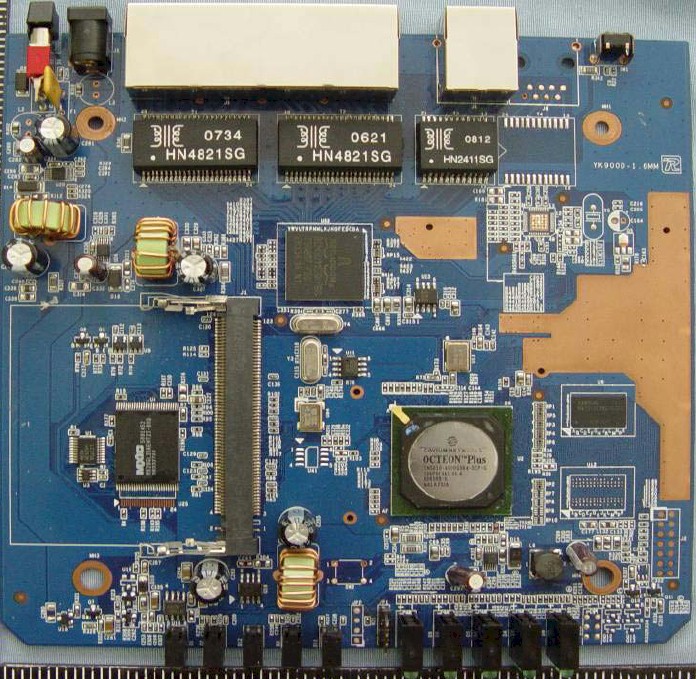 The radio module pictured below uses the same Broadcom BCM4322 Intensi-fi Single-Chip 802.11n Transceiver used in the RV 120W. But it's a different module that has components allowing switchable dual-band operation.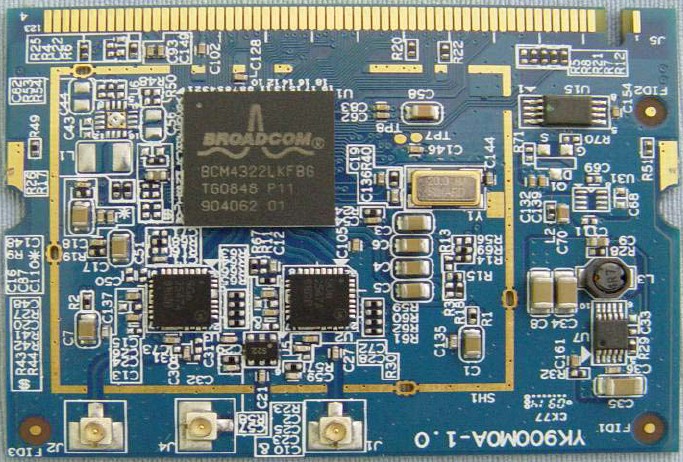 Routing throughput running the latest 1.0.1.0 firmware and our router test process measured 728 Mbps LAN to WAN, 720 Mbps WAN to LAN and 1113 Mbps totally with up and down tests running simultaneously. This is a new high on the Routing throughput charts. The Maximum Simultaneous Connections maxed out our test capability at 34,925.
The IxChariot plot below shows significant throughput variation. But that is more an artifact of the test file size than the router itself.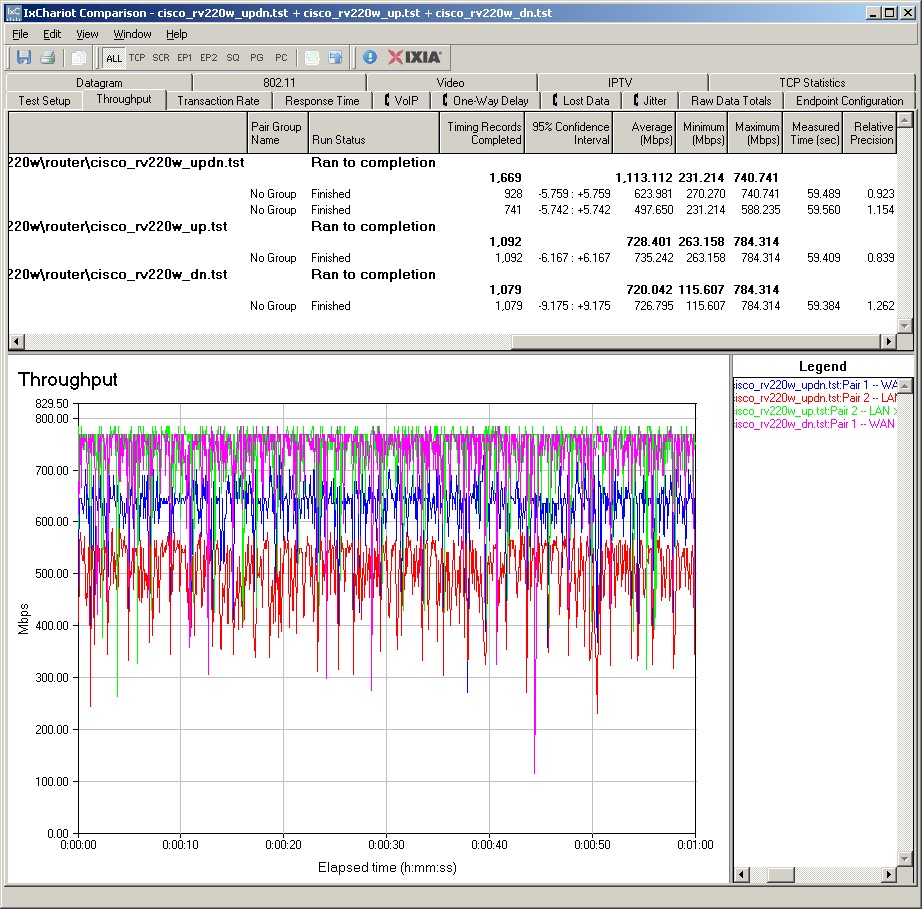 On the wireless side, the RV 220W is Wi-Fi Certified and properly defaults to 20 MHz bandwidth mode out of the box. It also properly limits link rates to 54 Mbps when using WEP security. I couldn't test for 54 Mbps link limit for WPA / TKIP because the router only allows mixed TKIP+AES. Wi-Fi Protected Setup (WPS) is not supported, which is not surprising, given the business focus of the product.
Also of note is that when Auto bandwidth mode is selected on either band, you can't set the channel.
Highest 2.4 GHz throughput of 61.5 Mbps was measured using our wireless test process in Location A running downlink in 20 MHz bandwidth mode. Highest 5 GHz band throughput of 69.8 Mbps was again in Location A, but downlink with 40 MHz (Auto) bandwidth mode.
Compared to other routers, I'd classify the 220W's wireless performance as average; not the best, but not the worst. Uplink speeds were generally lower than downlink, however. And switching to Auto bandwidth mode to enable channel bonding did not appear to significantly improve speeds on either band.
Comparing the 220W to two leading dual-band consumer routers, the 2.4 GHz performance table below shows in-the-ballpark performance in 20 MHz bandwidth mode. But for 40 MHz bandwidth mode, the 220W still putts along at 20 MHz mode-like speeds, while the NETGEAR WNDR3700 and Cisco Linksys E4200 bump up to significantly higher throughput.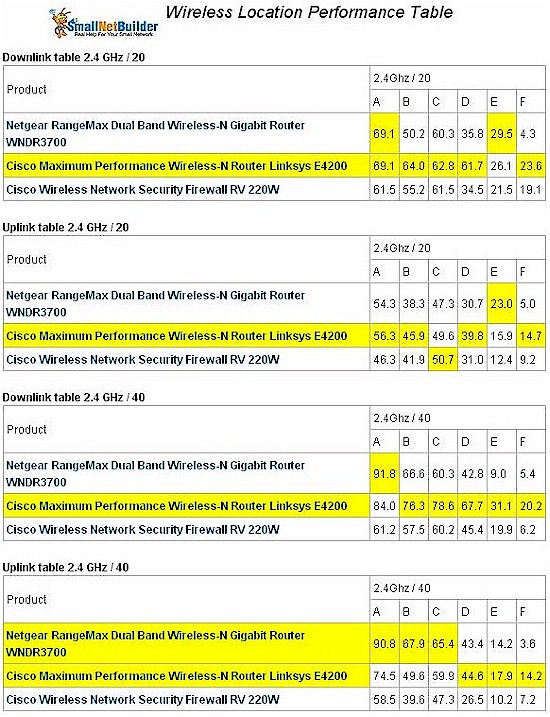 In case you're wondering, I did check to see that higher link rates indicative of 40 MHz mode were being used when I ran the 40 MHz mode tests.
The 5 GHz table shows that, like most other routers, the 220W failed to provide connection in our low-signal test locations E and F. Throughput at our marginal test location D came in generally lower than the comparison products.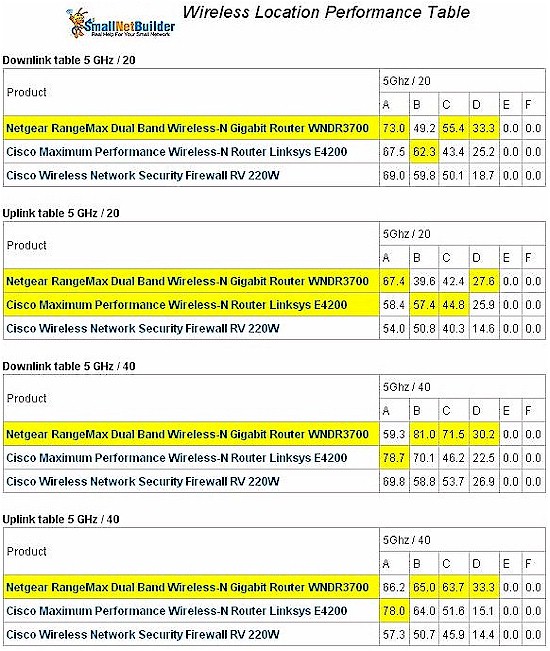 Here are links to the IxChariot wireless test plots if you'd like to explore further:
You can further explore the RV 220W's performance and compare to other products using the Router and Wireless Charts. Or read the full review.