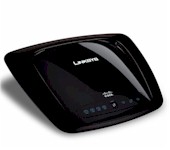 The WRT160N has been added to the Router and Wireless Charts. This will become Linksys' lowest-cost draft 802.11n router once the WRT150N inventory is exhausted.
It's a two-antenna design (2T2R) with around 80 Mbps of routing throughput and 10/100 switch.
Wireless throughput with out-of-the-box settings (20 MHz channel mode) is around 60 Mbps. Changing to 40 MHz channel mode doesn't improve single-direction (up or downlink) throughput much, but raises simultaneous up and downlink throughput to around 80 Mbps.