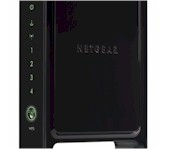 The NETGEAR WNR3500L Rangemax Wireless-N Gigabit Router with USB has been added to the Router and Wireless Charts.
The WNR3500L is a single-band Broadcom-based 802.11n router with WDS bridging / repeating, upload QoS, guest WLAN and USB drive sharing. Its main claim to fame is support for popular alternative firmware including DD-WRT, OpenWRT, Tomato and FreeWRT.
Its feature set is very similar to its most popular sibling, the WNDR3700. So refer to that review for a rundown of the 3500L's features.
The figure below shows the 3500L's internals. The design is physically different, but electronically very similar to the ASUS RT-N16. The ASUS, however, has upgradeable external antennas, while the 3500L's are internal and have no external connectors.
NETGEAR WNR3500L Internal view
The design is based around a Broadcom BCM4718A Intensi-fi XLR 802.11n Simultaneous Dual-Band (2.4/5 GHz) Router System-on-Chip. This chip combines the baseband, MAC, 533 MHz CPU and radio modules and includes the USB port support.
Although the BCM4718A has a 5 GHz radio, there is no 5 GHz circuitry to support it. So even if you load up any of the alternative firmwares, you won't get a dual band router.
The Gigabit WAN and four Gigabit LAN ports are supported by a Broadcom BCM53115 which provides a full 5 Gbps switching fabric and built-in QoS. My test to see whether the switch passed 4k jumbo frames showed that it did not.
64 MB of RAM and 8 MB of Flash round out the design. Note that the RT-N16U has 128 MB of RAM and 32 MB of flash by comparison and also runs DD-WRT.
Routing throughput running the latest NETGEAR V1.0.2.26_30.0.98NA firmware measured 256 Mbps WAN to LAN, 301 Mbps LAN to WAN and 302 Mbps with both directions running simultaneously. The IxChariot plot below shows nice steady routing speed.
WNR3500L routing throughput
Maximum Simultaneous Connections topped out at only 2045. But you'll probably be able to increase this by using alternative firmware.
Wireless performance was undistinguished, although a solid signal was obtained in our weakest signal test locations E and F in both 20 MHz and 40 MHz channel bandwidth mode.
The Wireless Performance Table below shows the 3500L compared to the ASUS RT-N16 and one of Cisco's routers that accepts alternative firmware, the WRT160NL. The overall winner is the ASUS, although the 3500L does best the other two products in some locations and modes.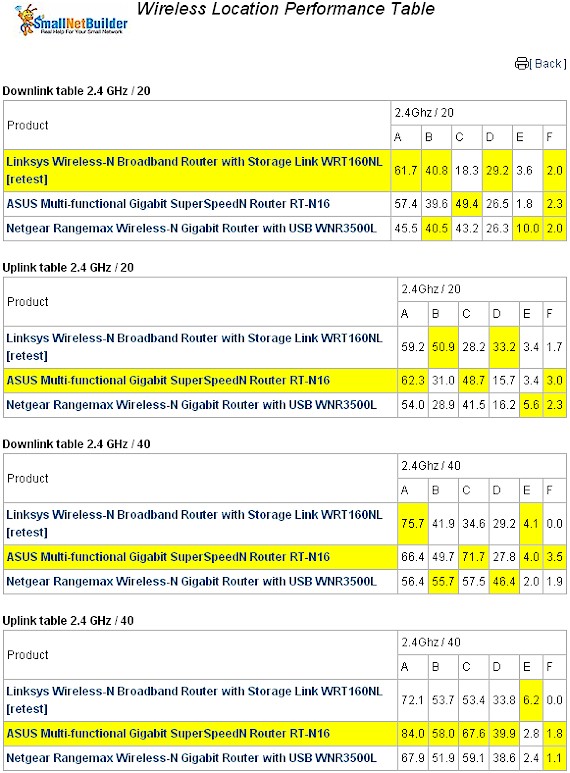 WNR3500L wireless performance comparison
A scan of the chart above shows that the 3500L's best case throughput was only 67.9 Mbps (uplink, 40 MHz bandwidth, Location A). We were able, however, to get around 85 Mbps of total throughput when running simultaneous single up and downlink streams when using 40 MHz bandwidth mode.
Here are links to the IxChariot wireless test plots if you'd like to explore further:
The WNR3500L is Wi-Fi Certified and properly defaults to Auto 20/40 bandwidth mode. It also properly limits link rates to 54 Mbps when using WEP and WPA / TKIP wireless security. A Wi-Fi Protected Setup (WPS) test using PIN mode successfully set up a WPA2 / AES connection.
Read about how the WNR3500L performs when flashed with DD-WRT.