Introduction
At a glance
Product
TP-LINK AC1750 Wireless Dual Band Gigabit Router (Archer C7) [Website]
Summary
First QCA based AC1750 Class router, with Gigabit ports.
Pros
• Top-ranked 5 GHz range

• Gigabit wire-speed routing

• Up and downlink bandwidth limiting
• Guest network bandwidth controls
Cons
• 2.4 GHz performance a bit short on range and peak throughput
• Can have low throughput with Broadcom AC clients
Typical Price: $90 Buy From Amazon
I bemoaned NETGEAR's use of 10/100 ports on its R6100; the first Qualcomm Atheros (QCA) based draft 11ac router to hit the SmallNetBuilder test chamber. So when I saw both TP-LINK and D-Link had fully Gigabit-equipped QCA-based routers close to launch, I got in line for my samples.
I'll preface this review by saying we discovered wireless performance problems with both TP-LINK's Archer C7 and D-Link's DGL-5500 that we reported back to them. And both companies have new firmware in the works to straighten things out. But since both products are on the shelves waiting for you to open your wallet, both are fair game for review.
TP-LINK's Archer C7 might be mistaken for its N750 class TL-WDR4300 sibling, which is the top of the company's N router line. The black high-gloss plastic exterior starts to collect fingerprints immediately after you peel off its protective film, giving it a well-worn look almost immediately.
Antenna-upgraders will be happy to see that the three 5 dBi external dipole antennas are attached via RP-SMA connectors for easy upgrading. But their joy may be reduced when they discover that the external antennas are 5 GHz only. The three 2.4 GHz antennas are ensconced discretely inside the router. You can peruse the callout diagrams below to get the 411 on the lights and ports.
TP-LINK Archer C7 front and rear panel callouts
As noted earlier, all Ethernet ports are Gigabit. The two USB ports are 2.0 only, however. TP-LINK has thoughtfully included a wireless on/off switch for folks who like the extra security that comes from shutting wireless completely off when you don't need it.
Inside
I was able to easily pop the C7's hood to take the photo below, which clearly shows its QCA based design. No heatsinks were removed to take this photo. Unlike most Broadcom-based AC router designs, this one apparently doesn't need them. The three bent-metal 2.4 GHz antennas are clearly visible in the photo.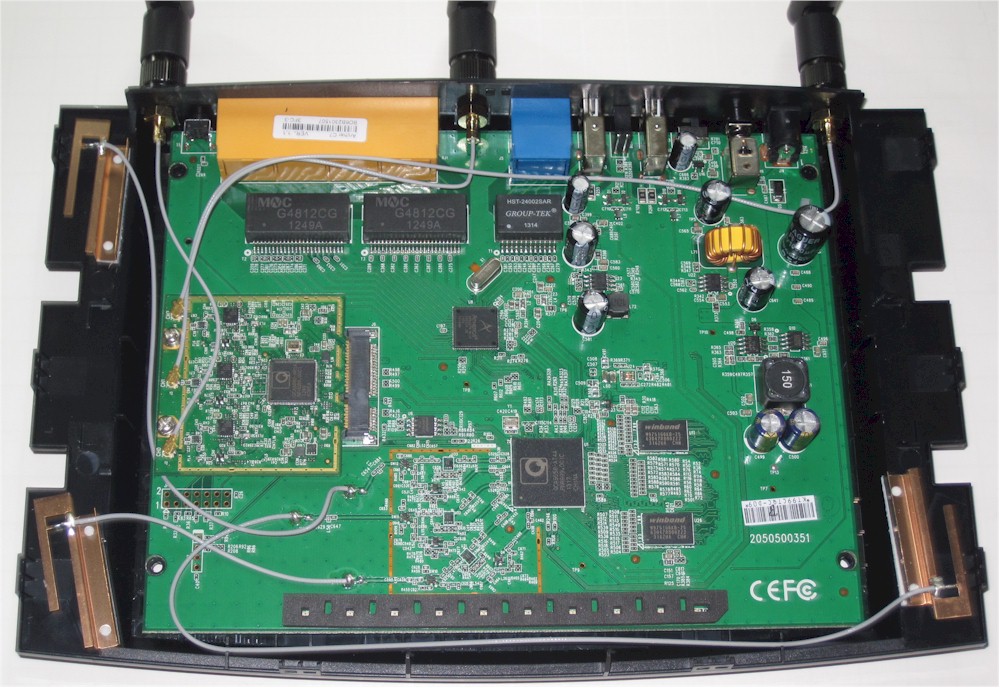 TP-LINK Archer C7 board
The C7's key components are summarized in Table 1. Component-wise, the C7 sticks very close to QCA's QCA9005AP 802.11ac reference design. Note that the Archer C7 is the only QCA based AC1750 class router available to date. D-Link's DGL-5500 is only AC1300 class, substituting a QCA9882 2×2 802.11ac radio on the 5 GHz side.
TP-Link Archer C7
CPU
QCA9558 dual-band, 3-stream 802.11n SoC
Switch
Atheros AR8327
RAM
128 MB Winbond W9751G6JB DDR2 (x2)
Flash
8 MB Winbond W25Q64FV
2.4 GHz Radio
In QCA9558
– Unidentified 2.4 GHz power amp (x3)
5 GHz radio
– QCA9880 3×3 802.11ac radio
– SiGE 5005L 5 GHz power amp (x3)
Table 1: Component summary
Another key difference between the two is that the D-Link includes QCA's StreamBoost intelligent QoS that is based on technology acquired in Qualcomm's Bigfoot Networks purchase. The C7 does not include StreamBoost, opting instead for simple bandwidth-based, but bi-directional QoS.
Features
Like most consumer router makers, TP-LINK has a standard feature set and admin GUI used across its line. The C7 shares many of the features of the TL-WR1043ND that we reviewed back in 2011, but with some key improvements. Here's the rundown:
Routing / Firewall
Static and Dynamic IP, PPPoE , PPTP, L2TP and BigPond Cable WAN connections
MTU Adjust on all connection types
DHCP Server, lease time setting, default domain and primary/secondary DNS
DHCP Client list
DHCP reservation
IP / MAC binding
Virtual Server entry for single or multiple ports with separate local and remote ports and TCP, UDP or all protocols forwarded. Enable/disable for each entry. 10 preconfigured common service ports
Port triggering – can set individual or range of incoming ports. 10 preconfigured common applications
DMZ Host
UPnP enable/disable with list of current UPnP applications, settings, protocols, internal port and status
DDNS support for Dyndns (www.dyndns.org), Comexe (www.comexe.cn) and No-IP (www.no-ip.com)
IPv6 support:

WAN types: DHCP; Static; PPPoE; Tunnel6to4
LAN address assignment: SLAAC; DHCPv6 server

SPI firewall enable/disable
VPN Passthrough enable/disable for PPTP, L2TP and IPSec
Application Layer Gateway enable/disable for FTP, TFPT, H323 and RTSP
DoS (denial of service) enable/disable
Enable UDP Flood filtering (with settable threshold)
Enable TCP-SYN Flood attack filtering (with settable threshold)
Ignore Ping Packet from WAN port
Ignore Ping Packet from LAN port
Limit/allow LAN-based PCs access to router UI
Remote Management with user configurable port
Static routes
QoS
Enable/disable bandwidth control with user settable egress/ingress (upload/download) speeds.
Bandwidth rules list based on IP address (or IP range), port range and protocol
Access / Parental Control
Four "Parental" MAC addresses that bypass controls
Eight "Child" MAC Address schedulable blocking of eight domains
Schedulable port or domain-based internet access control per IP / MAC address
USB features
SMB storage sharing
FTP server
Media server with settable auto-scan
Print server
User accounts for SMB and FTP access. No per-user folders
Note there is still no HTTPS management option for either local or remote access.
Logging in brings you to the Status page, which retains its familiar old-school look. GUI response is pretty quick, except for the times when it requires a reboot to activate new settings. Reboots aren't required for every setting change, though.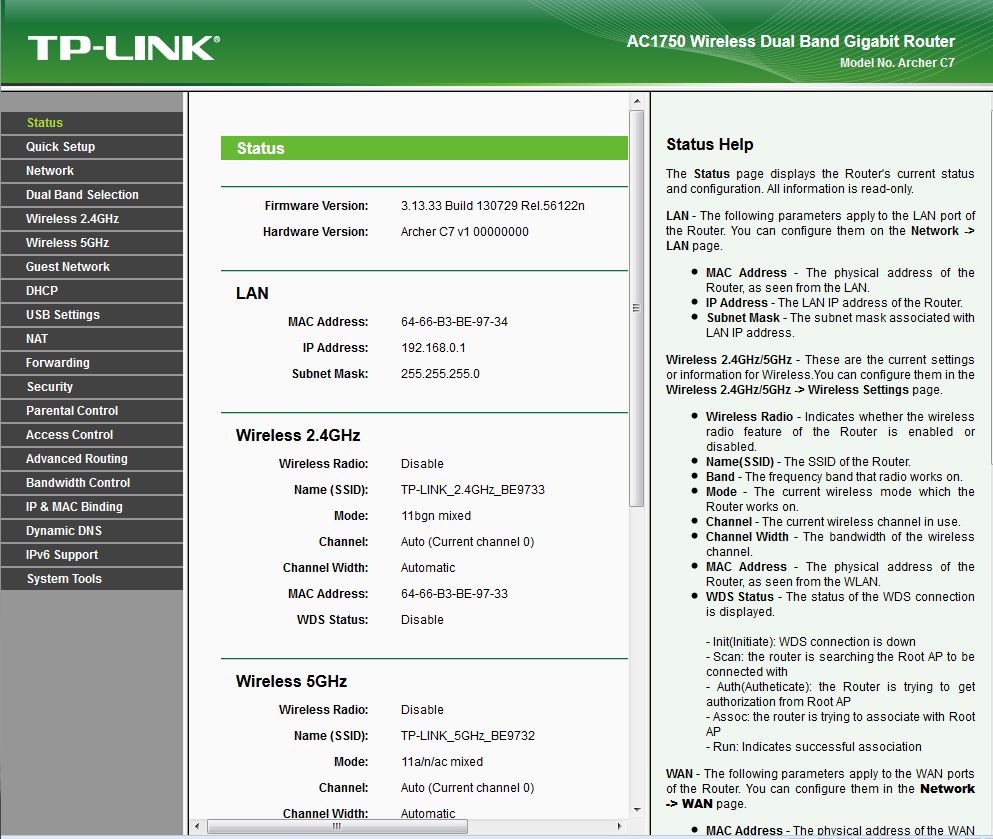 TP-LINK Archer C7 Status page
Wireless Features
The C7 has a pretty good set of wireless features. Both radios support WDS bridging / repeating and transmit power can be throttled down to Medium or Low from the default High setting. Here's the complete list of features.
WEP, WPA / WPA2 Personal and Enterprise (RADIUS) support
Wi-Fi Protected Setup (WPS) support, pushbutton and PIN
Auto and manual channel set
SSID broadcast enable/disable
Enable/disable wireless
WDS Bridging
Beacon period, RTS threshold, DTIM interval, Fragmentation Threshold adjusts
Wireless MAC address filtering (allow or deny based on MAC address)
WMM disable
Short GI disable
High / medium / low transmit power adjust
Beacon period, RTS threshold, DTIM interval, Fragmentation Threshold adjusts
Wireless client isolation (from each other)
WMM disable
Short GI disable
Scheduled wireless enable/disable
Guest network
Guest Networks are supported on both bands, each with its own SSID and wireless security. A nice touch that I'm sure would be appreciated by owners of other router brands is the ability to set up and downlink bandwidth controls for the guest network. Unfortunately, you can't set different limits for each band. You also have the option to allow wireless guests access to the router's LAN clients. Guest LAN access is disabled by default.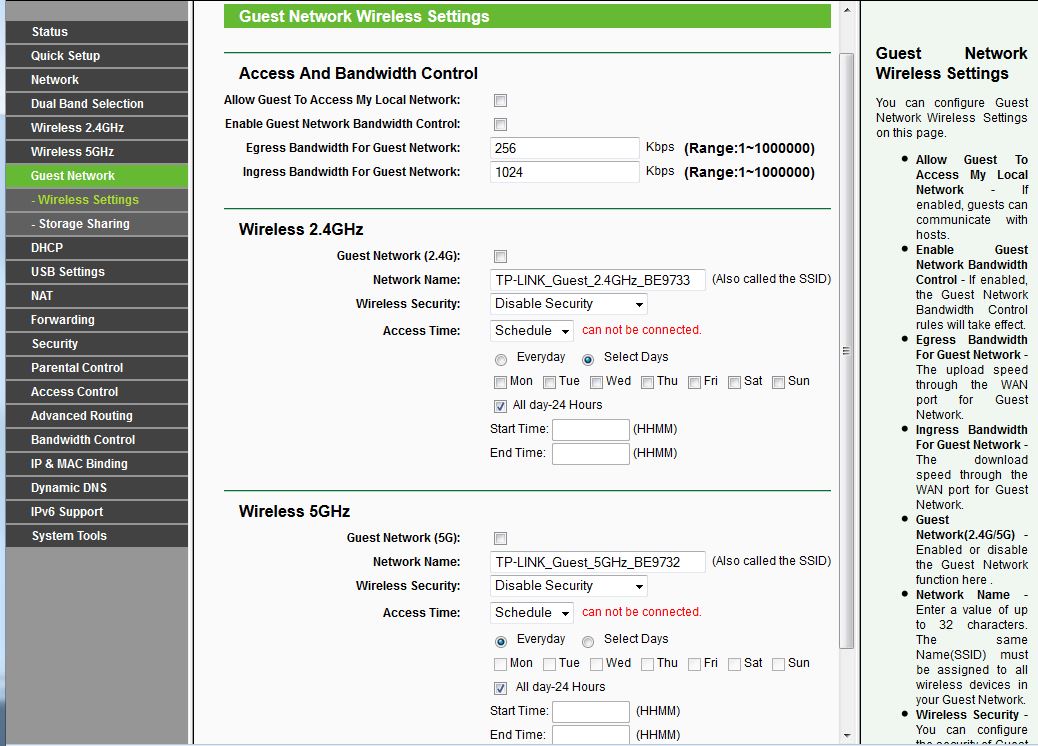 TP-LINK Archer C7 Guest Network controls
Key wireless settings are shown in Table 2. Note that there is no way to set channel width for the 5 GHz radio. I had no problem getting 1300 Mbps link rates during testing with our standard 3×3 11a/b/g/n/ac client, however.
Setting
2.4 GHz
5 GHz
Channel
Auto [default]
1 – 11
Auto [default]
36, 40, 44, 48
149, 153, 157, 161, 165
Channel Width
Auto [default]
20 MHz
40 MHz
None
Mode
11bgn mixed [default]
11bg mixed

11a/n/ac mixed [default]
11an mixed
Security
None
WEP (abg modes only)
WPA/WPA2 Personal
WPA/WPA2 Enterprise
Table 2: Wireless settings summary
Routing Performance
Routing performance for the Archer C7 loaded with V1_130729 firmware and using our standard test method is summarized in Table 3. You're looking at as close to Gigabit wire speed routing as you're going to get in a consumer router.
The 32,412 Simultaneous Connections hit the ever-changing limit of our test process. Plenty of sessions to go around here.

| Test Description | Archer C7 |
| --- | --- |
| WAN – LAN | 854 |
| LAN – WAN | 943 |
| Total Simultaneous | 1319 |
| Maximum Simultaneous Connections | 32,412 |
| Firmware Version | V1_130729 |
Table 3: Routing throughput
The IxChariot plot for the routing tests shows rock-solid throughput in the unidirectional tests. I had to repeat the test to make sure that the flatline uplink plot was real!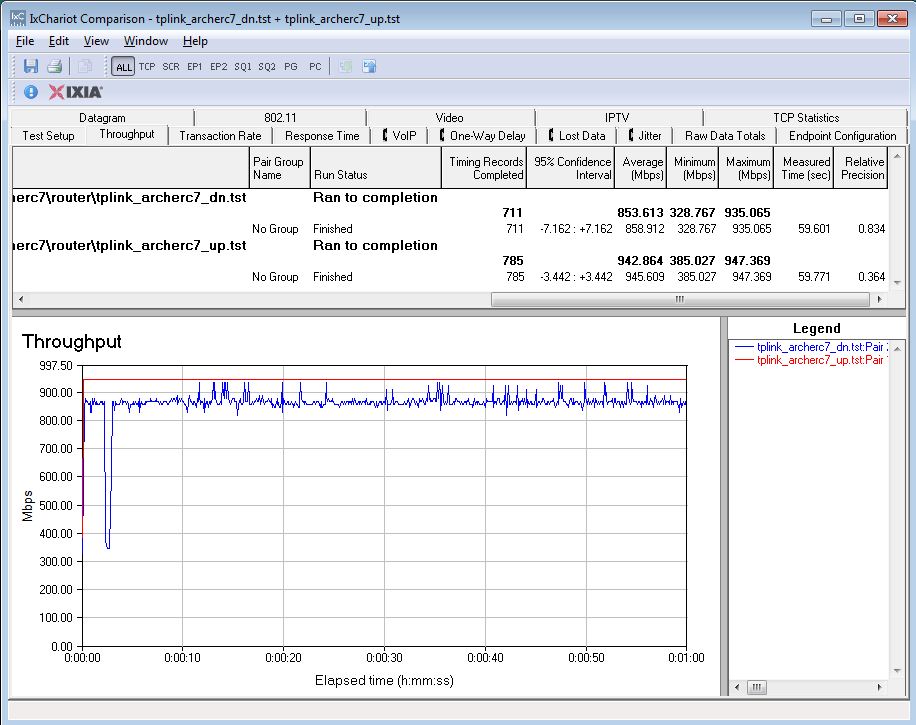 TP-LINK Archer C7 routing unidirectional throughput
Simultaneous up/downlink throughput set a new Router Charts high of 1319 Mbps! Once again, uplink throughput was extremely steady, with downlink showing much higher variation. In real-world use, you'd be hard pressed to notice a problem with wired routing speed.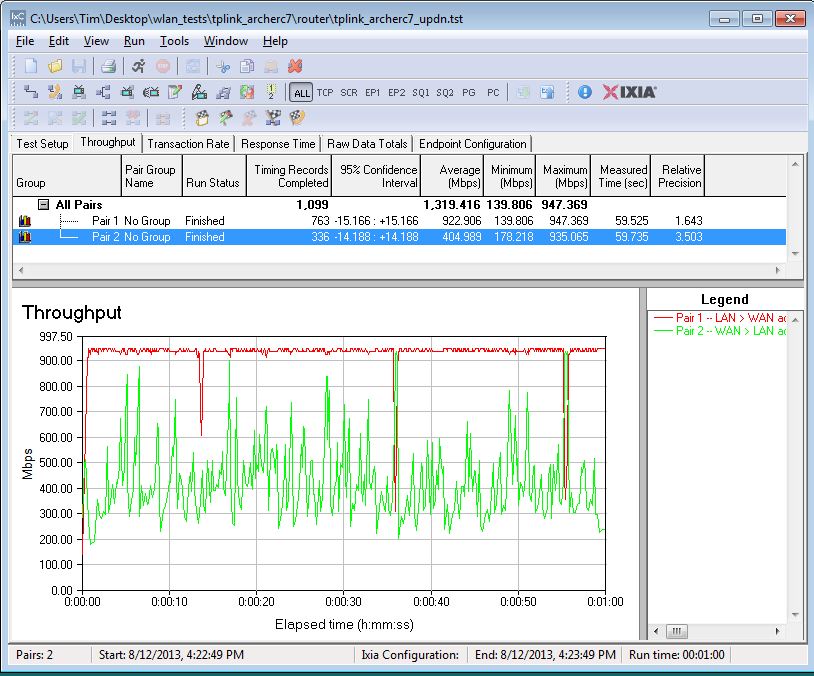 TP-LINK Archer C7 routing bidirectional throughput
Storage Performance
Windows filecopy tests were run using the standard NAS testbed with our standard USB drive (Startech USB 3.0 eSATA to SATA Hard Drive Docking Station (SATDOCKU3SEF) containing a WD Velociraptor WD3000HLFS 300 GB drive) formatted in FAT32 and NTFS.

Archer C7
ASUS
RT-AC66U
Buffalo
WZR-D1800H
NETGEAR
R6300
FAT32 Write
15.0
9.0
7.3
8.6
FAT32 Read
16.3
9.9
11.8
10.2
NTFS Write
9.8
13.5
8.4
11.3
NTFS Read
12.2
9.4
8.7
10.3
Table 4: Filecopy performance summary – MB/s
Table 4 shows the C7's results along with other draft 11ac routers using first-generation Broadcom designs and USB 2.0 ports. The C7 does a bit better with a FAT32 formatted drive and on NTFS reads, but NTFS writes are its weak spot. But the results are close enough that you probably wouldn't notice a difference in everyday use.
Wireless Performance
The Archer C7 is not Wi-Fi Certified. It defaulted Auto channel mode on both 2.4 and 5 GHz radios upon power-up. The 2.4 GHz radio defaulted to Auto Channel width and I assume that the 5 GHz radio did, too. But that radio has no channel width setting exposed in the admin GUI. The router comes with different 2.4 and 5 GHz SSIDs set, so you'll be able to connect to your desired band without having to change router settings.
WPS tests produced mixed results. I successfully got a WPA2/AES secured connection to the 2.4 GHz radio after being prompted for a PIN by a Win 7 client. Trying the 5 GHz radio also prompted for a PIN, but the WPS session would not complete. When I fell back to entering the WPA key, I successfully got a WPA2/AES secured connection. Note that the default WPA password is the same on both radios and is the 8 digit WPS PIN, not the most secure way to go.
Both 40 MHz Coexistence and Fat channel intolerant tests failed, with the C7 continuing to link at 40 MHz rates in both cases instead of falling back to lower 20 MHz channel width rates.
For throughput testing, the router was first reset to factory defaults and Channel 6 was set for 2.4 GHz and Channel 153 for 5 GHz. 20 MHz B/W mode was set for 2.4 GHz and, as noted earlier, I could not set the 5 GHz bandwidth mode. However, when I linked the client for testing, I saw a full 1.3 Gbps link rate.
The closest surface of the router was positioned 8″ from the chamber antennas in 0° and 180° test positions. It got slightly closer in the 90 and 270 degree positions due to the width of the router. The 0° position had the front of the router facing the chamber antennas.
The retest Benchmark Summary below shows the average of throughput measurements made in all test locations. The 2.4 GHz values in the summary correspond to 2.4 GHz values (20 MHz B/W) and the 5 GHz values correspond to the 80 MHz B/W – 3 stream values measured with the previous test methodology.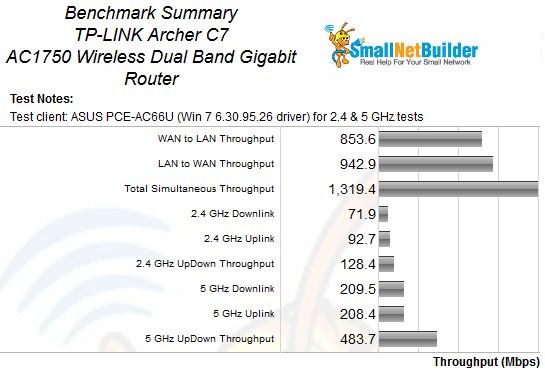 Benchmark Summary
Comparing average 2.4 GHz benchmark values with other AC1750 routers in the Charts, the C7's 72 Mbps downlink average is about 20% lower than the top-of-chart Buffalo WZR-1750DHP's 91 Mbps average. The C7's 93 Mbps uplink average is not that far behind the RT-AC66U's 95 Mbps. Total throughput in the simultaneous up/downlink test measured only 128 Mbps, tying for bottom-of-chart status with the TRENDNet TEW-812DRU.
The C7 looked like a very different router in the 5 GHz charts, topping both downlink and uplink with averages of 210 and 208 Mbps, respectively.
Wireless Performance – Comparative
The Throughput vs. Attenuation plots provide better insight into comparative performance than the simple average benchmarks. I chose to compare the C7 with two other top-ranking, but both Broadcom-based AC1750 class routers, the ASUS RT-AC66U and D-Link DIR-868L.
The 2.4 GHz downlink comparison below shows the C7 with steady throughput in the high to mid signal levels, with no dip in the early going like the ASUS. But the C7's throughput starts to fall after only 24 dB of attenuation while both the other routers don't begin their fall until after 33 dB. The C7s decline is gentle at first, but then matches the slope of the ASUS and D-Link after 42 dB.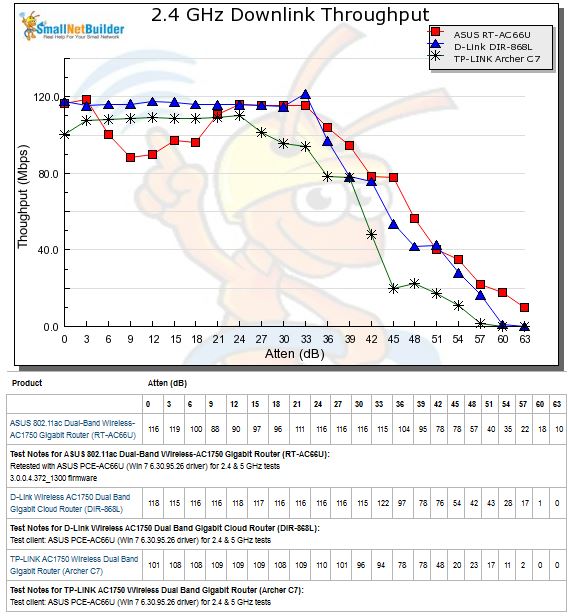 2.4 GHz Downlink Throughput vs. Attenuation
The 2.4 GHz uplink plot shows the C7 significantly outperforming the other two products until 27 dB. It then barely manages to stay above the D-Link, which starts its decline even earlier at only 21 dB of attenuation. The ASUS comes out the best in this comparison, keeping its steady throughput until after 39 dB.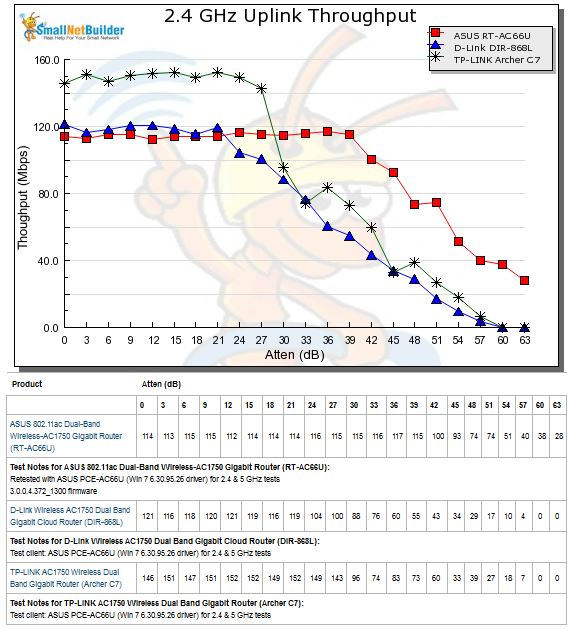 2.4 GHz Uplink Throughput vs. Attenuation
The 5 GHz results show that Broadcom isn't the only chipset that can produce good 5 GHz range. The downlink plot below shows that the C7 isn't the fastest out of the gate. But its throughput remains high while the D-Link and ASUS start to fall. After 27 dB of attenuation, however, the C7 and ASUS start to look pretty much the same.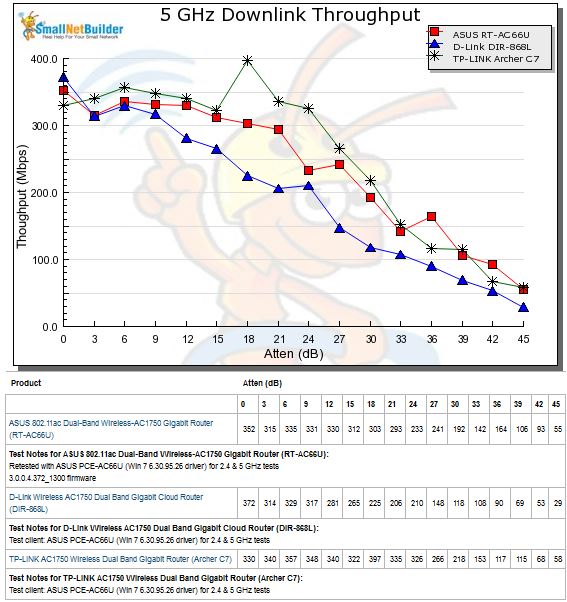 5 GHz Downlink Throughput vs. Attenuation
5 GHz uplink range is tilted more in the C7's favor, even if its 0 dB throughput, which is used for Performance ranking, is the lowest of the three products. The C7's throughput remains steady until the 27 dB point, which allows it to remain above the other two products on its downward slope.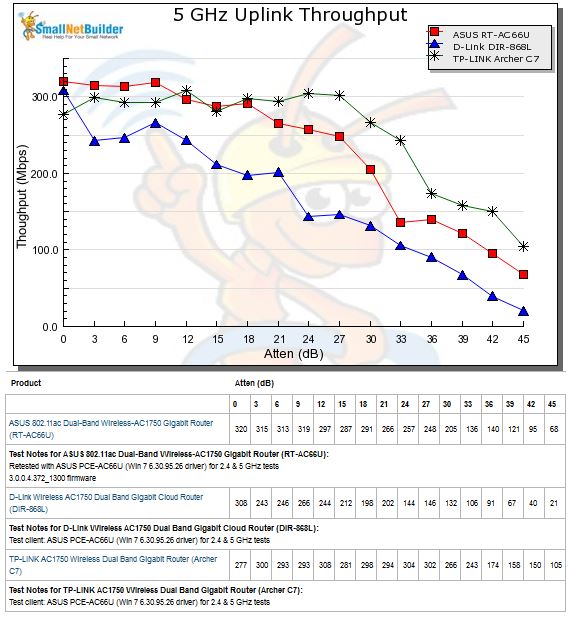 5 GHz Uplink Throughput vs. Attenuation
Note the 105 Mbps of throughput measured at the 45 dB maximum attenuation! This is the highest value measured to date and 37 Mbps higher than the next highest ASUS RT-AC66U.

Wireless Performance – Comparative – more
You may remember at the top of the review that I mentioned performance problems found with both the C7 and D-Link's DGL-5500. My initial results with the C7 showed very low throughput in the 90° and 270° runs as shown in the composite plot below. I'm showing just the uplink plot, but downlink results were similar.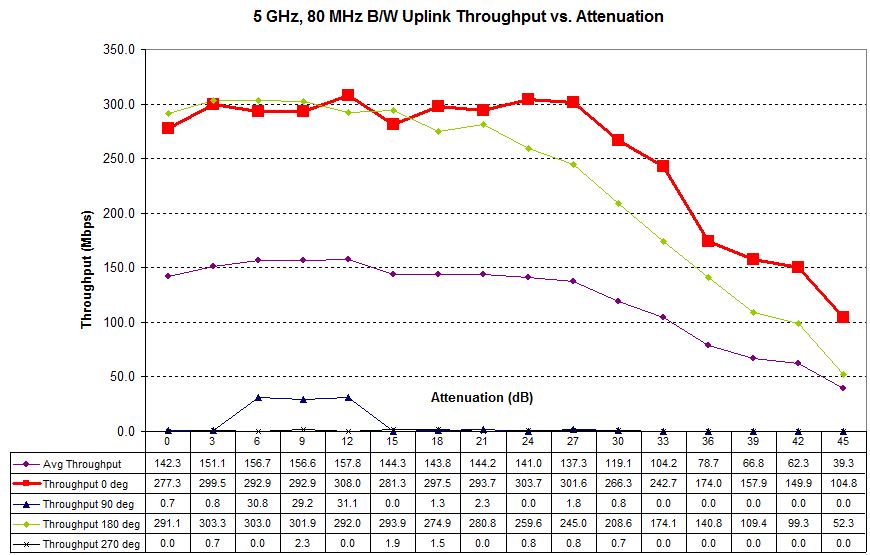 Four test runs – 2.4 GHz downlink – TRENDnet TEW-812DRU
Long story short, the problem turned out to have nothing to do with the router's orientation. Instead, according to QCA, it was caused by "non-typical" behavior during intial connection setup of our standard Broadcom-based ASUS client (PCE-AC66). The behavior was allowing the ASUS client to connect to the router, but only with very low throughput because frame aggregation was not allowed.
QCA found that frame aggregation, and normal throughput, would start if smaller test file sizes were used or if the test were run longer than the one minute I use. The good news is that once the high-throughput kicks in, it stays enabled as long as the client and router stay connected. There was really no reason given why I saw the problem only with certain orientations of the router in the test chamber. Just the way my setup happened to work, I guess.
QCA gave TP-LINK a fix to work around the Broadcom "non-typical" behavior a little over a week ago and it is currently in testing. But I decided to go ahead with the review since people should know what they are getting into if they buy the C7 right now.
To work around the problem without the new firmware, all I did was to run a short manual test before the automated run to ensure that the router had switched to high throughput mode. Once TP-Link releases new firmware, I will retest the C7 to make sure that it produces the high throughput it is supposed to without any futzing around.
Closing Thoughts
The Router Ranker shows the Archer C7 tied in second place with the ASUS RT-AC66U. Not bad for TP-LINK's (and QCA's) first effort in an AC1750 class router. The C7's weakest points are its 2.4 GHz downlink throughput and range. 5 GHz performance received a #5 rank, but its range ranks #1 for both up and downlink.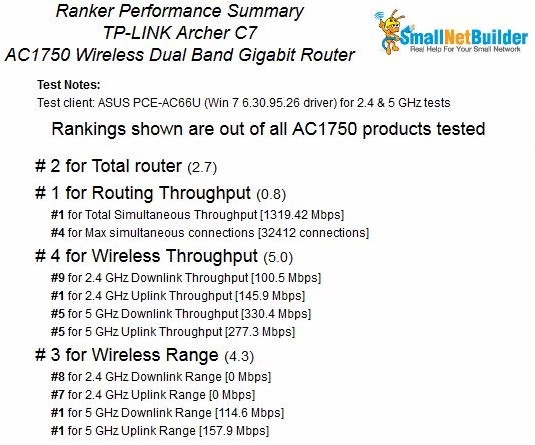 TP-Link Archer C7 Ranking Performance Summary
Now that there is another major chipmaker in the 802.11ac mix, the salad days of (relatively) high margins are coming to a close and router makers will now engage in the race to the bottom that comes with all new technology. And this, in a standard that is yet to be released. $150 seems to be the new $200 for this class of router, which is where both D-Link's DIR-868L and the C7 now sit.
The only buyers who need to be concerned with the intermittent low-throughput problem I found are those with Broadcom-based draft 11ac clients. The ones I know of are ASUS' PCE-66U (PCI-e) and NETGEAR's A6200 (USB 2.0). Linksys' AE6000 uses Mediatek silicon and its WUSB6300 uses Realtek. And at any rate, new firmware should be out soon that fixes the problem permanently.
Although the market share leader in China, TP-LINK has been most known in the U.S. for "me-too" products focused on value, i.e. low cost. But if they keep making products like the Archer C7, with plenty of features, strong wired and wireless performance and competitive pricing, they might be on their way to changing that image.
Buy AC1750 Wireless Dual Band Gigabit Router from Amazon