Introduction
Update 2/19/16: Corrected flash capacity
At a glance
Product
TP-LINK AC1750 Wireless Dual Band Gigabit Router (Archer C7 V2) [Website]
Summary
Slightly updated version of first QCA based AC router.
Pros
• Gigabit wire-speed routing

• Up and downlink bandwidth limiting
• Guest network bandwidth controls
Cons
• May have problems handling strong 5 GHz signals
• No 5 GHz channel bandwidth controls
Typical Price: $0 Buy From Amazon
There has been a steady interest in TP-LINK's first attempt at an AC1750 class router, the Archer C7, which we reviewed about a year ago. I suspect one reason is its sub-$100 price, which I think is the lowest of any AC1750 router. The other reason could be the C7's position at the top of the AC1750 Router Ranker.
TP-LINK has since made a slight design change to come up with the Archer C7 V2. The company confirmed the only change is a newer version of Qualcomm-Atheros' 5 GHz 3×3 AC radio, the QCA9880-BR4A vs. QCA9880-AR1A used in the original Archer C7. The marking on the original C7 5 GHz radio board shown below left is tough to make out. But it's pretty clear on the V2's board on the right.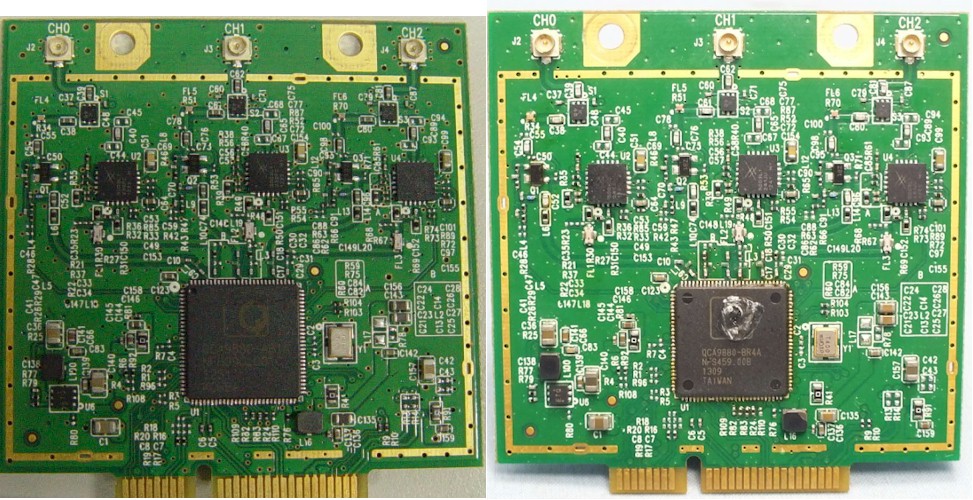 TP-LINK Archer C7 (left) and C7 V2 5 GH radio boards
Other than that change, the V2's innards are the same as the V1's.
Update 2/19/16:
The V2's flash memory capacity increased from 8 MB to 16 MB.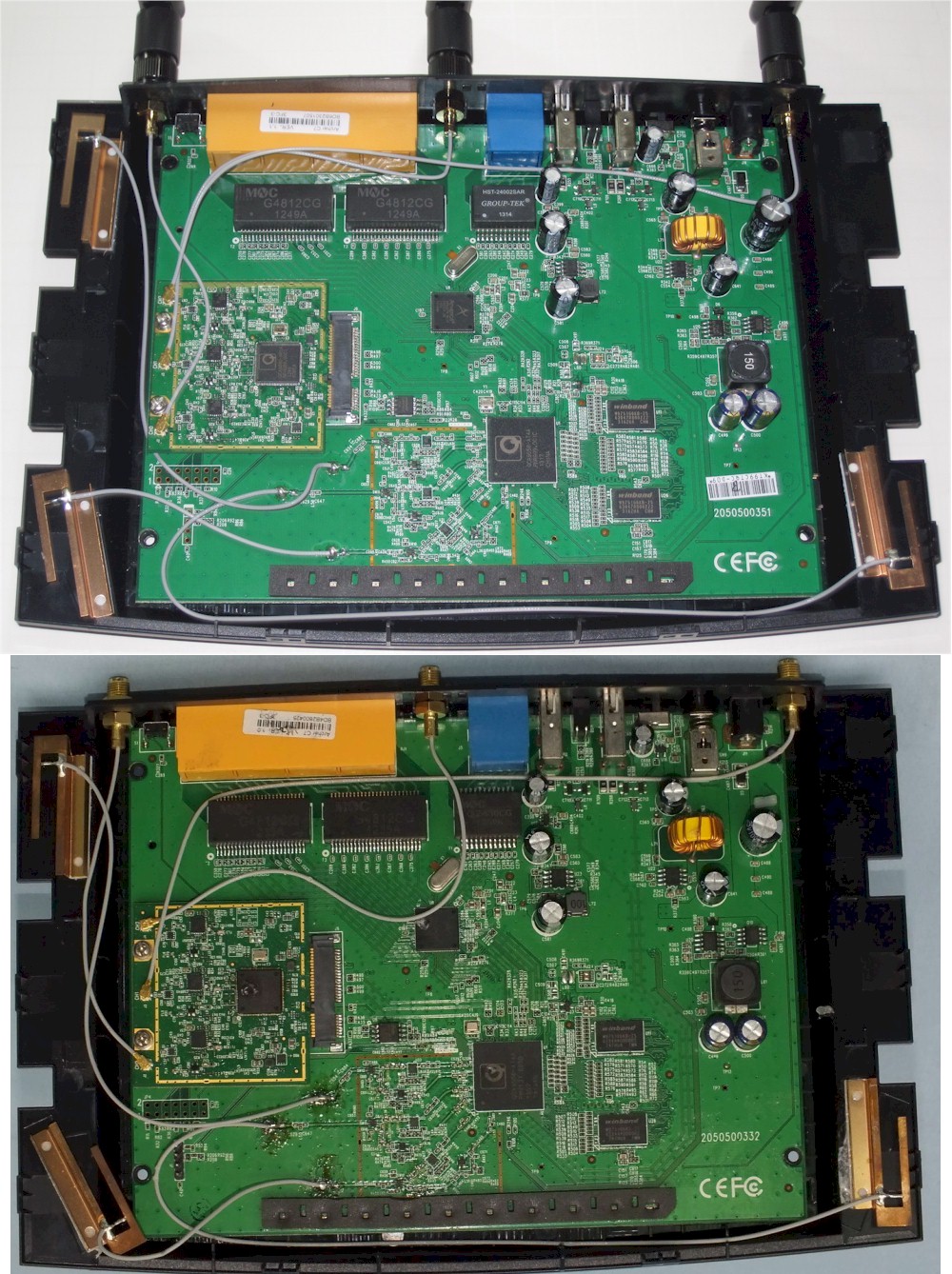 TP-LINK Archer C7 V1 (top) & V2 boards (bottom)
The C7 V2's key components are summarized in Table 1.

TP-Link Archer C7 V2
CPU
QCA9558 dual-band, 3-stream 802.11n SoC
Switch
Atheros AR8327
RAM
128 MB Winbond W9751G6JB DDR2 (x2)
Flash
16 MB 8 MB Winbond W25Q64FV
2.4 GHz Radio
In QCA9558
– Unidentified 2.4 GHz power amp (x3)
5 GHz radio
– QCA9880-BR4A 3×3 802.11ac radio
– SiGE 5005L 5 GHz power amp (x3)
Table 1: Component summary
Everything else is the same, folks, both physically and feature-wise. See the original review if you need feature details.

Routing Performance
Routing performance for the C7 V2 loaded with 3.13.34 Build 131217 Rel 60903n firmware and using our standard test method is summarized in Table 3.

| Test Description | Archer C7 V2 | Archer C7 |
| --- | --- | --- |
| WAN – LAN | 821 | 854 |
| LAN – WAN | 809 | 943 |
| Total Simultaneous | 1435 | 1319 |
| Maximum Simultaneous Connections | 31,6676 | 32,412 |
| Firmware Version | 3.13.34 Build 131217 Rel 60903n | V1_130729 |
Table 3: Routing throughput
Yes, the V2's results are a bit different. No, the differences are not significant. The V2 still supports essentially gigabit wire-speed routing in both directions.
The IxChariot composite plot for unidirectional up and downlink tests looks like both directions made occasional jumps above 900 Mbps. Sustained average throughput of above 800 Mbps, however, is more than most of us will ever approach needing.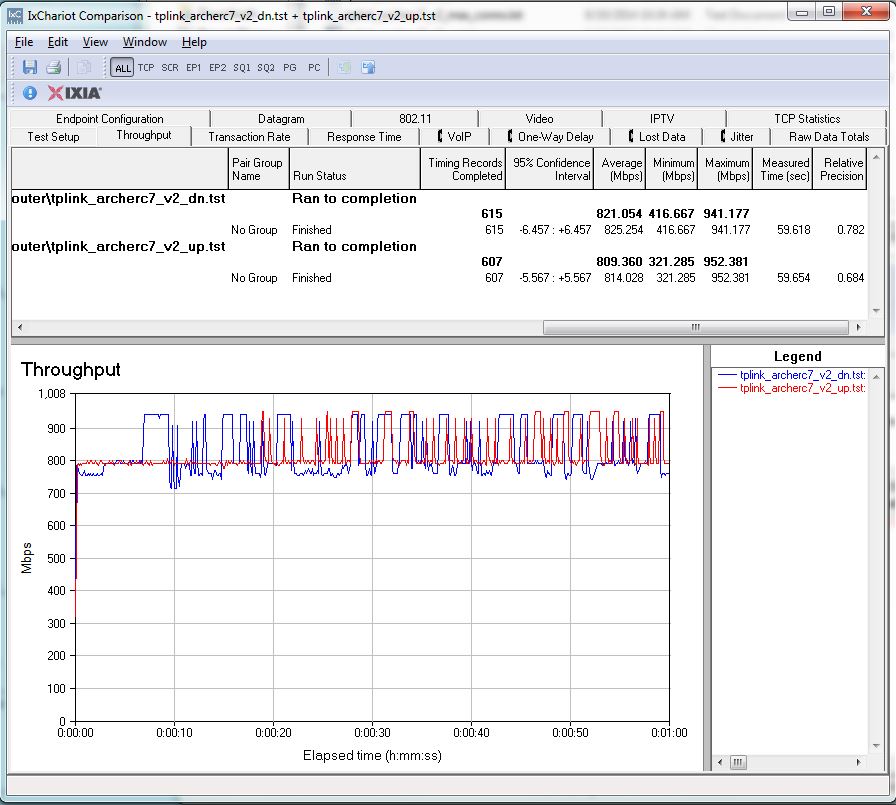 TP-LINK Archer C7 V2 routing unidirectional throughput
The C7 V2's simultaneous up/downlink throughput again set a new Router Charts high of 1435 Mbps! Even better, it looks like the routing code attempts to keep throughput in balance in both directions even when running flat out.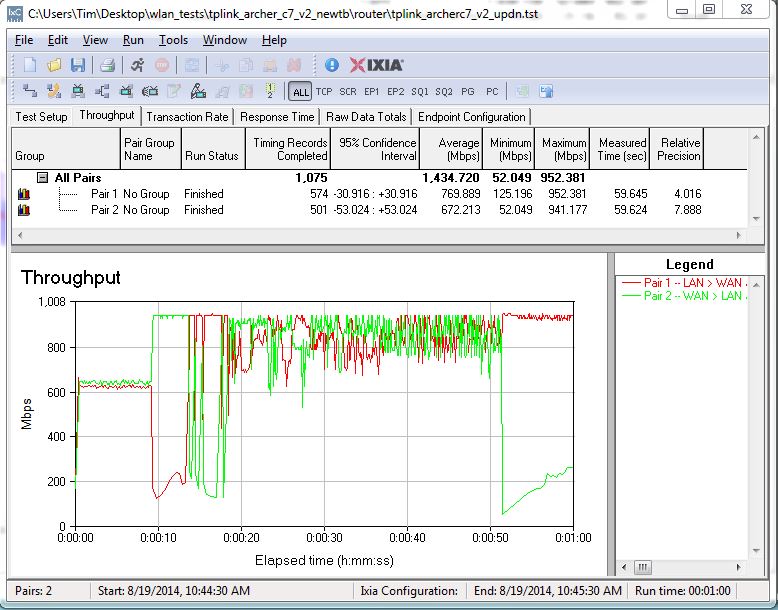 TP-LINK Archer C7 V2 routing bidirectional throughput
Storage Performance
To see if any throughput enhancements came along with the newer firmware, I ran Windows filecopy tests using the C7 V2's USB 2.0 port to our standard USB drive (Startech USB 3.0 eSATA to SATA Hard Drive Docking Station (SATDOCKU3SEF) containing a WD Velociraptor WD3000HLFS 300 GB drive) formatted in FAT32 and NTFS.

The results in Table 4 include the C7 V1's results and show no significant change in storage performance.
Archer C7 V2
Archer C7
ASUS
RT-AC66U
Buffalo
WZR-D1800H
NETGEAR
R6300
FAT32 Write
14.4
15.0
9.0
7.3
8.6
FAT32 Read
16.0
16.3
9.9
11.8
10.2
NTFS Write
9.2
9.8
13.5
8.4
11.3
NTFS Read
12.0
12.2
9.4
8.7
10.3
Table 4: Filecopy performance summary – MB/s
Wireless Performance
The Archer C7 V2 is Wi-Fi Certified; a change from a year ago. But everything else seems the same. Both radios come up with unique SSIDs and auto channel selection. The 2.4 GHz radio still allows channel bandwidth control and the 5 GHz radio still does not, as shown in the screenshot below.
TP-LINK Archer C7 V2 wireless settings
Advanced wireless settings are unchanged and the same for both bands.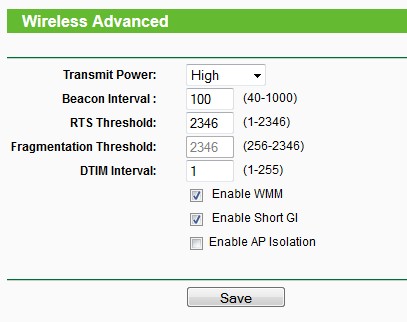 TP-LINK Archer C7 V2 advanced wireless settings
As is now my practice, I didn't run WPS, 20/40 Coexistence or Fat Channel intolerance tests.
For throughput testing, the router was first reset to factory defaults and Channel 6 was set for 2.4 GHz and Channel 153 for 5 GHz. 20 MHz B/W mode was set for 2.4 GHz and, as noted earlier, I could not set the 5 GHz bandwidth mode. However, when I linked the client for testing, I saw a full 1.3 Gbps link rate.
The V2 was tested with our V8 wireless test process. Given the front-of-router position of the 2.4 GHz antennas and rear position of the 5 GHz external antennas, I centered the router body on the octoBox chamber turntable. The front of the router was set as the 0° test position.
The Benchmark Summary below shows the average of throughput measurements made in all test locations.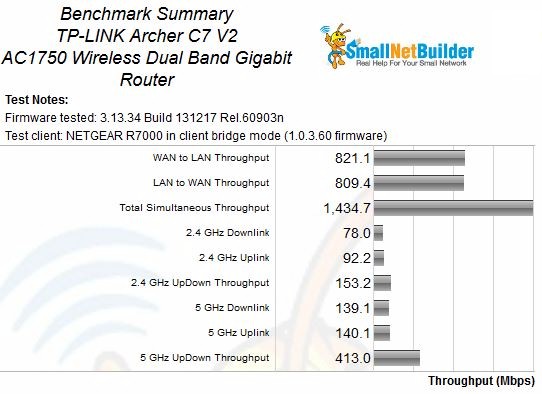 Benchmark Summary
To put these average values in perspective, I gathered togethe the average up and downlink throughput results for both bands for the C7 V2 and a handful of retested AC1750 class routers I had on hand. The only benchmark that the C7 V2 excels in is 2.4 GHz uplink.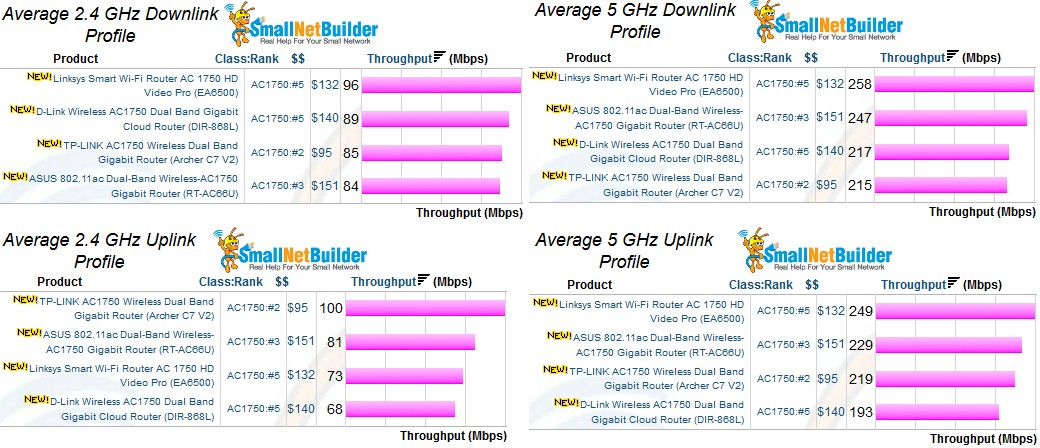 Benchmark Summary
I didn't include the C7 V1 results in this comparison because it was tested with a different test process and results are not directly comparable.
Wireless Performance – more
I pulled the same recently-retested AC1750 class routers included in the average throughput comparison into the throughput vs. attenuation plots, i.e. the ASUS RT-AC66U, D-Link DIR-868L and Linksys EA6500.
The C7 wasn't the best of the bunch in 2.4 GHz downlink comparison and the C7 V2 again tended to stay below the other routers until 33 dB attenuation, where it joined the other routers for the rest of the way down the curve. The standout in this group is obviously the Linksys EA6500. The C7 V2 didn't stay connected for the 60 dB test that we use for 2.4 GHz range ranking, so that didn't help its total rank score.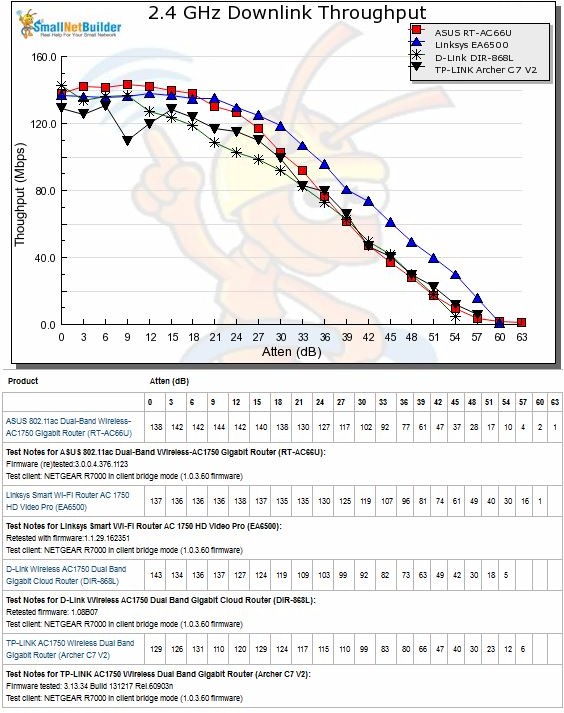 2.4 GHz Downlink Throughput vs. Attenuation
The 2.4 GHz uplink plot shows the C7 V2 as the top dog all the way out to 39 dB, where it again joins three other routers as signal levels further decline. The 57 dB test was the last one completed for the C7 V2, so again, the 2.4 GHz uplink range rank won't be great.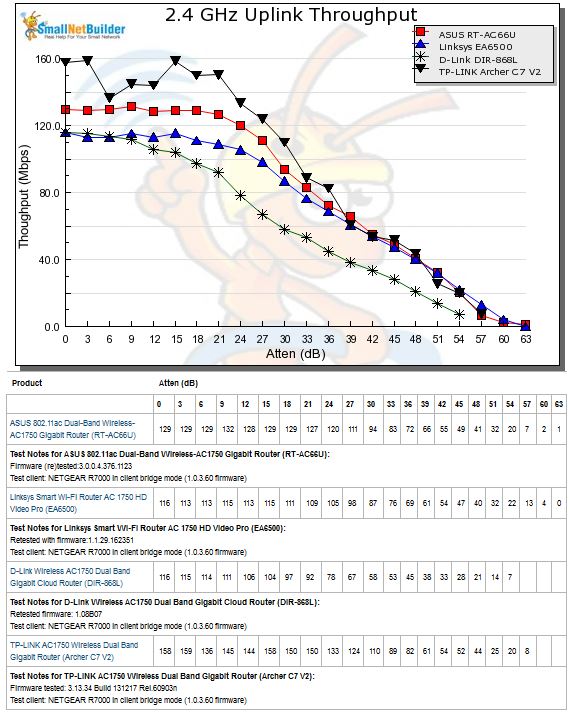 2.4 GHz Uplink Throughput vs. Attenuation
The 5 GHz downlink plot shows very similar performance for the most part, but with the C7 V2 having lowest maximum (0 dB) throughput of 400 Mbps. Remember, I average two tests to produce the plotted result, so this wasn't a fluke. Low 0 dB attenuation throughput could indicate a problem handling strong signals. The TP-LINK's trend for the rest of the plot is to stay under the other three products, but not extremely so.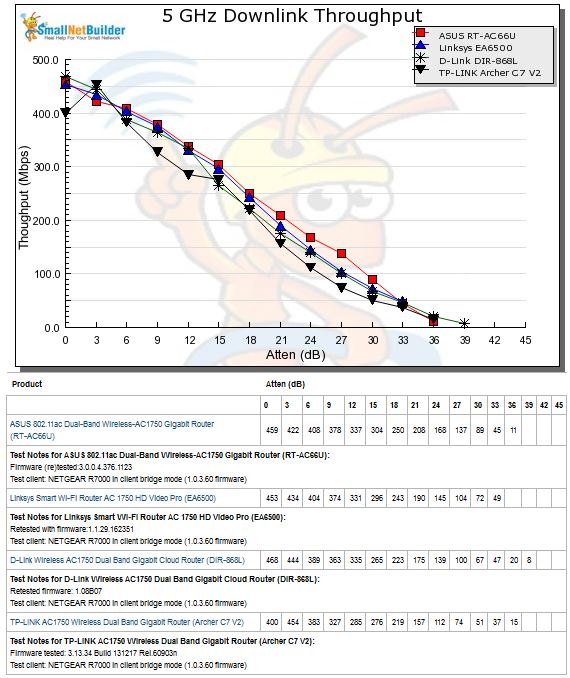 5 GHz Downlink Throughput vs. Attenuation
For 5 GHz uplink, the C7 V2 again has lower throughput with strong signals (low attenuation values), but recovers at 12 dB to join two other higher performing routers for the rest of the curve. The D-Link DIR-868L is the overall loser in this benchmark comparison.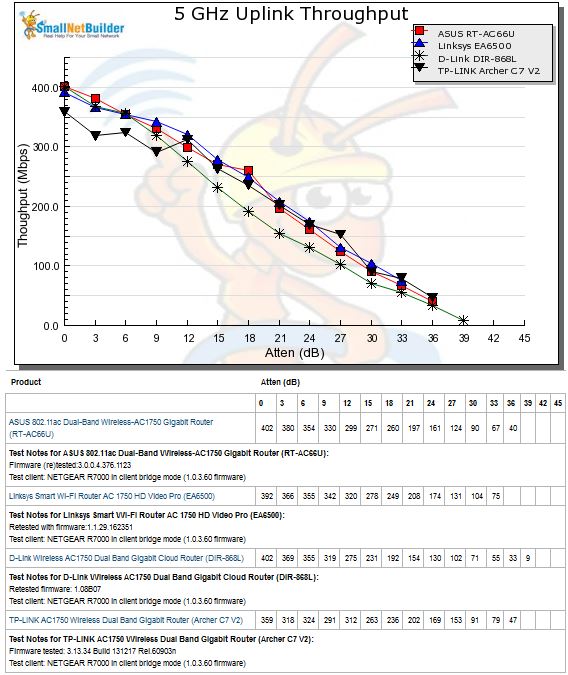 5 GHz Uplink Throughput vs. Attenuation
Closing Thoughts
Filtering the Router Ranker to show only products tested with the latest method (magenta color bar), the C7 V2 takes the top position. But this ranking is heavily influenced by its top-of-charts total routing throughput and not outstanding wireless performance.
Looking at sub-ranks shows the V2 tied for second place with the Linksys EA6500 for Average Wireless throughput, tied for first with the ASUS RT-AC66U and dead last for Wireless Range.
It really earned the last ranking because it wasn't able to stay connected for the 60 dB tests used for 2.4 GHz range ranking and 39 dB tests used for 5 GHz range rank.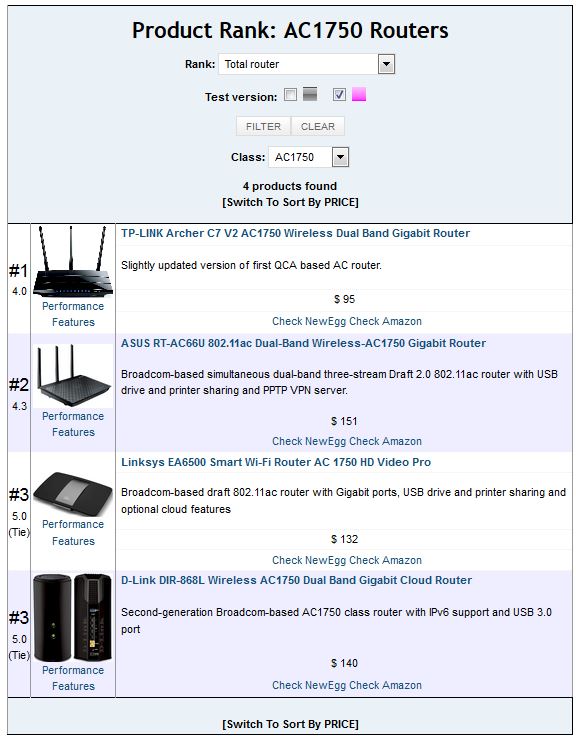 TP-Link Archer C7 Ranking Performance Summary
That being said, at $99, the Archer C7 V2 isn't a bad way to get your feet wet in AC class wireless networking for small to mid-sized locations. And if you already have a V1 and like it, there's no reason to trade up to the V2. Save your money for the Broadcom-based Archer C8, which TP-LINK's site says is "coming soon".
Buy AC1750 Wireless Dual Band Gigabit Router from Amazon