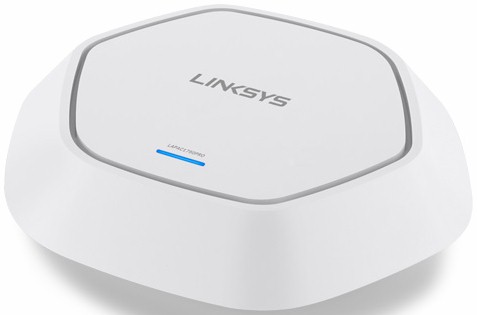 At a glance
Product
Linksys AC1750 Pro Dual-Band Access Point (LAPAC1750PRO) [Website]
Summary
AC1750 class access point with PoE and cluster management features.
Pros
• Many features
• Dual Aggregatable Gigabit Ethernet ports
• Central management without dedicating an AP
Cons
• Meh range
• Proprietary WDS
• No CLI
Typical Price: $0 Buy From Amazon
Overview
Updated 10/13/14: Miscellaneous corrections from Linksys
Linksys has been building up its small business product line over the past year or so. We've looked at its LGS552P Managed PoE+ switch and its LRT214 and LRT224 VPN Routers. Although Linksys has also been shipping an assortment of N and AC access points for awhile, we're jumping right to the top of the line with this look at its LAPAC1750PRO.
The LAPAC1750PRO is an business-grade access point with a broad feature set. It is primarily managed through a browser interface via HTTPS / HTTP, but can also be managed via SNMP. CLI (command line interface) jockeys, however, will be disappointed that there is no telnet or SSH option. Instead, there is a Cluster Management System that provides a single management interface to control an unspecified number of APs.
The LAPAC1750PRO is meant to be installed on a wall or ceiling and includes a mounting bracket and also a backer plate to use when mounting on ceiling tiles. Even though the AP would normally be powered via 802.3at PoE, Linksys thoughtfully also includes a 12VDC power wart.
The callout diagram below decodes the states and colors of the single tri-colored indicator. Note in the back panel description that the dual Gigabit Ethernet ports can be aggregated for higher bandwidth. I was unable to find controls to set up aggregation, so checked with Linksys. They said the two ports come configured for static LAG (not 802.3ad LACP). Note this means the ports aren't switched, so the second port can't be used to connect to other devices or APs.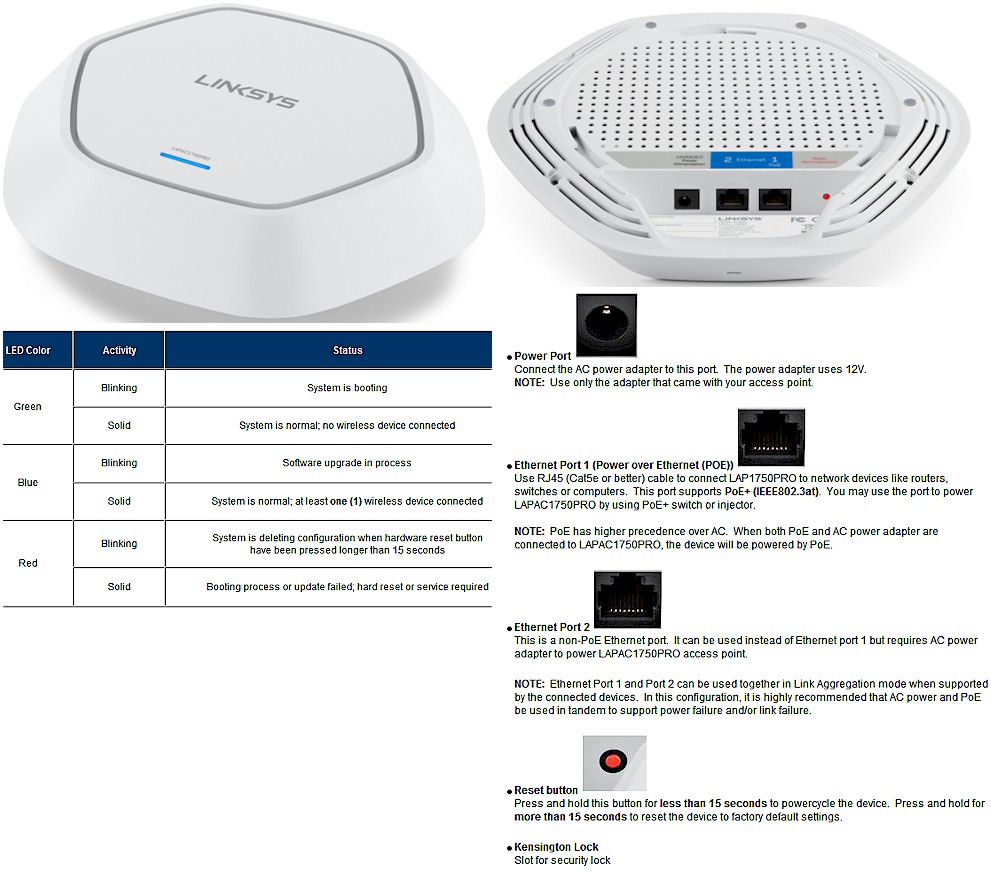 Linksys LAPAC1750PRO front and rear panel callouts
Inside
Updated 10/13/14: Component corrections
Linksys requested short-term confidentiality for the inside photos, so I had to open up the review sample after testing. The inside of the AP is very tidy, with generous use of RF shields. I noticed during testing that higher throughput was produced with the front of the AP aimed at the chamber antennas. Now that I see the antenna placement, mystery is solved.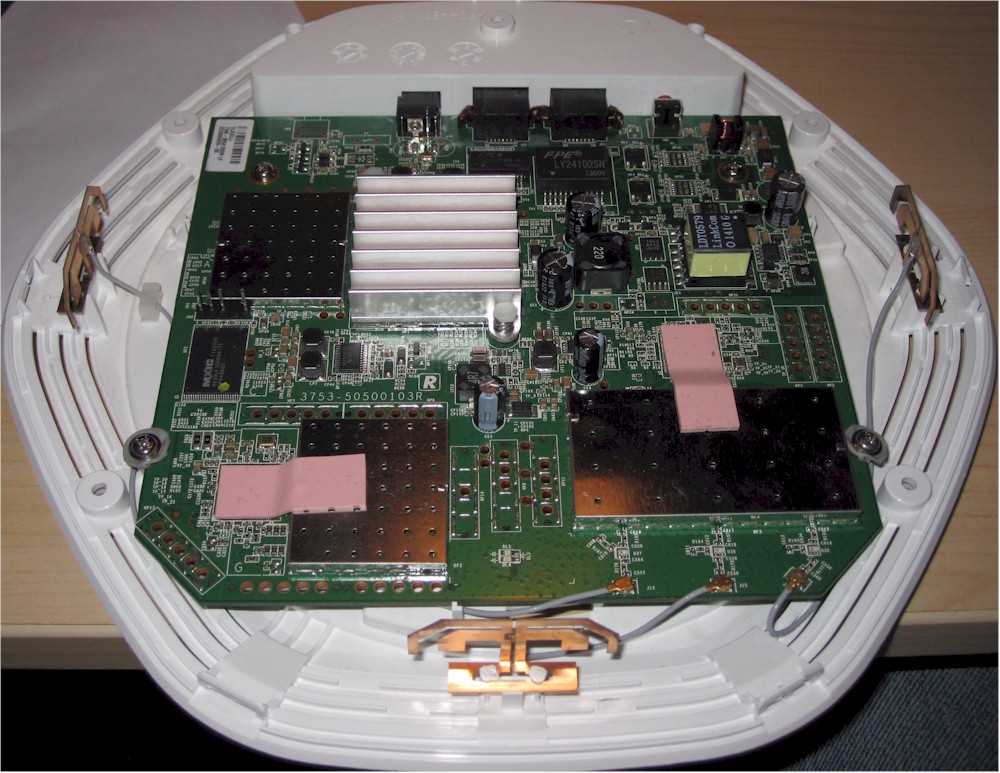 Linksys LAPAC1750PRO inside
I had to carefully pry everything off to get a look at what makes the AP tick. Turns out it's a fairly standard Broadcom-based design, with the main twist being the Broadcom BCM53016A dual core Cortex-A9 CPU @ 1 GHz serving as the main CPU. The BCM4331 BCM43431 2.4 GHz and BCM4360 BCM43460 5 GHz radios are outside the RF cans that house their associated power amplifiers. The thermal tape hiding the radios provides some heat sinking via the RF can tops. (The BCM43431 and BCM43460 are enterprise-grade equivalents of the BCM4331 and BCM4360 found in Broadcom-based AC1750 consumer routers.)
Linksys LAPAC1750PRO board
The key components are summarized in Table 1 along with the first AC1750 AP we got our hands on over a year ago, Ubiquiti's UAP-AC.
Linksys LAPAC1750PRO
Ubiquiti UAP-AC
CPU
Broadcom BCM53016A dual core Cortex-A9 CPU @ 1 GHz
Broadcom BCM4706
Switch
N/A
Broadcom BCM53125
RAM
256 MB Samsung K4B2G1646E
256 MB Hynix H5PS1G63JFR (x2)
Flash
128 MB Macronix MX30LF1G08AA
16 MB Winbond 25Q128FVFG
2.4 GHz Radio
– Broadcom BCM43431
– Microsemi MSC5518 2.4 GHz power amp (x3)
– BCM4331KMLG
– SiGe 2605L (x3) 2.4 GHz Hi Power WLAN power amp
5 GHz radio
– Broadcom BCM43460
– Skyworks SE5003L1 5 GHz, 23dBm Power Amp w/ Power Detector (x3)
– Broadcom BCM4360
– Skyworks SE5003L 5 GHz, 23dBm Power Amp w/ Power Detector (x3)
Table 1: Access Point component summary and comparison
Setup
The AP comes with a static IP address of 192.168.1.252, but also set to pull an IP address via DHCP if it finds a server. Logging in with the default admin / admin lands you at the System Status page shown below. As you might expect from a "pro" level product, there aren't any wizards to get in your way of bit twiddling. Just jump right on over to the Configuration tab and go at it.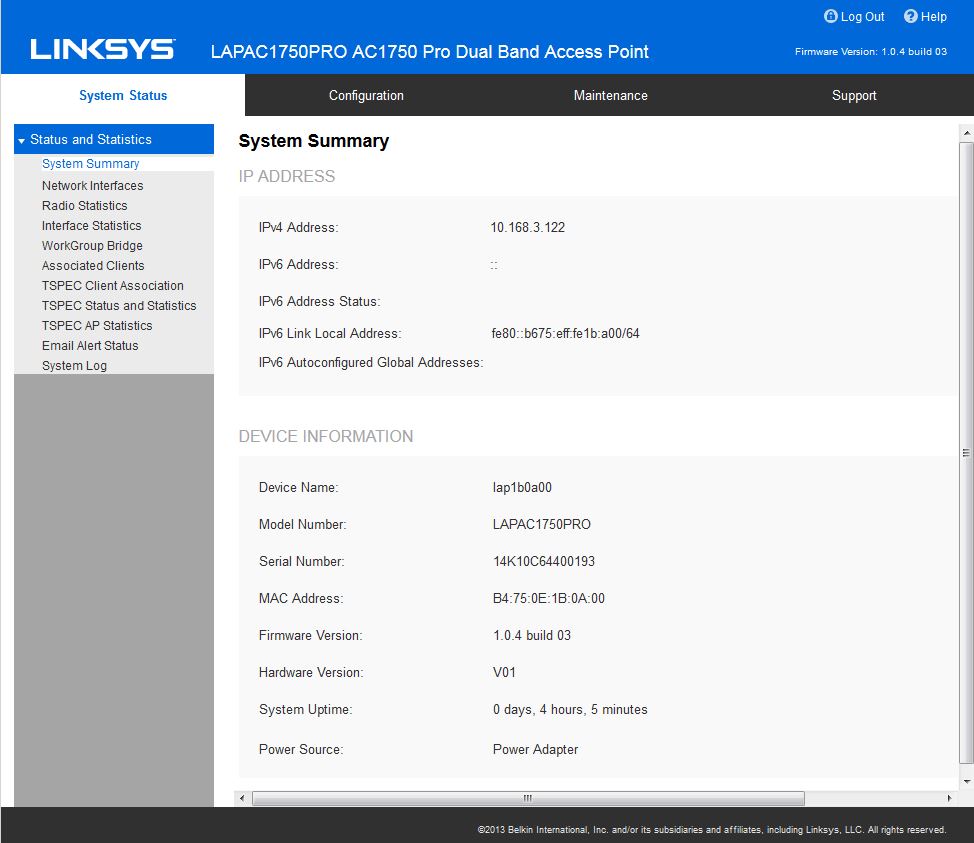 System Summary
I found documentation a bit wanting, although an attaboy is deserved for decent online help. The basics seem to be covered in the User Guide. But you'll probably want to also check the FAQ tab on the product support page as well as this FAQ page. The latter page was where I learned the LAPAC1750PRO's WDS implementation is proprietary and doesn't even work with Linksys' other APs like the LAPAC1750.
Features
The LAPAC1750PRO has a lot of features. Here's a rundown of the key ones:
Multiple SSIDs: 16 (8 per radio)
VLAN Support: Yes
Number of VLANs: 17
SSID to VLAN Mapping: Yes
Captive Portal: Yes
Workgroup Bridge: Yes
WDS Bridge: Yes (NOTE: Proprietary implementation)
IPv6: Yes
Access Control per SSID: IPv4, IPv6, and MAC-based
DiffServ for QoS: Yes
WEP, WPA, WPA2, 802.1X with RADIUS: Yes
Rogue AP Detection: Yes
802.1X Supplicant: Yes
Channel Isolation: Yes
WMM: Yes
Single/Central Management System: With Cluster
Bandwidth Utilization: Yes
Scheduler: Yes
Band Steering: Yes
Beamforming: Yes
Dual Firmware Image Support: Yes
Management Access Control: MAC and IP-based
Management Interface: Web (HTTP / HTTPS), SNMP
Event Notification : Local Log, Remote Syslog, and Email Alerts
Network Diagnostics: Log, Ping, and Packet Capture
Wi-Fi Certified: Yes
Note that WiFi Protected Setup (WPS) is not supported, which is par for a business-grade access point.
Despite the list above, I couldn't find features like automatic AP power adjustment, fast roaming and client load shedding / distribution, so checked with Linksys. They said that they currently support 802.11i pre-authentication for roaming with clustered LAPAC1750PROs, but that client devices must also support 802.11i.
Linksys also said automatic power adjustment of clustered APs and client load shedding are "in the product roadmap", but with no definite implementation timeframe. Centralized firmware upgrade of clustered APs is also in the roadmap.
Automatic channel management for clusters is already implemented. The screenshot below shows that channel reassignment frequency and interference levels can be set. You can also lock channel assignments for specific radios. Linksys said they determine best channel use by monitoring actual channel utilization.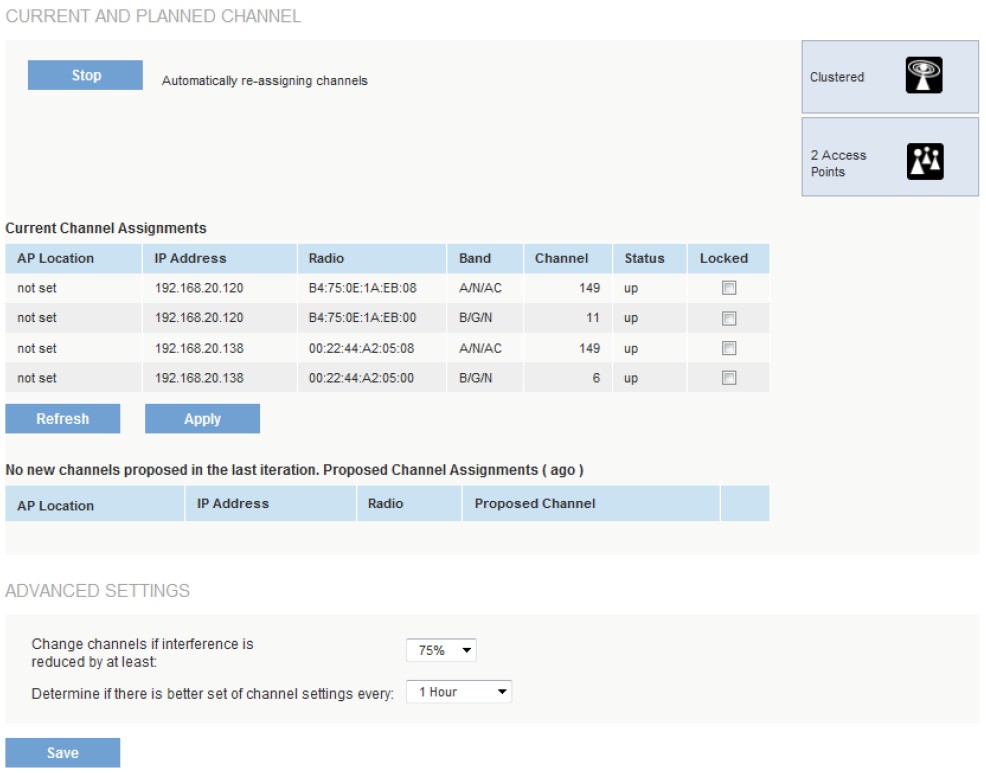 Channel Management
Here is a bit more on Channel Management from the User Guide.
At a specified interval, the Channel Manager maps APs to channel use and measures interference levels in the cluster. If significant channel interference is detected, the Channel Manager automatically re-assigns some or all of the APs to new channels per an efficiency algorithm (or automated channel plan). If the Channel Manager determines that a change is necessary, that information is sent to all members of the cluster and a syslog message is generated indicating the sender AP, new and old channel assignments.
The Wireless Neighborhood feature is an attempt to help visualize wireless coverage. But the data presentation takes some getting used to and is nowhere near as intuitive as the signal strength overlay on maps display found in wireless survey tools like Fluke's AirMagnet.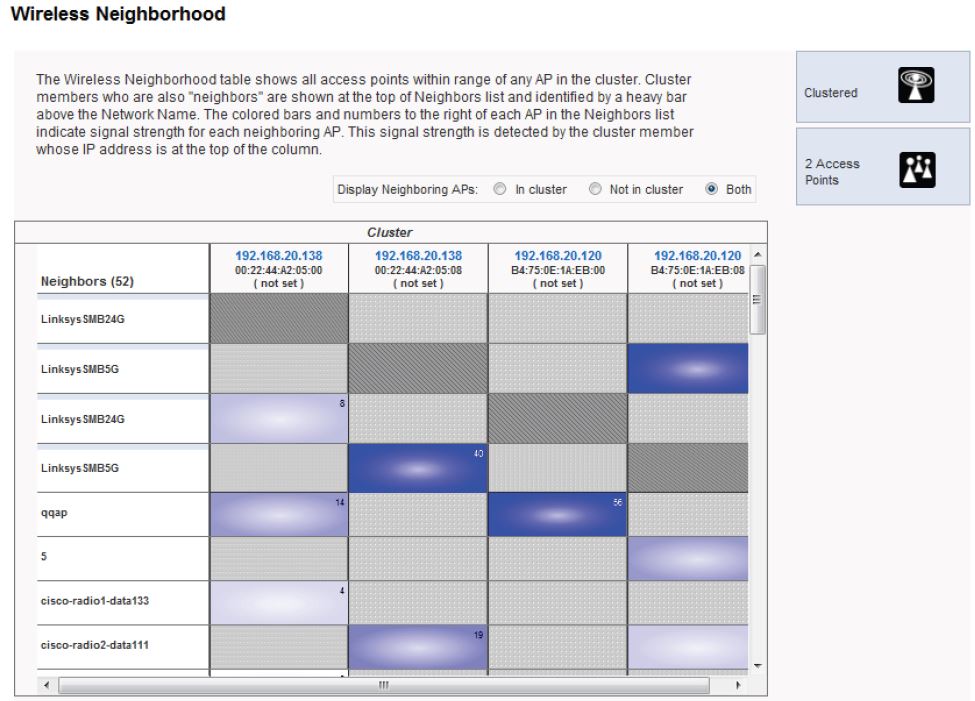 Wireless Neighborhood
I had only one AP review sample, although Linksys would have been happy to send more. So I didn't explore any of the cluster features.
A feature that could prompt an AP purchase on its merits alone is Captive Portal. This is one place where a wizard might have been handy. Fortunately, the Captive Portal admin pages are arranged pretty much in priority order and you can just step through them. You can create multiple Portals and associate them with multiple Virtual APs (VAP).
Since each VAP has its own security configuration, can be assigned to a VLAN, have scheduled availability, up and downlink bandwidth limits and even be band-steered to 5 GHz, you can see how powerful Captive Portals can be.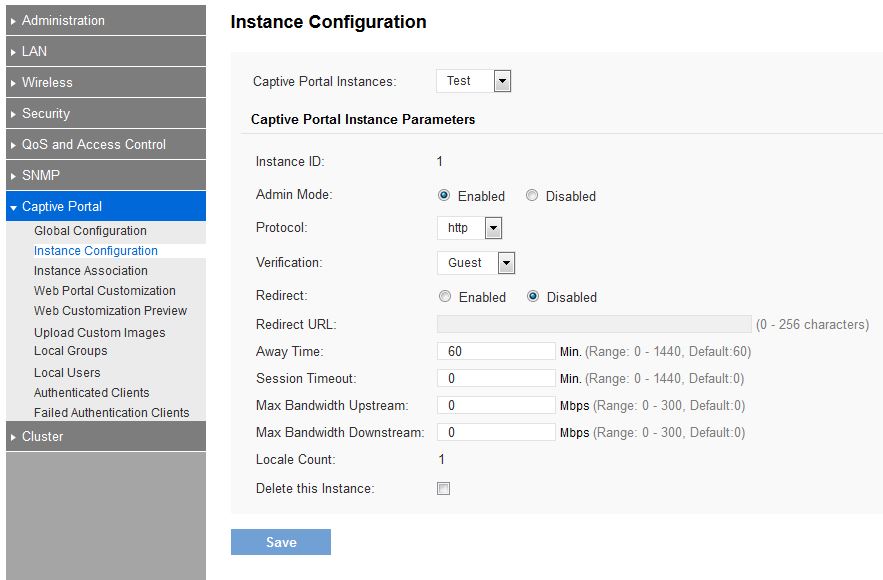 Captive Portal Instance Configuration
Of course you can customize the portal page. Here's a screenshot of the default that is built in, captured from the built-in preview feature.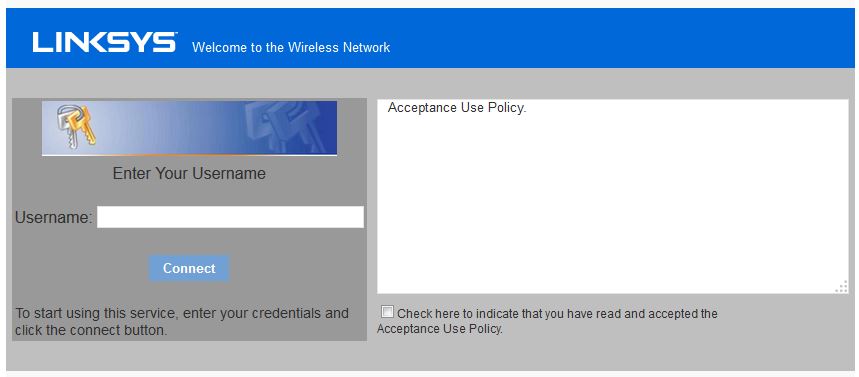 Captive Portal Default Capture Page
The gallery has more screenshots of admin screens with commentary. Again, there are a lot of features. So if you are seriously considering a purchase, you should download the User Guide and give it a thorough read.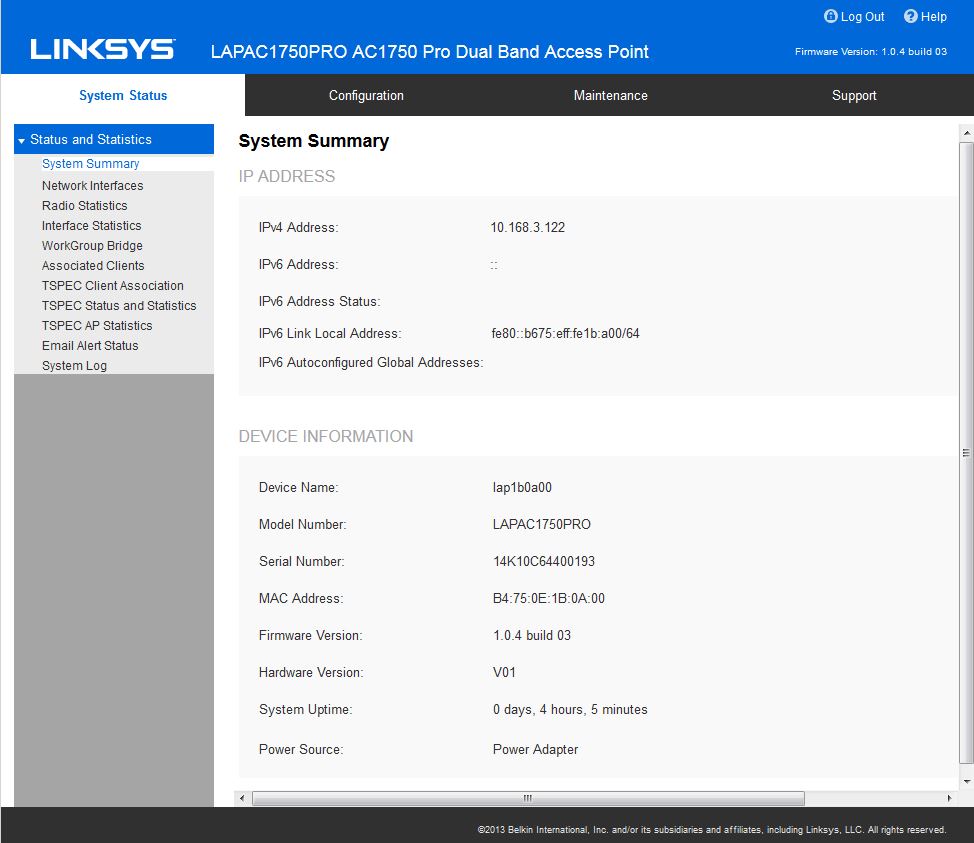 The System Summary page is presented upon login.
First half of the Network Interfaces page shows LAN info.
Second half of the Network Interfaces page shows WLAN info.
Lots of info here if you know what to look for.
An overview of real and virtual interface status.
Check your bit and byte counts for each interface here
Not much to see in the System Log.
Top half of wireless radio settings page.
Bottom half of wireless radio settings page. Transmit power is adjustable downward in 25% clicks. TSPEC is a traffic specification sent from a QoS-capable wireless client to an AP requesting a certain amount of network access for the traffic stream (TS) it represents.
Scans for in-range APs can be enabled for each radio. When enabled, a 10 ms scan is done every 60 seconds. You can move APs from the Rogue to Trusted list and import and export trusted APs.
Eight VAPs per radio provide lots of flexibility.
Multiple schedules can be created and assigned to Radios and / or VAPs.
Up and down bandwidth limits and access control lists and rules can be created and assigned to each VAP on each radio.
QoS and ACL status of each client can be checked.
Wireless Performance
The LAPAC1750PRO was tested using the V8 Wireless test process. All wireless testing was done using 1.0.4 build 03 firmware. The access point was first reset to factory defaults and Channel 6 and 20 MHz bandwidth mode was set for 2.4 GHz and Channel 153 and 80 MHz bandwidth mode for 5 GHz. The AP was laid flat and centered on the turntable for testing with the 0° position having the the connectors facing away from the chamber antennas. All testing was done via WPA2/AES secured connections.
The Benchmark Summary below shows the average of throughput measurements made in all test locations. The results don't mean too much by themselves, so we'll bring in some AC1750 routers for comparison. There are no other AC1750 APs tested with the V8 process to compare.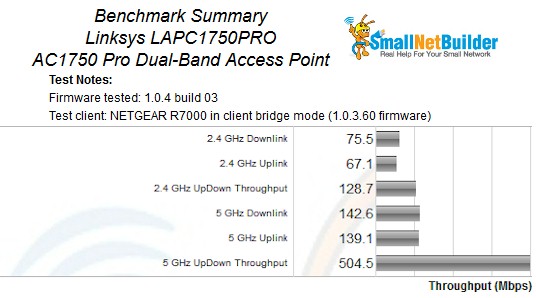 Benchmark Summary
In this comparison, the AP's 2.4 GHz downlink performance is lower than all AC1750 routers, but is third from the bottom for uplink. Average 5 GHz downlink is better only than the TP-LINK Archer C7 V2 and 5 GHz average uplink beats only the NETGEAR R6300v2.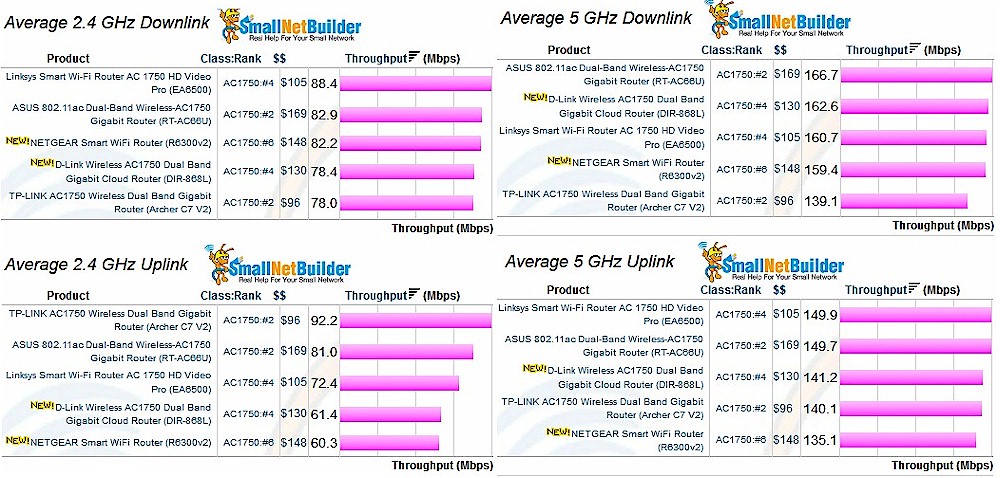 AC1750 Router Average Throughput
As noted earlier, there are no other AC1750 access points tested with the V8 process to compare. So instead, I chose two V8-tested AC1750 routers, ASUS' RT-AC66U and Linksys' EA6500. The AP and router are in separate charts, so the throughput vs. attenuation profile plots are presented side by side. Keep an eye on the vertical scale when comparing plots; it's not always the same.
In general, you'll see the LAPAC1750PRO plots disconnect earlier than the compared routers. I suspect this is a byproduct of the short distance between AP and test chamber antennas, AP rotation during test and internal AP antenna placement. So I think it's fair, for all products, to follow the slope of the plot and draw an imaginary line down to the x axis to get a better comparison of relative range.

That said, the AP has a lower maximum throughput and begins its downward slope almost immediately. So it's clear that its 2.4 GHz downlink throughput profile is lower than the other products'.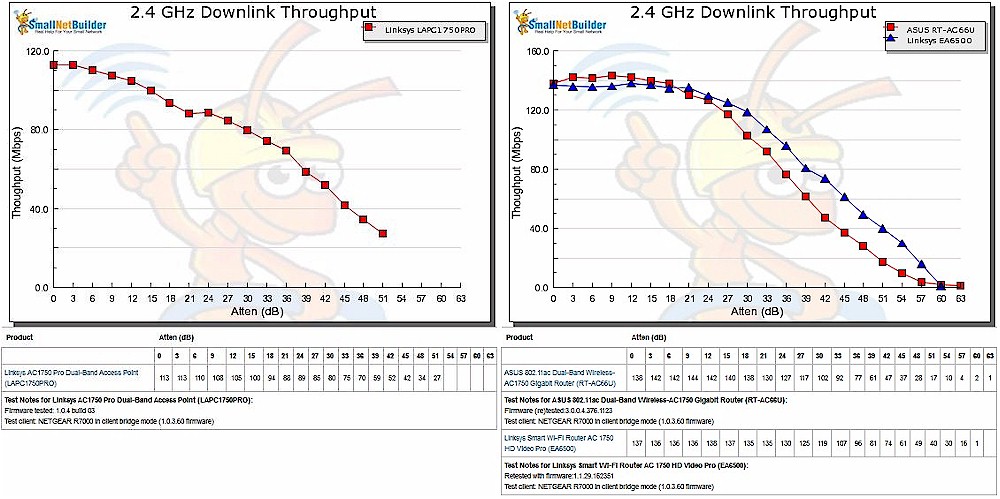 2.4 GHz Downlink Throughput vs. Attenuation
The AP does a bit better on 2.4 GHz uplink with throughput staying at maximum out to 6 dB. But the overall trend is still lower than the ASUS and Linksys routers'.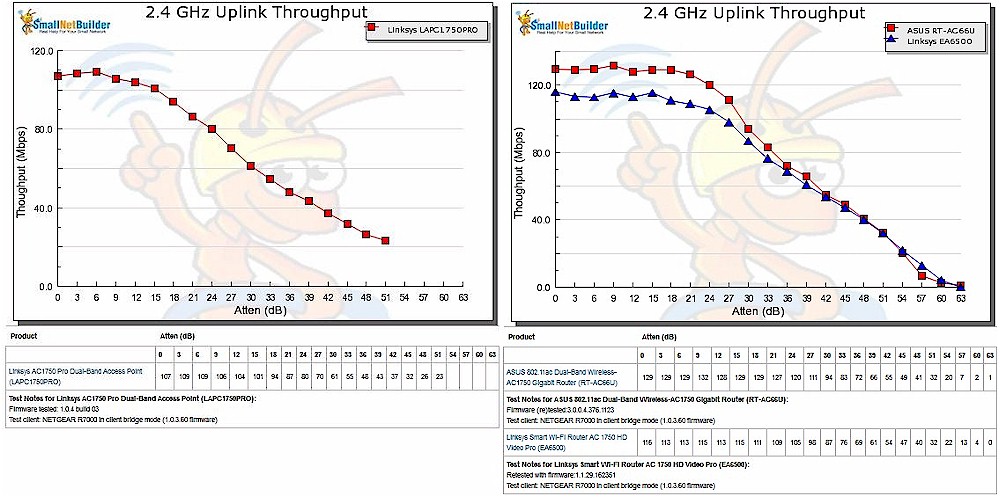 2.4 GHz Uplink Throughput vs. Attenuation
The LAPAC1750PRO doesn't do much better on 5 GHz downlink. Maximum throughput is about 50 Mbps lower than the two routers' and the line slope indicates it disconnects at 30 dB of attenuation vs. 33 and 36 for the two routers.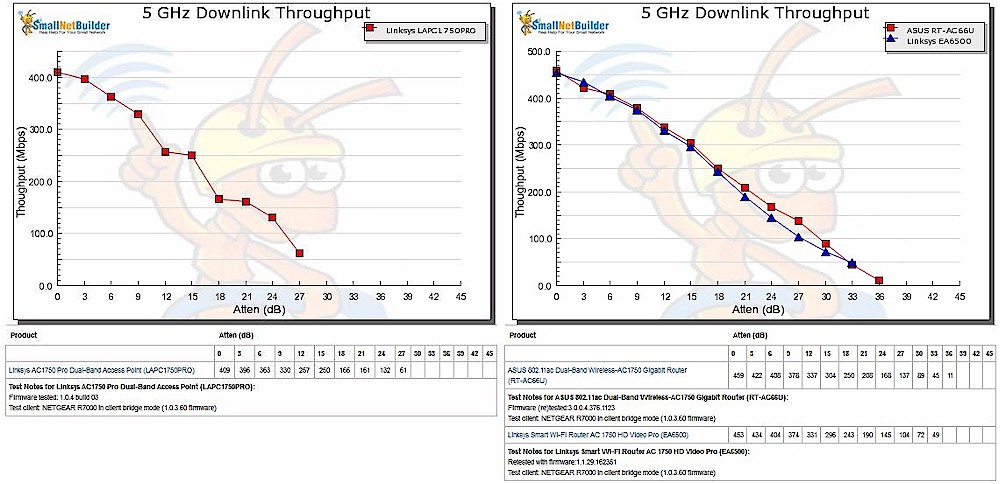 5 GHz Downlink Throughput vs. Attenuation
5 GHz uplink is the best of the four benchmarks with maximum throughput of 391 Mbps just about the same as the two routers' maximums. But the AP's slope is steeper, once again indicating inferior range.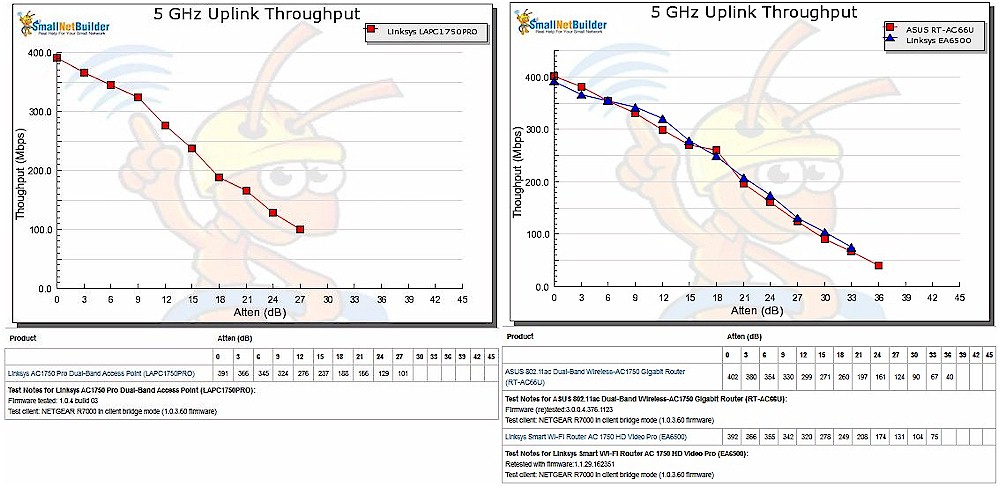 5 GHz Uplink Throughput vs. Attenuation
Closing Thoughts
Access points in general aren't designed with the same "one-device-does-it-all" focus that consumer routers have. After all, wireless pros learned long ago that you can't use a single AP for many reasons if you want reliable service with decent throughput. So APs focus on features that are needed in multi-unit installations, such as centralized management, multiple SSIDs linked to VLANs, client limits, bandwidth limits and more.
So it's no surprise that Linksys' LAPAC1750PRO doesn't outshine top consumer routers in wireless performance. The first AC AP we tested—Ubiquiti's UAP-AC—didn't either and it's still more expensive than the Linksys, while more than a year older in design.
But what it may lack in performance, the LAPAC1750PRO more than makes up in features. The Virtual AP feature with its associated bandwidth and authentication controls and the Captive Portal feature are particularly powerful, providing much more control of who is doing what on your WLAN than you'll get from any consumer router.
If all this sounds good, then you might want to bring an LAPAC1750PRO in and see if it can do the job for you.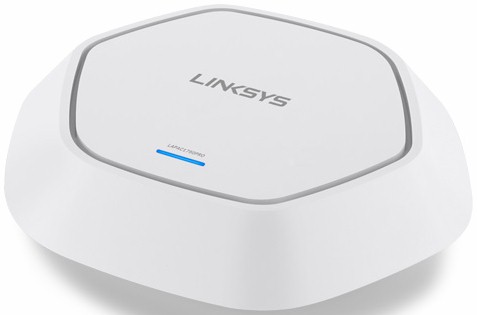 Buy AC1750 Pro Dual-Band Access Point from Amazon