At a glance
Product
TP-LINK AC2200 Smart Home Mesh Wi-Fi System (Deco M9 Plus) [Website]
Summary
Two-node, three-radio AC2200 class Wi-Fi system with TrendMicro anti-virus and parental controls
Pros
• Many features including parental controls, antivirus, smart home hub and more
• 11k,v and r roam assistance
Cons
• Expensive vs. the competition, especially if you don't care about the HomeCare and smart home features
Typical Price: $165 Buy From Amazon
Introduction
TP-Link's Deco M9 Plus is a follow up to its Deco M5 I tested just over a year ago as part of the Wi-Fi System Roundup. Besides being slightly larger than its predecessor, the M9+ adds a second 5 GHz radio that can be used for dedicated backhaul. The third radio enables TP-Link to class the M9+ as AC2200 using maximum link rates of 400 Mbps on 2.4 GHz and 867 Mbps on both 5 GHz radios. As in the Deco M5, all radios are two-stream.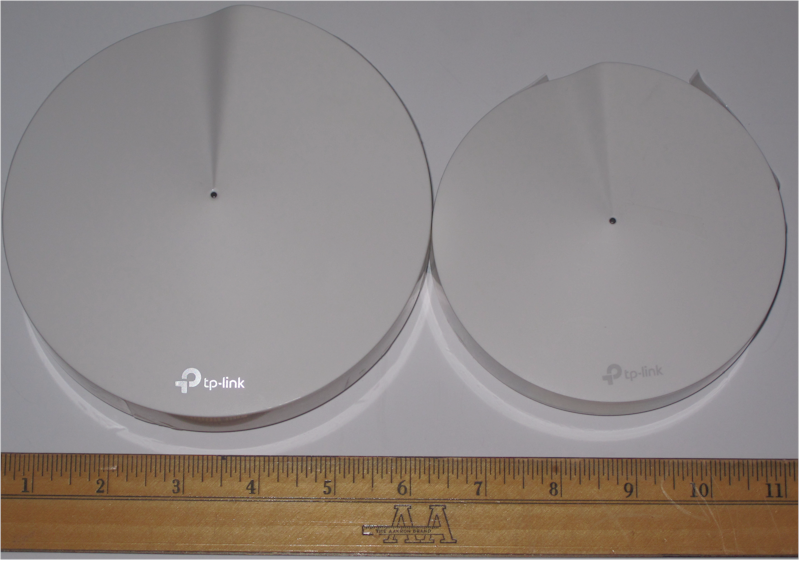 TP-Link Deco M9 Plus (L) & Deco M5 (R)
TP-Link is trying to differentiate Deco in the crowded mesh/Wi-Fi system market by loading it up with features, the most notable being its Trend Micro-based HomeCare's feature set that includes Parental Controls, QoS and Antivirus features. Bluetooth 4.1 and Zigbee/Thread radios plus IFTTT and Amazon Alexa support make the M9+ also capable of being a smart home hub.
As noted above, the Deco M5 and M9+ share the same circular physical design and use a single multi-color LED to indicate status. However, the port complement is slightly different with the M9+ using separate power and USB 2.0 ports instead of the M5's USB-C port that doubles as a power port. USB functions are not supported, nor are there mounting slots on either product.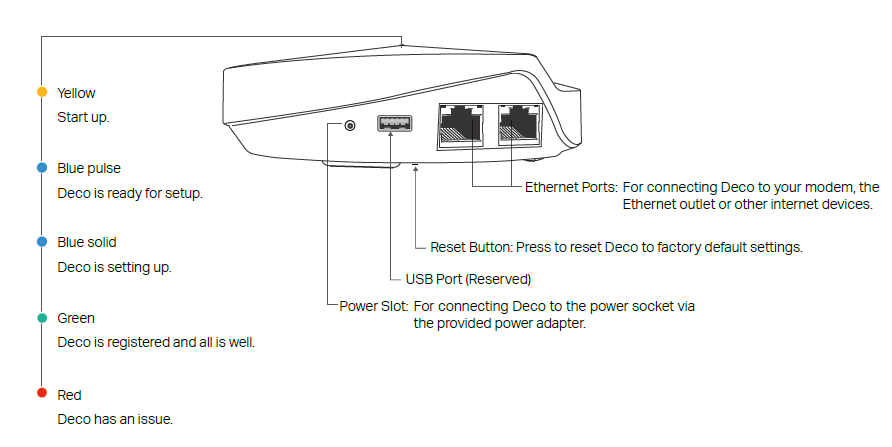 TP-Link Deco M9 Plus callouts
Inside
The M9+ FCC docs are all posted, so I didn't open up the product for component identification. The internal shot below shows the view you'd see if you popped off the plastic enclosure top. That big heatsink plate is thermally coupled to the large, central RF can below it, which holds no key components. But thermal pads in the RF can top couple to the board to provide thermal relief for the IPQ4019 SoC, QCA8072 gigabit Ethernet switch and Nanya flash that sit below the area on the other side of the board.
The product spec says there are 6 Wi-Fi, 1 ZigBee and 1 Bluetooth antennas. This means each radio gets its own antenna, all of which, except the Bluetooth's, are printed circuit boards vertically arrayed around the perimeter.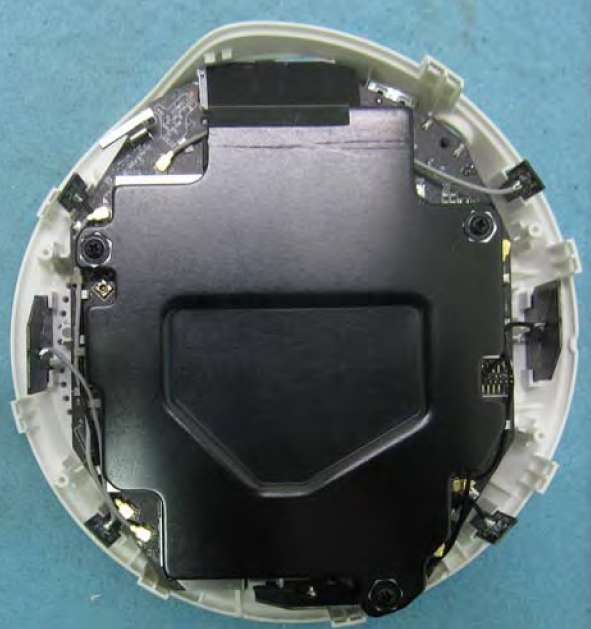 TP-Link M9+ inside
Removing the heatsink and RF can tops reveals the high-band 5 GHz radios and most of the RF components for the 2.4 and 5 GHz low-band radios supplied by the Qualcomm IPQ4019 on the other side of the board.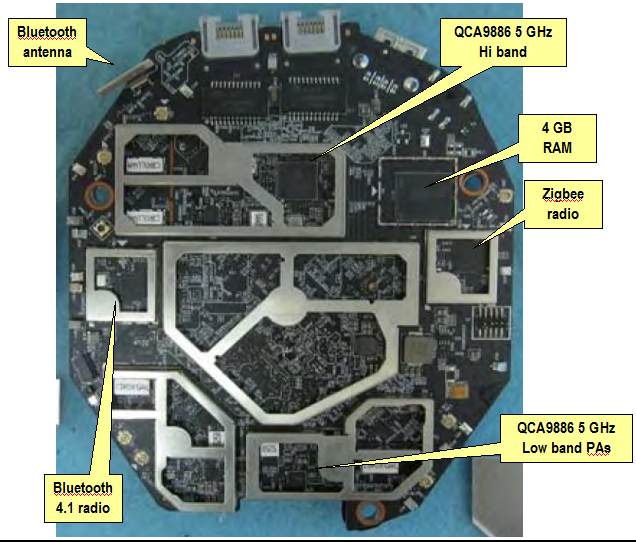 TP-Link M9+ board top
The Deco M5 board is shown below for comparison. We see a similar design approach, i.e. RF amplifiers and Bluetooth radio on this side. Note the antennas standing up from the board.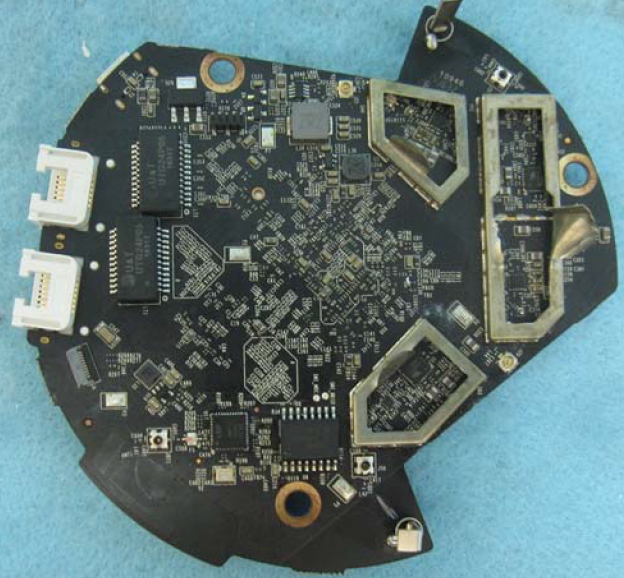 TP-Link M5 board top
The photo below shows the bottom side of the M9+ assembly, with the dual-layer heatsink pried apart.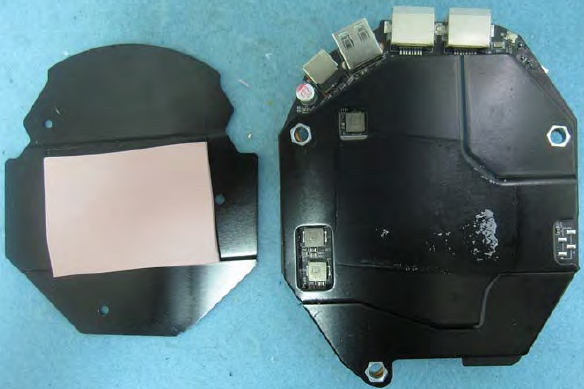 TP-Link M9+ board bottom w/ heatsink
Once the heatsink and RF can top are removed, the Qualcomm IPQ4019, QCA8072 gigabit switch and Nanya flash memory are revealed.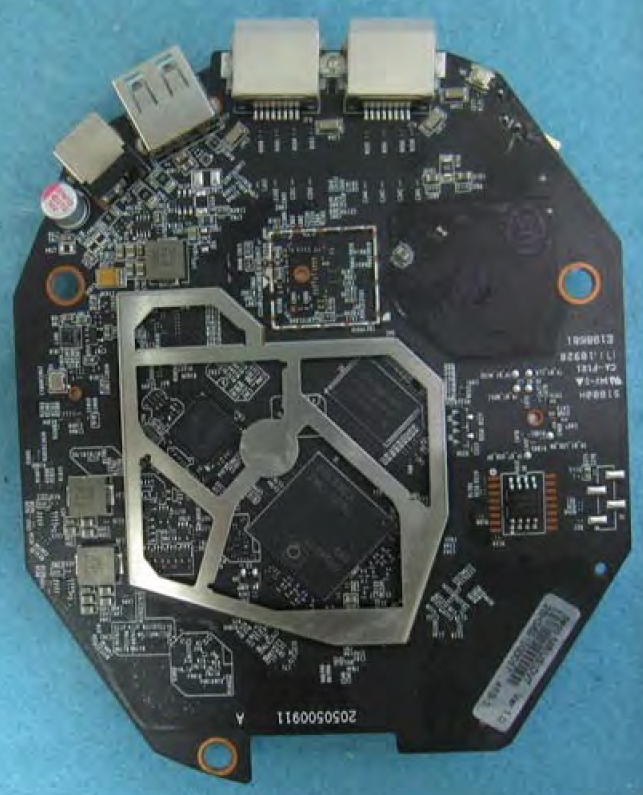 TP-Link M9+ board bottom
The same component trio sits under the M5's bottom-side RF can.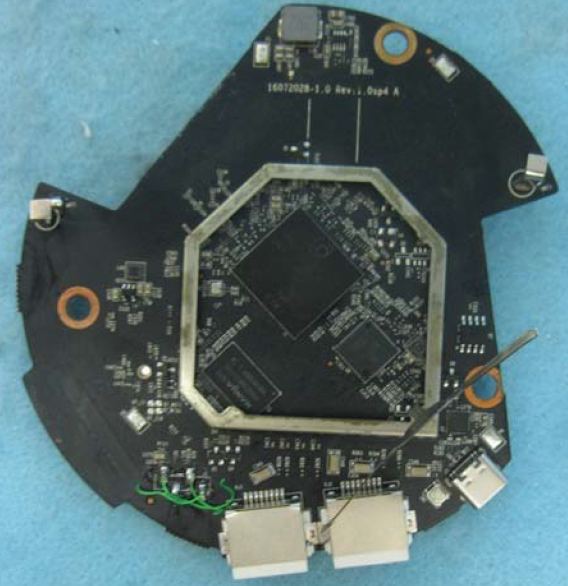 TP-Link M5 board bottom
The table below summarizes the Deco M9+ and M5's key components. I included the NETGEAR RBK40 Orbi ("mini") because its key components are very similar to the M9+'s.
TP-Link Deco M9+
NETGEAR RBK40 Orbi ("mini")
TP-Link Deco M5
CPU
Qualcomm IPQ4019 quad-core Wave2 2×2 a/b/g/n/ac SoC
Qualcomm IPQ4019 quad-core Wave2 2×2 a/b/g/n/ac SoC
Qualcomm IPQ4019 quad-core Wave2 2×2 a/b/g/n/ac SoC
Switch
QCA8072
QCA8075
QCA8072
RAM
512 MB
512 MB
256 MB
Flash
4 GB
4 GB
32 MB
2.4 GHz Radio
– In IPQ4019
– Unidentified 2.4 GHz PA/Front End (x2)
– In IPQ4019
– + Skyworks SKY2623L 2.4 GHz Power Amp (x2)
– In IPQ4019
– Unidentified 2.4 GHz PA/Front End (x2)
5 GHz Radio
– In IPQ4019
– RFMD RFPA5542 5 GHz power amp (x2)
– In IPQ4019
– Quorvo QPF4518 5 GHz front end (x2)
– In IPQ4019
– RFMD RFPA5542 5 GHz power amp (x2)
5 GHz Radio #2
– QCA9886 2×2 802.11ac radio SoC
– Unidentified 5 GHz PA/Front End (x2)
– QCA9886 2×2 a/n/ac SoC
– Quorvo QPF4518 5 GHz front end (x2)
None
Bluetooth
Qualcomm/CSR 8811 Bluetooth 4.1 SoC
Qualcomm/CSR 8811 Bluetooth 4.1 SoC
Qualcomm/CSR 8811 Bluetooth 4.1 SoC
IoT
Silicon Labs ERF32 Mighty Gecko Zigbee/Thread SoC
None
None
Table 1: Component summary and comparison
Setup & Features
Both Decos are set up and managed using Android and iOS apps, which require you to surrender an email address and set up a password to enable access. Once you get the first node up, you can add more nodes via the app, which guides you through the process shown in the video below.
The video doesn't show the app testing node placement or providing guidance on where to place Decos, beyond the screens shown below. The best advice offered is to "use your phone to check" if you're within range.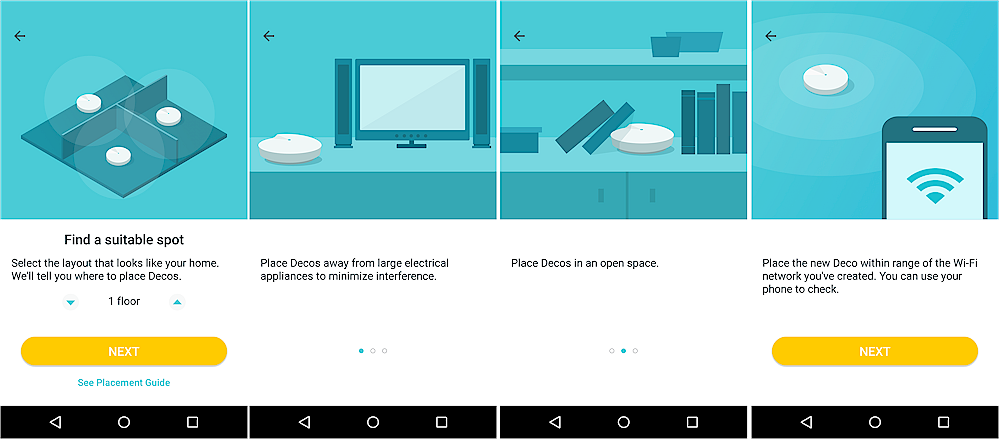 Deco installation placement advice
Decos can also use Ethernet as backhaul and bypass the NAT router and run the system as APs (More > Advanced > Operating Mode).
Deco relies on a cloud relay service to support remote login and management and to keep the HomeCare antivirus signatures and parental control filters updated. But backhaul management is all handled locally.
Wi-Fi connections are limited to setting a single network name and security password and disabling SSID broadcast ("Hide this network…"). A single guest network can be enabled, too.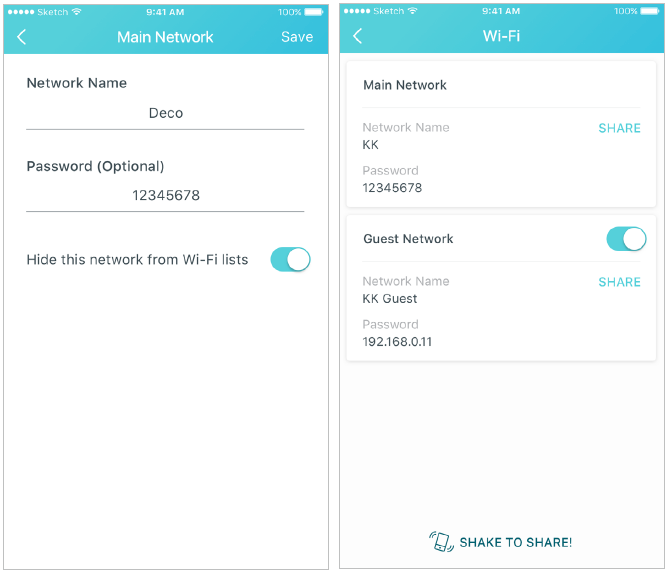 Deco Wi-Fi settings
App remote connection to Deco was quick and reliable. My main complaints are that you don't get an overview of how Deco nodes are connected and you can't get any information about node status. There's the usual built-in speed test that measures internet connection throughput to the root node only. But if you want to measure throughput to a node, you'll have to load a speed test app onto your device and run it there.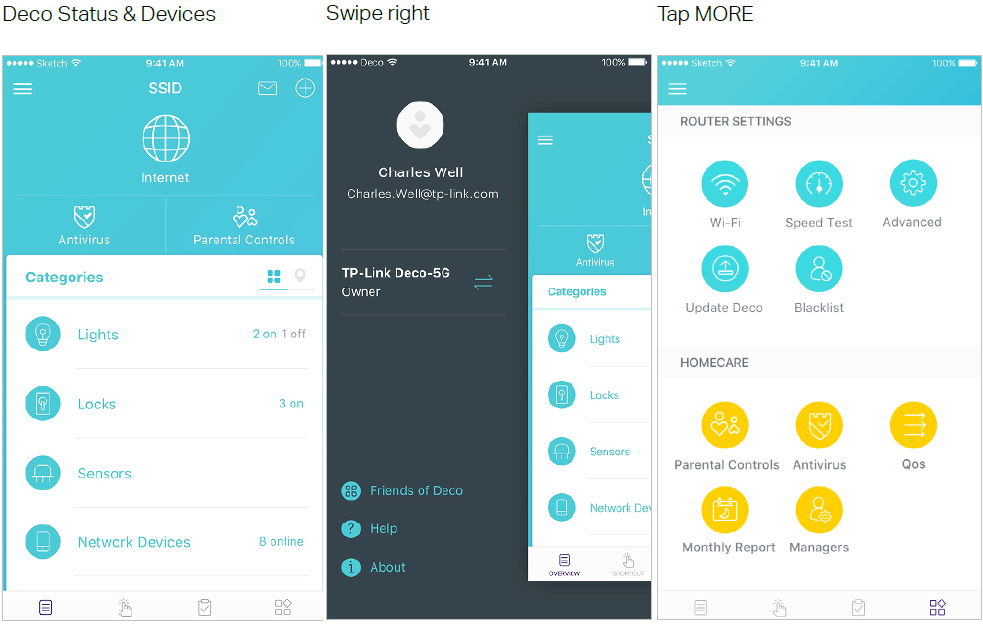 Deco app screens
Deco has a few features not commonly found on Wi-Fi mesh systems. Support for 802.11r fast roaming is disabled by default because it can prevent older devices from connecting reliably or at all. The Dynamic DNS feature (DDNS) will be helpful only if you're running servers on Deco's LAN that you'd like to more easily reach from the internet. The VLAN feature appears to be included because it's needed by some Asia-Pacific ISPs.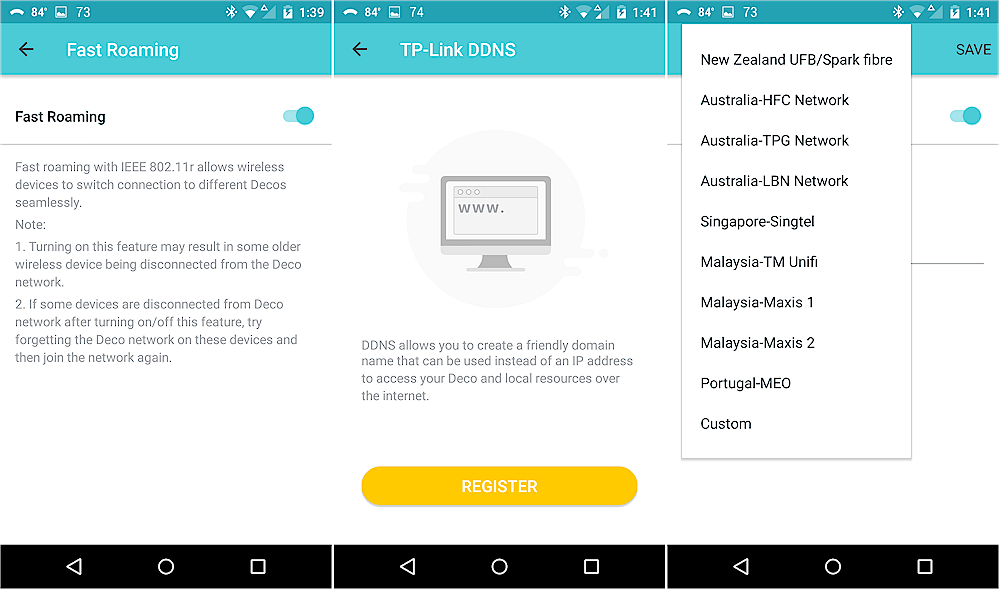 Deco fast roam (L), DDNS(C) and VLAN(R) settings
I'd be remiss (and I'm sure reminded by TP-Link post review) if I didn't mention Deco's HomeCare and Automation features. As noted earlier, Trend Micro-based HomeCare's feature set includes Parental Controls, QoS and Antivirus features. TP-Link bundles three years of HomeCare into Deco's price to better compete with eero, which charges $10/month or $99/year for eero Plus, which includes content filtering, antivirus, ad blocking and VIP support. We'll see what happens after three years; TP-Link hasn't set pricing for the subscription that it says will be required at that point.
Parental Controls are based on User profiles, which can have content-based web filters and internet time usage limits applied. An Insights feature shows sites a user visits and time spent there.
Priority-based QoS can be set by service type, but those categories are fixed. The Custom option just lets you set the fixed category sliders; it's odd that the Custom sliders include Custom itself. There's no way to find out which services, i.e. ports and protocols, are in each QoS category. The leftmost screenshot below shows you can prioritize a device or devices for 1, 2, 4 hours or always.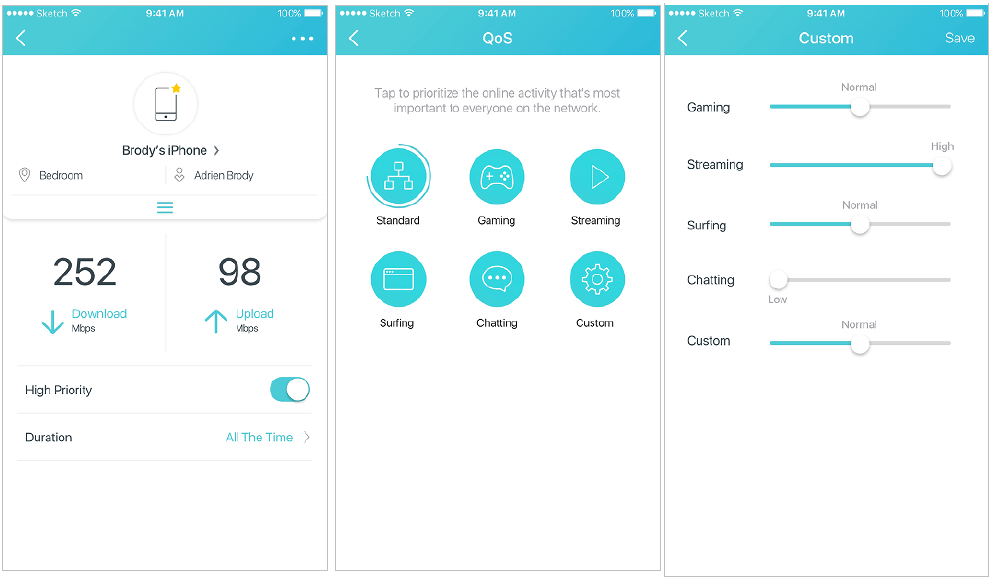 Deco QoS settings
The last HomeCare feature is Trend Micro antivirus protection for all devices. This protection is gateway based; no app is required. But it applies only when devices are on Deco's LAN or WLAN, not when you are away from home connected to another network.
Deco also supports IFTTT and Alexa skills. You'll find these on the app's Overview page under the hamburger menu Friends of Deco option. IFTTT has a handful of skills already defined.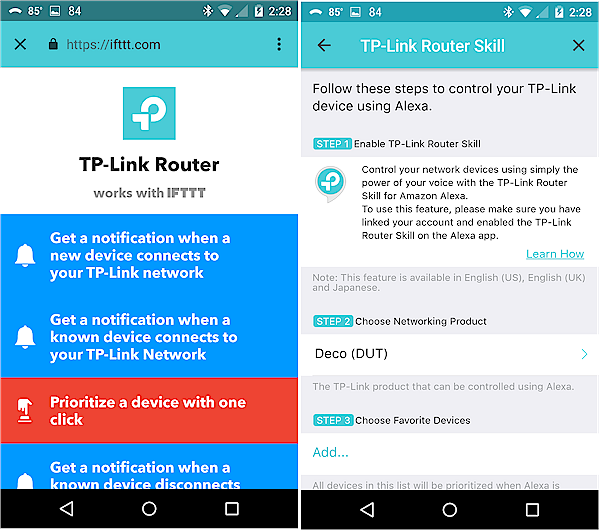 Deco IFTTT (L) & Alexa (R) skills
Finally, you can link TP-Link, Nest and Philips Hue devices to Deco and set up automation sequences. This is independent of Alexa and IFTTT.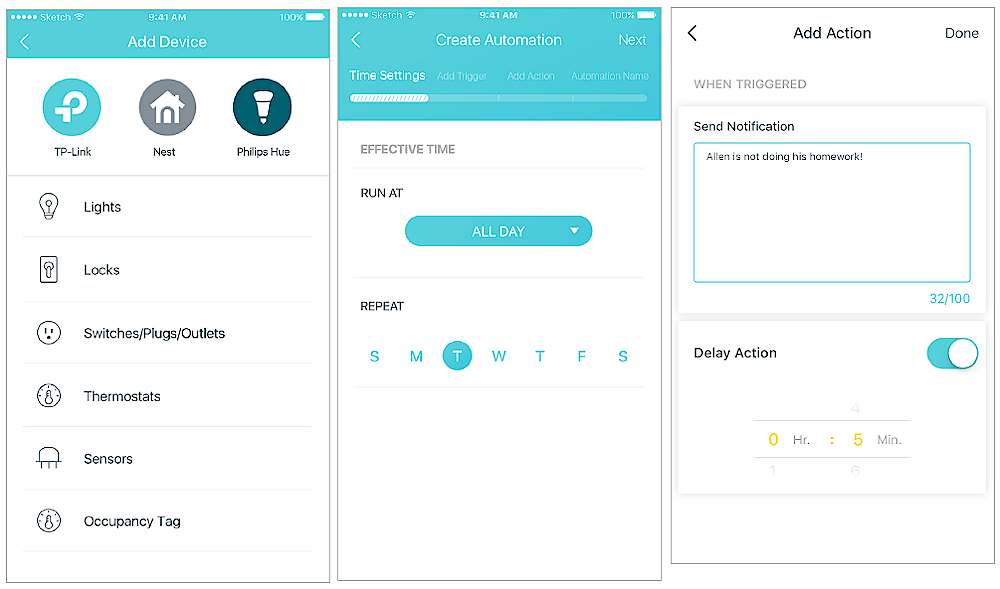 Deco Smart Home Automation
It's important to note that all the HomeCare, Automation, IFTTT and Alexa features don't work if you configure Deco to run as access points.
Deco's feature set is summarized in the tables below and you can also consult the User Guide. It doesn't provide detailed How To's for Deco's many features. But at least it exists; most mesh systems come with only a Quick Start guide…
Features
# of Ethernet ports
2
CPU
Qualcomm IPQ4019 quad-core 2×2 WiFi SoC
Switch
QCA8072
RAM (MB)
512
Flash (MB)
4096
Firmware
1.2.0 build 20180711 Release 53033
Cloud Service

Y

Web Admin

N

DHCP Reserve

Y

Ethernet backhaul

Y

AP Mode

Y

Wireless Bridge

Y

Notes
HomeCare features and QoS not available in AP mode

Wireless
System Type
Mesh
# of Wi-Fi radios
3
# of streams
2
# of backhaul streams
2
Class
AC2200
Wi-Fi Radio 1
2.4 GHz: In IPQ4019 + Unidentified 2.4 GHz PA/Front End (x2)
Wi-Fi Radio 2
5 GHz: In IPQ4019 + Qorvo PA5542 5 GHz power amp (x2)
Wi-Fi Radio 3
5 GHz: Qualcomm QCA9886 5 GHz 2×3 802.11ac SoC + Unidentified 5 GHz PA/Front end (x2)
Bluetooth Radio
CSR 8811 Bluetooth 4.1
IoT Radio
Silicon Labs ERF32 Zigbee/Thread
FCC ID
TE7M6
Antenna
Internal
WPS

N

RADIUS

N

MU-MIMO

Y

Guest Network

Y

Band Steering

Y

AP Steering

Y

Roam Assist
11kvr
Notes
11r disabled by default. Can be enabled in Deco app.

Firewall
Port Forward

Y

DMZ

N

Content Filtering

Y

Rogue Device Block

Y

Threat Protection

Y

Internet Pause

Y

User Accounts

Y

UPnP

Y

UPnP disable

N

Notes
Internet pause for individual user only.

WAN
Static

Y

Dynamic

Y

PPPoE

Y

PPTP

N

L2TP

N

IPv6

Y

QoS
Device Priority

Y

Direction
Both
Traffic Priority

Y
Routing Performance
All performance tests were done with Android app 1.6.11 and 1.2.0 build 20180711 Release 53033 firmware using select tests from the Version 10 Router process.
The iperf3 WAN to LAN and LAN to WAN throughput tests came in at 711 and 626 Mbps, respectively, highlighted in the charts below. This was not as good as Deco M5, which measured 941 and 925 Mbps. I double checked the results and made sure no HomeCare, Automation, or IFTTT/Alexa features were enabled. Still, with both directions capable of throughput over 500 Mbps, these results are unlikely to be a disqualifier for most buyers.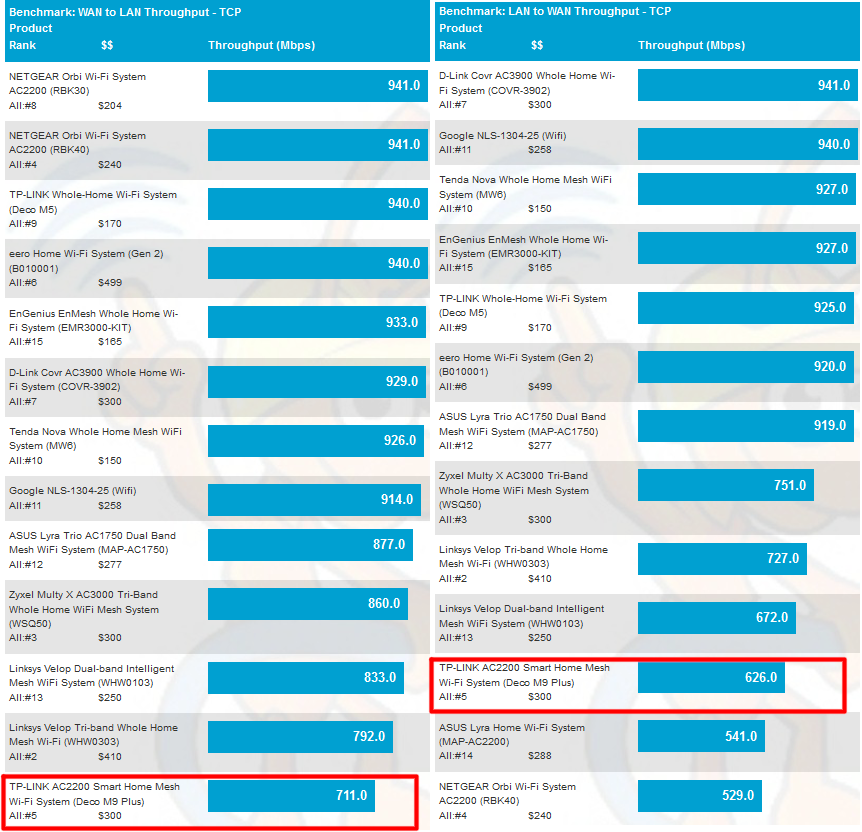 Routing throughput – iperf3 method
Although it's not a fair fight due to the M9+'s second 5 GHz radio, I'll be comparing with the Deco M5. The better comparison will be to the NETGEAR RBK40 Orbi ("mini"), which has essentially the same design as the M9+ and was tested in a two-node configuration.
WAN to LAN testing using the tougher HTTP method benchmarks actually shows better relative performance than the iperf3 test. The M9+ really pulls away from the other two products on the larger filesizes.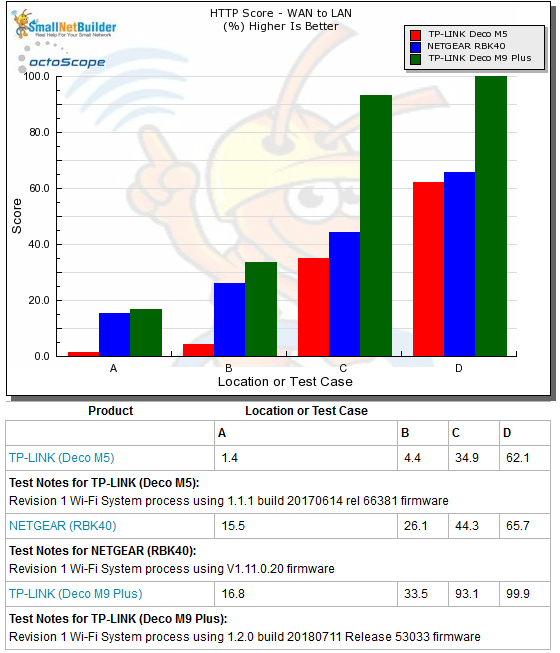 Routing throughput – HTTP Score comparison – WAN to LAN
Plot key file size: [A] 2 KB, [B] 10 KB, [C] 108 KB and [D] 759 KB file
LAN to WAN shows a pattern similar to downlink. M9+ FTW.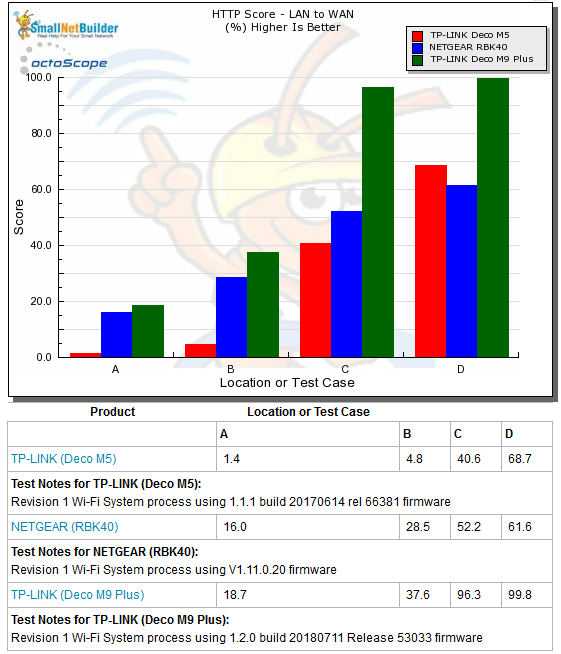 Routing throughput – HTTP Score comparison – LAN to WAN
Wi-Fi Performance
The M9+ was run through our Wi-Fi System test process, letting it use whichever channels and bandwidth it chose. It used 2.4 GHz channels 4 & 6 (40 MHz bandwidth) and 5 GHz channel 44 as the primary channel with 80 MHz bandwidth for both nodes. A quick check with a Wi-Fi scanner app showed channel 149 used by the upper band 5 GHz radio. This radio had a hidden SSID, so was not available for client connection.
I should note that TP-Link sent a three-node version of the product for review. But since the only product sold right now is a two-node version, that's the configuration I tested. TP-Link said the three-pack is coming "later this year", with pricing expected around $450.
Here's what M9+ looked like in the octoBox 18" test chamber.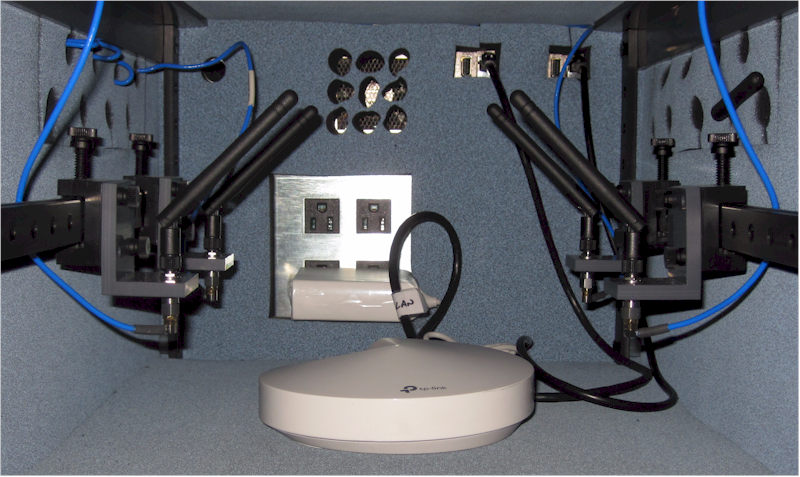 M9+ in test chamber
Throughput vs. Attenuation (RvR)
The Rate vs. Range or RvR benchmarks look at how throughput varies with decreasing signal. This test is done on the root node, so is a best-case view and does not include any effects from backhaul links.
I sometimes have to add 9 dB of attenuation when running 2.4 GHz tests so that the octoScope Pal reference client's -30 dBm maximum recommended input level is not exceeded. This was not the case with M9+; no additional 2.4 GHz attenuation was applied.
The 2.4 GHz downlink plot shows the M9+ with the lowest throughput of the group. This is likely caused by the M9+ receive link rate of 300 Mbps vs. 400 Mbps for the Deco M5. Both products used a transmit 400 Mbps link rate (with strong signals)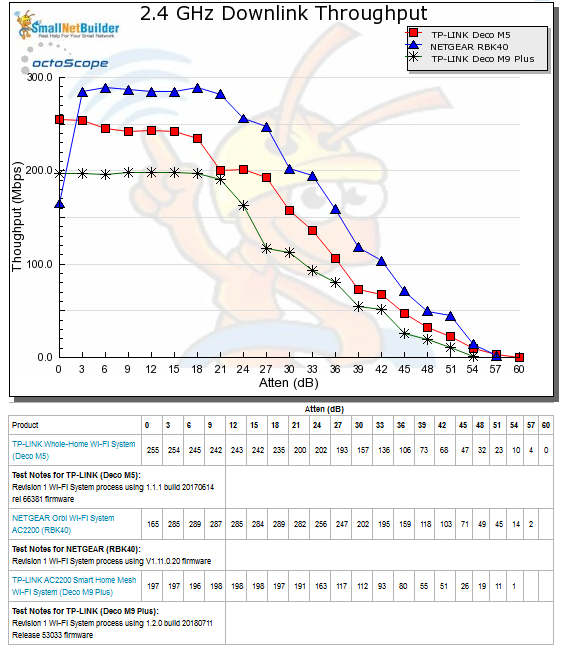 Throughput vs. Attenuation – 2.4 GHz downlink
2.4 GHz uplink show narrower gap between the M9+ and other two products. But the M9+ still tracked lower for most of the test run.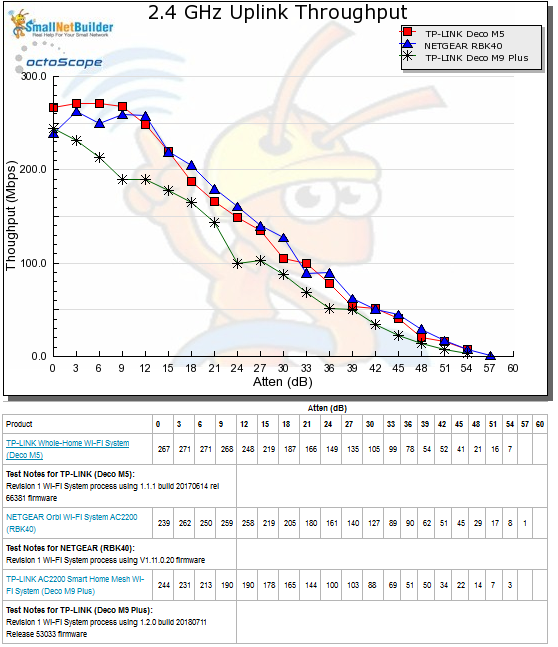 Throughput vs. Attenuation – 2.4 GHz uplink
5 GHz downlink shows a turnabout with the M9+ running above the other two products until it drops below Orbi at 33 dB attenuation.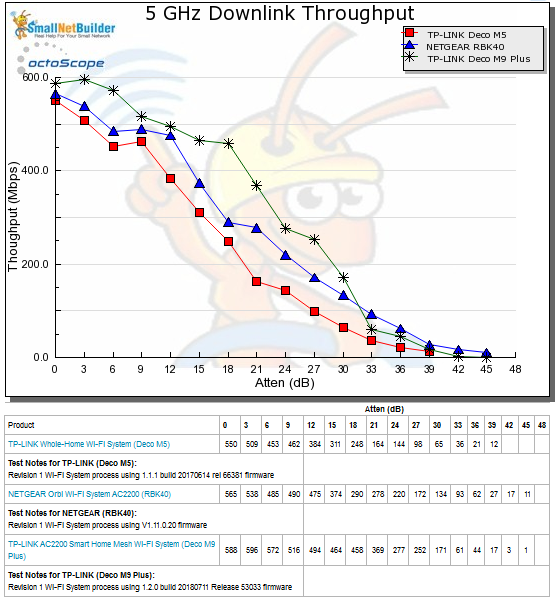 Throughput vs. Attenuation – 5 GHz downlink
5 GHz uplink shows similar results, with the M9+ beating the Deco M5 and Orbi until the 33 dB attenuation test.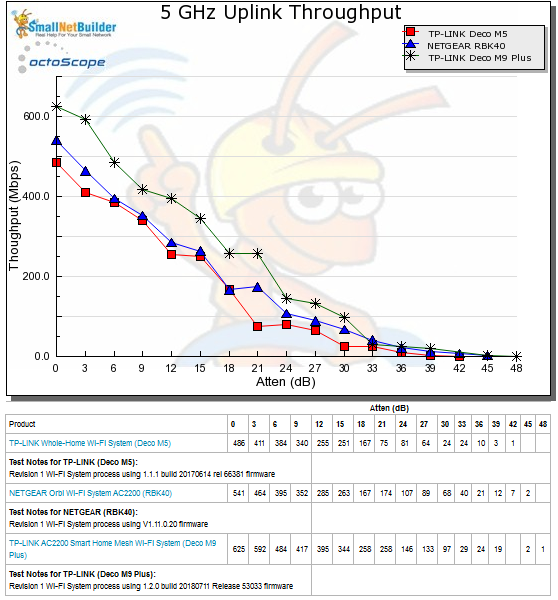 Throughput vs. Attenuation – 5 GHz uplink
Backhaul
Backhaul tests run traffic between the root node LAN-side Ethernet port and the Ethernet port on each leaf mesh node. To me, this is the most reliable predictor of how a product will perform in the other benchmarks. A mesh node can, at best, only pass on received throughput to connected clients, i.e. low throughput in, low throughput out. Since I tested only a two-node system, I have only one-hop results to show.
First hop backhaul downlink bandwidth of 395 Mbps is just behind Orbi @ 399 Mbps and almost 100 Mbps more than Deco M5 @ 300 Mbps. Uplink bandwidth was notably lower for all three products, but the M9+ dropped the most, down to 257 Mbps.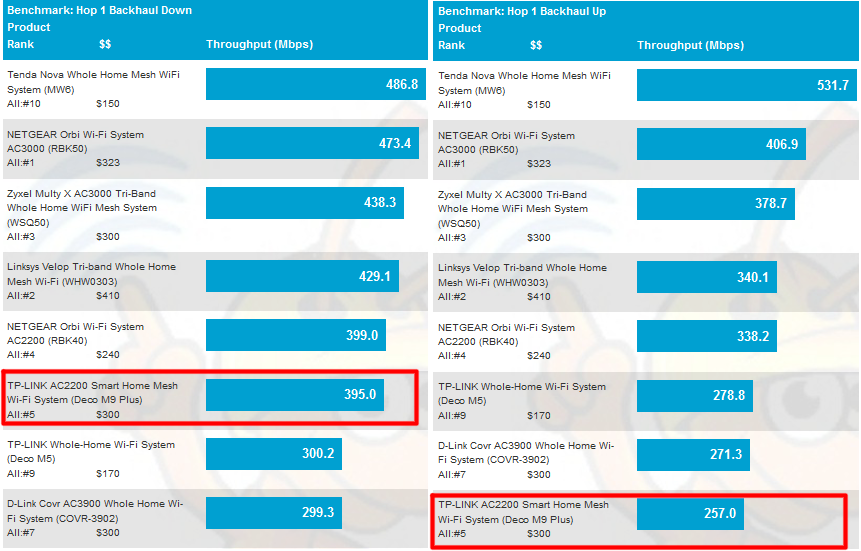 Wi-Fi System Backhaul – Hop 1
Wi-Fi System
These benchmarks measure up and downlink, 2.4 and 5 GHz throughput at each system node, by "walking" the octoScope Pal dual-band test client from node to node. Since tests are made with 0 dB attenuation between the Pal test client and each system node, all measurements are best case. The purpose of this test is to measure the best case throughput available on each band at each mesh node. Once you get beyond the root node, this test shows how backhaul performance affects the ability of a node to deliver throughput.
In the following charts, A bars represent the root node, B bars the Hop 1 node and C bars the Hop 2 node for the Deco M5 only. The C bars for NETGEAR Orbi and Deco M9+ show throughput measured at the Hop 1 node with 21 dB of attenuation applied between the node and octoScope Pal STA. The attenuation is meant to simulate the additional OTA (Over The Air) signal loss from moving the STA away from the mesh node. This is our standard for this test for two-node systems.
2.4 GHz downlink results show the advantage of the separate 5 GHz backhaul link used by the Orbi and M9+. Both turn in significantly higher throughput for the B and C bars, while the M5's throughput drops for both.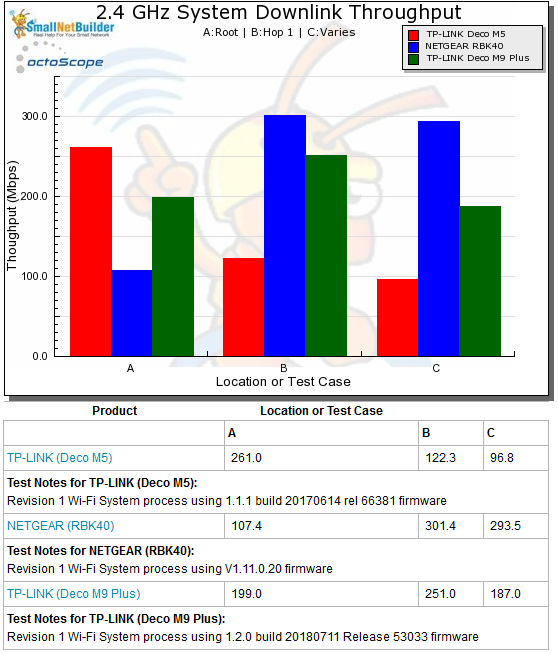 Wi-Fi System Performance – 2.4 GHz downlink
2.4 GHz uplink shows the same steep Deco M5 decline for the B and C cases. We can also see the affect of lower uplink backhaul bandwidth in the M9+'s throughput dropoff between B and C.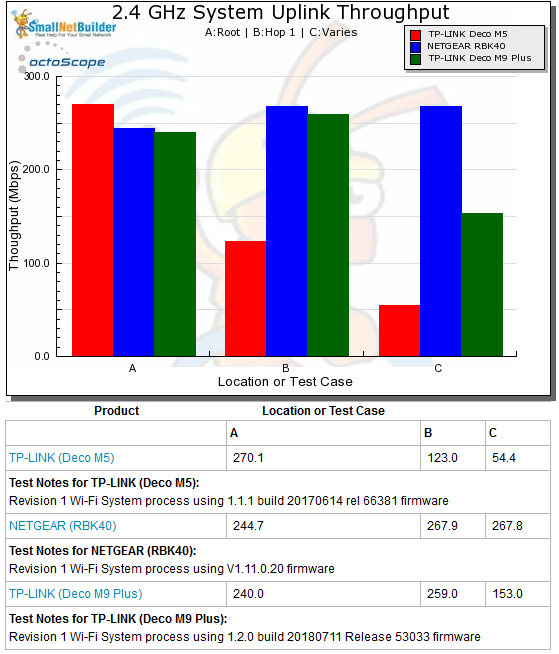 Wi-Fi System Performance – 2.4 GHz uplink
Orbi and the M9+ track closely for cases B and C for the 5 GHz downlink benchmark.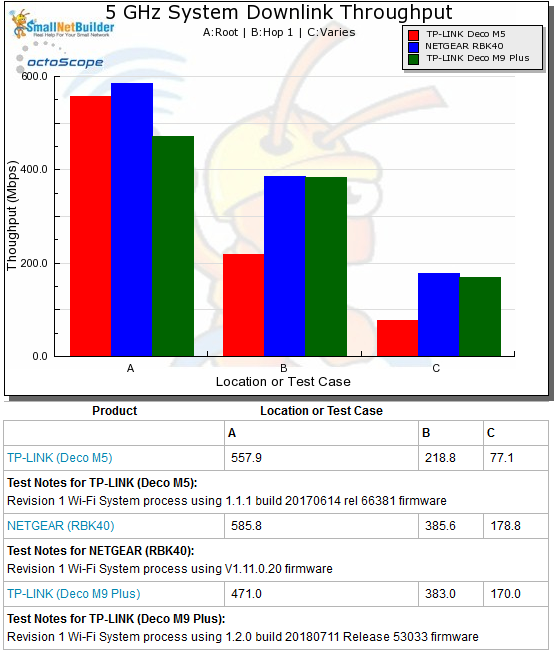 Wi-Fi System Performance – 5 GHz downlink
5 GHz uplink again shows Orbi and the M9+ tracking closely for case B. But the M9+ really falls down when 21 dB of attenuation is added between the mesh node and octoScope Pal STA.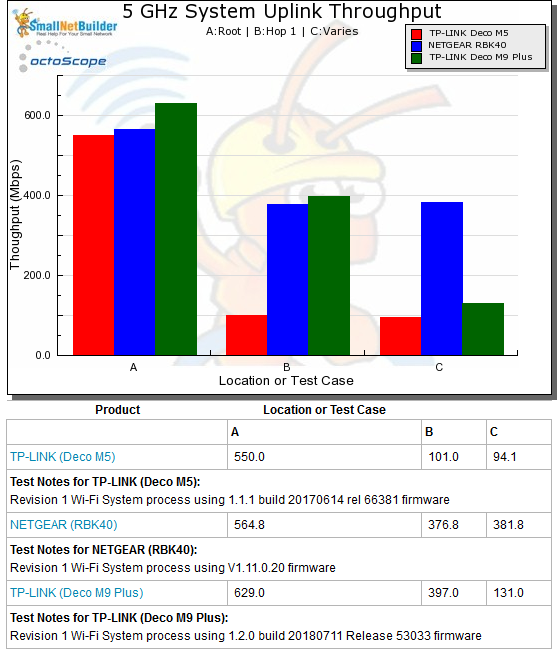 Wi-Fi System Performance – 5 GHz uplink
Capacity
Our Wi-Fi System capacity test uses three 2×2 AC clients; a 2.4 GHz client is connected to the root node and 5 GHz to the others. For Test Cases A and B, 0 dB was applied between the Pals and mesh nodes. For Test Case C, 0 dB was applied between the Pal and Hop 2 mesh node for the three-node Deco M5. For the two node Orbi and Deco M9+, 21 dB of attenuation was applied between the Pal and Hop 1 mesh node.
This test runs for 30 minutes to see if any attempts are made to balance throughput by throttling backhaul or client bandwidth so that more bandwidth is made available to the other. It also serves as a sort of stress test to see how the mesh stands up under load.
I had a difficult time getting through the full 30 minute test for the M9+. For some reason, after a few minutes, the clients would still be connected, but the TCP/IP connection would die for one or more Pals. I ran this test at least a half dozen times and, in the end, had to put together the test results shown below from separate downlink and uplink test runs.
The Capacity bar charts show throughput for the three test clients in each direction. One of the dirty little secrets of mesh Wi-Fi systems that don't have a separate radio for backhaul is that loading the root node usually starves leaf nodes for bandwidth. It doesn't have to be this way; the system could balance the root node radio to limit device bandwidth to provide more bandwidth to backhaul. I've yet to see this happen, however.
The downlink results show the Deco M5 second hop (Test Case C) delivering very little bandwidth due to radios doing double duty for fronthaul (client connect) and backhaul (mesh node connect). Both Orbi and the Deco M9 Plus do better for Test Cases B and C, but the TP-Link outdoes Orbi in both cases.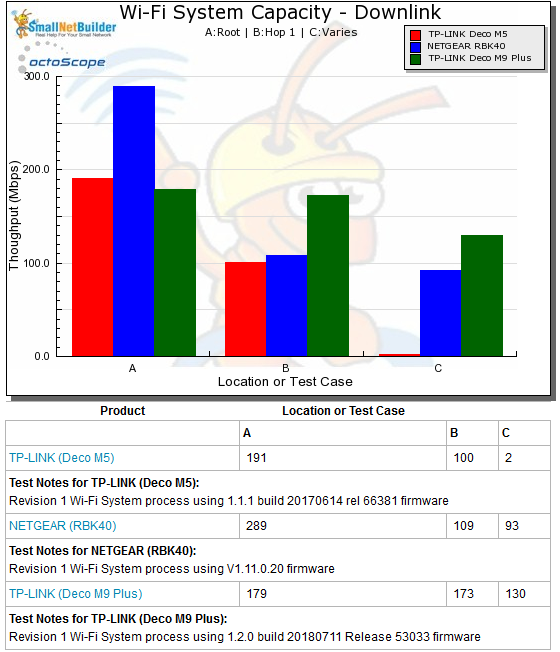 Wi-Fi System Capacity – down
Uplink shows similar results, but with the M9+ again the best out of the three products compared.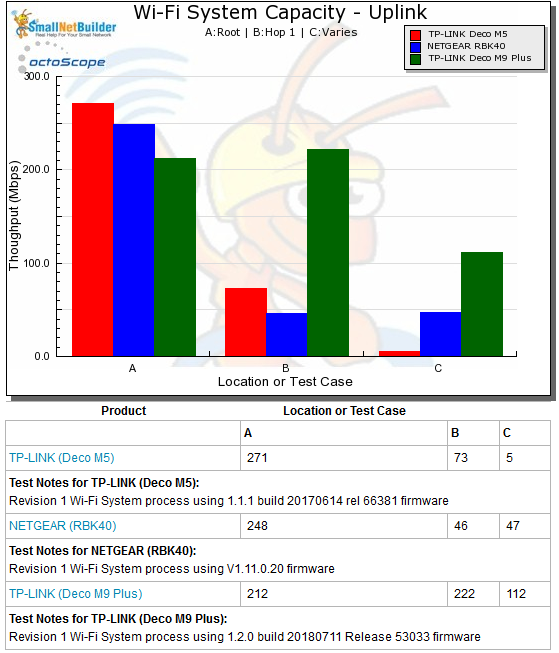 Wi-Fi System Capacity – up
Looking at a time plots of results provides additional insight. The downlink plot shows high throughput variation for all three STAs. This does not look like a system that behaves well under load!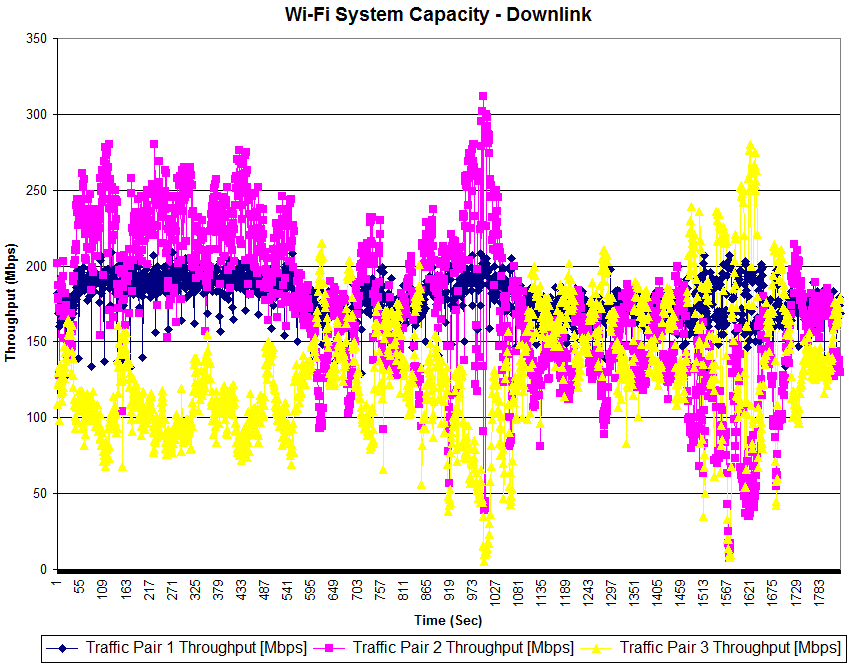 Wi-Fi System Capacity vs. time – Downlink
Uplink looks a bit better and more like I would expect, with Traffic Pair 3 yielding lower throughput due to lower signal level from the 21 dB of inserted attenuation.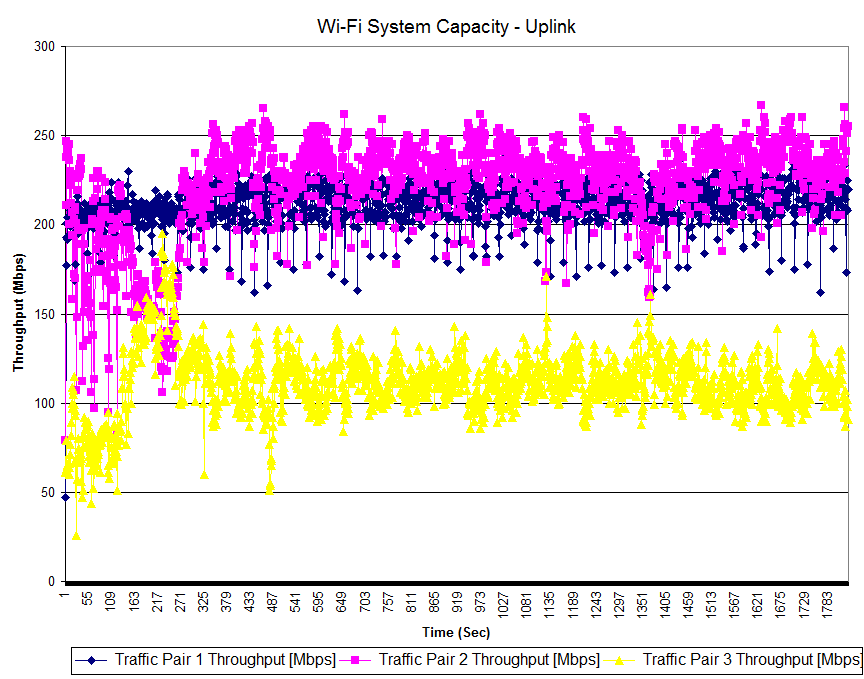 Wi-Fi System Capacity vs. time – Uplink
Closing Thoughts
With a rank of #5 out of 15 Wi-Fi systems tested, the Deco M9 Plus lands right at the bottom of the top third of products. The good news is that its subranks are good for benchmarks that count, i.e. system, capacity and 5 GHz RvR. And it outranks—by a lot—products like Linksys' dual-band Velop (#13) and ASUS Lyra (#14) and Lyra Trio (#12). But I'm not comfortable with the product's ability to hold up under heavy load, given the difficulty I had getting a complete run on our Capacity tests.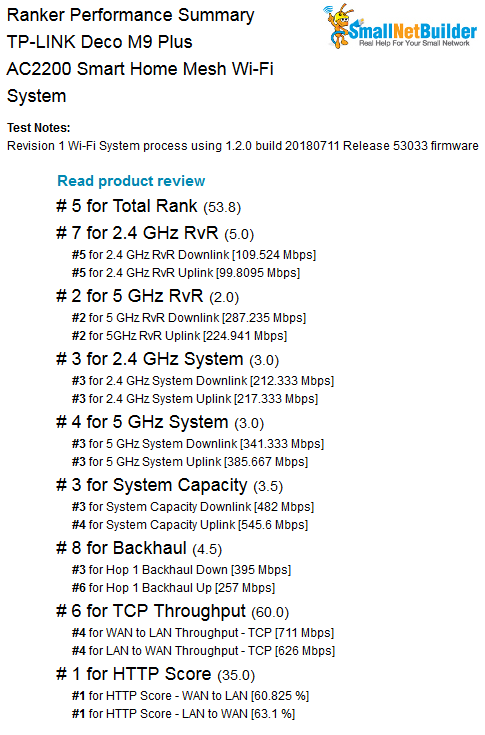 Ranker Performance Summary
The ascending price sort of the Ranker can be used to find products with the best price/performance and it shows the NETGEAR Orbi RBK40 ranked #4 and $60 cheaper at $240. At $300 for two nodes, the M9 Plus is competing with the #1 ranked original RBK50 Orbi (~$330) and two node version of Linksys Tri-band Velop ($300) ranked #2.
In the end, the TP-Link Deco M9 Plus delivers more value than most other Wi-Fi systems with its smart home Bluetooth/Wi-Fi/Zigbee hub and automation, IFTTT and Alexa compatibility, web content filtering and all-device antivirus features bundled in at no additional cost. The question is whether buyers value those features enough to accept somewhat lower performance than competing products, priced the same or lower, without all those features.
Buy AC2200 Smart Home Mesh Wi-Fi System from Amazon