At a glance
Product
Buffalo Technology AirStation High Power N300 Gigabit Wireless Router & AP (WZR-300HP) [Website]
Summary
Atheros-based single-band N router running DD-WRT or Buffalo firmware
Pros
• DD-WRT feature set out of the box
• PPTP & OpenVPN endpoints
• Gigabit ports
• Up and downlink QoS
Cons
• Doesn't provide clearly better performance
• DD-WRT can present too many options for non-tech users
Typical Price: $200 Buy From Amazon
Introduction
Updated 12/26/2012 – Added link to DD-WRT review
Fans of alternative router distro DD-WRT have long enjoyed slapping it onto every router they could buy that would let them. Linksys and NETGEAR realized this awhile ago and produced routers designed specifically for this purpose. I was surprised to see the Linksys WRT54GL still available from many etailers as well as the WRT160NL. And NETGEAR's WNR3500L still seems to be going strong with a whole website devoted to it and other DD-WRT-able NETGEAR routers.
Buffalo decided to embrace DD-WRT even more closely and has been shipping its wireless routers with it installed since early 2010. The last time we checked out a DD-WRT based Buffalo router (the WZR-HP-AG300H) back in 2011) it didn't go so well. Because the router would not hold 40 MHz mode so that I could run my tests, I ended up falling back to the "user friendly" Buffalo-based firmware.
Buffalo has recently slimmed down its wireless router lineup to five single-band and two dual-band models. All but the draft 802.11ac based WZR-D1800H AirStation ship with DD-WRT as the standard firmware load. So we decided to revisit DD-WRT on Buffalo and review a few of its new offerings.
The WZR-300HP that is the subject of this review is the penultimate model in its 2.4 GHz line. Looking at it, you could get a definite déjà vu because it appears to be identical to the aforementioned WZR-HP-AG300H. It's not the same beastie, however, since the AG300H is dual-band.
Both routers share the same glossy black fingerprint-magnet plastic slab package designed to stand vertically on your desk or shelf like a mini-monolith. But if vertical is not your cup of tea, just snap off (or don't snap on) the included stand and it can also lay horizontally or be wall/ceiling mounted courtesy of two screw slots on its bottom cover. For best cooling, though, I'd go with the vertical orientation.
Front panel controls and lights are shown in the callout diagram below. All the indicators you'd want are there as backlit icons.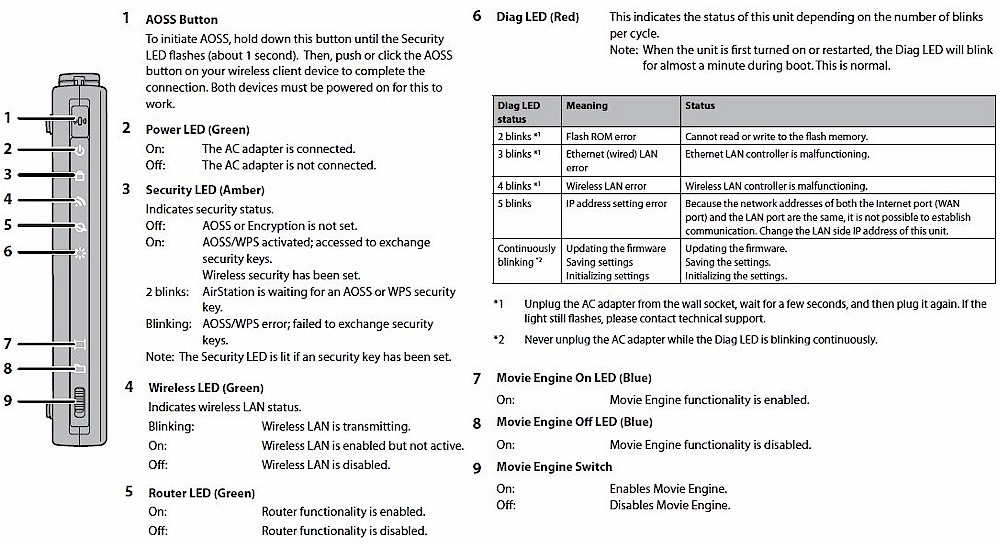 Buffalo WZR-300HP front panel callouts
The rear panel ports and switches are shown below and include a USB 2.0 port for storage and printer sharing. Note that all Ethernet ports have link/activity LEDs.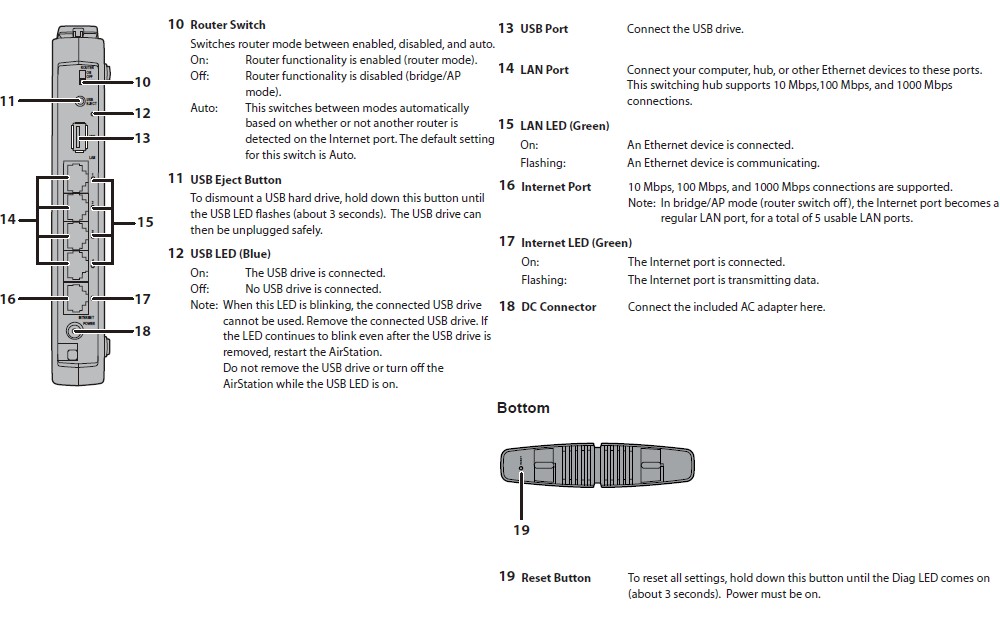 Buffalo WZR-300HP rear panel callouts
The WZR-300HP has Gigabit WAN and LAN ports. If you'd like to save a little dough and have your router run a bit cooler, you can opt for Buffalo's WHR-300HP instead.
Inside
The 300HP's FCC photos were little help for component identification, but Buffalo helpfully came through with the details.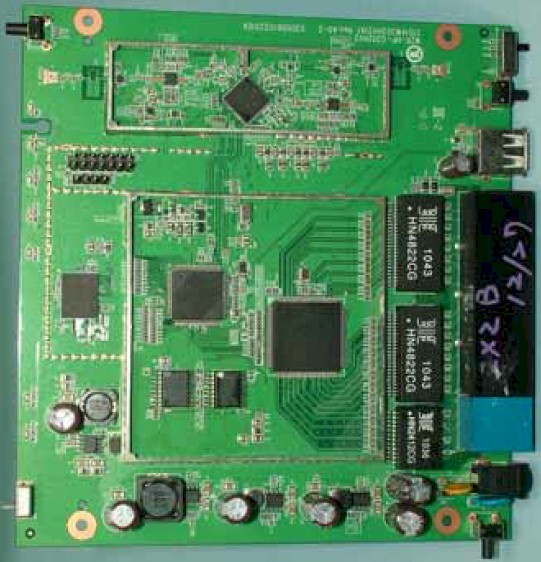 Buffalo WZR-300HP board
The 300HP's key components are summarized in Table 1 along with its predecessor, the WZR-HP-G300NH. The two products not only look alike, but both are based on Atheros designs.
| | Buffalo WZR-300HP | Buffalo WZR-HP-G300NH |
| --- | --- | --- |
| CPU | Atheros AR7242 @ 400MHz | Atheros AR9132 Network Processor @ 400MHz |
| Switch | Atheros AR8316 Gigabit | Realtek RTL8366SR Gigabit |
| RAM | 64 MB | 64 MB |
| Flash | 32 MB | 32 MB |
| 2.4 GHz Radio | Atheros AR9280 2×2 Dual-band 802.11abgn SoC | AR9103 3×3 2.4 GHz 802.11bgn |
Table 1: Component summary and comparison
For your comparison pleasure, here's an FCC shot of the WZR-HP-G300NH's board.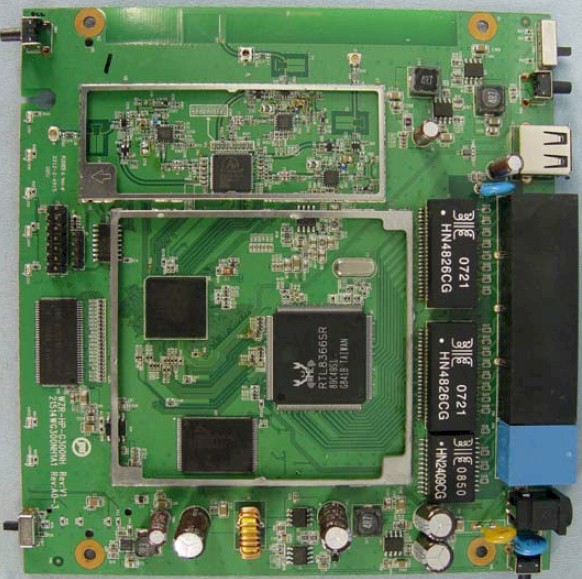 Buffalo WZR-HP-G300NH board
Note that both routers come with RF shields (removed for the photos), but no heatsinks. The two smaller black specs up near the radio chips on both boards are outboard power amplifiers. The photos aren't detailed enough for a positive ID, though.
Features
Updated 12/26/2012 – Added link to DD-WRT review
DD-WRT is famous for its extensive feature set. The features are so extensive that I've asked Craig to do a separate review of Buffalo's implementation. In the meantime, let's just say DD-WRT packs a lot of features including multiple SSIDs with VLANs, captive portal hotspot, PPTP and OpenVPN (SSL/TLS) VPN, up and downlink QoS and much more.
A shot of the landing page is shown below, so that you can check out a few of the menus and get a feel for the overall look of the admin interface.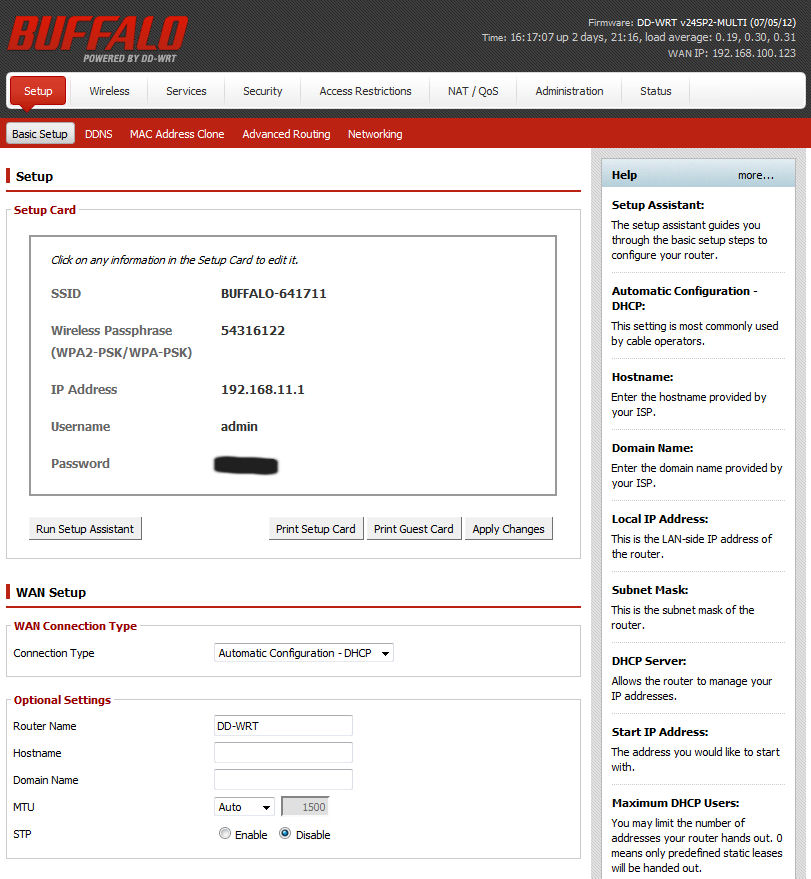 Buffalo WZR-HP-G300NH board
Since they are specific to this model, here are the options for the 300HP's wireless settings.

Setting
2.4 GHz
Channel
Auto [default]
1 – 11
Channel Width
Auto
Full (20 MHz) [default]
Turbo (40 MHz)
Dynamic (20/40 MHz)
Wireless Network Mode
Disabled
Mixed [default]
B-only
G-only
BG-mixed
NG-mixed
N-only (2.4 GHz)
Security Mode
Disabled
WPA-PSK [default]
WPA-EAP
WPA2-PSK
WPA2-EAP
WPA2-PSK/WPA-PSK
WPA2-EAP/WPA-EAP
WEP
WPA Algorithms
TKIP
AES
TKIP+AES [default]
Wireless Mode
AP [default]
Client
Client Bridge (Routed)
AdHoc
WDS Station
WDS AP
Table 2: Wireless settings summary
I initially thought I was going to have problems with 40 MHz mode again, since the only Channel Width option available with the default Mixed Wireless Network Mode setting was Full (20 MHz). But a quick email exchange with Buffalo revealed that setting the Wireless Network mode to either NG-Mixed or N-only, i.e. modes without 802.11b support, would reveal the Turbo (40 MHz) and Dynamic (20/40 MHz) modes.

Routing Performance
Routing performance for the WZR-300HP loaded with DD-WRT v24SP2-MULTI (07/09/12) std firmware and using our standard test method is summarized in Table 3. Although it's not the fastest router out there, its 180 Mbps or so of uni or bi-directional routing throughput will keep most users happy.

The 32,206 Simultaneous Connections are also plenty enough, too, for gaming and P2P use.
| Test Description | TL-WDR3500 |
| --- | --- |
| WAN – LAN | 192 |
| LAN – WAN | 181 |
| Total Simultaneous | 189 |
| Maximum Simultaneous Connections | 32,206 |
| Firmware Version | DD-WRT v24SP2 – MULTI (07/09/12) std |
Table 3: Routing throughput
The IxChariot plot for the routing tests shows very steady throughput in the unidirectional tests. The higher variation shown in the simultaneous up/downlink tests shouldn't bother anyone in real world use.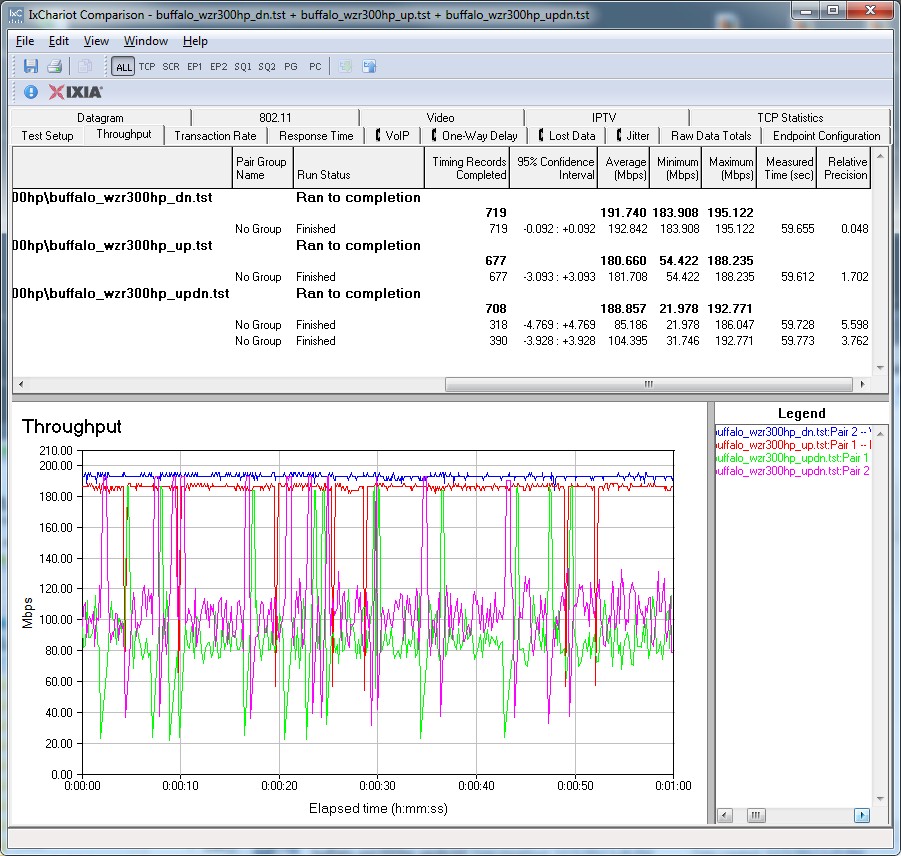 Buffalo WZR-300HP routing throughput
Storage Performance
I ran Windows filecopy tests using the standard NAS testbed with our standard USB drive (Startech USB 3.0 eSATA to SATA Hard Drive Docking Station (SATDOCKU3SEF) containing a WD Velociraptor WD3000HLFS 300 GB drive) formatted in FAT32 and NTFS. The results are summarized in Table 4 along with two other similarly-performing routers, TP-LINK's TL-WDR3500 and EnGenius' ESR750H.
| | WZR-300HP | TL-WDR3500 | EnGenius ESR750H |
| --- | --- | --- | --- |
| FAT32 Write | 6.6 | 6.3 | 12 |
| FAT32 Read | 8.5 | 9.6 | 10.5 |
| NTFS Write | 3.2 | 2.4 | 3.6 |
| NTFS Read | 6.4 | 7.8 | 7.9 |
Table 4: Filecopy performance summary – MB/s
Filecopy speed is typical of what we've found on inexpensive routers. For comparison, the highest-performing USB-enabled router tested to date is the NETGEAR CENTRIA, which clocked in at 32 MB/s write and 61 MB/s read to an NTFS-formatted USB 3.0 drive.
Wireless Performance
The 300HP is Wi-Fi Certified. It defaults to Auto channel selection and Full (20 MHz) channel width with a unique SSID based on the last three octets of its MAC address.
WiFi Protected Setup (WPS) is enabled by default and initiated a push-button WPS session when I first associated a Win 7 client. The WPS session ended with a WPA2/AES secured connection, which was used for all further wireless testing. My Win 7 client initially said there was a connection problem at the end of the WPS session. But upon checking the wireless connection properties, I found that the connection was ok with all IP addresses in place.
I ran 40 MHz Coexistence and Fat channel intolerant tests to see if the 300HP properly refrained from switching into 40 MHz bandwidth mode, when another AP was on an interfering channel, but both failed. No matter what I did, the router stayed in 40 MHz bandwidth mode when it should have fallen back to 20 MHz. However, this isn't the first Wi-Fi Certified router that I have found that did not properly stay out of 40 MHz mode when it is supposed to.
All testing was performed with DD-WRT v24SP2-MULTI (07/09/12) std firmware using our standard test process, which uses Channel 1 for 2.4 GHz tests. The test client was our standard Intel Centrino Ultimate-N 6300 with Win7 13.5.0.6 driver.
Each wireless entry in the Benchmark Summary below shows the average of throughput measurements made in all test locations.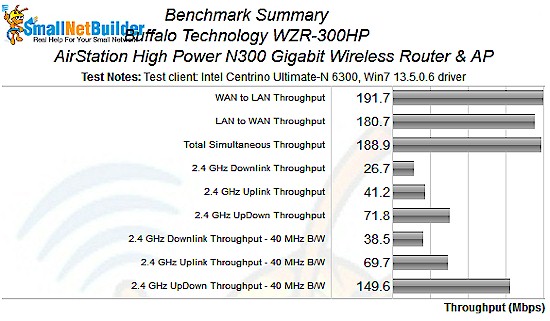 Buffalo WZR-300HP Wireless Benchmark summary
To put these results in perspective, however, we need to take a comparative view. I used the Router Finder find other 2.4 GHz "N300" routers and found two others tested using the same current process, the Amped Wireless R10000G and TP-LINK TL-WR1043ND. I also included the 300HP's now-discontinued predecessor, Buffalo's WZR-HP-G300NH, which was tested using a different client, so isn't directly comparable.
The 300HP doesn't win any of the four comparisons in the 2.4 GHz performance table below and ties only one. But it beats the Amped and TP-LINK routers in three of the four weakest-signal Location F tests, which would indicate superior range performance. Location D results aren't too bad, either, although not as good as the Amped.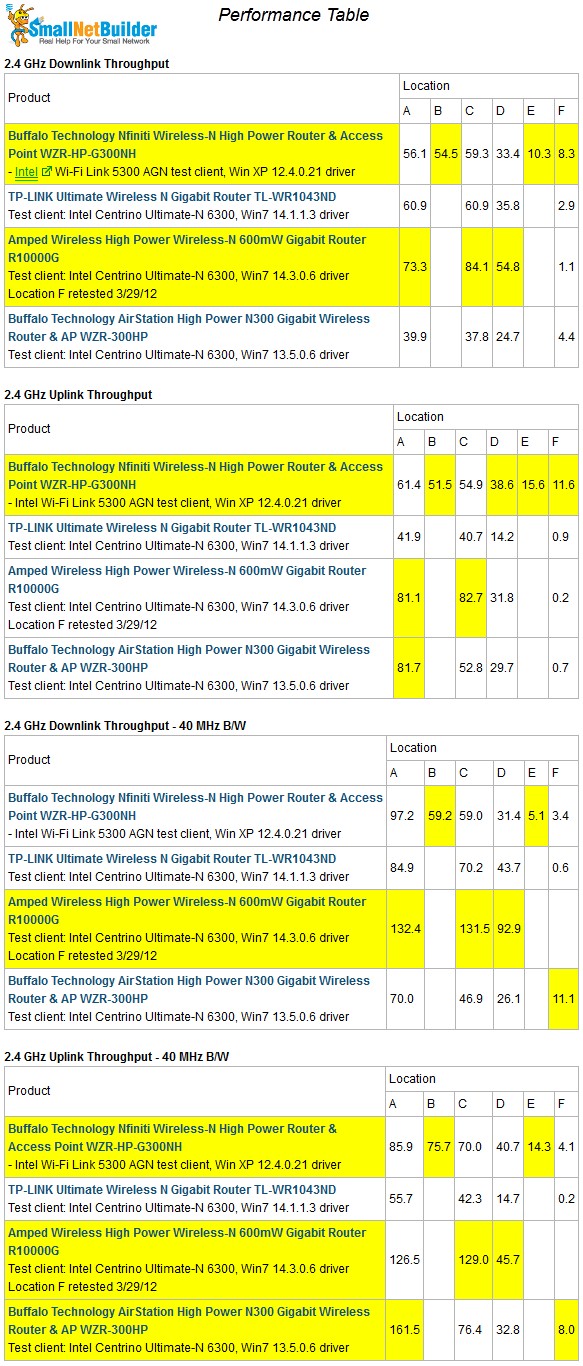 2.4 GHz throughput comparison
The highest unidirectional throughput for the 300HP was 162 Mbps in Location A, uplink in 40 MHz bandwidth mode. Running simultaneous up and downlink tests yielded 150 Mbps in 40 MHz bandwidth mode. These are extremely high results and put it at the top of this group of routers. But this high throughput isn't likely to do you any good unless you are using client and router in the same room and have no other wireless networks in range.
Throughput stability is ok, but not outstanding, as shown in the 20 MHz IxChariot plot below.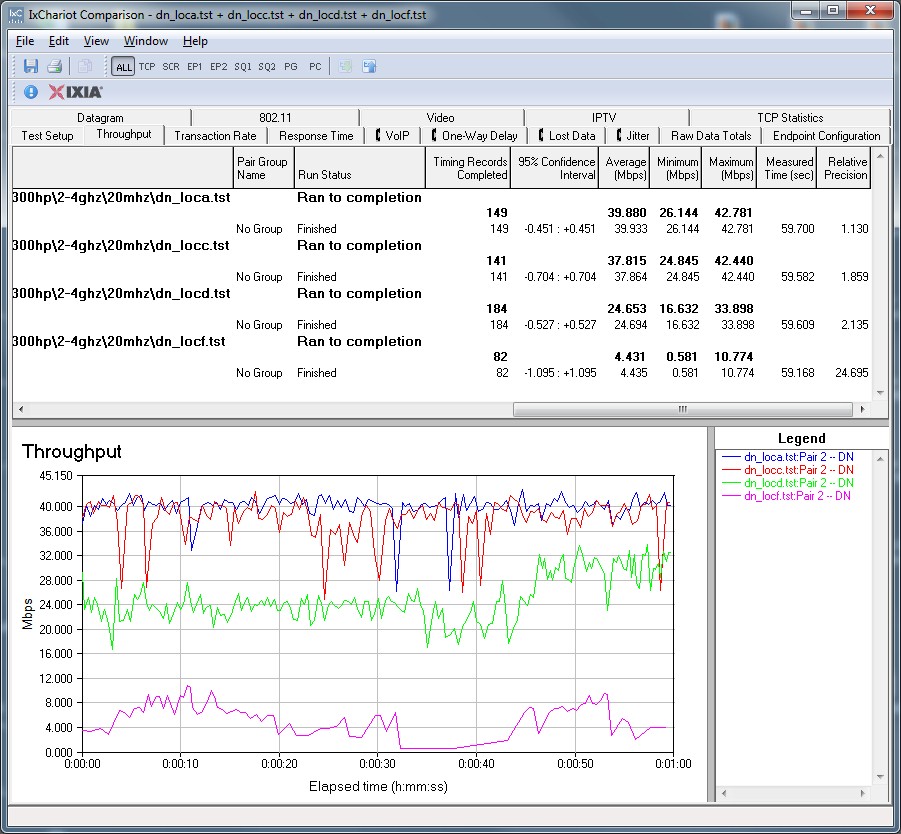 Buffalo WZR-300HP IxChariot plot – 2.4 GHz, 20 MHz, downlink
You'll see evidence of rate shifting and cyclical throughput variation in the other plots linked below.
Closing Thoughts
As I've said (and shown) many times before, boosting transmit power alone doesn't provide any significant performance benefit in most cases. To get true range extension, you need to boost both transmit power and receive sensitivity on one end of a wireless connection or transmit power on both router and client.
That said, judging Buffalo's WZR-300HP on its other merits yields a verdict of "worth a try" if you're in the market for a decent-performing, market-priced, single band N router with Gigabit ports and USB storage and printer sharing. And, if you're a DD-WRT fan, you at least have someplace other than the DD-WRT forums to go to complain about stuff that doesn't work.
Buy AirStation High Power N300 Gigabit Wireless Router & AP from Amazon