At a glance
Product
TP-LINK AC1350 Wireless MU-MIMO Gigabit Ceiling Mount Access Point (EAP225 v3) [Website]
Summary
Inexpensive Qualcomm-based AC1350 class dual-band PoE-powered access point.
Pros
• Excellent bang for the buck

• Great performance
• Excellent multi-client performance
Cons
• No client bandwidth controls
Typical Price: $60 Buy From Amazon
Introduction
Shortly after we tested TP-Link's EAP-225v2 in Tim's roundup and mine, it went out of stock. TP-Link has replaced it with the EAP-225v3, which has a slightly different physical look and updated components.
The v3 also gets a slight bump up to AC1350 class from the v2's AC1200. This is due to an increase in maximum 2.4 GHz link rate from 300 Mbps to 450 Mbps. Maximum 5 GHz link rate stays at 867 Mbps.
TP-Link EAP-225 v2 (top) and v3 (bottom)
It's always a bit of a crapshoot when vendors make a "new revision" of an existing device. Because even though they're usually improvements on paper, they can easily end up being a step backward in real-world use. Thankfully, this doesn't seem to be the case with the EAP-225v3. It performs quite well.
Inside
The EAP-225v2 and EAP-225v3 both use a Qualcomm Atheros QCA9563 chipset for CPU and 2.4 GHz radio. But the v3 model changes the 5 GHz radio from a QCA9882 to QCA9886. The QCA9886 is still a 2×2:2 part (2 input antennas, 2 output antennas, 2 simultaneous MIMO streams), but it adds MU-MIMO capability that the older QCA9982 lacked. Most people aren't going to get a lot of value out of the MU-MIMO. But both 2.4 GHz and 5 GHz performance received a noticeable kick in the pants even without it.
The QCA9563 is a 3×3 design that was only used as a two-stream radio in the v2; hence the AC1200 classing. The v3 is classed as AC1350 because all three RF chains are used. If you squint, you can see in the poor quality v3 FCC board photo below that the 2.4 GHz radio has a third antenna and RF chain in place. The v3 also now uses bent-metal antennas mounted on the PC board vs. printed circuit antennas mounted in the top cover on the v2.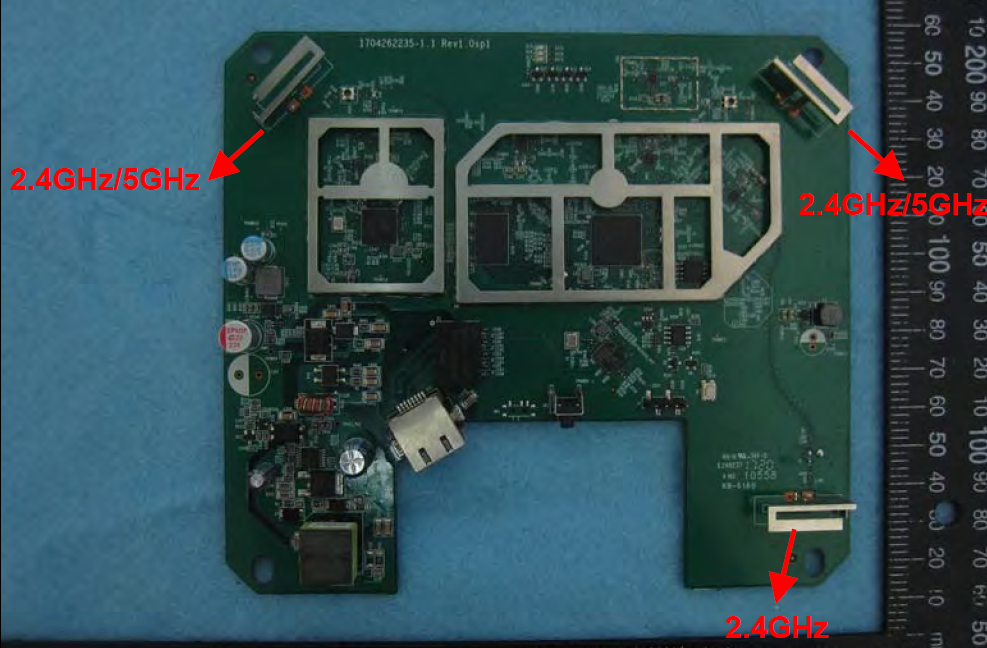 TP-Link EAP225v3 board
The v2 board photo shows components for a third 2.4 GHz RF chain are unloaded in the highlighted area. But this model has separate 2.4 and 5 GHz antenna pairs.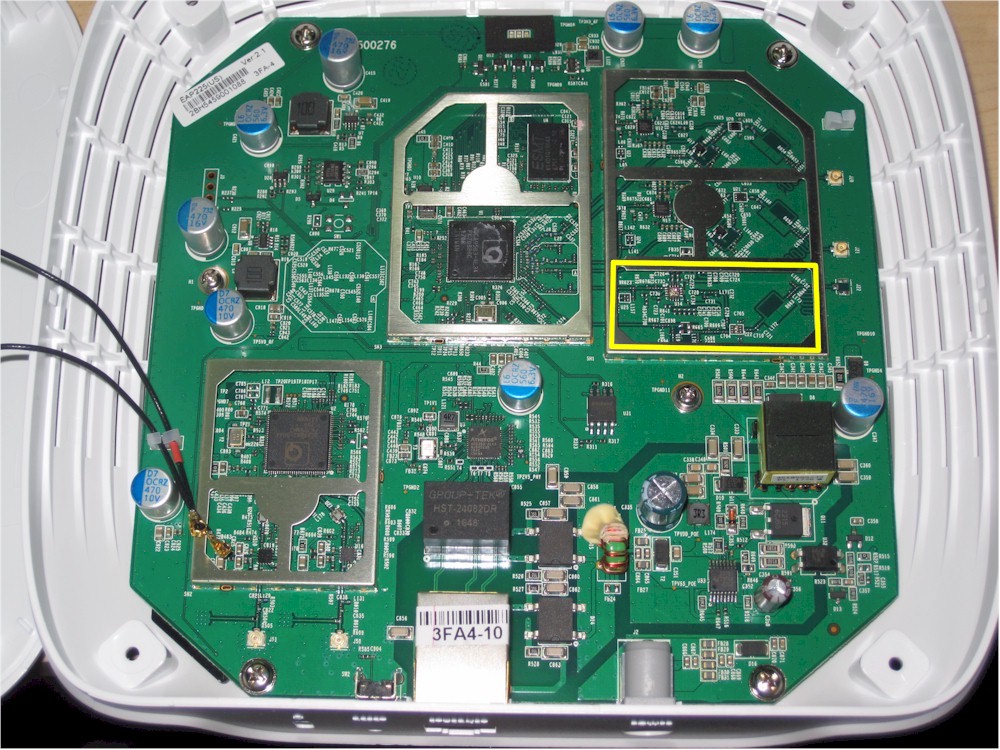 TP-Link EAP225v2 board
The key components for both versions are summarized in the table.
TP-Link EAP225v3
TP-Link EAP225v2
CPU
Qualcomm QCA9563 3×3 802.11bgn wireless SoC
Qualcomm QCA9563 3×3 802.11bgn wireless SoC
Ethernet
Atheros AR8033 Gigabit Ethernet PHY
Atheros AR8033 Gigabit Ethernet PHY
RAM
128 MB
128 MB
Flash
8 MB
16 MB
2.4 GHz Radio
– in QCA9563
– Unidentified 2.4 GHz power amp (x3)
– in QCA9563
– SiGE SE2565T 2.4 GHz power amp (x2)
5 GHz radio
– QCA9886 11abgnac 2×2 radio SoC
– Unidentified 5 GHz power amp (x2)
– QCA9882 11abgnac 2×2 radio SoC
– Skyworks SKY85717-21 5 GHz front end (x2)
Firmware tested
2.2.0 Build 180411
1.2.0 build 20170828
Features
The feature set hasn't changed and is summarized in the table below. The first roundup article has a bit more feature commentary.
Features
Port Type
Gigabit Ethernet
Ports
1
PoE
802.3af
CPU
Qualcomm QCA9563
Switch
Atheros AR8033
RAM (MB)
128
Flash (MB)
8
Firmware
2.2.0 Build 180411
Captive Portal

Y

Cloud Mgmt

N

Web Mgmt

Y

S/W Controller Mgmt

Y

AP Controller

N

VLAN

Y

Wireless Backhaul

N

Client Bridge

N

Mesh

N

Wireless
Class
AC1350
# of streams
2
Band
Both
Band Steering

Y

AP Load Limiting

Y

Roam Assist
RSSI-based
Auto Tx Power

Y

Auto Channel Mgmt

N

DFS

N

MU-MIMO

Y

Client Isolation

Y

Radio 1
2.4 GHz: in QCA9563 + Unidentified 2.4 GHz power amp (x3)
Radio 2
5 GHz: QCA9886 + Unidentified 5 GHz front end (x2)
FCC ID
TE7EAP225v3
Antenna
Internal dipole
Antenna Upgradeable

N

Connector
N/A
RADIUS

Y

Schedule

Y

SSID #
8
Notes
– AP load balance done by limiting # of associated devices
– 2.4 GHz radio is three stream

QoS
Type
None
Direction
N/A
Auto

N
Performance
I used the same process described in 2×2 AC Access Point Roundup – Part 2 to test the v3. The suite consists of a simple multi-location HTTP throughput test and more interesting (IMO) multi-client latency tests. I find the latency tests to be a better indicator of how Wi-Fi routers and APs hold up under load.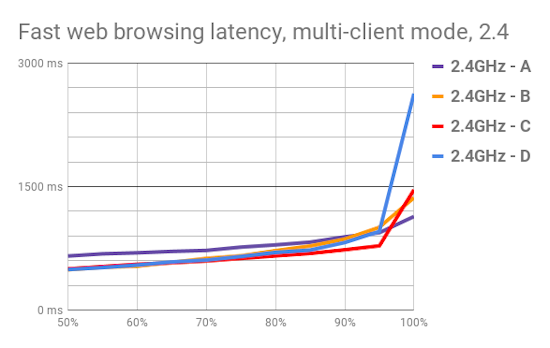 TP-Link EAP-225 v3's 2.4 GHz application latency curves
The EAP-225v2 took top honors in 2.4 GHz latency testing; happily, the EAP-225v3 did even better. We're still seeing tightly grouped STA lines with smooth, predictable slope – but the EAP-225v3 manages to bring them in noticeably underneath the standard the v2 hardware set.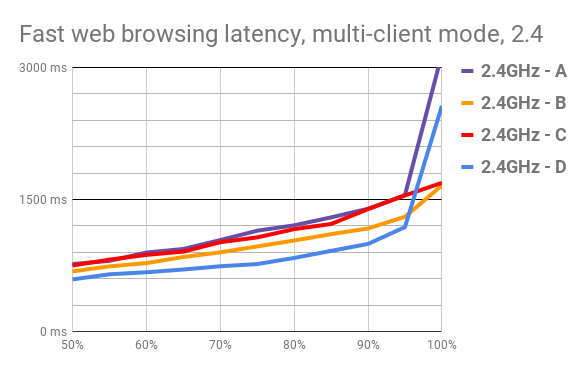 TP-Link EAP-225 v2's 2.4 GHz application latency curves
The 5 GHz latency curves here are pretty much flawless.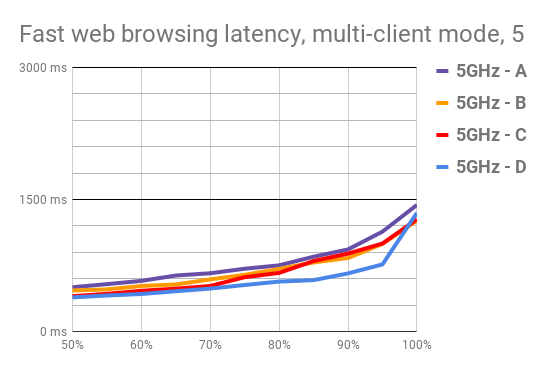 TP-Link EAP-225 v3's 5 GHz application latency curves
This AP is begging for a more demanding set of tests; our accelerated browsing test at 8 Mbps per STA isn't even making its 5 GHz radio break a sweat.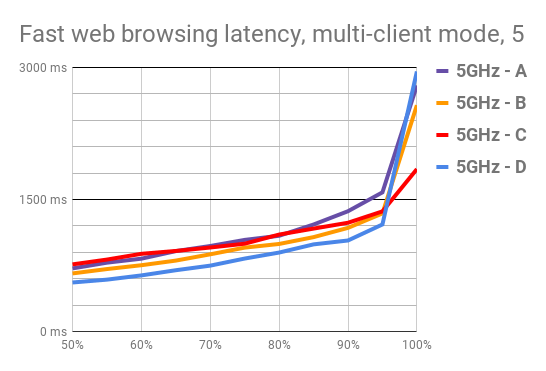 TP-Link EAP-225 v2's 5 GHz application latency curves
Not content to take top honors in application latency scores on both radios, the EAP-225v3 took top throughput scores on both radios as well. There isn't much else to say about that.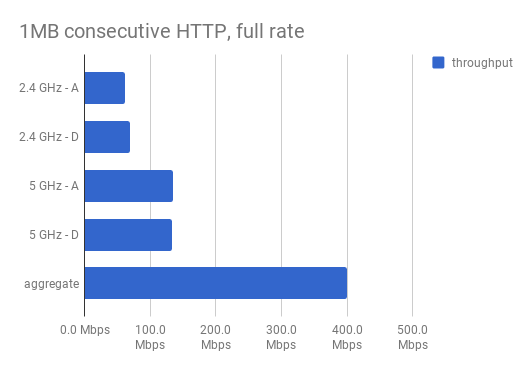 TP-Link EAP-225 v3's single-client throughput
The simple single-STA multi-location HTTP tests show most improvement in Location A 5 GHz downlink. Smaller improvements in the other three benchmarks add up to 100 Mbps more of aggregate throughput in this benchmark.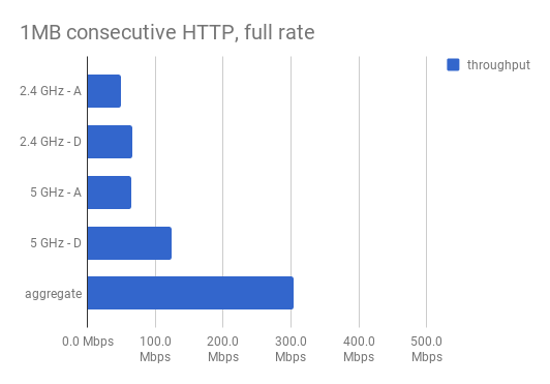 TP-Link EAP-225 v2's single-client throughput
I did not re-test roaming with the EAP-225v3, since I only had a single AP to test with.
A lot of the performance characteristics of an access point are determined in firmware, not just in the hardware. I saw this again when initially testing the v3. I had a few distractions and ran my first set of tests prior to updating the firmware, and saw numbers that were good, but not quite as good as the v2 hardware's and a lot more "all over the place". I thought to myself "well, this is okay, but it looks like the firmware might still need some refinement – hey wait a minute!" And sure enough, when I checked, I was on the shipping 2.0 firmware, and a 2.2 firmware was avaialble for download. Re-flashing and re-testing produced the results you see here. (Moral of the story: update your firmware, kids.)
I have to ding TP-Link for having one of the most primitive firmware update processes around, though. It's hard to find the firmware version you're currently running under (which isn't mentioned anywhere near the actual firmware upgrade section of the UI) and you don't get any notifications when there's a new version avaialble for download. You also have to manually download, unzip, and extract the firmware before you can then manually upload it into the UI. Boo.
Closing Thoughts
The new hardware is a clear win, both in comparison to the last version we tested, and to everything else we tested as well. I've updated the summary charts from the roundup to add in the EAP225v3 and an Open Mesh OM5P-AC, which will be covered in an upcoming review.
The v3 is at the top of the HTTP throughput chart…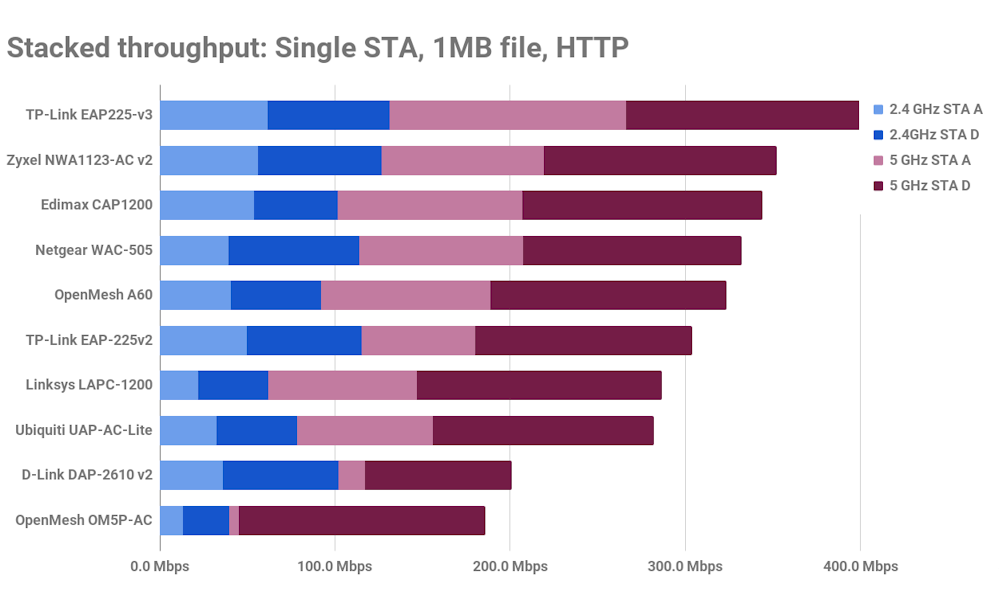 Throughput rank
…and the 2.4 GHz latency chart…
2.4 GHz latency rank
…and 5 GHz latency chart.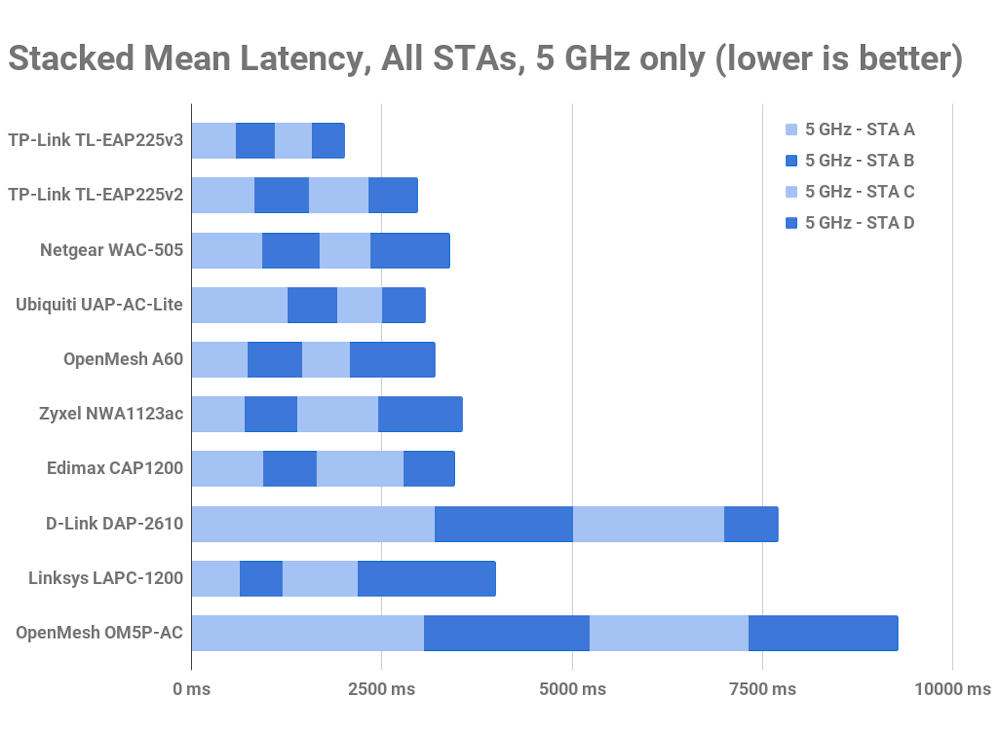 5 GHz latency rank
If TP-Link would just fix their primitive firmware update process, I'd be seriously tempted to swap out my own house's five Ubiquiti UAP-AC-Lites for a new set of EAP-225v3s.

Buy AC1350 Wireless MU-MIMO Gigabit Ceiling Mount Access Point from Amazon