At a glance
Product
TRENDnet AC2600 StreamBoost WiFi Gaming Router with MU-MIMO (TEW-827DRU) [Website]
Summary
MU-MIMO enabled AC2600 class router with Gigabit Ethernet ports and USB 3.0 storage and printer sharing
Pros
• VPN server compatible with OpenVPN
• Competitive wireless performance
Cons
• Poor USB 3.0 storage performance
• Sub-par MU-MIMO total throughput gain
Typical Price: $70 Buy From Amazon
Introduction
Updated 3/29/16 MU-MIMO performance retested
Updated 2/12/16: Product is not Wi-Fi Certified
TRENDnet's TEW-827DRU AC2600 StreamBoost WiFi Gaming Router with MU-MIMO is the fifth QCA-based 4×4 router with working MU-MIMO we've reviewed. All have been AC2600 class, except for NETGEAR's R7500v2, which switched its 5 GHz radio from Quantenna to QCA, but kept the same 3×3 N radio for 2.4 GHz to remain an AC2350 / 2400 class product.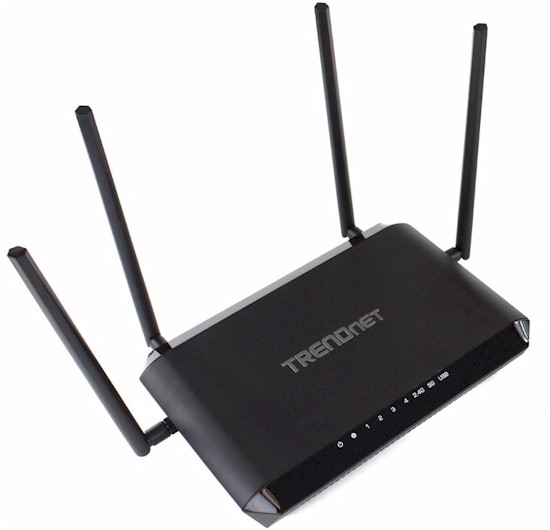 The front panel, shown below, has a nice complement of LED indicators. The Power/WPS LED is a dual function indicator, flashing during WPS negotiation. Both the LAN and WAN ports shows link status and data activity (or disconnected), but don't show link speed. There are separate LEDs for the 2.4 GHz and 5 GHz bands. Finally, there is a single USB LED to show USB device connection and activity.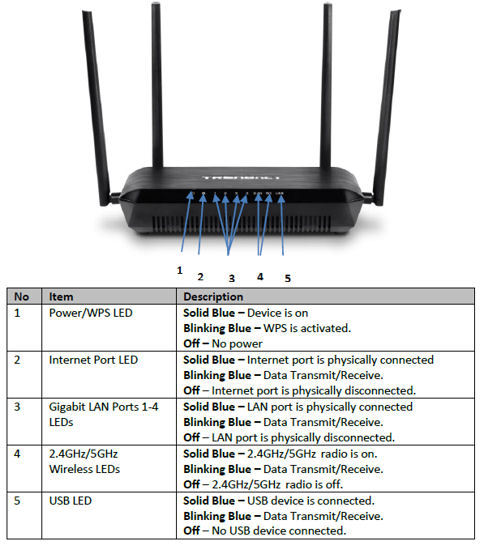 TRENDnet TEW-827DRU Front Panel callouts
The rear panel has the normal complement of four Gigabit LAN ports and a color-coded yellow Gigabit WAN port. None of the Ethernet ports have link speed indicators. Also worth of note, there's a switch that will turn off the front panel LEDs and another switch to disable both the 2.4 GHz and 5 GHz radios. Two of the removable antennas (RP-SMA connected) are located on the rear panel; one additional antenna is on both the left and right side of the router. There are mounting screw slots on the bottom panel.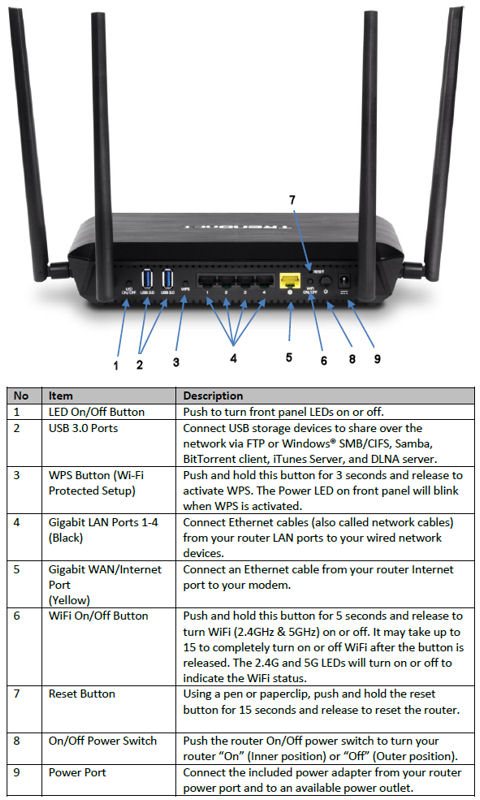 TRENDnet TEW-827DRU Rear Panel callouts
Inside
The image below shows the case open with the main board with all heatsinks in place. The two RF modules are on the left side of the board and processor and RAM is on the right.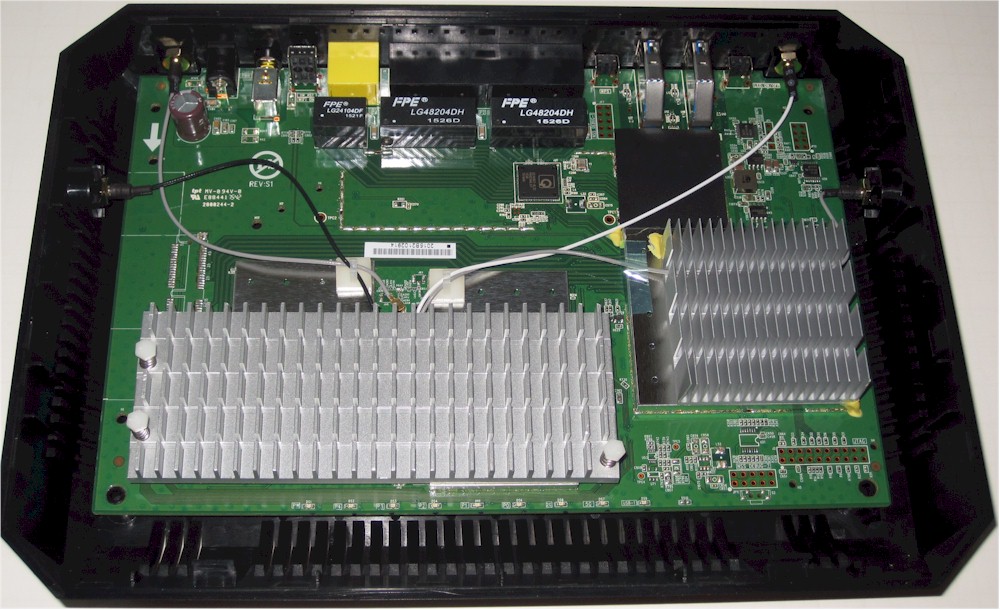 TRENDnet TEW-827DRU case open
This image shows the board top with the heatsinks and RF shields removed from both RF cans.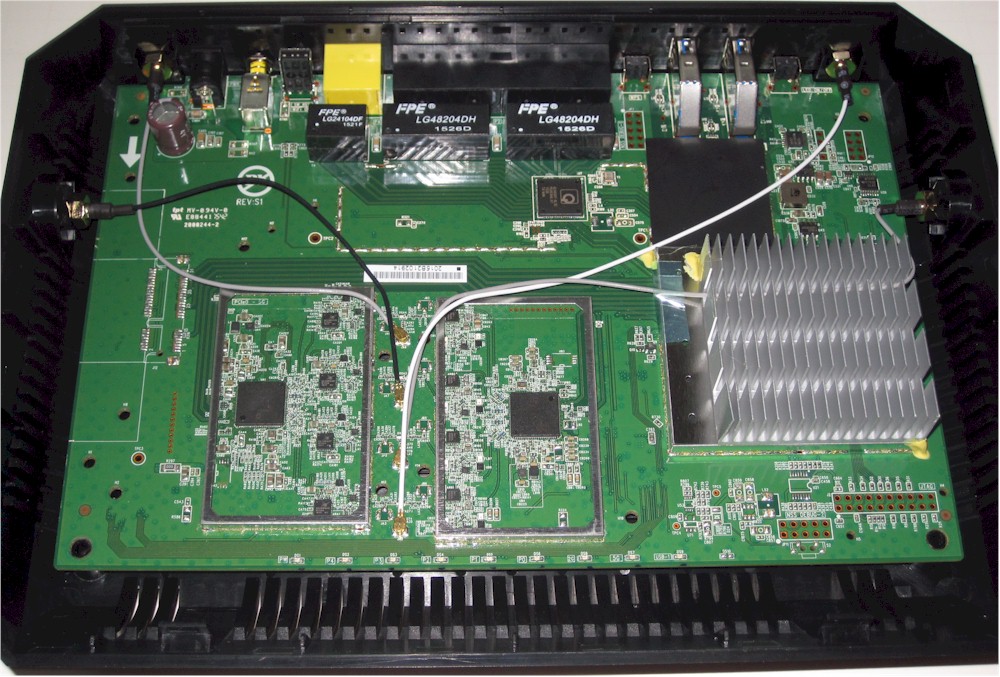 TRENDnet TEW-827DRU board, RF can tops removed
This image, drawn from the FCC ID photos, is a closer picture of the radio sections with heatsink and RF shields removed. The 5 GHz module is on the left and the 2.4 GHz is on the right. Note the four power amps arranged adjacent to the radio modules in each compartment.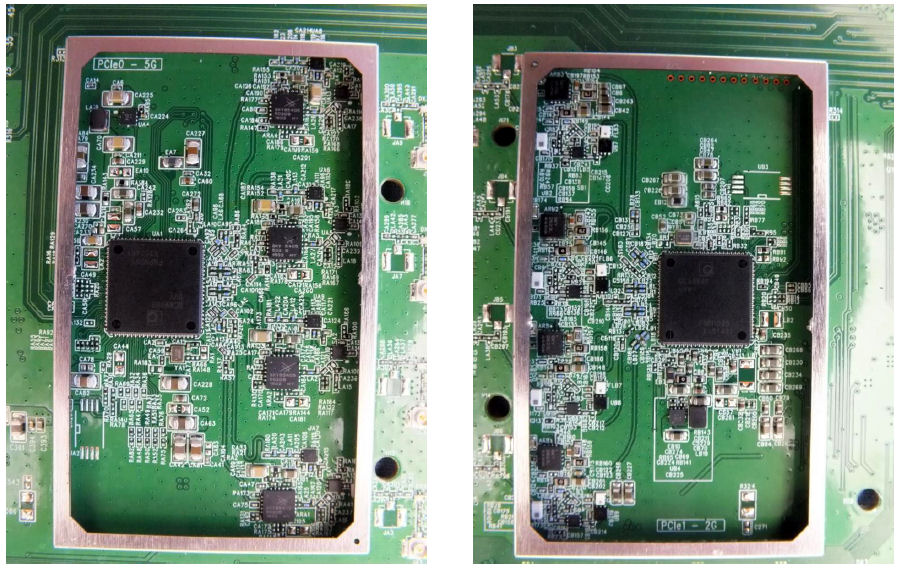 TRENDnet TEW-827DRU RF modules
Here are the Amped (top) and Linksys (center) board top shots for comparison. The components used may be similar, but these are three very different board designs, with TP-LINK being the only one with the radios on the bottom of the board (bottom).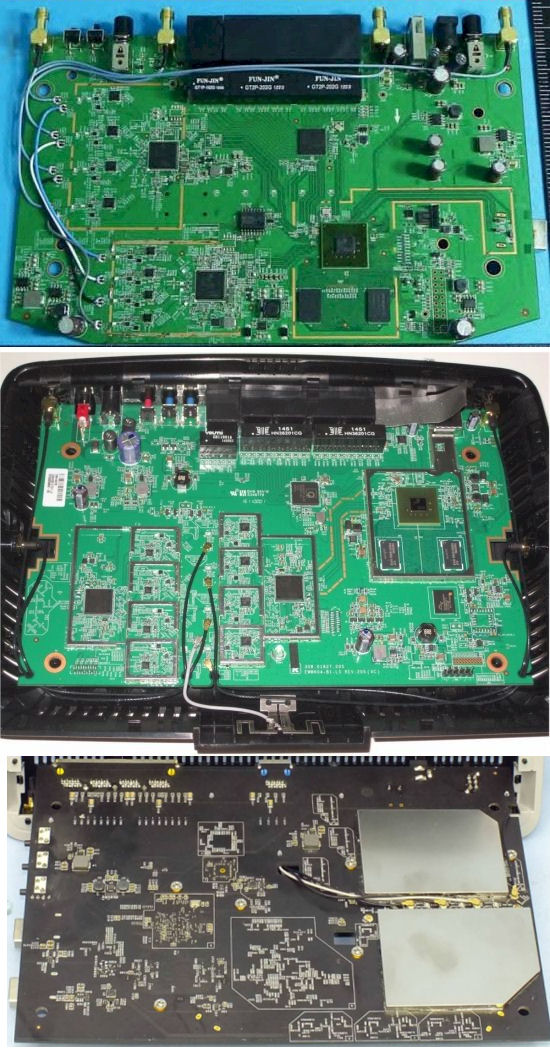 Amped Wireless RTA2600 & Linksys EA8500 and TP-LINK Archer C2600 boards
Key components for the TRENDnet, TP-LINK, Linksys and Amped Wireless AC2600 routers are summarized and compared in Table 1. Component-wise, the four are the same except for Amped's choice of QCA9990 radio vs. the QCA9980 used in the TP-LINK and Linksys designs. QCA describes the 9980 as aimed at router and gateway designs while the 9990 is for enterprise access points.
TRENDnet TEW-827DRU
TP-LINK Archer C2600
Amped Wireless C2600
Linksys EA8500
CPU
Qualcomm dual-core IPQ8064 Internet Processor @ 1.4 GHz
Qualcomm dual-core IPQ8064 Internet Processor @ 1.4 GHz
Qualcomm dual-core IPQ8064 Internet Processor @ 1.4 GHz
Qualcomm dual-core IPQ8064 Internet Processor @ 1.4 GHz
Switch
Qualcomm Atheros QCA8337
Qualcomm Atheros QCA8337
Qualcomm Atheros QCA8337
Qualcomm Atheros QCA8337
RAM
512 MB
512 MB
512 MB
512 MB
Flash
?128 MB
32 MB
128 MB
128 MB
2.4 GHz Radio
– QCA9980 4-stream 802.11ac MU-MIMO radio
– Skyworks SE2623L 2.4 GHz power amp (x4)
– QCA9980 4-stream 802.11ac MU-MIMO radio
– Skyworks SE2623L 2.4 GHz power amp (x4)
– QCA9990 4-stream 802.11ac MU-MIMO radio
– Skyworks SE2623L 2.4 GHz power amp (x4)
– QCA9980 4-stream 802.11ac MU-MIMO radio
– Skyworks SE2623L 2.4 GHz power amp (x4)
5 GHz radio
– QCA9980 4-stream 802.11ac MU-MIMO radio
– Skyworks SKY85405 5 GHz power amp (x4)
– QCA9980 4-stream 802.11ac MU-MIMO radio
– Skyworks SKY85405 5 GHz power amp (x4)
– QCA9990 4-stream 802.11ac MU-MIMO radio
– Skyworks SKY85405 5 GHz power amp (x4)
– QCA9980 4-stream 802.11ac MU-MIMO radio
– Skyworks SKY85405 5 GHz power amp (x4)
Table 1: Component summary and comparison
Features
The TEW-827DRU's admin GUI and feature set is similar to the A1900 class TEW-818DRU. Below is a screenshot taken from TEW-827DRU's emulator.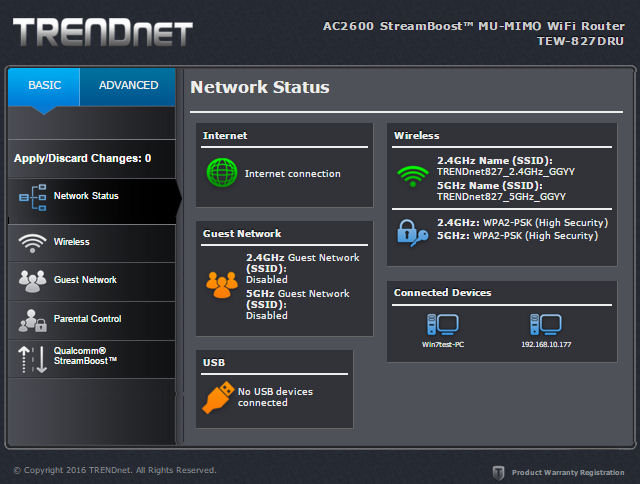 TRENDnet TEW-827DRU Landing page
A key difference between the Broadcom-based TEW-818DRU and QCA-based TEW-827DRU is QoS. The 827DRU includes Qualcomm's StreamBoost automatic Traffic Shaping. Qualcomm's StreamBoost doesn't let you set rules for specific services. You can only specify relative device priority; StreamBoost automatically analyzes traffic types and prioritizes real-time traffic (streaming, gaming) higher than things like file tranfers and web browsing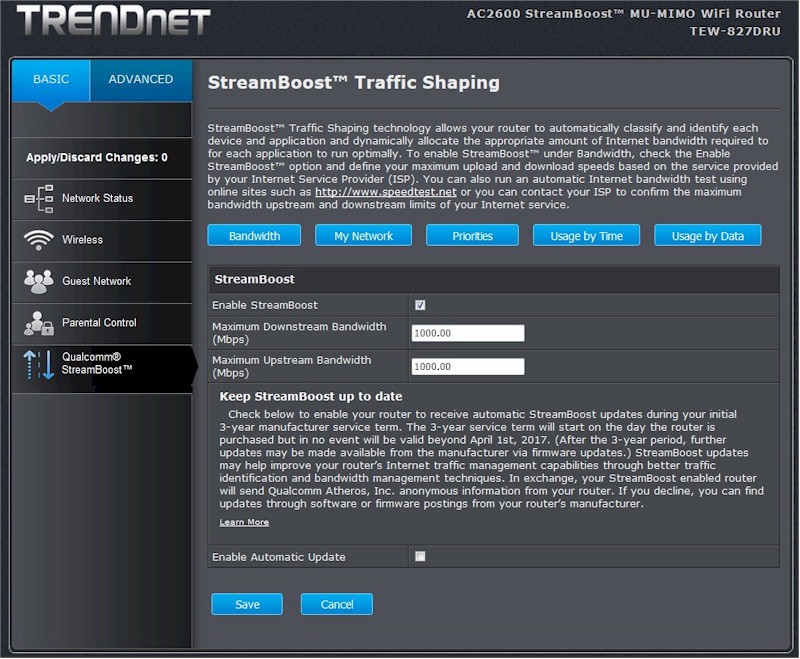 TRENDnet TEW-827DRU StreamBoost
On the TEW-818DRU, you'll find QoS under the Advanced Setup settings. Broadcom's QoS is priority based with five levels, with separate controls for both up and download internet traffic. You can manually create QoS rules based on IP address, protocol and port.
TRENDnet TEW-818DRU QoS
Table 2 summarizes some of the differences I discovered in going through the UI on the two routers. I also noticed some minor menu rearrangements. If you want to drill down and find some more differences, there's also an emulator for the TEW-818DRU.
| | TEW-818DRU | TEW-827DRU |
| --- | --- | --- |
| Inbound IP Filtering | | X |
| Multicast to Unicast converter | | X |
| MU-MIMO Beamforming | | X |
| Multiple SSIDs per band | 1 | 2 |
| Simplified WPS setup | | X |
| Station List | | X |
| Qualcomm StreamBoost | | X |
| Granular QOS control | X | |
Table 2: Feature differences
Storage Performance
The summary graphic below from the Router Charts shows all 4×4 routers—both AC2350 / 2400 and AC2600—we've tested with our standard procedure with USB 3.0 connections and NTFS drive format.The Linksys EA8500 remains the storage performance champ among all 4×4 routers we've tested for NTFS read, but cedes that title to the NETGEAR R7500V2 for NTFS write.
The TEW-827DRU turned the poorest performance of any of the routers in this group, with a measly 6 MB/s write and only 36 MB/s read.
We were not able to get FAT32 tests to run. FAT32 writes failed after six files were transferred, with throughput dropping to zero after that. We tried multiple times, rebooting both the router and testbed computer between subsequent attempts. We also retried the test using a WD My Passport Ultra USB 3.0 drive, without success.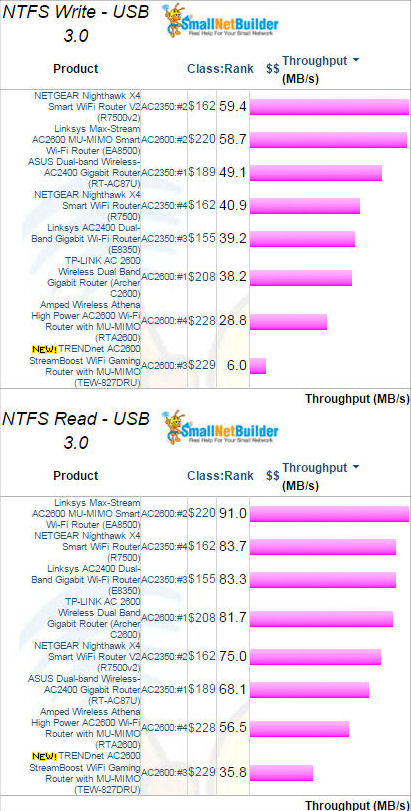 Storage Performance Comparison – USB 3.0 / NTFS
Routing Performance
Routing throughput was measured using our standard router test process with the router loaded with 1.00b011 (1.00 17 Nov 2015) firmware. Table 3 summarizes the results and includes the TP-LINK Archer C2600, Linksys EA8500 and Amped Wireless RTA2600 for comparison.
Although the numbers are slightly different, you'd find all four pretty much the same in real-world use. Even the Amped's lower maximum simultaneous connections value wouldn't be noticed.
| Test Description | TRENDnet TEW-827DRU | TP-LINK C2600 | Amped RTA2600 | Linksys EA8500 |
| --- | --- | --- | --- | --- |
| WAN – LAN | 716 | 757 | 613 | 702 |
| LAN – WAN | 792 | 800 | 711 | 805 |
| Total Simultaneous | 1431 | 1416 | 734 | 1493 |
| Maximum Simultaneous Connections | 27,421 | 31,784 | 16,340 | 35,320 |
| Firmware Version | 1.00b011 (1.00 17 Nov 2015) | 1.1.2 Build 20150924 Rel. 66045 | 1.43 | 1.1.3.166845 |
Table 3: Routing Throughput
The IxChariot unidirectional composite plot for the C2600 shows the cyclical throughput variation experienced when testing routers capable of maxing out a Gigabit Ethernet connection.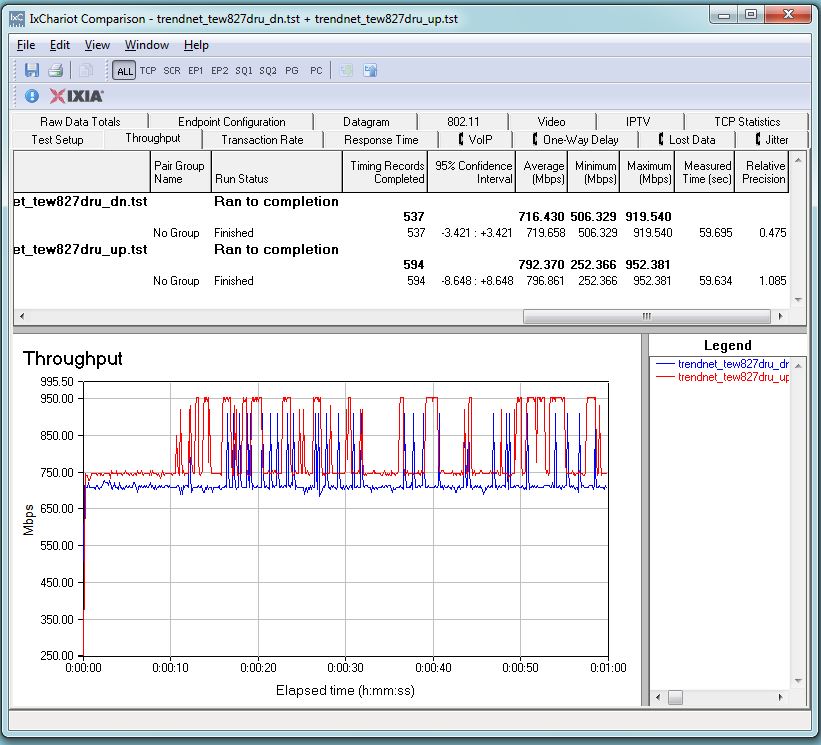 TRENDnet TEW-827DRU routing throughput unidirectional summary
The simultaneous up/downlink benchmark plot shows the usual jump near the start due to IxChariot's Nagle's algorithm implementation. Once that settles down, the throughput is stable for awhile, then downlink drops after the 50 second mark. Uplink is generally higher than downlink.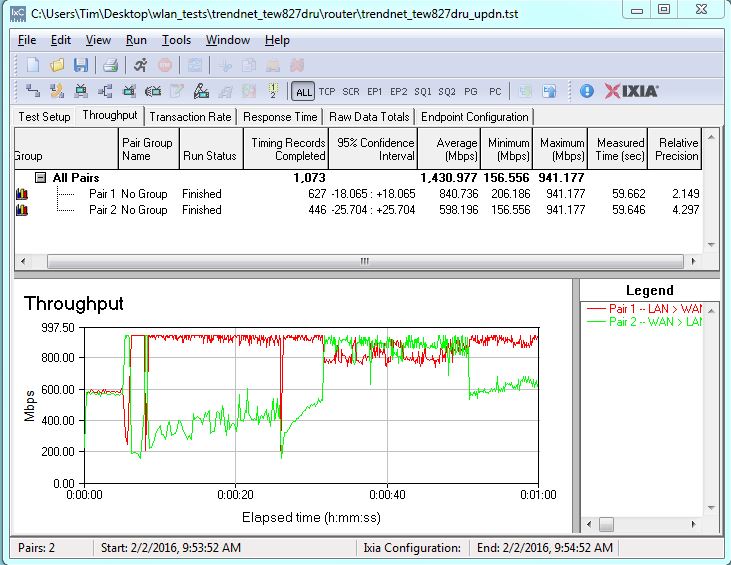 TRENDnet TEW-827DRU routing throughput bidirectional summary
Wireless Performance
Updated 2/12/16: Product is not Wi-Fi Certified
The TRENDnet TEW-827DRU is not Wi-Fi Certified. It was tested using the Revision 8 Wireless test process with 1.00b011 (1.00 17 Nov 2015)firmware loaded. The router comes with WPS enabled. A Windows 8 notebook successfully connected to each radio via WPS pushbutton session that resulted in WPA2/AES connections.
The router defaults to different, router-unique SSIDs, auto channel select and 20 MHz channel width for 2.4 GHz, and auto channel select and auto channel width for 5 GHz as shown below. It also supports Channel 165 in the 5 GHz high band.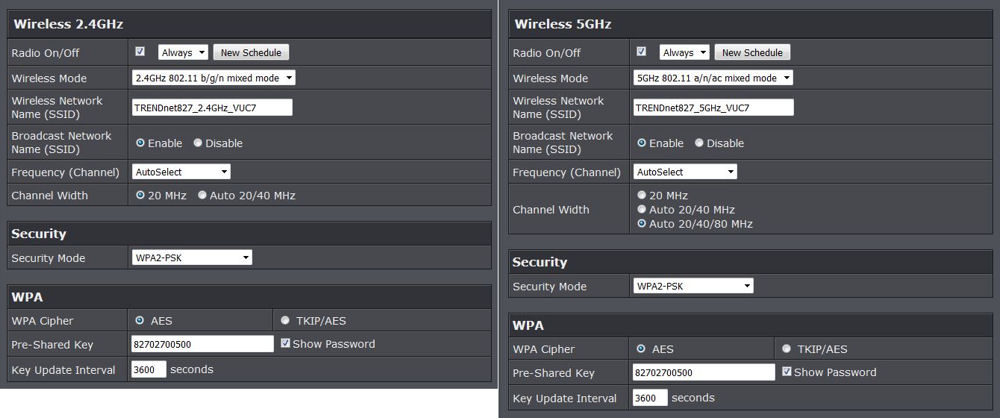 TRENDnet TEW-827DRU Wireless Defaults
For performance testing, the router was first reset to factory defaults. The 2.4 GHz radio was set to Channel 6 and 20 MHz bandwidth mode. The 5 GHz radio was set to Channel 153 and 80 MHz channel width to enable 802.11ac link rates. The AC1900 class NETGEAR R7000 bridge mode standard test client was connected using WPA2/AES encryption. StreamBoost, Qualcomm's QoS, enabled by default, was disabled for all testing.
Our standard practice is to center the router under test's antennas on the turntable, both front-to-back and side-to-side in the chamber. This method is intended to keep maximum distance between the router under test and chamber antennas as the router rotates during test. The photo below shows the router in position in the octoScope test chamber.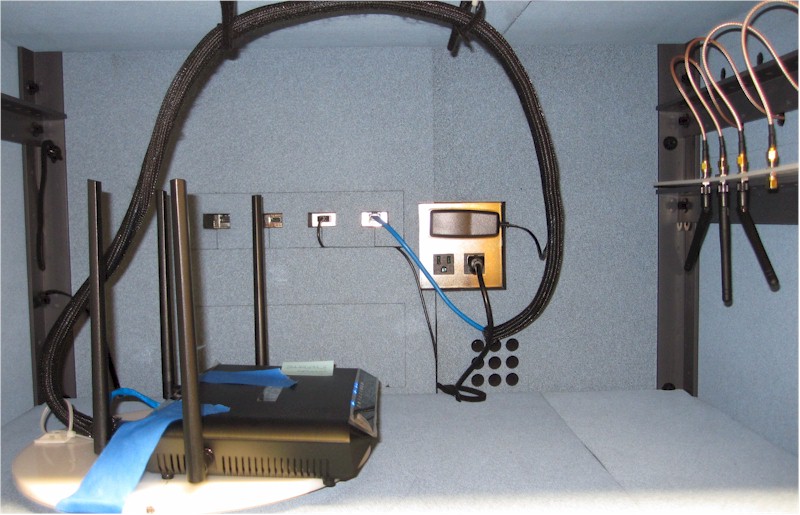 TRENDnet TEW-827DRU in test chamber
The throughput vs. attenuation plots will compare the TRENDnet with the TP-LINK C2600, Linksys EA8500 and Amped Wireless RTA2600.
2.4 GHz downlink performance shows the TP-LINK Archer C2600 with a clear throughput advantage up to 42 dB of attenuation, where its curve joins the Linksys' for the rest of the test range. The Linksys and the TRENDnet routers track each other closely throughout the entire range.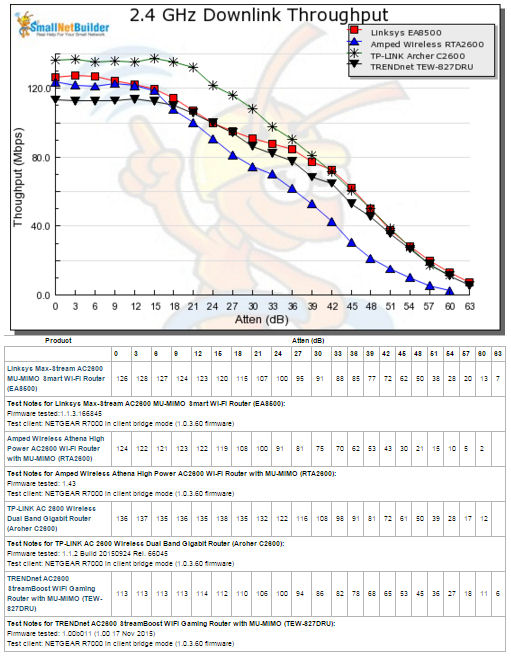 2.4 GHz Downlink Throughput vs. Attenuation
2.4 GHz uplink shows the TEW-827DRU with a significant performance advantage over the other three routers out to about 27 dB of attenuation. From about 30 dB out to the end of the test range, the TRENDnet and Linksys track each other very closely. Surprisingly, the Linksys started out with much lower throughput with strong signal strength than any of the other three routers out to about 15 dB of attenuation. From 15dB to 30 dB, the performance of the Linksys remained flat (constant), but still lower than the TRENDnet.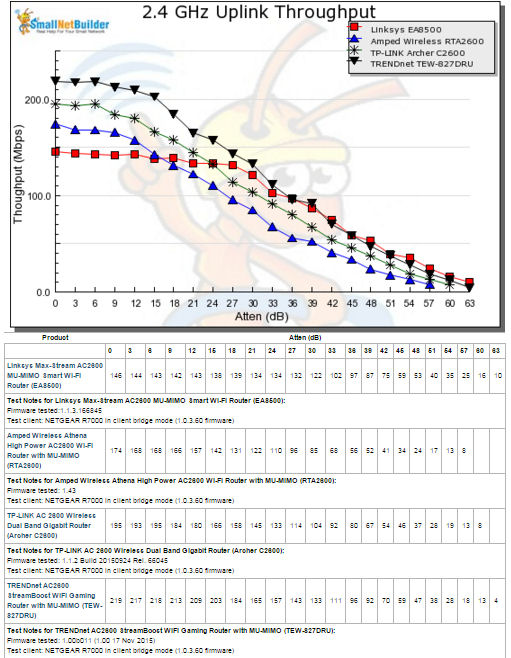 2.4 GHz Uplink Throughput vs. Attenuation
The 5 GHz downlink benchmark shows the TRENDnet starting off with poorer performance than the Linksys or TP-LINK with strong signal strength out to about 12 dB of attenuation. Beyond 15 dB of attenuation, the TRENDnet trailed only the Linksys for the balance of the test. The poorly performing Amped RTA2600 broke connection after the 27 dB test.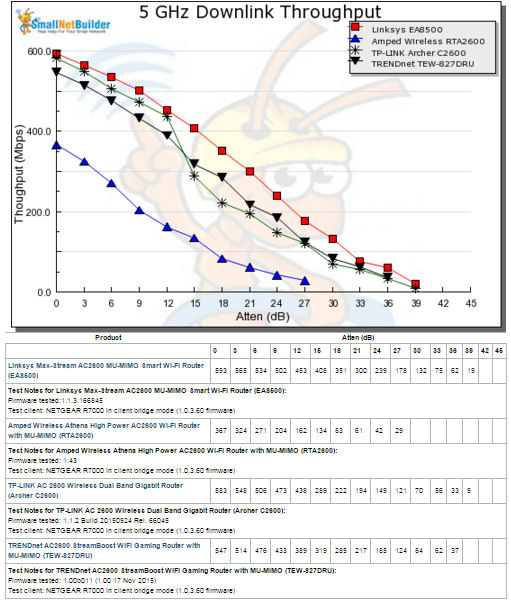 5 GHz Downlink Throughput vs. Attenuation
5 GHz uplink shows some separation at lower attenuation (stronger signal) levels to the mid-teens, then all four tracking closely through the rest of the test run.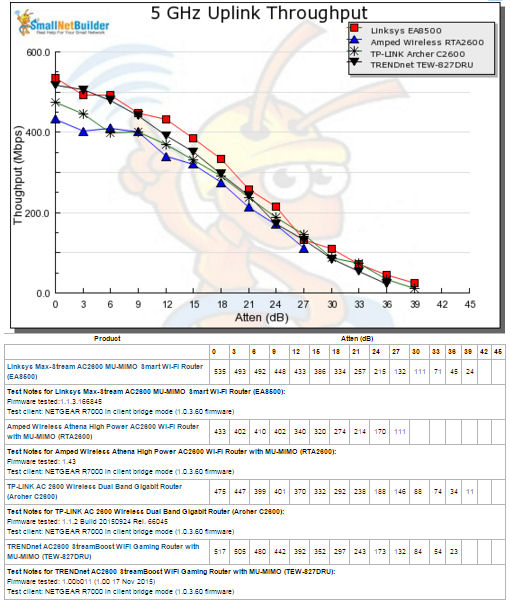 5 GHz Uplink Throughput vs. Attenuation
The takeaway for wireless performance is the Archer C2600 may deliver higher 2.4 GHz downlink throughput than its competition with strong signals whereas the TRENDnet TEW-827DRU had an advantage for 2.4 GHz uplink. For 5 GHz, three of the routers had very similar performance for downlink and uplink. The clear loser for 5 GHz performance in this comparison is the Amped Wireless RTA2600, because it dropped its connections significantly earlier than the other routers.

Four Stream Performance
TRENDnet supplied two TEW-827DRUs so maximum 4×4 throughput could be tested. The two routers were set up in open air, six feet apart, one as a normal router and the other in wireless bridge mode. The in-house 5 GHz network was idle and only beaconing (no traffic). Channel was set to 153, bandwidth mode was in its default 80 MHz mode and everything else was set to defaults, including MU-MIMO enabled. Given the 4×4-to-4×4 nature of the link, MU-MIMO doesn't come into play.
An interesting side note is the 827DRU's bridge settings include both a MU-MIMO enable and the ability to set the number of spatial streams. So if you're looking for a MU-MIMO client device to experiment with, the 827DRU is one option, albeit an expensive one. I left the bridge MU-MIMO setting in its default disable setting.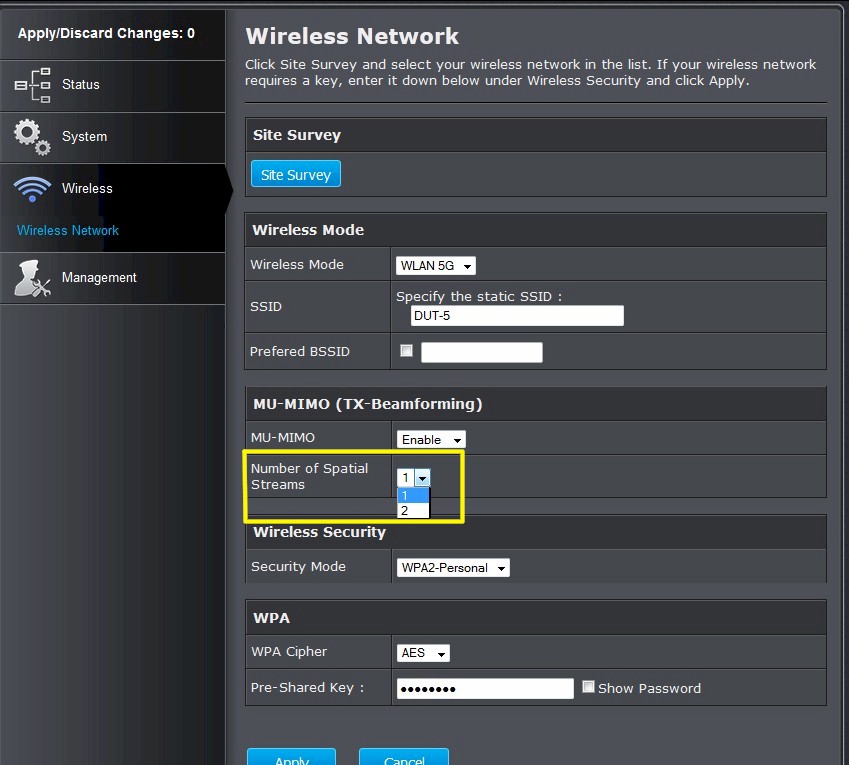 TRENDnet TEW-827DRU Bridge mode MU-MIMO settings
Only one computer was connected via Gigabit Ethernet to each 827DRU. Baseline tests using Ethernet between the two computers show the Ethernet link capable of a bit over 940 Mbps in both directions with each direction run separately. So the hardwired part of the link shouldn't be a limiting factor. The bridge status screen includes link rate, which showed the maximum 1733 Mbps achievable by a 4×4 connection. This is the first time we've seen this link rate when testing 4×4 maximum wireless throughput.
The simultaneous up and downlink test yielded 960 Mbps total throughput, as the IxChariot plot shows. Note the significant difference in up and downlink throughput, with downlink almost 3X uplink.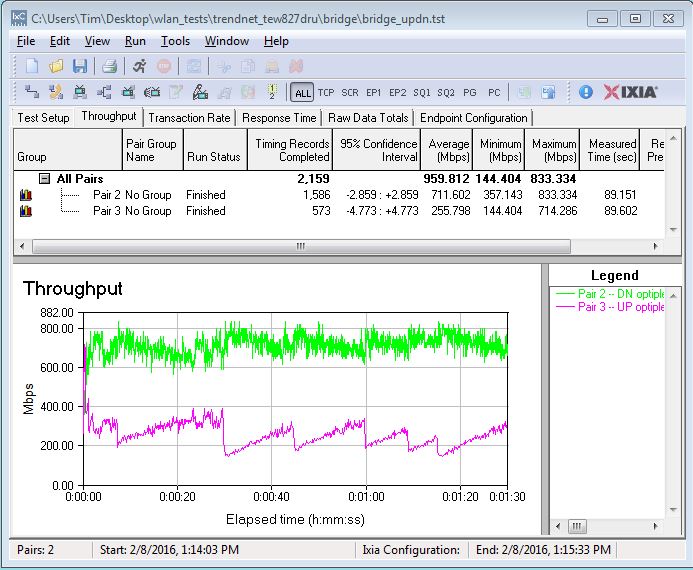 TRENDnet TEW-827DRU four stream throughput – simultaneous up/downlink
Separate up and downlink tests that yielded 766 and 711 Mbps vs. 739 Mbps downlink and 652 Mbps uplink for the Archer C2600. The plot shows pretty steady throughput in each direction.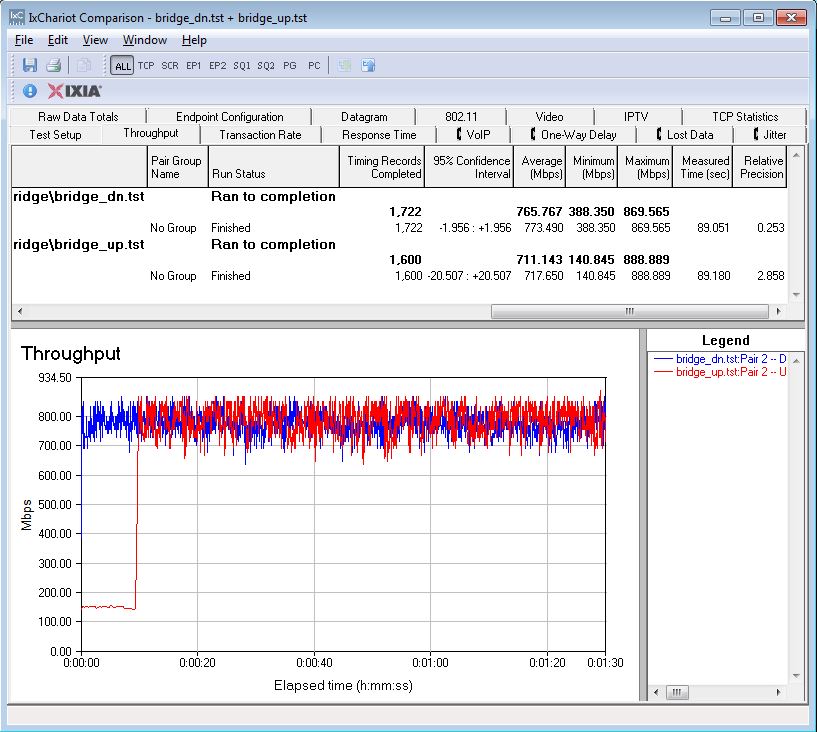 TRENDnet TEW-827DRU four stream throughput – up and downlink
A second pair of clients was plugged into the router and bridge to see if a second connection pair would yield higher throughput and to ensure that the single Gigabit Ethernet connection was not limiting results.
The plot shows a total 1061 Mbps throughput, somewhat more than the single-pair simultaneous uplink / downlink test above. Pair 3 (downlink) had both the fastest throughput at 475 Mbps, but also the highest variance. Pair 7 seemed starved for throughput at 81.8 Mbps. In total, downlink (pairs 3 & 5) dominated with a total throughput of 694 Mbps vs uplink (pairs 6 & 7) with 373 Mbps.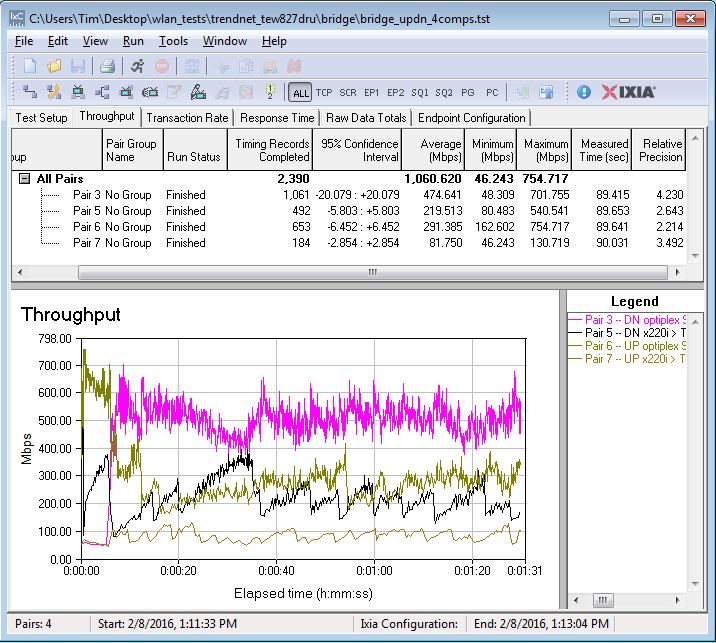 TRENDnet TEW-827DRU four stream throughput – simultaneous up/downlink, four computers
MU-MIMO Performance
Testing and analysis by Tim Higgins
I've been relying on companies to send three MU-MIMO devices along with their MU-MIMO routers so we can test this feature. But now that I've vetted the Ixia VeriWave (aka IxVeriWave) system, I'll be using it for MU-MIMO testing going forward and adding MU-MIMO benchmarks to the Router Charts.
The hardware and test method is essentially the same used in Is MU-MIMO Ready For Prime Time?. The test looks for how much total throughput increases using MU-MIMO and how long the higher throughput lasts as more MU clients are added.
What you'd like to see is higher MU than SU throughput for as many STAs as possible. In the interest of having a reasonable test time (this test takes over an hour to run), we test only out to 16 STAs, because it's our experience that the MU and SU lines usually converge before then.
The 827DRU's four antenna connections were cabled to the IxVeriWave Wi-Fi Blade. Each connection had a 50 dB fixed attenuator to reduce signals to the required ~30 dBm input level. The photo below shows the 827DRU connected to the IxVeriWave chassis, ready for testing.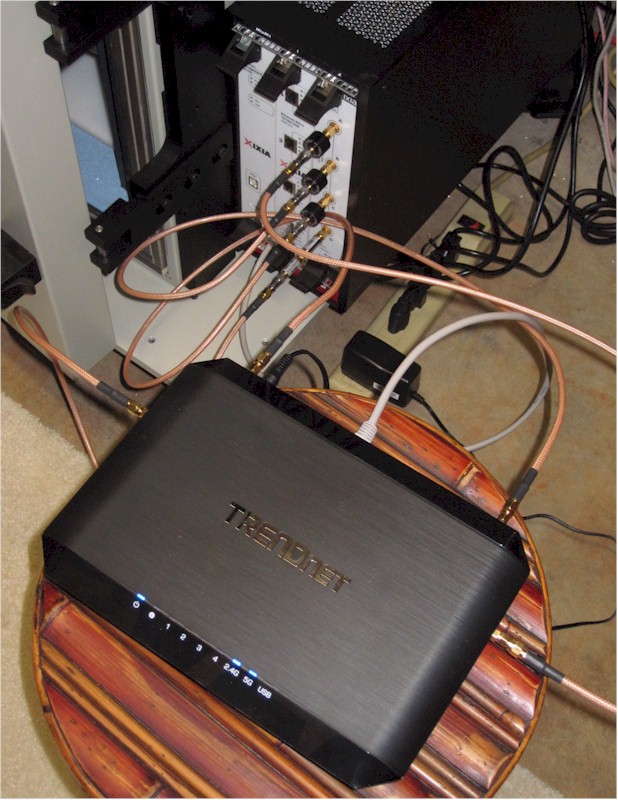 TRENDnet TEW-827DRU ready for MU-MIMO test
The custom test script VeriWave developed starts with a single MU 1×1 STA, configured to connect at MCS 9 index rate, 80 MHz bandwidth and short guard interval to achieve the maximum 433 Mbps link rate. MIMO channel models (A-F) were not used; bypass mode was set.
The test connects the STA, then runs a TCP Goodput (throughput) test, with MSS, Window and Frame size set so the Gigabit link is fully loaded. Each test runs for 30 seconds and throughput is recorded at the end of the test. We used a single TCP/IP session (connection) for each test.
The test then adds another MU STA, verifies connection, repeats the 30 second test and records throughput for each STA, up to a maximum of 16 STAs. The entire test sequence is then repeated with the STA mode set to SU (Single User), to see how total throughput behaves with non MU devices. We run the whole test twice and publish the average results.
The composite plot below shows SU throughput gradually declining from a high of 337 Mbps to 289 Mbps, a loss of about 15%. MU throughput drops below SU for two STAs (it shouldn't), then peaks at 418 Mbps for three clients; a 25% best case gain. Higher throughput continues out to 7 STAs, then either matches SU throughput or drops below it.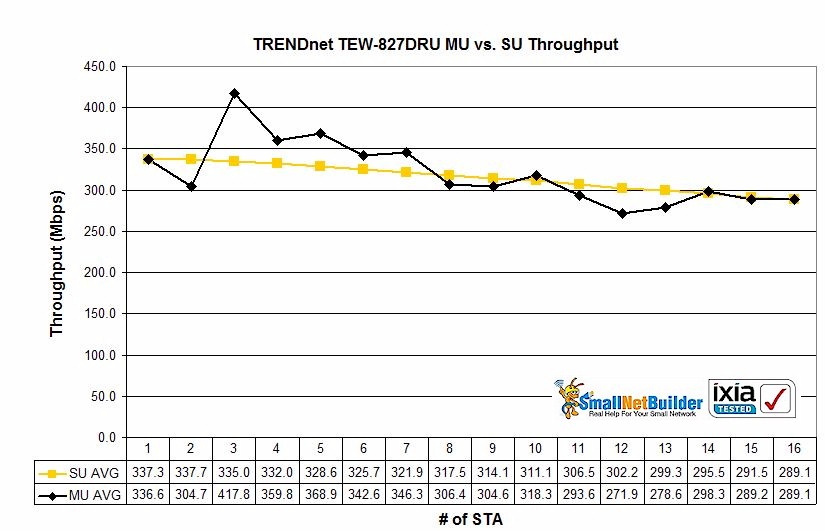 TRENDnet TEW-827DRU MU-MIMO performance
For comparison, let's look at how the Linksys EA8500 did on the same test. The Linksys properly had higher throughput with two STAs and peak MU throughput of 730 Mbps with three STAs; a little over 2X the 342 Mbps best-case SU throughput. After a brief dip below the SU line with four clients, MU throughput stays above SU out to 11 STAs. SU throughput declined only 9% from 342 Mbps with one STA to 311 Mbps with 16 STAs.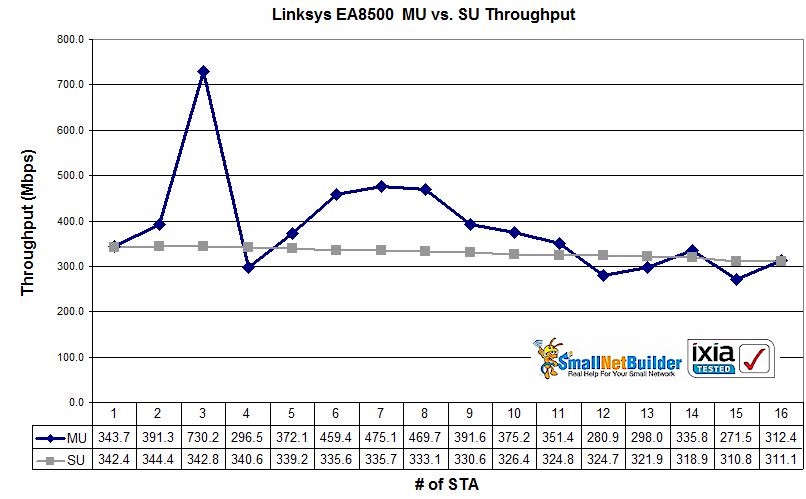 Linksys EA8500 MU-MIMO performance
The good news is the TEW-827DRU's MU-MIMO operation looks fairly stable. The bad is that total throughput gain is nothing to write home about and SU throughput declines more than it should as more STAs are added.
Closing Thoughts
The Router Ranker shows that the TP-LINK Archer C2600 still claims the #1 ranking for AC2600 class routers. The TRENDnet TEW-827DRU pushed the Amped Wireless RTA2600 down a notch to claim third place. Keep in mind our current ranking method does not take MU-MIMO performance into account.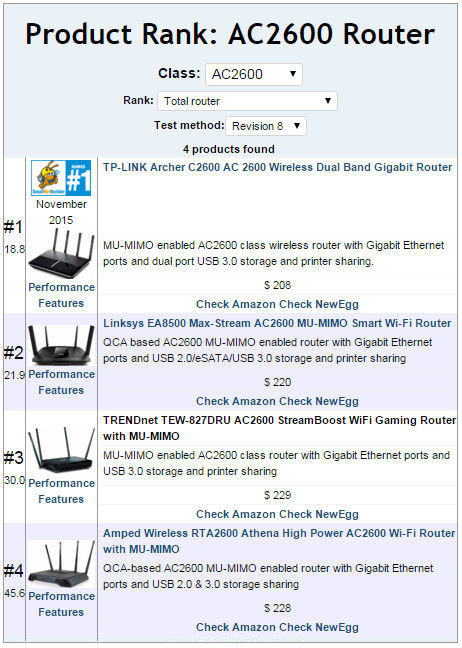 AC2600 Class router Total Router Ranking
The composite ranker performance summary chart below compares the top three performing routers. While the TRENDnet TEW-827DRU was ranked #3 overall, for wireless performance it had a #2 ranking in five out of six wireless performance categories.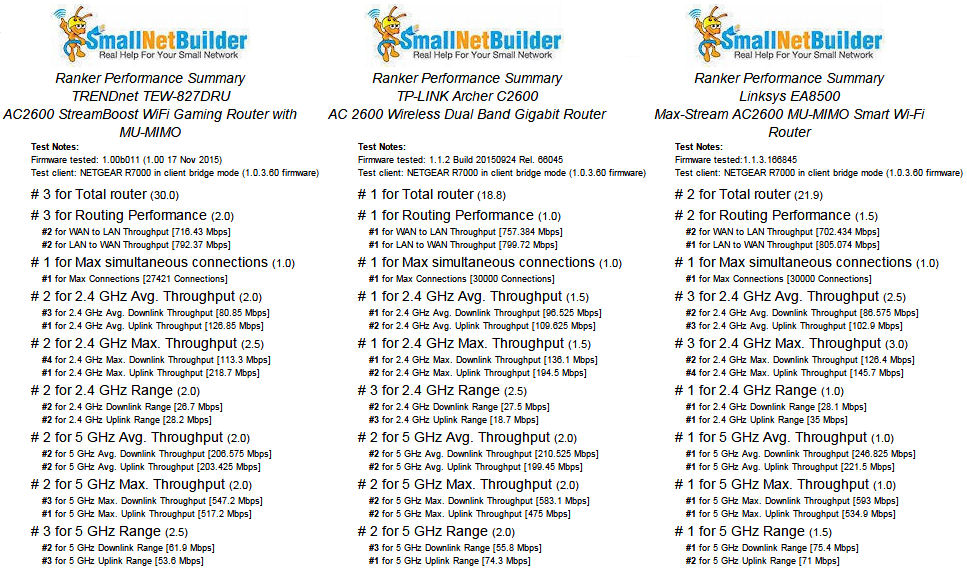 Router Ranker Performance Summary
We're usually not that impressed with TRENDnet routers' wireless performance; you can usually find their products at or near the bottom of the Router Ranker. Although that's also the case for the TEW-827DRU—it ranks 3 out of 4 in the AC2600 class—the good news is it outperformed the Amped Wireless RTA2600, a product Amped is already replacing with a new version. The 827DRU's wireless performance is actually more competitive in its class than its other routers.
But the 827DRU's MU-MIMO performance needs some work. The composite plot below taken from Is MU-MIMO Ready For Prime Time? shows three other 4×4 MU-MIMO enabled routers have much higher peak throughput gain. But at least the 827DRU's MU-MIMO showing isn't as bad as the Amped RTA2600. Its MU-MIMO doesn't really work.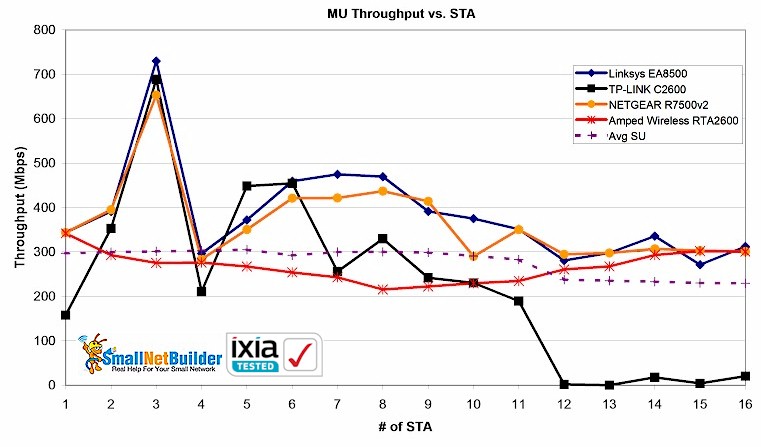 All products – MU total throughput vs. STAs
Before you rush to buy, remember you need at least two MU-MIMO devices to reap the improved total wireless bandwidth yield of a MU-MIMO router and those devices are still essentially MIA here in the U.S. But if you just gotta have an AC2600 class MU-MIMO router, the TP-LINK Archer C2600 looks like your best buy for now. It still has the best router ranking, and happily is also the cheapest AC2600 class router right now.
Buy AC2600 StreamBoost WiFi Gaming Router with MU-MIMO from Amazon