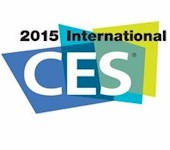 No new routers, but NETGEAR announced new Wi-Fi range extenders, a new ReadyNAS, Gigabit powerline adapters and more at CES 2015.
Wi-Fi
NETGEAR didn't introduce any new routers, but announced its R8000 Nighthawk X6 and R7500 X4 won CES Innovations awards. They also announced that the original R7000 Nighthawk will support NETGEAR's ReadyCLOUD for secure remote file access when a free firmware update rolls out later this month.
The EX7000 Nighthawk AC1900 WiFi Range Extender (MSRP $169.99), EX6150 AC1200 WiFi Range Extender (MSRP $119.99) and EX3700 AC750 WiFi Range Extender – Essentials Edition (MSRP $79.99) expand NETGEAR's wireless extender offerings.
The EX7000 looks like a reconfigured R7000 with its 3×3 AC design sporting a dual-core CPU, five Gigabit Ethernet ports and USB storage sharing via its USB 3.0 port. The EX6150 is a 2×2 AC wall-pluggable design with single Gigabit Ethernet port and SMART LEDs that really help optimize placement. The "Essentials Edition" EX3700 has fewer features by design, so gets only a 10/100 Ethernet port and no SMART LEDs to go along with its AC750 class radio.
All support NETGEAR's FastLane, however, that automatically tries to maximize extended throughput by using one band for backhaul and the other for device connection. All three are shipping now at the MSRP's shown above.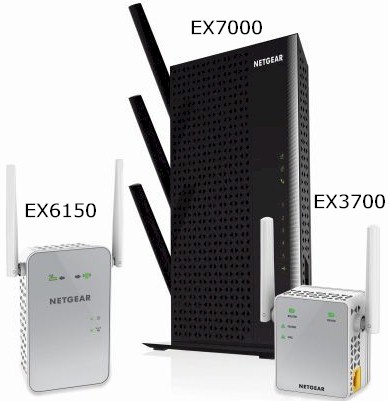 NETGEAR New Wi-Fi Extenders
Powerline
HomePlug AV2 MIMO powerline adapters are finally hitting the shelves in force in 2015. So NETGEAR is joining the party with its PL1200 Powerline 1200 and PLP1200 Powerline 1200 + Extra Outlet Adapter Kits. They're specing both at 1.2 Gbps maximum throughput so they could be supporting either the 1 Gbps or 1.5 Gbps HomePlug AV2 profiles.
At any rate they're both MIMO and have a "pick-a-plug" LED to guide you to an best-performing outlet. Both should start shipping in Q1 2015 for MSRPs of $79.99 and $89.99.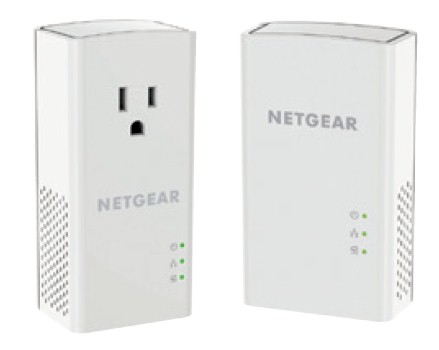 NETGEAR PLP1200 & PL1200 Powerline 1200 Adapters
Switching
NETGEAR's new ProSAFE Click Switches are described as "a new category of network switches designed to improve the placement of switches in connected homes and growing businesses".
Coming in 8 (GSS108E) and 16 port (GSS116E) models, the Click Switches, uh, click into a bracket that has an AC power connection for their internal power supplies and is "designed to work thoughtfully" with straps, ties and anything else you want to use to tie down those messy ol' Ethernet cables. The 8 port version also has two front-mounted USB ports for device charging. Neither has fans and the LEDs on both can be turned off.
Both are shipping now, covered by limited lifetime warranties and have MSRPs of $69.99 for the 8 port and $169.99 for the 16.

ProSAFE Click 8 port switch
NAS
It's been awhile since NETGEAR had new home NASes, so how about the new ReadyNAS 200? The company is claiming the two-bay RN202 and four-bay RN204 will move files at 200 MB/s! The dual-core Cortex A15 1.4 GHz processor and 2 GB of RAM might have something to do with that optimistically high spec, as would the dual Gigabit Ethernet ports that would need to be aggregated (this is supported) to achieve it.
Other features include BTRFS file system with unlimited volume snapshots, support for Apple Time Machine, DLNA, iTunes and Plex media servers and free mobile apps for remote access and photo backup. (See our recent ReadyNAS OS 6.2 review for other features.)
The RN202 and RN204 will be available in "late" January at MSRPs of $359.99 and $499.99 respectively for diskless models.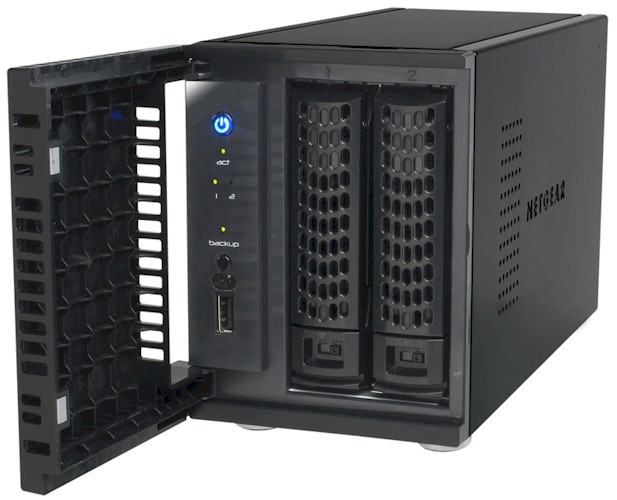 NETGEAR ReadyNAS 202
Other Announcements
For those of us without the ability use our smartphones as hotspots or don't want to eat up our precious data plan allowance, NETGEAR's Around Town Mobile Internet could help. Operating on Spint's 4G LTE network, the portable hotspot (aka AirCard AC778AT) connects up to 10 Wi-Fi devices via its 802.11 b/g/n radio.
A 1.77-inch color LCD screen displays real-time information for monitoring connected WiFi devices, battery life (spec'd at up to 12.5 hours / charge), network name, data usage, and more.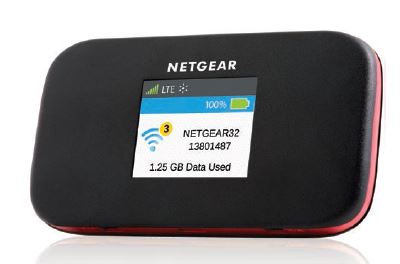 NETGEAR Around Town Mobile Internet
Also new is a companion 4G LTE Boosting Cradle with Ethernet (DC113A) that provides a convenient place to dock the Around Town for charging and has two built-in MIMO antennas to boost your LTE signal. It also has aGigabit Ethernet port for connecting wired devices that aren't WiFi-enabled or adding 4G connection to any home router with an Ethernet WAN port.
The Around Town Mobile Internet is available for pre-order now at Amazon for $199.99 MSRP including 1 GB of data. The 4G LTE Boosting Cradle with Ethernet is also available for $69.99 MSRP. Data reloads are $25 / GB.
Finally, NETGEAR wanted y'all to know its Arlo Smart Home Security Camera announced in November is a CES Innovations Award honoree for the Smart Home. 'Nuff said.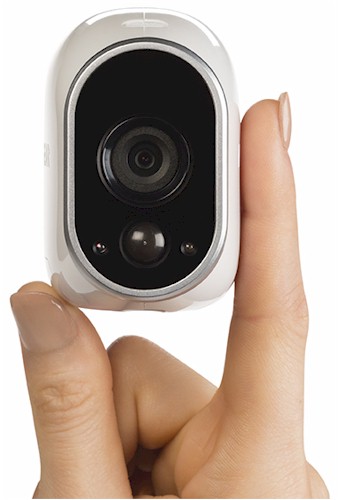 NETGEAR Arlo Smart Home Security Camera