NETGEAR's CES 2017 announcements might not be as exciting as previous years' for fans focused on what's new in wireless routers. But there are still a few interesting reveals.
ReadyNAS
NETGEAR is expanding its ReadyNAS product family with three new series.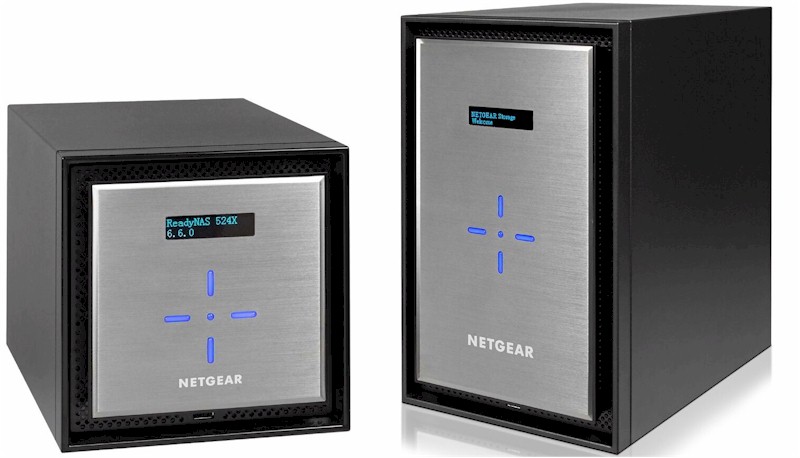 NETGEAR ReadyNAS 524, 528 NASes
The top-end ReadyNAS 620 is based on a 2.4 GHz quad-core Intel Xeon D-1521 processor and has dual 10GbE copper and two Gigabit Ethernet ports. It comes in 6 and 8 bay versions for total storage capacity of 80TB or up to 130TB with an unspecified expansion chassis.
The mid-range ReadyNAS 520 is based on Intel's D1500 series Pentium processor. It has dual 10GbE copper ports only in the 524X 6 and 528X 8 bay models and one 10GbE and one Gigabit port in the 524X four bay. This is the first NAS we've seen with only 10GbE ports. Since these ports also support 10/100/1000 Mbps link rates, separate Gigabit Ethernet ports aren't really required.
The ReadyNAS 420 series is based on Intel's next-generation C3338 Atom CPU and comes in 2 and 4 bay configurations. No 10GbE ports on this one; you'll have to make do with dual Gigabit Ethernet.
Sorry, but NETGEAR didn't disclose RAM capacity for any of the new ReadyNASes in its announcement.
All three product lines run NETGEAR's ReadyNAS OS with features including 5 levels of data protection, NETGEAR ReadyDR snapshot-based backup to a second ReadyNAS and ReadyCLOUD secure remote file access.
All models are available diskless and populated at various capacities. Suggested MSRPs for diskless configurations are:
ReadyNAS 420 Series
RN422, 2-bay, Dual GbE, $449.99
RN424, 4-bay, Dual GbE, $649.99
ReadyNAS 520 Series
RN524X, 4-bay, Dual 10GbE, , $899.99
RN526X, 6-bay, Dual 10GbE, $1,199.99
RN528X, 8-bay, Dual 10GbE, $1,599.99
ReadyNAS 620 Series
RN626X, 6-bay, Dual 10GbE + Dual GbE, $1,699.99
RN628X, 8-bay, Dual 10GbE + Dual GbE, $1,999.99
ReadyNAS models 528X and 628X are available immediately. ReadyNAS 524X will be available in North America and Europe in January, and the rest of the world in Q1, 2017. ReadyNAS models 422, 424 will be available in Q1, 2017.
Cable
NETGEAR didn't hold back its Orbi Wi-Fi System and 802.11ad R9000 Nighthawk X10 routers for CES, choosing instead to rack up some sales during the 2016 holiday season. So today's sole router introduction—the NETGEAR C7100V Nighthawk AC1900 WiFi Cable Modem Router for XFINITY Internet and Voice— may seem anti-climactic.
Nevertheless, it may excite Comcast XFINITY subscribers as the first 802.11ac class combo cable modem router that supports XFINITY Voice service that can be purchased without a contract. It combines a DOCSIS 3.0 cable modem supporting 24×8 channel bonding to support full download throughput up to 960 Mbps.
The DOCSIS modem is combined with a simultaneous dual-band Wi-Fi radio supports maximum link rates of 600 Mbps in 2.4 GHz and 1300 Mbps in 5 GHz, four port Gigabit switch and dual USB ports supporting ReadySHARE storage and printer sharing. For voice service, the C7100V also has two FXS phone ports that support 3-way conference calling, caller ID, call forwarding, and other enhanced calling features. Optional battery backup can also be purchased to provide 8 hours of standby and 5 hours of talk time during power outages.
The C7100V will be available "later this year" with a $299.99 MSRP.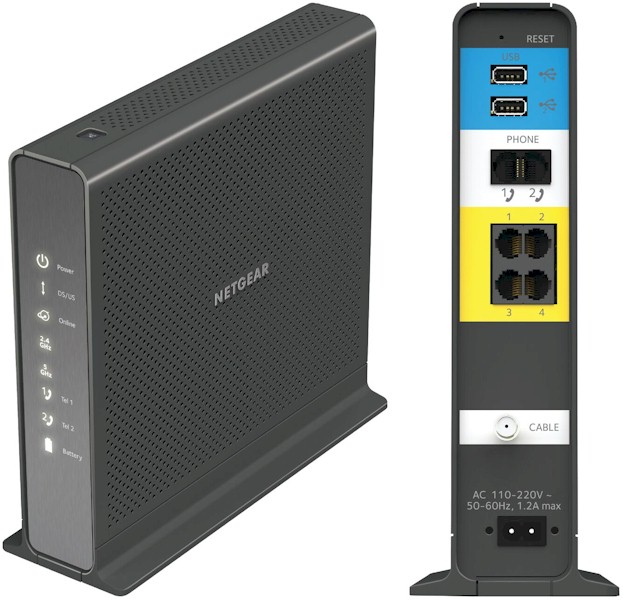 NETGEAR C7100V Nighthawk AC1900 WiFi Cable Modem Router for XFINITY Internet and Voice
If you're lucky enough to have access to gigabit-grade DOCSIS 3.1 service, you might be interested to hear of NETGEAR's CM1000 Ultra High Speed Cable Modem. It too is Comcast certified and backward compatible with DOCSIS 3.0 to handle all Comcast's current speed tiers.
You won't be able to buy this at retail. But if you are in Atlanta, Nashville, Chicago, Detroit or Miami and order Comcast Gigabit service, you might see it appear later this year.
Switches
NETGEAR's switch designers have been busy, coming up with two new PoE switches. The GSS108EPP ProSAFE 8-port Gigabit Ethernet Web Managed PoE+ Click Switch is 802.3az PoE+ version of the eight port "Click" switch introduced at CES 2015. It has 4 PoE+ ports that can supply 47W total power and four normal Gigabit Ethernet ports. It fits the same mounting bracket as the other members of the "Click" switch family.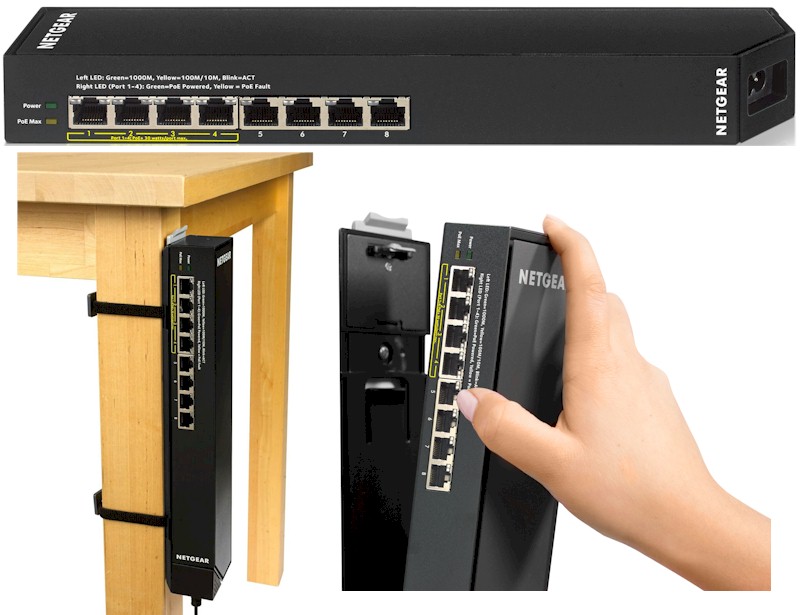 NETGEAR GSS108EPP ProSAFE 8-port Gigabit Ethernet Web Managed PoE+ Click Switch
The other PoE+ switch is the GS408EPP Easy-Mount 8-port Gigabit Ethernet PoE+ Web Managed Switch that uses a different "Easy-Mount" system shown below that clicks into either the back or bottom of the switch. This system, plus the placement of all connectors—including power—on one switch face allows mounting two switches back-to-back in a 1U rackmount slot, saving valuable rack space. All eight of the GS408EPP's Gigabit Ethernet ports are PoE+ enabled and can supply 124W total power.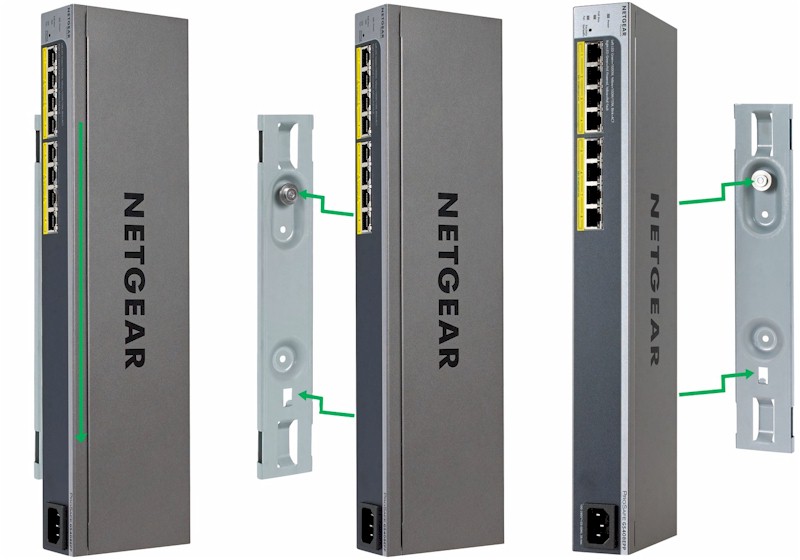 NETGEAR GS408EFF switch w/ mounting bracket options
Both switches support a base set of managed switch features via a web-based GUI including:
Advanced per port PoE controls for remote power management of PoE connected devices
Advanced VLAN support for traffic segmentation including port-based and 802.1Q-based
Advanced QoS (Quality of Service) for traffic prioritization including port-based and 802.1p/DSCP-based
Port Trunking/Link Aggregation (manual LAGs) for increased throughput (GS408EPP only)
Auto denial-of-service (DoS) prevention
IGMP snooping support for multicast optimization
Rate limiting and priority queuing for better bandwidth allocation
Port mirroring for network monitoring
Energy Efficient Ethernet (IEEE 802.3az) for maximum power savings
The GSS108EPP and GS408EPP are on their way to retailers now at MSRPs of $149.99 and $269.99, respectively. Like all NETGEAR ProSAFE switches, both are covered by a lifetime hardware warranty with next business day replacement shipping.
The last switch announcement might seem to have more hype than utility. But the $100 GS808E Nighthawk S8000 8-port Gaming and Media Switch has more than sexy looks to offer. It's an 8 port Gigabit web-managed switch with two nice features.
The first is the rear panel switch to kill the port lights. But the more useful feature is one-click configuration QoS presets optimized for gaming, media streaming, standard networking, plus two user-defined slots. Anyone who has ever tried to program a managed switch's QoS settings will appreciate the presets' convenience.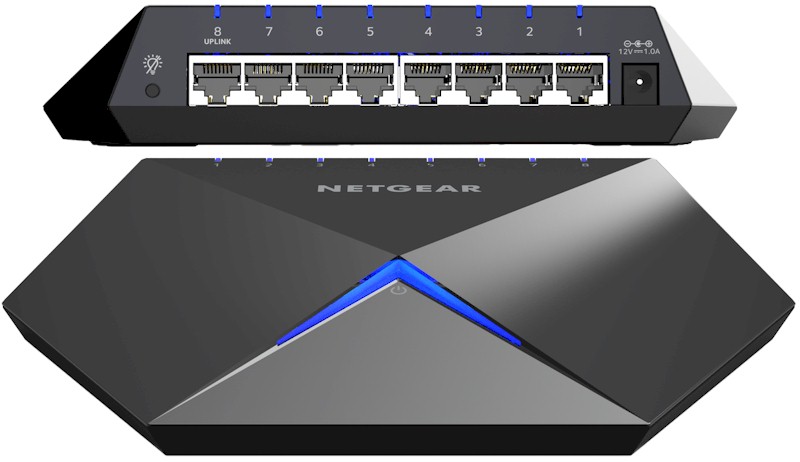 NETGEAR GS808E Nighthawk S8000 8-port Gaming and Media Switch
Other features include:
Port-based and 802.1p/DSCP-based QoS (Quality of Service) for 4 levels of network traffic prioritization
Auto denial-of-service (DoS) prevention
IGMP snooping support for multicast optimization
Loop detection and broadcast storm controls
Rate limiting and priority queuing for better bandwidth allocation
Port trunking/link aggregation (LAG) enables
The Nighthawk S8000 comes with a three year warranty and will list for $99.99 when it starts shipping this March.
Wi-Fi
NETGEAR added a new access point to its small-biz line. The WAC510 AC WiFi Business Access Point is a 2×2 simultaneous dual-band AC1200 class access point with MU-MIMO support. It has two Gigabit Ethernet ports, one of which supports 802.3af PoE.
It also has a router mode, which I think is a first for a business AP. NETGEAR says this is "for single WAC510 deployment in a small office" in addition to a more normal access point mode. The AP can be wall or ceiling mounted via a separate mounting plate. It will start shipping this month and list for $159.99.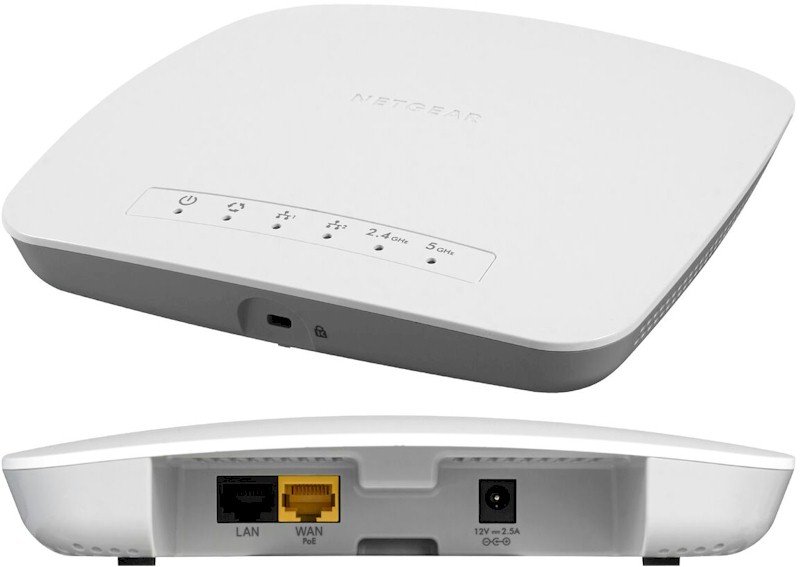 NETGEAR WAC510 AC WiFi Business Access Point
Arlo Baby
Lastly, you may risk ODing on cuteness if you gaze too long at the Arlo Baby Smart HD Monitoring Camera. It's a CES 2017 Innovation Awards Honoree for its "unique and innovative" product design. Not satisfied to just keep 1080p HD quality eyes on your little darling, Arlo Baby also monitors temperature, humidity and air (we're guessing CO2) and pushes a notification to its companion app if anything goes outside the programmed range.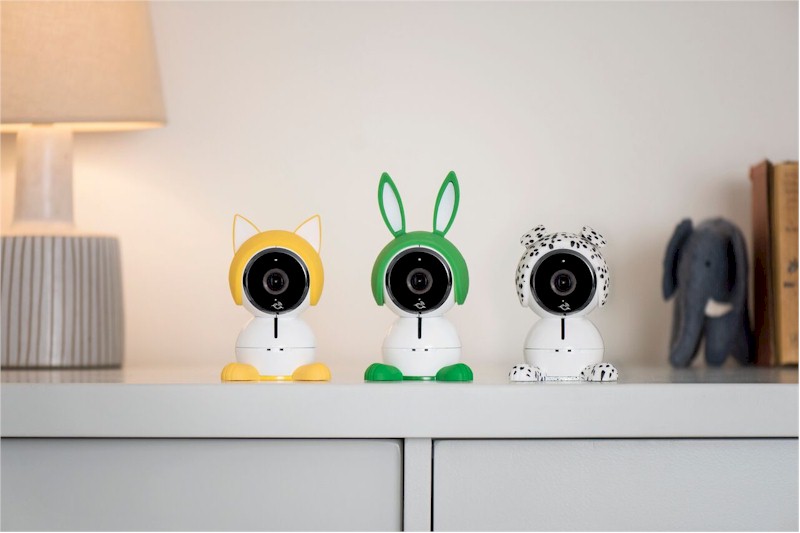 NETGEAR ABC1000 Arlo Baby Smart HD Monitoring Camera
Other baby friendly features include two-way audio, a music player with a collection of lullabies built in or downloaded from the free Arlo music library, multi-colored, dimmable, remotely manageable LED night light and "advanced" night vision with "near invisible" IR lights that automatically switch on when night viewing is needed. The bunny outfit shown in the photo center is Arlo Baby's standard costume. Turning it into a "friendly kitten" or "charming Dalmation puppy" will run you an extra $20.
Arlo Baby is powered by a rechargeable battery and comes with 7 days of free rolling secure cloud recording of trigger events with more storage options, including 24/7 continuous recording, available. If you don't want to use your smartphone loaded with the free Arlo app to check in on your little one, Arlo Baby can also directly pair with an optional Arlo Baby 7 inch LCD display via a secure and independent wireless connection.
All this wonderfulness doesn't come cheap, though. Arlo Baby will list for $249.99 when it ships in "early Q2". Optional accessories also shipping in that timeframe include the ABC1000S Arlo Baby Smart HD Monitoring Camera with 7" LCD Screen Display ($349.99), Arlo Baby Stand ($34.99) for elevated viewing angle and the aforementioned kitten / puppy Characters pack ($19.99).