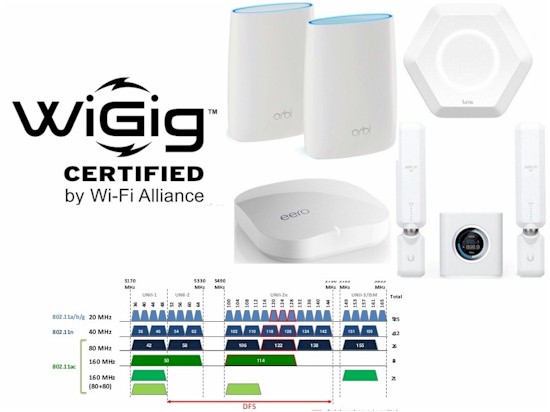 Introduction
Our 2015 guide recommended AC1900, AC1750 and AC1200 class routers as the go-to choices for most buyers. Those recommendations will still serve many Wi-Fi router buyers well.
But 2016 has been a year of many changes for the Wi-Fi industry. New players, technologies and architectures are making it much more difficult to choose the right Wi-Fi router as 2016 comes to a close. These changes include:
2×2 and 3×3 MU-MIMO
160 MHz bandwidth
DFS
802.11ad
"Mesh" wireless
Since these developments are likely to have the most effect on your choice, we're departing from the bottom-up approach used in previous editions of this guide to focus on the overall trends that should guide your Wi-Fi router purchase. We've created a separate Wi-Fi backgrounder for those who need to get up to speed on the buzzwords and technology that make Wi-Fi tick.
In each section, we'll first provide background, then provide a bottom line and recommendation.
The MU-MIMO Mess
Our 2015 edition made only passing mention of Multi-User MIMO (MU-MIMO). This technology, which is aimed primarily at improving bandwidth utilization in busy wireless networks, has traveled a long and difficult road. It has yet to provide any practical benefit to gullible early adopters.
The first round of AC2350/2400 4×4 products used Quantenna's QSR1000 chipset, which required its own processor to run the 5 GHz radio. Products using this chipset shipped as "MU-MIMO ready"; marketing-speak for no working MU-MIMO.
The ASUS RT-AC87U was first to market in mid-2014, followed by MU-MIMO "ready" routers from NETGEAR, Linksys and others. The ASUS was the only Quantenna-based router to eventually enable MU-MIMO, two years later in early 2016. Other manufacturers stopped waiting for Quantenna and moved on to AC2600 class routers based on Qualcomm Atheros' 4×4 MU-MIMO chipset. All these shipped with working MU-MIMO out of the gate and established QCA's lead in this technology.
Broadcom didn't have its MU-MIMO chipset ready, so instead promoted its tri-radio "XStream" architecture that spawned AC3200 class routers. The battle between the two technologies was described in MU-MIMO vs. XStream: The Coming Battle For Wi-Fi Airtime, so won't be repeated here. Broadcom eventually shipped its MU-MIMO devices, which spawned AC3100 class 4×4 routers and AC5300/5400 class tri-radio XStream versions. But none shipped with working MU-MIMO. Broadcom didn't have its MU-MIMO firmware ready, so pulled a Quantenna and promised firmware upgrades to follow. This resulted in a series of alpha and beta firmwares during 2016 that mostly didn't work.
The situation was so bad we refused to review Broadcom-based MU-MIMO routers until they were supplied with working MU-MIMO, which occured in mid-2016. To this day, however, we have yet to test a Broadcom-based MU-MIMO router with MU-MIMO that works anywhere near as well as QCA-based products.
But that's not all. We recently learned that Broadcom's first MU-MIMO devices were not capable of properly supporting MU-MIMO. So there are some early Broadcom based MU-MIMO routers out there that will never have properly functioning MU-MIMO. And even products with the newer chipset are still waiting for Broadcom firmware that produces decent MU-MIMO.
All this hasn't stopped manufacturers from pushing forward with adding MU-MIMO downmarket, however. Linksys went first with its 3×3 AC1900 class EA7500 and Amped Wireless has its AC1300 class ARTEMIS line with 2×2 MU-MIMO. And MU-MIMO has moved into wireless extenders in the form of Linksys' RE7000 and NETGEAR's EX7300.
With all these MU-MIMO routers, you'd think that we would be tripping over all the MU-MIMO devices to go with them. But that's still not happening. Although there are now MU-MIMO USB adapters like Linksys' WUSB6100M, it's still hard to find MU-MIMO supported in smartphones, computers and tablets. Notable exceptions are Samsung's Galaxy S7, Google Nexus 6P and new Google Pixel, which all support MU-MIMO. Apple, on the other hand, has not yet embraced MU-MIMO, since it is absent from the iPhone 7.

Bottom Line: MU-MIMO continues to not be a primary reason for selecting a router. Think of it like the 3D TV feature of Wi-Fi; it's moving from a promoted premium feature to something that's thrown in and unlikely to be used. You need two MU-MIMO devices to get any benefit from it and you're unlikely to see any benefit unless both devices have strong signals and you make actual throughput measurements. If you still think MU-MIMO can do wonders for you, make sure you buy an AC2600 class router, which uses QCA chipsets.
160 MHz Bandwidth
Combining channels, aka channel bonding, has been a technique used to boost throughput since the introduction of 802.11n. We explored this back in 2012 when 802.11ac was starting to gain traction with its 5 GHz 80 MHz channels. Only 40 MHz wide channels are allowed in 2.4 GHz, because that takes up two of the three non-overlapping 20 MHz wide channels. 802.11ac requires 80 MHz channels, which take up four of the nine channels available in the U.S.
11ac optionally supports 160 MHz wide channels, which leaves only one free channel and there goes the Wi-Fi neighborhood! But recognizing the channel crunch, 11ac's architects allowed for two paths to 160 MHz, split 80+80 and contiguous.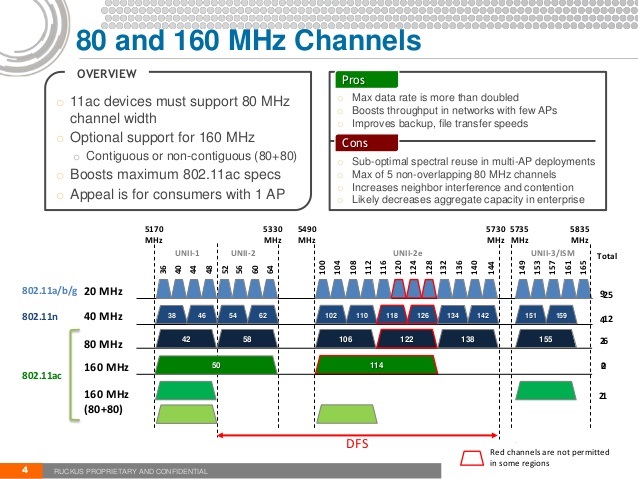 Split 80+80 mode enables devices to effectively double their maximum link rate without adding streams, which require more circuitry and antennas. This isn't so big a deal in routers, which have plenty of room and power. But adding antennas gets a lot of pushback in mobile device design, so the attraction of 160 MHz is pretty clear.
Of course, like many of 802.11ac's high-bandwidth tricks, higher 160 MHz mode bandwidth requires a strong signal to work effectively. And it requires devices to also support 160 MHz mode and, you guessed it, there aren't a lot of those in the wild.
NETGEAR was first to leap into this space with its R7800 Nighthawk X4S that supports a split 80+80 design. We haven't seen another split 80+80 design since.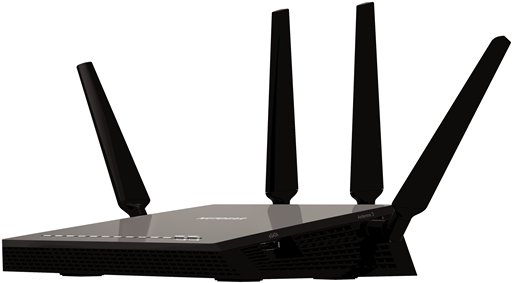 NETGEAR R7800 Nighthawk X4S – first 80+80 MHz router
More recently Linksys dropped the other 160 MHz shoe with the introduction of its WRT3200ACM, the first router to support contiguous 160 MHz. This requires it to use DFS channels, which it is also certified to do. (More on DFS below.) Contiguous 160 MHz yields a maximum link rate of 2600 Mbps when 160 MHz bandwidth mode is in use, but 1300 Mbps when normal 80 MHz bandwidth is used. This, plus the 600 Mbps 2.4 GHz radio maximum link rate results in the product's "AC3200" designation.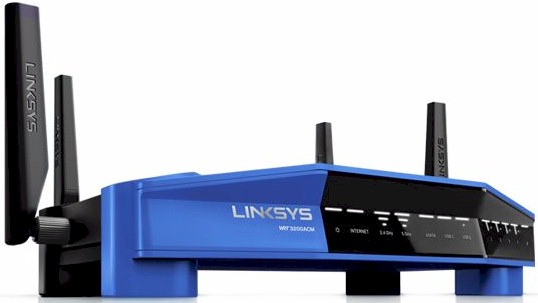 Linksys WRT3200ACM – first contiguous 150 MHz bandwidth router
This unfortunately will cause the product to be confused with "tri-band" AC3200 class products that have two 5 GHz radios. For most buyers, this is a 3×3 AC1900 class router because devices that also support contiguous 160 MHz aren't available.

Bottom Line: 160 MHz, whether 80+80 or contiguous, will not provide a practical benefit for at least a year and more likely two. Like MU-MIMO, 160 MHz support in devices is highly dependent on mobile network operators, who seem to be in no rush to move to these newer Wi-Fi technologies, or even clearly describe Wi-Fi capability on the phones they sell.
DFS Support
DFS or Dynamic Frequency Selection is a mechanism that allows Wi-Fi devices to use 5 GHz channels that are used by public safety radar systems. In the U.S. DFS channels are in the U-NII-2 and U-NII-2e bands, whose channels are shown in the graphic below.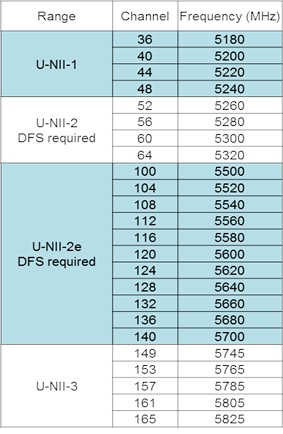 DFS has been around since the introduction of 802.11a, which added 5 GHz channels to the 802.11 standard. It hasn't been supported in many consumer routers, however, because it requires frequent monitoring of 5 GHz for radar signals and separate FCC certification. This adds to router design complexity and cost.
But the increasing dependence on 5 GHz (see the 160 MHz discussion above) has lit a fire under consumer router makers, pushing them to add DFS support. It probably helped that startup Ignition Design Labs fired a shot across the incumbents' collective bow at CES 2016 with the demonstration of its "Zero wait" DFS technology, using an early prototype of its Portal router. IDL made Portal official with a Kickstarter campaign in May and Amazon preorder announcement late last month.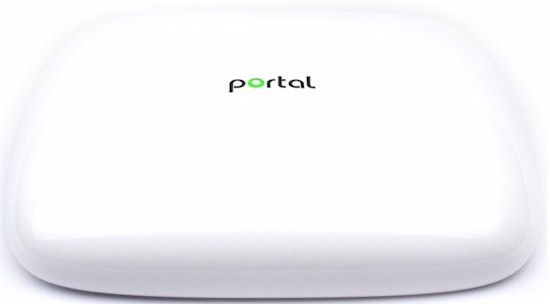 IDL Portal router
As noted above, Linksys jumped on the DFS bandwagon with its WRT3200ACM that has a separate 5 GHz monitor radio. This should also enable fast channel reuse if radar is detected. NETGEAR also recently enabled DFS channel use in its R7800 Nighthawk X4S, even though it doesn't have a dedicated 5 GHz monitor radio.

Bottom Line: DFS is a feature you should definitely put on your router shopping checklist. The 5 GHz spectrum is only going to get more crowded and you'll need as many channel selection options as you can get. The main caveat here is that some older dual-band devices may not support DFS channels.
802.11ad
Until now, wireless router makers have had only one drum to beat to get Wi-Fi buyers' attention: the big number on the box (BNOB). And they have pounded on that drum louder and louder as the BNOB leaped past AC3200 up to AC5400 last year and now up to AD7200 as we roll into 2017. This new number is made possible by the introduction of routers containing an 802.11ad radio.
802.11ad aka WiGig operates in the 60 GHz band, which makes it an in-room only technology. So 802.11ad is not for whole-home networking! The same laws of physics that give 5 GHz shorter range than 2.4 GHz are in effect in spades for 60 GHz.
With AD, the BNOB numbers game is still at play, but in an even more misleading way. As explained below, the class number is the total of the maximum link rates of each radio. So the 7200 in AD7200 is the combination of the maximum link rates of the 2.4, 5 and 60 GHz radios, i.e. 800 Mbps (2.4 GHz) + 1733 Mbps (5 GHz) + 4600 Mbps (60 GHz) = 7133, rounded up to 7200. In reality, AD7200 routers are 4×4 AC2600 class routers with an 802.11ad radio tacked on.
What 11ad brings to the party are (much) higher bandwidth and much lower latency than 802.11ac Wi-Fi. This makes it suited for high-speed file transfer, HD screen mirroring / casting and wireless computer docking. A sleeper application that could drive 11ad adoption may be wireless connection for VR headsets.
It may surprise you that over a million WiGig chipsets had shipped by the beginning of 2014, primarily for wireless computer docks and companion notebooks. But Qualcomm Atheros' purchase of WiGig pioneer Wilocity back in 2014 seems to now be bearing fruit, with ABI Research forecasting 180 million (!) WiGig chipsets shipping in 2017 for smartphones and a total of 1.5 billion in 2021, with half going into smartphones.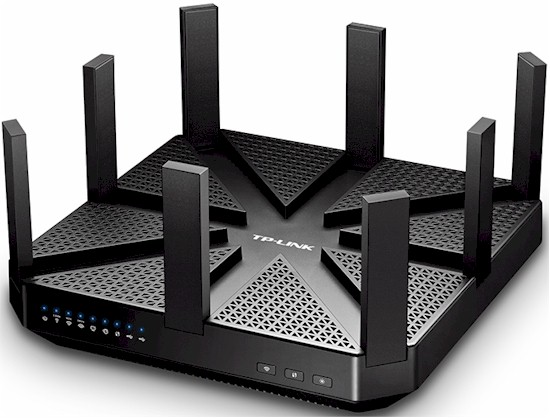 TP-Link's Talon AD7200 – first 802.11ad router
For now, however, the most likely place to find AD in a device is in a notebook and that's what TP-Link sent along with its first-to-market Talon AD7200. NETGEAR also recently introduced its AD7200 class Nighthawk X10, which hasn't yet come in for testing. But faster file transfer isn't a compelling reason to spring for a router with built-in AD right now.

Bottom line: If you're willing to wait a bit, AD seems like a perfect application for add-on boxes, similar to those that were introduced to add 5 GHz 802.11ac to N class routers in AC's early days. But right now, 11ad mostly makes for a more expensive AC2600 router.
Mesh Systems
The most visible new development in Wi-Fi in 2016 has been the rise of "mesh" wireless systems. These products go by many names, i.e. Wi-Fi "system", "surround" Wi-Fi", "mesh" Wi-Fi, but have one thing in common; the use of multiple devices to form a distributed Wi-Fi architecture. These systems mark a departure from the BNOB and BHR (Big Honkin' Router) trends that have driven consumer Wi-Fi to this point.
The common aspect of these products is that they connect multiple access points via Wi-Fi instead of the wired Ethernet connections normally used in multi-AP systems. One AP is connected to your current wireless router or broadband modem and the others connect to it via Wi-Fi. The inter-AP connections, or "backhaul" are supposedly continuously, or more likely periodically, monitored by a cloud service and adjusted as needed to balance backhaul and client device traffic loads.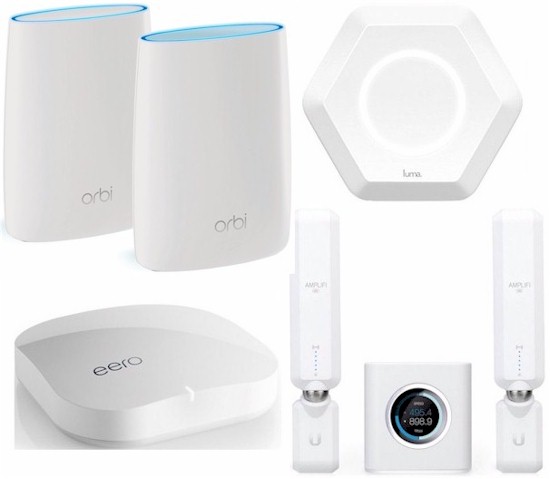 "Mesh" Wi-Fi products
Startup eero kicked off the trend in early 2015, promising to deliver its first orders that summer. But it took eero longer than expected to work out the kinks and its first products shipped in early 2016. 2016 saw a flurry of mesh Wi-Fi announcements, some of which have already aborted. Luma and Ubiquiti Networks' AmpliFi made it to shipment, while Chime has disappeared as a product and morphed into an OEM technology incorporated into Amped Wireless' Allly. Plume could go either way.
All these products typically use AC1200 radios for both device and backhaul connections. The exceptions are eero, which has a shared 2.4 / 5 GHz radio and extra 5 GHz radio, and AmplifiHD, which uses 3×3 AC1750 in both its router and extenders.
It didn't take long for Wi-Fi marketeers to co-opt "mesh" and claim their multi-device products are "mesh ready". Amped Wireless makes this claim for its Ally router / extender combo system. as does Edimax for its RE11 Gemini AC1200 Dual-Band Home Wi-Fi Roaming Kit.
Ally actually falls into a different category, as does NETGEAR's Orbi, one easily confused with mesh (sometimes intentionally). These router / extender combo systems try to move beyond something you can build yourself by buying a router and any wireless extender by pre-pairing the two units and offering a single management interface and maybe smoother roaming between units.
However, Orbi is in a class by itself, using a dedicated 5 GHz 1733 Mbps 4×4 backhaul between router and its extender ("Satellite") to connect AC1200 class APs in both. The AC1200 APs connect only to client devices, while the backhaul connects only router and satellite. The result is the best performance we've seen from anything we've tested, especially for getting a more-than-decent 5 GHz signal to former Wi-Fi dead spots.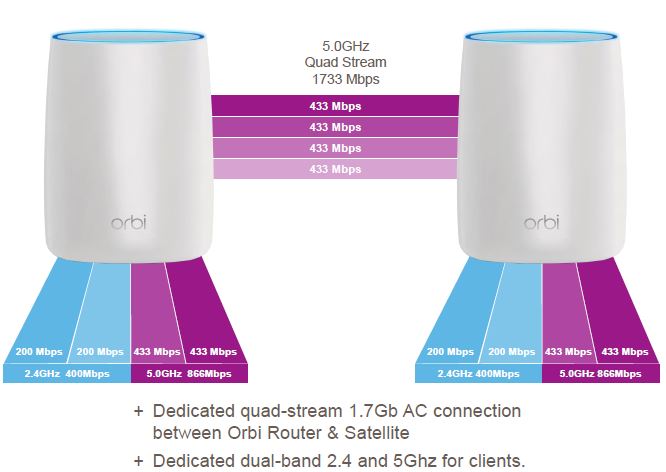 NETGEAR Orbi radio architecture
This approach is so successful, it probably won't be long until lower-cost clones appear. Orbi is based on Qualcomm's SON technology introduced at CES 2016 and I'm sure Qualcomm would be happy to help their other customers duplicate NETGEAR's success.
Whether "mesh" or router / extender, these multi-device products have one thing in common. With prices starting at $350 and peaking at $500, they ain't cheap. But if manufacturers have learned anything over the past few years, it's to not underestimate what people are willing to spend to get spouses and kids to stop complaining about crappy Wi-Fi!

Bottom line: If you've tried everyting else and still aren't happy with your home's Wi-Fi performance, you're better off trying one of these systems than spending about the same for an AC5300 / 5400 BHR. We recommend Orbi vs. three-device systems on the strength of its 4×4 backhaul.
Making the Choice
Wi-Fi continues to evolve at a rapid pace, with more changes to come. So we once again caution against trying to "future proof" your purchases. Just ask anyone who paid top price for a MU-MIMO "ready" or tri-radio "Smart Connect" router. Some of the former are still waiting for the MU-MIMO upgrades and the latter are either still futzing with getting Smart Connect to work reliably or have disabled it and resorted to manual band assignment. More often than not, paying a steep price for the latest and greatest in Wi-Fi has not produced the desired result.
So here are our recommendations:
If you have an N class router, it's time to upgrade to AC class. This can provide both throughput and range improvement, even with 11g or n devices. See Does An AC Router Improve N Device Performance?
If you have a small area to cover and just a few devices, AC1200 class will suit you fine.
AC1900 class continues to be our go-to router for best combination of price and performance.
If you already have an AC1200 class or higher router, it's unlikely moving up to a 4×4 class router (AC2600 / AC3100) will provide significant performance improvement. See Will A New AC Router Bring You WiFi Joy?
Don't look to MU-MIMO or 160 MHz bandwidth to solve capacity problems. You need devices that also support these features and there are not that many out there.
If you are having a hard time with interference from too many 5 GHz networks, look for routers that support DFS.
If you have a lot of devices and a large area to cover, consider multi-device "mesh" systems instead of AC5300/5400 routers.
If you have tried everything else, still haven't gotten the Wi-Fi you want and price isn't a deciding factor, try NETGEAR's Orbi.
Closing Thoughts
The main thrust of this article has been to point you to the right class of router. Once you determine that, there is still a world of choice out there. Follow these steps to use our product research tools to speed your search.
Check wired routing throughput – Use the Total Simultaneous Throughput – TCP benchmark for Test Method 9 and Total Simultaneous Throughput benchmark for all other Test methods to make sure your router has enough wired routing throughput to handle your Internet connection speed.
Use Router Search – Now simply enter the manufacturer name and model number in the Router Charts Search box. This will return pretty much everything we know about your router. You can even look for routers we haven't tested to get a rough idea of how routers in that class perform.
Be sure to use the Test Method selector when using the Rankers and Charts so you see all the products available!
In the end, the only real way to know how a wireless router will perform is to try it. The SNB Forums are full of people agonizing over choosing the best router and getting confused by all the conflicting reviews and advice. Sometimes they get their "perfect" router home and all is well. But other times, it becomes the router from hell that won't play nice at all in their specific environment. If that happens to you, just return the router and move on to your second choice.
Once you've made your choice, buy from a retailer with a liberal return policy. Amazon has one and you'll get all your money back (minus shipping) as long as you return the product in the same condition as you received it. Linksys' Home Store has 90 day (!) no-hassle returns for new and 30 days for refurbished products and they pay shipping. There are other options out there. Use them to make sure you're getting something that works for you!
Good luck and happy hunting!