At a glance
Product
Google Drive () [Website]
Summary
Google Docs features with local access to cloud files at a very competitive price.
Pros
• Tightly integrated with Google Docs
• Cheaper than competition
• Includes local/cloud sync
Cons
• Not much new vs. Google Docs
• Can't edit Google files locally
• Apps provide limited benefits
Typical Price: $0
Features
Private Sharing

Y

Share Groups

Y

Backup

N

Search

Y

Syncing

Y

File versioning (number)
100
File versioning (days)
30
File size limit (GB)
10

Account Types
Unlimited

N

Free

Y

Free Trial

N

Home

Y

Business

Y

Monthly Billed

Y

Yearly Billed

N

Min. Limit (GB)
5
Max. Limit (GB)
16000
Free space (GB)
5

OS
Windows

Y

Mac OS

Y

Linux

N
Introduction
Well the wait is over, and what a wait it has been! Google Drive, AKA GDrive, is finally here. Google Drive is basically Google Docs with your local files synced to the Google cloud. You'll quickly notice that the cloud version of your storage is not much different from Google Docs, but it's been rebranded Google Drive and functions slightly differently.
At the moment, there are Windows (XP, Vista, 7), MacOS (10.6, 10.7) and Android (2.1 and higher) versions of the client software. I'm going to focus on the Windows version but note that the Android version seems to be just an updated version of the Google Docs application. For example, the Android Google Drive app doesn't offer the automatic photo upload feature that Dropbox and SugarSync have.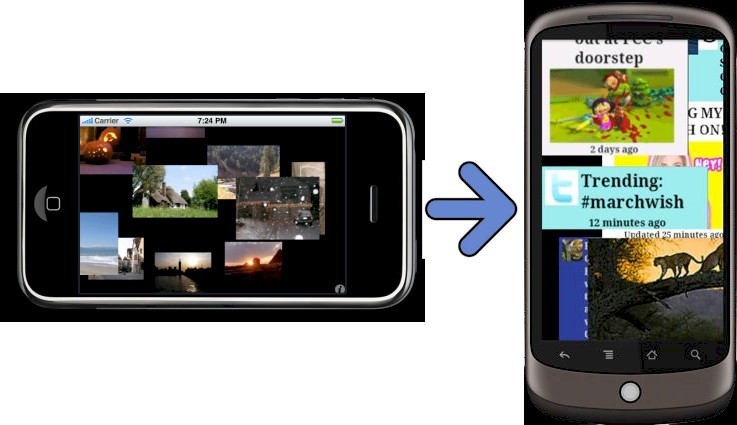 Google Drive on Android
Based on Google's own 'slideware', Google Drive's key features are listed below. You'll recognize many of them as Google Docs features.
Access Everywhere – In the cloud, on your PC/Mac, on your Android phone, and iPhone/iPad coming soon.
Collaborate & Discussions – Create, share & edit docs via Google Docs, email links to big documents. Again, basically Google Docs.
Powerful Search – Enhanced over Google Docs; you can also search within images and scanned documents.
View Anything – 30 file types supported.
Revision history – a 30 day history (or 100 versions) of your documents is automatically saved, allowing you to return to any version during that period. Versions are automatically deleted after 30 days or when you exceed the allowed 100 versions.
Apps – To quote Google "Create, open and share files from a variety of apps directly in Google Drive".
Installation
First off go to drive.google.com and log in. The gallery below has screenshots of the installation process, which is very straightforward.You'll need to know that Collections referred to during the install are folders you may have on Google Docs. You will need to select the ones you want synced.
Go to https://drive.google.com/ and log in. You should see a prompt to download the software, so follow the link to download the app.
After you install, you will be asked to authenticate from within the app.
First welcome screen lets you know a local folder is being created
Second screen provides an Advanced Setup option.
The Advanced options show you where the Google Drive folder will be installed. Make it is where you want it. You cannot easily move it after installation.
I left the default options and let it sync. Once sync is complete, you end up with a new folder in your Windows account document home where you'll find all your Google documents and where you add files/folders for syncing to the cloud. You can add more folders to the Google Drive folder, but you can't move it easily. So if you want it somewhere other than your Windows account documents folder, make sure you use the Advanced setup option and change the folder location.
While in use, the Google Drive application minimizes to the System Tray, showing you the status of your sync with Google Drive.

Google Drive System Tray
A right click on the system tray reveals your options:
Google Drive System Tray Options
The initial options are pretty self explanatory, so I'll start with account details presented. You get to see your Google email address, followed by your current usage on Google Drive. An important point to note here, I've previously purchased extra storage from Google (80 GB), which I get access to in Google Drive. That's why I have the free 5 GB plus the 80 GB I'd previously bought. You of course also get the option to buy more storage.
In Preferences, you get a screen similar to the one you would have gotten if you had selected Advanced during the setup process.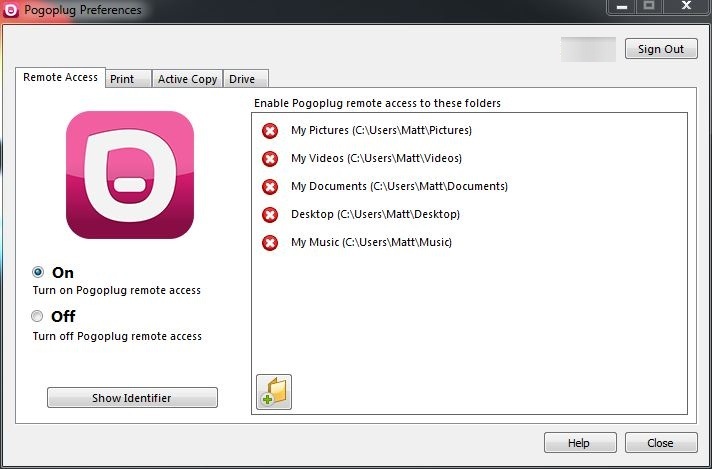 Google Drive Preferences
In Use
Because Google Docs has its own document formats, there are three things to keep in mind:
Documents stored in Google's file formats must be edited and viewed online. Clicking on a document in your desktop Google Drive folder will automatically open a browser to take you to your online Google Drive. You can view Google format documents locally in Google Chrome if you set it up properly, but you can't edit files.
Documents in native formats can be edited offline and viewed online in Google Drive if there is a compatible file converter. If you want to edit documents online, they need to be converted to a Google Docs format.
Documents are not automatically converted when they are synced.
The other thing that is important to know is that only your documents are synced. If you want to have documents shared with you automatically synced, you'll need to drag a copy to your My Drive folder.
As an example, here is a local Google Drive.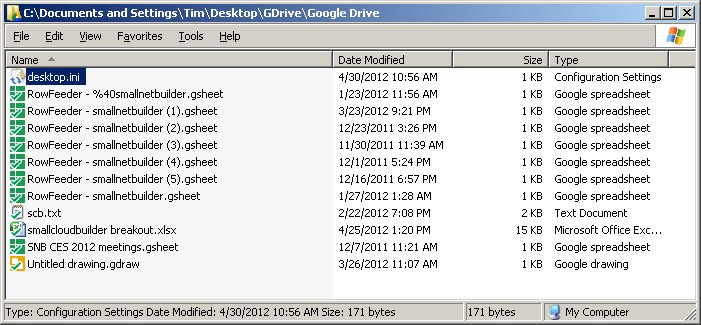 Local Google Drive
And the online My Drive. Looks like everything is synced.

My Drive
But selecting All Items reveals additional (shared) documents that were not automatically synced.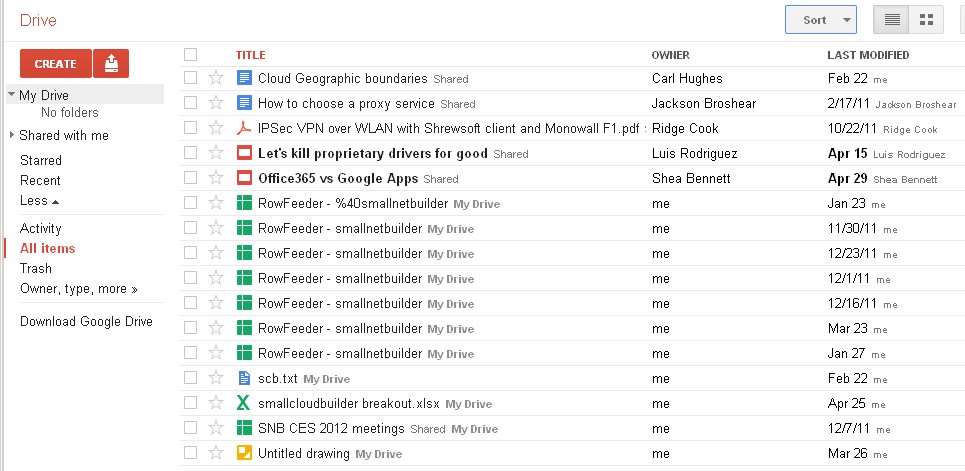 All Items
The video below has some more info on what's new in Google Drive.

Security and Support
Support
Email

Y

Online Ticket

N

IM / Chat

N

Phone

Y

Knowledge Base

Y

Tutorials

Y

Access
Browser-based file manager

Y

FTP

N

Email link

Y

Blackberry

N

iOS

N

Android

Y

Windows Mobile

N
Google Drive doesn't bring anything new to the party in terms of security. A secure web connection (HTTPS) is used for file sync and viewing. But documents are not stored encrypted, unless you do the encryption.

I was suprised to learn that you get email and phone (!) support if you purchase storage from Google. Otherwise, you are limited to Google's online support resources.
Plans & Cost
If you are an existing Google user who previously purchased storage, things have changed a bit. I paid for 80 GB of storage in December last year, costing about $16, and now Google states than I am on the $20/year plan. The new storage plans, however, seem pretty steep in comparison as shown in the screenshot below comparing the old and new plans.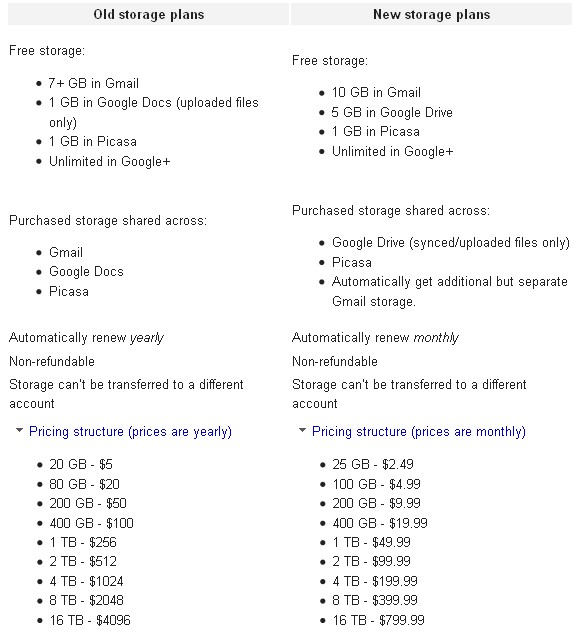 Google Drive Storage Plans
For example, 100 GB now costs $5/month or $60/year. Buying more storage gets you a bit more of a discount. Google makes it a bit harder to compare plans since the new plans are monthly only while the old were yearly. But the new storage prices are between 2 and 2.5 times higher, so you're definitely paying for the privilege of the new sync feature.
However, according to Google, I can stay on my existing plan as long as I:
Keep my account active
Keep payment information in Google Wallet accurate and up to date
Don't cancel or upgrade my current plan
Google further notes that if your account lapses, your credit card is declined or you choose to change your storage plan in any way (upgrade or downgrade), you'll be switched to the new Google storage plan pricing.
So how do these prices compare to the competition? The following table considers only the price of storage and not any additional features. It's clear, however, that Microsoft and Google are aggressively pricing their storage, while market leader Dropbox is getting a pretty good premium and SugarSync a bit less so.
| | Google Drive | Dropbox | SugarSync | Microsoft SkyDrive |
| --- | --- | --- | --- | --- |
| Free Storage | 5 GB | 2 GB | 5 GB | 7 GB |
| 100 GB/year | $59.88 | $199 | $149.99 | $50 |
Conclusion
So what's the overall verdict on Google Drive? Frankly, after all the hype and anticipation, I'm a bit disappointed. Yes, it's good to have local access to your Google Docs files and the pricing is good. But Drive's features aren't different enough from Docs to warrant the fanfare Drive received.
I would have liked to be able to edit my Google spreadsheets and other documents locally and I still can't. And the Android app is long overdue for an automatic photo upload feature.
So I say again, it's good to finally see the Google Drive, and it's good to have local access to those files stored on the Google cloud. But Google hasn't done enough to convince me that Google Drive is anything special.