All things considered, my investment in a trip to Interop this year was worth it. When I go to CES, I spend all my time in meetings and walking the show floor and never get a chance to listen in on the dozens of sessions that run concurrently with the show. That, plus the fact that CES show management doesn't let us media types into the sessions and education tracks for free.
At Interop, all the sessions are open to media, given that there a lot fewer of us than the hordes that invade Vegas every January. So I picked up some background that will be helpful in some future articles.
Bring Your Own Device & 802.11ac
One of the show's big themes was BYOD, where the D stands for Device, not Disk/Drive. The desire that many of us have to bring our iPads into the office is causing IT departments major agita when it comes to keeping networks secure. But just as huge an issue is the load that all those wireless devices are placing on WLANs that were designed to support a lot fewer notebooks.
Tablets connect only via wireless and with all-day battery life tend to stay on the network longer. They also are used as second screens to monitor social networking sites or consume video, even if it's only a low-bandwidth Pandora station.
One effect of all these additional devices is that IP address DHCP pools can get exhausted more quickly. Smart phones exacerbate the problem as users (or phones automatically) switch over to use the company's bandwidth vs. chewing through their ever-decreasing wireless data caps.
I probably should already have known about IT department Excedrin headache #2: smartphones and tablets have lower-performance wireless than their notebook cousins. There ain't a lot of space or power to go around in mobile devices, so manufacturers have been putting in only single-stream N radios. Until recently, these have been single-band 2.4 GHz only, which adds even more load to an already ginormously overloaded band.
But not only are the radios inflexible, they also require stronger signal levels to achieve decent bandwidth. The slide below taken from a Xirrus presentation shows the difference.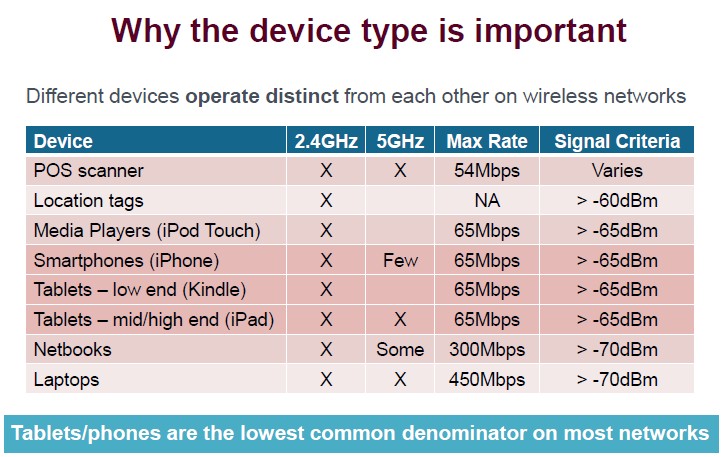 Device type wireless requirements
(Courtesy Xirrus)
While 5 dB may not seem a lot, keep in mind that every 3 dB is a 2X power difference. So to achieve the same link rate, the wireless network now has to provide almost four times as strong a signal as it did before. Since you can't simply turn up an AP's power knob (unless you turned it down in the first place), this means more APs in more places. But with only three non-overlapping channels to work with in 2.4 GHz, this is more easily said than done.
As noted earlier, the slide above shows that most mobile devices don't even provide the option of using 5 GHz. At least Apple made the change with the iPad2, but even many (most?) smartphones are still only single-band.
As I've noted in another article, the WiFi powers-that-be are hoping that 802.11ac will solve many of these ills. But not until 802.11ac radios find their way into mobile devices and 11ac APs replace the thousands (millions?) of 802.11abgn APs deployed today. We'll check back in about five years to see how that's going…
Another interesting tidbit heard in the same Xirrus talk was that we might see non-standard "802.11ac-like" products appear for the 2.4 GHz band! With only three non-overlapping 20 MHz channels in 2.4 GHz, I'm not sure how that's going to work other than using QAM-256 coding to raise link rates.
Nice DIY NAS Case
DIY NAS builders are always looking for good cases to use. I ran across Chenbro at the back of the hall, who had a lot of its rackmount enclosures on display. But I also spied its SR30169, a sweet little four-bay mini-ITX enclosure, with power supply, hot-swappable drive bays and large, quiet fans for both the bundled power supply and drive bay for around $130 MSRP! (Check Amazon price)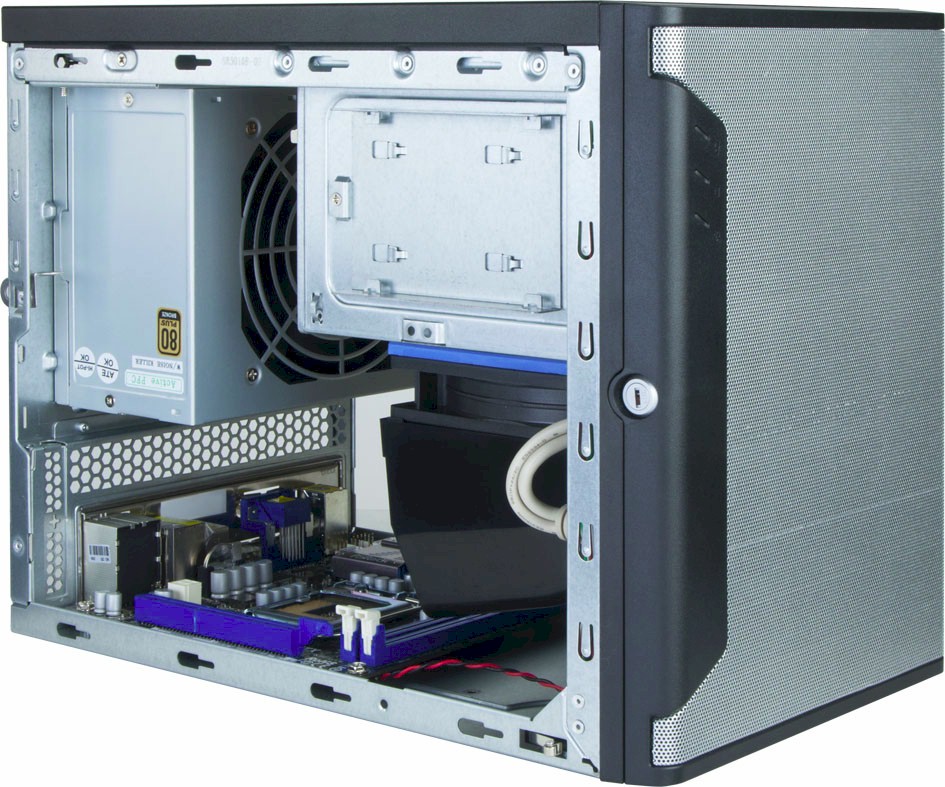 Chenbro SR30169 Four Bay NAS Enclosure
10GbE
The adoption of 802.11ac and its 1.3 Gbps link rates may speed the adoption of 10 Gigabit Ethernet (10GbE). Hell, even without 11ac, high-end NASes already outpace even aggregated Gigabit links and can definitely benefit from 10GbE links.While prices aren't exactly cheap, they are headed down. But the bigger news is that 10GbE adapters using the familiar 8 line RJ45 "copper" interface (vs SFP+ connector) are starting to appear.
Intel's X540-T2 is a good example. For around $550, you get a dual-port adapter with RJ45 connectors that can go up to 55m using CAT-6 cable and a full 100m using CAT-6A.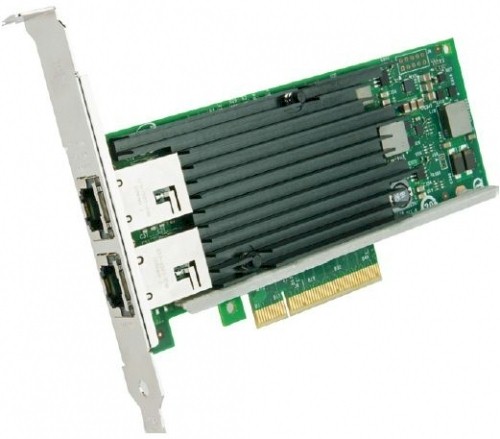 Intel X540-T2 10 Gigabit Ethernet Server Adapter
If you have one of those really fast NASes and have equipped it with a 10GbE card, you're probably going to run directly to similarly 10 GbE-equipped computer. 10GbE switches are still way beyond most small networker's budgets. But you might be able to afford a Gigabit switch with 10GbE uplinks, like the recently-introduced Cisco SG500X-24. 10GbE switches don't have RJ45 copper connectors yet, so you can save a bit on your cards by going with SFP+ cards like Intel's X540-DA2 at around $400.
MetaGeek
It's been a long time since I've checked in with MetaGeek. Most folks know them from their free inSSIDer Wi-Fi network scanner. But don't forget that they also make the $99 Wi-Spy 2.4i 2.4 GHz spectrum analyzer as well as the $199 Wi-Spy 2.4x, dual-band Wi-Spy DBx and Chanalyzer and Chanalyzer Pro software to go with the hardware.
I was able to pick up a Wi-Spy DBx and Chalyzer Pro review package, which you can look forward to a review of soon. But I also learned of a product that's been in development for awhile, the Sputnik. Sputnik is an 802.11n radio and Wi-Spy DBx connected to a Marvell-based SoC with USB and PoE Ethernet ports for connectivity and SD card for local storage, bundled into a nice, compact box. That's Chief Geek Ryan Woodings holding a prototype Sputnik in the photo below.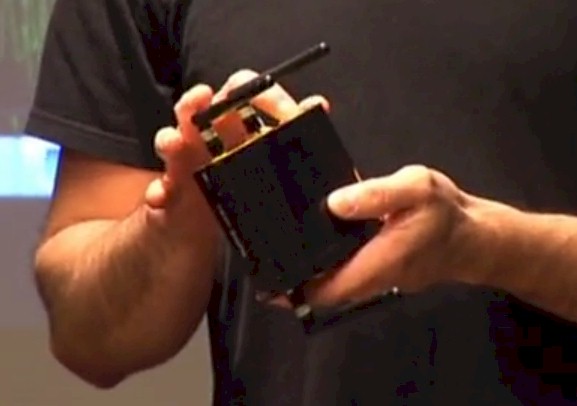 MetaGeek Sputnik prototype
Sputniks are intended to be sprinkled around a campus or left at a customer site to be the RF and Wi-Fi packet analysis eyes and ears for keeping WLANs humming along. There is no pricing or delivery date set, and I got the sense that MetaGeek isn't in a huge hurry to get this to market. If you're interested in it, though, why not let them know? You can find out a bit more about Sputnik and get a demo of it in the video below.
Axis
Did you know that Axis invented the network camera? Me neither. But the Sweeden-based company did, back in 1996 and has been producing a wide line of high-quality IP cameras ever since. I got a brief demo of Axis' Camera Companion, which we'll be reviewing soon.
Camera Companion is a video surveillance solution for small systems up to 16 Axis cameras. It works with the record-to-SD-card "DVR" capability built into many Axis cameras. You can view live and recorded video, take snapshots and other fun stuff. Check the short video demo below for more info.