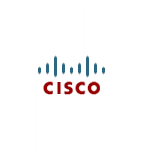 Cisco today added new routers, access points, switches and more to its small business offerings
The new access points include the WAP121 single band 802.11bgn and WAP321 selectable dual-band 802.11abgn. Both have compact designs with internal antennas that can be desk, wall or ceiling mounted.
Both can be powered by AC power adapter or 802.3af PoE and support IPv6, WEP/WPA/WPA2 consumer and Enterprise (RADIUS) authentication, Wi-Fi Protected Setup (WPS) and multiple VLAN-based SSIDs (WAP121:4, WAP321:8).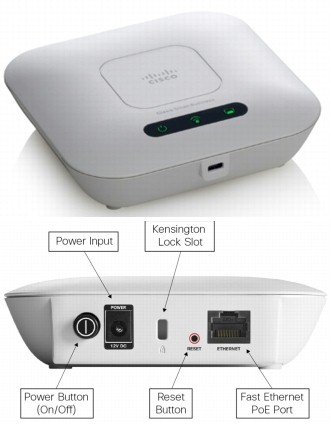 Cisco WAP121
Other features include Ethernet LAN port (WAP121:10/100, WAP321:10/100/1000), wireless client isolation, WDS based bridging/repeating, browser (HTTP/HTTPS) and SNMP administration.
The WAP121 and WAP321 are shipping now at MSRPs of $173 and $310, respectively.
Cisco has expanded its RV small business router series with the RV180 and RV180W. Positioned between the RV120W and RV220W, the RV180/RV180W have Gigabit ports (1 WAN, 4 LAN) and support 10 gateway-to-gateway IPsec, 10 of Cisco's "Quick VPN" client and 10 PPTP client VPN tunnels.
The RV180W has a 2.4 GHz 802.11bgn access point supporting four VLAN-based SSIDs, WDS bridging/repeating and WEP/WPA/WPA2 consumer and Enterprise wireless security.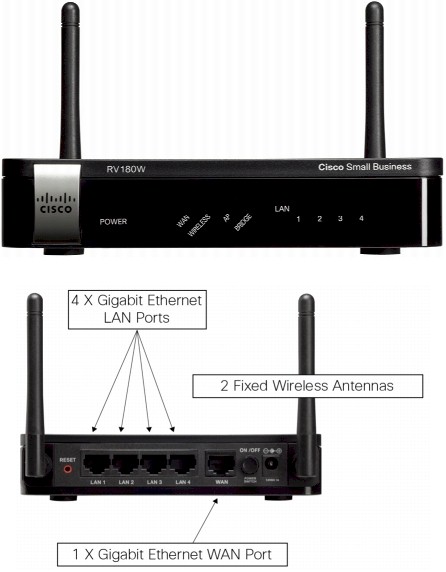 Cisco RV180W
Other features of both routers include Web (HTTP/HTTPS) and SNMP management, 802.1p based QoS, content filtering, dual-stack IPv6/IPv6 support, four wired VLANs, One-to-One NAT and port mirroring and management.
Both the RV180 and RV180W are available now at MSRPs of $182 and $246, respectively.
The twelve new 500 Series stackable managed switches include four 10/100 SF500 models and eight Gigabit models (four SG500 and four SG500X). The SG500 switches each have two Gigabit and two combo Gigabit/SFP uplink ports and the SG500X versions have four 10 1/5/10GE SFP+ ports.

Cisco 500 Series Stackable Managed Switches
All models support layer 2 switching, static and dynamicVLANs, IPv6, QoS, Spanning Tree, Rapid Spanning Tree and Multiple Spanning Tree protocols, Access control (ACL), LACP and "Energy Efficient" Ethernet.
All of this switching goodness can be yours now if you have between $590 and $5,556 (MSRP).
Cisco's announcement also mentioned version 2.2 of its UC320 Unified Communication system that was announced last year, SPA512G and SPA514G IP phones, SPA112 and SPA122 telephone adapters, WBPN Wireless-N Bridge and OnPlus cloud-based small-business remote management service and appliance for resellers and VARs.