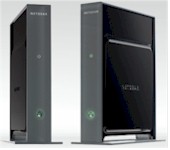 Updated – NETGEAR today announced new wireless, powerline and enterprise NAS products at CeBit, including a 4×4 MIMO wireless adapter pair aimed at HD streaming.
The WNHDB3004 Wireless-N HD Home Theater Kit appears to be the product hinted at during January's CES. NETGEAR describes the product as a "carrier-grade 802.11n system" that operates in the 5 GHz band only and uses 4×4 MIMO, real-time spectrum analysis and dynamic digital beamforming.
The company said the adapters have been tested "to provide sustained throughput of HD streams in excess of 40 Mbps 99.9 percent of the time, through multiple walls, throughout an above-average single family home".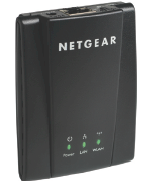 The kit will be available in Q3, with pricing announced at time of shipment.
The WNCE2001 Universal WiFi Internet Adapter is a 2.4 GHz 802.11n adapter intended to add wireless capability to Ethernet-equipped entertainment products such as Internet TVs, Blu-ray players and game consoles. It can be powered by any USB port. It will be available in May for $79 MSRP.
The powerline products are a pair of kits that are said to support up to 500 Mbps data rates. The XAVB5001 Powerline AV 500 Adapter Kit and XAVB5501 Powerline AV+ 500 Adapter Kit each have a Gigabit Ethernet port, "Pick-a-Plug" indicator to help in selecting suitable outlets and pushbutton security. The 5501 adapter includes a filtered pass-through outlet.
The powerline kits are HomePlug AV certified and "designed for compatibility with" the draft IEEE P1901 global standard for high-speed powerline communications.
Although NETGEAR did not reveal the technology used in the adapters, from the feature set and specs, it is likely that Gigle Networks' devices are inside. Gigle's chipsets first appeared in Belkin's Gigabit Powerline HD Starter Kit.
Updated 22 March 2010: An Atheros representitive informed SmallNetBuilder that the chipset used in the XAVB5001 and XAVB5501 is the Atheros AR7400, not Gigle Networks'.
The XAVB5001, XAVB5501 and single adapters will be available in Q3, with pricing to be announced at time of shipment.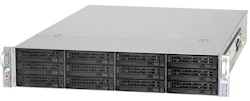 Also announced were the ReadyNAS 3100 and ReadyNAS 4200 four and twelve bay rackmount NASes aimed at business applications.
Both are VMware-ready, have dual redundant power supplies, ECC memory and dual Gigabit Ethernet ports. The 4200 can be optionally equipped with dual 10 Gigabit Ethernet ports
The ReadyNAS 3100 in 4TB or 8TB configurations and the ReadyNAS 4200 in 12TB or 24TB capacities will be available next month at estimated street prices of $3,800 and $10,000 respectively.