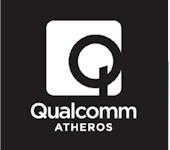 Qualcomm Atheros has announced new MU-MIMO, HomePlug AV2 and G.Fast chipsets.
The Qualcomm Internet Processor IPQ40x8/x9 is based on Qualcomm's next-generation quad-core ARM-based Internet Processor core, supporting USB3.0, PCIe, SD/eMMC, Ethernet and LTE interfaces.
The SoC also integrates two 2×2 802.11ac radios capable of up to 1.73 Gbps total maximum PHY rate and Gigabit Ethernet switch. The two radios can be configured for 2.4 GHz and 5 GHz dual band simultaneous operation, or both configured to 5 GHz for single-band simultaneous or range extender operation.
The IPQ40x8/x9 is sampling to key customers now and is expected to be in mass production in first quarter 2016.

The company also announced a low-cost HomePlug AV2 reference design. The PL42 uses QCA's QCA7500 HomePlug AV2 MIMO chipset, supporting a 1.5 Gbps maximum link rate. It also features enhanced TR-069 support enabling improved security and troubleshooting capabilities for service providers.
The PL42 is currently shipping and the development kits are available now.
Finally, QCA announced a high-performance G.fast chipset family, offering end-to-end broadband performance of 1 Gbps (1 gigabit per second) over a 100-meter loop. Also announced was a complete gateway platform for developing next-generation xDSL (from ADSL up to G.fast) gateways for the connected home. The new offerings incorporate technology from the company's recent acquisition of Ikanos Communications.
The G.Fast solution consists of a Vx686 customer premises equipment (CPE) chipset, Velocity-5U single-port distribution point unit (DPU) chipset and inSIGHT-BXM CPE self-install and DPU provisioning software.
Also new is the Vx585 reference platform, built around Qualcomm's xDSL gateway processors and Qualcomm VIVE 802.11ac with Qualcomm MU | EFX MU-MIMO technology, Ethernet switches and PHYs, and powerline technology. The platform was designed to deliver a complete "one-stop shop" experience for OEMs, facilitating carrier gateway deployments.