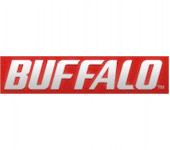 Buffalo has announced a new entry-level NAS line.
The TeraStation 1000 series includes the TeraStation 1200 2-drive desktop being rolled out today and TeraStation 1400 4-drive desktop and TeraStation 1400r 4-drive rack mountable unit shipping later this year.
The 1200 runs on a 1.2 GHz "dual-issue" ARM processor backed with 512 MB of DDR3 RAM. It has a single Gigabit Ethernet LAN port and one USB 2.0 port for USB drive connection.
The dual hot-swappable bays accept 3.5" SATA hard drives configurable in individual, JBOD and RAID 0 and 1 volumes. Features include Active Directory integration, disk quotas, scheduled and real-time replication to other TeraStations only and ten licenses of NovaBACKUP Windows client backup software.
Buffalo TeraStation 1200
The TeraStation 1200 is available now in 2 ($319.99), 4 ($399.99), 6 ($499.99) and 8 TB ($599.99) diskful configurations (all prices MSRP).