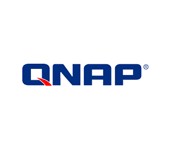 QNAP says its new NAS OS is good to go.
QTS 4.1 includes additional entertainment and productivity apps, many of which work with QNAP's Android and iOS apps.
Business features have also been expanded including support for SAMBA v4, enhanced NetBak Replicator backup for Windows and enhanced virtualization support via a new Virtualization Station.
QTS 4.1 new consumer features and feature enhancements include:
Notes Station: a digital notebook on the private cloud of the Turbo NAS that records users' ideas and notes with large storage capacity;
Signage Station: allows users to create animated content and display it on TVs, tablets and mobile phones via web browsers;
Photo Station: adds personal photo wall, photo albums made by drag-n-drop, photos collection by dates or tags, journal history on Google Maps, and login with Facebook account;
Video Station: adds video classification, video tags and smart collection;
File Station: adds smart filters for file searching, photo thumbnails, VLC for multimedia streaming, and shared links allowing mutual file sharing;
Qsync: adds versioning control;
Qget: an mobile app for downloading files on the go, video backup from video sharing sites, and BT search and download tasks management;
Qfile: adds zip/unzip support, music playback bar, and folder & file sharing;
Qmusic: adds music searching by title, album, or artist;
myQNAPcloud.com: a QNAP membership portal for registering for an "QID", managing multiple NAS, and publishing & sharing Turbo NAS services;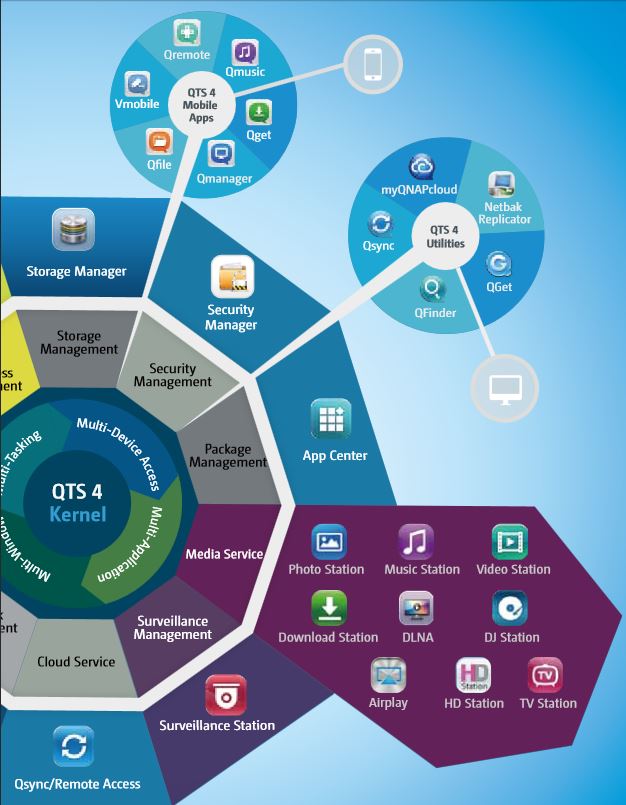 QNAP QTS 4
Business features and enhancements include:
SAMBA v4: supports domain controller for Windows, and SMB 3.0 protocol for Secured Data Transmission (SDT);
QNAP NetBak Replicator: creates VSS snapshot of VM or database on the Windows, and backs up the content of the snapshot to the Turbo NAS; Supports VHD/VHDX (Virtual Hard Disks) backup;
RTRR: supports 2-way synchronization between two Turbo NAS units and FTP root-path backup;
vSphere Plug-in v1.3: remotely creates a datastore on a dedicated volume more flexibly;
Windows 2012 R2 Hyper-V thin provisioning automatic space reclamation;
Virtualization Station: enables managing multiple virtual machines created on the Turbo NAS;
McAfee virus scanner: available in QNAP App Center with a 30-day free trial;
Surveillance Station 5: increased compatible IP cameras to 2,600+, an intelligent user interface for intuitive operations, easier camera setup, faster video lookup, smart recording, 2 or 4 free IP camera channel offerings, Vcam mobile app support, and more;
App Center: provides more than 100 install-on-demand apps to increase diverse applications on the Turbo NAS.
Availability & Compatibility
QTS 4.1 is available as a free download now for the following Turbo NAS models:
SS-439 Pro, SS-839 Pro, TS-110, TS-112, TS-119/119P+/119P II, TS-120, TS-121, TS-210, TS-212/212P/212-E, TS-219/219P/219P+/219P II, TS-220, TS-221, TS-239 Pro, TS-239H, TS-239 Pro II, TS-239 Pro II+, TS-259 Pro/259 Pro+, TS-410, TS-410U, TS-412, TS-412U, TS-419P/419P+/419P II, TS-419U/419U+/419U II, TS-420, TS-420U, TS-421, TS-421U, TS-439 Pro, TS-439 Pro II, TS-439 Pro II+, TS-439U RP/SP, TS-459 Pro/459 Pro+/459 Pro II, TS-459U-RP/SP/459U-RP+/SP+, TS-509 Pro, TS-559 Pro/559 Pro+/559 Pro II, TS-639 Pro, TS-659 Pro/659 Pro+/659 Pro II, TS-809 Pro, TS-809U-RP, TS-859 Pro/859 Pro+, TS-859U/859U+, HS-210, TS-1079 Pro, TS-1269U-RP, TS-1270U-RP, TS-269 Pro/269L, TS-469 Pro/469L, TS-469U-RP/SP, TS-569 Pro/569L, TS-669 Pro/669L, TS-869 Pro/869L, TS-869U-RP, TS-870U-RP, TS-470 Pro, TS-670 Pro, TS-870 Pro, TS-879 Pro, TS-879U-RP/EC879U-RP , TS-1279U-RP/EC1279U-RP, TS-1679U-RP/EC1679U-RP, SS-EC1279U-SAS-RP, SS-EC1879U-SAS-RP, SS-EC2479U-SAS-RP