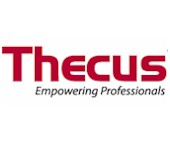 Thecus has announced two rackmount Intel Xeon based NASes.
The 3U N16000PRO and 2U N12000PRO are based on Intel's 3.4 GHz quad-core Xeon E3-1275 processor paired with 8GB of DDR3 RAM. Both models have three Intel based Gigabit Ethernet ports in the base configuration and can be upgraded with 10 GbE via PCI-e expansion slots.
The systems support 16 and 12 hot-swappable 3.5" SATA drives that can be configured in multiple RAID 0, 1, 5, 6, 10, 50, 60 or JBOD volumes. Volumes can be encrypted and formatted with your choice of EXT3, EXT4, and XFS filesystems.
Thecus N16000 and N12000
Ports include six USB 2.0, two USB 3.0, 2 eSATA and one HDMI. There are also analog audio mic and line inputs and audio output.
Large storage arrays can be constructed by using built-in iSCSI initiator and target features where one master can be connected to eight iSCSI targets. Petabyte-capacity volumes can also be created using SAS ports to connect up to four D16000 expansion chassis.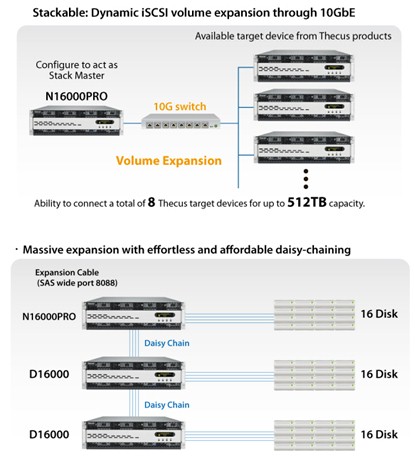 Thecus N16000 and N12000 expansion alternatives
The new rackmounts support all standard Thecus features including High Availability automatic synchronization and NAS-to-NAS failover, link aggregation, Data Guard network-based backup / sync, McAfee anti-virus and Cloud backup to DropBox, Amazon S3 and ElephantDrive.
Pricing and availability for the N12000PRO and N16000PRO were not announced.