At a glance
Product
Buffalo Technology LinkStation 420 (LS420D0202) [Website]
Summary
Dual-drive Marvell Armada-powered home NAS running revamped Buffalo Linux-based OS
Pros
• Good performance
• Cloud integration with Flickr, Eye-Fi and WebAccess Connect
• Good value
Cons
• Still doesn't support rsync to non-Buffalo products
• One USB 2.0 port
• Unhelpful error codes
• No logging
Typical Price: $0 Buy From Amazon
Introduction
When the little Buffalo Linkstation 420 showed up at my doorstep, the first thing I noticed was it is compact and very lightweight. I received the 2 TB version, but the 420 also comes in 4, 6 and 8 GB diskful configurations. While I didn't objectively measure it, its overall size and weight seem to be even less than my 1-bay Synology DS111.
As I do with each review, I pulled out the Quick Setup Guide and then went to the manufacturer website. On the Linkstation 420's product page, there are claims that it is, "High Performance – 3X Faster than a Standard NAS Device". No asterisk was provided for clarification of what qualified as a standard NAS. And we are left to guess if performance means CPU processing, file access times or what. For a NAS, however, one would think performance means file copy performance. So as I review the Linkstation 420, we'll see how it compares to what might be considered "standard" NASes.
The Linkstation 420 is a no-frills device. Both drives are accessed via a plastic removeable front door which simply snaps on. Drives cannot be locked and each slot is appropriately labeled. As you can see below, there aren't a lot of ports, lights or switches for the Linkstation 420. You get one Gigabit Ethernet for LAN and one USB 2.0 for attaching a backup drive or sharing a printer.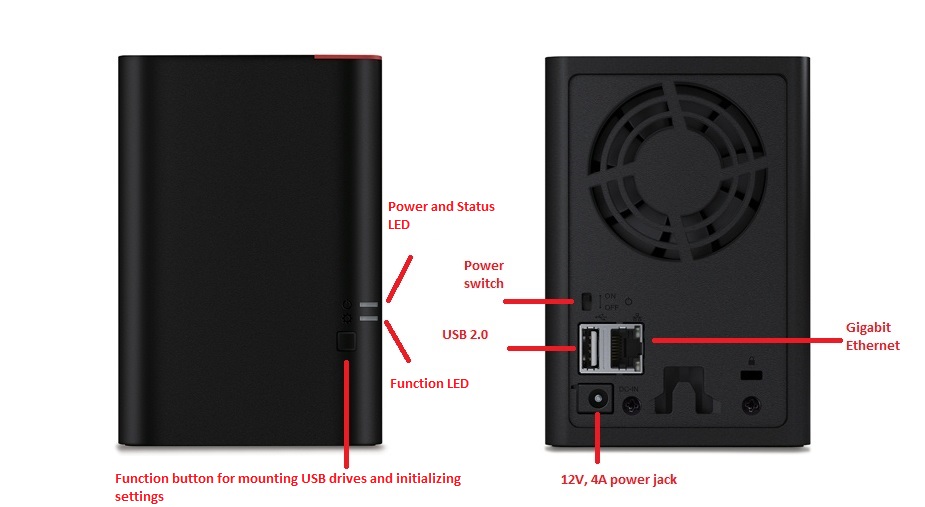 Linkstation 420 Front and rear panel callouts
Inside
A quick peek after I removed the Buffalo cover showed me the 1.2 GHz Marvell Armada 370 SoC without heatsink.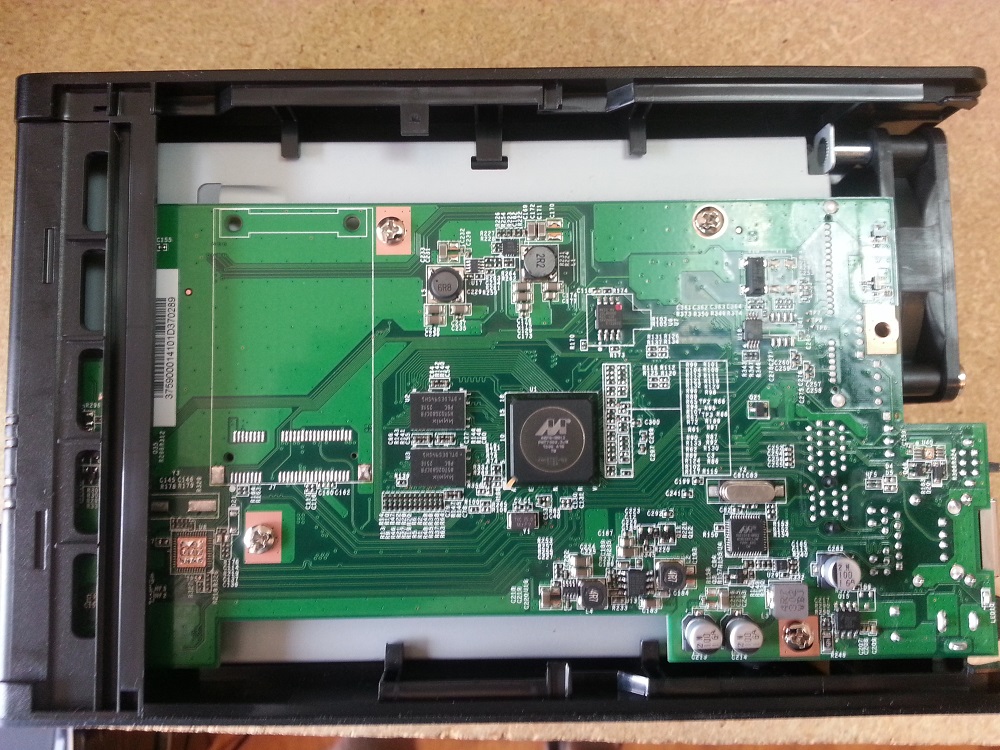 View of the Linkstation 420 board
Table 2 summarizes the key components.
| | Linkstation 420 |
| --- | --- |
| CPU | Marvell Armada 370 SoC @ 1.2 GHz |
| RAM | 512 MB DDR3 |
| Flash | 1 MB |
| Ethernet | Marvell 88E1518-NNB2 Alaska Gigabit Ethernet Transceiver |
| SATA | In Armada 370 SoC |
Table 2: Key component summary and comparison
The NAS came loaded with two Toshiba 1TB drives (DT01ACA100). Power consumption measured 14 W with the two drives spun up. There is no idle drive spin-down. Fan and drive noise were classified as very low, essentially inaudible in my quiet home office.
Features
Firmware for this review was 1.01-0.53. The admin interface is very much like that of the TeraStation, except that the Linkstation 420 defaults to the Easy Admin screen (screenshot below) where you can see options without being logged in. Clicking on any option on the Easy Admin screen pops up a login. The LinkStation GUI also uses more muted colors than the TeraStation.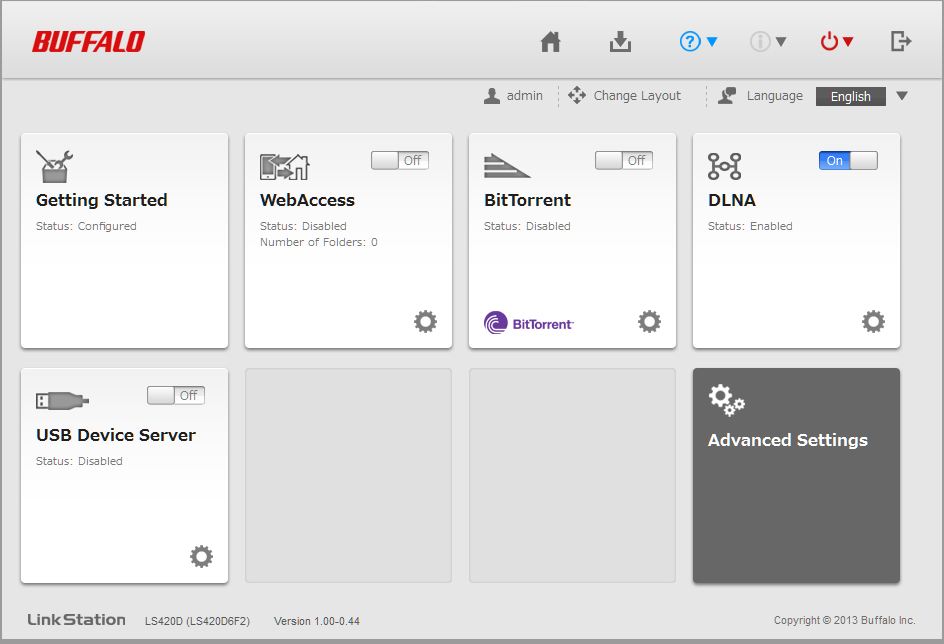 Buffalo LinkStation 420 Easy Admin page
Features
From the Buffalo website, here is the list of LinkStation features. The list can be confusing because not all features on the list are on all LinkStations. For example, I could not find sleep timers or web server with PHP and MySQL support on the 420.
Network and Storage
Gigabit Ethernet LAN
SMB / CIFS, NFS, AFP network file systems
User and group level accounts
Active Directory
DFS
RAID 0, 1, JBOD
Scheduled and on-demand backup to attached USB drive
Backup
Direct copy from USB device to NAS
Scheduled and on-demand network backup to other Buffalo NASes only w/ optional encryption and compression
5 licenses of NovaBACKUP Pro (Windows only)
Apple Time Machine target support
Media
DLNA / UPnP AV server with PS3 and Xbox 360 support
iTunes server
BitTorrent downloader
Other
Print server
USB storage sharing
Email alerts w/ immediate trouble notification and daily reports
UPS sync
Hands On
The LinkStation NAS System doesn't have the ability to expand its features via loading optional modules. On previous Buffalo NASes, people have installed ipkg and installed third-party packages that way. But this definitely falls under the "do at your own risk" category.
While messing around in the admin interface and copying data to the NAS, I decided to pull one of the drives of the RAID 1 configuration I had set up to see what brand they were. The manual, which I was only able to find within the admin interface of the NAS once I actually logged in, mentioned the Linkstation should be shut down before swapping drives, but I pulled it anyway. As expected the Power/Status LED on the front started flashing. It appeared to be a code, so I went to the manual to figure it out.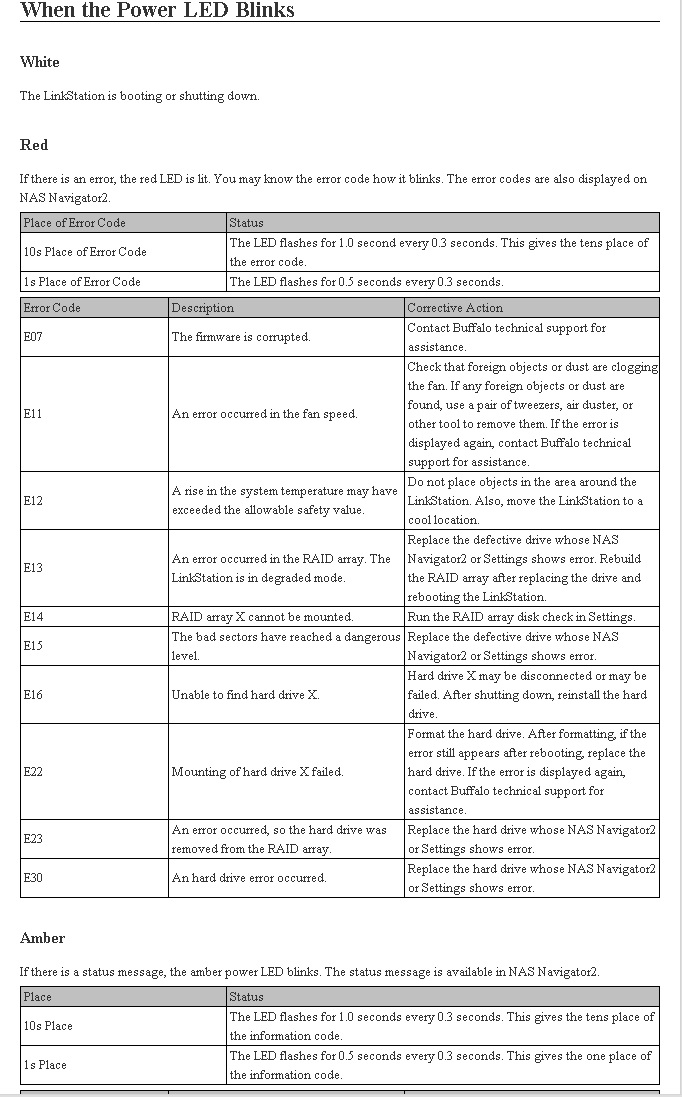 Some of the Buffalo LinkStation 420 Error codes
Whoa! On the one hand, kudos to Buffalo for actually giving their consumers access to this information. It's frustrating as a consumer to have a code and not know how to interpret it. On the complete opposite hand, yikes. Having started my IT career working technical support for a major computer manufacturer, it brought back nightmares of interpretting BIOS beep codes with users who weren't sure where the "any" key was.
I've had a handful of non-IT friends ask for NAS suggestions over the years and selfishly I always give them the suggestion according to what would be easiest for me to support in case they have troubles. I could not imagine my parents interpreting a 0.5 sec or 1 sec blink code. Luckily, the drive blink code message appeared to have a corresponding status message in the interface.
As for my data, it was fine. The RAID volume dropped offline for a few minutes while the second drive was being added back in. But once it came back, my data was there, even though I pulled a drive while running, something the user manual explicitly says not to do.
RAID builds and rebuilds take a long time. In the image below, you can see I'm 13.8% done syncing my RAID 1 volume I created, with 460 mins to go. This means it will take about 9 hours to completely sync a 2 x 1 TB RAID 1 volume.
I formatted both drives before creating the array, so when I took this screenshot there was no data to synch. The RAID is available during this time, although Buffalo mentions it may be slower.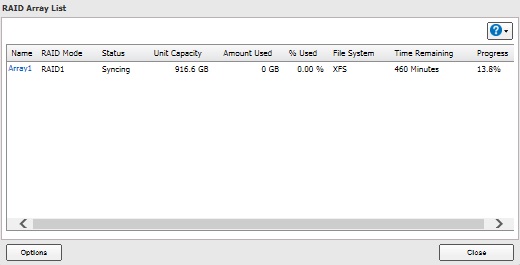 Buffalo LinkStation RAID 1 build time
The Advanced Settings screen for the LinkStation is the more familiar default screen that the TeraStation offers. You can really dig into the heart of what the Buffalo has to offer via this screen. But you might find the options a little limited if you've worked with Synology or QNAP NASes before.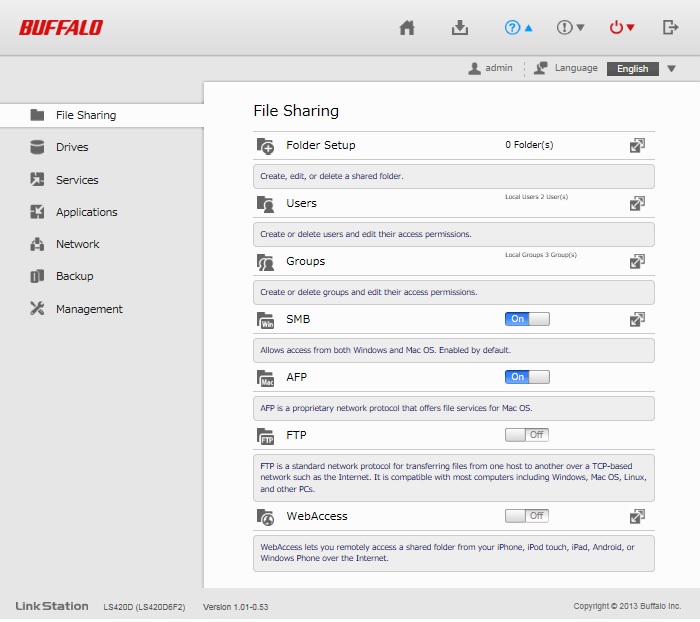 Buffalo LinkStation Advanced Settings page
For a look at a few more admin interface features, check out the gallery below.
Applications available on the Buffalo, only BitTorrent here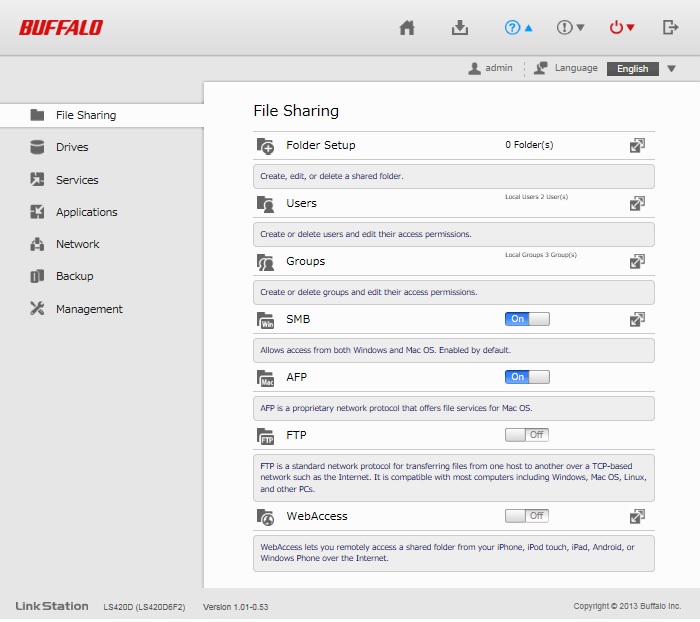 The Advanced Settings screen where you can dig deeper in to Settings, this also defaults to the Filesharing screen
The Services screen provides DLNA Server, iTunes Server, USB Device Server and Print Server. Squeezebox is not available on this model (LinkStation Pro LS-VL models only).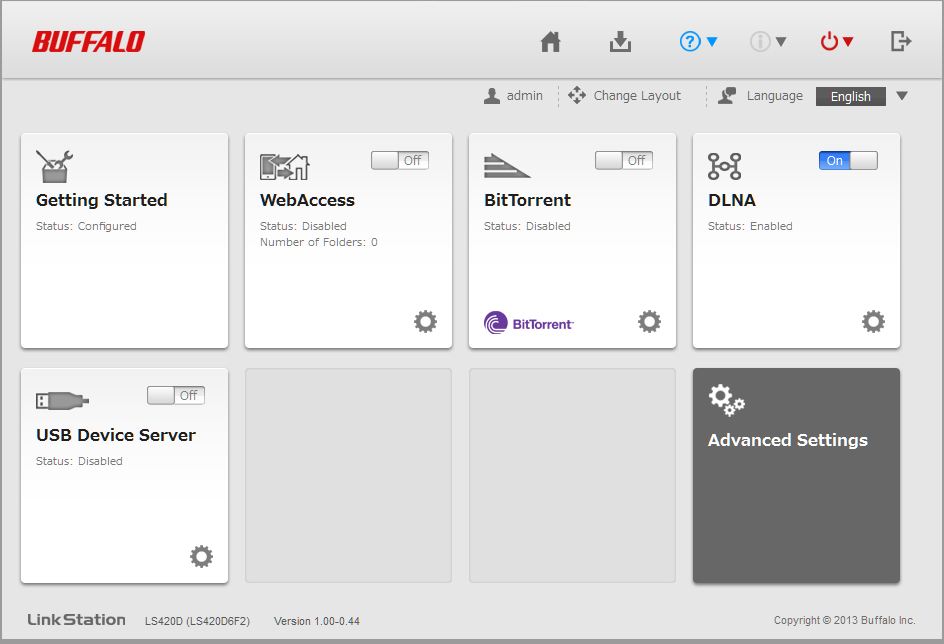 The default Easy Admin screen where configuration is supposed to be easier.
The network options under Advanced Settings, Web server is usually here, but it's missing even though the features say Linkstation supports it
Performance – Summaries
1.01-0.53 firmware was loaded on the Linkstation 420 for our standard NAS test process. The Linkstation 420 tests used two drives configured in single RAID 0 and 1 volumes.
Since we now have the NAS Ranker, just a few observations about the benchmark summary. The Linkstation 420's benchmark below shows best file copy throughput with RAID 0 (55 MB/s) and worst with RAID 1 (53 MB/s); pretty close. Read is best for RAID 1 (103 MB/s) with RAID 0 only slightly lower at 101 MB/s, nearly double the write performance.
NASPT file copy write performance is higher across the board for write and lower for read bringing a rather consistent speed for both read and write.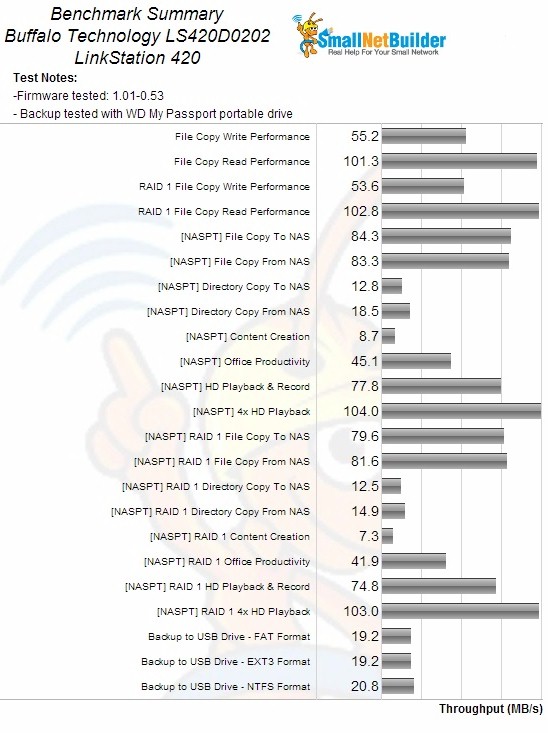 Buffalo LinkStation 420 Benchmark Summary
Performance – Ranking
Since the ranker groups products only by processor class, we need to scan the SoC-1 (single core application-specific processors) class rankings to find the relative ranking for products with the same number of bays. For single-core SoC products, we find the Linkstation 420 in the #3 slot, which is also #3 for 2-bay NASes in this class behind the Zyxel NSA325 at #1 and the ioSafe N22TB1YR N2 at #2.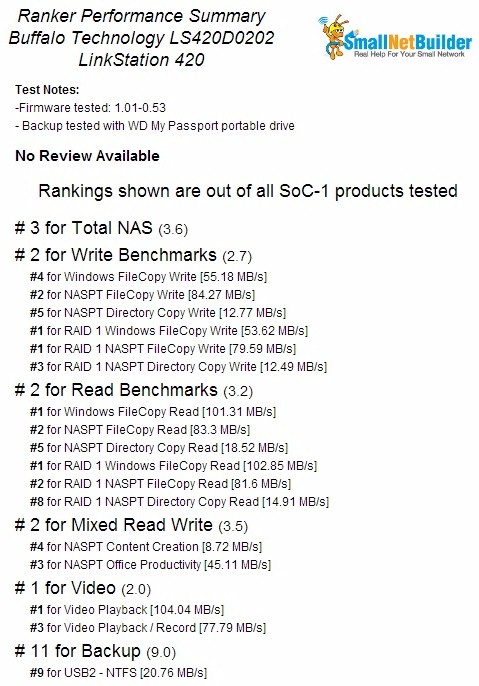 NAS Ranker Performance summary Buffalo LinkStation 420
Quite honestly, these are some pretty good numbers for the Buffalo. In the single-core SoC category, #1 for both RAID 1 Windows and NASPT FileCopy Write. #1 for both RAID 0 and 1 FileCopy Read. #1 for video playback, not bad!
I went looking for the elusive "3X Faster than a Standard NAS Device" through our NAS finder and ranker. While the Linkstation 420 does have very good performance compared to other Buffalo NASes we've looked at (and even other single core SoC NASes), it was 3x faster than only the Buffalo Cloudstor Solo, which is consistently at the bottom of all of our performance benchmarks.
Conclusion
This time around, Buffalo seems to have really kept their eye on performance. The Linkstation 420 has pretty good performance, especially when compared to previous Buffalo models we've looked at. It even currently holds the top position in the RAID 1 File Copy Read Chart. Note that this chart includes both SoC-1 and more powerful Atom-2 (dual-core Atom) NASes.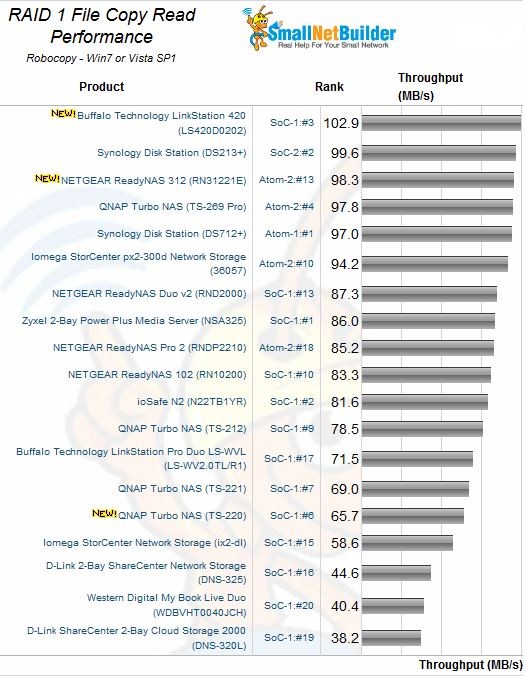 RAID 1 File Copy Read Chart
But is it 3x faster than a standard NAS? Without qualification on exactly what that means, I'd have to say no. But that doesn't really matter, because that's just marketing hype anyway.
If you are in search of tons of features and a fancy user interface, then you'll probably want to keep looking. But if you want a NAS that will handle the basics and then some for a reasonable price, Buffalo has given you a reason to put them on your shopping short list again with the LinkStation 420.
Buy LinkStation 420 from Amazon