The Cisco NSS322 2-Bay Smart Storage has been added to the NAS Charts.
As I wrote back in June, Cisco has finally launched a series of NASes that will give small business users who likey their Ciscos a good reason to add storage to their shopping lists.
At the time, I guessed that the NSSes were actually QNAP's D510 Atom powered TS-x59 Pros, with slight cosmetic and admin GUI makeovers and a few unique features to sweeten the deal. That guess was later confirmed by Cisco.
Now that I finally have the NSS322 in the lab, the photo below confirms that the hardware is, indeed, a TS-259 Pro v1.1 board.
The board uses an 1.66 GHz Intel D510 Atom (Pineview) dual-core CPU and NM10 Express companion chipset, with 1 GB of DDRII RAM, a 512 MB IDE DOM (Disk on Module), ITE IT8718F "Super I/O", two Intel 82574L Gigabit Ethernet Controllers and Intel ICH9R SATA controller.
A key difference from the TS-X59's that I've tested is that something has changed for the worse with the fan speed control. Although the fan runs very quietly after an initial noisy boot sequence, it frequently spun up to full, noisy speed while we were running our NAS performance tests.
Power consumption measured 29 W with the two 1 TB Samsung HE103SJ Spinpoint F3 3.5" SATA drives that came with the NSS322D02-K9 model that Cisco sent for test and 19 W with the drives spun down after a programmable idle period.
Testing was delayed a few weeks while I waited for the 1.1.0.6 version firmware to be publicly posted, which includes a RADIUS server and some bugfixes. This gave me some time to switch over to our new Version 4 NAS Test process, which debuts with the NSS322.
The only test carried over from the previous test suite is the Windows File Copy test. RAID 1 write ranking is shown in the screenshot below, which is filtered for dual-bay NASes. At 83.6 MB/s, the NSS322 sits between two D410 Atom-based NASes (Synology's DS710+ and QNAP's TS-239 Pro II) for write and just below them at 81 MB/s for RAID 1 read.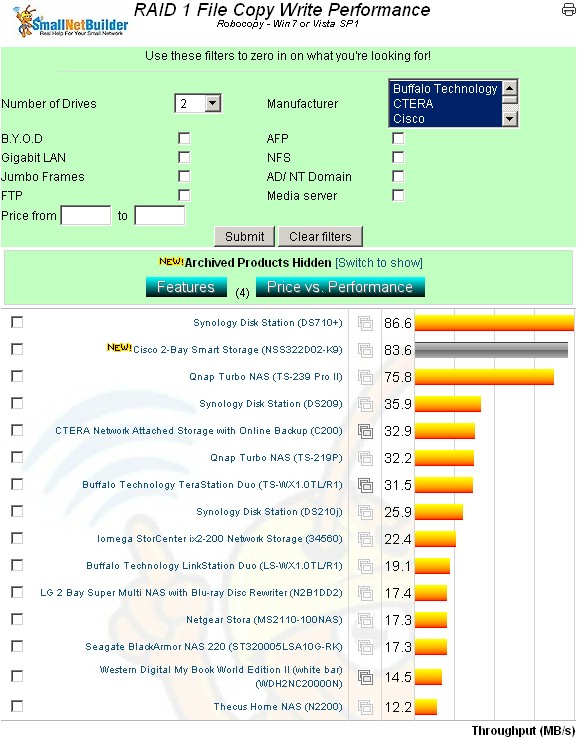 An alternate look at file copy performance is provided by the File Copy To and From NAS tests added from the Intel NAS Performance Toolkit suite. These tests transfer a single 1.15 GB Windows backup format file instead of the 4.5 GB ripped DVD folder used in the Windows File Copy test. The NSS322 was able to move the single sequential file at 103 MB/s for RAID 1 write, but only 73 MB/s for RAID 1 read.
The NSS300 series support FAT, NTFS and EXT3 (and now, EXT4) formats for backup to both USB and eSATA external drives. So you'll find backup test results for all six combinations in the Charts. Best results of 97 MB/s were obtained using an NTFS-formatted drive connected via eSATA.
I also tested write and read speed to a 10 GB iSCSI target volume created on a RAID 1 array. Running the Windows-based filecopy test yielded a write speed of 95.9 MB/s and 68.7 MB/s for read.
The new test suite adds a network backup benchmark, using Delta Copy running on the NAS Testbed system that allows it to act as an rsync target. Backing up the same 4.35 GB ripped DVD folder used in the Windows File Copy test clocked in at 40.6 MB/s.
Explore the NSS322's performance further using the NAS Charts and check out the family review.