The LG N1A1 1 Bay Super Multi NAS has been added to the NAS Charts.
The N1A1 (or more exactly, the N1A1DD1) is one of two single-drive products in LG's current NAS product line. The other is the N1T1, which has a built-in DVD drive for removable backup.
The N1A1 runs on a 1 GHz Marvell Kirkwood 88F6281 CPU with 128 MB of RAM. I didn't open the case, so am not sure whether LG has increased flash size from the 128 MB used in the two bay N2B1 we looked at over a year ago. LAN connection is via a single Gigabit Ethernet port that does not support jumbo frames.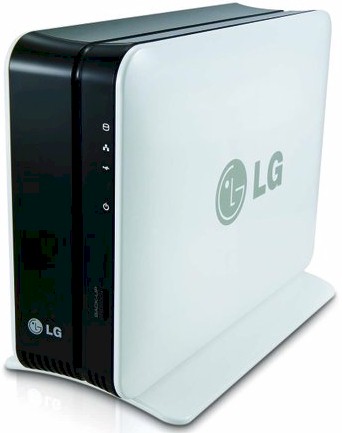 LG N1A1
There is a single USB 2.0 Type A (rectangular) port on the rear where you can attach a USB drive or printer for sharing. If you attach a drive, note that I didn't find any way to set access permissions on its shares. I had to log in using the default administrator account and password when accessing USB shares.
The USB port also lets you use the N1A1 as an attached USB drive. You use the back panel switch (callout 3) shown in the front and rear panel view below to set the mode. The NAS comes with an NTFS-formatted 100 GB partition set up for this attached drive function. You can resize and/or reformat this partition (NTFS only via the built-in formatter), but you'll lose any data on the USB partition.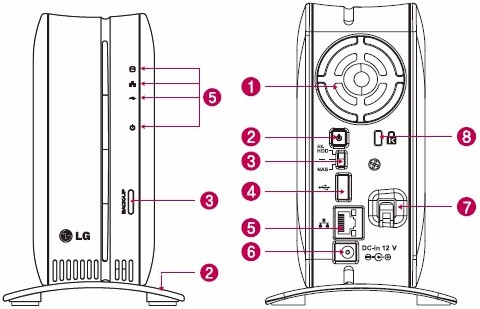 LG N1A1 front and rear panels
The N1A1 is the first time that I've seen a USB Type A port used on a device meant to be attached to a host machine. Normally a Type B (square) connector is used. I didn't think Type A Male to Male cables were even made. But LG bundles a 1 M M-M cable with the NAS for your convenience.
Unfortunately, the attached-drive feature didn't work for me. I tried it on both Windows 7 and Win XP SP3 machines and neither would detect the drive. I tried with and without the network cable simultaneously attached and tried power-cycling the N1A1 and looking for it with the Windows Disk Manager. But in no case could I see the drive.
The N1A1's noise was very low and unnoticeable in my quiet home office. Power consumption measured 9 W with the single 1 TB Hitachi Deskstar 7K1000 (HDS72101) 3.5" SATA drive spun up and 3W after a programmable idle period (30, 60, 120 minutes).
The N1A1's feature set is similar to the N2B1's:
SMB and AFP network file systems
User and Group folder access control
FTP server
USB print server
iTunes server
UPnP AV / DLNA media server
BitTorrent download service
Active Directory support
Push-button and backup of attached USB drive
Selective "mirroring" of folders
Apple Time Machine backup
LG hosted Dynamic DNS
System and Sharing logs
Email alerts
Web server
Note, however, that there is no ability to back up the N1A1's folders to either an attached USB drive or over the network. The "selective mirror" function only copies folders to other folders on the NAS.
Tests were run with 3603.484 updated firmware using our standard test process. The Benchmark summary below shows Windows File copy write around 30 MB/s and read at 44 MB/s. NASPT File Copy benchmarks typically yielded different results with lower write (25 MB/s) and read (31 MB/s). The tougher NASPT Directory Copy tests yielded 9 MB/s write and 16 MB/s read.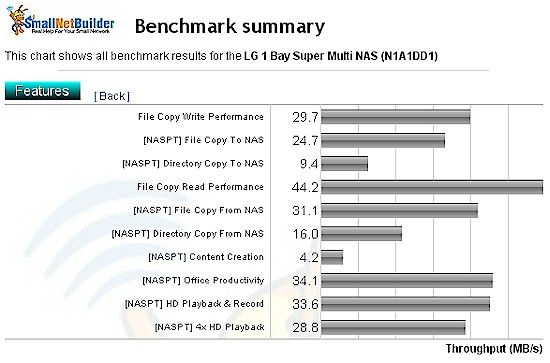 LG N1A1 NAS Benchmark summary
There are no backup or iSCSI results in the charts because the N1A1 doesn't support either function
For competitive comparison, check the File Copy Write and Read charts below, filtered for single-drive NASes. The N1A1 sits near the bottom of the Kirkwood-powered pack, and is beaten by even 800 MHz Kirkwoods like the QNAP-TS110 and Synology DS110j.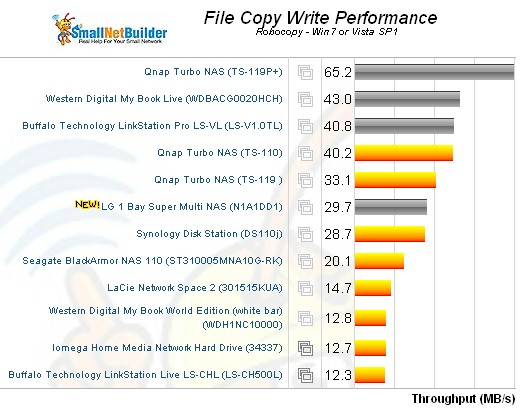 File Copy Write Comparison – single bay NASes
But the N1A1 beats both competitors on value. For the same $150 or so, the N1A1 includes 1 TB of storage, while neither the Synology nor QNAP do. But if you're just looking for a simple NAS with 2 TB of space for just a bit more money, the Western Digital My Book Live would be a good alternative.
File Copy Read Comparison – single bay NASes
LG hasn't given me the warm-and-fuzzies when it comes to support. But it looks like they have been making steady progress. At least the product page now includes a link to the latest firmware and the Support tab has the support phone number and email and phone numbers for key contacts.
We won't be doing a full review. So please use the NAS Charts to further explore and compare the N1A1's performance.