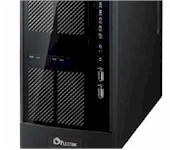 The Plextor PX-NAS4 4-Bay Network Attached Storage Server has been added to the NAS Charts.
The Plextor PX-NAS4 is a four-bay NAS from a relative newcomer to the NAS scene, but a long time provider of CD, DVD and Blu-ray drives.
The PX-NAS4 comes in a steel-cased mini-tower that could easily be mistaken for a small computer at about a foot tall and deep and six inches wide. But once you swing open the plastic front door, the four drive bays give away its real identity.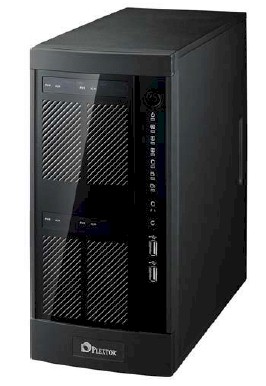 Unlike its two-bay PX-NAS2 siblings, the PX-NAS4 comes only in a BYOD configuration. So you'll have to provide the 3.5" SATA drives. Choice of drives is up to you, however, since there is no recommended / approved drive list.
The front and rear panel views below show two each of Gigabit Ethernet, USB 2.0 and eSATA ports. The LAN ports both support 4, 8 and 9 KB jumbo frames and can be configured into standalone (default), failover, load balance or link aggregation modes. The power supply is external in the form of a farily hefty brick.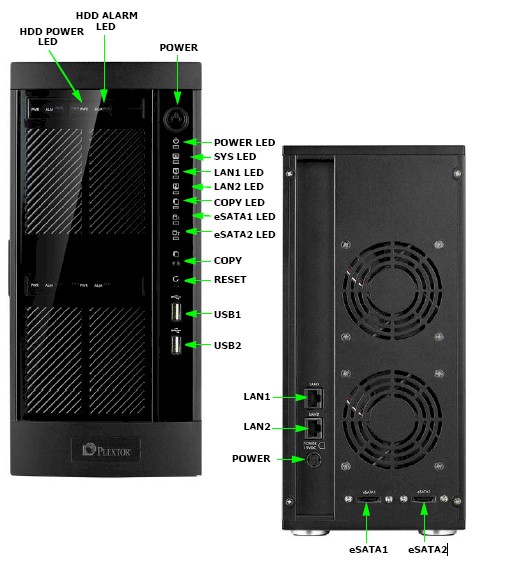 Plextor PX-NAS4 front and rear panels
Both covers slide off easily after removing a few screws. But you really need to remove only the left side cover to reveal a fairly roomy interior.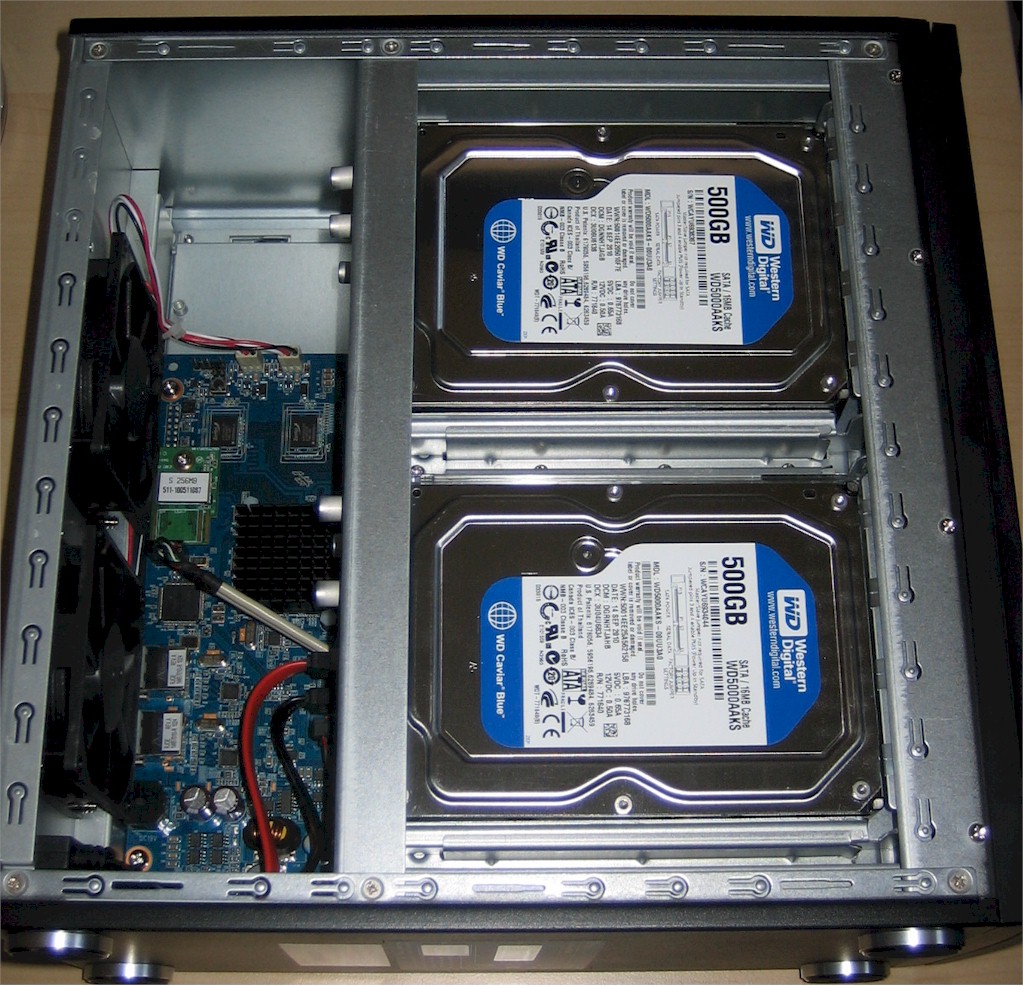 Plextor PX-NAS4 inside
I didn't disassemble the unit for a board photo because getting at the board requires major disassembly. But the photo below shows some of the key components.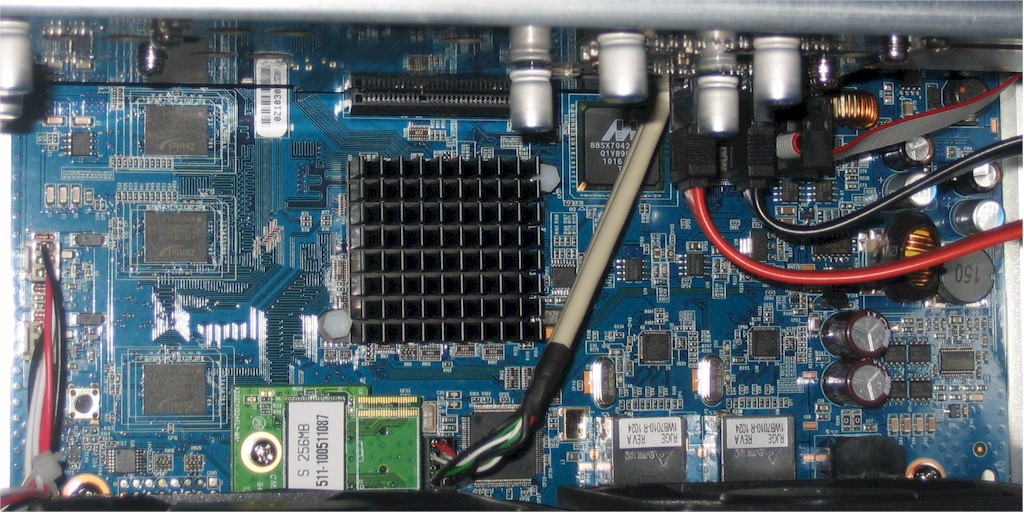 Plextor PX-NAS4 partial board view
Fortunately, Plextor has posted details for most of the key components on the product spec page. The design is built on an 800 MHz Freescale 8543 platform with only 256 MB of DDRII RAM and 256 MB of flash. Other key components include a Marvell 88SX7042 4 Port SATA PCI-Express SATA controller, dual Atheros AR8021 Gigabit Ethernet PHYs and NEC D720102 USB 2.0 Host controller.
My sense of deja vu was confirmed when I checked the NAS Chart database to find that the design is virtually identical to that of a Synology DS408.
Power consumption measured 46 W, which drops to 24 W when the drives spin down using the programmable hard drive sleep time setting. The two small fans ran surprisingly quietly and didn't ramp up during testing. But, as with all four drive (and above) NASes, you'll probably hear drive noise in a quiet room.
We'll explore the feature set more in our upcoming full review. But the short list includes JBOD, RAID 0, 1, 5 and 10 support with the ability to partition the space into multiple SMB / NFS / AFP or iSCSI volumes. Hot swap, hot spare and online volume expansion are supported, too. Services include FTP, Media (DLNA 1.5 and iTunes) and Print, but no download manager. If you're expecting installable modules or root access for customization, you'll be disappointed since neither is supported.
I tested the PX-NAS4 with its factory-installed V2.0 firmware using our latest Revision 4 NAS test process. The Benchmark summary below gathers all the test results into one place for easy reference.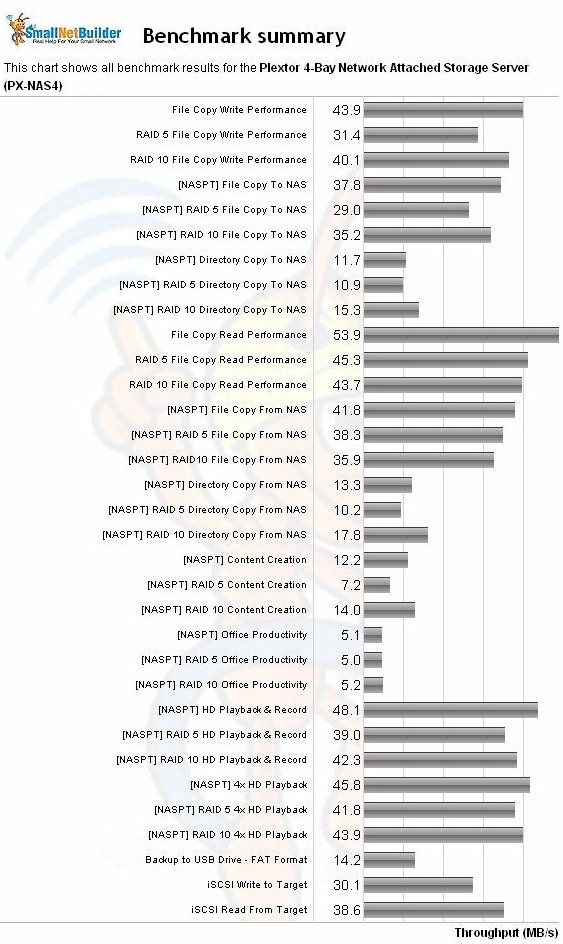 PX-NAS4 Benchmark Summary
We've reordered the benchmark results into logical groups for easier comparison. Windows File copy write with a RAID 0 array measured 44 MB/s, dropped to 31 MB/s for RAID 5, then back up to 40 MB/s for RAID 10. File copy read for RAID 0 is significantly higher at 54 MB/s, but drops to 45 MB/s for RAID 5 and stays there for RAID 10 at 44 MB/s.
As we've seen before, NASPT File Copy results generally produce lower results, 38 MB/s vs. 44 MB/s for Windows file copy write for a RAID 0 array. NASPT Directory Copy is also significantly lower than File Copy, running in the low to mid 10 MB/s range.
I was able to run a backup to a FAT-formatted USB attached drive, obtaining a relatively low 14 MB/s speed. Be sure to note that backup files are created in .dar (Disk Archive) format! I was not able to run an attached backup to an eSATA drive. It seems that attached eSATA drives can be used as spares or part of RAID arrays, but not for backup. I also tried running an rsync backup to the NAS testbed running DeltaCopy, but wasn't able to get the PX-NAS4 to connect.
iSCSI write and read to a volume created on a RAID 5 array produced 30 MB/s and 39 MB/s, respectively. Not too bad, but certainly not chart-topping results.
Given the PX-NAS4's dated design, I didn't expect it to rank with current-generation products and it didn't. I ran RAID 5 File copy write and read comparisons of four-drive NASes and the two charts below show it ranked relatively low.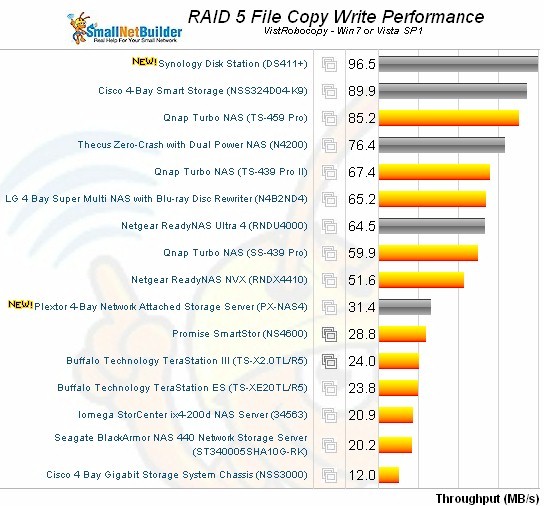 RAID 5 File Copy Write Comparison
The older Freescale processor is no match for Intel Atom-based NASes like the QNAP TS-439 Pro II and is more evenly matched with older Marvell Kirkwood products like Buffalo's TeraStation ES.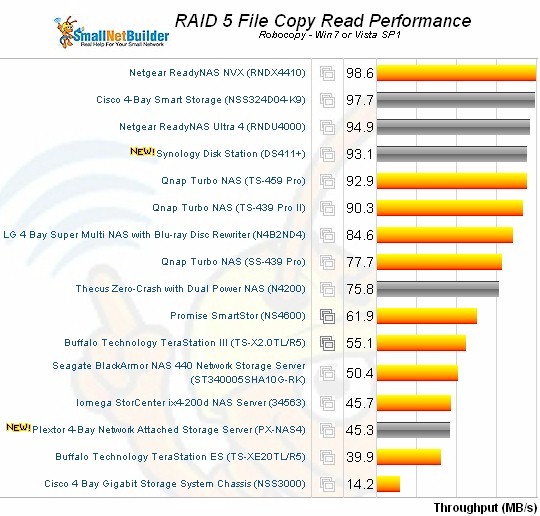 RAID 1 File Copy Read Comparison
The main thing that the PX-NAS4 has going for it is price—only $400. This is sure to attract bargain seekers who aren't looking for top performance and don't mind buying from a company with little track record in the NAS market. But buyers looking for strong support and a large user community would be better off with another choice.