At a glance
Product
Thecus NAS Server (N5200XXX) [Website]
Summary
D525 Atom-based five-drive BYOD NAS supporting multiple volumes, EXT3, EXT4, ZFS or XFS filesystems and iSCSI initiator / target.
Pros
• List of optional modules has increased
• Good performance for less money
Cons
• Very noisy
• USB / eSATA drive can't be shared
Typical Price: $600 Buy From Amazon
Thecus' latest to entice you is its line of "XXX" Intel Atom-powered NASes. There are five members in the family, from a dual-bay desktop to eight-bay rackmount. The five-bay N5200XXX is the model we're looking at.
Once you open its plastic front cover, the N5200XXX bears a strong family resemblance to the N5200 Pro that we reviewed three years ago. The 5200 Pro was quite the NAS Chart-topper of its time, powered by a Low Voltage Intel Celeron M clocked at 1.5 GHz mated with 512 MB of RAM.
The 5200XXX, on the other hand, joins the parade of higher-end NASes based on Intel's Atom, using a D525 clocked at 1.8 GHz with 1 GB of DDR3 SODIMM RAM.
You can see the strong resemblance to the N5200 Pro in the front panel view with callouts below. In fact, if you took off the front plastic cover that's only there to try to jazz up the XXX' look, you could easily mistake it for the N5200 Pro.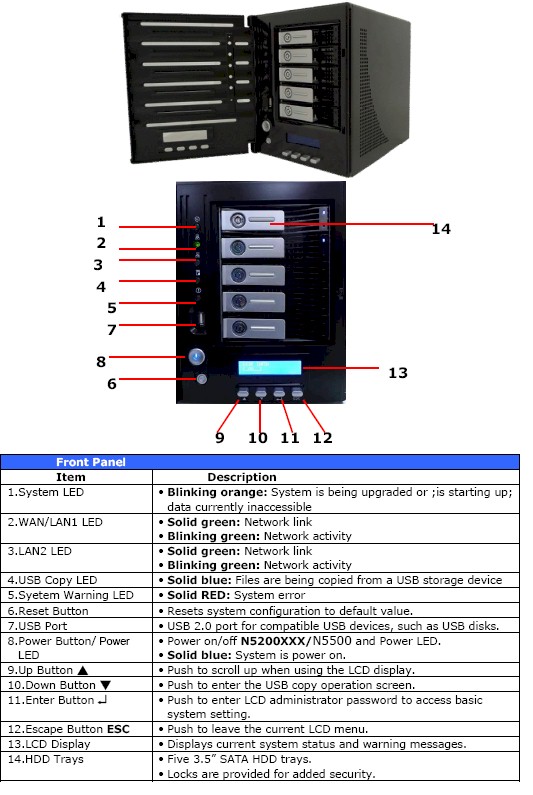 The rear panel looks pretty familiar and holds the dual Gigabit Ethernet ports that support Load Balance / Fail-over / Balance-XOR / 802.3ad / Balance-TLB / Balance-ALB modes, four USB 2.0 ports and one eSATA port. For some reason, Thecus likes to include a serial port for USB shutdown sync instead of supporting it only via USB like everyone else. But if your UPS syncs via USB, the XXX will handle it too.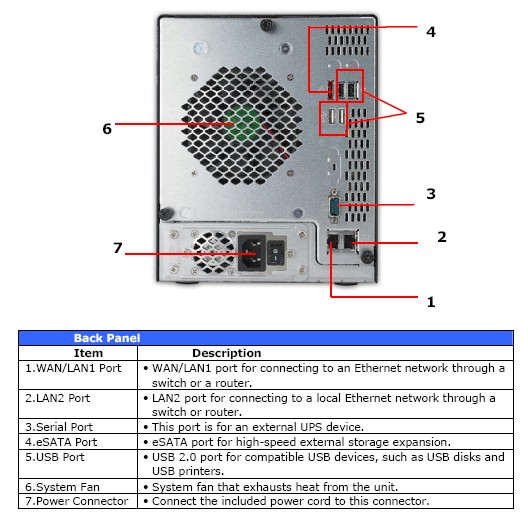 Entry into the XXX innards is easy-peasy: remove three rear thumbscrews; remove the back panel (after disconnecting the single fan cable; and slide off the cover. The photo below shows that after that, everything is laid bare.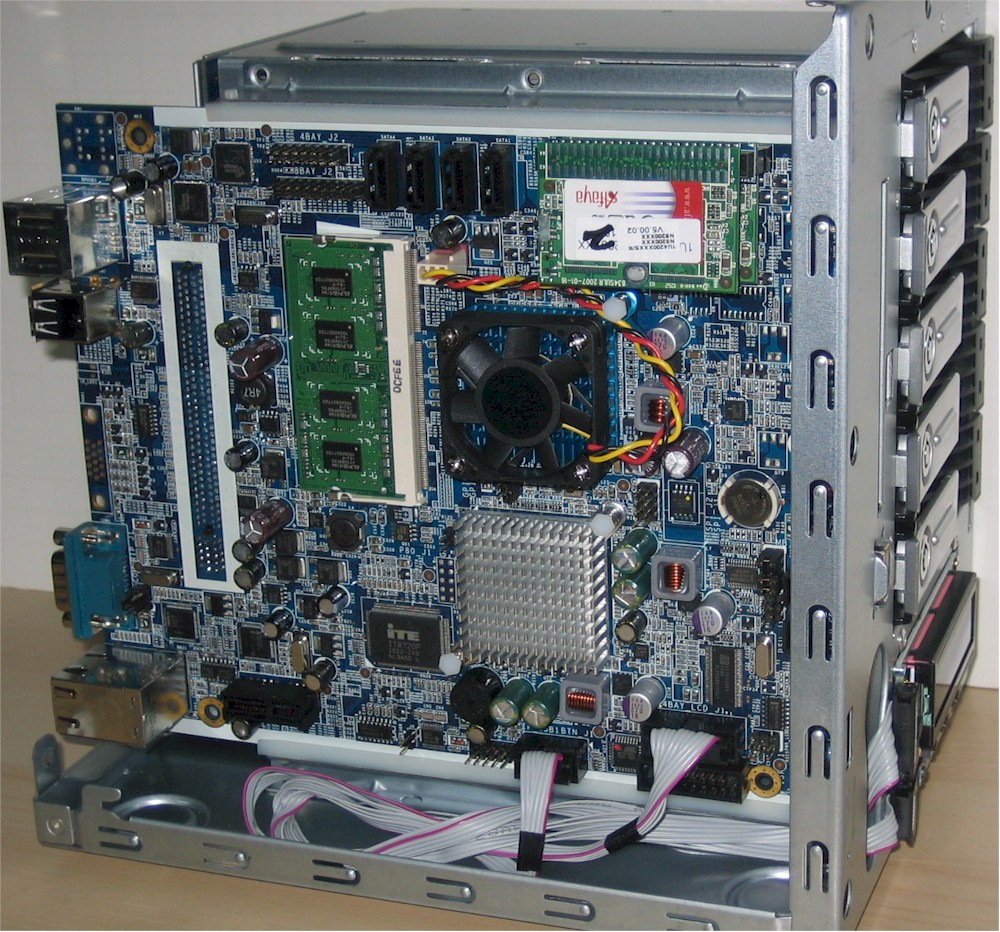 The photo below gets in a little closer to the board. The D525 Atom is under one of those heatsinks and I'm guessing there is an NM10 Companion under the other. Two Intel WG82574L Gigabit Ethernet Controller provide the Gigabit Ethernet ports and the dual-stacked 512 MB IDE DOMs can be seen at the upper right.
I don't know if those four SATA connectors at the top of the photo are live, because the drive bay connects via the big connector whose pin footprint you can see left of the RAM SODIMM. But there are two Silicon Image Sil3132 SATALink PCI Express to 2-Port Serial ATA II Host Controllers right above the drive bay connector. I don't know whether the NM10 or those is supplying the drive SATA interface.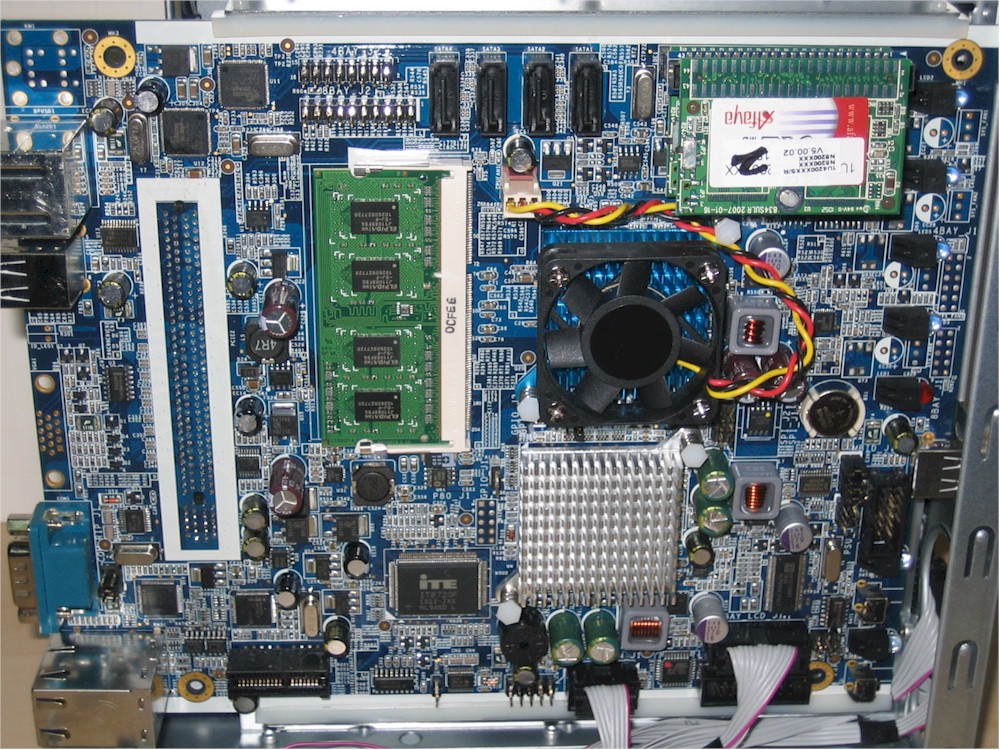 The 1 GB of memory comes on an SODIMM, which you could replace at your own risk. Last time I asked Thecus about its policy I was told they "don't support" RAM upgrade. But they didn't say doing so voids the warranty.
The XXX sent for review had a mishmash of drives installed:
–
Seagate ST380815AS 80 GB
– Seagate ST3500820AS 500 GB
– Hitachi HDP72505 500 GB (2X)
– Seagate ST3500630AS 500 GB
These produced a 63 W power draw with the drives spun up and relatively high 39 W with them spun down. I kept hoping the high fan noise would quiet down shortly after boot. But nay, nay, the fan noise stayed at a level that made me want to banish the XXX to my back room.
The N5200XXX ran 5.01.00.8 firmware, but its feature set is very similar to what I found in the N4200 reviewed last fall, which ran 3.05.02.2. (I don't know why the firmware has a 5.XX.XX.X. It appears to be running the V3 GUI.) You can check the N4200 review for the list, or test drive the online demo.
Performance
As noted above, I tested with 5.01.00.8 firmware using our standard NAS test process to run tests with RAID 0 and 5 volumes using all five drives. Since RAID 10 requires an even number of drives, those tests were configured using only four drives.
The Benchmark summary below shows Windows File copy write with a RAID 0 array measured 91 MB/s, rising to 95 MB/s for RAID 5 and rising again to 100 MB/s for RAID 10. File copy read for RAID 0 was lower at 84 MB/s, about the same as write for RAID 5 at 96 MB/s and lower than RAID 10 write at 94 MB/s.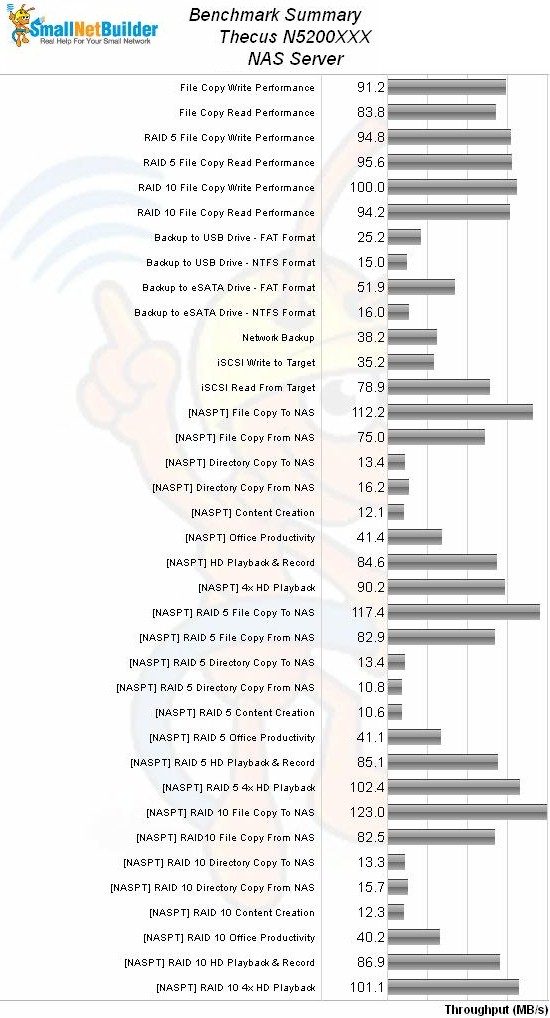 NASPT File Copy write benchmarks were all higher for RAID 0, 5 and 10 at 112 MB/s, 117 MB/s and 123 MB/s respectively. NASPT File Copy reads came in lower in all cases at 75 MB/s, 83 MB/s and 83 MB/s for RAID 0, 5 and 10, respectively.
As usual, the tougher NASPT Directory Copy tests couldn't break out of the mid teens.
I installed the optional USB / eSATA backup module to run attached backup tests. Since there is no external drive format capability built-in, I ran tests only with the RAID 0 test array formatted in FAT32 and NTFS. Best performance of 52 MB/s was with FAT32 and eSATA and was worst at 15 MB/s with NTFS and USB.
Rsync network backup capability was installed on the N5200XXX by default and clocked in at a respectable 38 MB/s to the NAS testbed running Delta Copy.
iSCSI write and read to a 10 GB volume created on a RAID 5 array produced 35 MB/s and 79 MB/s, respectively. This is toward the bottom of the iSCSI write chart and toward the top for read.
The RAID 5 File Copy Write and Read charts below are filtered to show only five-bay NASes. The only other D525 Atom NAS I've tested is the QNAP TS-459+, which is four-bay, so not shown. But the N5200XXX ranks number 4 against all tested RAID 5 NASes for this benchmark.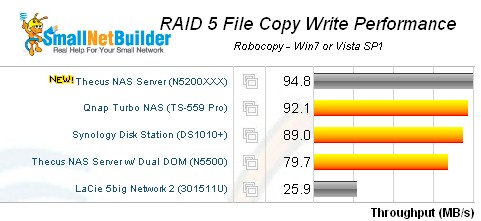 RAID 5 File Copy Write Comparison – five bay products
RAID 5 filecopy read is a similar story for five-bay NASes. But the XXX ranks lower at number 7 against all tested RAID 5 NASes.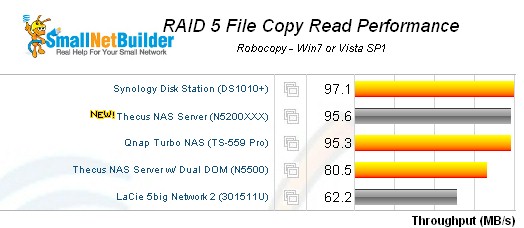 RAID 5 File Copy Read Comparison – five bay products
Conclusion
Thecus tends to price its products lower than QNAP and Synology and the N5200XXX follows that pattern as shown by the price vs. performance plot below. Current lowest pricing is $705, while you'll pay almost $1100 for a D525-based QNAP TS-559 Pro+ (not reviewed), while a D510-powered Synology DS1010+ is closer in at about $800.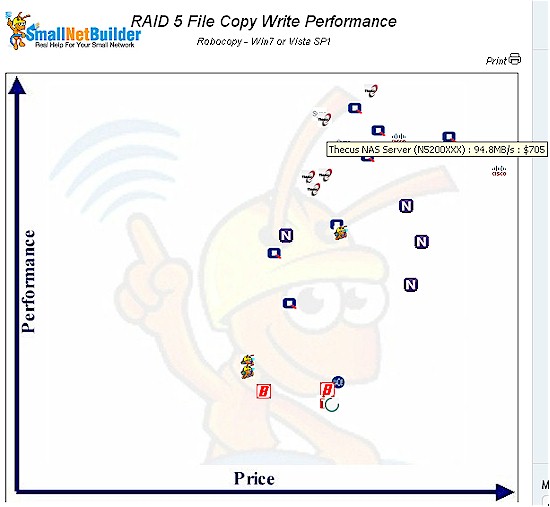 Thecus has traditionally led the pack on performance, with the tradeoff being a less-sophisticated admin GUI, smaller feature set (especially in downloadable modules) and weaker support. I think they have closed the gap with the competition on the first two points, but still have a way to go on support, especially their Forums. Increasing their warranty from two to three years as some of their competition has, couldn't hurt either.
Still, if you want performance equal to or better than more expensive systems and leave your wallet a bit fuller, Thecus may be the way to go.
There won't be a full review of the N5200XXX. Use the new NAS Finder and NAS Charts to compare it with other products.
Buy NAS Server from Amazon