At a glance
Product
Noontec TerraMaster 2 Bay NAS (F2-220) [Website]
Summary
Intel Celeron based two-bay NAS supporting many network services.
Pros
• iSCSI support for server and target
• Rsync and Time Machine support
• Downloadable iTunes, DLNA and Plex servers
• Dropbox sync
Cons
• Limited number of installable packages
• Slower reads vs. writes
• No IPv6 support
• No printer support
• No phone support – email/FAQ support only
• No Android/iOS mobile apps
Typical Price: $0 Buy From Amazon
Introduction
Unless you are a long-time reader of our NAS reviews, you probably won't recognize the name Noontec and its TerraMaster brand of NASes. Our last review of a TerraMaster product was the TerraMaster F2-NAS in the spring of 2014. This review looks at the Noontec TerraMaster F2-220 2-bay NAS. It features a more powerful dual-core Intel Celeron processor and more memory than its predecessor, but is priced the same, around $180.
For comparison during the review, I selected two lower priced two-bay RAID 1 class products – the $128 ZyXEL NAS326, and the $175 ASUSTOR AS1002T. The chart below, generated from the NAS Finder, compares key product specs. If you want to see the full comparison of features, click here. What's important to note here is that the TerraMaster has a dual-core Intel Celeron J1800 and 2 GB of memory. The other two NASes are based on single-core Marvell Armada 38X processors and only have 512 MB of memory. We'll see how the differences in hardware impact performance later in the review.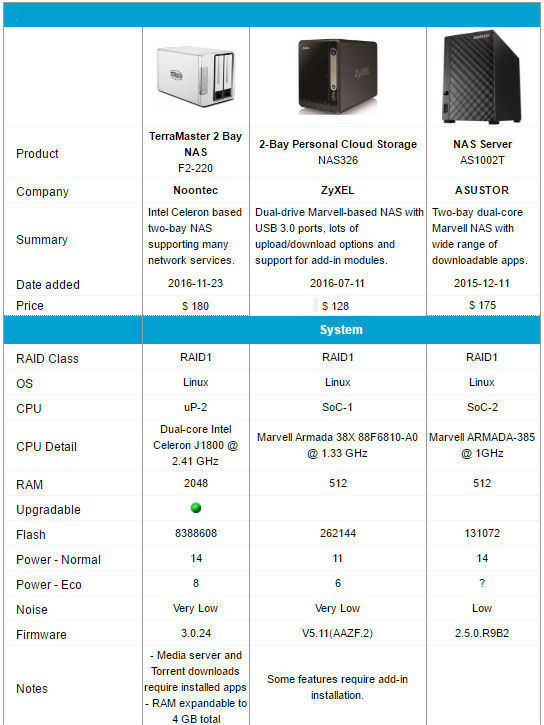 TerraMaster F2-220, ZyXEL NAS326, and ASUSTOR AS1002T product comparison
The callouts below show the front panel, LED and buzzer descriptions. The rear panel of the F2-220 is so simple I didn't include callouts. It has a power socket for the external brick power supply, a single Gigabit Ethernet port, a USB 2.0 port and a USB 3.0 port. The USB 3.0 port has the standard blue plastic insert found on all USB 3.0 ports.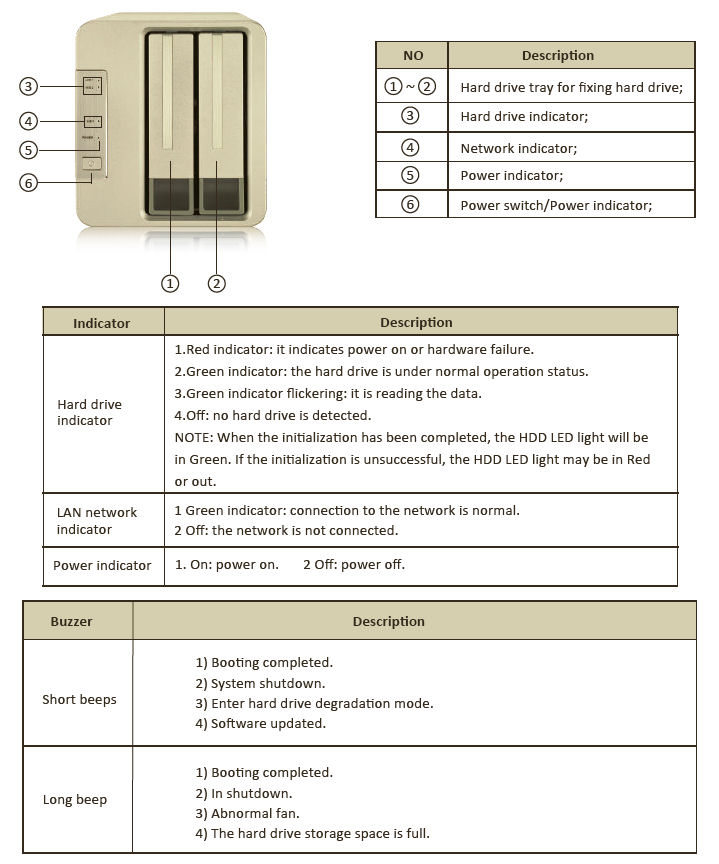 TerraMaster F2-220 Callouts, Indicators and Beep charts
Two Western Digital Red 1 TB (WD10EFRX) drives (SNB supplied) were used for testing. Total power consumption with all drives spun up was 14 W (drives active) and 8 W (power save). Fan and drive noise was rated very low.
Inside
The image below shows the component side of the main board. In the top left, there's a connector for the drive backplane. In the lower left corner, marked USB1 is the USB slot for the flash drive. (See component summary below).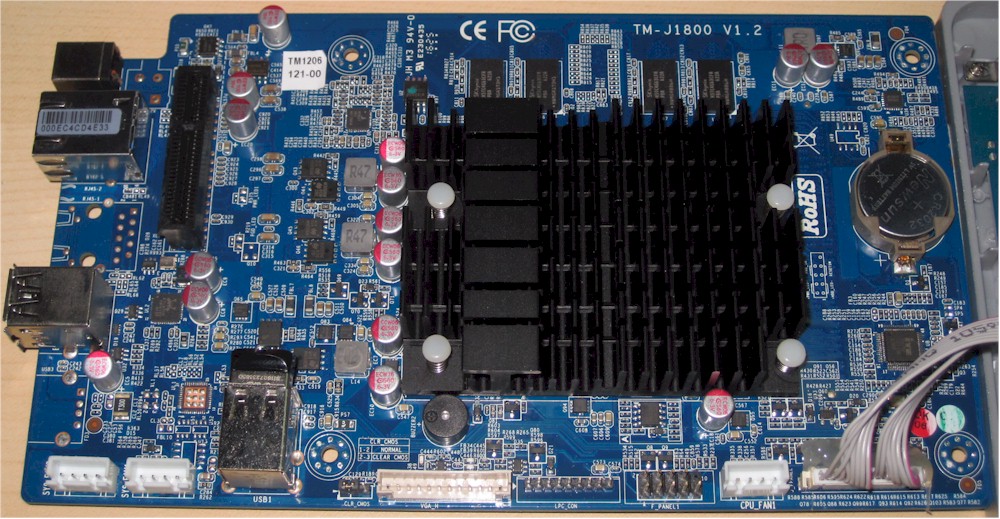 TerraMaster F2-220 board – component side
Below is a photo of the board bottom.. Note the SODIMM memory expansion socket on the left side of the board. Memory is expandable to 4 GB total using this connector (RAM type: 1600/1333MHz DDR3L 1.35V).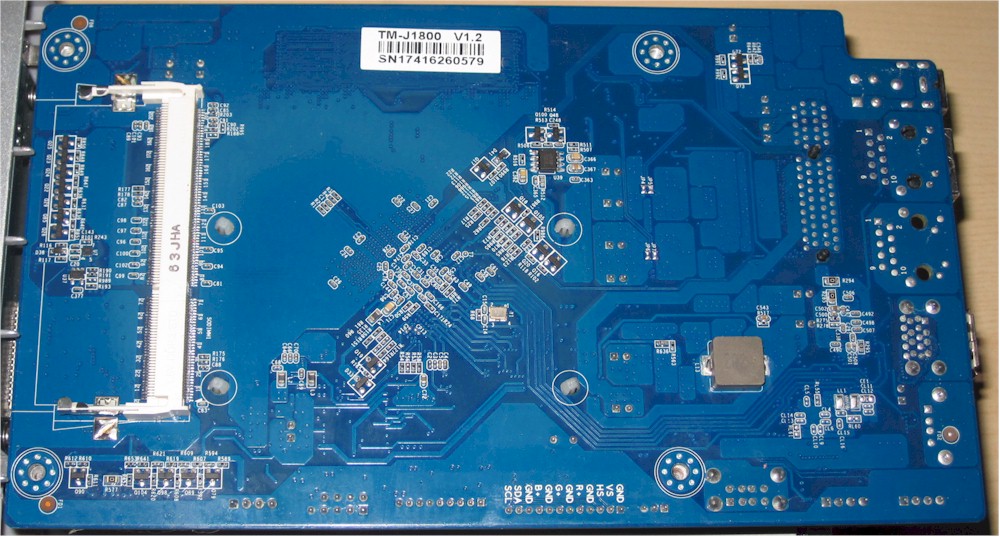 TerraMaster F2-220 board – bottom view
The key components are summarized in Table 1 showing the TerraMaster F2-220, ASUSTOR AS1002T and ZyXEL NAS326 for comparison.
| | TerraMaster F2-220 | ASUSTOR AS1002T | ZyXEL NAS326 |
| --- | --- | --- | --- |
| CPU | Dual-core Intel J1800 @ 2.41 GHz | Marvell ARMADA-385 @ 1GHz dual-core | Marvell Single Core Armada 38X 88F6810-A0 1.33 GHz |
| RAM | 2 GB DDR3 Hynix H5TC4G63CFR (x4)(expandable to 4 GB total via one So-DIMM slot 1600/1333MHz DDR3L 1.35V) | 512 MB Samsung K4B4G1646D | 512 MB DDR3 Samsung K4B2G1646Q (x2) |
| Flash | 8 GB (Sandisk USB flash drive) | 16 MB Macronix MX25L12835 | 4 GB MTFC4GMCDM-1M WT |
| Ethernet | Realtek RTL8111F Gigabit Ethernet controller | Realtek RTL8211E | Marvell 88E1512-NNP2 Gigabit Transceiver |
Table 1: Key component summary and comparison
Features
The F2-220 runs a new, revamped version 3 of TOS (TerraMaster Operating System) The new user interface features a desktop interface supporting multiple resizeable windows – much like you see on products from other manufacturers. The image below shows the TerraMaster landing page with three windows open. Across the top of the screen, note the icons for the open apps. These icons let you easily re-open a minimized window. In the lower right corner, there's a system performance widget you can minimize. This widget is common across various updated NASes that I've reviewed recently.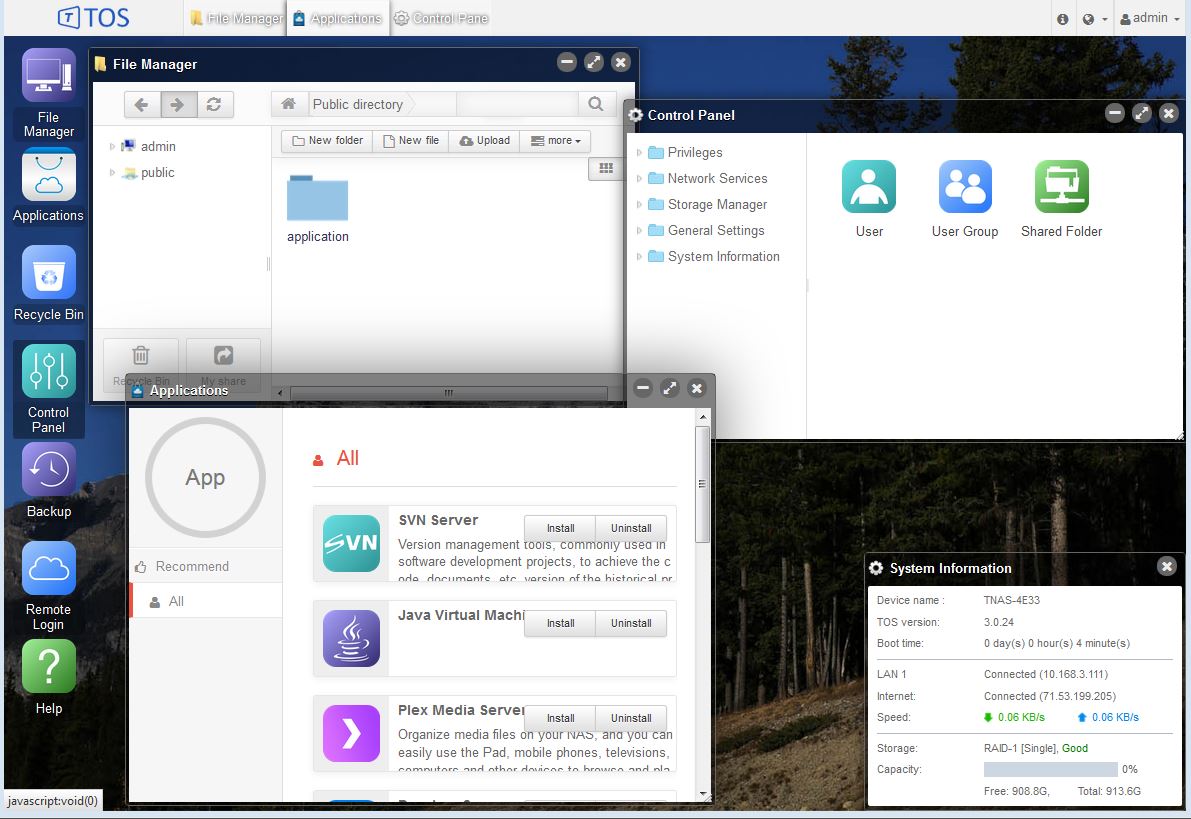 TerraMaster TOS 3 desktop
The main quirk you'll note is the "desktop" icons require two clicks to open. All icons on other screens open with one click.
TOS3 has a decent set of add-in applications shown below. The built-in web-based File Manager is pretty good, too and supports a full set of file operations.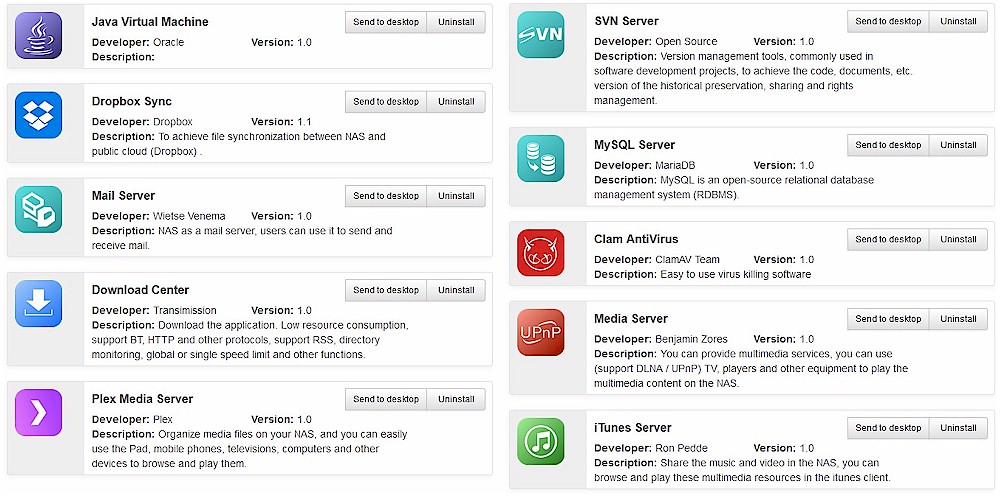 TerraMaster TOS 3 applications
TerraMaster has an online emulator that will let you experiment with most features of TOS 3. The emulator even allowed me to create a standard (non-privileged) user, log out, and log back in as the newly-created user so see how the interface looks to a non-admin client.
The short gallery below shows various features of the TOS 3 operating system.
No apps open, and System Info widget open
5 apps open and drop down menu displayed
All top level Control Panel menus expanded – Service Status shown
The file manager has a familiar Windows look and feel
Dropbox sync is supported
A new user (cellison) was created without admin rights
Right click context shown for user home directory
Default view for non-admin user (with file manager open)
Users can set themes and custom wallpaper
Performance
TerraMaster Firmware version 3.0.24 was loaded onto the F2-220 and performance tests were run using the Revision 5 NAS test process. All tests were run using Western Digital Red 1 TB drives (WD10EFRX) (x2 SNB supplied).
Many NASes have enough processing power to max out our single Gigabit client file copy read and write tests at the maximum of about 109-110 MB/s. Since the three NASes we're comparing are entry level, I didn't really expect that any of them would max out those tests. However, both the ZyXEL and ASUSTOR had throughput above 100 MB/s for RAID 0 and RAID 1 file copy read and write tests, with the exception of RAID 1 File copy read for the AS1002T. For the Noontec TerraMaster F2-220, File Copy Read results were below 100 MB/s at 90 MB/s for RAID 0 and only 83 MB/s for RAID 1. For all of the NASPT tests, the F2-220 scored either lower or significantly lower than either of the other two NASes.
The one bright performance spot for the F2-220 was backup. It smoked the competition on the attached USB 2.0 and USB 3.0 backup tests for all three file systems tested and on the rsync network backup tests. It also outperformed the other two NASes for iSCSI write but finished behind for iSCSI Read.
The composite image below shows the detailed benchmark summaries for the three products being compared.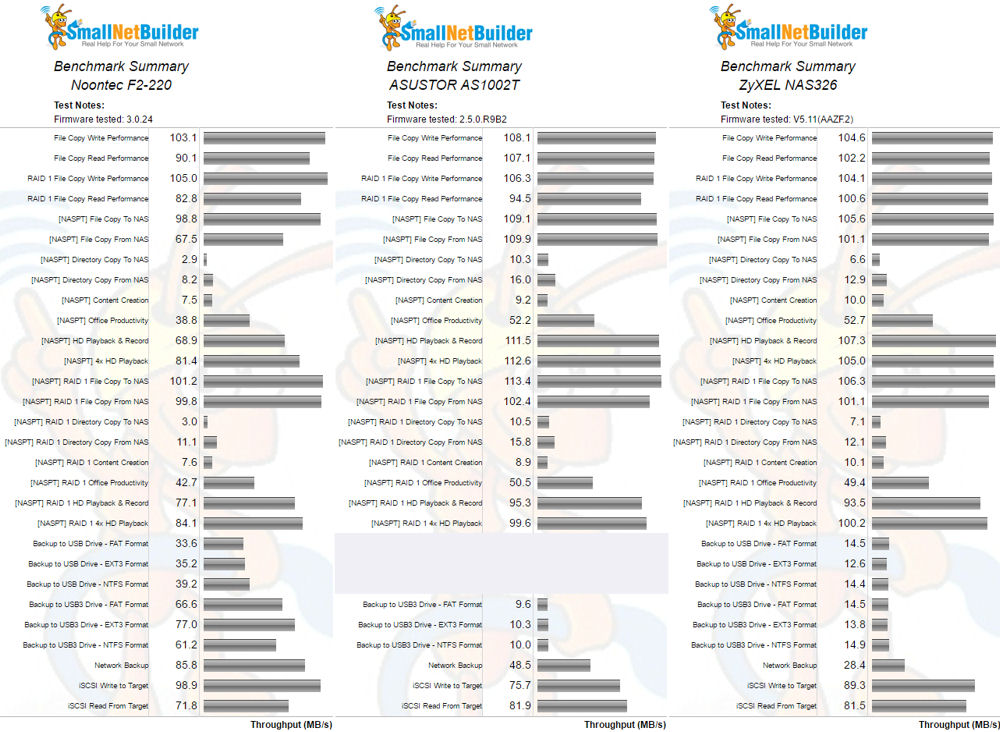 Benchmark Summary Comparison for TerraMaster F2-220, ASUSTOR AS1002T, and ZyXEL NAS326
Turning to the NAS Ranker, the image below shows RAID 1 devices sorted by ascending price. I've included the next two more expensive NASes in addition to the ones compared in this review. As you can see, the Noontec TerraMaster F2-220 has a Total NAS ranking of #17. Both of the other two NASes compared in this review have a better (lower) Total NAS ranking and a lower price.

NAS Ranker for RAID 1 NASes sorted by ascending price
Looking at the category summaries for Ranker Performance, the TerraMaster F2-220 had category wins only for backup and iSCSI. It lagged far behind the #11 ranked ASUSTOR AS1002T in all other categories. Even the $128 ZyXEL outperformed the F2-220 in the top four categories.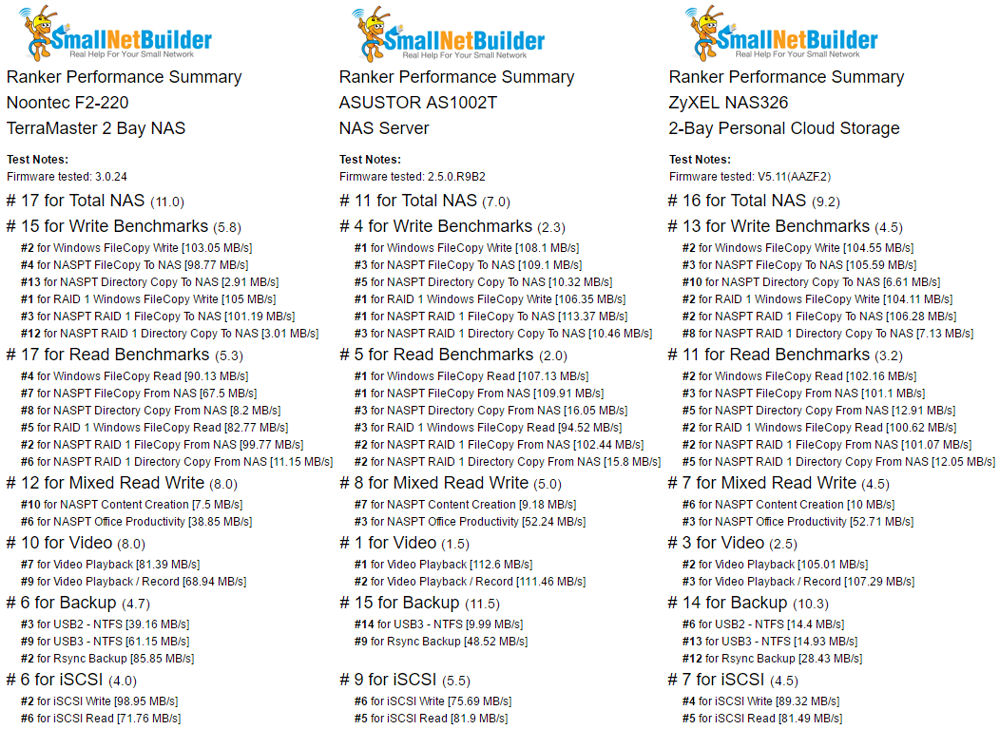 Ranker performance Comparison for TerraMaster F2-220, ASUSTOR AS1002T, and ZyXEL NAS326

Closing Thoughts
The Noontec TerraMaster F2-220 has a difficult marketing story. It's priced significantly more than the ZyXEL NAS326, yet ranks only one step lower. For approximately the same amount of money as the TerraMaster, the ASUSTOR AS1002T offers significantly better performance in the top four categories (Write, Read, Mixed Read Write, and Video) that are most likely to be important to NAS buyers.
If you're on a tight budget, buy the ZyXEL NAS326. If your budget tops out just south of $200, the ASUSTOR AS1002T is the clear choice. But if you can stretch your NAS budget to $250 or so, you can move way up the performance charts to the more fully-featured #4 ranked Synology DS216. In any of these scenarios, I don't see that the Noontec TerraMaster F2-220 offers a value proposition that would attract many well-informed buyers.
Buy TerraMaster 2 Bay NAS from Amazon