At a glance
Product
Synology Disk Station (DS413j) [Website]
Summary
Least expensive four-bay Synology NAS based on 1.6 GHz Marvell Kirkwood SoC
Pros
• Many features
• Very quiet for a four-bay NAS
Cons
• No hot swap
• No USB 3.0 or eSATA
Typical Price: $769 Buy From Amazon
Overview
If you're looking for a bargain-priced RAID 5 NAS, you normally would have to skip by anything from Synology or QNAP. Both vendors produce feature-filled NASes, but both also command premium prices.
So it's nice to see that Synology hasn't forgotten the budget-challenged among us who need the combination of capacity and data robustness that only a RAID 5/6/10 NAS can provide.
At around $380, the DS413j is the cheapest way to put a four-bay Synology NAS on your desk. It's meant to compete with QNAP's TS412, which has performed a similar role for QNAP for the past year or so.
The 413j is housed in Synology's old "CS" style enclosure that is now the hallmark of its four-bay "j" series products. While the drives are easy enough to get to by dropping a rear panel, they are not considered hot-swappable. The callout view below provides the rundown on ports, indicators and switches.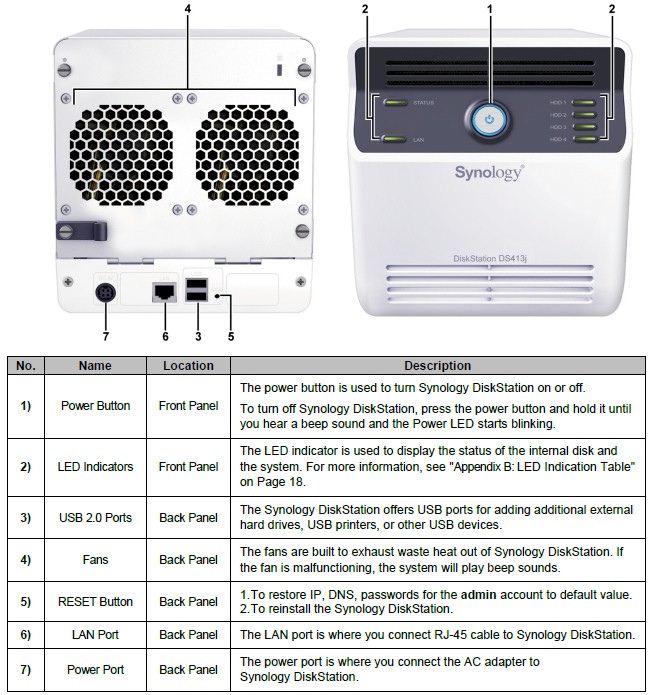 DS413j panels and callouts
As befitting an entry-level NAS, there are no VGA or HDMI ports to support an attached console and no LCD status panel on the front. There is only one 10/100/1000 Mbps Ethernet port on the rear panel along with two USB 2.0 ports for drive and printer attachment.
Inside
The 413j is easy to service. The rear panel drops down for easy fan replacement and the power supply is an external brick-sized, uh, brick. The graphic below from the 413j's Quick Install guide shows removing the cover for drive access, but it's not necessary. The four plastic drive mounting trays slide in and out easily with the cover left on.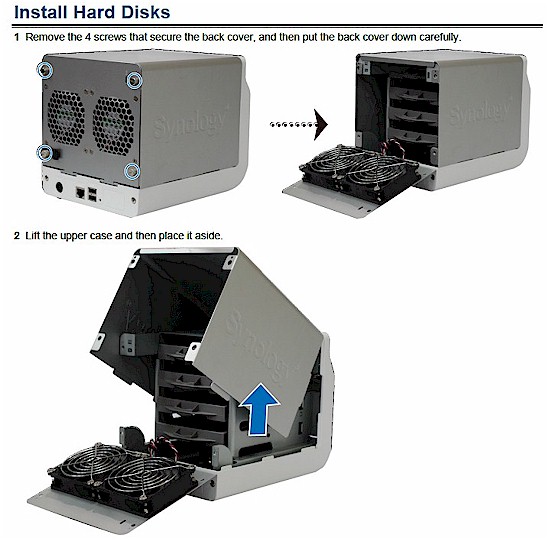 DS413j drive installation
The key components are summarized in Table 1 below along with the QNAP TS-412's. Note that the TS-412 has two Gigabit Ethernet LAN ports and two eSATA ports to the 413j's none. But the 413j has the edge over the QNAP in processor power and RAM.
Component
Synology DS413j
QNAP TS-412
CPU
Marvell Kirkwood 88F6282 @ 1.6 GHz
Marvell Kirkwood 88F6281 @ 1.2 GHz
Ethernet
Marvell 88E1318
Marvell 88E1116R (x2)
RAM
512 MB DDR3
256 MB DDR2
Flash
?
16 MB
SATA
Marvell 88SX7042 PCI-e
4-port SATA-II SATA controller
Marvell 88SX7042
uC

Microchip PIC16F883 8 bit microcontroller
Table 1: DS413j key components & comparison
Here is a photo of the main board that I was able to shoot with all the drive trays removed. The Marvell SoC has a ceramic heat spreader attached to keep it nice and cool. The flash device was covered by a label, which I didn't disturb. So I wasn't able to determine its capacity.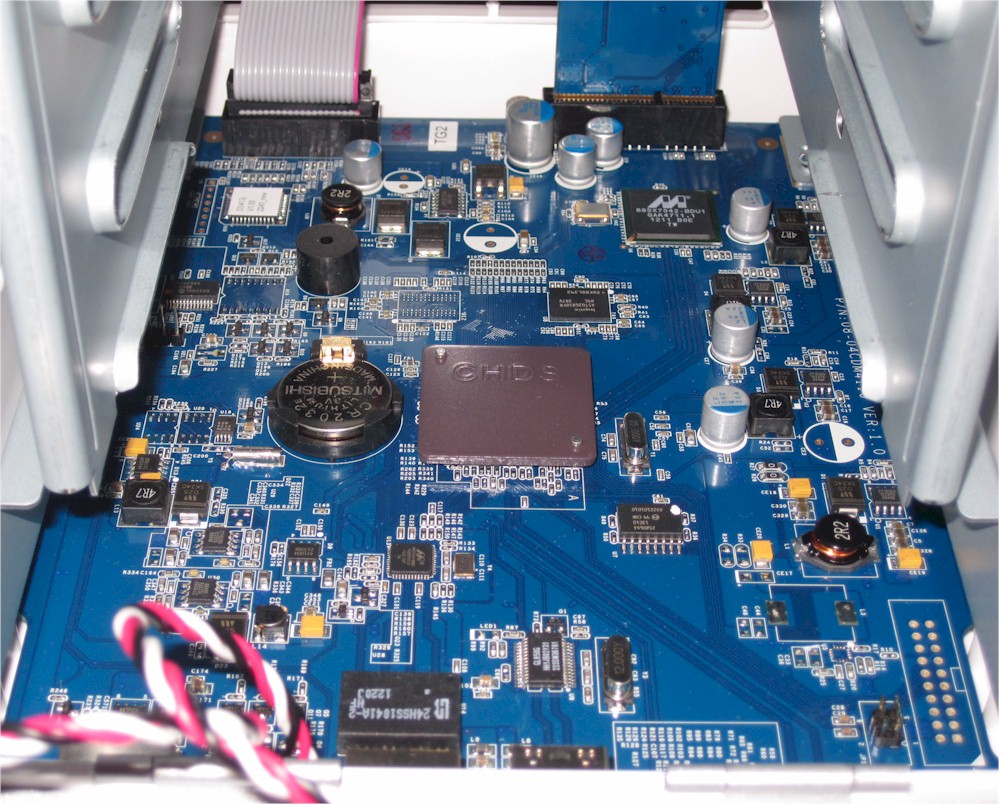 DS413j main board
Power consumption measured 28 W with four WD Red 3 TB (WD30EFRX) drives that WD kindly left with me, after my little look at them, spun up. Consumption dropped to a mere 9 W when the programmable drive spindown kicked in. Fan noise, in the default "Quiet" mode (the other two modes are "Cool" and "Low-Power") was barely audible and there was little idle drive noise in my quiet home office environment. So I rated the 413j's noise as very low.
Features
The 413j supports all the features in Synology's DiskStation Manager (DSM) 4.1 OS. The DSM 4.1-2647 build used for testing has a very extensive feature list, which is described in Synology's DSM Highlight pages. See the DS1512+ review for a feature summary and check out the DS413j's product datasheet.
Performance
I tested the DS413j with DSM 4.1-2647 firmware, using our NAS test process with RAID 0, 5 and 10 volumes. As is our standard practice, four drives were configured in each volume type.
Windows File Copy tests were fairly consistent for RAID 0, 5 and 10 write at 44, 50 and 48 MB/s, respectively. But read performance changed significantly from mode to mode measuring 67, 87 and 78 MB/s for the three modes tested.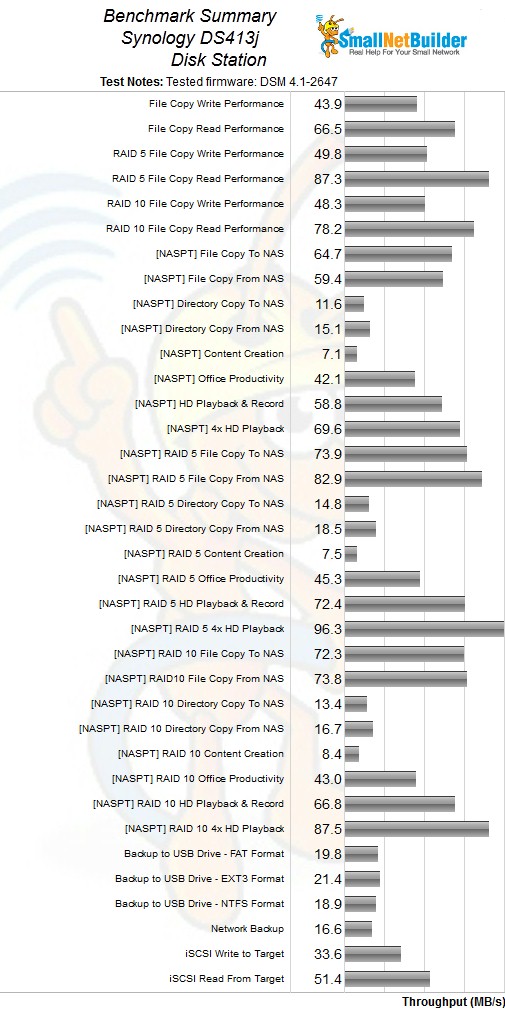 Synology DS413j DiskStation benchmark summary
Intel NASPT File Copy results for write benchmarks tended to run about 20 MB/s higher for write and slightly lower for read.
iSCSI performance of 34 MB/s for write and 51 MB/s once again shows an imbalance between write and read performance.
I ran Attached backup tests with the external test drive formatted in FAT, EXT3 and NTFS. But with only USB 2.0 ports to work with, the best the NAS could do was 21 MB/s to the drive formatted in EXT3. Network backup to a DeltaCopy target on our NAS Testbed system was pretty slow at only 17 MB/s.
For a competitive look, I used the NAS Finder to ferret out four-bay Kirkwood-based NASes and came up with only two others tested with the current benchmark process, the QNAP TS-412 and now-discontinued TS-419P+ (replaced by the more expensive TS-419P II). Of the two, the 419P+ is the more directly comparable, since it uses the same Marvell 88F6282 1.6 GHz processor. The TS-412 uses a 1.2 GHz 88F6281.
The composite below shows Windows and NASPT RAID 5 file copy write and read results for the three NASes, with the DS413j taking top spot in all four comparisons. Note however, that the Windows method results were so close between the DS413j and TS-419P+, that I doubt you would notice the difference in real-world use.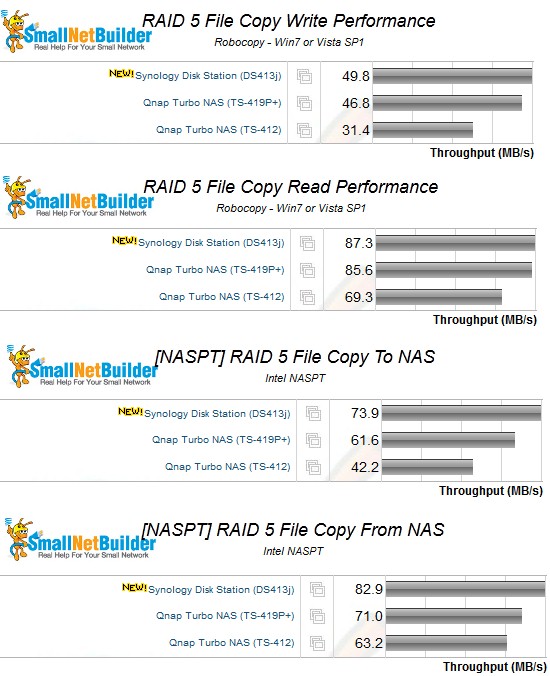 Synology DS413j NASPT RAID 5 File copy comparison
Since many NASes support folder encryption, I've had requests to test performance with it engaged. I'm not sure I'll be adding this benchmark for all NASes, but I did run it on the DS413j with the results shown in Table 2. Intel NASPT benchmarks are listed first, followed by the two Windows-based tests.
Benchmark
With Encryption
(MB/s)
Without Encryption
(MB/s)
% diff
File Copy to NAS
11.81
73.91
-84
File Copy From NAS
11.05
82.94
-87
Directory Copy To NAS
5.12
14.82
– 65
Directory Copy From NAS
7.76
18.5
-58
Content Creation
11.63
7.49
+55
Office Productivity
15.75
45.31
-65
HD 1 play, 1 record
16.46
72.40
-77
HD 4 play
16.22
96.31
-83
Windows File copy write
9.64
49.84
-81
Windows File copy read
19.30
87.31
-78
Table 2: DS413j RAID 5 With and Without encryption
Even though Synology lists a "Hardware Encryption Engine" in the 413j's specs, the test results show you'll still pay a stiff penalty when using encrypted folders.
Use the NAS Charts to further explore and compare the DS413j's performance
Closing Thoughts
At $380, the DS413j doesn't really meet my definition of inexpensive. But, as four-bay NASes go, it's almost as cheap as you can get. QNAP's older TS-412 will let you save a few bucks, but you'll pay for the savings with lower performance.
Buy Disk Station from Amazon