At a glance
Product
Thecus Linux NAS | SMB Tower (N5810PRO) [Website]
Summary
Five bay Intel J1900 Celeron-based NAS with 5 Gigabit Ethernet ports and built-in optional mini UPS
Pros
• Supports multiple File Systems
• Quiet
• Quick RAID 5 rebuild time w/ quick RAID option
• Volume snapshots (BTRFS only)
• Optional built-in UPS shuts NAS down cleanly after a power loss
Cons
• Slow NTFS backup throughput
• Not the best bang for the buck
Typical Price: $769 Buy From Amazon
Introduction
Depending on your storage requirements, sometimes a four bay NAS might not offer the storage capacity that you need – even if you fully populate it with 6TB drives. Or, you may want to configure your NAS for RAID 10, but would like to have a global hot spare. For either of these scenarios, Thecus' N5810PRO could be the right solution.
The N5810PRO is a five bay NAS that features five Gigabit Ethernet ports for link aggregation, fail over and multiple network connection. In addition, it has a built-in "mini" UPS powered by an optional ($50 MSRP) 14.4 V 2000mAh hour battery. The UPS won't supply power for very long, but long enough for a power outage up to a few minutes long. Before it runs out of juice, the UPS will safely shut down your NAS.
Like most NASes with more than four bays, the N5810PRO is targeted to the SMB market rather than the SoHo/Home market. Still, it has an HDMI port for Video/Audio out and includes DLNA and iTunes servers. In this review, we will be comparing the N5810PRO to the ASUSTOR AS5104 and QNAP TS-453 Pro four-bay NASes. All three NASes are based on an Intel quad-core J1900 Celeron.
The image below shows the front (left) and rear (right) panel callouts. On the front panel, there are Power (top), System status, LAN link/activity for WAN/LAN1 and LAN2 and USB file copy status LEDs. Below the status indicators is a USB copy button and the power switch. There's only a single USB 3.0 port on the front panel – probably a convenience feature for USB file copies. Menu navigation buttons are found below the LCD display panel. The disk trays have locks for added security and status LEDs.
On the rear panel, you'll find two USB 3.0 ports, two USB 2.0 ports, five Gigabit Ethernet ports, HDMI port and an analog audio port. The fan, power connector and UPS battery slot round out the rear panel.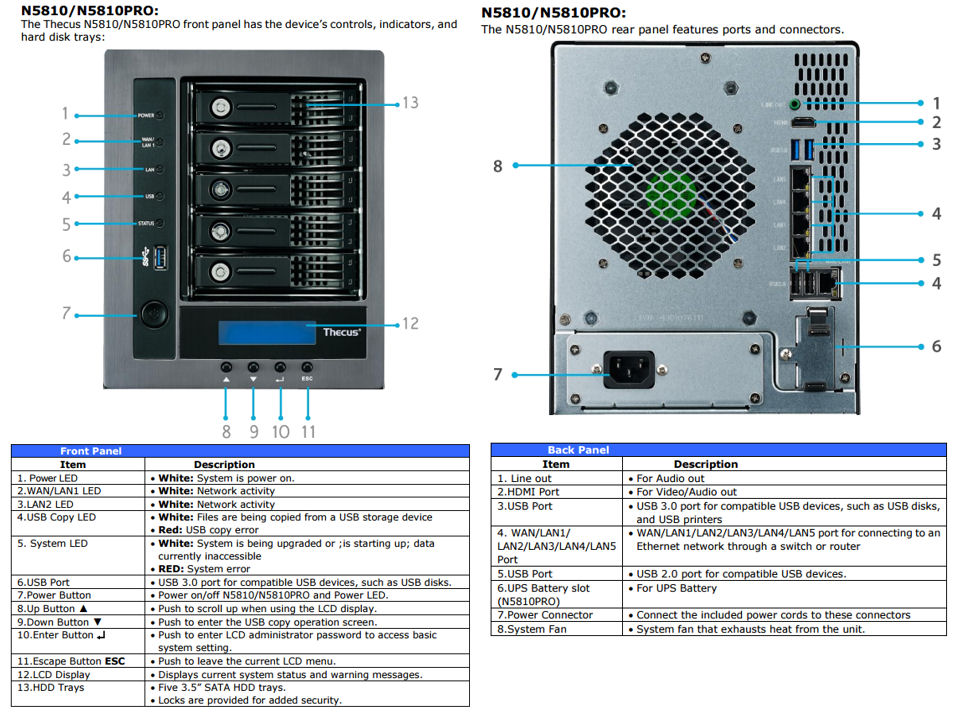 Thecus N5810PRO Callouts – Front panel (left) and Rear panel (right)
Inside
The image below shows the main board for the N5810PRO. The Intel J1900 processor is located under the large heat sink. On the left are connectors for the rear panel along with a PCB-mounted connector for the drive backplane. The memory slot is populated with a 4 GB DDR3 SoDIMM. There's a second slot open for expansion that can bring total memory up to 8 GB. Click here for a list of compatible memory.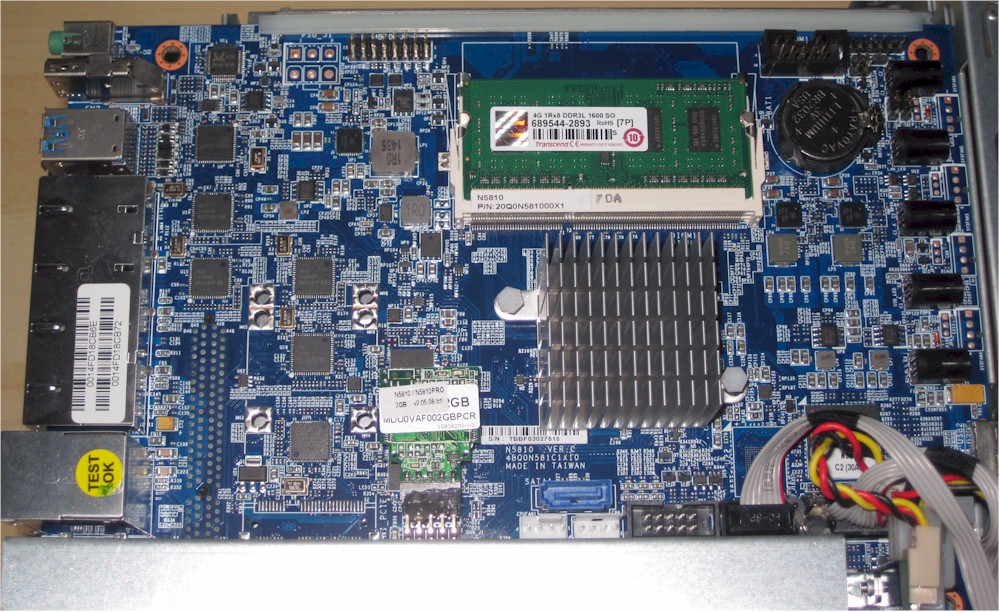 Thecus N5810PRO main PCB
The N5810PRO's key components are summarized in Table 1 along with a comparison to the ASUSTOR AS5104 and the QNAP TS-453 Pro. All three NASes use the same Intel Celeron J1900 processor. However, there are a couple of important differences to note:
The Thecus ships with 4 GB of RAM. The other two ship with only 2 GB of RAM. All are upgradeable to 8 GB.
The ASUSTOR NAS only has two Gigabit Ethernet ports. The QNAP has four and the Thecus has five.
Thecus N5810PRO
ASUSTOR AS5104T
QNAP TS-453 Pro
CPU
Intel Celeron J1900@ 2.0GHz (quad core)
Intel Celeron J1900@ 2.0GHz (quad core)
Intel Celeron J1900@ 2.0GHz (quad core)
RAM
4 GB DDR3 SoDIMM, upgradeable to 8 GB
2 GB DDR3 SoDIMM, upgradeable to 8 GB
2 GB DDR3 SoDIMM, upgradeable to 8 GB
Flash
2GB USB DOM
ADATA IUM01-001GFHL (128 MB USB DOM)
512 MB DOM
Ethernet
Intel WGI210AT Gigabit Ethernet Controller (X5)
Broadcom BCM57781 (x2)
Intel WGI210TA (x4)
USB 3.0
Asmedia ASM1042A PCIE to USB3.0 bridge 2 ports
ASM1074
Gensys Logic GL3522 USB 3.0 quad port hub
SATA
Marvell 88SE9215 SATA 6Gbps 4 port Host controller
-ASM1061 x1 PCI Express to two ports of Serial ATA (x2)
-ASM1466 one lane (Dual-channel) 6 Gbps Serial ATA Repeater (x2). These buffer four internal SATA connectors and 2 eSATA
Marvell 88SE9215 SATA 6 Gb/s Host controller 4 port (x2 on backplane)
Table 1: Key component summary and comparison
Features
The N5810PRO runs on Thecus OS5. Thecus explained the older OS5 is targeted at SMB products and OS6, which I reviewed when it was first released, at Home/SoHo. But the feature sets and GUI look and feel are very similar in both OSes.
The gallery below shows some screenshots from the N5810PRO. Several of them highlight some of the unique features of the N5810PRO, such as configuration of the 5 LAN ports and an image from the log file showing the NAS switching to UPS power before shutting down gracefully. You'll note missing "radio button" labels in some of the screenshots, which were taken with FireFox 38.0.5 Windows. Thecus confirmed the bug, which will be fixed via firmware update. In the meantime, we found Internet Explorer properly shows the labels.
As noted in the introduction, the N5810PRO has a built-in "mini" UPS. In our "pull the plug" test, the NAS started to beep and the front panel displayed the power loss. Within a couple of minutes, a different, lower toned beep drew our attention to the front panel that indicated shutdown had started. The system then shut down gracefully.
Configure or view configuration for any of the 5 available LANs.
Selecting network interfaces for aggregation
Link Options
Create an iSCSI Target Volume or Create LUN. Missing button labels is a bug.
Status shows Power Loss
System Log shows AC power loss, switch to battery and then system shutdown due to loss of power.
RAID Volume Creation. Missing button labels is a bug.
Performance
We tested using our four WD Red 3 TB (WD30EFRX) drives provided by WD. Power consumption was measured at 33 W in active mode and 20 W in power save mode. Fan and drive noise was rated as low (mainly occasional drive noise). Performance tests were run using our Revision 5 NAS test process on four-drive unencrypted RAID 0, 5 and 10 volumes with a 1 Gbps LAN connection. The firmware installed was 2.05.08.btl.
The comparative benchmark summary below shows the Thecus N5810PRO (left), ASUSTOR AS5104 (center) and QNAP TS-453 Pro (right). Looking first at the benchmark results for the N5810PRO, Windows file copy performance for all RAID levels was fairly consistent with all test results ranging from 105.2 MB/s (Raid 10 File Copy Read) to 109.6 MB/s (RAID 0 File Copy Write).
NASPT File Copy Read performance was consistent within a tight range from 84.2 MB/s for RAID 5 to 86.5 MB/s for RAID 0. There fastest throughput was achieved in the NASPT file copy write results, but still with fairly consistent results across all RAID types. NASPT File Copy To NAS (Write) ranged from 113.5 MB/s (RAID 10) to 117.6 MB/s (RAID 0).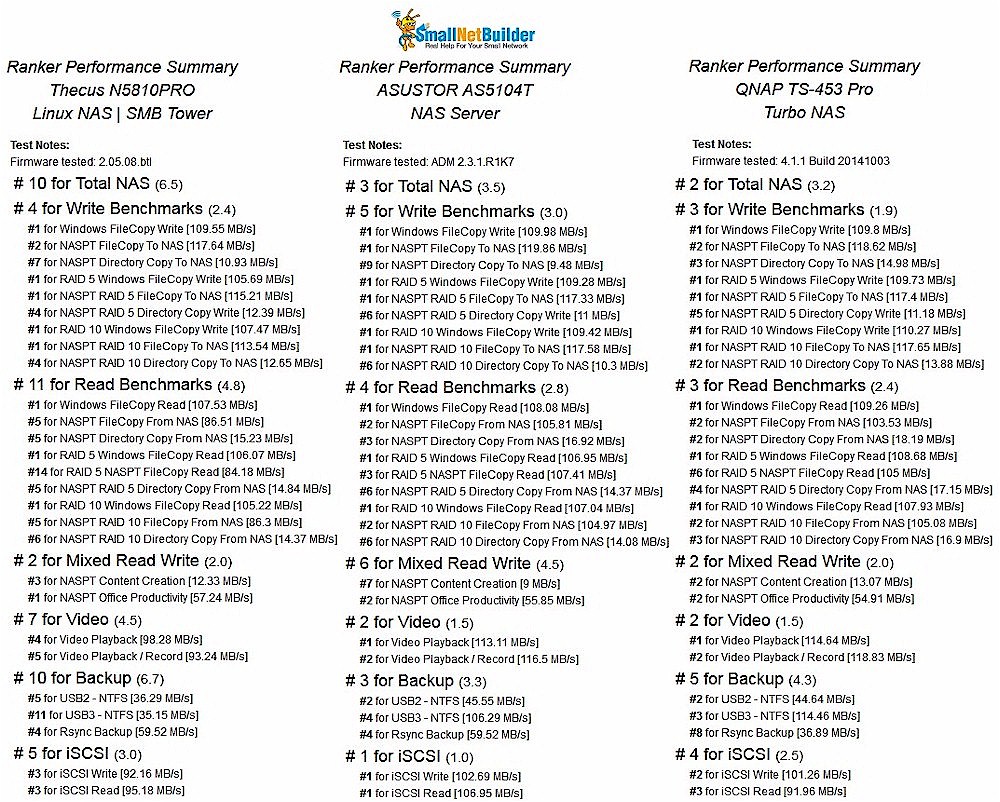 Comparative Benchmark Summary
All products had fairly consistent File Copy Write and Read results across all RAID configurations. However, on the N5810PRO, for each RAID level, the NASPT File Copy From NAS (Read) was consistently lower than the corresponding NASPT File Copy To NAS (write) performance. The other two products showed less variation between NASPT read and write within RAID levels.
Compared to the other two NASes, attached storage backup was not a bright spot. The N5810PRO turned in the slowest performance for both the USB 2.0 and USB 3.0 tests for all file formats. (FAT, NTFS, and EXT3). USB 3.0 / NTFS performance was particularly slow, which is disappointing for such a popular volume format. The Thecus also had the slowest iSCSI write performance at 92.2 MB/s, and middle of the pack iSCSI read performance at 95.2 MB/s.
NAS Ranker
To see how the N5810PRO stacked up against other RAID 5 NASes, I filtered the NAS Ranker for RAID5 class and Test Method Revision 5. The N5810PRO, with a Total NAS score of 6.5, came in ranked #10, tied with Seagate's NAS Pro 4 and 6 bay. That rank also includes four products tied at #2, two at #7 and two at #9. Note some of those ties include products where a four-bay product was tested and results copied to higher bay versions..
We usually sort by ascending price to find the best price/performance value. But in this case, the $769 N5810PRO ends up on the second ranking page (10 results per page), outpaced by much less expensive four-bay products such as ASUSTOR's #3 ranked AS5104T at around $490 and the #2 ranked QNAP TS-453 Pro at around $570.
For a more detailed look at comparative performance, I created the composite Ranker Performance summary below showing the Thecus N5810PRO (left), ASUSTOR AS5104T (center) and QNAP TS-453 Pro (right). The N5810PRO had its best category performance for Mixed Read Write, where it tied for #2 with the QNAP TS-453 Pro. It also edged out the ASUSTOR AS5104T with a #4 ranking for Write Benchmarks.
Not surprisingly, the relatively poor performance on the NASPT File Copy from NAS performance for all RAID types placed the N5810PRO far behind in the Read Benchmarks category. Looking at the individual test within the Video, Backup and iSCSI categories, it's easy to see why the N5810PRO trailed the other two NASes.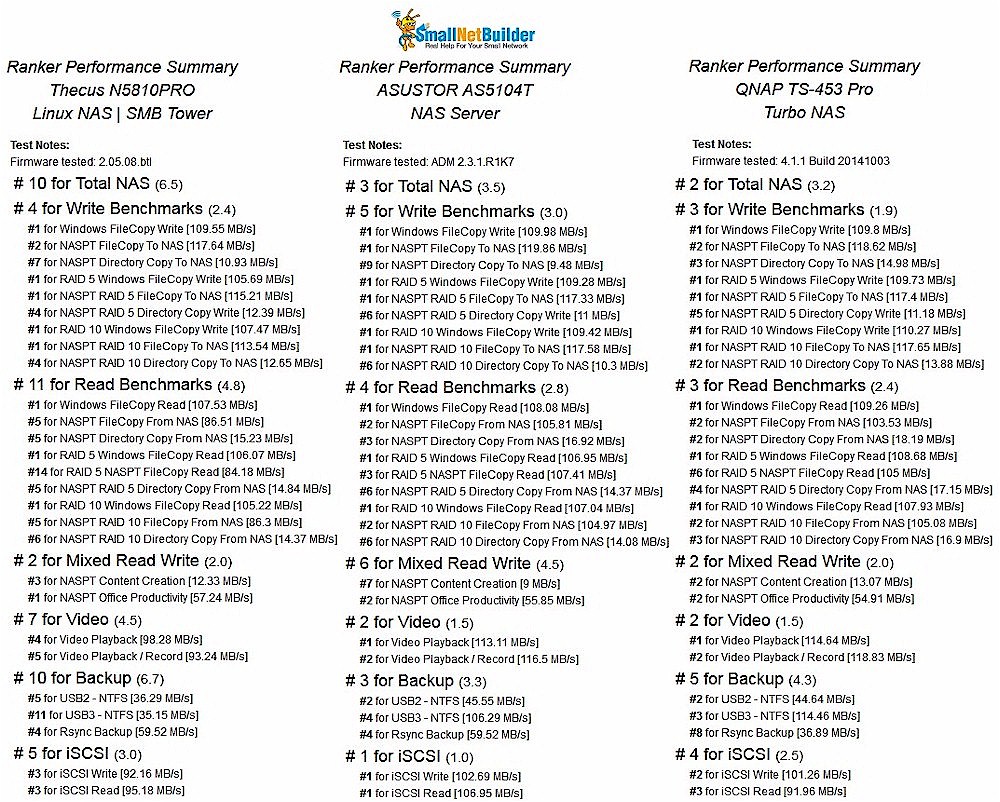 NAS Ranker Performance Comparison for Thecus N5810PRO (left), ASUSTOR AS5104T (center) and QNAP TS-453 Pro (right)
Closing Thoughts
Equipped with five drive bays and five Gigabit Ethernet ports, the Thecus N5810PRO doesn't fit neatly into groupings of competitive NASes which generally, with the exception of single bay devices, have an even number of drive bays. Setting the NAS Finder drive number filter for 5 finds only one other product currently still for sale, Thecus' N5550.
When comparing the $769 N5810PRO to either the $566 #2 ranked QNAP TS-453 Pro or the $467 #3 ranked ASUSTOR AS5104T four bay NASes, you see a large premium for an extra drive bay, built-in UPS and Ethernet ports. (The TS-453 Pro has 4 Ethernet ports and the AS5104T has 2 Ethernet ports). If you can live within the storage capacity of a four bay NAS, either the ASUSTOR AS5104T or the QNAP TS-453 Pro offer more performance bang for the buck.
If you really need more storage capacity than a four bay NAS can provide or want a hot spare in addition to the capacity of a four bay NAS, the next competitive NAS would be the six bay QNAP TS-653 Pro. The TS-653 Pro is essentially a six bay version of the TS-453 Pro. Priced at $773 and ranked #2, you pick up the sixth bay for less than $10 over the cost of the Thecus.
Of course not all purchasing decisions are made strictly on on performance or hardware. The feature sets are also an important, but constantly-changing consideration. If you click on the Features tab embedded within the N5810PRO's product page, you might find some differentiating features that tip your purchasing decision in favor of the Thecus.
For example, the N5810PRO supports the BTFRS file system that enables volume snapshots—a feature we first talked about when reviewing NETGEAR's ReadyNAS OS6. The N5810PRO also includes a "mini" built-in UPS that gracefully shuts down your NAS and protects your data in the event of a power outage.
The bottom line is five-bay NASes are relatively rare, but useful. But Thecus' addition of lots of Gigabit Ethernet ports and optional mini-UPS may price the N5810PRO out of consideration by many RAID 5 class NAS shoppers.
Buy Linux NAS | SMB Tower from Amazon