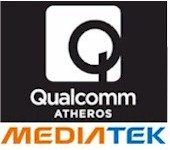 Qualcomm Atheros and MediaTek want to remind you that they are in the draft 802.11ac game, too.
Since Computex is a hotbed of semiconductor vendors jockeying for new business, they need to say something. So Qualcomm Atheros issued a press release that added a tad more to the information they released at CES about its VIVE 802.11ac products.
Most of Q-A's release was short on specifics, but mentioned mobile device design-ins including "the growing number of smartphones based on VIVE 11ac mobile solutions—including devices from Samsung, Pantech, ZTE, as well as over 100 other mobile handsets and computing designs that are expected to arrive in the coming months".
For routers, the release mentioned "enabling an increasing number of Gigabit-class Wi-Fi networks with more than 35 enterprise access points and carrier gateways, and 20 retail routers either in development or available today".
VIVE products include 1×1 client-side and 2×2 and 3×3 devices for both client and AP/router devices. While Broadcom has its TurboQAM to boost 2.4 GHz link rates, VIVE has dynamic bandwidth allocation. Q-A says this makes it possible for VIVE-based routers to transmit data on 80, 40 or 20 MHz channels, depending on the available bandwidth and capabilities of the connected client devices.
As far as draft 11ac routers in the field, the release cites only the Japan-only NEC-AT Aterm WG1800HP. Other StreamBoost-enabled draft 11ac routers are said to be "slated to hit store shelves later this summer". The most likely to be first out of the chute is D-Link's DGL-5500, which has a few weeks left to make good on the "Available in Spring 2013" claim posted on its product webpage.
The other company wanting to stay on your draft 802.11ac radar screen is MediaTek, which purchased Ralink in 2011. MediaTek's show PR announced new MT7612x series 2×2 draft 11ac shipsets. The MT7612E, with a PCIe 2.0 interface and the MT7612U, which has a USB 3.0 interface, both include integrated 2.4 and 5 GHz power amplifiers, support beamforming and link rates up to 867 Mbps.
Both are sampling now, with volume starting in Q3.