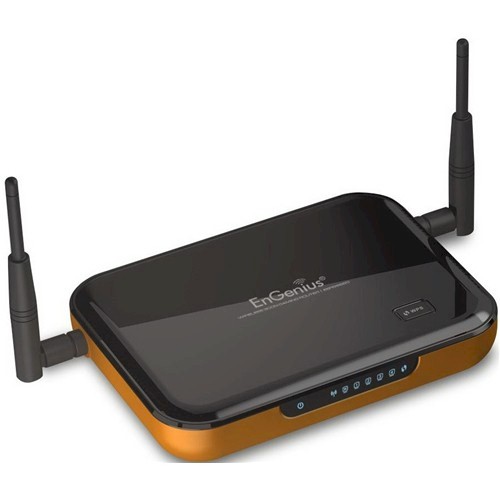 At a glance
Product
EnGenius Multimedia Enhanced Wireless N Gaming Router with Gigabit (ESR9855G) [Website]
Summary
2.4GHz Ubicom / Atheros based 802.11n router with WDS bridging / repeating and Ubicom uplink auto QoS but not Wi-Fi Certified.
Pros
• Gigabit ports
• Ubicom uplink auto QoS
Cons
• Uplink speed limited to 100 Mbps
• Inconsistent wireless performance
Typical Price: $100 Buy From Amazon
Overview
I was pretty impressed with the first EnGenius router I reviewed, the ESR9850. Even though it was based on a SoC router chip—Ralink's RG3052—it had > 700 Mbps wired routing throughput, up and downlink bandwidth control and decent, although not outstanding, wireless.
But somewhere between there and here, which is the ESR9985G I'm reviewing today, EnGenius seems to have gone astray. For starters, they've endowed the 9855G with Gigabit WAN and LAN ports and a speedy Ubicom CPU. But then they limit uplink speed to only 100 Mbps by not fully disengaging auto QoS, even when the admin panel shows it as disabled. And wireless performance from the Atheros-based 2.4 GHz radio is pretty disappointing. But, I get ahead of myself.
The router has an unusual form factor with dual, upgradeable antennas (w/ RP-SMA connectors) sticking out of its sides. The orange (gold?) and black plastic case is about the size of a large-format paperback book and has mounting slots on its underside. The case seems to be well-ventilated since it doesn't seem to get that warm.
Figure 1 shows the 9855G's front panel, with its array of indicator lights and Wi-Fi Protected Setup (WPS) button on top.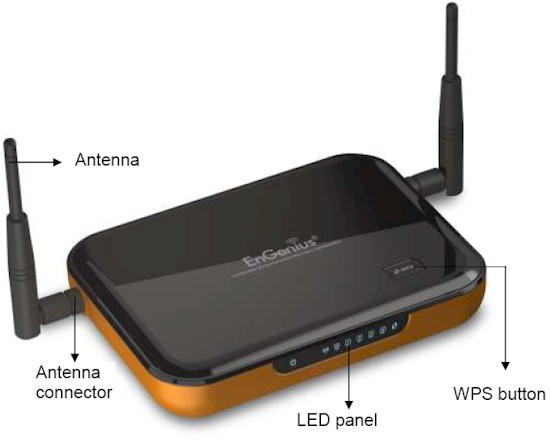 Figure 1: ESR9855G front panel
Figure 2 provides a rear view, where all one WAN and four switched LAN ports—all Gigabit—reside along with power jack and switch.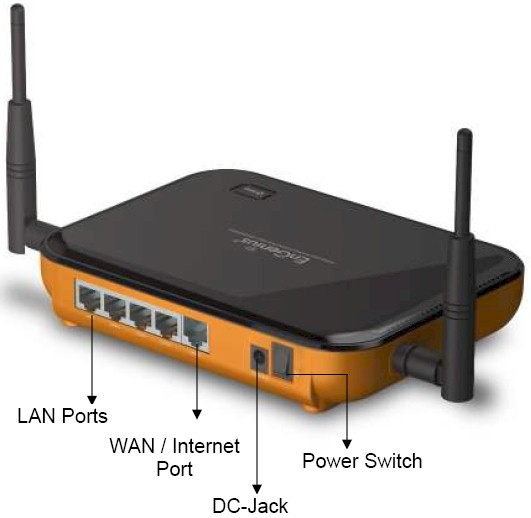 Figure 2: ESR9855G rear panel
Inside
Figure 3 shows one of the FCC ID photos where you can see the Realtek RTL8366RB Gigabit Switch, mini-PCI radio module and Ubicom processor. Close-ups in the FCC file let me identify the CPU as a Ubicom IP7150U and the Atheros device on the radio module as an AR9223 2.4 GHz 802.11n SoC. RAM and flash complement are 64 MB and 8 MB respectively.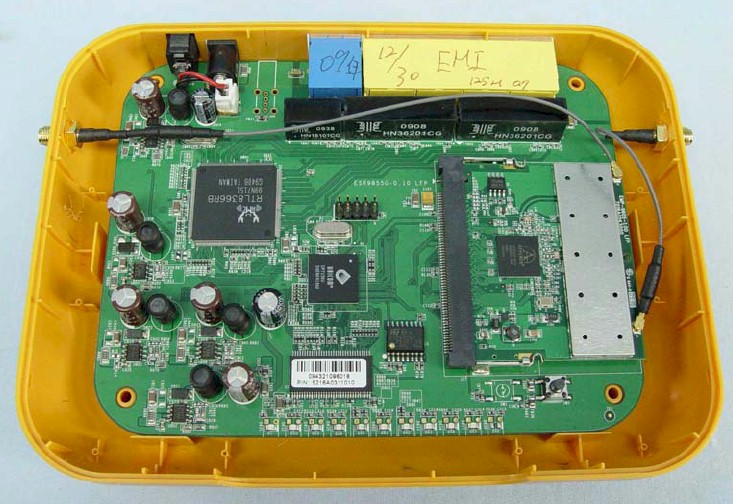 Figure 3: ESR9855G inside
EnGenius must have had dual-band plans for this chassis at one point because there's an empty slot on the bottom of the board for a second radio. I peeked into the review unit, though, and the connector isn't loaded.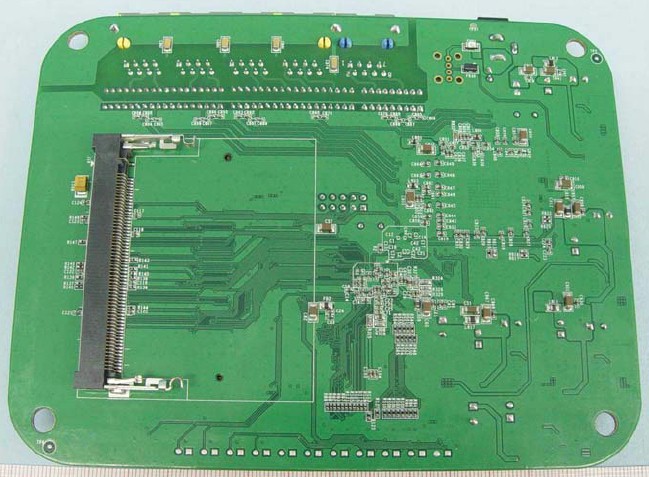 Figure 4: ESR9855G board bottom
Features
The router's admin GUI is different from the 9850's, so I've put some screenshots into the gallery. You can get a little idea of what you're in for from the Status page in Figure 5, which is the first thing you see when logging in.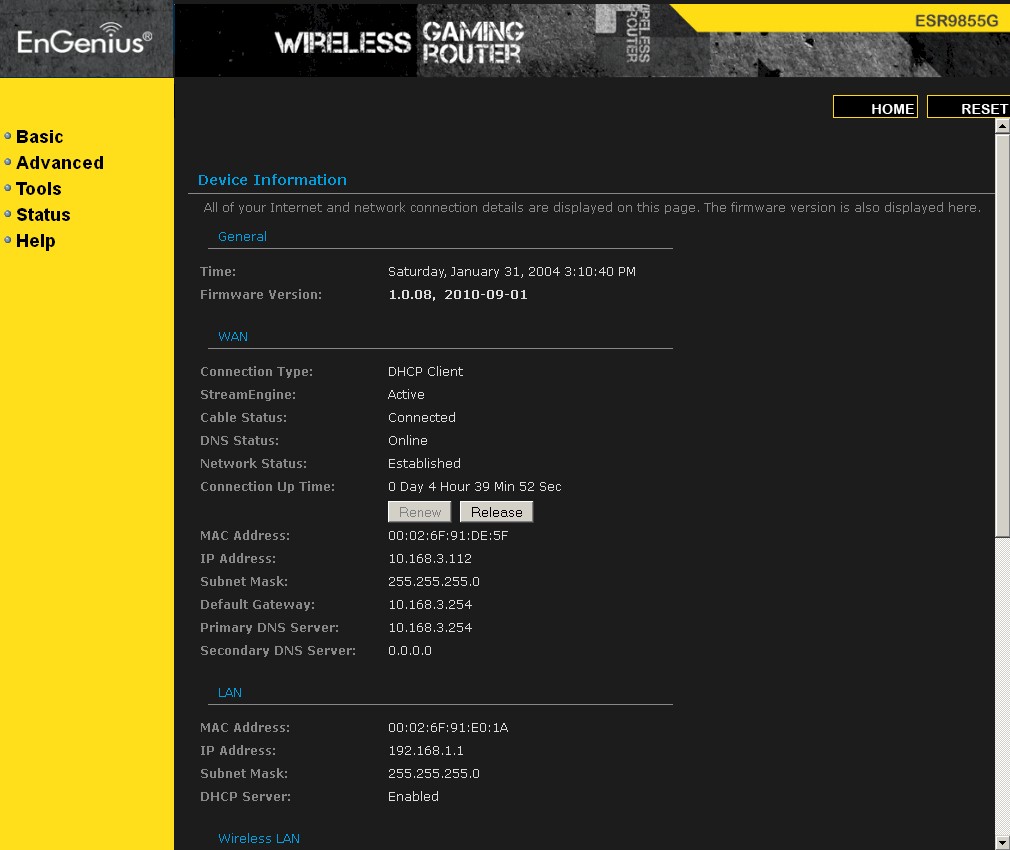 Figure 5: ESR9855G status page
Here's a summary of the 9855G's feature set:
Routing
Static and Dynamic IP, PPPoE and PPTP WAN connections with MTU adjust
Multicast support
Switchable NAT / Router mode
RIP v1, v2, v2 multicast and static routing
DHCP server with IP reservation
Ubicom StreamEngine uplink automatic QoS w/ manual rule settting
UPnP enable
WAN port link rate control
Syslog support
DynDNS dynamic DNS
Status for Wireless clients, Internet sessions, open firewall ports, routes, WISH sessions
LAN, WAN, Wireless statistics
Firewall
Single port forwarding w/ scheduling and separate public / private ports
Triggered port range forwarding w/ scheduling
Port range filtering w/ scheduling
WAN ping blocking
Inbound / outbound service control w/ scheduling
URL / domain web filtering
DMZ host
SPI disable
UDP / TCP endpoing filtering
NAT port preservation and Anti-spoof check
Application Level Gateways (ALG) for PPTP, IPSec,RTSP,MSN Messenger, FTP, NetMeeting, SIP, WoL, MMS
Inbound IP filters
Wireless
Up to four SSIDs, each with separate wireless security and traffic priority
WDS bridging and repeating
WEP and Personal / Enterprise WPA / WPA2 wireless security
Wi-Fi Protected setup (PIN and pushbutton methods)
Wireless Modes: B only, G only, N only, B+G and B+G+N (default)
Wireless MAC address filtering
Client-to-client isolation
WISH wireless auto-QoS
Tranmit power control (100, 90, 75, 50, 25, 10%)
Transmit data rate
Connection control per SSID: WAN, Wireless-Wireless, Wireless-LAN
Missing
Scheduled wireless enable / disable
HTTPS administration
Although you gain Ubicom's automatic QoS, you lose the ability to set up and downstream bandwidth limits. So you either need to trust StreamEngine to control bandwidth hogs or try to add manual rules. StreamEngine primarily controls uplink bandwidth, but can have some effect on downstream by delaying TCP ACKs.
Of course, that doesn't help for UDP traffic and, again, you can't set specific bandwidth limits. Still, Ubicom's technology is pretty smart about identifying real-time traffic and generally does a good job of prioritizing the right stuff.
In other Ubicom-based routers, when you disable StreamEngine it is totally disengaged. But, EnGenius has chosen to leave it semi-engaged. The uplink speed setting is always in effect, with a maximum setting of 100000 kbps (Figure 6).
Figure 6: ESR9855G StreamEnging settings
Frequent admin setting fiddlers will be pleased to hear that reboots are under 10 seconds and many control changes don't require a reboot at all.
Close up of the radio module showing the Atheros AR9223 SoC radio.
Some of the Internet settings
The DHCP server settings under Network Settings contain NetBIOS controls and DHCP reservations
Wireless settings include four SSIDs, each with its own security settings and traffic priority
This StreamEngine page shows the settings for adding manual rules
Single port forwarding (Virtual server) lets you set different public and private ports
One of StreamEngine's by-products is that you get a listing of all active router sessions.
The browser-viewable logs contain a lot of info, but can't be emailed and there are no alerts. A syslog server is also available for even more detail.
Schedules can be used to enable / disable many firewall features, but not wireless radios.
Routing Performance
I tested the ESR9855G with 1.0.08 2010-09-01 firmware for its routing tests. As noted above, Stream Engine and Auto uplink speed both had to be disabled and Manual Uplink speed set to 100,000 before I could gauge what the router was fully capable of.
Figure 7 shows the IxChariot tests with an interesting mix of results. Downlink throughput came in at 419 Mbps and uplink was limited to 93 Mbps. But when running simultaneous up and downlink tests, both up and downlink speed were held in the 90 Mbps range for a total of 188 Mbps.
Gamers and P2Pers will be happy to hear that Simultaneous Connections test maxed out at our 34925 test limit.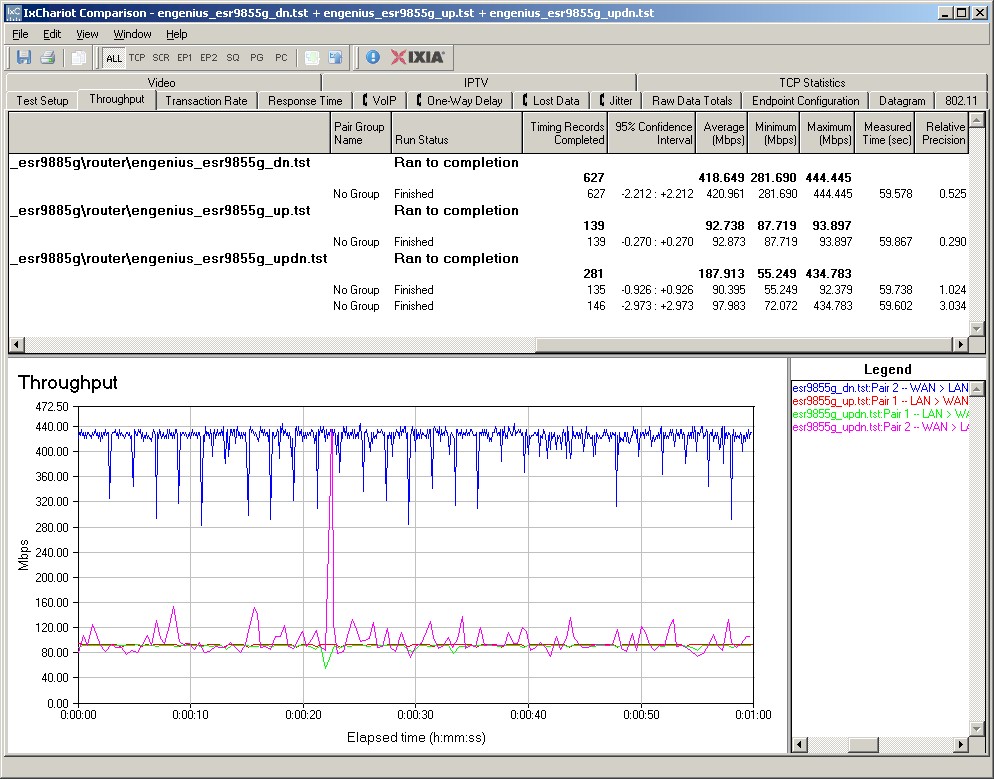 Figure 7: ESR9855G routing throughput summary
Wireless Performance
The ESR9855G is not Wi-Fi Certified and did not properly default to 20 MHz bandwidth mode on power-up. I was able to successfully run a Wi-Fi Protected Setup (WPS) session with my Win 7 client by entering the WPS code found on the router's bottom label. The WPS session completed quickly and resulted in a WPA2/AES secured connection with the same WPA2 pre-shared key. All tests were run with this secured connection using our latest wireless test process.
The 2.4 GHz downlink chart in Figure 8, filtered to show single band routers only, shows the ESR9855G ranking in the lower half.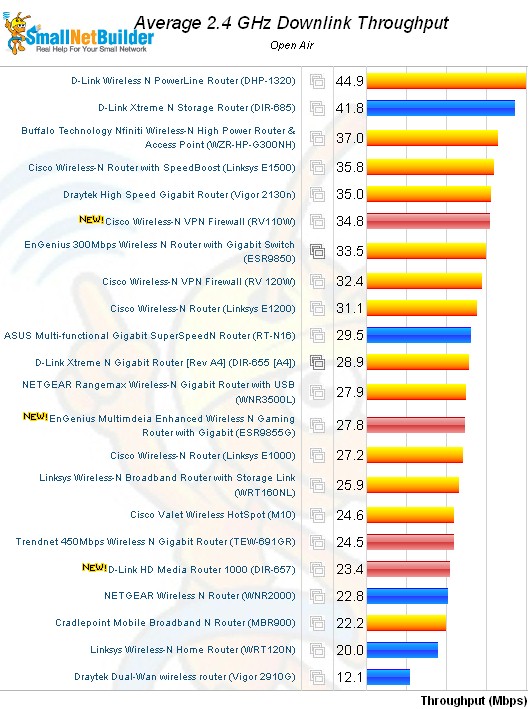 Figure 8: ESR9855G Performance rank – 2.4 GHz, 20 MHz mode, downlink
I recently introduced radar charts to try to make it easier to compare the overall wireless performance of multiple products. Radar charts essentially let you compare the relative size and shapes of the plots to find the better performers. Since newer products are only tested in four locations, that is all the radar charts will show. Products with better overall performance will have larger shapes.
The radar chart in Figure 9 compares 20 MHz mode downlink performance for the ESR9855G, D-Link DIR-655A4, EnGenius ESR9850 and D-Link DIR-657.
The 9855G doesn't have the smallest footprint, but it's clear that it doesn't do as well as the DIR-655 and ESR9850 at the stronger signal test locations A and C. (Note that the full chart includes a table of actual measured values.)
Figure 9: Comparison Radar Plot – 2.4 GHz, 20 MHz mode, downlink
But when the signal level is lower in Locations D and F, it does relatively well. This pattern holds for 20 MHz mode uplink and both up and downlink in 40 MHz mode. Have some fun using the radar charts to compare products and let me know what you think of them.
Returning to a tried and true performance view, the IxChariot throughput plot summary in Figure 10 shows very high throughput variation, especially at higher signal levels. This explains the relatively low average throughput in those locations. I tried repeating test runs when I saw high throughput swings, but got the same results.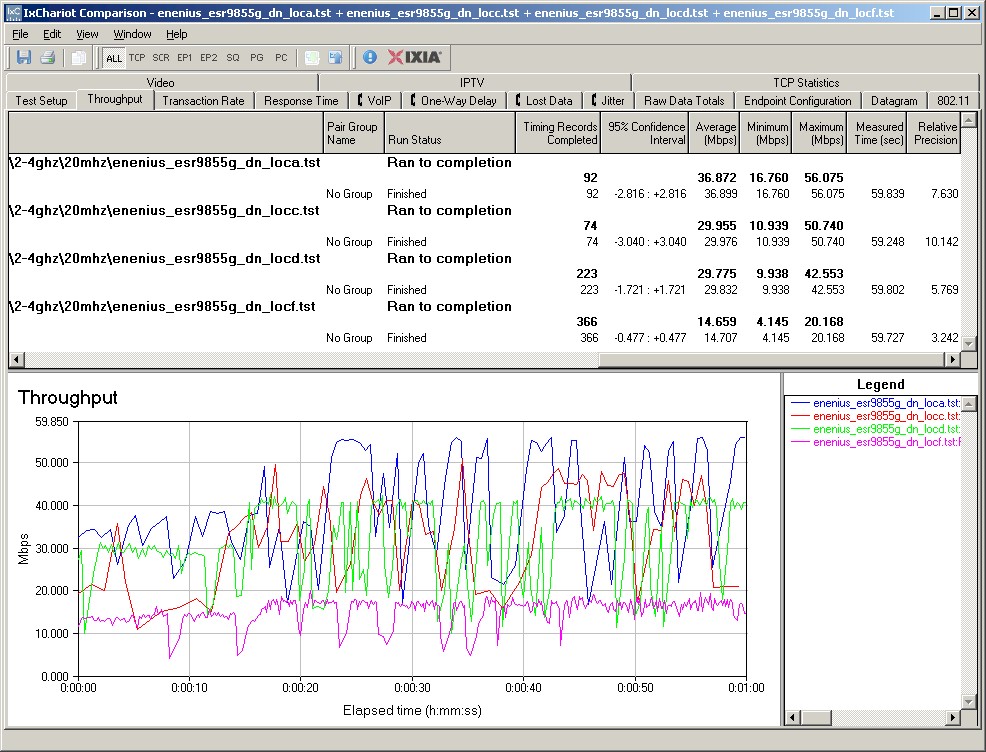 Figure 7: IxChariot plots – 2.4 GHz, 20 MHz mode, downlink
You'll see this in the plots for the other runs, too. Here are links to the other plots:
Closing Thoughts
As a wireless router, the ESR9855G doesn't have much to recommend it. If you're just interested in wired performance, it's one of the few newer routers that has Ubicom's auto-QoS. But if you want Ubicom-based, you'd be better off with D-Link's DIR-657, which has equally, uh, poor wireless performance, is a bit cheaper and can pump the ol' bits at over 300 Mbps up and down. Or there is always D-Link's old mainstay DIR-655, which I'm sure you save even more on, especially if you buy refurbished.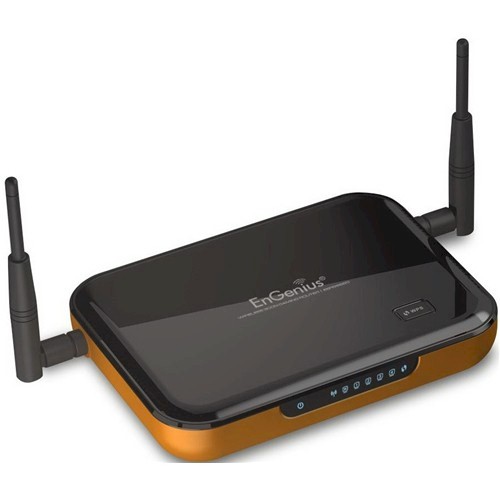 Buy Multimedia Enhanced Wireless N Gaming Router with Gigabit from Amazon