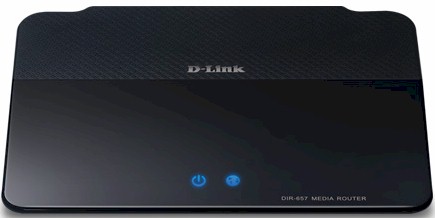 At a glance
Product
D-Link HD Media Router 1000 (DIR-657) [Website]
Summary
Ubicom based single band router with IPv6 support and USB port and SD card slot for sharing, but weak wireless performance
Pros
• Good routing feature set
• IPv6 support
Cons
• Weak wireless performance, especially in Auto 20/40 MHz mode
• Only two status lights / indicators
Typical Price: $24 Buy From Amazon
Overview
Consumer networking companies love to come up with new terms to entice shoppers. And so it is that D-Link has birthed (and trademarked!) its new Amplifi line. The product video makes the hyperbolic claim that the Amplifi's are "the only brand of premium-engineered routers on the market that empower your devices to always exceed your expectations".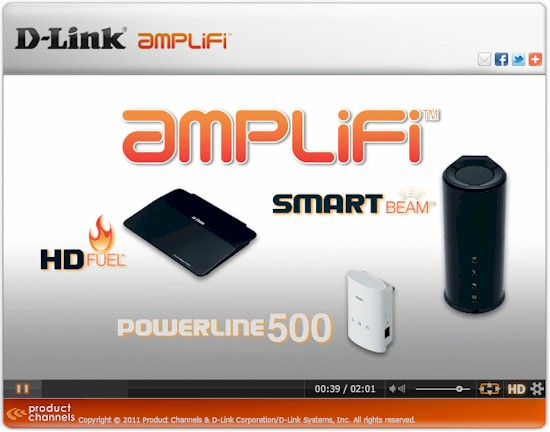 Figure 1: D-Link's Amplify products
With a nod to the current trend of trying to get consumer to once again try powerline networking, the line includes a few products using Qualcomm-Atheros' 500 Mbps HomePlug AV compatible technology. But my focus today is on the first Amplify product to hit the shelves, the DIR-657.
The 657 takes the minimalist approach of Cisco's E-series and Belkin's N750 DB and has only two lights as shown in Figure 2. Antennas are internal and there are no mounting slots on the bottom.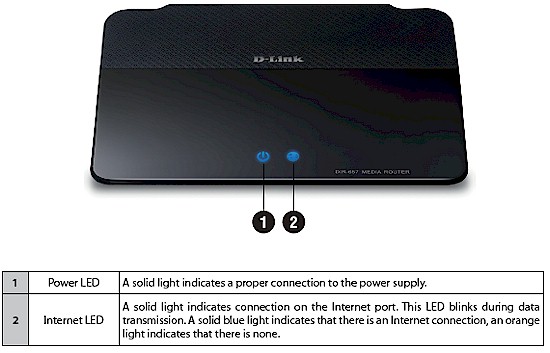 Figure 2: DIR-657 Indicators
The back panel is where you find the five Gigabit Ethernet ports, one WAN and four switched LAN, a USB 2.0 port supporting D-Link's SharePort Plus for sharing printers and drives, power socket and recessed reset button. I'm surprised that D-Link included a power button, given its focus on manufacturing cost reduction that eighty-sixed most of the indicators.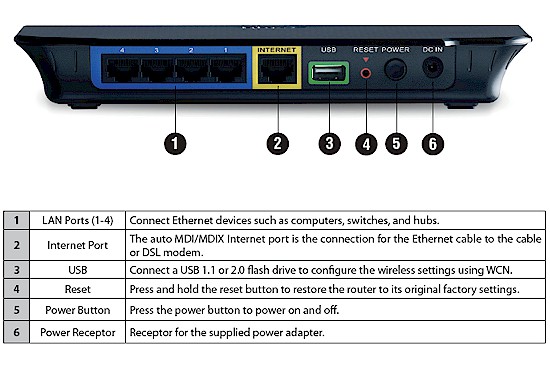 Figure 3: Rear panel callouts
A look below the front panel lip reveals another sharing feature, an SD card slot that SharePort can also serve up files from.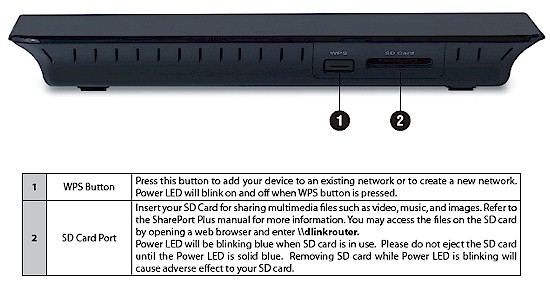 Figure 4: Front callouts
Inside
D-Link used to base most of its routers on Ubicom's CPUs. This endowed them with Ubicom's StreamEngine automatic QoS, which D-Link likes to call Game Fuel or HD Fuel, depending on the buyer they're targeting.
The 657 is the first new router in awhile to use a Ubicom CPU, an IP7160U to be specific. This is mated with 128 MB of RAM and 16 MB of flash.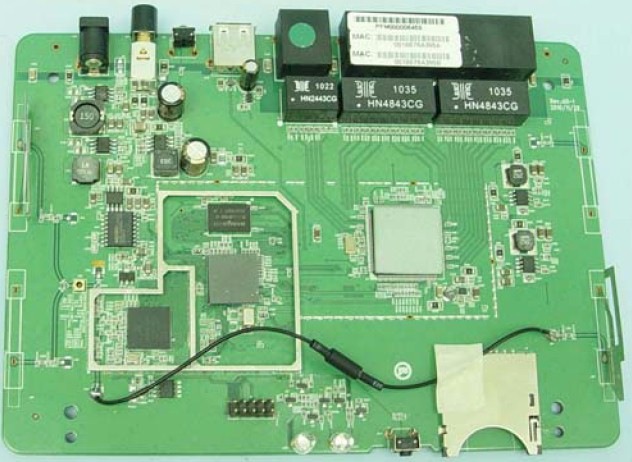 Figure 5: DIR-657 board
The board shot in Figure 5 taken from the FCC ID docs shows the sheet metal antennas that stand proud of the board at the photo front right and rear left and has the shield over the CPU, radio and memory chips removed. The ceramic heat spreader is still mounted on the Atheros AR8316 Gigabit Ethernet switch and the SD card reader is at the lower right of the picture.
The closeup in Figure 6 reveals enough detail to see the chip manufacturers. But I had to resort to taking my review sample apart (after testing was done) to ID the Atheros AR9227 as the 2.4 GHz 2×2 N radio and determine the actual RAM and flash amounts. I looked, but couldn't find any information about the AR9227. Seems that Qualcomm is less generous about providing details about its products than Atheros was, at least to general internet passers-by.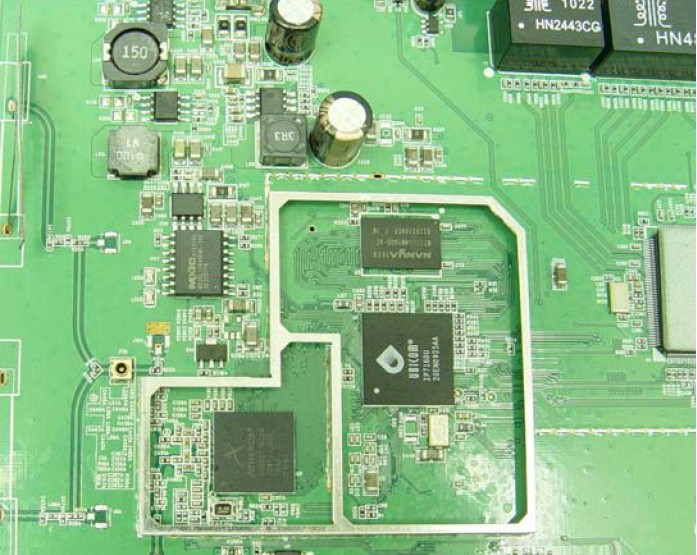 Figure 6: DIR-657 component detail
Features
The DIR-657 exposes D-Link's standard set of routing features. The shot of the Status page (Figure 7) that you land on upon login should look pretty familar.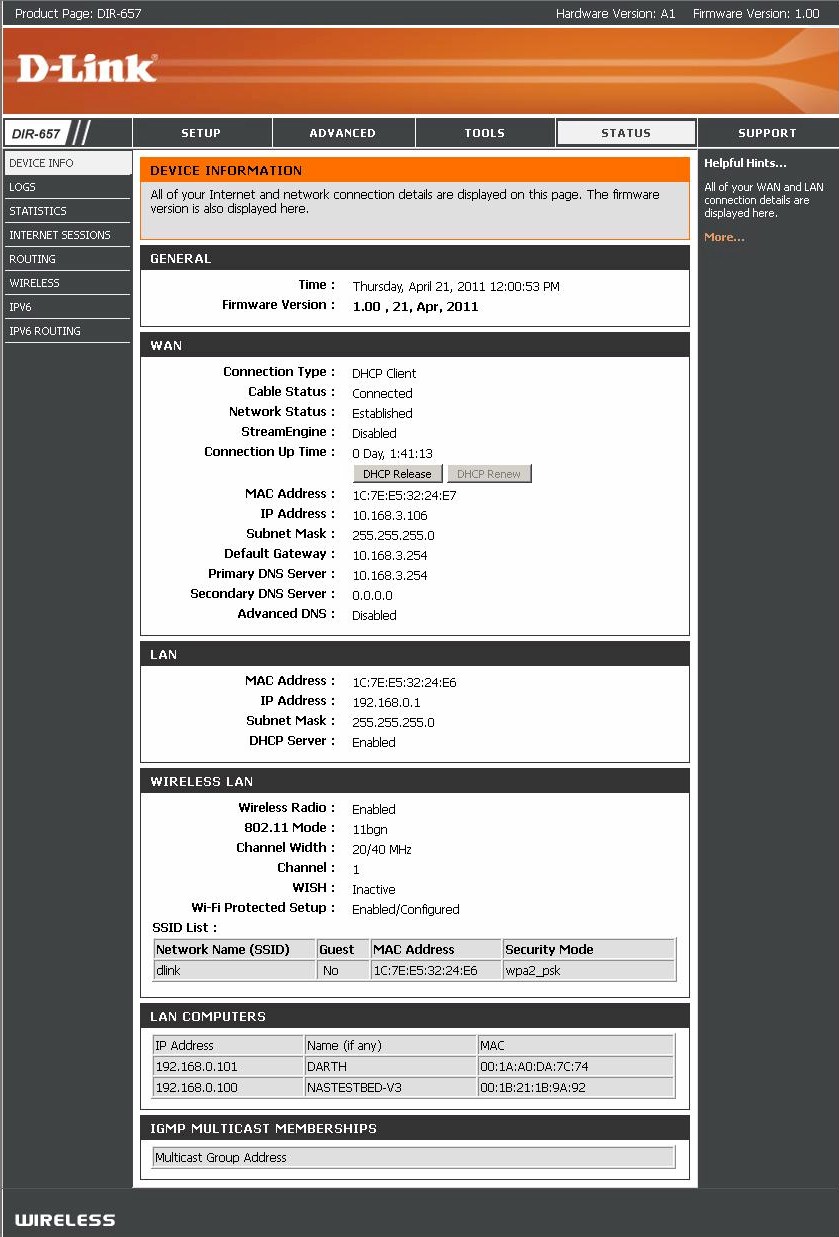 Figure 6: DIR-657 component detail
There's an online emulator if you want a more detailed look at the GUI, which is standard D-Link. Most of what's listed here is a rehash of what I found in the recently tested DHP-1320. I've highlighted differences with italics.
Routing
DHCP, Static, PPPoE, PPTP, L2TP, DS-Lite WAN types
DHCP server with MAC address reservation, lease time setting and NetBIOS controls
Built-in dynamic DNS client for dlinkddns.com and dyndns.com free and custom services
Static routes
DMZ host
SPI firewall disable, UDP / TCP endpoint filtering, anti-spoof checking
WAN ping allow / deny
Multicast stream enable
IPv6 support (auto-detect, static, link-local, autoconfiguration (SLAAC/DHCPv6), PPPoE, IPv6 over IPv4 tunnel, 6to4, 6rd)
IPv6 static routes
IPv6 port forwarding
PPTP, IPsec, RTSP, SIP ALG disables
Schedulable single port, port range and triggered port forwarding. (Can set source and destination ports on single ports [virtual servers])
Allow / deny (global) MAC address filtering for network access
Outbound schedulable port filtering by IP or MAC address with selectable web access logging
40 domain-based allow / deny (global) Web access filters
8 inbound IP range allow / deny (global) filters
Remote admin access enable, IP access filtering, port setting and graphic authentication enable
UPnP support
WAN port speed set
HTTPs admin access enable
Syslog support
Email alerts and log send
Ubicom automatic uplink QoS with manual / automatic uplink speed detection and manual rule option
Wireless features
WEP, WPA / WPA2 Personal and Enterprise (RADIUS) support
Wi-Fi Protected Setup (WPS) support, pushbutton and PIN
Auto and manual channel set
Transmission rate set
SSID broadcast disable
Wireless modes: b-only, g-only, n-only, mixed b/g, mixed g/n, mixed b/g/n (default)
High / medium / low transmit power adjust
Beacon period, RTS threshold, DTIM interval, Fragmentation Threshold adjusts
Wireless client isolation (from each other)
WMM disable
Ubicom WISH automatic wireless traffic QoS
Short GI disable
Sharing features
UPnP / DLNA Media server enable
SharePort Plus drive and printer sharing
Sharing to/from embedded SD card reader
Missing features
WDS bridging repeating
Physical wireless disable button
AP / Router mode switch
There are both 20 and 60 second saves that got old real quick during testing.
It's good to see Ubicom based routers coming back. Even though its automatic QoS is focused primarily on managing uplink traffic, it can control downlink speed indirectly by delaying TCP/IP ACKs. Ubicom was the first networking chipmaker to implement auto QoS and they still have the most advanced technology. But if you want to tweak the rules, they also give you 10 sets of controls to do so.
I'm not a fan of USB drive sharing in routers, since it's good only for those who don't mind pretty slow transfers. I ran a quick file transfer speed test with an Iomega UltraMax Pro drive attached and FAT formatted, using our standard Windows filecopy test from our NAS test bed. Write and read speed measured just under 4.5 MB/s.
D-Link isn't very forthcoming with details about SharePort Plus. But it looks like they have eliminated the need to load a driver in order to access shared USB devices. At least I didn't need to use any.
My Win 7 and Win XP machines couldn't browse to the shared drive, but found it fine when I opened a Run box and entered \\dlinkrouter. (The user manual instructs you to enter \\dlinkrouter in a web browser. Maybe that works for Internet Explorer, but not for FireFox.).
I ran a quick check of media sharing features by loading an SD card with a few music, video and still image files and trying to access it from a Win 7 Home Premium machine. The Win 7 machine detected the DIR-657 as a media source and enmumerated and played the few music and video files on the card. It did take about 30 seconds for the five video files to be indexed. So it could be awhile if you give it a big library to chew on.
Note that the only Media server control you get is an enable – there is no way to force or schedule an content index or safely dismount either an USB drive or the internal SD card.
Routing Performance
Routing throughput running the only available 1.00 firmware and our router test process measured 330 Mbps WAN to LAN, 311 Mbps LAN to WAN and 330 Mbps total with up and down tests running simultaneously. That ranks it #4 on the WAN to LAN routing throughput chart, when filtered for single band 2.4 GHz routers.
Maximum simultaneous connections will be disappointing to fans of really high numbers, maxing out at a perfectly usable 4096 connections.
The IxChariot composite plot in Figure 7 shows upload speed somewhat lower than download in the simultaneous routing test, a typical result.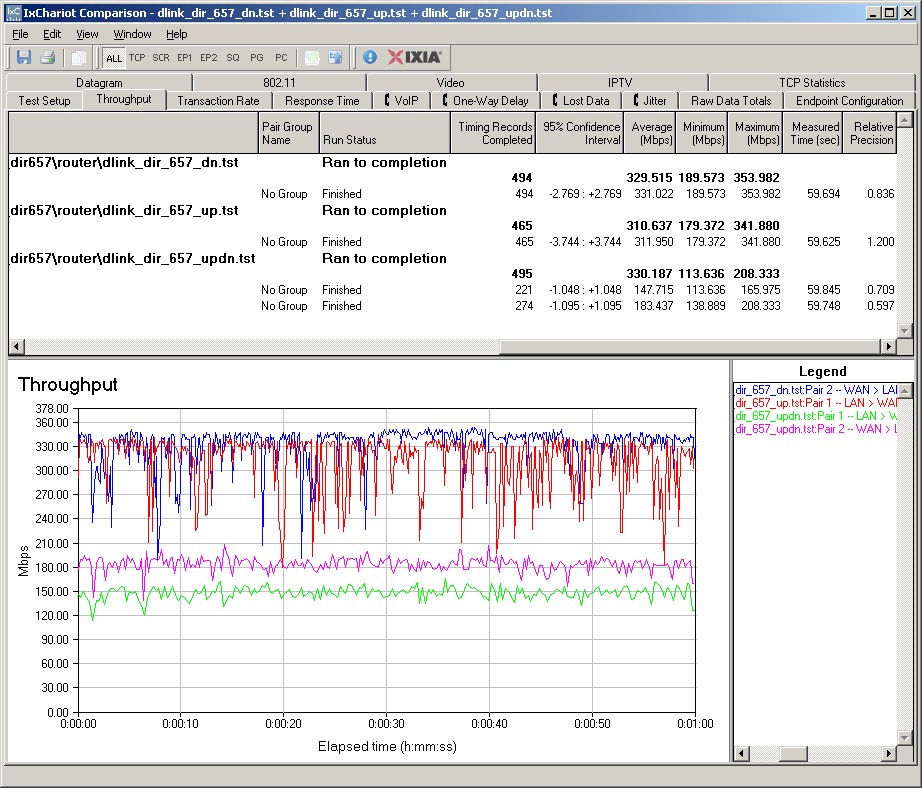 Figure 7: DIR-657 routing throughput summary
Wireless Performance
The DIR-657 has the honor of being the first product tested with our new (v6) Wireless Test process. The only difference between the new and previous process for this review is that wireless performance was measured at four vs. six test locations. Read the process to understand the reason for this change.
The DIR-657 is Wi-Fi Certified and properly defaulted to 20 MHz bandwidth mode in 2.4 GHz on power-up. I was able to run a Wi-Fi Protected Setup (WPS) PIN session with my Win 7 client that resulted in a WPA2/AES secured connection. All tests were run with this secured connection using our wireless test process.
Frankly, the results are pretty disappointing, as a glance at Figure 8 will confirm. For all the hoopla that D-Link is trying to make about its Amplifi technology, the results are pretty anemic.
Highest throughput of 50.5 Mbps was seen running downlink in 40 MHz mode in Location A. I was able to squeeze out only 65 Mbps running simultaneous up and downlink tests in Location A in 20 MHz mode. In fact, the Intel 5300 test client and router didn't seem to like to consistently use link rates above 130 Mbps with the router set to Auto 20/40 mode. I also tried my new Lenovo ThinkPad x220i with Intel 6300 client and it produced similar results.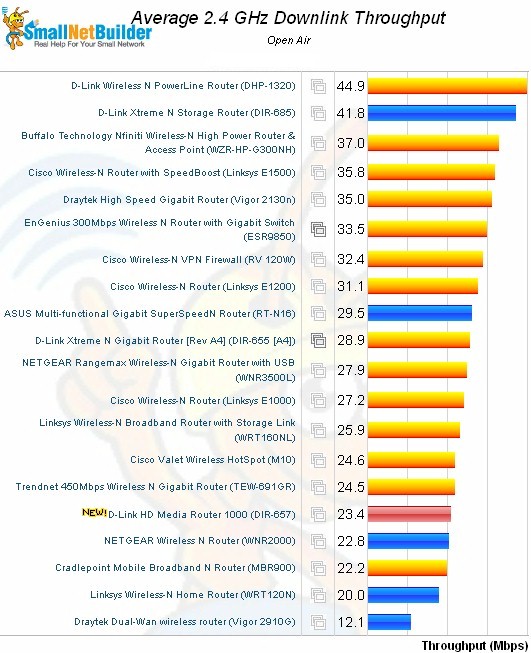 Figure 8: DIR-657 wireless performance comparison – 20 MHz mode, downlink
I ran a 2.4 GHz Wireless Performance table (Figure 9) for the 657 and other comparable single-band N routers, the surprisingly popular ASUS RT-N16, Cisco Linksys E1500, and recently reviewed D-Link DHP-1320. The 657 doesn't make a very good showing against this group, in either 20 MHz or 20/40 mode.
Figure 9: DIR-657 Wireless Performance Table
Throughput stability was generally good, but not as good as I've seen on other recent routers.. The IxChariot 20 MHz mode downlink summary plot in Figure 10 is typical of what I saw during testing.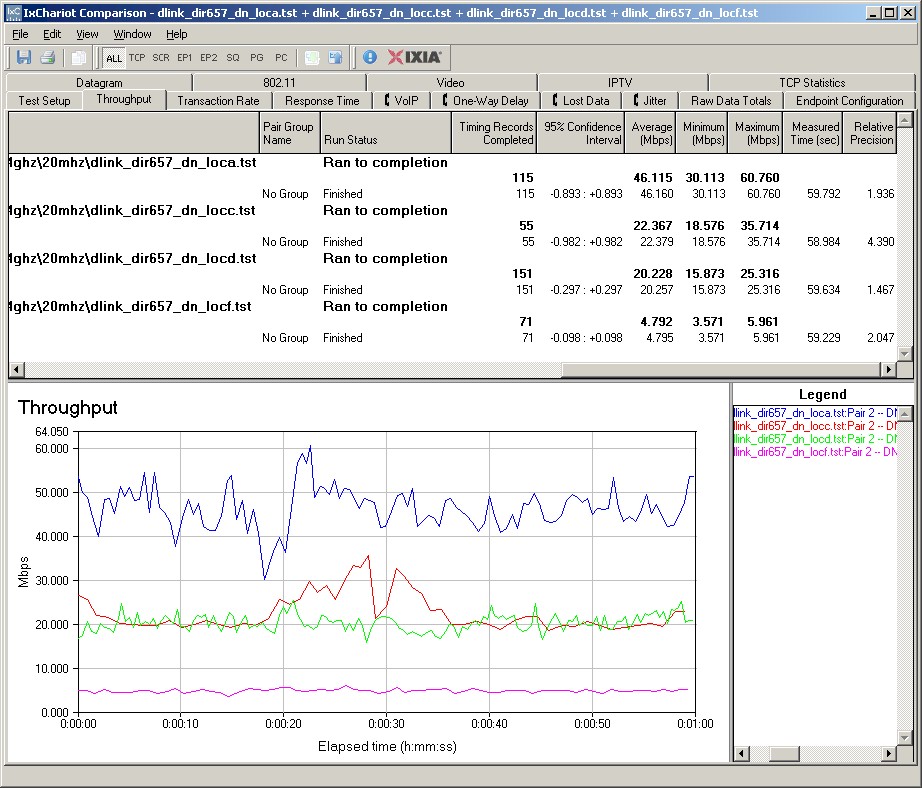 Figure 7: Belkin N750 DB IxChariot plot summary – 2.4 GHz, 20 MHz mode, downlink
Here are links to the other 2.4 GHz plots if you'd like to check them out.
Closing Thoughts
As I said at the top, there is a lot of obfuscation in the wireless routing market thanks to the marketeers whose job it is to get you to pluck their product off the shelf. I hope D-Link can improve the DIR-657's performance via firmware, because it's certainly not one I'd recommend you pick up.
If you want a better performing D-Link router, I'd go for the DHP-1320 Wireless N PowerLine Router. You'll get much better wireless performance for about the same money, and the start of a HomePlug AV powerline network. You really should be exploring powerline anyway as a way to expand your network without running cable instead of mucking around with wireless repeaters and extenders!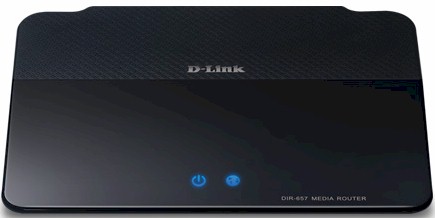 Buy HD Media Router 1000 from Amazon